If you're dealing with problems with the quality of your home's drinking water, you've likely come across the term "point of use" in your search for water treatment solutions.
Point-of-use systems have a lot going for them today, but it's worth knowing exactly how they're designed, what they're intended for, and their potential drawbacks before you make a purchase.
In this guide, I'll be discussing everything you need to know about point-of-use water filters – and by the end of this article, you'll be informed enough to begin your research process.
🤔 What is a Point of Use (POU) Water Filter?
Point-of-use water filter systems are a category of water filters that are installed in a specific location in your home, often underneath your kitchen sink. This type of filter is so-called a "point-of-use" system because it provides water treatment to a connected faucet in a kitchen or bathroom.
*Note that point-of-use water filtration systems are not the same as point of entry systems, which are installed at your home's main water line.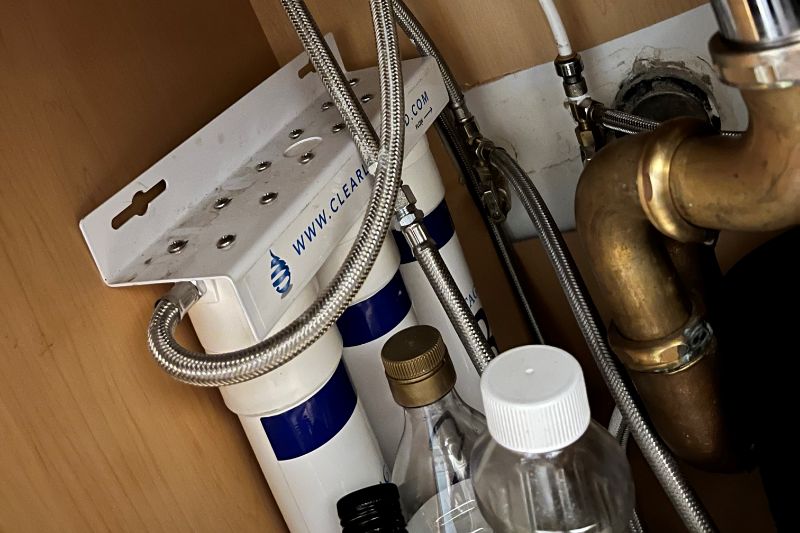 👍 What Are the Advantages of Point of Use Filters?
Instant Access
A point-of-use water filter can provide as many gallons of water as you require. When you turn on your faucet, water enters the filter, flows through it, and leaves the filter at a high speed. You receive immediate access to clean, high-quality filtered drinking water, just as you would if you had no filter installed. This makes point-of-use water filtration systems more appealing than portable countertop filters, like pitchers, which require refilling frequently.
Easy Installation
While you will have to be relatively handy to install a point-of-use system, it's as easy as any DIY job and there are usually plenty of clear instructions to follow. Installation varies depending on which point-of-use water treatment system you choose to install – countertop systems that connect to your faucet tend to be more straightforward to install than under-sink POU systems.
Diverse Filtration
A point-of-use water filtration system doesn't have one specific design, style or set of capabilities. Many POU systems are reverse osmosis water filters and are capable of removing more than 99.9% of all TDS (total dissolved solids) in drinking water. Some are less effective but still good-quality and great at what they do, and may combine carbon filters with other effective filtration methods to improve water quality.
More Affordable Option
Because point-of-use water filtration systems are installed underneath a kitchen sink, they tend to be smaller in size and more affordable than a larger whole house water filter. If all that matters to you is having access to clean drinking water, you have what you need with a point-of-use filter.
No Need for Bottled Water
POU water filters can give you better water quality to the extent that you won't need to buy bottled water going forward. Your water will smell fresh, look clean, taste nice and be safe to drink, so you'll be able to save money and drink exclusively from your kitchen tap when you're at home.
Systems for Specific Needs
When you think of a typical point-of-use drinking water system, you imagine an under-sink water filter. But while these POU systems are the most popular, there are a range of other solutions to consider, too. Shower head water filters, for example, work well to remove contaminants that can cause problems when showering, like hard water minerals, iron and sulfur.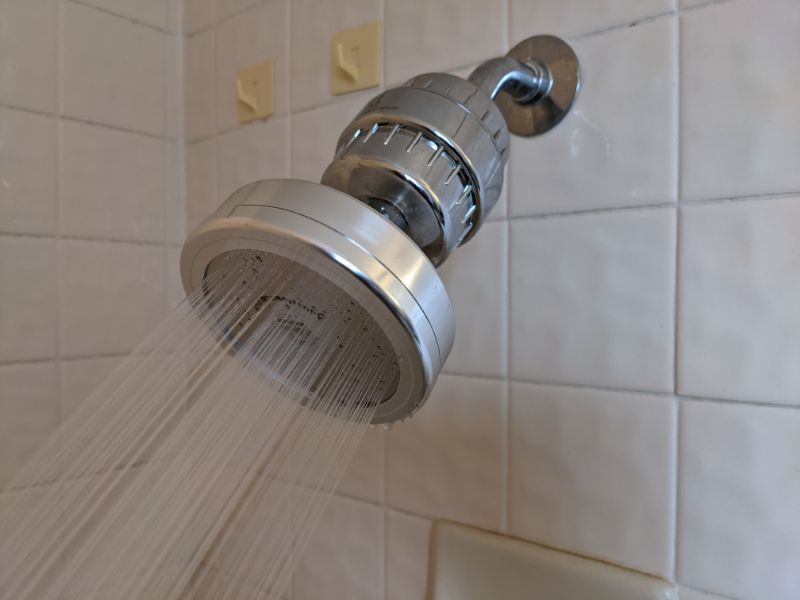 👎 What Are the Disadvantages of Point of Use Filters?
Don't Provide Whole-house Benefits
If you're looking for a water treatment solution for your whole house, you'll have to pay more money for a point of entry system, which is installed at your main water line. A POU filter is only capable of offering a clean water solution at a set location, such as a tap or a showerhead. Every other tap or home water appliance in your household will still use unfiltered water.
Won't Protect Your Appliances, Plumbing or Pipes
The install location of a POU system isn't ideal if you're in need of a point of entry whole house system that can eliminate water hardness or free your water of other contaminants throughout your home.
Can Be Costlier if Multiple are Purchased
Perhaps you're looking to get a POU filter for your kitchen sink, but you also want to benefit from clean, chlorine-free shower water. In that case, you'll have to install an activated carbon showerhead filter separately from an under-sink reverse osmosis system – and it might actually be cheaper in the long run to buy a single point of entry system that can treat water in your whole home.
Still Require Frequent Maintenance
When comparing a POE whole-home option with point-of-use filtration system types, POU systems are often just as demanding when it comes to maintenance. A single reverse osmosis system will require frequent sediment and carbon filter changes (usually every 6 months to 1 year), for instance. RO systems also have filter membranes that you'll be required to change every 2 years or so. Most POU systems for sinks come with at least one type of filter media that you'll have to change to maintain a high quality of filtration.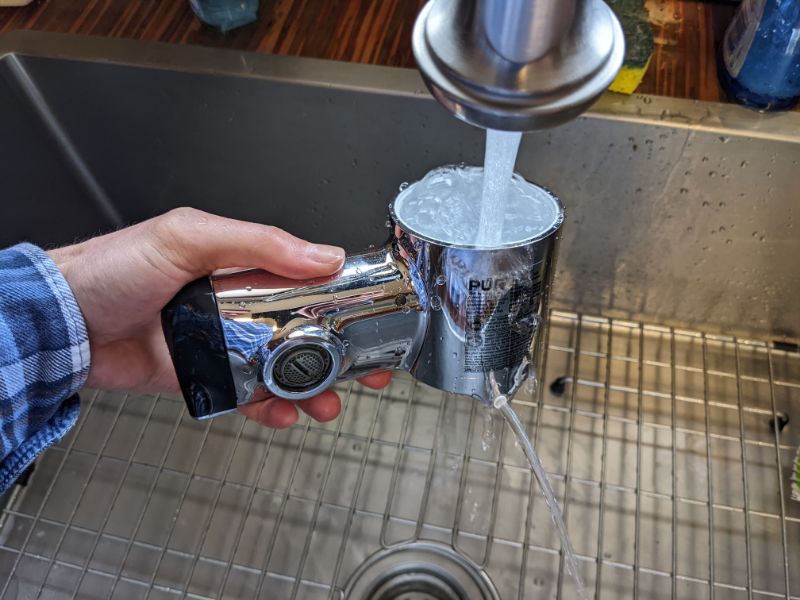 💭 When Should I Use a POU Water Filter?
There are a number of reasons why using a point-of-use filter may be the right choice for you. Some of the influencing factors include:
You just want clean, readily available drinking water, without the whole-home benefits of a point of entry system.
Your water doesn't have excessive hardness levels, and nor does it have high levels of iron, sulfur and other contaminants that commonly cause aesthetic problems around your home, so you don't think getting your water treated by a complete POE system is worth it.
You have a smaller budget and your options are limited – you can only afford to address water at one POU location right now.
You have sensitive skin and hair, and your biggest problem with your water is its chlorine levels, so you're just looking for a single filter that can remove this contaminant from your shower water.
If you're still considering the idea of water filtration products in general, get your water tested before you treat it. Once you better know the different types of contaminants that your water contains particularly high quantities of, you can choose the best solution from the options available to address your needs.