I ranked the best filtered water bottles on this list based on quality, performance capabilities, features, and value for money. Only 9 of the 20-plus water bottles I tested were strong enough contenders to be included in this guide.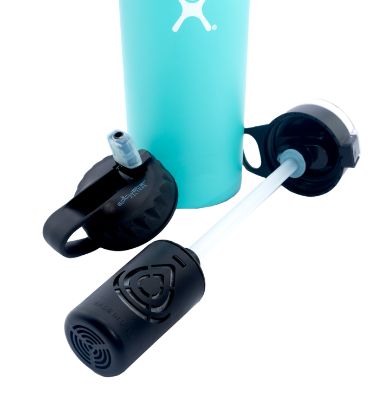 Epic Water Filters The Answer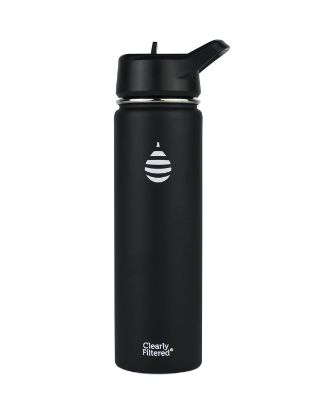 Clearly Filtered Insulated Filtered Water Bottle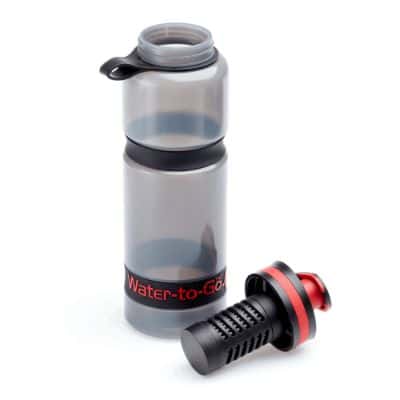 Water-to-Go Filtered Bottle
We all know that drinking bottled water is problematic, and not just for the environment.
BPA, a highly dangerous industrial chemical linked to cancer and type 2 diabetes, is used in single-use plastic bottles, and can leach into the water we drink. In the US, 15 billion gallons of bottled water were sold in 2020, putting millions of Americans at risk in the last year alone.
If you're checking out this guide, you already know that there's a means of accessing clean, filtered drinking water on the go without the danger of BPA exposure or the mass plastic waste – by using filtered water bottles.
If you're now looking to buy a filtered water bottle for yourself, you need to know which options are the best.
We can help.
We've been extensively reviewing water filters for over a decade, and our buyers' guides, reviews and blog posts are read by more than 1.5 million yearly visitors.
Read on to learn:
Our top 9 filtered water bottles
The pros and cons of a water bottle filter
3 things to look for in the best filtered water bottle
🥇 Best Filtered Water Bottle
📊 Comparison Chart of Filtered Water Bottles
Bottle
Epic Water Filters The Answer

Clearly Filtered Bottle

Water-to-Go Filtered Bottle

GRAYL UltraPress

CrazyCap

LifeStraw Go Water Filter Bottle

Brita 23.7 Ounce Hard Sided Water Bottle with Filter

Sport Berkey Water Bottle

Sawyer Products Personal Water Bottle Filter

Ranking
1st
2nd
3rd
4th
5th
6th
7th
8th
9th
Ratings
5/5
5/5
4.5/5
4.5/5
4/5
4.5/5
4/5
4/5
4.5/5
Price
$$
$$
$$
$$$
$$$
$$
$
$$
$$
Contaminants Removed
200+
220+
10+
Biologicals, Chemicals, Heavy Metals, Sediment
Biologicals only
99%+ of Waterborne Bacteria & Parasites, Chemicals & Microplastics
5+
99%+ of Microorganisms, 97% of Viruses & Heavy Metals
99% of Bacteria & Protozoa, & 100% of Microplastics
Pathogen Removal
Bacteria, Viruses, Microbial Cysts
–
Bacteria, Parasites, Viruses
Bacteria, Virus, Cysts
Bacteria, Viruses, Cysts
Bacteria and Parasites
–
Cryptosporidium, Giardia, E-coli
Bacteria and Protozoa
Holding Capacity
Your existing bottle!
12 or 20 oz
18 or 26 oz
16.9 oz
17 or 25 oz
22 oz
26 oz
22 oz
34 oz
Filter Life
75 gallons or 3-4 months
25 gallons
50+ gallons
40 gallons (~300 presses)
n/a
Membrane Microfilter: 1,000
Carbon Filter: 26 gal.
40 gallons or 2 months
100 gallons
100,000 gallons
Material
Plastic
Insulated stainless steel
Plastic
BPA-free polypropylene
Aluminum
Plastic, silicone
Plastic
Plastic
Plastic
Process
Mechanical + Electroadhesion + Ion Exchange
Carbon + Ion Exchange
Mechanical + Carbon + Electroadhesion
Electroadhesion + Activated Carbon
UV Light Purification
Microfilter + Activated Carbon
Activated Carbon Block
Ionic Adsorption & Micro Filtration
Hollow Fiber Membrane
Annual Cost
$90 – $120
$25 – $50
$90 – $100
$70 – $80
–
~$40
$20 – $30
$60 – $70
–
Warranty
Lifetime
Lifetime
-
10 years
Lifetime
3 years
1 year
Lifetime
Lifetime
---
⭐ Best Filtered Water Bottle Reviews 2023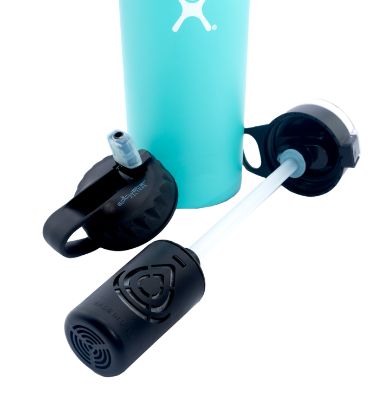 Epic Water Filters The Answer
This is a filter collection offered by Epic Water Filters. There are five filters available, all offering exactly the same performance. The difference is that each filter is connected to a straw and lid that has been designed to fit onto a popular, non-filtering water bottle!
You can use The Answer in the following water bottles:
Hydro Flask
Nalgene
Takeya Thermoflask
Hydro Cell
Camelback Water Bottle
The concept of The Answer is really handy – you don't have to abandon your favorite water bottle in place of a water filter bottle, as you can simply attach the filter to your own bottle and drink filtered water straight from there.
The Answer removes more than 70 drinking water contaminants, including pathogens (if you opt for the "Outdoor" model), fluoride, chlorine, lead, benzene, and PFOS/PFOA. The filter has a 75-gallon lifespan, and will need to be replaced 3 to 4 times a year when used every day.
You can get instant access to clean water with The Answer – just suck through the straw to send water through the filter and out of the mouthpiece. The filter comes pre-flushed, so you can use it as soon as you've bought it. There isn't much maintenance to remember aside from changing the filter, and the mouthpiece is fully removable for easy cleaning.
👍 What We Like
Removes more than 200 contaminants
Great filter lifespan
Compatible with 5 popular water bottles
Well fitting cap with nice mouthpiece
👎 What We Don't Like
Not much information about the filtration process
Unable to drink the last bit in the bottle
Read the full review: Epic The Answer Review (Updated 2023)
---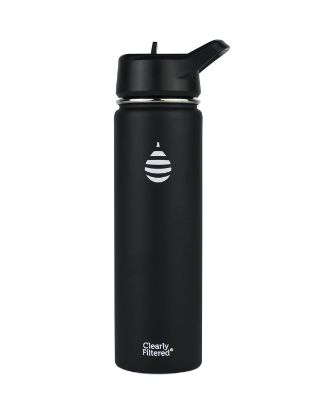 Clearly Filtered Insulated Stainless Steel Filtered Water Bottle
The insulated stainless steel filtered water bottle by Clearly Filtered removes up to 99% of 220+ contaminants, including lead, fluoride, pesticides, pharmaceuticals, and more. This bottle is intended for use with municipal or treated well water however, and cannot remove biological contaminants such as bacteria or viruses.
With two sizes to choose from (20oz or 12oz), the double-walled stainless steel insulation keeps your water cool for up to 24 hours. No need to remove the entire cap to drink, the easy-to-clean silicone mouthpiece makes taking a sip a breeze.
Due to the high amount of contaminants removed, the filter has a shorter lifespan than others, lasting for only 25 gallons. But don't let that discourage you, that's still 160 full refills providing some of the highest contaminant removal capability of all bottles I've seen (plus it has a lifetime guarantee).
👍 What I Like
Removes 220+ contaminants
Insulated to keep water cold
Stainless steel construction
BPA, BPS, and phthalate free
Portable & simple clean water option
Lifetime guarantee
👎 What I Don't Like
Does not remove biological contaminants
Cannot be used with natural surface water sources
Shorter filter lifespan
Read the full review: Clearly Filtered Water Bottles Review
---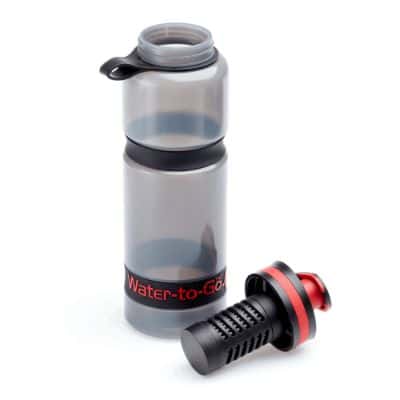 Water-to-Go Filtered Bottle
The Water-to-Go bottle comes in two sizes, 18 oz or 26 oz, and three bottle type variations. Traditional carbon filter technology is combined with 2 types of nano filter to remove 99.999% of microbiological contaminants in addition to chemicals, heavy metals, and micro plastics.
This 3-in-1 filtration makes this bottle one of the best in terms of all around performance, making water from any source (except salt water) safe to drink. Personal water filtration doesn't get much easier to use than this.
👍 What I Like
Extremely thorough, high-performing filters
Filter cartridge is recyclable
Charitable company
Size and bottle style choices
Super simple to use
👎 What I Don't Like
Shorter lasting filters compared to others
Some bottle styles are not squeezable
Read my full review here: Water-to-Go Filtered Water Bottle Review (2023)
---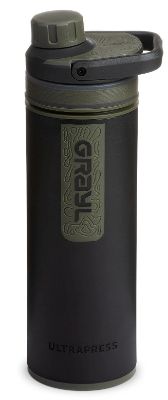 GRAYL UltraPress
This GRAYL Ultrapress water purifier is the ultimate outdoorsman must-have. This water bottle can be filled up from any freshwater source and filter nearly all of the contaminants. Perfect for the avid hiker, camper, rock-climber, or traveler – this water bottle filters out 99% of bacteria, protozoa, and viruses and heavy metals.
The design allows you to fill the bottle, press the filter down, and drink clean, fresh, safe water. This bottle is compact, lightweight, and made of a durable BPA-free plastic that can last up to ten years. While this water bottle is ideal in almost every situation, it does require the user to actively work to filter the water. The design requires the user to press down on the filter in order for the water to flow through the filter and become clean.
👍 What I Like
Filters out particles, chemicals, bacteria, protozoa, and viruses.
Lasts up to 10 years
Durable and compact
Ideal for travel, adventure, and emergency kits
Removes heavy metals
👎 What I Don't Like
Only holds 16.9 oz of water

Smaller filter capacity
Read the full review: Grayl Ultrapress Review
---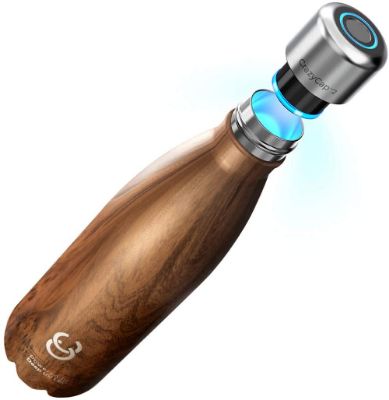 CrazyCap
The CrazyCap is actually a UV LED purification bottle. Rather than using a traditional mechanical filter, this bottle uses 278 nm deep UV LED light to destroy all pathogens in the water.
For a super simple solution to use with relatively clean natural water sources, this bottle is a great option. There are no filters to change and the bottle self-cleans automatically. The cap is rechargeable so no need to worry about changing batteries, either.
👍 What I Like
Cap can fit various "cola" style bottles
Comes with an insulated reusable bottle
Lasts for weeks between charges
Effective pathogen removal
Cheaper option in the long run
👎 What I Don't Like
Only kills biological pathogens, doesn't remove any other type of contaminant
Requires charging
Can't be used if the water has lots of debris or sediment in it
Doesn't fit large sized bottles
Read my full review here: CrazyCap Review (2023)
---
LifeStraw Go Water Filter Bottle
The hollow filter straw design of the LifeStraw Go removes 99.99% of waterborne bacteria, 99.9% of waterborne parasites, chemicals, and microplastics. The carbon filter of this bottle removes chlorine in water to freshen the taste without the use of chemicals or iodine. The bottle can carry 22 oz of water and can easily be refilled from a stream or other natural sources of water.
👍 What I Like
Filters out bacteria, parasites, chemicals, and microplastics
Philanthropic Organization
Filter can last for 5 years
Comes in multiple colors
👎 What I Don't Like
Straw design can make it difficult to draw water through
Sometimes leaks from top
Can't put into freezer
---
Brita 23.7 Ounce Hard Sided Water Bottle with Filter
Perfect for taking on the go to the gym, work, at school, or even just in the car. This Brita water bottle is not ideal for taking out on a hike, as it is meant to only filter out chlorine and other contaminants that make water smell/taste bad.
The water bottle is made of durable, BPA-free, hard plastic that can be dropped or roughed up. This water bottle is meant to replace all of your disposable water bottles. It is a fiscally responsible way to get the filtered water you know and love without breaking the bank.
👍 What I Like
Gets rid of bad smell/taste
BPA-free plastic
Dishwasher safe
Comes in multiple colors
👎 What I Don't Like
Have to replace the filter every 40 gallons
Doesn't filter out bacteria or other harmful contaminants
Difficult to clean mouthpiece so mold can build up
---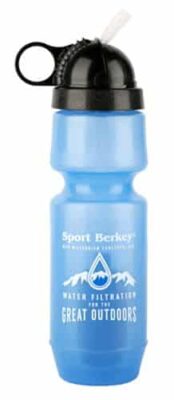 Sport Berkey Water Bottle
This portable Sport Berkey water bottle is one of the best on the market to date. With a capacity of 22 oz it is the perfect size for on the go transport.
Despite it's compact size, this water bottle comes with an efficient filter that removes up to 99.9% of microorganisms and 97% of viruses and heavy metals. The bottle is designed with a lightweight non-leaching, LDPE #4 medical grade polymer, which is BPA-free. Though it may be durable, this water bottle doesn't cut corners when it comes to longevity and can last for up to 50 years.
👍 What I Like
BPA free
Shelf life of 50 years
Filters out microorganisms by 99% & viruses by 97%
Removes heavy metals
👎 What I Don't Like
Filter needs to be replaced every 160 (contaminated water) to 640 refills (municipal/tap water)
Possible leakage from mouthpiece
No color selection
---
Sawyer Products Personal Water Bottle Filter
If you appreciate a product that works for a long time and is also durable than this Sawyer Products personal water bottle filter may be for you. The filter can work for up to 100,000 gallons of water!
If the filter begins to make it difficult to use, a backwash syringe is provided that will flush out the contaminants and set it back to new. The Sawyer water bottle is squeezable and made of a BPA-free durable plastic. This bottle is able to be filled from any fresh-water source and produce fresh, clean water wherever you go. The powerful filter removes 99% of bacteria and protozoa, and takes out 100% of microplastics.
👍 What I Like
Squeezable
Filters out microplastics, bacteria, and protozoa
BPA-free plastic
Filter can be used for up to 100,000 gallons of water
Backwash syringe provided to elongate the filter lifetime
👎 What I Don't Like
Can't be frozen
Cap can cause leakage
The cap of the water bottle is easy to break
---
🚰 What is a Filtered Water Bottle?
A filtered water bottle, otherwise known as a water purifier bottle, offers a portable means of enjoying clean, pure drinking water on the go. It looks just like a standard, hard-edge water bottle, except it contains a filter that removes impurities and contaminants from water. You can buy water bottles with built in filters in a range of different styles, colors and material types, so if water bottle aesthetics are important to you, you won't be let down by the selection.
There has been some controversy about the quality of some types of bottled water, and concerns raised relating to contaminants and free radicals present in water at a higher rate than the permitted level. Bottled water also contributes to enormous yearly plastic waste, while a self filtering water bottle is designed to last for a minimum of a couple of years.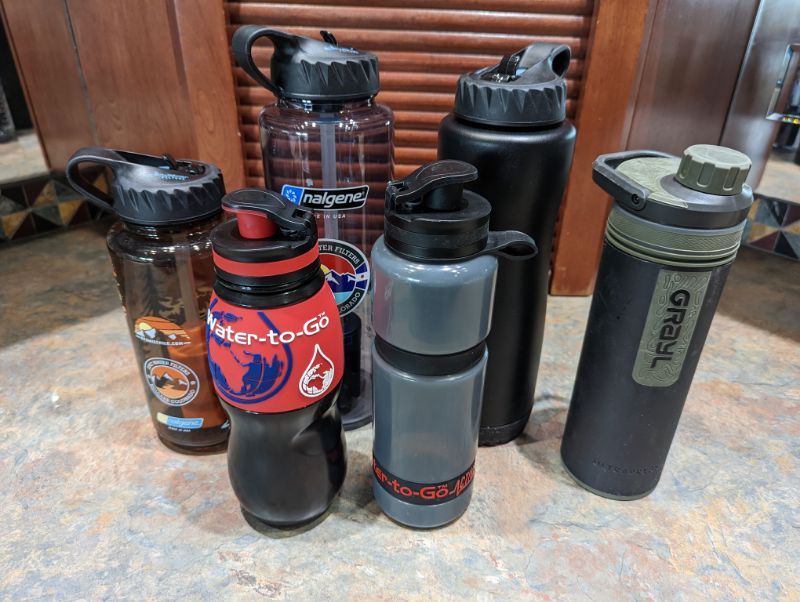 🤔 How Do Filtered Water Bottles Work?
The two more popular filter systems for a water bottle are:
Systems that filter water as you fill the bottle
Systems that filter water as you drink from the bottle
Both systems work on a similar basis in that when the water flows through the filter media, whether into the bottle when you fill it, or out of the bottle when you drink from it, the filter catches the impurities and removes them from the water.
Type of Filter
Most water purification bottles use an activated carbon filter, which relies on activated carbon, or activated charcoal, to eliminate contaminants from the water. Activated carbon filters require changing regularly to ensure they continue to remove contaminants from your water efficiently. The activated carbon has a very big surface area to volume ratio, which helps the filter to remove as many impurities from drinking water as possible.
The Filtration Process
The activated carbon filter is spread out across the filter media, which gives an increased surface area for ions and molecules to bind to. Water is able to pass through the activated carbon, but water's contaminants bind to the media, essentially becoming trapped. You can see from this process that eventually, the carbon filter would no longer be able to store contaminants in the media that could affect quality and taste, including bacteria and viruses.
This is why it's important to pay close attention to your filters and change them when you think they need changing, or as per the instructions provided in the product manual.
🧫 Contaminants Removed by Water Purifier Bottles
Water bottle filters are designed to filter out three key contaminants:
Bacteria – Pathogenic bacteria that are found naturally in the environment, particularly in water sources.
Viruses – If water becomes contaminated by animal waste, viruses may become present in water. While the water treatment process should remove any cause of waterborne disease, if you drink contaminated water, you're likely to fall ill. Viruses can present as a number of unpleasant symptoms, including sickness, stomach cramping, a high temperature and nausea.
Chemical compounds & heavy metals – Water is thought to contain traces of hundreds of contaminants, but chemical compounds are the most prominent. Compounds like chlorine, fluoride, chloramines, hormones, nitrates and pesticides are all found in small traces in our water. While these aren't particularly bad for our health in smaller doses, they can affect water quality and taste.
👍 Advantages of Filtered Water Bottles
There are many advantages to switching your standard water bottle for a water purification bottle. Take a look at the list below for the biggest benefits of water bottles with a filter:
Portability
One of the best things about a water filtration bottle is that you can take it wherever you go, whether that's to work, the gym, or across the world on a vacation away.
The best filtered water bottle works with any drinking water, so you can get great tasting water no matter where you are. Most bottles are standard water bottle size, and are compact enough to fit inside a handbag or in a backpack bottle pocket.
With a filter water bottle, you won't need to be at home to enjoy clean, pure water, like you would if you had an under-sink water filter or reverse osmosis system. You can take your filter with you anywhere you want, so you'll never need to make another bottled water purchase again.
Related Content: Top Rated Portable Water Filters of 2023
Cost Effective
Water filter bottles eliminate the need for buying bottled water, as you'll be able to produce great tasting water anywhere. If you're the sort to buy water bottles on a daily basis, it's worth adding up how much you think you spend per week, per month, or even per year.
Then compare this to the cost of a water purification bottle and its replacement filters – you're guaranteed to be making a really good saving. The majority of water filter bottles online cost between $30 and $70, which, for a one-time purchase, is a fairly good deal. Replacement cartridges cost between $5 and $15, depending on the brand and the filter quality.
No other water filtration product – not water filter pitchers, under sink filters or countertop filters – are as low in price as water filter bottles.
If you want to enjoy clean tasting water but your budget won't stretch to a whole-house alternative, a water bottle with a filter is the best solution for you.
Removes Contaminants
Whatever your reason for wanting to drink clean water, you'll be able to reap the benefits of contaminant free water with a water filtration bottle. Activated carbon filters are particularly effective at removing chlorine and other chemical compounds from water.
Environmentally Friendly
The world is in a plastic crisis, drinking bottled water will only make the situation worse.
Although water bottles can be recycled, they don't ever biodegrade. This means that if somebody disposes of a bottle incorrectly, it will only ever break down into millions of tiny particles, which then pollute waterways and soils. The only way to solve the plastic problem is to stop using throwaway plastics altogether. This is where durable, long-lasting water bottles designed for multiple use come in to play.
With a minimum two year lifespan, filtered water bottles are a much more environmentally-friendly solution to drinking pure filtered water, without you having to compromise on taste.
Safer for Drinking
Another issue with single-use bottled water is that it often contains toxins from the plastic itself. The chemicals used to make these bottles can leach into water over time, especially if the bottle has been exposed to heat.
Luckily, you can avoid these issues by choosing to drink from a water purifying bottle. Most water bottles with a filter are BPA-free, which means they're deliberately designed without the BPA toxin in their material, so there's no risk of it leaching into the water.
Simple Filtration Solution
If you've often resorted to tiresome methods of water filtration or decontamination, like boiling water, adding disinfection tablets, running water through UV lights, or even using a filter hand pump, water filter bottles offer a much more simple and convenient solution.
With a water purification bottle, all you need to do is fill it with drinking water from a faucet.
👎 Disadvantages of Filtered Water Bottles
More Expensive
You might be able to find a good-quality regular water bottle for as little as $5, whereas for a water purification bottle, you'll need to spend at least $30 to get a decent product that'll last a long time.
You'll also need to factor in the cost of changing your filters regularly. A standard water bottle without a filter won't need any upkeep apart from cleaning, but a water purification bottle won't filter your water properly if you don't change the filters as instructed by your product's user manual.
Drinking From a Straw
With most water purifier bottles, you won't have a choice for drinking – you'll have to drink through a straw, as this is attached to the filter and makes it possible for the removal of contaminants as you're drinking.
Not everyone enjoys drinking from a straw, and it can get annoying if you want to take a big gulp of water, as straws restrict how much water you can drink at a time.
The straw feature also makes them more difficult to clean. There's usually no way of taking apart a straw to be able to thoroughly wash its inside, which can lead to a build-up of nasty stuff over time.
Heavier
Some water filter bottles are made from BPA-free plastic, which makes them a good lightweight choice for travel and taking on the go.
However, a good number of water bottles with a filter are made from stainless steel. Some people may prefer the design options that stainless steel offers, but you should bear in mind that it's a heavier material that may get annoying to carry around.
Container Size
Water purification bottles might be the least expensive filtration option of them all, but this is largely because they can only produce a smaller quantity of filtered water at a time.
Unlike water filter pitchers, which allow you to make a large batch of filtered water for use over a period of hours, your filtration bottle will empty at a much faster rate.
When you want to fill your water bottle with a filter, you'll have to wait until you're at a water source to do so. A standard filtered water bottle holds 20 ounces of water, which might not be a satisfactory amount for you.
Water Purity
Filter bottles are incredibly effective at removing contaminants and impurities from water, but there are even more thorough alternatives out there if you're looking to remove up to 99.9% of contaminants from water.
While water purification bottles can remove contaminants and pathogens like bacteria, viruses and chemicals, other filtration methods, like reverse osmosis, can remove other common contaminants like lead, arsenic, pesticides and herbicides, and hard water-causing minerals.
💭 Things to Consider When Buying a Filtered Water Bottle
Bottle size
You'll be able to buy a water purifier bottle in various sizes, but the standard capacity for holding water is 20 ounces. Of course, there are bottles that are bigger or smaller than this, but you'll have to consider whether these will be suitable for taking with you on the go, and whether they'll be sufficient enough to provide you with enough water at one time.
Bottle material
If you want your filtered water bottle to last for a long time, you'll need to make sure the quality of the material is sufficient. Look for strong, BPA-free plastic that won't bend or break after a short time. Alternatively, stainless steel bottles are durable, but remember that they are a little heavier. If you're looking for a lightweight water bottle with a filter, plastic is your best bet.
Budget
As with all water filtration products, the price for a filtered bottle varies quite significantly from product to product. It's not always a case of 'you pay for what you get', so if your budget can't stretch to some of the more expensive filters, you're most likely not missing out on much. Generally, the average price of a water bottle with a filter costs $30 to $40.
Type of Filter
Most water filtration bottles contain a carbon activated filter, which traps the impurities from water in the filter media. Other models use a UV filter instead, which is often pricier and needs batteries to operate. UV filters are great for removing viruses and acting as clean, chemical-free water sterilizers. The only issue is that they're not effective in the slightest at removing chemical compounds that are in the water, like chlorine and fluoride.
Some water filtration bottles combine UV filters and carbon activated filters in one, which makes for a more expensive purchase, but provides the most thorough purifying process for your water.
What You Want Filtered Out
While most water bottles with a filter are designed with the same carbon activated filter media, not all of them can filter out the same contaminants.
Generally, you'll find that the best filtered water bottle will remove chemicals like chlorine, copper and fluoride from your water and improve its taste and odor at a minimum. It's also common for water filtration bottles to filter out parasites, bacteria and viruses from drinking water. If you're drinking from a water source like a stream or a river, this type of filtration will make your water safe for drinking.
✔️ Features to Look For in a Water Purifier Bottle
BPA-free
As we mentioned earlier, BPA is a harmful chemical that's used in many plastic products even today, and can leach into food and water sources that come into contact with the plastic. Being BPA-free is a good marketing plug, so most products that are will boast it somewhere in their product descriptions.
Easily Cleaned
You want your filtered water bottle to last for as long as possible, which means being able to clean it regularly to keep it in good condition. Some water filtration bottles are easier to clean than others, and some can be washed in a dishwasher for extra convenience. Look at a product's reviews to see if anyone has mentioned an issue with cleaning or hygiene with the bottle itself before you make a purchase.
High Quality Filters
To get the most out of your filtered water bottle, you should look for a design with a high quality water filter that's built to last.
The better the quality of a filter, the more use you'll be able to get out of it before you need to replace it. You're looking for a filter that can efficiently eliminate contaminants from water, improving taste and odor. The standard lifespan of the filter in your bottle is around 2 months. It's important that you change your filter consistently to continue to benefit from drinking clean water from your bottle month after month.
🔧 Filtered Water Bottle Upkeep
Most water filtration bottles require the filter changing once every 2 months or after every 40 gallons of use, whichever comes first.
Cleaning your water bottle is a simpler task. Simply twist the bottle's lid open, remove the straw, unclip or unscrew your filter and put it safely to one side. Submerge the bottle in warm, soapy water and clean out the insides with a sponge. If your bottle is dishwasher safe, you can use this cleaning option if you prefer.
Try to get into the habit of cleaning your water bottle regularly, especially focusing on the straw, to prevent the build-up of bacteria. Washing it out every day and subjecting it to a deeper clean once a week is a good routine to get into
❔ Frequently Asked Questions
How long can I store my filtered water for?
If you want to store filtered water, keep it in the fridge for up to a day. Avoid areas of heat or direct sunlight. It's fine to keep your bottle out of the fridge for a few hours at a time without use, or all day if you're constantly drinking from it. It's just not the best idea to leave your bottle sitting out in the sun and forget about it for a week.
Can I put my water bottle in a freezer?
No, you should avoid storing your water bottle in a freezer at all costs. When a filter freezes, its membrane becomes damaged, which will affect its efficiency and render it useless.
How do I know if my water bottle is dishwasher safe?
Most filtered water bottles will let you know in their product description if they're dishwasher safe. The majority of bottles should be fine for dishwasher use, but make sure you follow specific manufacturer guidelines to be sure. For example, some manufacturers recommend you place a water bottle on the top shelf of a dishwasher to prevent damage.
Make sure you remove the filter from your water bottle before placing it in the dishwasher. You can clean your filter by running it under a steady stream of water at your faucet.
Can a filtered water bottle make river water safe for drinking?
It depends on the filter type in the bottle you buy. Some filters are effective at removing microorganisms found in river water, like bacteria and viruses. Others are only effective at removing chemical contaminants like chlorine.
If you're looking for a filtered water bottle to take with you on a camping or hiking excursion, you'll need to find one that's specifically designed for filtering river, lake and stream water. Plenty of these exist, and you'll most likely find them listed as filtered water bottles for travel. Read product reviews, descriptions and Q&As to learn more about a filter type. You can get in touch with a manufacturer directly if you're unsure.
If I don't use my filter every day, will it dry out?
Definitely not. A water purifying bottle's carbon filter is designed to filter water, of course, but it's not going to become damaged or "dry out" if it's exposed to air. Don't worry about keeping the filter submerged in water between uses as it won't make a difference.
How do I know when it's time to change my filter?
It's not always easy to tell when your filter needs changing, so it's best to keep a note of when you last changed your filter, and be sure to change it after a maximum of 2 months of use. If you've started to notice that your water isn't flowing through the filter as quickly, this is a sign that the filter is becoming clogged with contaminants, preventing it from doing it's job as well. You might also notice that your water isn't as clear looking or clean tasting as usual.
Why is no water coming out of my straw?
There are a couple of reasons why this may be. Firstly, check that you're drinking as advised in the bottle's user manual. Some filtered water bottles are designed for holding below your mouth and sucking up through the straw, rather than tilting your head back and trying to drink with the bottle angled upside down.
You may also find that water passes up through your straw at a much slower rate if the filter is damaged or clogged. If you've had your filter for more than a month, or used it frequently, it's most likely a sign that you're in need of a new one. The longer you use a filter for, the slower it will become in filtering your water.