We ranked the best filtered water bottles on this list based on quality, performance capabilities, features, and value for money. Only 9 of the 20+ water bottles we tested were strong enough contenders to be shortlisted in this guide.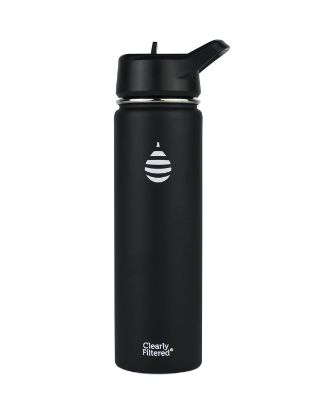 Clearly Filtered Insulated Filtered Water Bottle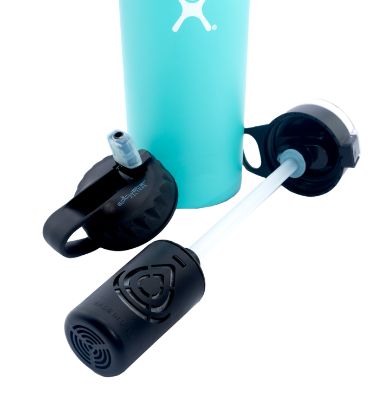 Epic Water Filters The Answer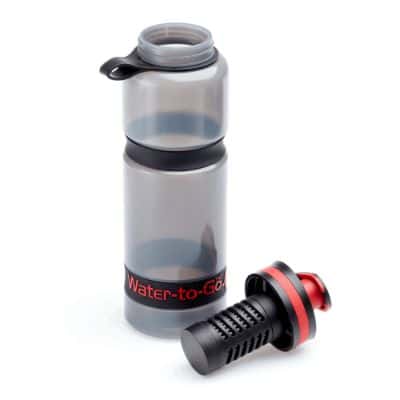 Water-to-Go Filtered Bottle
Looking for a new filtered water bottle?
Here, we've shared our reviews of the best filtered water bottles available today, based on their performance, durability, value for money, and customer feedback.
Why trust us? We have more than 10 years of experience testing and reviewing a variety of drinking water filters, so we know exactly which features are essential to a quality filtered water bottle. We only recommend products that exceed our own high standards after reading customer reviews, comparing features, and testing a range of filters ourselves.
🥇 Best Filtered Water Bottle
📊 Comparison Chart of Filtered Water Bottles
Bottle
Clearly Filtered Bottle

Epic The Answer

Water-to-Go

GRAYL UltraPress

CrazyCap

LifeStraw Go

Brita

Sport Berkey

Sawyer

Ranking
1st
2nd
3rd
4th
5th
6th
7th
8th
9th
Ratings
5/5
5/5
4.5/5
4.5/5
4/5
4.5/5
4/5
4/5
4.5/5
Price
$$
$$
$$
$$$
$$$
$$
$
$$
$$
Contaminants Reduced
220+
200+
10+
8+
Biologicals only
8+
5+
5+
5+
Pathogen Reduction
–
Bacteria, Viruses, Microbial Cysts
Bacteria, Parasites, Viruses
Bacteria, Virus, Cysts
Bacteria, Viruses, Cysts
Bacteria and Parasites
–
Cryptosporidium, Giardia, E-coli
Bacteria and Protozoa
Holding Capacity
12 or 20 oz
Your existing bottle!
18 or 26 oz
16.9 oz
17 or 25 oz
22 oz, 24 oz or 1L
26 oz
22 oz
34 oz
Filter Life
25 gallons
75 gallons or 3-4 months
50+ gallons
40 gallons (~300 presses)
n/a
Membrane Microfilter: 1,000
Carbon Filter: 26 gal.
40 gallons or 2 months
100 gallons
100,000 gallons
Material
Insulated stainless steel
Plastic
Plastic
BPA-free polypropylene
Aluminum
Plastic, silicone
Plastic
Plastic
Plastic
Process
Carbon + Ion Exchange
Mechanical + Electroadhesion + Ion Exchange
Mechanical + Carbon + Electroadhesion
Electroadhesion + Activated Carbon
UV Light Purification
Microfilter + Activated Carbon
Activated Carbon Block
Ionic Adsorption & Micro Filtration
Hollow Fiber Membrane
Annual Cost
$25 – $50
$90 – $120
$90 – $100
$70 – $80
–
~$40
$20 – $30
$60 – $70
–
Warranty
Lifetime
Lifetime
-
10 years
Lifetime
3 years
1 year
Lifetime
Lifetime
---
⭐ Best Filtered Water Bottle Reviews 2023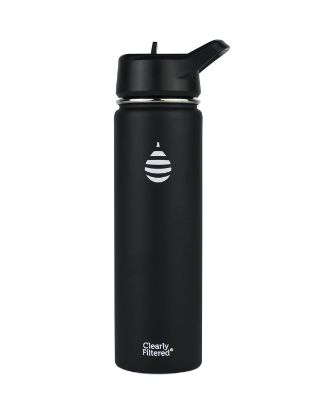 Clearly Filtered Insulated Stainless Steel Filtered Water Bottle
In our opinion, the best filtered water bottle available today is the Clearly Filtered Insulated Stainless Steel Filtered Water Bottle.
This water bottle is one of the best we've reviewed performance-wise, using carbon and ion exchange media to reduce up to 99% of 220+ contaminants, including lead, fluoride, pesticides, pharmaceuticals, and more. This bottle is intended for use with municipal or treated well water.
Key Features:
Removes 200+ contaminants – The Clearly Filtered Bottle has been tested to remove 220 contaminants in accordance with NSF Standards 42, 53 & 401. View the test results here.
Affinity Filtration technology – The bottle uses Clearly Filtered's own Affinity Filtration technology, which includes activated carbon and ion exchange filtration, to target a variety of contaminants commonly found in drinking water.
2 bottle sizes & various colors – There are two sizes to choose from (20oz or 32oz), with the larger bottle being best for storing a large volume of water and minimizing refills, and the smaller bottle being best for taking with you on the go. You can also choose between colors including pink, blue, black, white, and sage grey.
Best For:
Anyone looking for the very best water bottle with a filter for municipal or treated well water supplies, which can remove more contaminants than most other filter bottles.
Pros:
We think the major advantage of the Clearly Filtered Bottle is its contaminant removal abilities. It removes more contaminants than any other filtered water bottles for treated/municipal water supplies that we've seen, including all the obvious contaminants (chlorine, lead, mercury, etc.) and some more difficult-to-remove impurities (fluoride, pharmaceuticals, etc).
There are a few design features of this water bottle that help to give the best water drinking experience, including the double-walled stainless steel insulation that keeps water cold for up to 24 hours, and the easy-to-clean silicone mouthpiece that makes sipping from the bottle a breeze.
Due to the high amount of contaminants reduced, the filter has a slightly shorter lifespan of 25 gallons. But don't let that discourage you – that's still 160 full refills providing one of the highest contaminant reduction capabilities of all bottles we've seen (plus it has a lifetime guarantee).
Cons:
This Clearly Filtered bottle can't reduce biological contaminants like bacteria or viruses, so (unlike many filters on this list) you can't use it to treat natural water sources.
The filter lifespan is shorter than other water bottle filters at just 25 gallons.
Read the full review: Clearly Filtered Water Bottles Review
---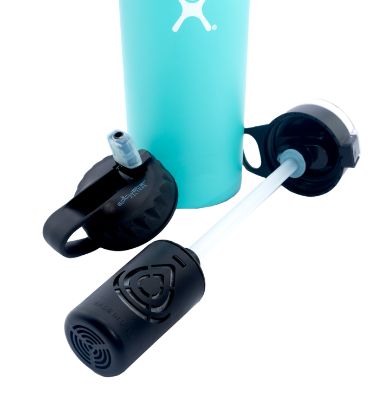 Epic Water Filters The Answer
A close runner-up to the Clearly Filtered Filter Bottle is The Answer, a filter collection offered by Epic Water Filters. There are five filters available, which can be inserted into your favorite water bottle, turning the bottle into a filter. You don't have to switch to another water bottle, but you still get to benefit from filtered water on the go.
Key Features:
5 filters available – There are five filters in The Answer series to choose from: the Hydro Flask Water Filter, the Nalgene Filter, the Takeya Thermoflask Filter, the Hydro Cell Filter, and the Camelback Water Bottle Filter. These are designed to fit in the following Epic water bottles: the Hydro Flask, the Nalgene, the Takeya Thermoflask, the Hydro Cell, and the Camelback Water Bottle. You can also use the filters in a reusable bottle of your choice.
Removes more than 70 contaminants – The Answer filters remove 70+ contaminants from drinking water, including pathogens (if you opt for the "Outdoor" model), fluoride, chlorine, lead, benzene, and PFOS/PFOA. They've been independently tested to meet a number of NSF standards, including 42, 53, and 401.
75-gallon filter lifespan – The filter has a 75-gallon lifespan, and needs to be replaced 3 to 4 times a year when used every day.
Best For:
Anyone who likes having lots of options, including the opportunity to use a specially designed filter lid/cartridge with their water bottle of choice.
Pros:
The concept of The Answer is really handy – you don't have to abandon your favorite water bottle in place of a bottle with a filter, as you can simply attach the filter to your own bottle and drink filtered water straight from there. From our testing, we found that the cap fits well and doesn't leak when used with compatible bottle sizes.
You can get instant access to clean water with The Answer. Just suck through the straw to send water through the filter and out of the mouthpiece.
The filter comes pre-flushed, so you can use it as soon as you've bought it. There isn't much maintenance to remember aside from changing the filter, and the mouthpiece is fully removable for easy cleaning.
Cons:
The filter lifespan is longer than that of the Clearly Filtered Bottle Filter, but it's still not as long as others we've reviewed.
Due to the straw being slightly too short, we were unable to drink the last bit of water in the bottle.
Read the full review: Epic The Answer Review (Updated 2023)
---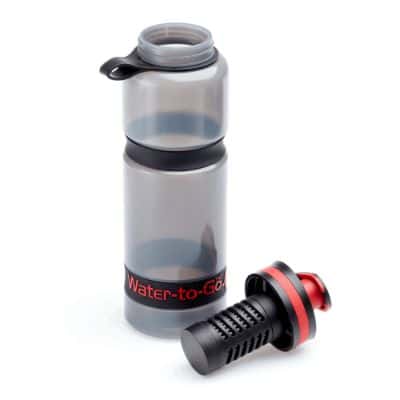 Water-to-Go Filtered Bottle
If you're specifically looking for a water filter bottle that you can use on your travels to reliably remove pathogens, we think the Water-to-Go Filtered Bottle can't be beaten.
This bottle comes in three sizes – 18.5 oz, 20 ox, or 25 oz – and the range of bottle type variations is continuously expanding. Traditional carbon filter technology is combined with 2 types of nano filter to remove 99.999% of microbiological contaminants in addition to chemicals, heavy metals, and microplastics.
Key Features:
Removes waterborne pathogens – The Water To Go Bottle removes harmful bacteria, viruses, and protozoan parasites, so it can be used to purify untreated water sources, like stream or lake water.
Improves water taste & quality – This bottle filter also uses activated carbon filter media, which removes chemicals, chlorine taste, and heavy metals, further improving water safety and boosting taste.
Filters water as you drink – You don't have to pump water or wait for gravity filtration. Just fill the bottle and drink from the straw, and water will be filtered as you drink.
Best For:
Folks looking for the best water bottle filter for removing pathogens from untreated water sources.
Pros:
The nanofiltration media in the Water To Go Bottle makes it one of the best in terms of all-around performance. You can rely on this bottle to make water from any natural source (except salt water) safe to drink.
This filtered bottle removes viruses, which not all water filters – even those that can remove pathogens – are capable of. That means you can take it further afield to overseas locations and use it to reliably remove everything that the water might contain.
We also appreciate the range of bottle types and sizes to choose from. There's something to suit everyone, but there's one thing that all the bottles have in common: a quality, durable design with an easy-use straw filter.
Cons:
The 53-gallon filter lifespan (lasting around 3 months) could be better.
The bottles don't have the most attractive designs. They're definitely intended for camping and hiking rather than sitting pretty on your office desk.
Read my full review here: Water-to-Go Filtered Water Bottle Review (2023)
---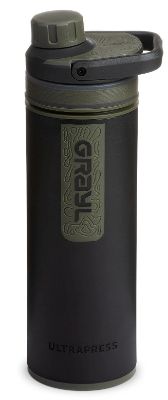 GRAYL UltraPress
We think the GRAYL Ultrapress water purifier is the best water bottle with a filter for anyone who wants a low-maintenance bottle with a long lifespan.
This water bottle can be filled up from any freshwater source and can filter nearly all pathogens – and, importantly, it lasts for up to 300 presses, so you'll get plenty of use out of the filter before you need a replacement. Perfect for the avid hiker, camper, rock-climber, or traveler, the UltraPress filters out 99% of bacteria, protozoa, viruses, and heavy metals.
Key Features:
Removes chemicals, heavy metals, pathogens, & more – The Grayl UltraPress purifying water bottle removes all the most concerning contaminants that you're likely to find in natural, untreated water sources, including benzene, chlorine, lead, arsenic, chromium, sediment, microplastics, viruses, bacteria, and protozoa.
Multi-stage filtration – This BPA-free bottle filter combines electroadsorptive ultra-powdered activated carbon and ion exchange for effective contaminant removal. Normal activated carbon can't remove pathogens, but powdered activated carbon is highly effective at removing bacteria and viruses.
Single 500ml bottle size – You can buy the Grayl UltraPress in just one bottle size: 500ml. There are several colors to choose from, including various nature-inspired shades of green, brown, and blue.
Best For:
Anyone who prefers the design of a press bottle filter and people who want to enjoy filtered water for longer, with fewer filter changes.
Pros:
The 300-press lifespan is, in our opinion, the big selling point of the Grayl UltraPress. You don't have the hassle of sucking through a straw filter – just press the filter into the bottle to send water straight through the filter, ready for drinking.
Design quality is something else that Grayl excels at. The BPA-free bottle is compact, lightweight, and made from durable plastic that can last up to ten years. The 500ml holding capacity is spacious and should keep you hydrated while you're hiking or on the move.
It's great to see that the filter can remove waterborne bacteria, protozoa, and viruses, which are notoriously difficult to remove due to their tiny size.
Cons:
You only get one bottle size, which might be too big if you need to pack light.
The filter clogs easily if you use it to treat sediment-heavy or turbid water.
Read the full review: Grayl Ultrapress Review
---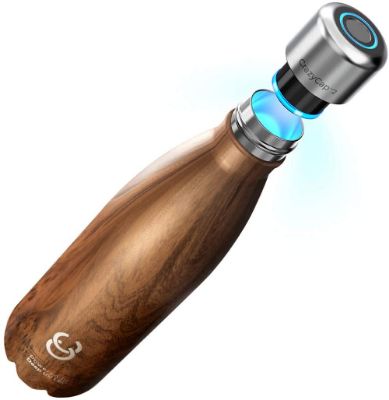 CrazyCap
The CrazyCap is our top pick for anyone who prefers to purify their water with UV technology.
Rather than using a traditional mechanical filter, this bottle uses 278 nm deep UV LED light to destroy all pathogens in the water. Purifying water with this bottle couldn't be easier: you just tap the lid a couple of times to activate the UV light.
Key Features:
Kills bacteria, viruses, and more – The Crazy Cap is the only bottle filter on this list so far that doesn't just reduce or remove pathogens, but kills them. UV purification is a safe, natural method of water disinfection.
Two purification levels – You can tap the bottle lid twice for normal sterilization, or tap it five times to activate "crazy mode", which offers more comprehensive contaminant reduction.
Self-cleaning bottle – Maintenance is virtually non-existent with this bottle. There are no filters to change, and the bottle self-disinfects, so all you need to do is empty out stagnant water after each use.
Best For:
People who want a no-maintenance, filter-free water purification solution and primarily want to address pathogens in their water.
Pros:
There are a few obvious advantages of using a UV water bottle filter: you don't have a bulky filter to change, there's no effort required in filtering your water, and you can drink your water freely without having the resistance of sucking a straw filter. Plus, the cap is rechargeable, lasting around 30 days between charges, so you can use it for years without having to buy a new one.
It's great to see that you can choose between normal sterilization and crazy mode depending on your situation. For instance, if you're concerned about E. coli, use the crazy mode – normal sterilization has a 99.1% kill rate for this bacteria, while the crazy mode kills up to 99.99% of E. coli cells.
You can buy the Crazy Cap lid without the bottle if you prefer, then use it on a compatible bottle of your choice.
We also love the random benefit of being able to use the Crazy Cap to sterilize everyday items, like your phone and laptop keyboard.
Cons:
The main setback of UV purifiers like the Crazy Cap is that they don't physically filter water, so they won't remove suspended solids from water. If you're treating a turbid water source, you'll need to use a pre-filter.
You'll need to charge the bottle cap every month or so, so it's not ideal for situations where you're traveling off-the-grid for months on end.
Read my full review here: CrazyCap Review (2023)
---
LifeStraw Go Water Filter Bottle
A great runner-up for long filter life is the LifeStraw Go Water Filter Bottle, with a membrane microfilter that lasts up to 1,000 gallons, and a carbon filter that lasts 26 gallons.
The hollow filter straw design of the LifeStraw Go removes 99.99% of waterborne bacteria, 99.9% of waterborne parasites, chemicals, and microplastics. The carbon filter removes chlorine in water to freshen the taste without the use of chemicals or iodine. The bottle can carry 22 oz of water and can easily be refilled from a stream or other natural water source.
Key Features:
Integrated straw filtration – The LifeStraw Go bottle has an integrated filter straw. Simply fill the bottle and screw the lid in place (the filter is attached to the underside). Drink from the straw to send water through the filter.
Removes pathogens & improves water taste – The 0.2-micron membrane microfilter removes sediment and turbidity, 99.999999% of bacteria, 99.999% of parasites, and 99.999% of microplastics, while the activated carbon filter improves water taste and removes chlorine and chemicals.
Meets NSF Standards for contaminant removal – Based on LifeStraw's independent testing, the Go bottle meets NSF Standard 42 for chlorine reduction and NSF P231 for the removal of bacteria and parasites.
Best For:
Anyone who, for whatever reason, prefers this LifeStraw bottle to other bottles with similar designs, or any loyal followers of the LifeStraw brand who want to try out another of its products.
Pros:
While the carbon filter lifespan (around 26 gallons or 2 months) is nothing to write home about, the 1,000-gallon membrane microfilter lifespan (up to 5 years) is one of the best bottle filter lifespans we've seen.
We appreciate that the filter combines activated carbon and microfiltration to target microorganisms and improve water quality and taste. Some bottle filters only do one or the other.
There are several bottle sizes to choose from, from smaller 22-ounce bottles to larger 1-liter bottles, with various colors and designs available. It's also great to see a steel option if you want to avoid plastic – but we appreciate that plastic is still offered as a lightweight alternative.
Cons:
The filter's straw design can make it difficult to draw water through.
The bottle sometimes leaks from top, which isn't ideal if you want to be able to safely store it in a backpack or bag while hiking.
---
Brita 23.7 Ounce Hard Sided Water Bottle with Filter
If your priority is removing bad tastes and smells from your treated tap water supply, we think you can't go wrong with the Brita Water Bottle With Filter.
Perfect for taking on the go to the gym, work, at school, or in the car, this Brita water bottle is made of durable, BPA-free, hard plastic that should withstand the occasional bump or drop. The included activated carbon straw filter can remove a handful of common tap water impurities, including chlorine.
Key Features:
Activated carbon block filtration – Brita is known for its activated carbon filtration, and its water bottle filters are no different. Carbon block adsorbs contaminants like chlorine, taste and odor.
Straw-style bottle filter – Brita water bottles all use straw-style filtration to address contaminants in water. Sucking the straw on the bottle cap sends water up through the filter and into your mouth.
40-gallon filter lifespan – You can use the filter to treat up to 40 gallons of water before you need to replace it with a new one.
Best For:
Folks looking to enjoy filtered water on the go without breaking the bank or contributing to single-use plastic water bottle waste.
Pros:
The Brita water bottle is one of the best budget-friendly filtered water bottles we've reviewed. We think it's ideal if you just want to remove a handful of common impurities from your water rather than spending money on plastic bottles from the store. Brita estimates you can save up to $500 per year on water bottle purchases.
The filter's activated carbon media uses adsorption, one of the most effective processes to reduce chlorine taste and odor. Water tastes clean, fresh, and chlorine-free after being filtered in this Brita bottle.
You should only have to refill the 24-ounce bottle a couple of times throughout the day, so it'll help you stay hydrated when you don't have immediate access to tap water.
Cons:
This Brita water bottle shouldn't be used on hiking trips or in any situation that calls for filtering untreated water. The basic carbon filtration will only reduce chlorine and other contaminants that make water smell or taste bad.
You have to replace the filter every 40 gallons. We've seen longer lifespans for bottle filters than this.
---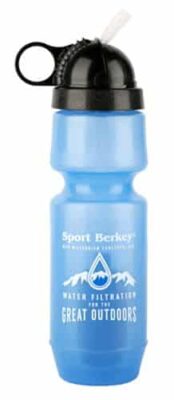 Sport Berkey Water Bottle
In our opinion, the Sport Berkey Water Bottle is the best water bottle filter available today in terms of shelf life.
This portable Sport Berkey water bottle has a massive shelf life of 50 years, so you can store it in a cupboard for up to half a century. With a capacity of 22 ounces, this bottle is the perfect size for on the go transport.
Key Features:
Removes tens of contaminants – According to Berkey, the filter used in the Sport Berkey is capable of removing a variety of contaminants, including 99%+ of microorganisms and 97% of viruses and heavy metals, plus pharmaceuticals, pesticides, herbicides, and more.
Optimized for sport use – The Sport Berkey has been thoughtfully designed for use while working out, biking, hiking, and more. It has a loop for carrying, and is made from BPA-free lightweight polymer, which should withstand bumps and drops while on the go.
Squeeze & straw bottle – After filling the bottle, you can access filtered water by sucking through the straw and squeezing the bottle to send water through the built-in filter.
Best For:
Fans of the Berkey brand who want to invest in Berkey's portable water filter offering, or anyone looking for a filter bottle with a very long shelf life.
Pros:
The Sport Berkey's 50-year shelf life is incredibly impressive. We don't think we've ever seen a longer proposed shelf life for a water bottle filter than this.
You should get up to 640 refills out of the bottle before you need to replace the filter. That's a pretty impressive lifespan and means you don't have to spend a fortune on frequent filter replacements.
We're impressed with the filter's contaminant removal abilities. It removes more impurities than a basic activated carbon-based filter, including microorganisms, making it suitable for filtering untreated water sources.
Cons:
A long shelf life isn't everything. The filter still needs to be replaced every 160 refills (when using with contaminated water) or 640 refills (when treating municipal/tap water)
We read reports from customers about leaking from the lid and mouthpiece, which makes us question its leak-proof design.
---
Sawyer Products Personal Water Bottle Filter
We've found that the Sawyer Products Personal Water Bottle Filter is another great bottle filter capacity-wise, with the ability to filter up to 100,000 gallons of water.
This BPA-free reusable water bottle uses a 0.1-micron hollow fiber membrane filter to remove bacteria, protozoa, and microplastics, and holds 34 ounces of water – plenty to keep you hydrated while you're on the go.
Key Features:
Straw filtration – Nothing new here: like many of the best filtered water bottles on this list, the Sawyer Personal Water Bottle uses a straw filter to produce filtered water as you drink.
Removes microplastics, bacteria, and protozoa – The 0.1-micron hollow fiber membrane filter in this Sawyer bottle has small enough pores to remove up to 99.99999% of all bacteria and 99.9999% of all protozoa, including giardia and cryptosporidium, as well as 100% of microplastics.
Long filter lifespan – The filter lasts up to 100,000 gallons and comes with a backwash syringe that will flush out the contaminants, enabling you to reuse the same filter much longer than you could with a non-flushable bottle filter.
Best For:
Anyone interested in a bottle with a straw-type filter that lasts far longer than the average filter for this purpose.
Pros:
You can use the Sawyer Personal Water Bottle to filter any untreated water source in the US (such as lakes and rivers) thanks to its ability to remove more than 99% of bacteria and protozoa.
We appreciate that the 63mm cap can be used with the included bottle or with any wide-mouth bottle of your choice. The Sawyer bottle is very practical, and it doesn't have the most visually appealing design, so you may choose to use it with your own bottle.
The fact that the filter is flushable is a huge bonus. It means you can significantly extend the filter's lifespan and get much longer out of the same filter before you need to buy a replacement.
Cons:
While flushing the filter is a benefit, using the syringe to do so is a bit of a faff.
The filter can't remove any other harmful contaminants aside from select microorganisms and microplastics.
---
🚰 What is a Filtered Water Bottle?
A filtered water bottle is a water bottle with a built-in filter. It looks just like a standard reusable water bottle, except it contains a filter that removes impurities and contaminants from water.
You can buy water bottles with built-in filters in a range of different styles, colors, and material types.
Using a filtered water bottle helps you to avoid the enormous yearly plastic waste associated with buying single-use water bottles, while still enabling you to access clean drinking water.
Some filtered water bottles are designed to filter treated tap water, while others can filter both tap water and untreated natural water sources.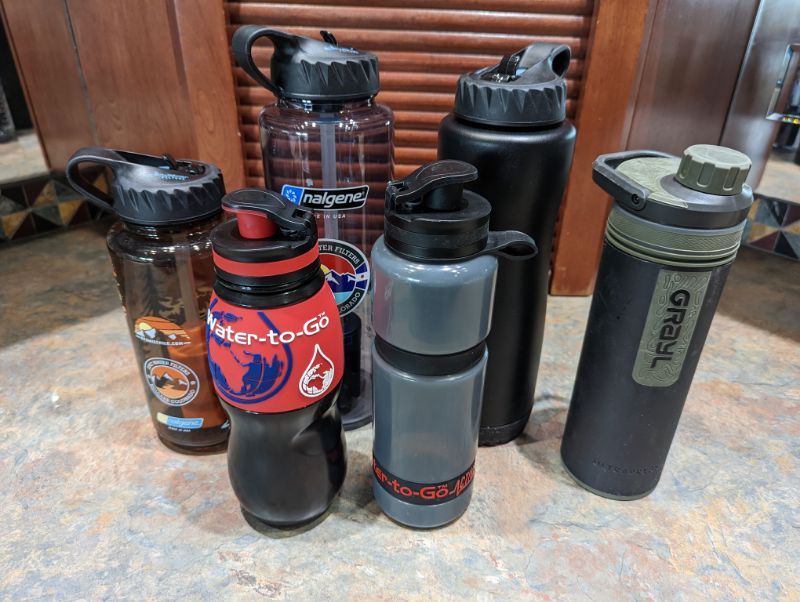 🤔 How Do Filtered Water Bottles Work?
The two more popular filter systems for a water bottle are:
Systems that filter water as you fill the bottle
Systems that filter water as you drink from the bottle
When water flows through the filter media, the filter traps the impurities and removes them from the water.
Most water purification bottles use an activated carbon filter, which relies on activated carbon, or activated charcoal, to eliminate contaminants from the water.
Activated carbon has a very big surface area to volume ratio, which helps the filter to remove as many impurities from drinking water as possible.
Bottle filters that remove pathogens may also use nanofilters, which offer additional contaminant removal abilities due to their tiny pore size.
Eventually, the filter media will become clogged, and you'll need to backflush it (for backflushable filter types) or replace it with a new filter.
🧫 Contaminants Removed by Water Purifier Bottles
Water bottle filters are designed to filter out two key groups of contaminants:
Microorganisms – Pathogenic bacteria and protozoa are found naturally in the environment, particularly in water sources. Viruses are uncommon in natural water sources in the US, but may be found in certain overseas regions.
Chemical compounds & heavy metals – Compounds like chlorine, fluoride, chloramines, hormones, nitrates and pesticides are all found in small traces in our water. These can affect water quality and taste.
Not all filtered water bottles remove the same harmful contaminants. Some can remove a greater range of impurities than others, so check the product description if you're looking for a bottle filter that can remove specific contaminants.
👍 Advantages of Filtered Water Bottles
Here are some of the biggest benefits of water bottles with a filter:
Portability
One of the best things about a water filtration bottle is that you can take it wherever you go, whether that's to work, the gym, or across the world on a vacation.
The best filtered water bottle works with any water source, so you can get great tasting water no matter where you are. Most bottles are standard water bottle size, and are compact enough to fit inside a handbag or in a backpack bottle pocket.
You won't need to be at home to enjoy clean drinking water with a water filter bottle, like you would if you had an under-sink water filter or reverse osmosis system. You can take your filter with you anywhere you want, so you'll never need to buy bottled water while out and about.
Related Content: Top Rated Portable Water Filters of 2023
Cost Effective
Water filter bottles eliminate the need for buying bottled water, with huge potential savings.
Take a moment to work out what you currently spend on bottled water every year, then compare this to the cost of a water purification bottle and its replacement filters. You'll spend hundreds of dollars less by switching to a filter.
The majority of water filter bottles online cost between $30 and $70. Replacement cartridges cost between $5 and $15, depending on the brand and the filter quality.
No other water filtration product – not water filter pitchers, under sink filters, or countertop filters – is as affordable as water filter bottles.
Removes Contaminants
Whatever your reason for wanting to drink clean water, you'll be able to reap the benefits of contaminant-free water with a water filtration bottle.
Activated carbon filters are particularly effective at removing chlorine and other chemical compounds from water. Or, if you want to remove microorganisms, you can opt for a bottle filter made from a nanofiltration or microfiltration media.
Environmentally Friendly
The world is in a plastic crisis, and drinking water from single-use bottles will only make the situation worse. The only way to solve the plastic problem is to stop using throwaway plastics altogether.
The solution is obvious: durable, long-lasting water bottles designed for multiple uses, which improve tap water quality with built-in filtration.
Filtered water bottles are a much more environmentally-friendly solution to drinking pure filtered water, and you don't have to compromise on taste.
Safer for Drinking
Single-use bottled drinking water often contains toxins from the plastic itself. The chemicals used to make these bottles can leach into water over time.
You don't have this issue with a water purifying bottle. Most bottles with a filter are BPA-free, which means they're intentionally designed without the BPA toxin in their material, so there's no risk of it leaching into the water. You can also buy stainless steel bottles if you prefer to avoid plastic entirely.
Simple Filtration Solution
There's no need to resort to tiresome methods of water filtration or decontamination, like boiling water, adding disinfection tablets, or using a filter hand pump, to access safe water in the backcountry. Water filter bottles offer a much more simple and convenient solution.
With a water purification bottle, all you need to do is fill it with water and enjoy the filtered water instantly.
👎 Disadvantages of Filtered Water Bottles
More Expensive
You might be able to find a good-quality reusable water bottle for as little as $5. Filtered water bottles have a starting price of around $30 – at least 6x the cost.
You'll also need to factor in the cost of changing your filters regularly. The cost of replacement filters varies depending on the filter lifespan, but it's about $29-$100/year on average.
Drinking From a Straw
Most filtered water bottles only give you one drinking option: through the bottle's straw. The straw is attached to the filter, and your sucking force sends water through the filter – so you couldn't remove the straw and continue to access filtered water.
Not everyone enjoys drinking from a straw, and it can get annoying if you want to take a big gulp of water. The straw feature also makes bottle filters more difficult to clean.
Luckily, there are several alternative options for people who don't like the straw filter design, including press filters (where you filter water by pushing the filter into the bottle) and UV filters (which filter water with a UV light in the bottle lid).
Container Size
Water purification bottles can only carry a limited quantity of filtered water at a time.
A standard water bottle with a filter holds 20 ounces of water, which might not be a satisfactory amount for you.
The good news is that many filter bottle brands now sell a variety of bottle sizes to use with the same filter, and some even allow you to use their filters with compatible water bottles of your choice, giving you more options when it comes to bottle size and shape.
Water Purity
Some of the best filter bottles are incredibly effective at removing contaminants and impurities from water, but their small filters are somewhat limited.
Other filtration methods, like reverse osmosis, can remove an even bigger selection of common contaminants like lead, arsenic, pesticides and herbicides, and hard water-causing minerals.
💭 5 Things to Consider When Buying a Filtered Water Bottle
Consider the following 5 things when choosing between the best filtered water bottles:
Bottle size
Many manufacturers sell their filter bottles in various sizes, but the standard capacity for holding water is 20 ounces.
Think about how you plan to use your water filter bottle, which will help you to decide on the most suitable bottle size for your situation.
If you prefer a bottle that holds lots of water, go for a bigger size. Or, if you plan to take the bottle on hikes or bike rides, prioritize choosing a bottle that's small enough to fit in your backpack or bike holder.
Bottle material
You want your water bottle to last for a long time, so make sure the quality of the bottle material is sufficient.
Look for strong, BPA-free plastic that won't crack or break after a short time. Alternatively, stainless steel bottles are durable, but remember that they're also heavier. If you're looking for a lightweight water bottle with a filter, plastic is your best bet.
Budget
As with all water filtration products, the price for a filtered bottle varies quite significantly from product to product.
Establish a budget, accounting for what you can afford to spend upfront and annually on filter replacements, before you start shopping.
Generally, the average price of a water bottle with a filter is $30-$80. Price is typically reflective of quality, performance, and filter lifespan.
Type of Filter
Also consider your preferred filter type in a water filter bottle.
Most water filtration bottles contain activated carbon filters, which use adsorption to address contaminants like chlorine. Some bottles also use a nanofilter, which can remove smaller contaminants like pathogens and microplastics.
Other models use a rechargeable UV purifier, which can kill microorganisms but won't address physical particulates in water.
The type of filter media you go for depends on your use and maintenance preferences, and what you want to remove from your water.
Water Source/Contaminant Removal
Do you plan to use your water filter bottle for tap water, or do you need a bottle filtration system that you can take with you on trips to the backcountry where your only water source will be an untreated river or lake?
Your intended use of the bottle filter will determine the best choice for you.
Purified water bottles for tap water can usually remove chlorine, some heavy metals, and fluoride, and improve the taste and odor of the water. Some water filtration bottles are intended for use with unclean water sources and filter out parasites, bacteria, and sometimes even viruses.
Make sure your chosen bottle filter can remove the contaminants you're concerned about before you spend your money.
✔️ Features to Look For in a Water Purifier Bottle
Here are some of the features you should look for in the best water filter bottle:
BPA-free – This tells you that the bottle won't add any harmful chemicals to your filtered water.
Easy-clean – The best bottles have a wide mouth and can be easily rinsed or cleaned between uses. Some are also dishwasher-safe.
High-quality filtration – Look for filters that are made from high-quality materials with a reputation for reliable contaminant removal.
🔧 Water Bottle Upkeep
Most water filtration bottles have a filter lifespan of around 40 gallons, or 2 months, whichever comes first.
You'll also need to clean the bottle as you would any regular bottle without a filter. Submerge the bottle in warm, soapy water and clean out the inside with a sponge, then rinse and leave to dry.
Clean the bottle regularly, especially around the straw, to prevent a build-up of bacteria.
❔ Frequently Asked Questions
Are filtered water bottles worth it?
Filtered water bottles are worth it if you want to be able to drink clean, great-tasting tap water on the go without the expense of single-use plastic water bottles. However, they may not be worth it for you if you're happy to drink normal tap water and don't think you'd get much use out of a bottle filter.
Do you need a water bottle filter for Europe?
Some countries in Europe have safe drinking water, but some countries don't have potable tap water. You will benefit from a water filtering bottle if you're traveling to one of these countries. Do some research on the countries you'll be visiting and make sure you're prepared in advance. As a last resort, you can still buy clean bottled water while you're there.
What is the best water filtering bottle to take on a cruise?
We think the Clearly Filtered Insulated Stainless Steel Bottle is the best water bottle with a filter to take on a cruise because it removes more than 200 contaminants that you might find in your tap water and there are lots of attractive colors to choose from. The design is modern and should blend in well with your cruise attire.
How do I know if my water bottle is dishwasher safe?
Most filtered water bottles will let you know in their product description if they're dishwasher safe. Some manufacturers recommend you place a water bottle on the top shelf of a dishwasher to prevent damage. Make sure you remove the filter from your water bottle before placing it in the dishwasher.