🧾 Overview
Tap Score by SimpleLab offers city water and well water tests, and specialized tests for single contaminants.
The 3 options for city water testing and number of analytes tested are:
Essential City – 45
Advanced City – 108
Extended City – 118
And the 3 options for well water testing and number of analytes tested are:
Essential Well – 51
Advanced Well – 111
Extended Well – 182
There is a huge range of targeted test packages on offer, testing for everything from pesticides and microplastics and fluoride to various forms of radium.
Test prices vary widely, with cheaper tests costing between $50 and $150, and some of the more expensive, most comprehensive tests costing up to $2,000.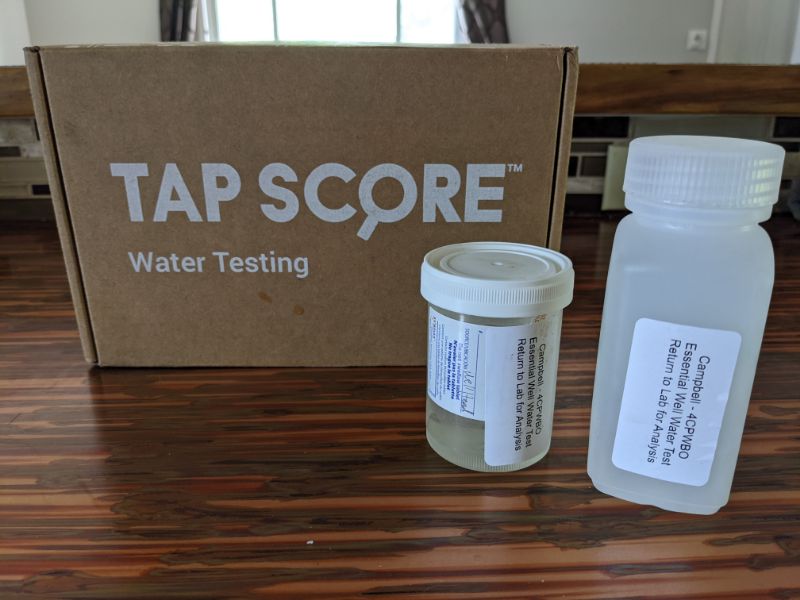 💡 How It Works
Tap Score's tests vary from one to another, but they all include a sampling vial (or vials), an instructions leaflet, a return shipping label (prepaid), a container for shipping, and an information card for the sample.
When you receive the kit, you'll simply follow the instructions on the leaflet to take a sample of your water.
Usually this will involve taking cold water directly from your faucet. Usually, your testing package will only be used for a single sample from one location.
You will then return the kit to a SimpleLab laboratory, where your water will be tested.
A report will be sent to you by Tap Score within 5 days of receiving the sample by mail.
Our readers get $10 off at mytapscore.com – 👉 Click here to get code.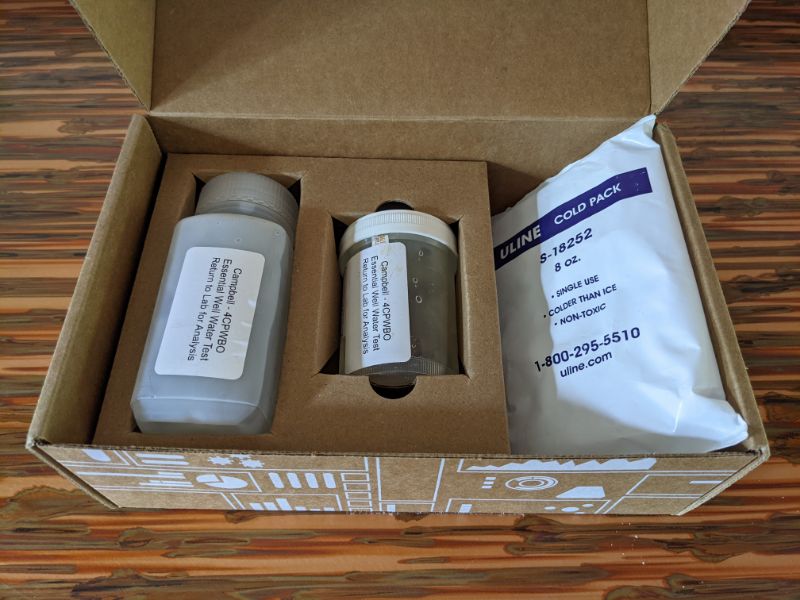 🧫 Tests by Water Source
City Water
When testing your city water, you can choose one of three options:
Essential City Water Test
Advanced City Water Test
Extended City Water Test
The Essential City Water Test tests for physical parameters, nitrates, chlorine and chloramines, and toxic metals.
The Advanced City Water Test tests for all these contaminants, as well as Trihalomethanes and plastic pipe chemicals.
Finally, the most comprehensive test of them all, the Extended City Water Test tests for all of the above, as well as radioactive particles, haloacetic acids, and chlorate.
Tests are priced from around $130 to around $155.
👉 Check out the city water tests here
Well Water
If you purchase a ground water test by Tap Score, again, you have three options:
Essential Well
Advanced Well
Extended Well
The Essential Ground Water Test tests for hardness and alkalinity, general chemistry, nitrate and nitrate, toxic heavy metals, silica, and coliform and e.Coli.
The Advanced Ground Water Test tests for all these contaminants, as well as disinfection byproducts, industrial chemicals, and oil and gas indicators.
The Extended Ground Water Test tests for all of the above, and additional oil and gas, tannins, radioactive particles, pesticides and plasticizers, and flame retardants.
Tests range from around $150 and $650.
👉 Check out the well water tests here
Our readers get $10 off at mytapscore.com – 👉 Click here to get code.
Specialized Tests
The Tap Score specialized tests are designed to test for a single contaminant of concern, or multiple contaminants that pose specific exposure risks.
There are 54 tests to choose from, covering everything from the more common impurities (fluoride, bacteria, hardness) to the rarer contaminants (glycol, asbestos, perchlorate).
Tap Score provides information about why you may need to purchase each specialized test on offer.
For example, the perchlorate test is intended for "customers near munitions, rocketry, or industrial waste", while the nitrate test is ideal for "homes with expecting mothers".
Tests cost between $50 and $2,000.
👉 Check out the specialized tests here
Add-ons
Finally, you can choose from 8 DIY add-ons: at-home self-testing kits that Tap Score recommends using alongside a more comprehensive laboratory test.
There are 5 types of bacteria tests available to buy, as well as testing strips for chlorine, pH, and H2S. Tests range from around $5 to around $50.
Note that you can't purchase an add-on on its own; it has to be purchased alongside a regular Tap Score water test.
👉 Check out the DIY addon tests here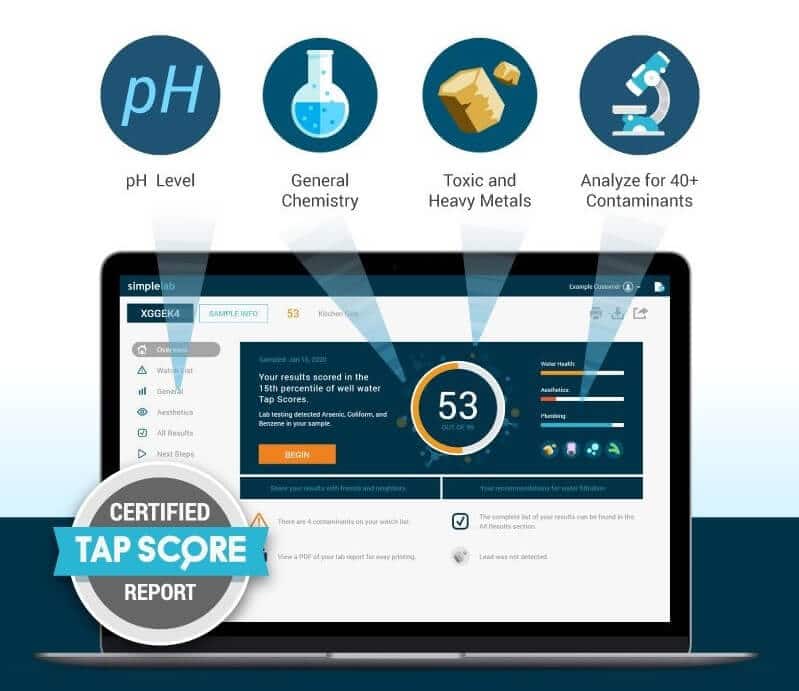 📊 The Report
Tap Score provides an interactive, easy-to-understand report for its water testing customers.
The first page of the report includes details of the date of the sample, a water test score out of 99, and overall scores for water health, aesthetics, and your plumbing.
Once you click through into the report, you'll be able to see exactly what your water contains. The type of test you order will determine what shows up on this page.
The report lists the names of the contaminant, its detection (in parts per billion/ ppb or parts per million/ ppm), an "evaluation" of how much of this contaminant is present, and any health or aesthetic impacts it may have.
Contaminants are listed in descending order, with those present in the highest concentrations at the top, and those present in the lowest concentrations at the bottom.
The report also advises you on the next steps you should take, including additional tests you might want to carry out and the best water treatment options for your contaminant issue.
You can view a sample Tap Score report here.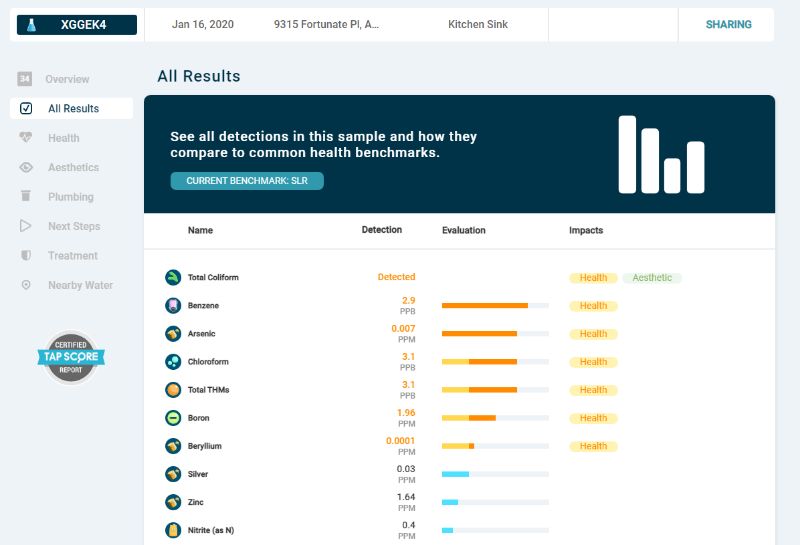 📲 Online Support
Tap Score offers very helpful online support.
Rather than enquiring about your test status and having to wait for a response, you can enter your report ID here to instantly know what stage of the testing process your sample is in.
It's really helpful that they make the information self-serve like this.
You can also live chat with the SimpleLab team, or email the company at [email protected].
In some cases, online support might not be necessary, as the FAQs section on the website's Contact Us page might answer any questions you have, saving you the need to contact a person.
🔔 Pros & Cons
👍 What I Like
Multitudes of tests to choose from
Some of the most comprehensive tests available
Dedicated city water and well water options
Easy-to-understand report & data presentation
Self-serve access to your report
Quick & easy process from online order to sampling
Fast turnaround time
👎 What I Don't Like
Number of options can be overwhelming
❔ Frequently Asked Questions
What if I don't know which test is right for me?
The simplest thing to do is to narrow down your options based on whether you get your water from a city (or municipal) source or a private well. If you have a specific contaminant concern, you can consider a specialized test. You can chat with SimpleLab online if you're in need of a second opinion.