If you source your drinking water from a private well, you probably know all about well water filters. But you might also be on the market for a well water softener.
Just like city water, some sources of well water are harder or higher in iron content than others. High levels of hardness can cause a number of practical problems around the home, and a well water softener can improve your water taste, help you save money, and increase the lifespan of your plumbing and appliances.
In this guide, I'll talk you through the ins and outs of softening your well water, and recommend some of the current best water softening systems for private wells in the US.
🥇 Best Water Softener for Well Water
System
Details
SpringWell Salt Based Water Softener System

Price: $$
Capacity (grains): Up to 80K
Type: Ion exchange
Flow Rate (GPM): Up to 20
Max Iron: 3 PPM



☝️ Get 5% off - Use code GURU5


Read Our Review
SpringWell Futuresoft Salt-free Water Softener

Price: $$
Max hardness (GPG): 81
Type: Salt-free
Flow Rate (GPM): Up to 20
Max Iron: -




☝️ Get 5% off - Use code GURU5


Read Our Review

SoftPro Elite Water Softener for Well Water

Price: $
Capacity (grains): Up to 80K
Type: Ion exchange
Flow Rate (GPM): Up to 23
Max Iron: 3 PPM

Read Our Review
Pelican Advantage Series Salt Water Softeners

Price: $$$
Capacity (grains): up to 80K
Type: Ion exchange
Flow Rate (GPM): up to 18
Max Iron: 2 PPM



☝️ Get 5% off at pelicanwater.com - Use code WFG
---
⭐ Well Water Softener Reviews 2022
Best Overall & Salt-Based: SpringWell Salt Based Water Softener System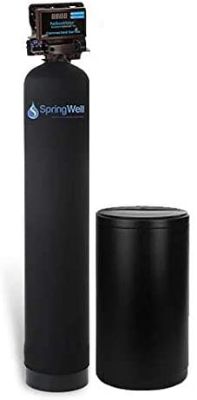 | | |
| --- | --- |
| Price | $$ |
| Process | Cation Exchange |
| Flow Rate | Up to 20 GPM |
| Grain Capacity | Up to 80K |
| Max Iron | 3 PPM |
My readers get 5% off at springwellwater.com – 👉 Use Code GURU5
Overview
If you're looking for a well water softener that offers a highly reliable ion exchange performance, the Springwell Salt Based Softener is one of the most ideal whole-house solutions. This neoprene-wrapped water softener provides the highest level of water treatment for your home at a competitive price. It has a lifetime warranty for extra peace of mind.
Features
Salt-based softening tanks – As a traditional salt-based model, the Springwell's softener consists of two tanks: a brine tank and a resin tank. The brine tank stores the salt and the resin tank hosts the ion exchange softening media.
Installation kit – The Springwell whole house system is one of the easier-to-install whole house softening solutions, with an installation kit included.
Digital metered control heads – The softener comes with a digital metered control head that gives you access to the information you need to know about water use, regenerations, salt top-ups and so on.
Functionality
The Springwell Salt Based softening system uses the common and effective ion exchange process to soften water, replacing water hardness ions with sodium ions, which completely removes the cause of your hardness and iron issues from your water. When the system regenerates, these hard water and iron ions are flushed away, and the salt is replenished in the resin bed.
With this being a smart softening system, you can save money by using less salt per regeneration. The softener's electronic metered valve measures the mineral capacity of the resin bed, automatically regenerating when the resin bed can no longer hold any more minerals.
You can buy the Springwell softener in three sizes, for homes with 1-3 bathrooms, 4-6 bathrooms and 7+ bathrooms, so water flow in your home won't be affected no matter what your water usage.
Pros/Cons
👍 What I Like
Up to 80, 000 grain capacity
Three sizes to choose from
Smart system wastes less salt
Lifetime warranty
👎 What I Don't Like
Will need to replace softener salt
Fairly expensive
Read the Full Review: SpringWell Salt Based Water Softener System Review (2022)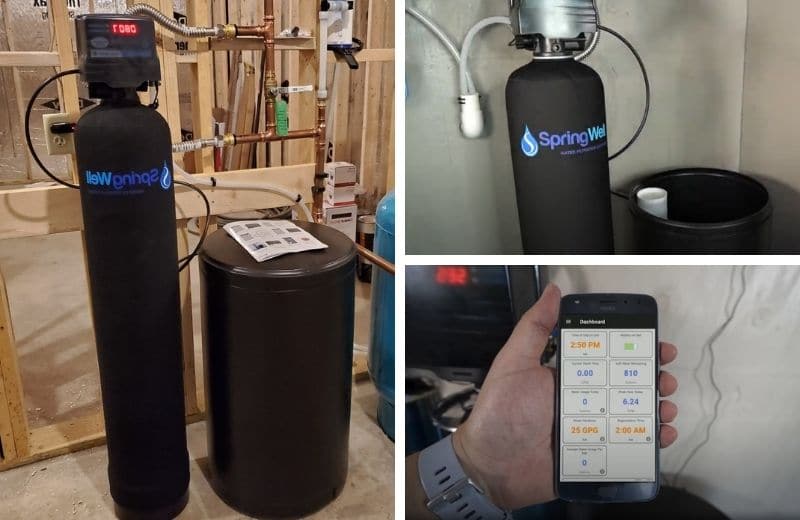 ---
Best Salt-Free: SpringWell Futuresoft Salt-free Water Softener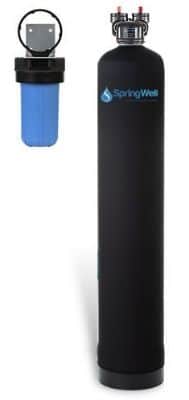 | | |
| --- | --- |
| Price | $$ |
| Process | TAC |
| Flow Rate | Up to 20 GPM |
| Max Hardness | Up to 81 GPG |
| Max Iron | Requires pre-treatment |
My readers get 5% off at springwellwater.com – 👉 Use Code GURU5
Overview
The Springwell Futuresoft Water Softener is a high-tech water softening system that offers 99.6% scale prevention without the use of salt. This model softens gallons of water without causing a drop in water pressure in your home, and produces no waste, making it one of the best environmentally friendly options available on the market.
Features
Parts for installation – You can find everything needed for installation with the Springwell water softener, so you shouldn't have to head to your local DIY store to collect anything yourself. Included with this water softener are a mounting bracket for attaching the system to a wall, a bypass valve, fittings, and spanner wrench for tightening the fittings and preventing leaks.
Filter housing – This model comes with a pre- sediment filter, which removes any large particles of dirt and dust that could clog the softening system and reduce its lifespan.
Softening tank – Made from stainless steel, the durable softening tank can be bought in three different sizes depending on the number of bathrooms in your home: 1-3, 4-6 or 7+.
Functionality
The Springwell salt-free water softener doesn't work like a conventional softener that uses salt. This technology prevents the water hardness-causing minerals from forming scale without actually removing the minerals themselves.
The technique used in this case is the TAC (or Template Assisted Crystallization) process. In this process, hard water minerals are crystallized, which prevents them from sticking to any surfaces. In this way, the Springwell ensures your appliances will remain clean and scale-free, and you'll benefit health-wise from soft water, without the hardness minerals actually being removed.
It's worth noting that you won't actually notice a difference in the feel of your water as you would with a salt-based softener (which often give water a slippery softened feel). It's difficult to tell that the water has been softened at all, but the results should be obvious in the long-term, as you'll no longer experience a build-up of scale in your home.
You will, however, not feel the water to be more slippery as a result of softening. Most softeners achieve precisely that but not the SpringWell Futuresoft. Thanks to the TAC process, you will actually not notice any softening in the water physically. If you run tests on it, it might not even show that it has been softened. This, of course, doesn't mean that the device is not working correctly.
Pros/Cons
👍 What I Like
Doesn't require salt
Virtually maintenance- and cleaning-free (only 1 filter to replace per year)
Lifetime warranty and 6-month money-back guarantee
👎 What I Don't Like
More expensive than most salt-based softeners
Not easy to see that the system has worked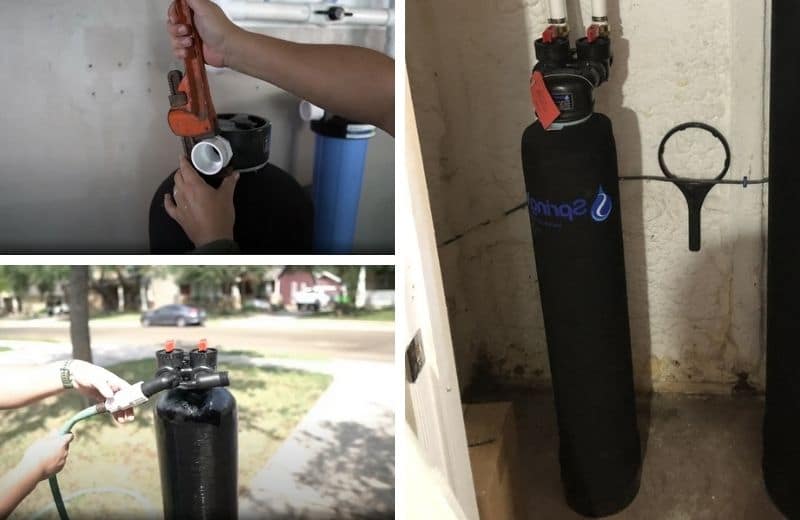 ---
Budget Option: SoftPro Elite Water Softener for Well Water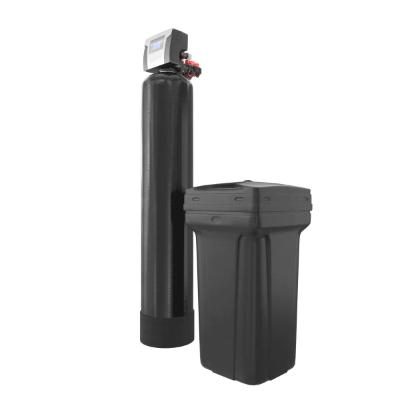 | | |
| --- | --- |
| Price | $ |
| Process | Cation Exchange |
| Flow Rate | Up to 23 GPM |
| Grain Capacity | Up to 80K |
| Max Iron | 3 PPM |
Overview
The SoftPro Elite is a salt-based softener that boasts a whole host of features that make it one of the best softening systems for well water with iron. The system can be bought in sizes up to an 80, 000 grain capacity, and is highly efficient, using minimal salt and water to reduce iron up to 3 PPM.
Features
Backlit digital control head – The system's digital control head offers simple control – you simply use the touchpad controls to activate your desired setting. With automatic backwashes, you'll have minimal contact with the control head unless you simply want to check up on the system's status.
Wide mouth brine tanks – The brine tanks included in the SoftPro Elite are wide-mouthed and high-capacity, so you can spend less time filling them up – and making the job easier when it comes around. The tanks also have a grid lining that stops clumps of salt from forming where they shouldn't.
Safety float – Included with the SoftPro system is a safety float, an essential component that prevents the tank from overflowing in the rare instance of a malfunction. The tanks are insulated by neoprene jackets, which provide insulation and prevent both condensation and freezing, helping to keep the tank safe.
Pre-loaded resin – The mesh resin for this water softener comes pre-loaded, making installation that little bit easier.
Functionality
On the surface, the SoftPro Elite functions like a typical salt-based softener. It features a brine tank and a resin tank, and uses ion exchange to soften water by swapping calcium and magnesium ions for sodium. But it packs in a whole host of features that make it smarter, more efficient, and simply more useful than most water softeners.
For instance, if the total capacity of the tank ever falls below 3%, the system will undergo a 15-minute recharge to add additional capacity to ensure it can continue to soften water until it's set to regenerate. The Precision Brining feature also saves salt by making only 70% of brine. Before the system regenerates, it calculates exactly how much brine you'll need to regenerate the resin, preventing water and salt waste and helping you to save money.
The system will even perform an automatic refresh if it hasn't been used for seven days, helping to prevent bacteria growth.
Pros/Cons
👍 What I Like
Backed by a lifetime warranty
Up to an 80, 000 grain capacity
Ideal for well water with iron (up to 3 PPM)
👎 What I Don't Like
Takes up quite a lot of space
May require a plumber for installation
---
Best for Low Iron: Pelican Advantage Series Salt Water Softener
| | |
| --- | --- |
| Price | $$$ |
| Process | Cation Exchange |
| Flow Rate | Up to 18 GPM |
| Grain Capacity | Up to 80K |
| Max Iron | 2 PPM |
My readers get 5% off at pelicanwater.com – 👉 Use Code WFG
Overview
If your goal is simply to soften your well water supply, with no fancy add-ons, the Pelican Advantage Series is the ideal digital water softener for you. This traditional salt-based softening system has a lifetime year warranty. It comes with a high-capacity resin tank, can remove iron, and can be bought in two sizes depending on how many bathrooms your home has: 1-3 bathrooms or 4-6 bathrooms. These two sizes have a 48, 000 grain capacity or 64, 000 grain capacity.
Features
Large tank size – The Pelican uses larger tanks to allow you to store a higher capacity of salt and resin, giving the system a longer life and preventing the need to refill the salt tank as often.
Easy-to-program metered electronic head – The system's metered head makes it easy to program your preferred features, including setting a specific time for regeneration.
High flow rate – This water softener won't affect the water flow your home, as you can install it in one of two sizes, meaning you can pick the best one for the number of bathrooms in your house.
Standard bypass valve – The Pelican water softener comes with a basic installation kit that includes a standard bypass valve for diverting water away from the system during maintenance or the regeneration process.
Chrome tank jacket – Also included with the system is a chrome tank jacket, which prevents the tanks from freezing or forming condensation that could result in mold or bacteria buildup.
Control valve – This softener's control valve handles regeneration for you – usually regenerating once every 7 days.
Functionality
In the Pelican, water is softened in the process known as ion exchange. It first passes through the mineral (or resin) tank, where the positively-charged hardness ions are attracted to, and stick to, the negatively-charged resin. The brine tank then flushes the resin tank with a salt solution, and the sodium ions replace the hard water ions, resulting in soft water.
The Pelican, like most water softener systems that use salt, functions in three phases. First, there's the backwashing phase, which gets rid of any dirt or iron in the mineral tank. This is followed by the regeneration phase, which recharges the resin tank with sodium from the brine tank, while washing away magnesium and calcium. Finally, in the rinse phase, clean water rinses the mineral tank and the brine tank is loaded, ready for the next softening cycle.
This model comes with a limited lifetime year warranty, which is a great vote of confidence for anyone who's new to the water softening industry.
Pros/Cons
👍 What I Like
High-capacity tank reduces frequency of replenishing
Electronic metered head for easy programming
Two sizes: 48, 000 grain capacity or 64, 000 grain capacity.
👎 What I Don't Like
Quite expensive for just a softener
May not be suitable for people on low-sodium diets
Installation isn't very user-friendly
---
Alternative Pick: AquaOx WS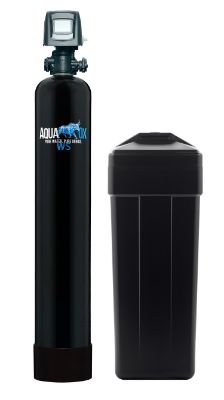 | | |
| --- | --- |
| Price | $$$ |
| Process | Cation Exchange |
| Flow Rate | 16 GPM |
| Grain Capacity | Up to 64K |
| Max Iron | 1 PPM |
Overview
The AquaOX is one of the most effective well water softeners for removing water hardness minerals that cause issues with water systems, skin and hair, and more. This model features an automatic regeneration process, and you can also use the touchscreen control valve to set the softening cycle to your preference.
Features
Brine and resin tanks – If you prefer to take traditional routes that have proven effective for decades when it comes to softening your water supply, you'll be a fan of the AquaOX. It comes with two tanks: a brine tank (for the salt) and a resin tank (where softening takes place).
Control valve with touch-screen display – The AquaOX uses a control valve with a touch-screen function, making it super easy to navigate. You can check the status of the system, perform diagnosis, find information about the regeneration process, and adjust settings. You can also use the display to process a manual regeneration or set up an automatic regeneration cycle.
Built-in regeneration sensor – If you'd rather leave the hard work to your water softener, the AquaOX has a built-in sensor to enable it to automatically regenerate. What this means is that once the resin tank is at maximum water hardness mineral capacity, it'll automatically start the regeneration process.
Functionality
The AquaOX is one of the most popular salt-based water softeners on the market. It's highly efficient and has a high flow rate, using the ion exchange process, which removes water hardness minerals and iron entirely, preventing them from causing scale issues in your home.
Using a high quality mesh resin, the AquaOX uses the latest technology for its softening process. Its upflow design allows for a thorough softening process, while reducing the water and salt needed for the job. This means you can get more value for money out of this model in the long run.
Like all softeners, the AquaOX requires installation at your home's main waterline, which gives soft water benefits to your entire home, including your washing machine, dishwasher, showers and faucets.
You can rest assured that you're well covered with this water softener, as it comes with a 10-year warranty and a 1-year money back guarantee. In the unlikely occurrence that you receive a faulty system, or the system arrives with a broken part, you may be entitled to a full refund or a free replacement part.
Pros/Cons
👍 What I Like
Easy to install
Touch screen control
12-month money back guarantee & 10-year warranty
👎 What I Don't Like
Requires connection to power source
Hefty initial price tag
Salt needs to be topped up periodically
Doesn't remove odor
---
Alternative Salt-Free: Aquasana 500,000 Gallon Well Water Rhino w/ Salt-free Water Conditioner
| | |
| --- | --- |
| Price | $ |
| Process | TAC |
| Flow Rate | 7 GPM |
| Max Hardness | 25 GPG |
| Max Iron | – |
Overview
The Aquasana is a durable, high-performing whole-house water filter and salt-free conditioner for clean, soft water throughout your home. It is designed intentionally for treating contaminated well water, removing everything from bacteria and viruses to pesticides and herbicides that are commonly found in well water sources. This model features a carbon media upgrade, a 20-inch pre-filter, sub-micron post-filter and optional ultraviolet filter.
Features
Salt-free conditioner – This system comes with a salt-free conditioner that eliminates hard water problems without removing the beneficial calcium and magnesium minerals from water.
Filtration tanks – This all-in-one model consists of several filtration tanks, each focusing on the removal of specific contaminants.
UV light – What makes the Aquasana filter and conditioner unique is that it has the option to come with a UV light, which kills harmful pathogens that are often found in well water.
Install kit base – For installing the Aquasana water conditioner yourself, there's an install kit base that features plastic fittings, the pre-filter, a post-filter, and UV filter. This kit doesn't include brass fittings, shut-off valves for the bypass loop, or bend supports, but you can pay extra for an upgraded kit if necessary.
Functionality
The Aquasana Rhino boasts an upflow-dual tank construction that gives water the longest contact time with filtration media while also preventing blockages, clogging and media channeling (where water can slip through the media without being filtered).
As a water conditioner, the Aquasana's salt-free technology reduces the buildup of scale without actually removing the hard water calcium and magnesium minerals. It uses something a process called SCM (scale control media), which naturally alters the makeup of the hard minerals, crystallizing them and preventing them from being able to stick to surfaces. This technology has been proven to reduce scale without the need for salt.
There are a number of different filtration stages that are used alongside the salt-free conditioner to clean, as well as soften, a well water supply. First, the sediment filter traps large particles like rust and silt. After that comes the salt-free conditioner, and then a copper-zinc and mineral stone media, which acts as an iron filter as well as reducing heavy metals, bacteria and algae growth. Next up is an activated carbon filter that reduces chemicals like pesticides and herbicides, finishing with a post-filter that reduces any lingering sediment.
The final UV filtration stage in this system is effective in killing up to 99.9% of harmful pathogens like bacteria and viruses, so you can be certain that your well water is completely safe to drink after passing through this stage of the system.
👍 What I Like
Fairly easy installation
Also includes copper-zinc iron filter
Doesn't need drainage or backflushing
👎 What I Don't Like
Expensive
Quite bulky; takes up a lot of room
---
📊 Comparison Chart of Water Softener for Well Water
| | SpringWell Salt Based Water Softener System | SpringWell Futuresoft Salt-free Water Softener | SoftPro Elite Water Softener for Well Water | Pelican Advantage Series Salt Water Softeners | AquaOx WS | Aquasana 500,000 Gallon Well Water Rhino w/ Salt-free Water Conditioner |
| --- | --- | --- | --- | --- | --- | --- |
| Price | $$ | $$ | $ | $$$ | $$$ | $ |
| Process | Cation Exchange | TAC | Cation Exchange | Cation Exchange | Cation Exchange | TAC |
| Flow Rate | Up to 20 GPM | Up to 20 GPM | Up to 23 GPM | Up to 18 GPM | 16 GPM | 7 GPM |
| Grain Capacity | Up to 80K | Up to 81 GPG | Up to 80K | Up to 80K | Up to 64K | 25 GPG |
| Max Iron | Up to 80K | Requires pre-treatment | 3 PPM | 2 PPM | 1 PPM | – |
🧾 Buyer's Guide
🤔 When Do I Need a Water Softener With Well Water?
The general rule when it comes to any water source is that when your water has over 7 grains per gallon (GPM) of hardness, it can be considered hard enough for you to look at buying a water softener. This is because these hardness levels will affect the taste and smell of drinking water, and will prevent your home's dishwashers, washing machines and other water-based systems from running efficiently.
To test for hard water, anyone who uses city water can request a water quality report from their local authority. This report, as well as showing you the level of contaminants in your water, will report the hardness values of the water that travels into your home.
But this is no use if you take water from a private well. In this case, you'll be best off buying yourself a hard water testing kit. You can get these online for under $10, and they're really simple to use – you just collect a sample of water from your faucet and dip a test strip inside. The test strip will change color based on the level of hardness your water presents.
Related: 8 signs you need a water softener in 2022
Common Minerals in Well Water
The most common minerals found in well water sources in the US are calcium, iron and magnesium. Let's break down how each of these minerals contributes to water hardness.
Calcium carbonate is a mineral that's found in many foods. Of course, we need calcium for a number of health purposes – but when found in high quantities in water, it becomes a nuisance. Calcium is one of the two dissolved minerals that make water "hard".
Magnesium is the second hard water mineral. Like calcium, there are many foods that contain magnesium, but it's not so helpful when found in drinking water. Along with calcium, magnesium leaves scale deposits on plumbing and pipes, and inside anything that uses water to run, reducing efficiency and shortening lifespans.
Iron might not be classed as a hard water mineral, but it often comes hand-in-hand with calcium and magnesium in hard water. When dissolved iron and oxygen react in the presence of air or water, they form rust. These brown stains can form on everything from your sinks and bathtubs to your clothes.
Effect on Our Health
When your water has high levels of magnesium, calcium and dissolved iron, it may cause health issues, including:
Poor hair quality – Washing in water with high mineral deposits can result in less pliable, harder-to-style hair. Calcium has been known to change the color of hair dye, while a high mineral content in general can cause hair dye to fade at a faster rate. High dissolved ferric and ferrous iron levels in water may even cause your hair to take on a metallic odor or take on a dark discoloration.
Poor skin health – Washing your skin in hard water is just as bad, as hard water prevents soap from lathering properly. This results in layers of soap scum depositing on your skin, which can clog pores, resulting in acne and aggravating certain skin conditions like eczema. Hard water can also cause skin dryness by stripping the moisture from your skin.
Effect on Appliances
Water that's high in calcium, magnesium and iron can have several noticeable effects on your home's water-based appliances. Namely, hard water can cause:
Visible scale deposits in sinks, showers and bathtubs – Hard water scale caused by calcium and magnesium is deposited in basins and tubs in the bathroom, giving the impression of uncleanliness. These deposits may also be seen on dishes, glassware and pots. and no amount of scrubbing will get rid of them for good.
Brown, orange or red rust-like stains on surfaces – If you have high iron levels in your water, and this ferrous iron oxidizes to form ferric iron, you'll most likely notice the problem in the form of rust-like stains deposited on surfaces like bathtubs and sinks. Like hard water scale, iron rust stains are hard to get rid of, and they can even appear on your laundry and cooking equipment.
Reduced water flow – Limescale buildup don't just show up in the places you can see – they also form in hidden-away locations, like the inside of your plumbing and pipes. When this limescle buildup continues to layer on top of one another, building up and up, you may experience some water pressure issues. Water flowing through pipes gets dragged back by scale, which may affect the speed of water flow in your showers and faucets.
Decreased appliance efficiency – One of the biggest hard water problems is a decreased efficiency of your water-based appliances. You'll need to use more soap in your dishwasher and washing machine because it won't lather with your water as well. Hard water scale can also wear down the components in these household items, reducing their lifespan.
Water heater problems – When hard water deposits form on the surface of gas water heaters, they affect the heater's performance. The layer of limescale acts as insulation, which prevents water heaters from properly heating up and require them to do more work for the same results.
⚙️ Do Well Water Softeners Work?
It's the big question: if you're going to spend so much money on the best water softener for well water, will it be worth it? The answer is yes – providing you keep up with system maintenance and cleaning.
Most water softeners can eliminate hard water ions completely, whether by exchanging them for other ions or altering their composition. Provided you're using the right settings for your home's size and water hardness, you should be happy with the performance of any of the well water softener recommendations in this guide.
Water softeners take some work to look after, so if your water softener seems to be operating fine but isn't producing soft water, you're probably dealing with a maintenance issue. For instance, your settings might not be right for your home's water softening needs. You might also have a salt bridge in your brine tank, or too much water in your brine tank. Check your system's user manual to make sure you're doing everything properly before writing the softener off as faulty.
🔡 Types of Water Softeners for Well Water
Salt-based Systems
Salt-based are the original, and most common, water softening solution. They work using a process called ion exchange, where calcium, magnesium and iron ions are swapped out for sodium (salt) ions, thereby eliminating the hard water problem. This softening process is incredibly effective, which is why it has been a popular solution for so many years. But take note that it does add a small amount of salt to your drinking water, which may not be suitable for people on low-sodium diets.
Pros:
Tend to more efficient at removing high iron & manganese levels
Can be NSF certified
High-quality softening completely removes hard water minerals
Fairly affordable in price
Cons:
Add a small amount of salt to water
Not as efficient per gallon of water – waste water during rgeneration
Salt-free Systems
Salt-free systems are a newer form of water softening that have become popular in recent years. As the name suggests, they don't use salt to make water soft – instead, they work by crystalizing hard water ions, or adding a coating to their exteriors. This prevents the ions from being able to stick to surfaces and cause rust or scale.
Pros:
Prevent scale build-up just as well as salt-based systems
User-friendly installation
Usually have a good warranty
Provide a means of producing soft water with no salt usage
Cons:
Don't affect water quality
May not be suitable for water iron removal
Higher in price
Electronic Descalers
Electronic descalers are another emerging water softening trend, and, again, these systems don't require salt to make water soft. With an electronic descaler, coils of wire are placed around a section of your home's water line, sending out magnetic waves that change the behavior of hard water ions without altering their composition.
Pros:
Simplest to install – no major plumbing required
Don't require a regeneration cycle
Effectively prevent limescale buildup
Cons:
Difficult to prove that these water systems work
Not usually NSF certified
Filter & Softener Combo Systems
Water filter and softener combos are a great option if you're looking to tackle hard water problems and remove common well water contaminants. Combining the best water softener for well water with a whole home water filter will give you the best results for your home and health. While these thorough filtration options tend to be more expensive, if you're in the market for a water filter as well, you'll more than likely find them well worth the investment.
Pros:
Softens and produces clean water
Removes ferrous and ferric iron more effectively
For the best quality water
Cons:
Plumbing knowledge required for installation
Highest price point
💭 Key Considerations When Purchasing a Well Water Softener
It's best not to jump into purchasing a whole house water softener for well water until you've considered exactly what you're looking for. Some of the things to keep in mind when looking for a water softening model are the following:
System Size (Capacity)
There's a simple way to determine what size well water softener you need for your home. First, multiply the number of gallons you use per day by the number of people in your home. If you're not sure how many gallons you use per day, the average figure is about 80 gallons per person.
Next, multiply this number by your water's hardness in grains per gallon. The grains per gallon will tell you how many grains of water hardness you need to remove per day. You can then search specifically for a softening solution that's equipped to handle this load. A higher grain model, such as a 60, 000 grain water softener is better for bigger homes than a lower grain water softener.
Water Flow Rate
Your home's water flow rate determines how quickly your water supply flows through your pipes and plumbing and out of your faucets and showers, or into your home's water-based appliances. Flow rate is measured in gallons per minute, often shortened to GPM. You can measure the gallons per minute flow rate of your toilet, shower and so on. You can also look online for the typical gallons per minute flow rate of items in your home.
It's important that your choice of softening solution isn't undersized when it comes to flow rate. If it's too small to keep up with the number of appliances you use simultaneously, you'll most likely find that your water pressure drops drastically. A high flow rate can also cause issues with the actual system. You can find flow rate guides for household appliances online if you're keen to figure out the average flow rate of common appliances.
Other Contaminants
There's a good chance your well water contains contaminants other than water hardness minerals. Other common water contaminants are heavy metals, nitrates, fluoride, and organic chemicals. Your well may also contain harmful pathogens like bacteria, which are naturally occurring in soil. If you want to remove contaminants from your well as well as softening the water, you'll benefit from a whole house filter alongside a water softening device.
System Control & Features
Water softening systems all come with a control panel, otherwise known as a digital metered control head, that you can use to check the status of the whole house water softening system and amend the system's settings. Most softeners these days are capable of automatic regeneration based on calculations of your home's water usage, but you can usually override the system and select a specific time and date for the system to regenerate.
Some of the best water softener systems also let you connect the softener up to a mobile app, which gives you a more convenient means of checking or amending your settings while away from home.
Physical Space Available
It's important to take note of the dimensions of a water softener if you're planning to install it in an area with limited space. Water softeners can be quite bulky in design, and the bigger the capacity, the bigger the tanks.
The bigger the tanks, the more gallons of water you can sofyen in one go – but bigger isn't always better. Be sure to measure your available space and compare your dimensions to the dimensions of the softening system you're interested in. You'll need enough to leave enough room for easy installation, maintenance and cleaning.
Certifications
If you want to feel confident that a water softener will work as advertised, it's worth looking into certifications. When a water softener product has been certified, it essentially means it has been third-party tested and deemed effective in the job it's intended to do.
The most popular certifying third-party organization when it comes to water treatment systems is NSF International. You'll notice that a lot of the best water softener systems in the US have an NSF/ANSI 44 Standard, which, according to the NSF website, "establishes the minimum requirements for certification of residential water softeners using a cation exchange resin that is regenerated with sodium."
In simple English, an NSF 44 certification means that a water softener system meets the minimum requirements for a water softener, as set out by NSF themselves. There's no certification for iron removal, so you'll just have to trust a manufacturer's word on this one.
Costs Involved
Any type of water softening system is a big investment. Not only will the initial purchase set you back roughly $800 to $1,500, but you'll also need to factor in the cost of salt, which is a cheaper but more consistent long-term purchase.
Some water softeners are more expensive than others. Salt-based water softeners tend to sit around the $1,000 mark, but they're common enough that you can usually find systems cheaper than that at a great quality. Water conditioners and salt-free softeners vary depending on their make-up, but typically cost around $1,200 or more. If you're considering buying a whole home water filter and water softener system, you're looking at paying around the $2,000 mark.
🔧 Well Softener Installation & Maintenance
If you have basic DIY skills and plumbing knowledge, you should be able to install your water softening system yourself. Depending on the system you buy, you'll have specific instructions to follow as laid out by your system's manufacturer.
Generally, the process of installing a salt-based water softener system (and some salt free softener systems) for your well is a little like this:
Choose your installation location. You need to install the system as close to the water's point of entry into your home as you can.
Ensure that your waterline has a PSI rating of between 40 and 70.
Switch off your water supply and open a bypass valve at the lowest point in your home to drain away any lingering water.
Switch off your heaters at the wall.
Using a pipe cutter, cut into the section of your waterline where you want to install your whole home water softener. Use a bucket to catch any leaks.
Install a fitting to send water into your filter, and install the bypass valve before this fitting.
Attach the hose to this fitting, then clamp it in place.
Following your manufacturer's instructions, attach the overflow tube to the brine tank.
Switch your bypass valve to the bypass position flush the system with water, which removes any sediment inside.
Switch the valve back to the backwash position, then switch on the system and slowly open the valve, letting a small amount of water pass through and releasing air slowly. Flush the system following your manufacturer's instructions.
Installing a magnetic water conditioner is slightly different, and you will usually need to follow the steps listed below:
Decide where on your waterline you want to install your water softener. Again, it needs to be as close as possible to your water's POE.
Undo the nuts from the backs of the magnets and split them up, separating them and keeping them a good distance apart.
Place the magnet halves over each side of the pipe, bringing them slowly towards the pipe until they're touching the surface.
Screw the wing nuts back in place with your fingers.
There aren't many ways to test that the softener is working, but you could do the hard water soap test. Add soap and water to a clear container and shake vigorously. Soft water should have a layer of bubbles on the surface, with clear water underneath.
If you don't think you're quite cut out for installing your own whole home water softener, you can outsource the job to a licensed plumber. Just keep in mind that professional installation is another cost you'll need to prepare for in this case.
❔ Frequently Asked Questions
I've read about softener capacity, but I don't understand what it means. Is it the lifespan of the product?
Actually, no. A softener's capacity is a measure of how much soft water can be produced before a softener needs to regenerate. This is dependent on how much resin the softener can hold and the hardness level of your water (and potentially the amount of water iron content you have). If you have a big family with lots of water-based appliances, it makes sense that you're going to need a softener with a bigger capacity to provide you with a greater amount of soft water before it needs to regenerate.
Why do I need to install a water softener in a specific location?
It's usually recommended by manufacturers that you install a water softener that can remove iron as close as possible to the place where your water line enters your home. This is because you want your whole home to benefit from soft water, including your water heater. If you were to install a water softener underneath your kitchen sink, for example, only the kitchen sink would benefit from soft water, and not any of the other faucets or water-based appliances in your home.
Do water softeners use a lot of electricity?
It depends on the quality of the softener you go for, but generally, no. Even high capacity softeners use about as much electricity as an electric alarm. They won't contribute noticeably to your electricity bills in the way that a TV or a computer would.
Is it dangerous to drink sodium-softened water?
No. When you compare the sodium content in softened water to the sodium content in random foods and beverages, from milk to a slice of bread, you'll see that soft water contains a very low level of salt in comparison. If you're worried about soft water contributing massively towards your daily sodium intake, don't worry – it won't.
Do I need a separate iron filter to remove iron and manganese?
Usually, no. Many softening systems don't require an iron filter because they remove iron themselves in the softening process. You can assume that iron & manganese removal is included in a water softening device designed for wells, but if you have high levels of iron and manganese, you may want to look into a separate iron filter.