Each year we thoroughly research and test a multitude of reverse osmosis systems to determine which are best. We've ranked the 6 systems on this list in terms of performance capability, efficiency, production rate, and of course, affordability.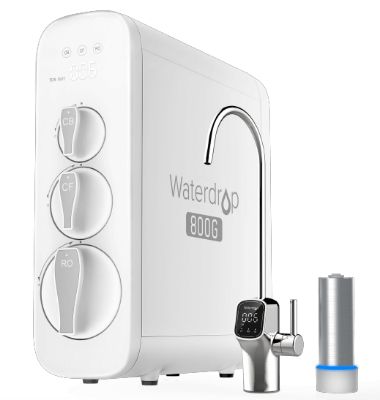 Waterdrop G3P800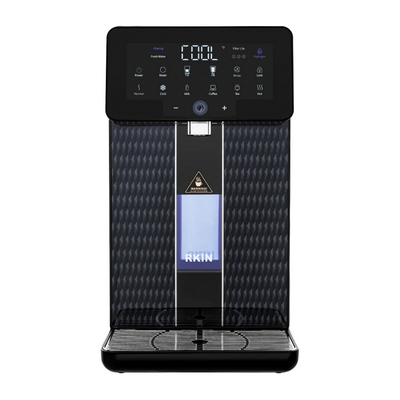 RKIN U1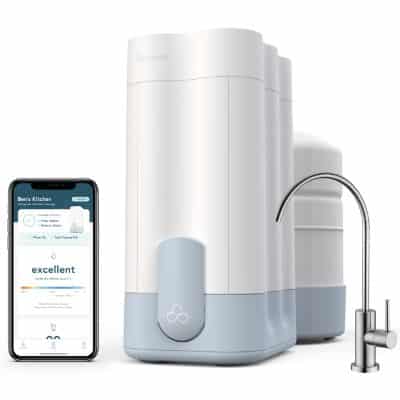 Cloud RO
Things you Need to Know
The reason you're struggling to find the most suitable reverse osmosis system for your needs is because you've never had to shop for this system before and RO units are quite complex.
Some online review sites direct you to brands that give them the biggest percentage of sales, so you might end up buying a reverse osmosis system that's not actually the best available.
We've outlined everything you need to know to simplify the buying process. Based on our extensive research, we're confident that our top picks are superior to all the other systems on the market.
There are several types of reverse osmosis systems available today, including under-sink and countertop systems, and whole-home options.
To ensure you buy the best reverse osmosis system, know your budget, your water quality and TDS, the system's capacity, efficiency ratio, certifications, and more.
🥇 Best Reverse Osmosis Systems
📊 Reverse Osmosis System Comparison Chart
| System | Waterdrop G3 P800 | RKIN U1 | Cloud RO | NU Aqua Efficiency Series | AquaTru | Waterdrop K6 | Crystal Quest 1000CP |
| --- | --- | --- | --- | --- | --- | --- | --- |
| Ranking | 1st | 2nd | 3rd | 4th | 5th | 6th | 7th |
| Ratings | 5/5 | 5/5 | 4.5/5 | 4.5/5 | 4.5/5 | 4.5/5 | 4/5 |
| Price | $$$ | $$ | $$$ | $$ | $$ | $$$ | $$ |
| Efficiency Ratio | 3:1 | 1:1 | 1:1 | 2:1 | 4:1 | 2:1 | 1:3 |
| Stages of Filtration | 7 | 5 | 4 | 4 | 4 | 5 | 12 |
| Production Rate | 800 GPD | 75 GPD | 80 GPD | 600 GPD | ~1 GPM | 600 GPD | 50 GPD |
| Certifications or Testing | NSF 58, 372 | NSF 58 (in progress) | NSF 42, 53, 58 | – | NSF 42, 53, 58, 401, P473 | NSF 58, 372 | – |
| Annual Cost | ~$145 | ~$180 | ~$200 | ~$155 | ~$100 | $120 | ~$120 |
---
⭐️ Reverse Osmosis System Reviews 2023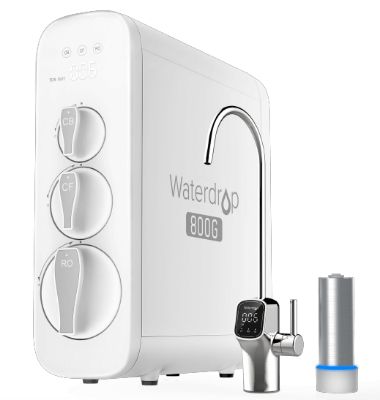 Waterdrop G3P800
Our top pick for the best overall reverse osmosis system is the Waterdrop G3P800. This compact, excellently designed reverse osmosis water filter offers a superior performance with high efficiency and three filter stages, including a 7-layer reverse osmosis membrane.
Why does it come first on our list? Because it boasts a whole host of features you won't find combined on any other RO system, including a 1:3 efficiency ratio, a built-in UV light and scale inhibitor, and an incredible 800 GPD water production rate.
Unique Features:
Removes hundreds of contaminants – The Waterdrop reverse osmosis water filtration system can remove all contaminants bigger than 0.0001 microns, including chemicals, heavy metals, bacteria, viruses, fluoride, and more.
Long-lasting UV light – The Waterdrop is one of the few reverse osmosis filters to come with a built-in UV light, which lasts 50 years and reduces more than 99.99% of bacteria and viruses.
Minimal water waste – This efficient reverse osmosis water filter wastes only 1 gallon of water for every 3 gallons produced.
Prevents scale formation – The Waterdrop acts as a water softener as well as a water filter, using scale inhibiting technology that reduces calcium and magnesium and prevents scale formation.
Monitors TDS and filter life with TDS and filter tracker.
Best For:
Anyone who's looking for the very best of the best reverse osmosis systems – and has the budget for a high-end product.
Pros:
The Waterdrop has a slim, space-saving design, measuring just 5.67 inches across.
Installing this reverse osmosis water filter is straightforward and doesn't require a plumber.
The flow rate of this tankless system is excellent – it delivers up to 800 gallons of filtered tap water/day
The Waterdrop doesn't have a tank, so it takes up less space under your sink.
Cons:
This unit can't be used for well water or connected to your fridge.
As one of the best under-sink reverse osmosis systems out there, the Waterdrop has a high price tag.
---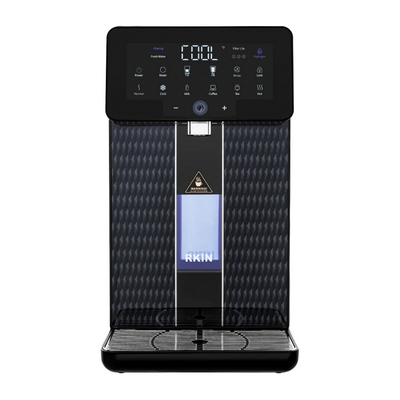 RKIN U1
Looking specifically for a countertop reverse osmosis system? The RKIN U1 is our top recommended product.
This modern, high-tech system looks AND acts smarter than any of its competitors, boasting a whole host of unique add-ons alongside the typical RO performance features. Enjoy RO purified water at any temperature, straight from the machine, plus extras like remineralization and hydrogen infusion, which delivers a negative ORP of 340 for further health benefits.
Key Features:
5-stage reverse osmosis purification – The RKIN U1 offers all the standard RO filtration stages (sediment and carbon filtration, and RO membrane separation), along with a couple of extra steps: remineralization and hydrogen infusion.
Reduces up to 94% TDS – Don't think you have to compromise in any way on performance with a countertop RO system. This RKIN model has been tested to remove up to 94% TDS.
1:1 efficiency ratio – The U1 wastes 1 gallon of water for every 1 gallon produced. It's not the most efficient RO system we've ever seen, but it's certainly less wasteful than conventional systems (with 1:4 efficiency ratios).
1-year warranty – You're protected with 1-year warranty and 1-year money-back guarantee when you buy this countertop reverse osmosis system.
Best For:
Folks who are specifically looking for a countertop RO system that's easy to install and use and comes with the huge perk of hot and cold water dispensing.
Pros:
There are a few obvious benefits of countertop reverse osmosis: no huge storage tanks taking up your under-sink space and no difficult installation. Plus, the U1 is suitable for apartments and rentals.
We love the extras you get alongside reverse osmosis purification, including hydrogen infusion and remineralization. If you want the tastiest, healthiest water, you'll get it with this machine.
Another great benefit is that you can get both hot and cold purified water from the U1. There are even pre-set buttons for tea, coffee, milk, and different cup sizes.
What else do we love? IAPMO testing for TDS reduction and the reduction of other contaminants, a fast 75 GPD water flow, and a decent efficiency rating for RO.
Cons:
Customer reviews are still pretty limited for this product since it's new to the market. This might be off-putting if you use reviews to help you decide on a purchase.
The 75 GPD flow rate and 1:1 efficiency rating are great, but many systems in this review are faster and more efficient than this.
Read the full review: RKIN U1 Countertop Reverse Osmosis System Review
---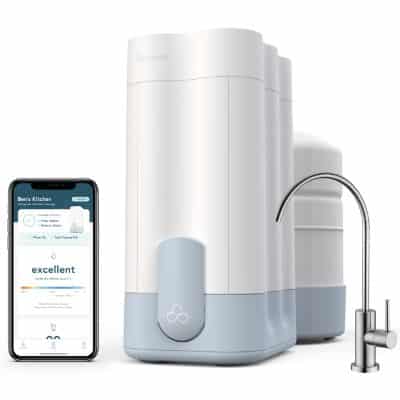 Cloud RO
If you prefer the design of a conventional under-sink reverse osmosis system, we think you can't go wrong with the Cloud RO system.
This modern unit has a cleaner, more compact and attractive appearance than the clunky old tank-based RO systems that you might be familiar with, but it still has all the benefits of a tank-based unit, including purified drinking water the moment you turn on your tap. The 1:1 efficiency ratio is one of the best we've seen for a conventional unit, and it's great to see that the unit has been performance tested to NSF Standards (and is in the process of obtaining an official NSF 58 certification).
Unique Features:
Four-stage RO filtration – The Cloud RO system sends water through four stages of filtration: a carbon filter, an RO membrane, a sediment filter, and a coconut carbon remineralization filter. Combined, these filter stages reject up to 95% TDS and add healthy minerals back into the water, improving its taste. The sediment and carbon filters have been tested to NSF Standard 42.
Battery pack eliminates electricity need – To monitor important insights like the TDS and flow rate, the unit uses a long-lasting battery pack that powers the internal sensors. You get a new battery with a delivery of new filters, and you can return the used battery to the manufacturer to be recycled.
App connectivity – The system connects to the Cloud app, which gives you data including your incoming water quality, filter status, and percentage of minerals added back into the water. You can even track your tap water consumption, making it easier to stay hydrated.
Fast flow rate & good efficiency ratio – This Cloud system has a 2.8-gallon storage tank that delivers purified water on demand. The unit uses a non-electric permeate pump that speeds up water flow (it's about 80 gallons per day or 0.5-0.75 gallons per minute) and maximizes efficiency, resulting in less water waste.
Best For:
Folks looking for the smartest, most attractive, space-saving tank-based RO system, which has features that level up its performance and make it easier to use.
Pros:
The Cloud RO system proves that there isn't always a need to go bigger and bolder with the most comprehensive, complicated design and features. It keeps things simple with a conventional tank-based build and three essential RO stages plus an alkaline filter, which do their job of reducing more than 95% of TDS and producing clean, great-tasting drinking water.
Don't think that this system is clunky or outdated because of its conventional design, though. It's compact and modern, with smart internal sensors that report TDS data so you can see how effectively the filters are performing, and integrated pressure sensors that track your water consumption and tank volume, using the data to improve the performance efficiency and water delivery speed.
We love that the Cloud RO system is connected to a smartphone app, which reports water quality data and tells you exactly when replacement filters are needed – no guesswork and no buying filters unless absolutely necessary.
It's also great to see that the manufacturer is in the process of obtaining an NSF 58 certification for the system's RO performance, and it's already third-party tested to NSF 42 and 53, so you know for certain that you're buying a system that works.
Cons:
It's about twice the price of a traditional tank-based RO system (because it has a lot more going for it), so it might be out of some budgets.
There aren't many customer reviews to use in our research so far.
---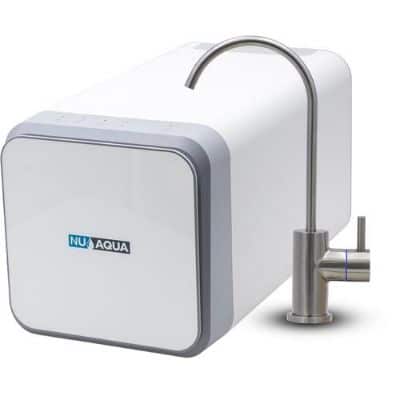 NU Aqua Efficiency Series Tankless Reverse Osmosis System
Our runner-up on this list is the NU Aqua Efficiency Series Tankless 600GPD Reverse Osmosis System.
This compact, tankless reverse osmosis water filter has a 2:1 efficiency ratio, a 600 GPD water delivery rate, four thorough filtration stages, and a unique cube design that makes it easy to replace the filters.
Unique Features:
Four filtration stages – The NU Aqua Efficiency offers four stages of reverse osmosis filtration: a PP/CB filter (which offers two stages of filtration in one), a granular activated carbon filter, and a semi-permeable reverse osmosis membrane.
Long-lasting filters – The PP/CB filter has a 6 month lifespan, while the GAC filter lasts for 12 months and the RO membrane lasts for 36 months – an extra year longer than the average RO membrane.
Tackles and range of contaminants – This reverse osmosis water filtration system can remove a broad range of common contaminants, including VOCs, chlorine, rust, sediment, hardness, organic chemicals, heavy metals, and salts.
One of the most efficient RO systems – With a 2:1 pure to wastewater ratio, the NU Aqua RO System is far more efficient than a traditional reverse osmosis unit.
Best For:
With an impressive 600 gallon-per-day capacity and a space-saving tankless design, the NU Aqua Tankless Reverse Osmosis System is ideal for anyone on the hunt for an efficient, compact reverse osmosis unit.
Pros:
The NU Aqua Efficiency system doesn't have a bulky storage tank, which means you can save under-sink space and get fast access to water as soon as you turn on the faucet.
This RO filtration system has an impressive 120 day money back guarantee, so you can buy the NU Aqua at no financial risk.
The system's booster pump ensures fast access to filtered drinking water, and it's installed internally with noise isolators, so you won't hear it when it's switched on.
Cons:
Some customers had issues installing the smart faucet's plug.
The NU Aqua isn't NSF certified yet. That doesn't affect the performance of the filtration system in any way, but some people prefer the reassurance of an official certification.
Read the full review: NU Aqua Platinum Series
---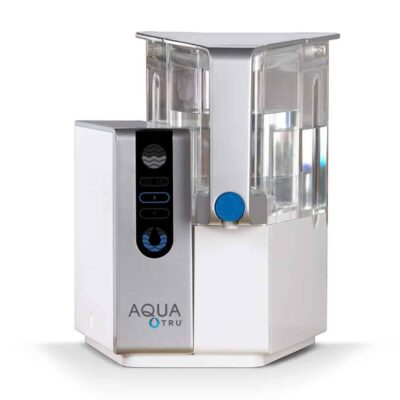 AquaTru Countertop Reverse Osmosis System
The AquaTru Countertop Water Filtration Purification System is our runner-up countertop reverse osmosis system.
This independently certified unit is designed for ease of installation, maintenance, and use. It takes second place to the RKIN U1 because it's not as attractive and doesn't offer purified hot and cold water – but it has a few perks of its own, including a 4:1 efficiency ratio, and it's the more affordable option.
You can buy the AquaTru in a few different models:
AquaTru Classic – the standard model (which we've reviewed in this guide)
AquaTru Connect – the Classic model but with WiFi connection, which tells you useful info on filter life, water usage, etc. on the app
AquaTru Alkaline Classic – the Classic model but with an alkalizing VOC filter rather than the standard VOC filter
AquaTru Alkaline Connect – the Classic model with the two extra features listed above
Unique Features:
Removes a range of impurities – The AquaTru is capable of removing toxins, hormones, microplastics, carcinogens, and other contaminants from unfiltered drinking water.
Four thorough filtration stages – This reverse osmosis water filtration system consists of four filter stages, including the all-important reverse osmosis process – all within a compact countertop unit. You can also upgrade to the AquaTru Alkaline Classic to add a remineralization filter.
No plumbing or installation required – This RO water system takes just minutes to set up, and is one of the most convenient countertop water filtration solutions available.
Only wastes 25% water – Compared to other reverse osmosis water filtration systems, which usually work off a 1:4 water ratio, the AquaTru is more efficient, discarding only around 25% of water as part of the RO process.
Best For:
Anyone looking for the easiest-to-use reverse osmosis water filter, which doesn't need to be plumbed into your tap water line and has a straightforward touch-button operation.
Pros:
Sleek and compact in design, this reverse osmosis water filtration system ticks all the boxes when it comes to visual aesthetics.
The AquaTru is one of the more affordable reverse osmosis systems on this list.
There's no need to guess when filters require changing – the AquaTru's digital display will let you know when it's time.
Cons:
The storage tank for holding filtered drinking water is relatively small, and when the tank fills, you'll need to empty the water before the machine can produce more.
The AquaTru is independently certified, but it isn't certified by the NSF itself
Read the full review: AquaTru Review
---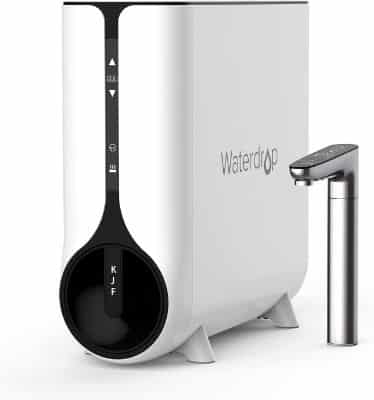 Waterdrop K6
Our top pick for the best reverse osmosis system offering instant hot water dispensing is the Waterdrop K6. This system boasts two benefits in one: it quickly produces RO water, which it then rapidly heats, providing hot, purified water on demand.
The K6 isn't the only unit to offer hot water dispensing (the RKIN U1 also does), but the huge benefit of this system is that you get hot water at the touch of a button straight from a faucet at your kitchen sink. Other notable features of the K6 are its 600 GPD water production rate, 2:1 efficiency ratio, and NSF 58 & 372 certifications.
Unique Features:
Instant hot water dispensing – The Waterdrop K6 is the first of its kind, being the only under-sink reverse osmosis water filter to provide purified hot water on demand.
NSF certified performance – According to the manufacturer, Waterdrop RO systems are tested and certified by NSF International against NSF/ANSI Standards 58 & 372, for 94% TDS reduction.
5-stage RO filtration – There are 5 stages of filtration in this Waterdrop system: a semi-permeable membrane, two PP cotton stages, a carbon block filter, and a carbon fiber filter. Combined, these remove chlorine, fluoride, arsenic, chromium, heavy metals, salt, and more.
Best For:
Folks who want to use purified hot water for cooking, baby formula, and more, and prefer the convenience of a system that can filter and heat their water for them.
Pros:
We love that you get hot water on demand with this system. No need to boil a batch of filtered water yourself. You can adjust the temperature (from 104°F to 203°F) with the smart faucet, and there are all the safety features you'd expect from a hot water dispenser, including a heating overtime protection function and child lock.
Don't assume that the extra stage of water heating reduces this system's efficiency. The Waterdrop K6 boasts a pure water to wastewater ratio of 2:1, which means that only 1 cup of wastewater is produced for every 2 cups of pure water. That's not quite the 3:1 ratio of our top pick Waterdrop model, but it's close.
We think this system's 600 GPD flow rate is excellent, making it ideal for even the largest households.
There are plenty of other smart features that Waterdrop is known for, like TDS and filter lifespan displays on the smart faucet, and automatic flushing to keep water fresh.
Cons:
You pay more for the perk of water heating. Not everyone wants to spend $800 on an under-sink RO system.
---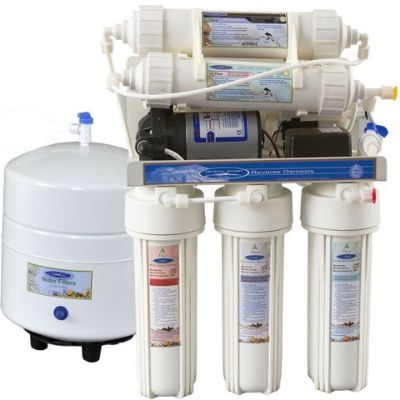 Crystal Quest 1000CP
We think the Crystal Quest 1000CP is the best customizable reverse osmosis system available today.
This 12-stage RO water filter provides every type of water filtration imaginable, including add-on filters. Customize your system by choosing to add dedicated filter stages for nitrate, arsenic, or fluoride removal, and ionization and remineralization, as well as an optional brushed nickel faucet and leak detector smart valve.
Unique Features:
Thorough purification process – The Crystal Quest packs an impressive 12 stages of filtration into a single system, including solid carbon, ultrafiltration, micron filter pads, granular activated carbon, ion exchange, oxidation/reduction, and reverse osmosis.
Removes hundreds of impurities – This system can remove a range of contaminants, including VOCs, microbes, sediment, chlorine, and heavy metals.
Optional add-on filters – As if 12 stages of filtration weren't enough, the Crystal Quest comes with add-on filters (at an extra cost): nitrate, arsenic, and fluoride filters, and an ionizer, mineralizer, and oxidation cartridge.
Pressurized stainless steel storage tank – this system comes with a large, stainless steel storage tank, providing on-demand filtered water.
Best For:
Anyone looking for a thorough, customizable RO filter that they can build to suit their own water filtration needs.
Pros:
The Crystal Quest uses virtually every kind of filtration to remove a range of contaminants from water.
With a good flow rate, the unit provides up to 50 gallons of water per day.
You can pick and choose to add extra filters to the system, which is helpful if you're dealing with specific water quality issues.
Cons:
Considering how many stages are involved in the Crystal Quest, you'd expect the system to remove fluoride, nitrate and arsenic from tap water without having to pay for optional extra filters.
The numerous filtration stages in this filter make it bulkier than other under-sink RO systems, and a lot bigger than a tankless system.
---
🧾 Reverse Osmosis System Buyer's Guide
I know how difficult it can be deciding whether or not you need to install an RO system in your home or not. And once you make that decision, how to sift through the numerous products on the market to find one for your specific needs.
I've covered everything you need to know to help you make the most informed decision.
If you're considering buying an RO system, you'll want to understand exactly how reverse osmosis works, and what makes a reverse osmosis system the best, if performance and value for money are important to you.
There's no need to spend hours trawling through forums and Google-searching the specifics when I've covered everything you need to know in one single buying guide below.
Enjoy!
What's Wrong With Unfiltered Water?
Unfiltered water is generally considered safe to drink but it contains a number of harmful chemicals and pollutants that could cause damage to our long-term health.
We put our trust in water treatment facilities to remove the worst of contaminants from water, but their regulations allow for some to remain. Some chemicals, such as chlorine, are even added to water to disinfect it.
In most unfiltered water, you'll find a combination of contaminants including fluoride, chlorine, lead, arsenic, radioactive substances, copper, PFOA, and pesticides. These can cause a number of underlying health concerns.
✅ 3 Specific Reverse Osmosis System Buying Guides
👍 Benefits Of Reverse Osmosis Filter Systems
Reverse osmosis filtration systems are one of the most popular water filtration treatments, and boasts a number of benefits that puts it ahead of alternative methods. The advantages of filtering with one of these systems include the following:
Removes Impurities
Water that's been treated can contain impurities and pollutants, including chlorine, pesticides, nitrates, bacteria, fluoride and even arsenic.
The only way to remove these impurities is by filtering them – and reverse osmosis systems remove all the bad stuff, guaranteed.
Improves Taste
There may be a number of reasons why your unfiltered water tastes funny, the worst – a rotten egg sort of flavor – being down to the water's hydrogen sulfide content or various bacteria.
The best way to get rid of this taste is to get rid of its source, filtering out the bad stuff with a reverse osmosis filtration system.
Easy to Maintain
Because a RO system is fairly simple in design, you won't need to worry about taking everything apart for a stringent regular cleaning process, and nor will it be a fuss to replace something when it's seen better days, especially with the more modern countertop systems.
Nobody wants to spend hours maintaining their water filtration equipment, and with the best reverse osmosis system, you won't need to.
Cost-Effective
You might not consider a reverse osmosis water filtration system to be your cheapest purchase, but when you weigh it up against the alternatives, the cost is more than worth it.
You'll no longer need to spend money buying your own filtered water from the supermarket, which, if you do the math, totals up to be quite a significant yearly cost.
🧫 Contaminants Removed By Reverse Osmosis Filters
When it comes to any type of water filtration, the more effective methods will be proficient in removing a higher percentage of TDS from the water.
A water's TDS, or total dissolved solids is the number of substances, both organic and inorganic, that the water contains.
Typically, these include a mixture of healthy minerals, salt, pesticides, cations, metals, and other substances that might have made it into your drinking water.
It is impossible to find a water filtration system that can fully remove 100% of TDS from water.
However, reverse osmosis filtration systems offer a particularly effective means of water filtration that can generally remove at the very minimum 75% of total dissolved solids from water. The best reverse osmosis systems may even be able to remove between 90-99% TDS from water.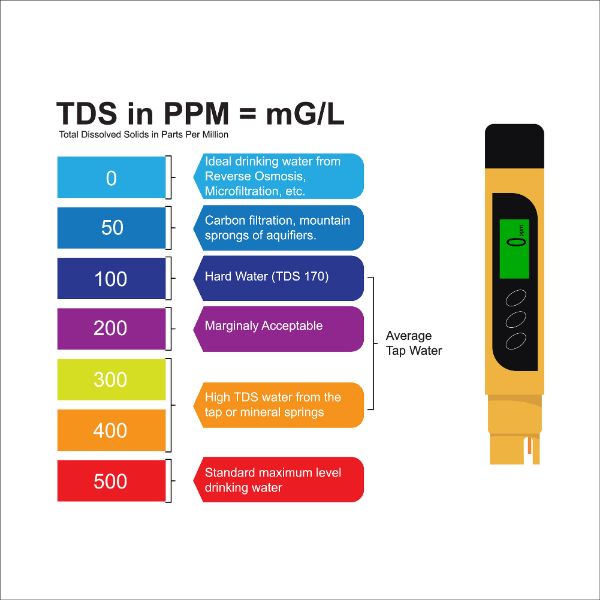 💭 Considerations When Purchasing An RO System
Water Source
Your well water or city water source might have an effect on the reverse osmosis process, depending on the type and number of contaminants it contains.
Generally, the more contaminants your unfiltered water contains, the more difficult it will be for a semi-permeable membrane to filter out these contaminants effectively.
Water Usage
You can expect that reverse osmosis systems for a household or small business, used for the purpose of producing pure water, will filter more water than you consume.
You'll be fine to turn on the faucet whenever you need a drink, as once you've used a certain amount of water, your reverse osmosis unit will get to work creating more clean water to replace what's been lost.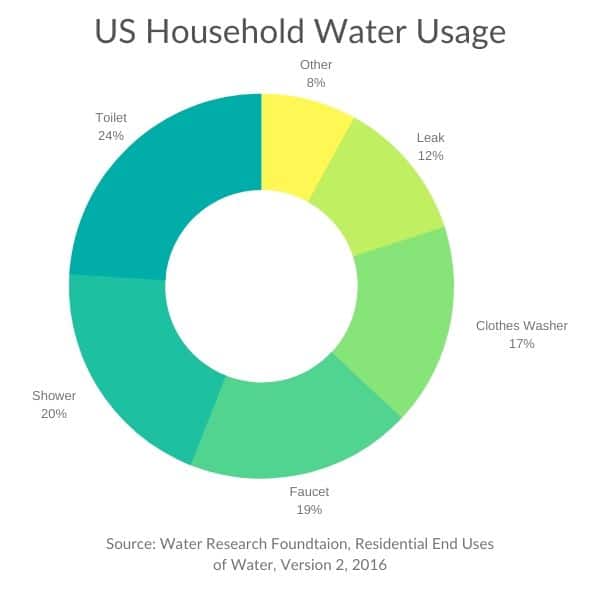 Water Pressure
The reverse osmosis process in water filtration systems can only work effectively when enough pressure is applied to force the water through the semi-permeable membrane (the RO filter) to the other side.
It's recommended that under sink reverse osmosis filters have a pressure of around 60 PSI for optimal functioning.
Storage Capacity
You'll find that some RO filters have a high-capacity tank that can store up to 75 gallons of filtered water – but keep in mind that paying more for water filtration systems with a bigger tank isn't always necessary.
Your RO system will be able to refill at a rate of around a gallon per hour, which, for most consumers, is more than enough, tank capacity aside, to keep them going.
Remineralization Needs
Some people enjoy being able to drink certain healthy minerals in water, which can be good for our health. These include magnesium and calcium.
While we can get magnesium and calcium from other sources, obtaining them through drinking water is an easy way to ensure we're getting our daily mineral requirements.
As reverse osmosis removes all minerals from your water, you'll have to look at remineralizing your water if certain healthy minerals are important to you. You can do this by adding a few minerals back into your water, or adding an extra filter to your RO system, which will add these beneficial minerals back for you.
Replacement Filters
Even the best reverse osmosis system will require some basic maintenance if you want to keep it working at its best.
Generally, it's recommended that you change your sediment filter, carbon filter and polishing filter at least once a year, and your semi-permeable membrane every two years.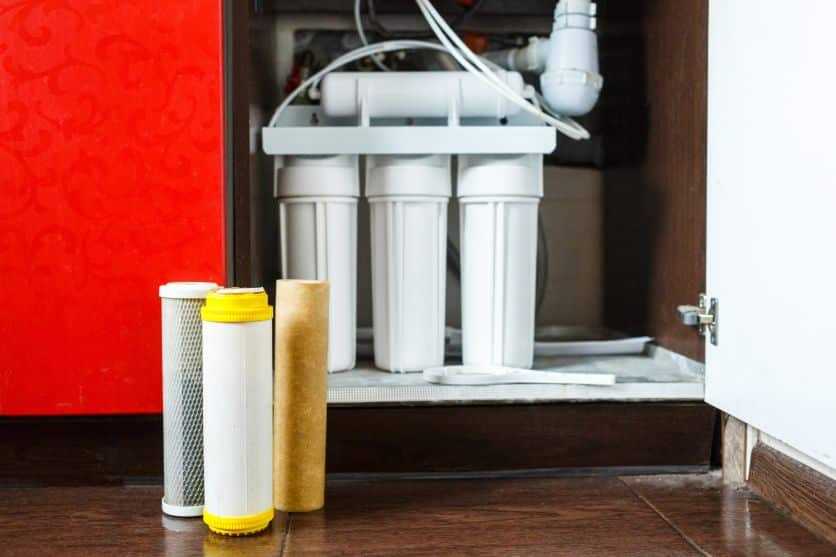 ⚙️ How Does a Reverse Osmosis Water Filtration System Work?
How exactly does a reverse osmosis system work? Let's look at reverse osmosis water filters in a little more detail.
Untreated water first flows into the RO filter tank through a combination carbon and 5-micron sediment filter cartridges. The role of the carbon filter is to remove chemicals from the water, including chlorine, or fluoride from well water or municipal water.
At the same time, the 5-micron sediment filter removes the larger portions of the sediment in the water, which could damage the semipermeable membrane in the later stages of the filtration process.
The RO membrane is very dense, making it very difficult for the water to get through. It filters out all the larger particles, leaving only high-quality drinking water. The process is continuous – the systems feed water in one end, which flows out the other end where the wastewater is flowing out through a drain.
When the purified water reaches the tank for storage, it can be used when you turn on your faucet. When this happens, the now high-quality water passes from the tank through one last carbon filter, then flows to the faucet that you'll have installed at your kitchen sink.
The Reverse Osmosis Process: Step By Step
Typically reverse osmosis water filters follow a basic 5 step process. When you see RO systems claiming more than 5 steps, it means the manufacturer has split one of these 5 into sub-steps. Here is a quick overview of how the process works.
Sediment removal – Before water can pass through the semi-permeable membrane in RO systems, it needs to undergo sediment removal. Sediment filters remove charge particles from your water at this stage, including sand, dirt and rust.
First carbon filter – This filter will remove impurities that would otherwise damage the semi-permeable membrane, such as chlorine and other chemicals. It can also improve the odor and taste of the water, and remove some pesticides and smaller particles that might be able to pass through the semi-permeable membrane along with the water.
Second carbon filter – It's becoming more common for RO systems to have at least a second filter for maximum efficiency. A second carbon filter will help to ensure that the greatest quantity of particles are removed.
Reverse osmosis membrane – The RO membrane is at the heart of all reverse osmosis systems. Because the membrane contains thousands of tiny holes, the water molecules can pass through the membrane under pressure, but any larger contaminants stay behind.
Impurities removed – The impurities flow out of RO systems through a separate pipe, so there's no risk of the particles finding their way back into the purified water.
Remineralization – You can look to add a remineralization filter to your RO system, which can add in healthy minerals like calcium and magnesium, balancing the water's pH and improving its taste.
Optional step: UV light filter systems – One optional addition you can make to your RO system is to add a UV light. The purpose of a UV light is to make sure your water is microorganism-free, improving water quality further.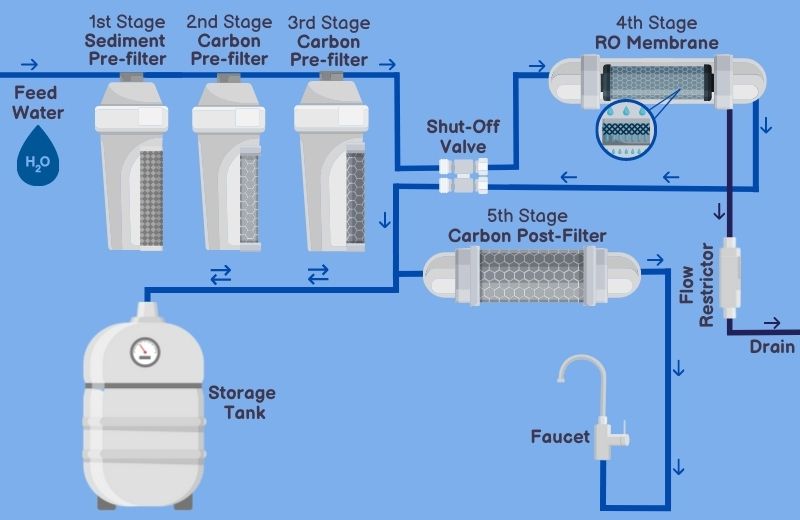 Reverse Osmosis Water Efficiency Ratio
The wastewater ratio of your reverse osmosis system determines the amount of water that is being filtered through the semi-permeable membrane in comparison to how much wastewater containing harmful contaminants is being lost down your drain. The less water is wasted during the RO treatment, the more efficient a unit is.
You can expect most RO systems to work on a 4:1 waste water ratio, meaning that for every 1 gallon of purified water that's produced, 4 gallons of wastewater will pass down the drain.
If you want to get the most back from your RO system, you'll need to look for a unit that is well-designed and operates at a pressure of 60 PSI. Anything below 40 PSI is considered insufficient, and will produce far more wastewater.
✅ The Components Of A Reverse Osmosis System
When you're looking to purchase an RO system yourself, the biggest difference you'll find is in the quality of the system and the individual parts that make it up.
Pre Filter
Pre-filters are essential in all reverse osmosis systems. The role of pre-filters is to filter water by removing larger grains of sediment from the water, like dirt, which could obstruct other parts of the system and prevent it from working as well.
Semi-Permeable Membrane
Undoubtedly the most important feature of the RO system is the semi-permeable membrane, which traps unwanted elements of unfiltered water, including harmful contaminants like pesticides.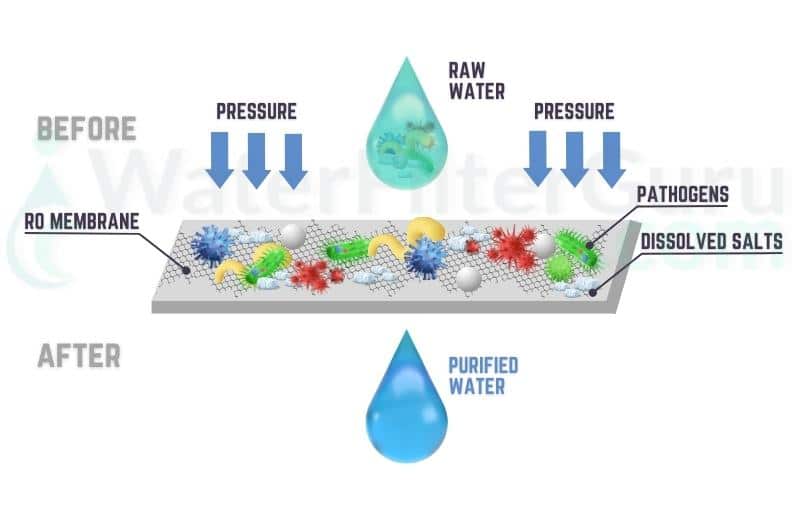 Post Filter
Post-filtering takes place once the water leaves the pressurized tank, but before it enters your taps for drinking. The process gives the water one final treatment, which usually removes any remaining carbon, helping to give water the best appearance and taste possible
Shut-Off Valve
Without a shut-off valve, an RO system would struggle to function as efficiently. Shut-off valves are usually automatic, and detect when the water tank is full and thus shutting off the system.
Flow Restrictor
The speed at which an RO filter can feed water through its filters can affect how much purified water passes into the storage tank after filtration. The flow restrictor applies pressure to the water and pushes it through the membrane.
Storage Tank
Most reverse osmosis systems have their own storage tanks for holding purified water before use. Figure out a gallon per day calculation to learn the right size storage tank you need for continuous access to water.
Remineralization Filters
Because RO filters remove all particles from water, they also remove minerals like calcium, magnesium, iron and zinc.
We can get these minerals from our food, but it's handy to be able to obtain them from our water, too – which is where remineralization comes into play.
A remineralization filter allows for minerals to be added back into the filtered water before it reaches the tank for storage.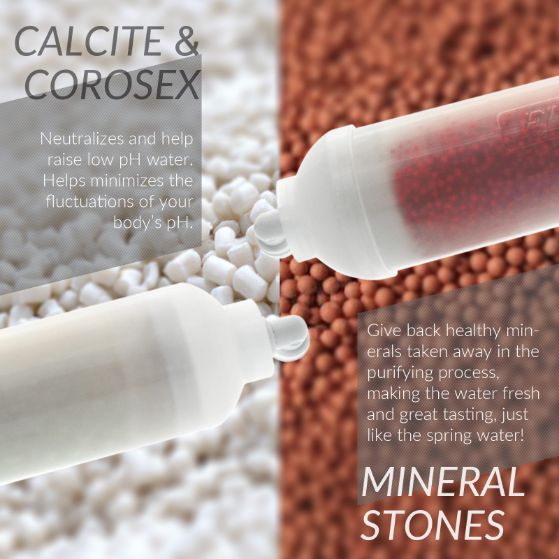 Faucet
When you get a reverse osmosis system installed, you'll usually have to switch up your faucet for one that comes with your system. This is normally fitted in your kitchen sink for convenience.
Air Gap Faucet
An air gap faucet is sometimes used for providing a literal air gap for the reverse osmosis systems drain. It's handy for stopping water from being siphoned back into your RO system through the system's drain connection.
An air gap faucet requires you to drill a hole in your sink to install it.
Pumps
Permeate Pump
The purpose of a permeate pump is to improve the efficiency of purified water production in a reverse osmosis system. Without this permeate pump, much more water would be wasted and efficiency of the system decreased. A permeate pump itself can help to prevent up to 80% of wastewater.
The permeate pump stores the water containing impurities in a chamber and uses it to produce energy, which speeds up the production of purified water during the RO process.
Electric Pump
Electric pumps work very similarly to permeate pumps in RO systems, but are different in design. The device uses a pressure switch to monitor water pressure in your system's water storage tank, and turns on a pump to increase water pressure when necessary.
Not all reverse osmosis systems will need an electric booster pump. However, if your water pressure falls below 40 PSI and you want less water waste and more efficiency, an electric pump for RO systems will be beneficial.
💡 What Might Affect A Reverse Osmosis System's Performance?
There are a number of different factors that you should take into consideration if you're looking to get optimum performance (and high quality water) out of your reverse osmosis system. Namely, efficiency of operation is affected by the following:
Quality of Components
Cheaper reverse osmosis systems with poorer-quality parts slow down the water filtration process. You may also find that a poorer-quality system has a shorter lifespan and requires more maintenance and upkeep.
Water Pressure
The pressure of the water flowing through the system will determine how effectively water passes through the semi-permeable membrane. Water pressure that's too low will cause poor operation. If you're using another water treatment system before your RO system, such as a water softener for treating hard water, be aware that this may affect water pressure somewhat.
Water Temperature
There's not a lot you can do about the temperature of the water that flows through your pipes, but usually, the colder the water, the longer the filtration process works. You can only allow cold water through an RO system, however, as hot water could damage the filters.
Unfiltered Water Contaminant Contents
The more contaminants a drinking water sample contains, the harder RO filters will have to work, which may impact performance.
🔧 Installation & Maintenance of Your Reverse Osmosis Filter System
While you might prefer to hire a plumber to install your RO system for you, it's fairly easy to install a system yourself. You can save a lot of money from doing this, and if you're feeling up for the job, follow the simple step by step system installation process below.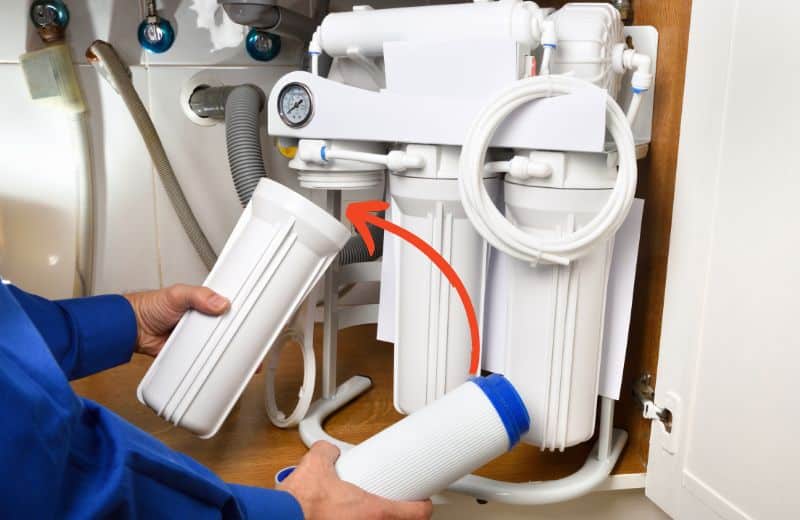 Step by Step System Installation
Choose your installation location – Your first task is to find a location that's most appropriate for installing your RO water system. In most cases, the system fits nicely underneath your kitchen sink, but you can choose to put it elsewhere if it suits you more.
Turn off your water – It would be a bad idea to install a filtration system without first switching off your cold water valve. This is usually found under the sink, and is probably connected to copper piping.
Connect your system to your cold water line – Before you do anything else, twist your cold faucet "on" to relieve any line pressure. Next, you can get to work connecting your RO filter to your water line.
Connect your drain line – At this stage, if there's noticeable corrosion of your drain line, you'll want to replace it before you continue with installation. If your drain line is fine, you're good to go. Drill a hole into the outside wall of your pipe, and attach the drain clamp. Tighten the clamp, again being careful not to go in too hard. At this stage, you should also install a shut-off valve if your system has one.
Install your faucet – When installing your faucet, it's usually a good idea to keep it as close to where your previous faucet was as possible. Drill a hole in your sink if you do not already have one. Position your faucet stem inside the hole and make sure the base is in the right location over the sink. Tighten the faucet in place, making sure to align it in the direction you wish to use it. Then attach the appropriate tubing to the bottom of the stem.
Put your unit in place – It's now time to put the unit in the desired location underneath your sink. You might need to hang your system on a wall if there's no shelf for it to rest on.
Once you're sure everything looks good, turn on the cold water valve slowly. Look out for leaks, and if you notice any, turn the water back off and repair them before going again.
Maintenance and Changing Filters
There will come a time when you'll need to change your filters to keep your whole house RO system working as efficiently as possible.
As well as changing your filters, RO systems require cleaning out every half a year to a year with hot, soapy water. The tubing and housing can be washed, but don't wash any of the filters or the membrane.
🎭 The Competition
Here are some of the other RO systems we've previously reviewed and recommended, but no longer make the cut:
❕ The Verdict: Which Reverse Osmosis System is the Best?
It's important that you choose the right reverse osmosis system for your home or business. Make a careful, considered purchase based on reviews, the trustworthiness of the manufacturer, and your own personal requirements. Don't be afraid to ask more questions if you have them.
Not all RO systems are the same! Some contain a different number of filters; some may be made more cheaply than otherss and some may allow for more water per day to be filtered. It's best to take these differences into account when considering what reverse osmosis system is right for you!
❔ Frequently Asked Questions
How much does a reverse osmosis system cost to install?
If you need to hire a plumber to install your system, there'll be an extra fee to factor in for the service, usually between $100 and $350.
How long does a reverse osmosis system last for?
The quality of your reverse osmosis system will determine how long the filters last for. You might need to replace parts every year or two, such as your filters and storage tank. There's no need to replace the whole system, only the parts that are worn out.
How much waste water do reverse osmosis systems produce?
It's true that a reverse osmosis filter system generally uses more water than it produces, but in terms of waste, it's not so bad. You won't see anything noticeable on your water bill after using a reverse osmosis filtration system for a month or two.
Does an RO system work better if it costs more?
Not necessarily. While systems containing more expensive parts – and therefore costing more – tend to be more efficient and durable, there are some reverse osmosis systems that cost an inflated amount of money, with no evidence to suggest they're doing anything better than their competitors out there.