We all know that our tap water isn't as clean as it's made out to be. In fact, an EWG drinking water quality analysis found that water utilities' testing has uncovered pollutants in Americans' tap water since 2012.
I don't blame you if you don't want to test your luck drinking unfiltered tap water, and under-sink water filters are a fantastic solution. But when they're so widely available nowadays, how do you filter out (sorry 😬 I couldn't help myself) the good products from the bad?
I'm here to help you do that.
More than 130,000 monthly readers trust my product recommendations, and that's because I've made it my business to offer the highest level of expert guidance on at-home water treatment. I've also taken my knowledge elsewhere, having been featured in publications such as HowStuffWorks, Simply Recipes and WWD Magazine.
I chose the best under-sink water filters because they offer the quality of performance that you would expect from a system you're spending so much money on. There are no controversial or questionable products featured in this guide; I've only recommended those that have consistently proved to be the most worthy investments. I've ranked these filters based on their features, capabilities and durability, amongst other factors.
By the end of this guide, you will know:
Which 9 under-sink water filters I recommend choosing from in 2021
How to buy an under-counter water filter, including features to look for and what to consider
How to install and maintain an under-counter water filter
🥇 Best Under Sink Water Filter
Clearly Filtered Under Sink Filtration System
Epic Smart Shield
Waterdrop 3-Stage Ultra Filtration Under Sink Water Filter System
Aquasana 3-Stage Water Filter System
Frizzlife Under Sink Water Filter System
CuZn UC-200
Filtrete Under Sink Water Filtration System
APEC WFS-1000
Woder WD-S-8K-DC
Filter
Details
Clearly Filtered Under Sink Filtration System

Filter stages: 3
Filter longevity: 1 year
Dimensions: 19.7 x 15.7 x 3.7 inches



☝️ Get 10% off - Click here for code



👉 Read the full review
Epic Smart Shield

Filter stages: 2
Filter longevity: 1 year
Dimensions: 7.09 x 1.77 x 3.15 inches



☝️ Get 20% off - Click here for code



👉 Read the full review
Waterdrop 3-Stage Ultra Filtration Under Sink Water Filter System

Filter stages: 3
Dedicated faucet
Filter longevity: 24 months
Dimensions: 14.81 x 4.68 x 13.97 inches




☝️ Get 5% off at waterdropfilter.com with code WFG-5OFF

Aquasana 3-Stage Water Filter System

Filter stages: 3
Dedicated faucet
Filter longevity: 6 months or 600 gallons
Dimensions: 12 x 4.2 x 9 inches





Frizzlife Under Sink Water Filter System

Filter stages: 2
Filter longevity: 2 years or 1600 gallons
Dimensions: 13.9 x 5.6 x 5.4 inches





CuZn UC-200

Filter stages: 1
Filter longevity: 5 years or 50,000 gallons
Dimensions: 4.5 x 4.5 x 15 inches





Filtrete Under Sink Water Filtration System

Filter stages: 1
Filter longevity: 6 months
Dimensions: 4 x 6.8 x 14 inches




APEC WFS-1000

Filter stages: 3
Dedicated faucet
Filter longevity: > 12 months
Dimensions: 6 x 15 x 12 inches




Woder WD-S-8K-DC

Filter stages: 1
Filter longevity: 3 years or 8480 gallons
Dimensions: 3 x 3 x 15 inches




---
⭐ Under Counter Water Filter Reviews 2021
Clearly Filtered Under Sink Filtration System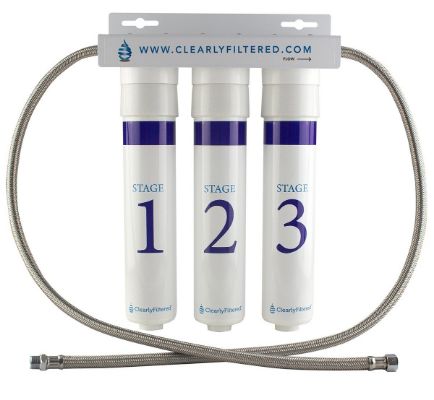 My readers get 15% off at clearlyfiltered.com 👉 Click here to get your coupon.
The Clearly Filtered under sink filtering system has 3 separate filtration stages for the removal of lead, fluoride, PFOA, pesticides, and pharmaceuticals, while retaining healthy minerals like magnesium and calcium. The unit has been independently tested to NSF and EPA Standards, 42, 53, 244, 401 and 473. This means that while it doesn't have an NSF certification, it has been third-party tested to meet these Standards.
Each filter lasts between 9 and 15 months, depending on how many people are in your household. You can buy replacement filters directly from Clearly Filtered online, and changing the filters is a simple case of unclicking the old ones and clicking the new ones in place.
The Installation process of the Clearly Filtered under sink system takes, according to the manufacturer, just 2 minutes. If you're not a skilled plumber, you should factor in time for reading instructions and doubling back on yourself to check you're right – it's more likely to take 10 minutes, which is still great. You just need to connect each end of the unit up to your water line, and you won't need to call a plumber for the job.
You can use the water produced by the Clearly Filtered unit in a number of different ways. You can drink it, make baby formula with it, wash vegetables in it, and water your plants with it. As the system removes more than 200 contaminants from water, you should notice a distinct improvement in taste, color and odor.
👍 What I Like
Filters last for up to 15 months
Easy to install
NSF third-party tested
👎 What I Don't Like
Upfront cost is quite high & filter replacement expensive
Some customers noticed a reduction in water pressure
Read the full review: Clearly Filtered Under Sink Filtration System Review
---
Epic Smart Shield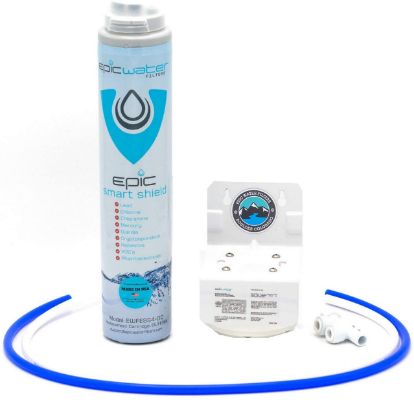 My readers get 20% off at epicwaterfilters.com 👉 Click here to get your coupon.
The Epic Water Filters Smart Shield is an American made direct connect under the sink system that removes up to 99.99% of over 70 common contaminants. The filter has been triple certified and tested against NSF/ANSI standards 42, 53 and 401 for the effective reduction of chlorine, chloramine, iron, manganese, lead, VOCs, chromium, bacteria, glyphosate (Roundup), microplastics, PFAS and more.
There are multiple stages of filtration in the Epic Smart Shield: an adsorption stage which reaches sub 1 micron level removal of contaminants and a depth filtration stage. Combined, these filters can remove heavy metals, pharmaceuticals, chemicals, bad odor and taste, and larger particles and sediment as they pass through.
With a flow rate of up to 1.25 GPM (gallons of water per minute), this Epic Smart Shield system may produce drinking water slightly more slowly than other under counter water filters, but you still won't have to wait more than a minute to fill your glass. With no tank needed, the unit doesn't take up much under sink space, making it possible for use in small kitchens and bathrooms.
The unit connects directly to your existing faucet, so no need to install its own dedicated faucet. The simple DIY installation should take only a matter of minutes, no need to call the plumber. All parts necessary for installation are included.
Filters need changing every 12 months for moderate use, 14-16 months for light use and every 9 months if being used by a larger family every day.
👍 What I Like
NSF triple tested and certified
High contaminant removal
Filter recycling program
Sustainable company
Retains healthy minerals
👎 What I Don't Like
Some customers have complained of poor quality of the plastic connector
Slightly more complex installation than similar products
Read the full review: Epic Smart Shield Under Sink Filter Review
---
Waterdrop 3-Stage Ultra Filtration Under Sink Water Filter System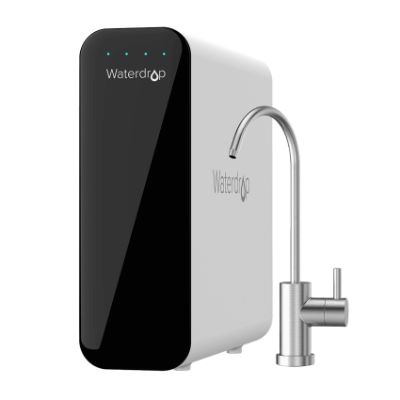 My readers get 5% off at Waterdropfilter.com – Use code WFG-5OFF at checkout
The Waterdrop under sink ultra filtration system is a 3-stage filtration solution that removes 99% of all contaminants larger than 0.01 μm as well as bacteria and other microorganisms. This is accomplished with the system's 3-stage filtration process:
PP filter – Removes large particles and other impurities
UF filter – Removes 100's of common contaminants
CT filter – Removes chlorine, heavy metals including lead, and improves taste
The system utilizes an innovative integrated waterway which allows you to make a filter change without turning off the water supply to the unit. This also prevents leakage and water loss.
Speaking of changing the filters, the UF membranes used in this system are extremely long lasting; up to 24 months! When it's time to change the filters, the smart indication lights on the front of the unit will let you know by changing colors.
Waterdrop designed this unit with DIY installation in mind. You can instal this system in a matter of minutes yourself. Quick and easy. It comes with its own separate faucet as an added perk.
👍 What I Like
Innovative horizontal design saves space
Lights indicate when it's time to make a filter change
Filters last longer than most other under sink systems
👎 What I Don't Like
Higher price point
3 filters to replace
---
Aquasana 3-Stage Water Filter System
The Aquasana sink filter is manufactured by Aquasana, one of the most popular water filter brands in the US. The unit is tested and certified to NSF Standards 42, 53, 401 and P474, meaning it has been industry backed to reduce or remove chlorine, lead, VOCs, giardia, pesticides and herbicides, prescription drugs, detergents, PFOA and PFOS.
The system can remove up to 99% of more than 70 contaminants, but it won't remove TDS (you'll need a reverse osmosis system for that). It has a high flow rate, at around half a gallon of water per minute, so you can get immediate access to clean water from your faucet.
You will need to change the filters every 6 months, which isn't the best lifespan we have seen for an under sink filter. However, the filters are really easy to change, with no need to disconnect the unit from the water line – you just remove the old ones and snap the new ones in place.
Included with the Aquasana under counter filter is everything you need for installation, plus the first set of filters. Even if you don't have much DIY knowledge, you won't need to call a plumber to do the job for you.
👍 What I Like
NSF certified for removal of 77 contaminants
Easy-change filters
Installation doesn't need an expert
👎 What I Don't Like
Filters only last for 6 months
No replacement o-rings if unit starts to leak
---
Frizzlife Under Sink Water Filter System
The Frizzlife is an under counter water filtering system that removes up to 99.9% of chlorine taste and odor, and lead. The unit has been tested by IAMPO R&T, an independent third-party research and testing company, against NSF 42 and 53, for the reduction of aesthetic impurities and health-related contaminants.
The unit uses 1 filter cartridge that functions as 2 cartridges combined. There are 2 stages of filtration – the first using a 0.5 micron sediment filter media to remove particles like sand, rust and silt; and the second using a 0.5 micron carbon block filter media to reduce heavy metals, chlorine, VOCs and other particles.
Installation is straightforward, thanks to the Frizzlife's highly compatible fittings, and the only maintenance you'll need to do is changing the filter after around 12 months. The filter features an auto shut-off switch, so you don't need to shut off your whole tap water supply while carrying out this maintenance. There is a video online to help you with the filter process, which takes roughly 3 minutes to carry out.
👍 What I Like
NSF tested
Straightforward installation
Space-saving 2 in 1 filter
👎 What I Don't Like
Hose connectors not compatible with all water lines
Some users noticed a drop in water pressure
---
CuZn UC-200
The CuZn UC-200 Under Counter Water Filtering Unit is a high capacity 3-stage under sink water filter that has an incredible capacity of up to 5 years per filter. Designed to purify municipal water (not well water), this filter connects directly up to the water line underneath your kitchen's sink. Installation takes a matter of minutes, and the only tool you need is an adjustable wrench to tighten the connections.
With a 3-stage filtration process, the counter water filter CuZn filtering system can remove chlorine, heavy metals, sediment, herbicides, pesticides, algae and bacteria. It uses KDF and coconut shell activated carbon filtering elements that purify water without removing beneficial minerals like calcium. Keep in mind that a TDS reader isn't an effective way of testing water quality after using the countertop water filter CuZn, as it doesn't remove all TDS like reverse osmosis systems do.
The CuZn under sink water purifier uses a unique bacteriostatic filtration system, not a carbon-only system. This type of multi-stage system is less susceptible to bacteria or mold growth, It doesn't soften water or remove hard water minerals – you will need to buy a reverse osmosis filter or a softener for that job. Instead, it improves taste of the water, and makes it healthier for drinking.
👍 What I Like
High capacity at up to 5 years
Removes contaminants while leaving behind healthy minerals
Simple installation
👎 What I Don't Like
Unit may be too large for some under sink areas
Included instructions for installation are minimal
Doesn't remove all TDS like reverse osmosis
---
Filtrete Under Sink Water Filtration System
The Filtrete under counter filter is NSF 42 and 53 certified for the removal of aesthetic impurities and health-related contaminants. This gives assurance that this unit can remove or greatly reduce the likes of chlorine, VOCs, microbial cysts, and lead.
Without the need to connect the Filtrete to a dedicated or standard faucet, you can install it anywhere you wish, including to any kitchen or bath faucet. The installation process takes roughly 30 minutes, and thanks to the system's simple push-fitting connections, you don't need to be an expert for the job.
The filters in the Filtrete have a maximum filtering capacity of 2,000 gallons, giving them a lifespan of approximately 6 months. You won't experience an issue with water flow when using this filter, which filters under sink water at a rate of 2.25 GPM (gallons of water per minute). This is actually higher than the average GPM of a faucet, which is about 1 to 1.5 GPM (gallons of water per minute). You can buy replacement filters online.
For installation, the manufacturers have produced a video on what to do, and written instructions are also available with the unit and online. You just need to attach the water supply hose to the filter head's input and output connections and screw the filter in place.
👍 What I Like
Quick-connect fittings make installation easier
Improves the taste of water
High filter capacity
👎 What I Don't Like
Flow rate will decrease over time
Filters may not last 6 months for some homes
---
APEC WFS-1000
The APEC WFS-1000 uses NSF certified parts and filters and can reduce or eliminate a variety of contaminants in tap water. The unit is designed and manufactured in the US, and removes chemicals like chlorine, which add unpleasant taste and odor to water.
There are 3 filters in the WFS-1000 – 2 carbon block filters, which remove chemicals, taste and odors, and 1 sediment filter. This area of the system removes dust, rust and other particles. The unit comes with a new faucet which you can choose to install if you don't want to risk leaching after filtration, but this is optional for use.
Each filter in the APEC WFS-1000 is designed to last for 12 months – which is impressive, though some filters from similar products on the market claim to last for 3 or even 5 years. You can buy replacement filters online; they cost between $50 and $100 for multipacks of 2 or 3.
There is no tank needed for this filter, and tap water travels straight through the system and out of the faucet, with no waiting around on your part. All of the water that flows through the system ends up in your cup, no rinsing or flushing needed, helping you to save money and water.
👍 What I Like
Comes with optional lead free faucet
Uses NSF certified parts
No flushing or rinsing needed
👎 What I Don't Like
Unit itself isn't NSF certified
Doesn't remove TDS
---
Woder WD-S-8K-DC
The Woder WD-S-8K-DC is a WQA certified undersink water filter that can remove contaminants that affect odor and taste of the water, like chlorine, as well as heavy metals, lead and chromium. It has a 2 GPM flow rate, which is fairly good for an under sink .
The clear selling point of this multi-stage system is that it has an ultra-high capacity, lasting up to 3 years, or approximately 8,480 gallons. It lasts longest when you use it with drinking water that has been municipally treated, and not well water.
You don't need any plumbing skills or experience to install the Woder WD-S-8K-DC. It uses direct connect hoses that you can simply attach onto any US water valve under the sink of your choice (bathroom sinks included).
The filters themselves have a unique technology that allows them to remove 99.9% of lead and chlorine, plus greatly reduce other contaminants, without removing healthy minerals from water. If you're interested in high filtration but don't want to lose out on certain minerals, a filter like this Woder system will work better for you than an alternative reverse osmosis system.
👍 What I Like
Filters last for up to 3 years
Very effective contaminant removal
Leaves healthy minerals in water
👎 What I Don't Like
Doesn't work with well water
Reduces flow rate over time
---
🧾 Under Sink Water Filter Buying Guide
We know how difficult it can be deciding whether or not you need to install an under counter water filtering unit in your home or not. As well as going through the various products available to find the best undersink water filter to suit your needs.
That's why I've created the following buying guide.
This buying guide includes under-sink water filter reviews and has been designed to help you make the most informed decision possible.
🚰 What is a Kitchen Sink Water Filter?
Under counter water filters are point-of-use water filtration systems that are mounted underneath a sink in the kitchen, designed to filter the water directly at the source.
These filters are designed to produce an unlimited amount of water on demand. This means that they get to work as soon as you turn on your faucet, and produce water to come straight out for drinking.
Note that an under sink filter is not the same concept as a reverse osmosis filter. You may have heard of reverse osmosis (RO) filters when searching for an under sink unit. That's because reverse osmosis units can also be installed in an under sink area. However, reverse osmosis systems operate quite differently.
Unlike reverse osmosis systems, an undersink filter is designed to filter water directly without producing wastewater. Reverse osmosis offers a more thorough filtering process, but at a cost. Under sink filters are typically a lot cheaper than reverse osmosis units. RO systems tend to be more expensive to maintain, too.
All water that enters an under sink system comes out as usable drinking water.
The filter is connected to an under sink water pipe. Water travels from this pipe into the pressurized filter, where it is cleaned and sent back up through a pipe to the faucet as pure water.
A special faucet may be supplied for producing purified water independently of the hot and cold faucet in a sink area. However, it's becoming more common now for modern under sink faucets to divert the entire sink's cold water line supply to the filter before it reaches the faucet.
This means that no separate faucet is required, and all water from the faucet is filtered, while the hot water remains unchanged.
📝 Why use an under counter water filter?
Improves water taste
While many people won't purchase a sink filter specifically to improve the taste of their water, it's an added benefit that shouldn't go ignored.
Removing impurities and contaminants that can give the water a bad taste or odor, like chlorine and sulfur – guilty for giving water that rotten egg smell – will not only make your water safer to drink, but better to taste.
Removes contaminants and impurities
Depending on the area you live in, your water could contain all sorts of harmful contaminants and impurities, including bacteria and viruses, chlorine, pesticides and herbicides, lead and heavy metals, and larger particles like dirt and rust.
The only way to ensure all of the nasty stuff is removed from your drinking water is to run it through the best under sink water filter.
The separate filters in your system will be able to effectively remove a wide range of different contaminants, making water fresher, cleaner and safer to drink.
Cost-Effective
If you've been buying bottled water for as long as you can remember, an under counter water filtering system will put an end to your water-spending spree.
You'll be able to enjoy the taste of your own tap water in the knowledge that you're no longer drinking harmful water contaminants, including lead, chlorine and heavy metals..
The cost of replacing your filters from time to time will be far lower than the cost of buying multi-packs of treated water bottles from the store every week.
Undersink filters are also generally less expensive than other water filtration systems to purchase, last for many years, and tend to be more efficient.
Space saving
If you don't have the counter space for a countertop water filter, or you just don't want something clunky taking up your empty surfaces, an under counter water filtration system is a space-saving alternative.
While it will still require you make some room for it in your under sink cupboard, you won't need to have it out on display for it to do its job properly.
💡 How to Buy an Under Counter Water Filter
You can buy most under-sink water filters online or from home improvement stores. Nowadays, most people shop online, because there's more of a selection to choose from, and there's less pressure to make a purchase.
You should take a look at all the under sink water filter reviews that are available for a product you're interested in, and compare costs, features and the product manufacturers themselves.
When it comes to making a purchase, don't hesitate to reach out to the manufacturer directly if you have a question that isn't answered in the product description or FAQs.
💭 Considerations before buying an under sink filter
Before you jump into a purchase, there are a number of things you should consider that will help you get the most out of your system. Have a think about the following features while you're deciding which product is for you:
Filter Type
The type of system you purchase will determine the ease of installation. Simple kitchen sink filters require easier installation, as they don't require a separate faucet to be fitted at your kitchen sink.
Conventional water filters divert water over to a different faucet, which is usually included in the package. It might be that you'd rather purchase a simple under-sink water filter based on installation specifics alone, but conventional systems have their uses. If you want the option of having both hard and soft cold drinking water, having two separate faucets will give you this choice.
Measurements
Your under sink measurements need to be compared to your systems' measurements to make sure the unit will fit comfortably in a given space.
Some under sink filtering systems take up a lot more room than others, and if you don't have much room to give up, you might want to consider a more compact system with smaller filters that perform a number of tasks in one.
Ease of installation
The majority of under sink filters will come partially assembled, and you'll only need to connect the system to your cold water pipe at the right locations. Read up on installation for your particular model to be sure exactly how the installation process will work.
Keep in mind that if you're looking to purchase a conventional system, installation will be more complex because you'll be required to fit a faucet at your sink specifically for the filtered water to run through.
Installation & maintenance costs
If you are choosing to hire a handyman to install your sink water filtering system, you'll need to factor in the costs of doing so.
In terms of maintenance, most sink water filtering systems only require that you change their filters when they're no longer performing efficiently. New filters will cost additional money, but are essential for maintaining your system long into the future.
Certifications
There are two main certifications that a manufacturer of an under counter water filtering solution can obtain: NSF/ANSI certification and Water Quality Association (WQA) certification. Both of these tell a customer that a product has been third-party tested and performs as efficiently as the manufacturer claims it does.
NSF certification
NSF International is an American product testing, inspection and certification organization. NSF/ANSI certification proves that a product complies to the regulatory and purchasing specifications set out by the organization.
The process of obtaining an NSF International certification varies from product to product, but generally, a manufacturer will be required to submit product details and information, before agreeing for their product to undergo lab testing and evaluation.
Water Quality Association (WQA)
Like NSF International, the Water Quality Association is a third-party independent organization that represents the residential, commercial, and industrial segments of the industry.
Manufacturers looking to prove that their product meets the expected filtered water standards can apply to obtain WQA certification.
Being WQA certified demonstrates a manufacturer's commitment to high professional standards and improved customer service.
✔️ Features to Look For
Filter Longevity
To get the best use out of your under-sink water filter, look for a system with high-quality cartridges with a long filter life. All systems inevitably require a filter change after so many months, but the longer between replacements, the better value for money they'll be.
It's not always easy to know when a manufacturer's claims about filter life are true, so make sure to read up on customer reviews and FAQs to see what the community has to say about the product.
Lead-free Faucet
If you're purchasing a conventional under counter water filter, you'll require a faucet for the filtered water to flow from.
Most systems will come with a faucet included in the initial price, and the more durable and high quality it is, the better. Lead-free faucets are always best, as they prevent clean water from picking up additional contaminants on its way from the filter, namely (as the name suggests) lead & heavy metals.
High-Quality Components
From the connecting tubes and the filter bodies, to the faucet and the filtered water elements themselves, you should be looking for a system with the highest quality components. This will help your system to work the most efficiently and effectively, and ensures it lasts longer with less maintenance and upkeep.
Look at customer reviews to learn what customers think about a system's components as a whole.
Thorough Instructions
One of the biggest perks of under sink filters is that it's easy to install them yourself, without the need for a plumber or a handyman.
Generally, installation instructions are clear and in-depth for most under-sink water filters, and you'll be able to find online videos helping you to perform more general tasks like installing a faucet and changing a filter. Most manufacturers also offer live support for customers.
🆚 Under Sink Vs Countertop Water Filters
One of the biggest questions you might be asking yourself prior to purchasing a filter is: "Should I buy an under sink or countertop water filter?"
There's no yes or no either way to this question, but it's worth thoroughly comparing both options to help you make a choice that best suits your requirements.
Here's what you need to know about under-sink vs countertop filtering systems:
Size & Appearance
Countertop water filters tend to be smaller and more compact in size, owing to the fact that they take up counter space. They may also look more visually appealing in design than under-sink water filters, which are stored out of sight, making filter appearance less important.
Location
Under counter water filters are stored away in your under-sink cupboard or storage area, which means it's not always in sight. Countertop water filters take up side space and can't be stored away when they're in use.
Most countertop water filters will need attaching to your sink faucet via a plastic tube, which doesn't look so appealing on display.
Filtered output
Most under sink and countertop water filters are considered point-of-use systems and don't have water storage tanks, so output should be similar for both.
You won't have to wait long at all for filtered water to be produced, providing you purchase a system with good-quality components.
Cost
You should expect to pay a little more for an under-sink water filter than a countertop alternative. This is usually due to filter quality, performance speed and unit size.
Installation
Under counter water filters require a more in-depth installation, while most countertop water filters simply require switching on – and then they're ready to go. You might need to call a plumber, who will find it easy to install your under-sink water filtering system if you're uncomfortable carrying out the task yourself.
🔧 Under Sink Filter Installation and Maintenance
The best under sink water filter systems are easy to install and maintain. You won't need to hire a plumber unless you're particularly hesitant to give installation a go yourself.
If you're looking for more information regarding installation before you make a purchase, or you just want to know how it's done, check out this example step-by-step process:
Installation step by step
Turn off your water supply – Before you get going with installation, you'll need to turn off your cold water supply to stop water flow through the cold water pipe leading to your sink. Turn on your sink faucet to relieve any build-up of pressure.
Assemble your water filters – Your filter system should come partially assembled, so all you'll need to do is clear out your cupboard space and set the system up in the under-sink location you're planning to store it in.
Connect the filter system to the cold water pipe – Undo the cold water supply line and connect one of the flexible tubes to the pipe using the two-piece fittings provided. Connect the other side of the plastic tubing to your pressure limiting valve, then feed the pressure limiting valve into the inlet of your water filtering system, connecting in place.
OPTIONAL – Install the faucet – If you're installing a conventional water filtering system, mark an appropriate area of your sink for fitting the faucet, then drill a 13-millimeter hole. Run the waterline through the faucet using the plastic tubing and plug its other end into the filter (Note: ignore this step if you're installing a simple water filtration system).
Connect tubing to cold water pipe – If you're not using a separate faucet for your water filtration system, you'll just need to connect the other end of your filter up to the main cold water pipe again, at a slightly higher spot, but using the same technique as mentioned above. The filter will be marked to show which end will send clean water out, and which will receive tap water in, so make sure you've got them the right way around.
Secure your water filter to the wall – Securing your water filter in place is optional, but makes for a neater appearance and helps to save space. You'll be able to unscrew your filtering elements from the wall holder whenever they need changing.
Turn the cold water back on – Once your filter is fitted, it's time to turn your cold water back on and check for leaks. If any leaks are detected, turn the water off, switch on your valve to relieve pressure, and tighten your fixings.
Run water through your under-sink unit – Turn on your faucet and let water flow for a couple of minutes to flush out your under-sink water system ready for use. You'll then be able to drink purified water produced by the filter immediately.
When to change the filter
You'll need to look specifically at the user manual of your under sink water filters to be sure when exactly filters will need changing, but generally, you can expect them to last between 6 months and 2 years before you'll have to purchase a filter replacement.
You may need to change your cartridges more frequently if:
Your ingoing water is particularly hard, or contains a high level of total dissolved solids
You use your faucet more frequently than the average home or business owner
While manufacturers can offer guidance for filter changing, you might want to purchase a drinking water test kit that you can use on a monthly basis to check that your filters are still working efficiently.
How to clean and replace filters
The simplest way to ensure your under-sink water filters last longer and works efficiently is to clean the system and replace the filters as advised.
You'll find more specific information about cleaning and sanitation in your filter's user manual, but generally, you'll need to take the system apart and sanitize the components separately.
The housing for all filter units can be washed in warm, soapy water to remove any build-up of sediment.
When it's time to change your filters, most under counter water filtration systems will have a simple setup that allows you to click or twist the cartridges out of place.
👎 Disadvantages of Under Sink Systems
As with all types of water filtration products, there are a number of advantages to an under-sink filter, including:
Single Point of Use
If you choose to install your under counter water filtering system at your sink in your kitchen, as most people do, your filter will produce clean, pure drinking water that will run either out of your standard faucet or, in the case of a conventional filter, the separate faucet that came with the system. These systems are known as single point of use, or POU, systems.
Because under sink filters are designed for under-sink use only, you wouldn't be able to connect your system to a whole house waterline.
You might also be interested in: Whole house water filters
Installation Challenges
Most people with basic handy skills should find it relatively easy to install an under-sink water filter, but you might simply feel more comfortable passing the job on to an expert.
This would mean factoring in an additional cost on top of your initial price for the filter.
Whether you hire a plumber for help or not, installation is fairly challenging, especially if you're installing a conventional system with a faucet.
Water Pressure
For under-sink water filters, a water pressure of between 40 to 70 PSI is generally recommended for optimal filter efficiency.
You can test your ingoing water pressure using a PSI pressure gauge. Users with a water pressure of 30 PSI or below should purchase a booster pump to speed up water flow into the filter.
Upfront Cost
Although an under-counter filter is, in all, great value for money, the initial cost of the filter itself might be off-putting for some.
Most under sink water filters cost between $200 and $400, depending on the level of filter complexity, the manufacturer, and the specific product's components.
It's worth bearing in mind, however, that filter price doesn't always reflect quality. You can find some fairly good deals on filters that have a history of excellent performance.
Regular Maintenance
All under sink systems require regular cleaning and maintenance to ensure they continue to work properly.
Filtering cartridges will need changing fairly often, which means factoring in the additional costs of doing so. A sink filtering system is an investment you'll be expected to keep building on, so make sure you're prepared for this before you make a purchase.
👌 Is a kitchen sink filter right for me?
An under counter filtered water system is right for you if:
You currently spend a lot of money on clean, bottled water
Your home or business' ingoing water contains a high level of total dissolved solids
Your tap water doesn't taste or smell pleasant
You want to benefit from drinking cleaner water
You're looking for a long-term, cost-efficient drinking water solution
Generally, an under sink filtering solution is ideal for anyone who wants to drink cleaner, purer, better-tasting water.
If you've weighed up the pros and cons of a sink unit against other filter models and decided that this one is best for your requirements, an undersink water filter is for you.
❔ Frequently Asked Questions
Where can I install my filter?
Under counter filters are designed to fit in the space or cupboard area below your kitchen's sink. As conventional under-sink systems come with kitchen-style faucets, your kitchen is the best room for installation.
Can I install and change filters myself?
Yes, most people are fine to install their own under sink system. Your system should come with a detailed instruction manual and all the parts you'll need for simplified installation.
You can find additional installation support on the internet, where there are plenty of step-by-step videos for general under-sink filter installation that you'll be able to use in the fiddlier aspects of the job.
Changing your filtering cartridges is a very simple task that you'll definitely be able to do on your own.
How do I know what's in my water?
You can find out what's in your water by contacting your supplier and asking to see a drinking water quality report. This will tell you where your water comes from, and list the regulated water contaminants in the water source, the potential health effects of drinking these, and contaminant levels in your local area compared to national standards.
If you're using well water, you'll need to test your water yourself using a water testing kit to be certain of the contaminants it contains.
If I already have a water softener, do I also need a filtration system?
The answer to this depends on your water filtration goals. Softeners only remove hardness-causing minerals from water, namely calcium and magnesium.
If you're looking to improve the quality of your drinking water, you'll need to install an under-counter filtration system even if you currently use a water softener. This will remove contaminants including lead, bacteria and chlorine from your water, which your water softener won't do.
Should I get an under-counter filtering system or an RO system?
Reverse osmosis (RO for short) systems have their benefits. For instance, an RO system offers more thorough contaminant removal. RO systems are capable of removing contaminants including bacteria. An RO system can also usually remove fluoride, which not all under-sink systems are capable of. But RO systems aren't an affordable option for everyone. It's typical for an RO system to cost at least $200 more than a standard under-sink system. RO systems also waste water during filtration.
Will I need an electricity source?
No, you won't usually need to connect your sink filtering system to an electricity source.