We've carried out comprehensive testing & research and determined these to be the best under-sink water filters available in 2023 in terms of contaminant removal capability, filter capacity, ease of installation, and of course, affordability.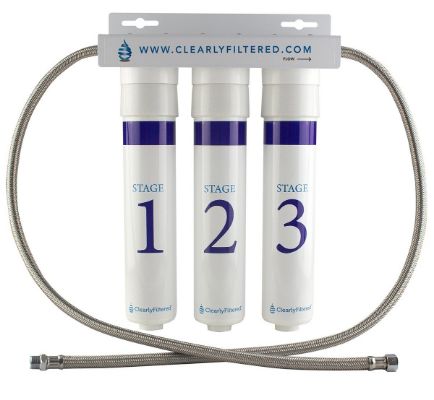 Clearly Filtered Under Sink Filtration System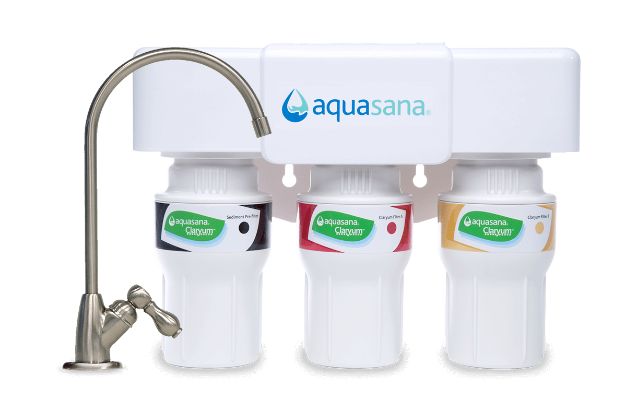 Aquasana AQ-5300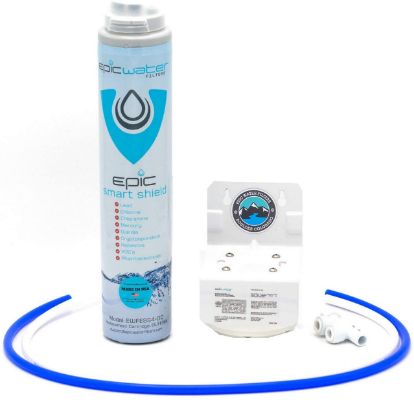 Epic Smart Shield
We all know that our tap water isn't as clean as it's made out to be. In fact, an EWG drinking water quality analysis found that water utilities' testing has uncovered pollutants in Americans' tap water since 2012.
We don't blame you if you don't want to test your luck drinking unfiltered tap water, and under-sink water filters are a fantastic solution. But when they're so widely available nowadays, how do you separate the good products from the bad?
We're here to help you do that.
🤝 Why You Should Trust Us
More than 250,000 monthly readers trust our product recommendations, and that's because we've made it our business to offer the highest level of expert guidance on at-home water treatment. We've also taken our knowledge elsewhere, having been featured in publications such as HowStuffWorks, Simply Recipes, and WWD Magazine.
We know that we're not experts in everything, however, and this review is based on more than just our own knowledge and opinions. You'd be surprised at how many water filter manufacturers don't display all the information that the customer needs to know online, and we've spent many hours corresponding with customer service teams and manufacturers to make sure we have every last detail that we – and you – need to know.
We've also spoken to representatives of filter-certification organizations to understand the real benefits of third-party testing and certifications, and examined their public databases to check that manufacturers' claims are accurate.
We chose the these under-sink water filters because they offer the quality of performance that you would expect from a system you're spending so much money on. This came from testing a selection of more than 10 worthy filters in our own homes so that we could determine their user-friendliness and durability- something that's impossible to understand from a product description alone.
There are no controversial or questionable products featured in this guide; we've only recommended those that have consistently proved to be the most worthy investments. We've ranked these filters based on their features, capabilities, and durability, amongst other factors.
🥇 Best Under Sink Water Filtration Systems
📊 Under Sink Water Filters Comparison Chart
System
Clearly Filtered Under Sink Filtration System

Aquasana AQ-5300

Epic Smart Shield

AO Smith AO-US-200

Ranking
1st
2nd
3rd
4th
Ratings
5/5
4.5
4.5
4.5
Price
$$$
$$
$
$
Contaminants Reduced
232+
77
70
77
Certifications or Testing
NSF 42, 53 & 401
NSF 42, 53 & 401
NSF 42, 53 & 401
NSF 42, 53 & 401+P473
Filter Capacity
2,000 Gallons
600 Gallons
651 Gallons
500 Gallons
Annual Cost
$396-$440
~$130
~$115
~$120
Warranty
Lifetime
1 year
90 day guarantee
Lifetime
1 year
Our Top Pick: Clearly Filtered Under Sink Filtration System
Our readers get 15% off at clearlyfiltered.com 👉 Click here to get your coupon.
The Clearly Filtered Under Sink Filtration System is the best under-sink water filter you can find, for three reasons: the system reduces or reduces an impressive 232+ contaminants; the filters have long-lasting 2,000-gallon lifespans; and DIY installation of this system costs nothing.
This under-sink water filter is on the more expensive side, but you pay for the value you get from the contaminant reduction. No other under-sink water filtration system can reduce as many contaminants as the Clearly Filtered System.
There are three filters in this system, offering filtration nearly in line with what you'd expect from a reverse osmosis filter. You can change all three filters at the same time, as they each have a 2,000-gallon capacity. This equates to an average 12 months of consistent use, although your water usage and chemistry will determine exactly how long the filters last.
Runner Up: Aquasana AQ-5300
My readers get 50% off at aquasana.com 👉 Click here to get your coupon.
The Aquasana AQ-5300 has a host of impressive NSF certifications for the removal of 77 contaminants. If you're looking for a filter that has been third-party proven to work, the AQ-5300 could be the best fit for you. The filter uses Aquasana's Claryum® technology along with a sediment pre-filter, making the system suitable for homes with high-sediment water. The AQ-5300's filter cartridges last for six months and cost about $80 to replace.
Also Great: Epic Smart Shield
My readers get 20% off at epicwaterfilters.com 👉 Click here to get your coupon.
This under-sink water filter has been independently certified to remove up to 99.99% of 70 different tap water contaminants. The filter is a fraction of the price of the Aquasana system, costing around $120, depending on where you buy it from. Filters last for more than 12 months, and you can buy replacement filters for the same price as the original system.
You don't have to spend a fortune to enjoy an exceptional performance from an under-sink water filter. The AO Smith AO-US-200 is ANSI/NSF-certified to almost completely remove 77 contaminants, including volatile organic compounds, lead, mercury, and pharmaceuticals. This filter is also one of the rare few to be certified for the removal of PFOS and PFOA, two cancer-causing forever chemicals. The AO Smith AO-US-200 costs just over $100 upfront, and filter replacements cost around $60 per pair (you'll need to replace the filters twice a year).
---
🕵️Our Research
Here, you'll find information on whether an under-sink water filter is for you, how we chose the best under-sink water filter products in this list, and how we tested and judged the filters.
🚰 Do I Need a Water Filter?
If you get your water from a municipal supply, you don't need a water filter. This is because all public water systems are legally required to treat their water according to the EPA's regulations, removing dangerous contaminants to trace levels.
However, some organizations, like the Environmental Working Group, believe that the EPA's regulations are too lenient, and that we're drinking water that contains unsafe quantities of contaminants. The EWG's standards are much more stringent, and not many water suppliers provide such thorough water treatment and filtration.
What does this mean? If you look at the EPA's regulations, your water is safe to drink, but the EWG's standards say otherwise. Additionally, many contaminants leach into your water as it travels to your home, like lead (you can find out how many lead water pipes your state still uses here).
We recommend laboratory-testing your water or requesting to see your local authority's water quality report. A water quality report will tell you what your water contains post-treatment, while laboratory testing goes one step further, telling you what your water contains after it has traveled to your home. SimpleLab Tap Score is a reliable laboratory that we've used on numerous occasions in the past.
Once you've tested your water, you can decide whether, based on the contaminants you find, you want to use a water filter to achieve clean drinking water.
🙋‍♀️ Who This Guide is For
This guide is for anyone who is best suited to an under-sink water filter, as opposed to other at-home filter types. Let's take a quick look at when an under-sink filter is the option that makes sense for your family:
You're Looking for On-Demand Water Filtration
Under-sink water filters require no waiting around, as you'd get with a water filter pitcher. You can use an on-demand under-sink filter for immediate access to water for drinking and cooking. On-demand filtration is the best choice for people who use more than two gallons of water per day.
You Have the Budget for a Mid-Range Filter
Under-sink filters aren't the most expensive systems on the market, but the cost can vary quite a bit. You should expect to pay between $100 and $500 for an under-sink water filter system, depending on the brand. This is a lot costlier than a pitcher filter, and replacement filters and additional installation costs are higher, too.
You'd Prefer to Keep Maintenance to a Minimum
The best under-sink water filters have much longer lifespans than the average water filter pitcher. Depending on the filter life, you'll need to change the filters in an under-sink filter once or twice a year. In comparison, most pitcher filters only last for three months, maximum, before replacement filters are needed.
You Can Handle Basic DIY
You don't necessarily need to pay for a plumber to install an under-sink water filter for you because the process is generally straightforward. If you or a family member is up for a basic plumbing job, you should find it easy to install this type of water filter. If you don't already have a hole in your sink for a separate faucet, you'll need to drill one prior to installation.
You Have Enough Under-Sink Space
You might need to free up some space beneath your kitchen sink to store an under-sink filter. The best under-sink water filters are designed to be space-saving, but you'll still need at least 11 inches of vertical space and 9-10 inches of horizontal space in your cupboard.
📊 How We Chose
For this guide, we looked solely at under-sink cartridge filters, using an adsorbent filter like activated carbon or ion exchange. There are tens of filters of this kind available today, and finding the best of the bunch involved looking at the most important qualities of a filter, and comparing these qualities against each other.
We chose the filters on this list based on the contaminants they could remove, whether they had testing or certifications, the costs involved in owning the filters, and the quality of their components.
Contaminants Removed
The more harmful contaminants a filter can remove, the cleaner, safer, and tastier your drinking water will be.
Chlorine is a contaminant that most filters, including under-sink water filters, can remove. Lead, VOCs, pesticides, and herbicides, are other contaminants that are commonly targeted by an under-sink water filtration system.
When researching under-sink filters, we discovered several filters that offered unique, extensive contaminant removal capabilities. Once we knew that there were filters out there that could remove tens – even hundreds – of contaminants, we focused on those, ignoring the filters that could only reduce a handful of particulates.
The best under sink water filter on this list, the Clearly Filtered system, can remove more than 230 contaminants. That's very impressive for an under-sink cartridge filter. The other three filters on our list can remove around 70 contaminants, which is also far superior to the depth of filtration offered by the majority of under-sink filters on the market.
The filters on this list don't only remove the expected contaminants. Glyphosate, E. Coli, uranium, microplastics, arsenic, chromium, and fluoride are just a few of the more difficult-to-remove contaminants that the best under-sink water filters can remove.
Testing & Certifications
The biggest indicator of a filter's reliability is third-party testing and certification. The most common certifications for under-sink filters are held by NSF International and ANSI (the American National Standards Institute).
NSF and ANSI are non-profit, private organizations that provide testing standards and protocols for a range of water treatment products, including under-sink water filter systems. Certifications from these organizations are very hard to achieve, and filtration systems are rigorously tested with complex water samples to determine their capabilities.
If a filter can't achieve the protocols set out by the testing body, it simply won't achieve certification. There's no way for manufacturers to be partly certified – their product either passes or fails for the removal of a specific contaminant or set of contaminants.
You'll notice that several filters on this list don't have an official NSF/ANSI certification, and are instead tested by third-party organizations to NSF/ANSI Standards. This is because gaining an NSF certification is incredibly expensive, and we didn't want to exclude all filters from manufacturers who were unable to afford to be certified at this moment.
While ANSI/NSF certification is important and invokes the highest level of trust, there are a number of up-and-coming brands that have exciting capabilities and strong third-party test result data, but might not be able to shell out for an official NSF certification yet. We considered these filters when choosing the best under-sink filters for this list.
When looking for filter testing and certifications, we focused on the following certifications:
NSF/ ANSI 42
We mentioned that chlorine is a contaminant commonly removed by adsorbent under-sink filters. The NSF/ANSI Standard 42 for chlorine removal is important because chlorine is the biggest cause of unpleasant taste in drinking water. NSF 42 is the certification you're most likely to come across when looking for any type of water filtration system.
NSF/ ANSI 53
NSF/ANSI 53, for lead removal, is less common than chlorine removal because it's more difficult to achieve. A filter must be able to remove more than 99% of lead to achieve this certification, which isn't an easy feat – especially as testing involves using a solution that contains a much higher concentration of lead than you'd get from a glass of tap water.
NSF/ ANSI 401
Another difficult-to-achieve certification is NSF/ANSI Standard 401, for the removal of emerging contaminants, such as pharmaceuticals. This certification is particularly important because emerging contaminants aren't currently regulated under current environmental laws, but are becoming increasingly more common in public drinking water sources. Only a select group of filters are tested or certified to achieve NSF 401 certification.
Component Quality
The quality of a filter's components affects durability, ease of use, and running costs.
Plastic parts aren't as durable as metal, especially if the parts are involved in fitting or connecting the system to your plumbing. We've favored metal parts, but we haven't excluded filters with plastic parts entirely. Plastic is more affordable than metal, giving a better-value filter that's suited to smaller budgets.
In the case of a filter with plastic parts, we've ensured that the material is a strong, durable material like Tritan. All the filters on this list are BPA-free, too, so they won't leach dangerous industrial chemicals into your water.
Reviews & Customer Feedback
Although we personally tested all the filters in this review ourselves, we know that we're only a handful of people, and that our experience doesn't necessarily reflect the overall customer experience for a certain product.
Customer reviews can be incredibly telling when it comes to the quality, durability, and ease of use of a water filter. In our research, we scoured through customer reviews, noting any trends – positive or negative – relating to users' experiences with a filter.
We learned a lot about the long-term capabilities of the filters we researched from customer reviews. Many customers update their reviews after several years to share how the product is performing, and whether there are any issues or complications that they hadn't expected. We used trending information from customer reviews to determine the suitability and effectiveness of under-sink water filters for the people who might buy them.
Costs Involved
Cost was one of the most important factors in our research because not everyone has the same budget to spend on an under-sink water filter system.
The filters in this guide are priced from around $100 to upward of $500. Cost is generally linked to filter lifespan and quality of filtration (including the number of contaminants removed), but you can still get a great deal on a more affordable filtered water system that offers an elite performance. In this guide, we've included several options for every budget.
When calculating the long-term costs of owning an under-sink filter, we looked at specific filter capacities and expected filter lifespans based on those capacities. The longer the filter life, the less frequently replacement filters are needed.
You can expect to pay around $100-$120 per year on filter replacements, depending on the manufacturer. We picked filters that had a good lifespan of at least 6 months to reduce the frequency of spending involved in owning an under-sink water filter system.
🧪 How We Tested
In the past, we've conducted our own, limited testing using Tap Score with other water filter products, but we found that the data we received was too limited. Testing for hundreds of contaminants is incredibly costly, but testing for only a handful of contaminants didn't give us a solid understanding of which filters were truly better than the rest. Third-party data from tests conducted by the manufacturers is much more conclusive and accurate, making it more helpful for product comparisons.
We've left product testing for contaminant removal to the experts. Our own testing takes place at home, where we assess the user-friendliness of a product and pick up on its features and drawbacks with everyday use. There's only one way to know exactly how a water filter system performs in real life: testing it yourself.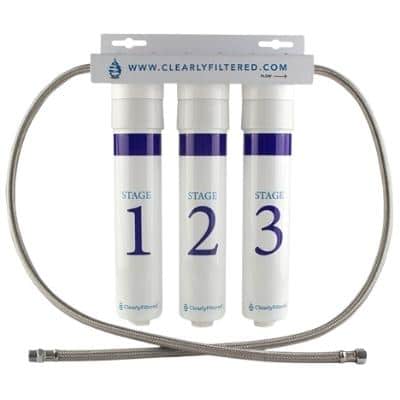 Clearly Filtered Under Sink Filtration System
Our top pick is the Clearly Filtered Under Sink Filtration System. Not only is this under-sink water filter system tested to NSF Standards for the reduction of 232 contaminants, but the filters last for 2,000 gallons, or up to 12 months. Beyond that, installing the filter system takes less than 15 minutes, which is much faster than the typical installation of most under-sink water filters. Finally, the Clearly Filtered has a lifetime guarantee and a 30-day worry-free trial – two great signs that the manufacturer is confident in the quality of the product.
The Clearly Filtered system is independently lab tested by the Quality Filter Testing Laboratory in accordance with NSF/ANSI Standards 42, 53, and 401. Testing was similar to NSF testing, and water was spiked with 12 categories of contaminants (totaling 232 overall) and sent through the filter. All contaminants listed on the Clearly Filtered's report were found in testing to be reduced to equal to or below the NSF's permissible limits.
These contaminants include fluoride, a controversial mineral that many states add to their public water supplies for oral health benefits, which may be linked to cancer. The Clearly Filtered can also reduce chloramine and chlorine, the two most common disinfectants used in public water systems; heavy metals like arsenic, lead, and iron; and radiological elements like gross alpha and gross beta. Additionally, emerging contaminants like pharmaceutical drugs, and nine types of perfluorinated chemicals (such as PFOS and PFOA) are almost entirely reduced by the filter. Finally, the Clearly Filtered system can greatly reduce semi-volatile compounds and volatile organic compounds, pesticides and herbicides, and phthalates, making it superior in performance to any other under-sink filtered water product on the market.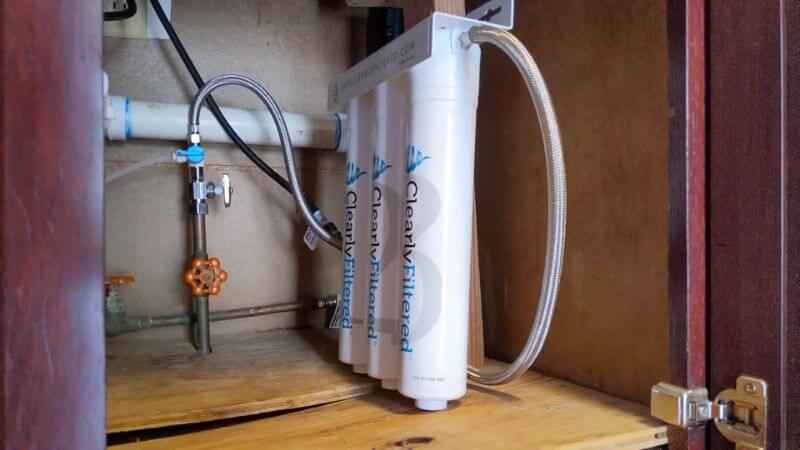 There are three stages of filtration in the Clearly Filtered water filter system. The first, a premium carbon priming filter, is found in the majority of under-sink water filters. The two additional stages in the filtration process are more unique, setting the Clearly Filtered apart from its competitors: the special-blend filter captures everything from heavy metals to radiation, while the fluoride and arsenic filter does the difficult job of reducing fluoride from water, without bone char, activated alumina, or reverse osmosis.
The system's incredible contaminant reduction is the main reason why this filter is our top pick. But the filter's durable design and ease of installation are two other standout features of this product. It took us just under 15 minutes to install the system, using just a screwdriver and a wrench. You can watch a time-lapse of somebody installing the filter in 2 minutes, and while the person obviously knows the filter inside out, it's a good example of how few stages are involved in the installation process.
Installation is non-permanent and simply connects the unit up to your cold water line, with no drilling or connecting a dedicated faucet required. The filters are easy to change, too – they're designed to twist on and off the filter housing, with no tools required. With its simplistic form, the Clearly Filtered was one of the easiest-to-use filters of the products we tried.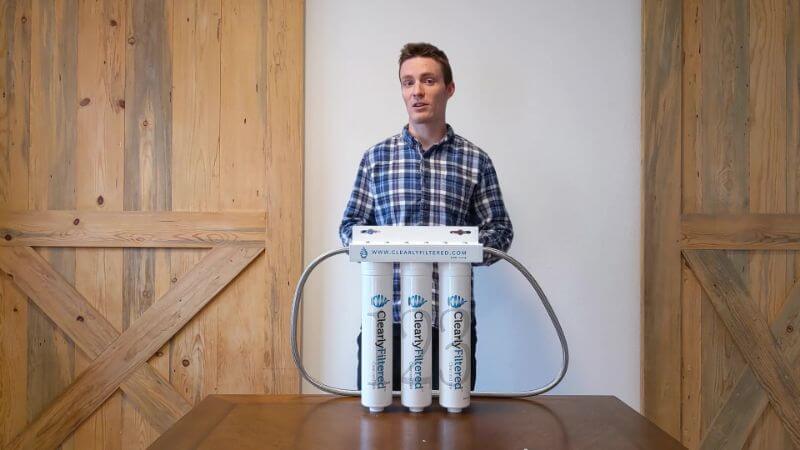 We also favored the space-saving design of the Clearly Filtered. The filter is built to sit flush against the wall at the back of your under-sink cupboard and is only 3 inches deep, so there's plenty of room to store your supplies in front of the filter. The filter's footprint is 15 inches wide with a 3.1-inch depth and a 15-.4 inch height. As long as you have the vertical space, plus a bit more for the filter changes, the unit won't take up too much room in your cupboard.
The Clearly Filtered is well received by customers, with more than 120 reviews averaging an overall rating of 4.9 stars.
The Potential Drawbacks
High Price Point
Even the best under-sink filter systems have their drawbacks. The Clearly Filtered's biggest flaw is its price. We're not talking about value for money, here. Considering just how many contaminants the system's filtration process can reduce, the cost of $500 is justifiable. But for people with a budget of around $100-$300, paying $500 for a filter likely seems steep. If you can afford this filter, you should definitely consider it. But if your budget is on the smaller side, take a look at one of the lower-cost picks on this list.
Existing Shutoff Valve Required
Additionally, installing the Clearly Filtered water filter is only easy if your under-sink cold water supply already has a shutoff valve. Otherwise, you'll need to cut out a section of your pipe and do some heavier plumbing work, which may require paying for an expert.
Impacts Water Flow
Although the Clearly Filtered doesn't hugely reduce water pressure, you will notice this somewhat. The water supply in your cold water line must pass through several water filters before it can reach your faucet, and the resistance from the filters can impede the flow of water somewhat. However, you'll still get nearly-instant access to filtered water with this system, and you certainly won't have to wait anywhere near as long as you'd have to wait for pitcher filtered water.
Not Good for Water With Sediment
If your water supply is sediment-rich, the Clearly Filtered isn't a good solution, and the sediment may damage the water filters. Take a look at the AQ-5300, another of our choices on this list, which comes with a built-in sediment pre-filter.
Read the full review: Clearly Filtered Under Sink Filtration System Review
---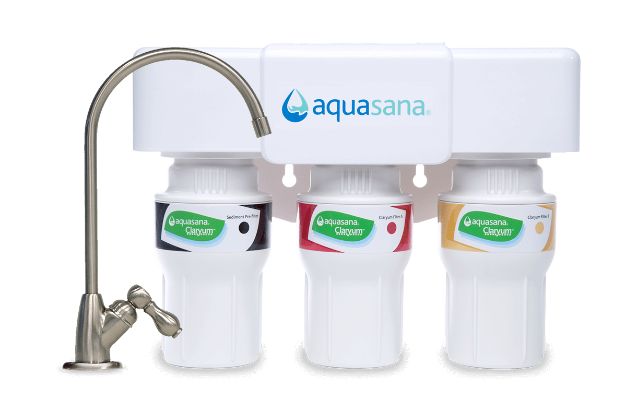 Aquasana AQ-5300
The Aquasana AQ-5300 filter holds an official NSF certification for Standards 42, 53, and 401 for its contaminant removal capabilities. Contaminants this filter is certified to remove include chlorine and chloramine, VOCs, lead, pesticides, and herbicides. The Aquasana AQ-5300 is also certified to remove PFOS and PFOA, which most other under-sink filtration systems can't. You can check out the test results data sheet here.
Using Claryum® selective filtration technology, the Aquasana AQ-5300 provides three stages of filtration to greatly reduce 77 impurities without removing healthy minerals like potassium, calcium, and magnesium. The unit also comes with a sediment pre-filter, which protects the later filters from damage and reduces the filter replacement frequency.
You'll need to install a separate faucet with this filter, but there are three styles to choose from – chrome, brushed nickel, and oil-rubbed bronze – so you should find a design that best suits your kitchen's aesthetics. The entire system has a length of 4.25 inches, a width of 12 inches, and a height of 9 inches, making it relatively slim and space-saving.
With more than 1,600 reviews on the Aquasana website, the Aquasana AQ-5300 is well received by customers, with a 4.5-star rating. However, the filter cartridges only last 6 months, which is 6 months less than the Epic Smart Shield's filters, and up to 1.5 years less than the Clearly Filtered's lifespan.
Read the full review: Aquasana AQ-5300 Review
---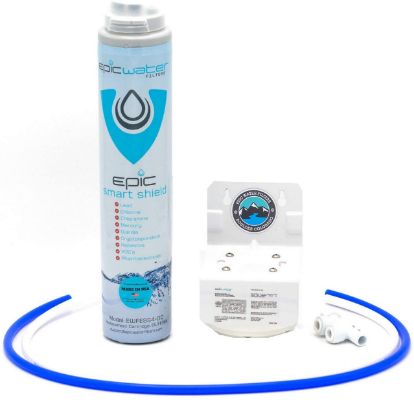 Epic Smart Shield
The Epic Smart Shield is another of our top under-sink filtration systems. Although this filter is only capable of removing up to 99.99% of 70 different tap water contaminants (according to its independent testing), it's almost one-fifth of the price of the Clearly Filtered, making it a fantastic option for a smaller budget.
Like the Clearly Filtered, the Epic Smart Shield has been tested according to NSF/ANSI Standards 42, 53, and 401. 70 contaminants were reduced to equal to or below the NSF's limits, including chlorine, chloramine, asbestos, lead, cysts, VOCs, benzene, and turbidity. You can download the datasheets to check out yourself here and here
Aside from its slightly reduced filtration capabilities and more affordable price, there aren't many differences between the Epic Smart Shield and the Clearly Filtered. The Epic Smart Shield's filter lifespan is also really decent, and you'll only need to make a filter replacement after 12-16 months, depending on your water usage. The Epic Smart Shield is also designed for easy DIY installation, and is similarly sized, although the Epic Smart Shield is taller than the Clearly Filtered (dimensions: 19 3/4 inches tall x 4.5 inches deep x 4 1/4 inches wide).
The Epic Smart Shield has a solid carbon block design for its single filter. Made from sustainable activated coconut carbon, the filter uses the adsorption filtration process to trap impurities in its pores. A big bonus of the Epic Smart shield is that the filters are 100% recyclable, so they're the ideal solution for the eco-conscious. Epic has a recycling program that you can make the most of – for every three filters you recycle, you get one filter for free.
There are a few drawbacks to be aware of. The older the filter gets, the slower the filtration process. After a few months, you'll notice that your water flow rate is lower than normal. This isn't great, considering the filters are supposed to last for 12 months. Additionally, the tubing supplied with the filter isn't very long or flexible, so if your under-sink cupboard is particularly tall, this could prove an issue.
Read the full review: Epic Smart Shield Under Sink Filter Review
---
AO Smith AO-US-200
Our best budget pick on this list is the AO Smith AO-US-200. This filtration system has been tested by IAOMP and certified to NSF Standards 42, 53 and 401 +P473. Some of the harmful contaminants that the AO Smith AO-US-200 is certified to remove are lead, asbestos, mercury, chlorine, pharmaceuticals, and pesticides. The system has a 500-gallon capacity, requiring a filter replacement every six months or so. You'll need to install a separate faucet with this filtration system, which comes in one finish: polished chrome.
The AO Smith AO-US-200 has a flow rate of 0.5 GPM, so this filtration system shouldn't have too much of an effect on your water pressure if you have a family of 1-4. The unit measures 16.65 inches (height) by 11.1 inches (width) by 6.57 inches (depth), so it's one of the smaller under-sink filters on the market.
If you're looking for a reliable filtration system that doesn't carry excessive running costs, you'll be interested in the AO Smith AO-US-200. The upfront cost of the filter is just over $100, and annual filter changes come to around $120. This makes the AO Smith one of the lowest-cost under-sink models on the market, but paying less for this filter doesn't mean you compromise on quality.
There are several setbacks of this filter, however. The user manual doesn't have exceptionally clear instructions, which makes installation more of a task than it should be. You'll also need to cut the tubing into two, even though the user manual says that the filtration system comes with two tubes. Some customers have also had leaking issues with this filter, so it's essential to ensure the connections are properly attached during installation.
---
📝 Others That Didn't Make the Cut
The APEC WFS-1000 is a popular choice and nearly made our list. However, the filter doesn't have NFS testing or certifications, and didn't produce the nicest-tasting water of all the filters we tried.
Another close contender, the 3M Aqua-Pure ticks a lot of boxes and even holds NSF certifications – but the included connectors and faucet assembly aren't the highest quality.
The Body Glove BG-12000 offers impressive filtration capabilities and is also NSF certified, but at just under $1,000, we felt that this filtration system was too expensive for most budgets.
Although the Frizzlife MK99 is one of the best affordable under-sink filtration options, you need to find your own faucet to connect this filter up to, which can be costly and confusing.
The Homemaster Value Line comes with nearly 20 different types of faucets and is one of the more affordable under-sink filters available – but there are virtually no customer reviews about this system yet, so we can't see how it lives up to expectations for the everyday user.
iSpring is a popular brand, and the iSpring US21 nearly made the cut. However, the filter isn't NSF tested or certified, and you have to pay hundreds of dollars to extend the warranty.
The CuZn UC-200 is a compact, high-capacity filter with an impressive 5-year lifespan – but some customers had issues with cloudy water and non-durable parts.
Another under-sink option from a popular brand, the Culligan US-EZ-3 is tested and certified by IAPMO, but the filter doesn't come with everything you need for a seamless installation, so the "EZ" install marketing is a little off.
Customers mentioned that the filters in the Woder WD-S-8K-DC didn't last as long as advertised, and the filter affected their flow rate, so this unit didn't make our list.
Finally, the Filtrete 3US-PS01 is affordable and easy to install, but again, customers said that the filters didn't last six months and their flow rate was significantly reduced when using this system.
❔ Frequently Asked Questions
Where can I install my filter?
Under-counter filters are designed to fit in the space or cupboard area below your kitchen's sink. As conventional under-sink systems come with kitchen-style faucets, your kitchen is the best room for installation.
Can I install and change filters myself?
Yes, most people can install their own under sink water filter. Your system should come with a detailed instruction manual and all the parts you'll need for installation.
You can find additional installation support online for installing water filter systems. There are plenty of step-by-step videos for under-sink filter installation that you'll be able to use when you come to the fiddlier aspects of the job.
Changing your filtering cartridges is a very simple task that you'll definitely be able to do on your own. You just twist or click the old cartridges out of the filter housing, and reverse the process to install the new filters.
How do I know what's in my water?
You can find out what's in your water by contacting your supplier and asking to see a drinking water quality report. This will tell you where your water comes from and list the regulated contaminants in the water source, the potential health effects of drinking these, and contaminant levels in your local area compared to national standards.
If you're using well water, you'll need to test your water yourself using a water testing kit to be certain of the contaminants it contains.
👉 Check out the best under sink water filters for well water of 2023 right here
Should I get an under-counter filtering system or an RO system?
Reverse osmosis (RO for short) systems have their benefits. For instance, a reverse osmosis system offers more thorough contaminant removal. Reverse osmosis systems are capable of removing very small contaminants, including bacteria, which carbon block filters can't handle. A reverse osmosis system can also usually remove fluoride, which not all under-sink systems are capable of.
But reverse osmosis systems aren't an affordable option for everyone. It's typical for a reverse osmosis system to cost at least $200 more than a standard under-sink system. Reverse osmosis filter systems also waste water during filtration, and have higher filter replacement demands. If you're just looking for a step up from a water filter pitcher, reverse osmosis isn't the most affordable or convenient solution.
Will I need an electricity source?
No, you won't usually need to connect your sink filtering system to an electricity source. The filter uses the force of water pressure to filter your water. When you turn on your tap, water will flow through the filter before leaving your faucet, no electricity required.