You never know when disaster will strike – ensure your access to clean water in any situation with the best water filters for emergency preparedness.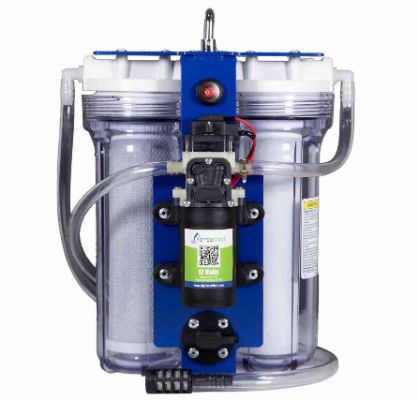 PortaWell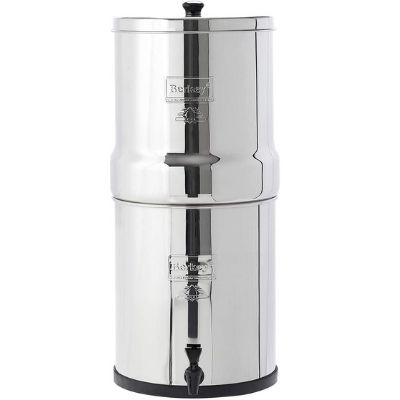 Big Berkey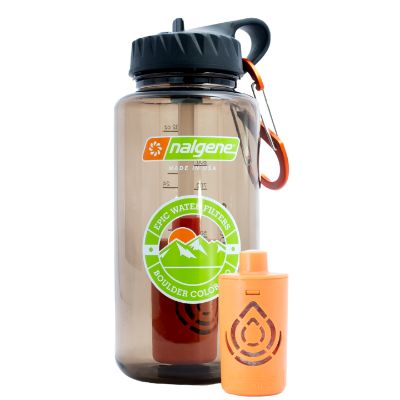 Epic Nalgene OG
Contaminated water kills. An estimated 780,000 people die from drinking dirty water per year. Take a second to let that statistic sink in.
In most parts of the US, we're very fortunate to have easy access to tap water that's safe to drink. But if you're visiting a developing country and won't have access to clean water, it's vital that you prepare in advance.
If you've arrived on this guide, you already know that. You're looking for the best emergency water filter, and I'm here to help.
Why trust me?
I review water filters for a living. I know what makes a good product – and, more importantly, what makes a cr*p one. I've written for key water industry publications like WQP Magazine, WWD Magazine, and Sawyer Products, and nearly 250,000 monthly visitors rely on my knowledge when they're in the process of buying a filter.
I've ranked the emergency filters on this list in order of reliability and effectiveness. There's no arguing with the fact that when you're in the wilderness and dirty water is your only drinking source, reliability is absolutely the most important feature of your filter.
In all, I tested over 20 emergency filters with untreated lake & river water, and the 8 featured below are the only ones I would trust 100%.
In this guide, I'll cover:
Reviews of the top 9 survival filters in 2023
The 5 types of survival water filters available
7 things you must consider when buying an emergency water filter.
🥇 Best Survival Water Filters
📊 Comparison Chart of Emergency Water Filters
System
PortaWell

Big Berkey Gravity-Fed Water Filter

Epic Nalgene OG

Epic Nano Water Filter Dispenser

Water-to-Go Filtered Bottle

Sawyer MINI Water Filtration System

MSR MiniWorks EX Microfilter Water Filter

Platypus Gravity Water Filter

LifeStraw Personal Water Filter

Ranking
3rd
1st
4th
2nd
5th
6th
7th
8th
9th
Ratings
5/5
5/5
4.5/5
4.5/5
4/5
4/5
4/5
4.5/5
4/5
Price
$$
$$$
$$
$
$$
$
$$
$$$
$
Type
Pump dual filtration
Gravity
Bottle
Gravity
Bottle
Straw
Pump
Gravity
Straw
Filter Capacity
Sediment Filter: 6 months
Carbon Filter: 1,000 gal.
Ceramic Filter: 15,000 gal.
3,000 gallons/ cartridge
100 gallons
150 gallons
52 gallons
100,000 gallons
2000 liters
1,500 gallons
5,000 liters
Pathogen Removal
Bacteria, Viruses, Cysts
Bacteria, Viruses, Microbial Cysts
Bacteria, Viruses, Cysts
Bacteria, Viruses, Cysts
Bacteria, Viruses, Cysts
Protozoa and Bacteria
Protozoa and Bacteria
Protozoa and Bacteria
Parasites and Bacteria
Contaminants Removed
200+
200+
70+
200+
99% of all Biologicals
99% of all Biologicals
99% of all Biologicals
99% of all Biologicals
99% of all Biologicals
Certifications or Testing
Ceramic Filter: NSF 42
–
NSF 42, 53, 401, P473, P231
NSF 42, 53, 401, P473, and P231
USEPA Guide Standard (1986) and Protocol for Testing Microbiological Water Purifiers
USEPA Guide Standard (1986) and Protocol for Testing Microbiological Water Purifiers
NSF P231
EPA/ NSF
EPA, NSF, ASTM
Process
Mechanical + Carbon + Ceramic
Carbon + Ion Exchange
Mechanical + Electroadhesion + Ion Exchang
Mechanical + Electroadhesion + Ion Exchange
Mechanical + Carbon + Electroadhesion
Hollow Fiber Membrane
Ceramic + Carbon
Hollow Fiber Membrane
Membrane Microfilter
Annual Cost
~$40
~$40
~$90
~$140
~$100
–
~$40
~$70
–
Warranty
1 year
Lifetime
Lifetime
Lifetime
–
Lifetime
Limited Lifetime
Lifetime
3 years (limited)
---
⭐ Reviews – Best Survival Water Filter 2023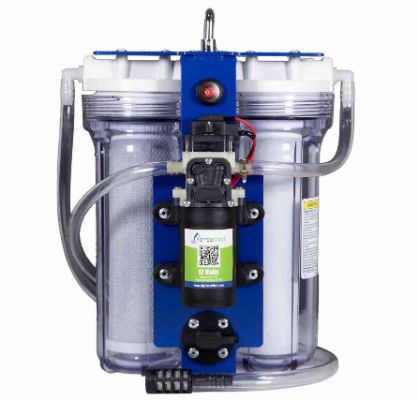 PortaWell
The PortaWell is a high-volume portable water filter that can filter water at a rate of 40-60 gallons per hour, removing 100% cysts and more than 99.9% pathogenic bacteria. The filter can also remove chlorine, metals, VOCs and more. Costing just under $300, this is one of the more expensive emergency filters on this list, but has a high-quality, durable design and should last for at least a decade.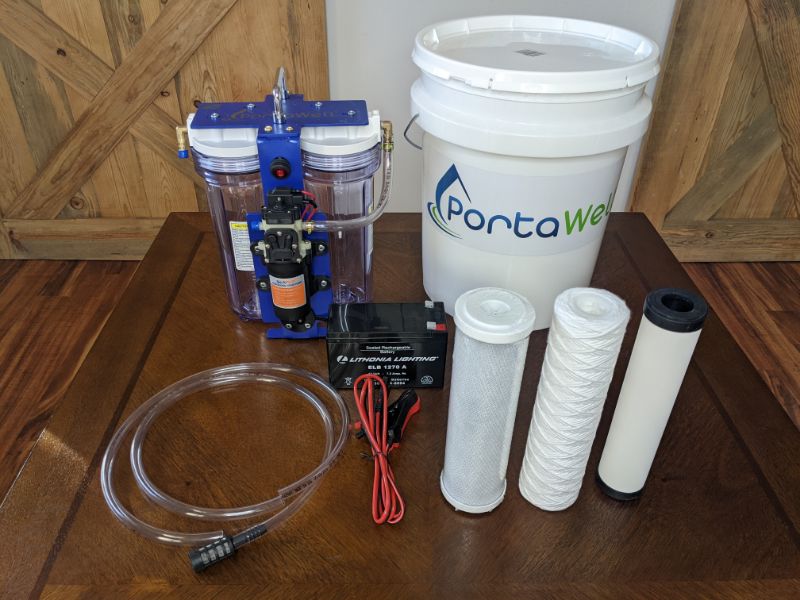 Designed to filter water "10x faster" than other portable water filters, the PortaWell offers two stages of filtration: a carbon block filter and a ceramic filter. The carbon block filter lasts for up to 1,000 gallons, while the ceramic filter has an impressive 10,000 gallon lifespan, as it can be cleaned and reused. There's also a 1-micron sediment filter.
The PortaWell is easy to transport and store, and has a dual-use 5-gallon bucket. It requires electricity to operate, making it best for use in RVs, boats, and cabins. The system requires no hand-pumping, so it's a convenient solution for anyone looking for a no-fuss means of emergency water filtration.
👍 What I Like
Removes 100% cysts and more than 99.99% pathogenic bacteria
Produces up to 60 gallons of filtered water per hour
Great filter lifespan
Optional solar panel charging accessory
👎 What I Don't Like
Not small enough for backpack storage
Requires electricity to operate
Higher price point
Read the full review: Portawell Review (Updated for 2023)
---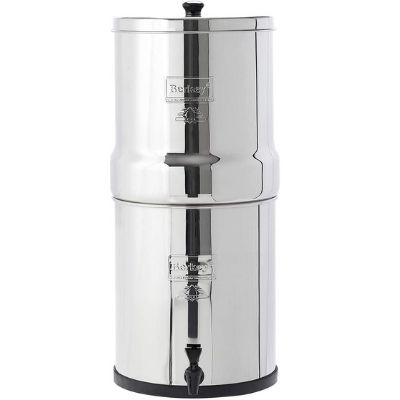 Big Berkey Gravity-Fed Water Filter
The Big Berkey is one of the best easy-to-use water filtration solutions.
This stainless steel countertop filter comes with two Black Berkey elements, which can remove more than 200 impurities, including chlorine, fluoride, lead, viruses, bacteria and protozoa.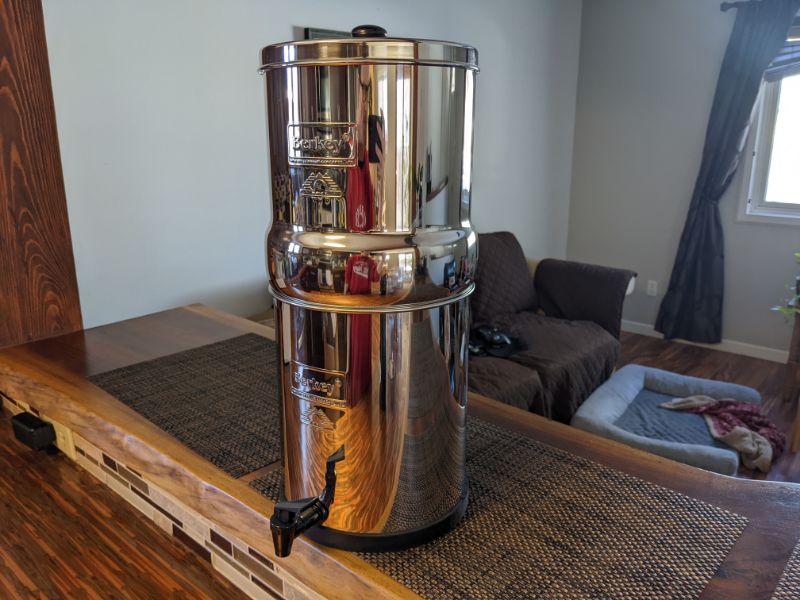 With its impressive impurity removal, the Berkey is a great choice for anyone who's looking for the most thorough water filtration solution, helping to not only make water safe to drink, but also improving its taste and smell.
This Berkey water filtration system uses gravity filtration, which produces water at a slower rate per minute – but the Big Berkey is worth waiting around for. You simply add water to the Berkey system's top chamber and wait for it to pass through the filter elements and into the bottom chamber, where it's clean and ready for drinking.
Though the Big Berkey perhaps isn't the best portable water purifier out there – it's not like you could fit the entire stainless steel body in your pocket or your backpack – it's ideal for providing a large amount of potable water for up to four people at a time.
👍 What I Like
Best water filter for thorough filtration
Durable stainless steel design
Large capacity – 2.25 gallons of water
👎 What I Don't Like
Other portable water filters are smaller and more lightweight
Not tested to NSF Standards or NSF certified
---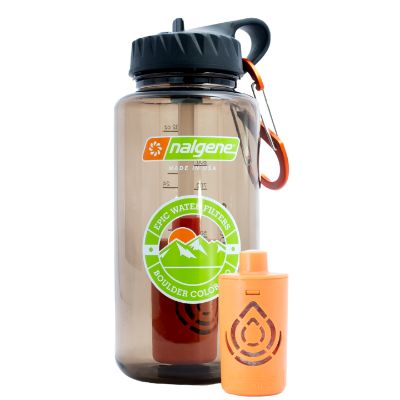 Epic Nalgene OG
Made from 100% BPA-free tritan material, the Epic Nalgene OG Woodsman is a 1-liter water filter bottle designed for both everyday and survival use. This filter bottle can eliminate up to 99.99% of contaminants, including those found in outdoor water sources, like bacteria and viruses. It can also remove heavy metals, chlorine, pharmaceuticals, agricultural pollutants, and more.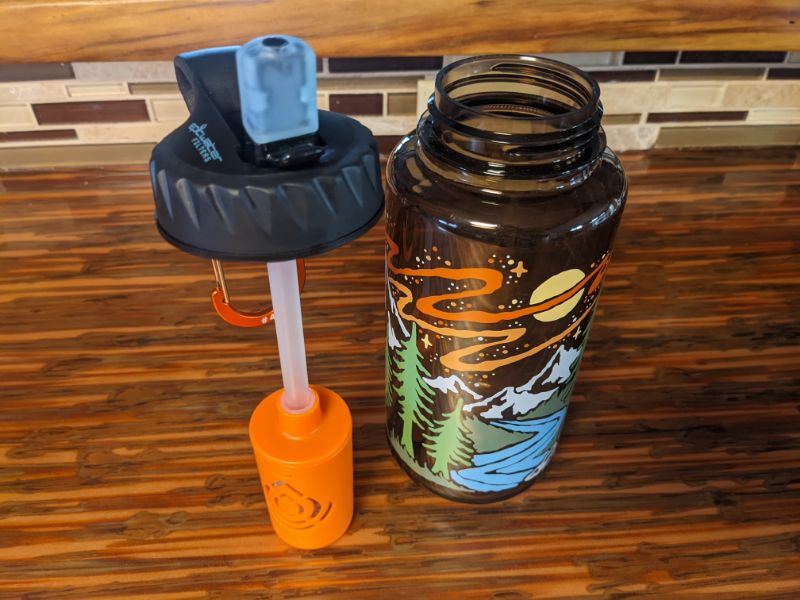 The filter lasts for up to 380 liters – so you should be able to fill the bottle 300 times before you need to replace it. There's no filter countdown, so you'll have to go off your own judgement and replace the filter when water flow has decreased significantly.
With its wide-neck design, the Epic Nalgene OG Woodsman is relatively easy to clean, and can be placed in the dishwasher (just the bottle – not the filter!). The bottle is quite bulky, as it's designed to carry a lot of water, although this could be an issue if you're looking to travel as light as possible.
👍 What I Like
Big 1-liter capacity
Filter should last for 380 uses
BPA-free design
👎 What I Don't Like
Quite bulky for a water bottle
Straw can't suck up the last quarter of water
---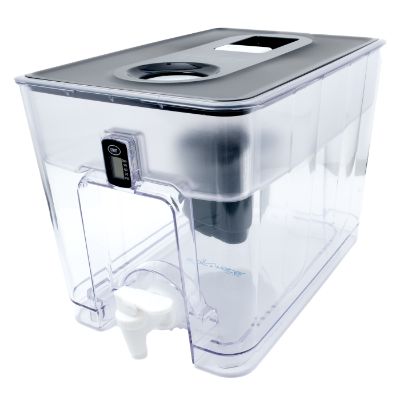 Epic Nano Water Filter Dispenser
The Epic Nano is a countertop water dispenser capable of filtering up to 99.999% of more than 200 common drinking water contaminants, including viruses and bacteria. This affordable gravity filter is good for smaller budgets and can be used for both everyday water filtration and emergencies.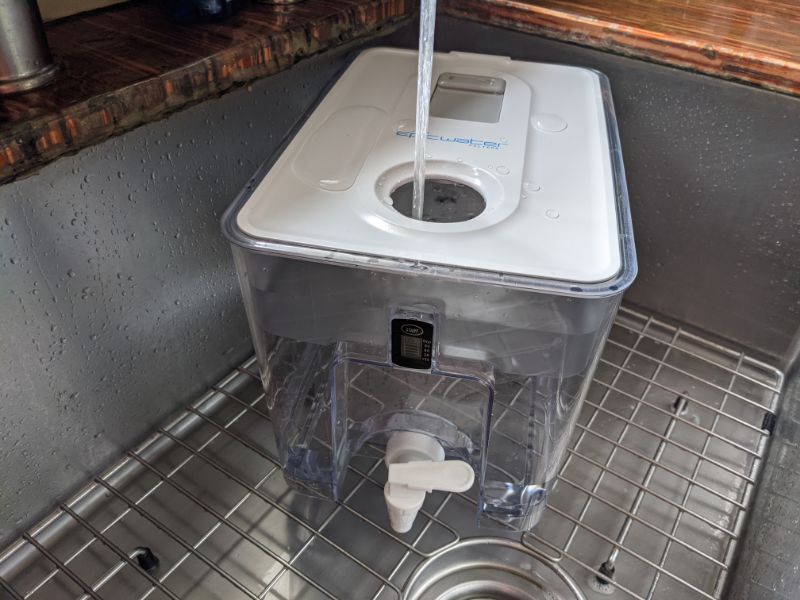 If you're looking for thorough microbiological contaminant removal, the Epic Nano has got you covered. It filters out bacteria including E-Coli, Legionella Pneumophila, Hepatitis A and Salmonella, as well as cysts like Giardia & Cryptosporidium, and viruses.
Additionally, the filter removes chemicals and heavy metals, like chlorine, lead, pesticides and herbicides.
The Nano filter has a 150 gallon lifespan and lasts for between 3 and 4 months, depending on your water use. The bottom reservoir can hold up to half a gallon of water, and the pitcher is made from lightweight, clear, BPA-free plastic, making it relatively portable.
👍 What I Like
Simple to use
Holds 150 gallons of water
Removes a range of bacteria & other microorganisms
👎 What I Don't Like
Lifespan not as long as some filters on this list
Quite large – may not be ideal for camping or backpacking
---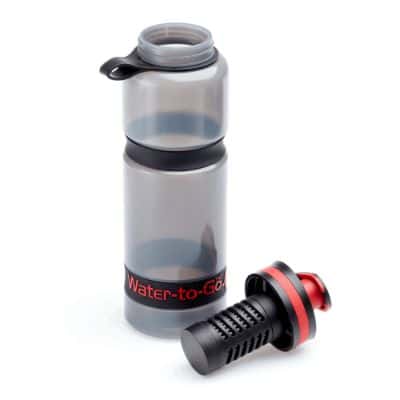 Water-to-Go Filtered Bottle
The Water-to-Go is a filtered water purifier bottle that comes in two different BPA-free styles and sizes. Using 3-in-1 filter technology, this product is one of the best water filters in a bottle for producing clean, potable water on the go, removing more than 99.99% of all microbiological contaminants.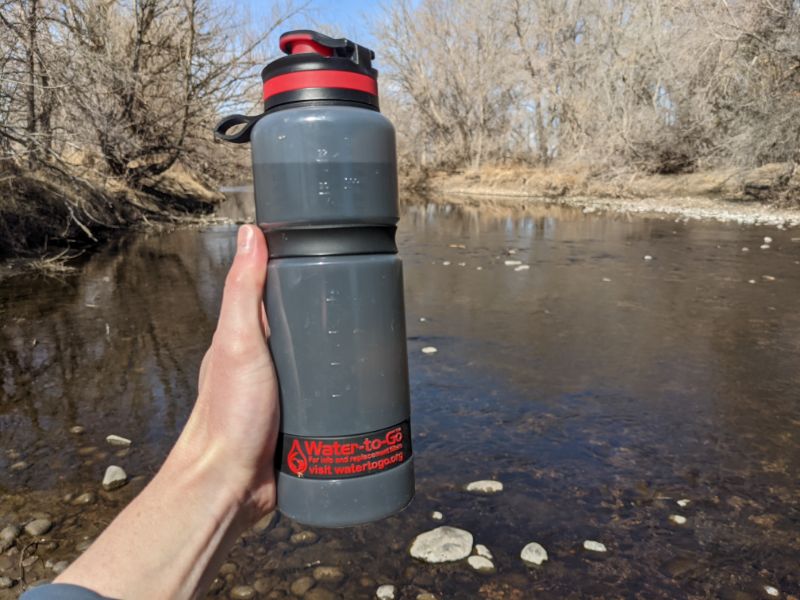 What makes the Water-to-Go unique is its ability to filter out virus particles. Its mechanical filter can reduce pore size to 0.7 microns, and the membrane's positive hydrostatic charge can even trap viruses down to 0.03 microns in size. Considering the best water filters for survival generally have a 0. 2 micron filter, this is certainly an impressive feat.
There's also an activated carbon filter in the Water-to-Go, which improves taste and smell and eliminates impurities like chlorine and lead. Of all the water purification solutions on this list, however, this isn't the best water filter when it comes to lifespan, with the 75 cl filters in the large bottle lasting 3 months (around 50 gallons of water) and the smaller 50 cl filters lasting for 2 months (just under 30 gallons of water).
👍 What I Like
Can filter viruses
No setup required
Two bottle size options, 3 styles
👎 What I Don't Like
Filter lifespan could be better
Flow rate may be affected towards end of filter lifespan
---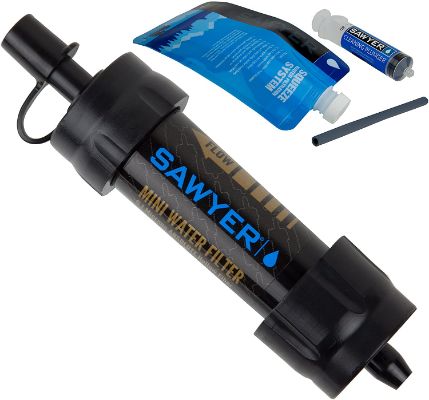 Sawyer MINI Water Filtration System
The Sawyer MINI is up there with the best water purification solutions offered by Sawyer Products. This versatile personal filter can be used as a straw, connected to a single-use water bottle, or attached to the included pouch or a hydration bag to produce clean, potable water for on-the-go drinking.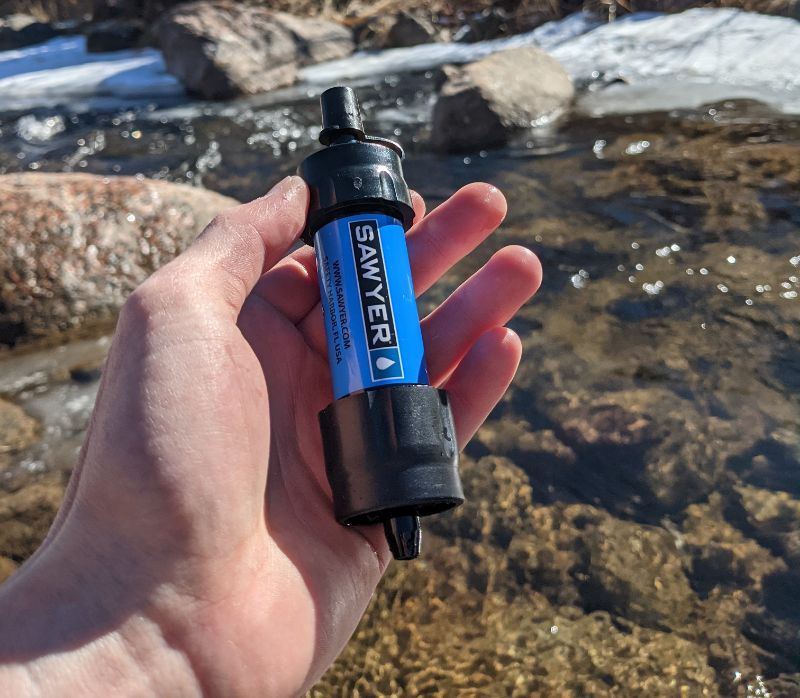 The 0. 1 micron filter is the best you can get, and with a lifespan of 100, 000 gallons of water, you can rely on the Sawyer MINI for a lifetime of filtered drinking water. This filtration system is so effective that it removes more than 99.99% of bacteria and protozoa, and uses absolute filtration to quickly filter water while trapping contaminants in its U-shaped microtubes.
Being small enough to fit in the palm of your hand and lightweight, the Sawyer is the best water filter for travel. It's incredibly convenient – you can simply choose your preferred method of filtration and get started straight away – and you don't need to buy any add-ons at all if you just use the filter as a straw or with the included pouch.
👍 What I Like
Impressive lifespan – 100, 000 gallons of water
Versatile, multiple uses
Small and lightweight
👎 What I Don't Like
Doesn't remove virus microorganisms
Can't be used with a wide-mouth water bottle
---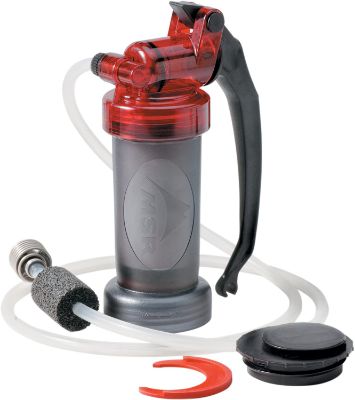 MSR MiniWorks EX Microfilter Water Filter
Tested to meet NSF P231 for bacteria and protozoa removal, the MSR MiniWorks is a pump filter that can produce 1 liter per minute (roughly 0.2 gallons of water). It uses a ceramic carbon element to filter impurities from natural water sources, with its 16-ounce size making it lightweight and compact enough to take with you on your travels.
With this type of water purification filter, you simply connect the plastic tube and dip one end into a source of water. The water then flows through the filter when you press the pump, and can be collected in a container of your choice.
Each ceramic element has a lifespan of around 2,000 liters, or nearly 528 gallons of water, so you won't have to worry about replacing the filter for at least a decade. The filter fits both wide-mouth bottles and an MSR MiniWorks bag, which you'll need to pay extra for, and there's also the option to attach a hose to the filter base, so you can collect water using whichever method suits you.
👍 What I Like
Long-lasting filter (around 528 gallons of water or 2, 000 liters)
Removes pathogens and impurities like chlorine, pesticides and lead
Good rate of water flow – 1 liter per minute
👎 What I Don't Like
Requires some effort to pump water yourself
Larger than some water purification solutions
---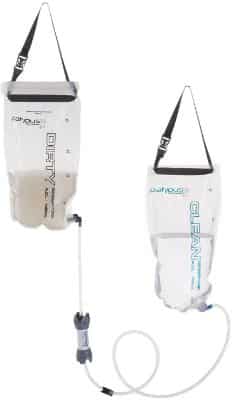 Platypus Gravity Water Filter
The Platypus is a gravity water purifier that can produce around 0.4 gallons of filtered drinking water per minute – or just over 1 gallon of water in 3 minutes. It uses a 0. 2 micron filter that can trap microorganisms like bacteria and cysts.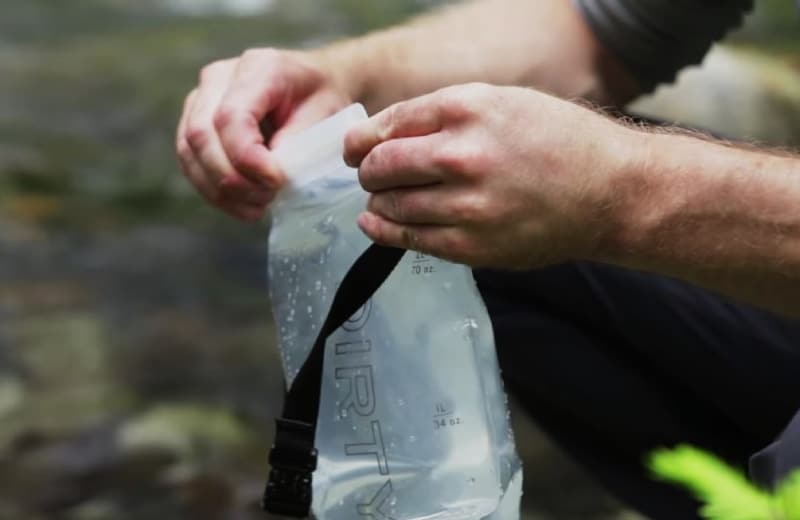 This water purification filter is easy to use: you just connect the two 4-liter reservoirs, one for dirty water and one for purified water, with the included tubing and filter, then hang the bags from the included hangers, fill the dirty water reservoir and wait for filtration to take place.
The microfilter included with the Platypus has a lifespan of 1,500 liters, or around 396 gallons of water, so this filter will last you for many years before you need to think about buying a replacement. You will need to backflush the filter to keep it working well; however, this is simple – you just hold the purified water bag above the unfiltered water bag to reverse the usual filtration process.
👍 What I Like
0. 2 micron filter provides thorough filtration
Good filter lifespan, 396 gallons of water
Good rate of flow for this type of filter
👎 What I Don't Like
Gravity water filters don't provide immediate water access
Can't remove virus impurities
---

LifeStraw Personal Water Filter
The LifeStraw Personal Water Filter removes more than 99.99% of waterborne bacteria, including E. Coli, and is one of the most convenient portable filters on the market. It can filter up to 5,000 liters of water (or around 1,320 gallons of water), making it one of the longest-lasting water purifiers available today.
The 0.2 micron filter meets EPA standards for contaminant removal, and is designed with portability in mind, weighing just 2 ounces and being small enough to fit in a bag or pocket. As it's a straw filter, to use the LifeStraw, you'll need to crouch or lie next to a body of water and drink. You could also collect water in a container and stick the straw into it for convenience.
You can store the LifeStraw in a bug out bag pocket or your car, and it's always ready for use when you need it. You do need some sucking force to use this filter, especially when you're drinking from heavily contaminated water, but it's suitable for most people to use.
👍 What I Like
One of the most convenient water purifiers
Can easily be stored in a pocket, bug out bag, etc.
Impressive lifespan of 5,000 liters
👎 What I Don't Like
Doesn't come with any attachments
Sucking force required to drink water
---
🧾 Emergency Water Filter Buyer's Guide
Keen to buy an emergency water filter, but don't know where to begin? I'm not surprised – there are so many portable water filters out there, and most of them are completely different in design and filtration method. Once you've checked out the guide below, you'll be able to refine your search based on your preferred filter types, simplifying the purchasing process immensely.
❗️ Why Water Filters Are Important to Emergency Preparedness
When we think about emergency preparedness, our top priorities are food and shelter – perhaps we make sure we're stocked up on canned goods in our basement for if the unthinkable happens. But while food and shelter are undoubtedly important, they'd be frivolous without clean water.
You might think it's fairly easy to come across a water source, whether it's from your own home or a nearby stream or lake. The problem is, if your water source has been contaminated by flooding, you're in pretty much the same situation as if it's been cut off entirely. That's because this water is no longer safe for drinking, and, like your local lake or stream, it'll likely contain harmful microorganisms that could make you sick if you ingested them.
So having a water filter is just as much of a necessity as food – perhaps even more so, as we can survive without food for longer than we can without drinking water. Having an emergency water filter will allow you to make any water source safe for drinking – both contaminated city or well water supplies and freshwater sources.
You don't just need a source of clean water for drinking, though that's obviously its main purpose. In a rhetorical emergency situation, it makes sense that you may also need water for hygiene purposes, so you can stay genuinely clean when you wash, instead of adding more dirt to your body. Having a stockpile of a few water bottles isn't going to get you far if you add washing into the equation.
You simply never know what might arise, and though most of us hope that an emergency will never befall us, you can at least feel satisfied that you're prepared just in case.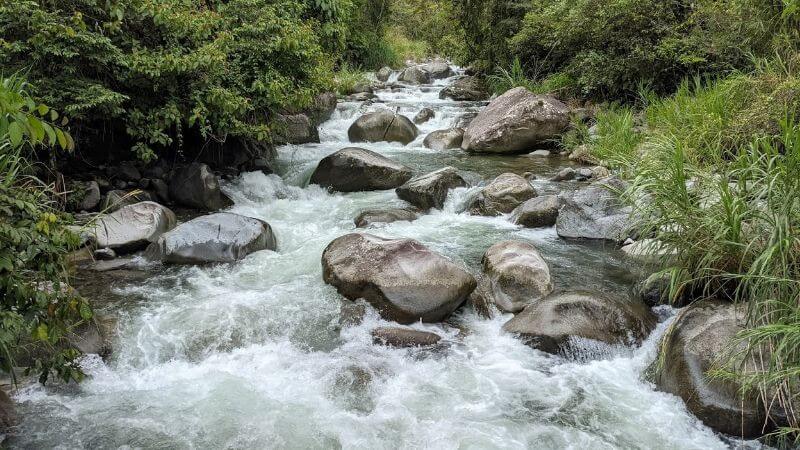 🌀 Water Sources During Disasters & Emergencies
If a disaster or emergency contaminates or cuts off your water source, your accessible water sources may be limited.
If you do still have access to your home's water, it may not be safe for drinking. Even if it looks clean to you, if contamination has occurred, it could be packed full of dangerous pathogens that aren't visible to the human eye.
When you don't have access to your home's drinking water at all, things get even trickier. You could head to your local convenience store if it was safe to do so, but it likely wouldn't take long for the shelves to be looted of water if everyone was in the same situation as you.
Your best bet, while waiting for your regular water supply to be restored, would be to take water from a freshwater source. But this certainly wouldn't be clean, and you'd be exposed to the same harmful pathogens as you would from drinking contaminated city water.
🦠 Contaminant Risks With Untreated Water
There are a number of common impurities found in untreated water:
Bacteria & Viruses
Bacteria and viruses can cause illness and infection that can sometimes be life-threatening. You can be affected by the likes of typhoid, Legionnaires disease, cholera meningitis, hepatitis, polio, E. Coli and gastroenteritis when you drink untreated water. At best, a virus or bacteria may result in sickness and stomach upset; at worst, they can have permanent effects or lead to life-threatening illness.
Protozoa
Protozoa, such as giardia and cryptosporidium, are two common microorganisms that can cause disease when ingested in drinking water. When protozoa become human parasites – i.e. when they end up in a human body – they can affect the gut processing and make a person sick.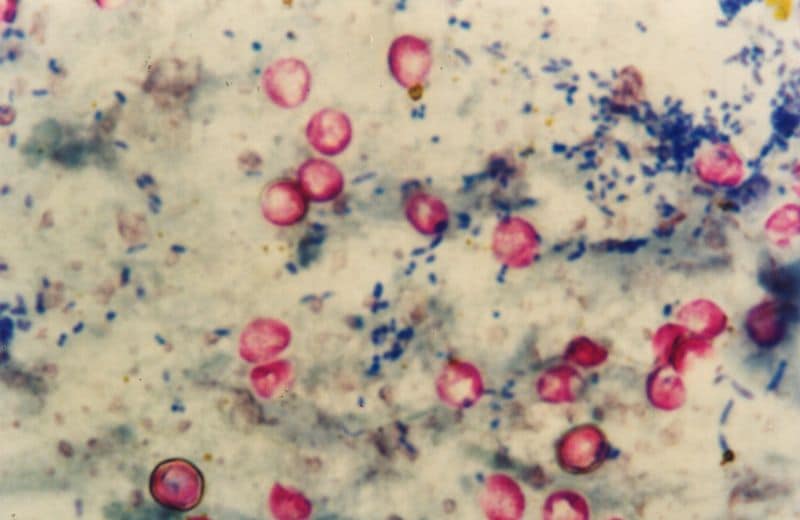 Cysts
Protozoa form defensive cysts when they're unable to find a host, so it's likely that you'll find protozoa in cyst form in an untreated drinking water supply. After consuming water containing cysts, you may experience mild to serious symptoms of diarrhea and dysentery. Severe infection can result in fever, and hydration – with safe drinking water – then becomes even more essential.
Chemicals
Chemicals like pesticides, herbicides, PFOS and PFOA may make their way into water in surface runoff. Usually, water is treated to remove the majority of these chemicals – ironically with chlorine, another chemical – but in untreated or contaminated water, you may find them in unsafe quantities. Drinking water that contains chemicals may result in a variety of short-term and long-term illnesses, depending on the level of impurities you're dealing with.
Heavy Metals
Heavy metals like lead are some of the worst pollutants in natural water sources. Again, these metals are usually reduced to safe amounts in water, but in emergency situations, the levels of metal in your water may skyrocket. Lead is a particularly dangerous contaminant as it's cumulative, which means it can't be detoxed from the body and builds up in the bones, brain, liver and kidneys over time.
Sediment
If your water has been contaminated by flooding, or you're drinking from a freshwater source, it's more than likely that you'll find sediment. Suspended sand, dirt, dust and rust may give water a dull or cloudy appearance, and though it's not unsafe in itself, it's a marker that water likely contains a high level of bacteria that shouldn't be consumed. Even if water looks clean, it may contain dissolved sediment that's too small for you to see.
Algae
Finally, you're likely to come across algae if you're drinking untreated water. Water that looks green, slimy or scummy, and has a bad smell, may contain algal blooms that are toxic to human health. If you're a dog-walker, you'll know the importance of keeping your pets away from ponds and lakes containing algae, so it stands to reason that we certainly shouldn't risk drinking algae-infested water ourselves.
✔️ Water Treatment Methods for Emergency Preparedness
You're not limited to a single method when it comes to treating your drinking water and making it safe for consumption. The most effective water purification solutions are listed below.
Filtration
Water filtration is one of the most common and widely available treatment methods. You can use a portable water filter to remove contaminants from whatever water source you come across. When water flows through the filter, the contaminants are trapped in the filter media, and only water particles can pass out of the other side.
To filter out pathogens like bacteria, protozoa and viruses, you need a filter with pores of 0.01 microns or smaller. Filters with larger pores, such as activated carbon filters, are effective for treating chemicals like chlorine and heavy metals like lead, but they won't effectively trap microorganisms, so they're not much help in an emergency situation.
UV sterilization
UV sterilization is arguably the most effective means of emergency water purification on this list. While the odd contaminant or two may slip through the cracks if you're using a water filter, UV sterilization provides a much more consistently reliable water treatment solution. With that said, UV purification can only be used for eliminating microorganisms, and not contaminants like heavy metals or chlorine.
Instead of filtering water, UV sterilization treats water with intense UV rays. Water flows through a chamber containing a UV lamp, which penetrates bacteria, viruses and protozoa and alters their DNA, making them unable to reproduce and cause harm. While these contaminants are still present in water, they're now completely safe to consume.
Boiling
Like UV sterilization, boiling water inactivates harmful pathogens such as viruses and bacteria. When you boil water, the heat damages the structure of the impurities, making them unable to reproduce or cause infection or disease.
It's fine to drink cooled boiled water, as long as you're storing it in a clean container which gives no opportunity for the water to be recontaminated by microorganisms. Again, boiling water will only remove the germs that might make you sick; it won't remove the likes of lead, pesticides or nitrogen.
Related: What to do if you've received a boil water advisory or notice
Chemical treatment
Chemical treatment is the water disinfection solution used by the majority of local authorities in the US for disinfecting water, as it's the cheapest and most accessible method. With large-scale chemical treatment, chlorine or chloramines are added to water. These chemicals disinfect water by breaking the chemical bonds of bacteria, viruses and cysts, killing them and preventing them from breeding.
On a small scale, you can use your own chemicals for emergency water disinfection. You can use household bleach (make sure it's unscented) to do this, as long as the label states that the bleach can be used for disinfection or sanitization purposes.
The table below, provided by the EPA, shows how much bleach you should add to water based on the type of bleach you're using and the volume of water you need to disinfect.
| Volume of Water | Amount of 6% Bleach to Add | Amount of 8.25% Bleach to Add |
| --- | --- | --- |
| 1 quart/liter | 2 drops | 2 drops |
| 1 gallon | 8 drops | 6 drops |
| 2 gallons | 16 drops (1/4 tsp) | 12 drops (1/8 teaspoon) |
| 4 gallons | 1/3 teaspoon | 1/4 teaspoon |
| 8 gallons | 2/3 teaspoon | 1/2 teaspoon |
Distillation
Finally, a water distiller can be used to provide a means of disinfecting water when you have access to electricity. To use a distiller, you'll need to add water to the boiling chamber and switch the machine on. The distiller will boil water until it evaporates, leaving the majority of impurities (which have either been killed by the heat, are unable to change to gaseous form, or both) in the boiling chamber.
Water will then pass through a corridor, and as it cools, it will condense back into liquid form and collect inside a carafe. Distillation is a highly effective emergency preparedness solution as it removes all contaminants, from heavy metals to chemicals to pathogens, but it can only be used if you have access to a power source, which is a drawback if you plan to use a distiller exclusively in an emergency situation.
🔠 Types of Survival Water Filters
There is no single best water filter for emergency preparedness – which is great, because it means you have more choice. You can choose from the five types of water purification filters below, which should all serve you well in a survival situation.
Gravity
Gravity-fed water filters are portable water filters that are ideal for providing clean drinking water for emergency preppers, hikers, campers and travelers.
A gravity filter system usually consists of four components: a dirty water bag, a filter, a connecting tube, and a clean water bag. The idea is simple: you fill the dirty water bag and connect it to the clean water bag via the tube and filter. For a gravity filter to work, you need to make sure the filter is vertical, and it's best to hang the dirty water bag from a height to allow the force of gravity to send the water through the filter.
You'll eventually be left with an empty dirty water bag and a clean water bag filled with filtered water. Gravity-fed water filtration works well if you're staying in one location rather than moving around, as the gravity filtration process can take several minutes, especially if you're making multiple batches of treated water.
A gravity water filter system may use a combination of filters, such as an activated carbon filter and a ceramic filter, to filter water. The combined filtration methods in a gravity filter can ensure that water is clean and free of contaminants like bacteria and protozoa.
Inline
An inline water filter usually has severe different uses, making it one of the most versatile options on this list. You may connect an inline filter to a dirty water bag and filter the water by squeezing the bag, forcing water out of the filter and into a clean container.
Most inline filters can also be screwed onto a standard plastic water bottle, and when you tip the bottle and squeeze it, you'll be able to drink safe water straight from the filter. Another option is to use an inline filter as a straw and drink directly from a body of water.
An inline water filtration device is the best portable filtration solution if you're looking for multiple options. You can simply choose the most easy-to-use, convenient drinking water solution for your family or switch between uses depending on your situation. Inline water filtration produces a high volume of water per minute if you use it with a squeeze bag or bottle. You may need more patience when using this filter as a straw.
An inline filter is also a good choice for washing and cleaning, as when you use it with a squeeze bag, it doesn't require sucking pressure to produce purified water.
Typically, inline filters use a hollow fiber filter membrane. This hollow fiber membrane is made up of 0. 2 micron or 0. 1 micron pores, which are small enough to trap the smallest bacteria and protozoa impurities. Some inline filters may combine a carbon filter with a hollow fiber filter for improved water filtration.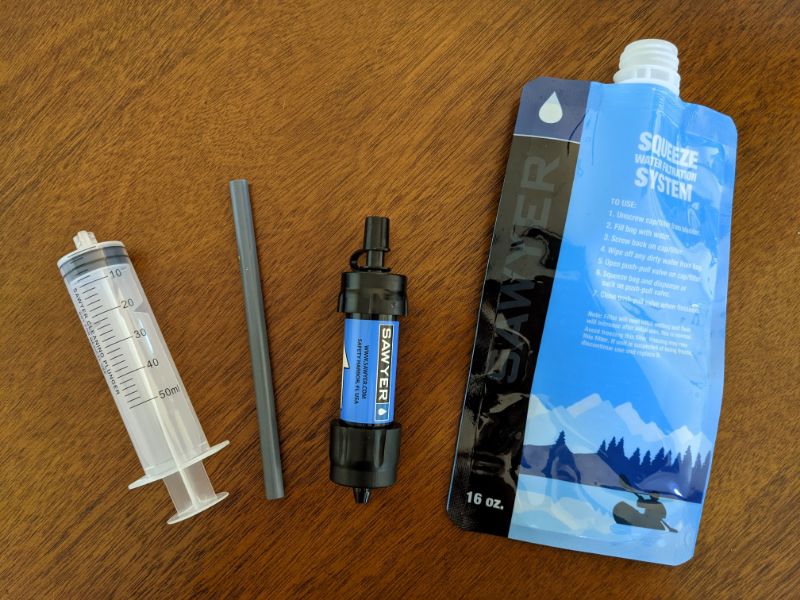 Bottle
You can choose from two different water purification bottles: water filter bottles and UV water bottles. This type of portable filter is quick and simple to use in an emergency – you just fill it with water and let the bottle do the hard work. Though these bottles only have a limited capacity, you can refill them as many times as you want throughout the day.
With a UV water bottle, you're usually required to tap the bottle lid to activate the UV sterilization. Within a matter of seconds, your water will be clean, high-quality, and safe to drink.
A water filter bottle is slightly different: you add fresh water to the bottle and drink through a straw. Before reaching the straw of a water filter bottle, the water must pass through a filter, which will remove contaminants and make the water safe for drinking.
If you buy a bottle water filtration system with a removable filter, there's no reason why you can't use the filter without the filter in non-emergency situations, for drinking water that you know is healthy and safe.
Usually, bottle filters contain an activated carbon filter that has been designed to adsorb a wide variety of contaminants. With smaller pores than the average activated carbon filter, the filters in a bottle water filtration system are capable of removing most tiny impurities, including bacteria and protozoa.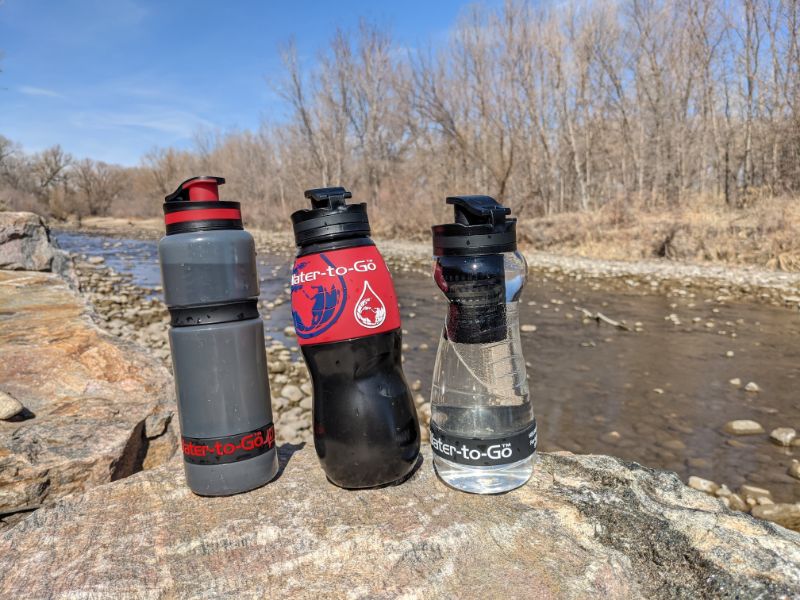 Pump
Pump filters can purify water using the pushing force of somebody repeatedly pressing down on the pump. Generally, a pump filter is designed with the filter itself enclosed in filter housing, which is connected to the pump and two tubes. You place the end of the lead tube in your unclean water source, then press the pump to send the water through the filter and out of the other tube, where you can catch water in a clean container.
Pump filters are a great emergency water filtering solution for situations where you won't need to move around a lot, but, of course, they take physical effort and are a bit bigger than most emergency filtration options on this list, which is a turn-off for some preppers.
The exact filter that's used in a pump filter depends on the type of product you go for. Some pump filters use a ceramic filter, while some use a fiber filter, and some use either one of these filters alongside an activated carbon filter to produce great-tasting drinkable water. The ceramic filter will have a 0. 1 micron to 5 micron pore size for trapping small impurities like bacteria, while the activated carbon filter will have a larger pore size that's designed for trapping larger impurities like chlorine and lead.
A pump filter is up there with the best filters for producing more liters of water at a faster rate because of the design of the filter system. The only real setback in terms of the quality of water filtration with this portable water filter system is that some bacteria, such as E. Coli, may be small enough to make it through the filter, so it's not the best water filter if you're looking for 100% effectiveness.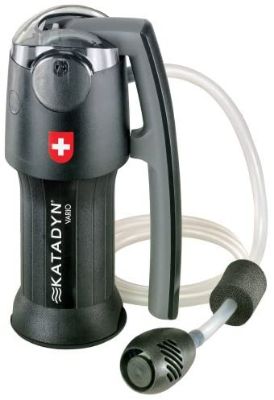 Straw
A straw filter is designed to allow you to drink directly from fresh water without contamination from parasites. You can use a straw in pretty much any water source, from lakes and streams to contaminated tap water. Stick one end of the straw into the water and drink through the other. The sucking pressure will force water through the filter and into your mouth.
Straw filters are incredibly convenient because of their small, compact size, and they often have a lifespan of more than a decade. But the problem with this type of filtering solution is that you'll need to get pretty close to your water source to be able to drink from it, which may mean lying flat on the floor – something that not all members of your family may be capable of in emergencies. Another setback of the straw filter is that it requires a lot of sucking effort on your part to send water through the filter against gravity.
The actual filtration process of a straw portable water filter is simple. Filters tend to be made from a hollow fiber membrane, which is tightly woven to ensure even the tiniest bacteria and parasites are removed from your source of water.
Because there are multiple layers in a hollow fiber membrane, there's less chance of certain impurities in your contaminated water source being able to slip through the filter media. The filter holes tend to be 0. 1 micron or 0. 1 micron in size, too, which theoretically means that only water particles will be able to pass through a straw filter system, and not the impurities.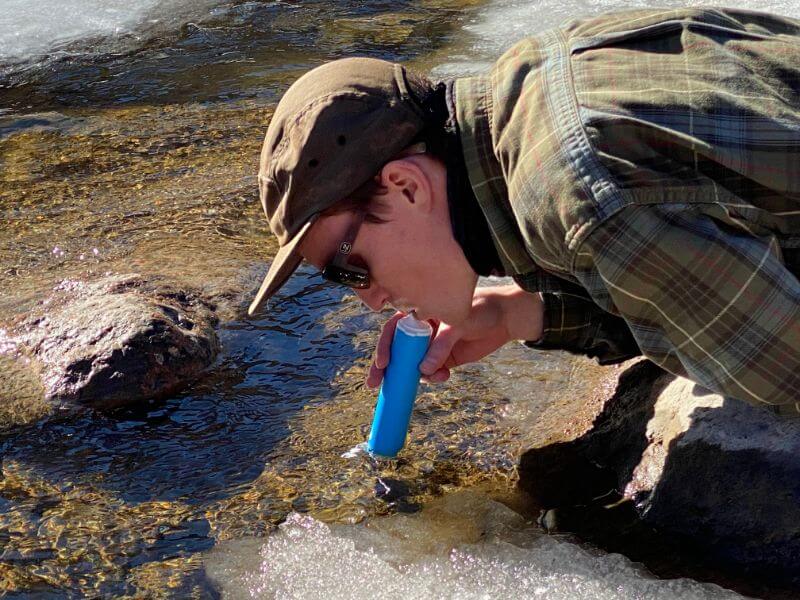 💭 Considerations When Buying an Emergency Water Filter
Once you've checked out emergency water filter reviews and you know the basics of what's available, it's time to think about what's important to you. Before you start looking for purification options, consider the following:
Source Water
It's hard to predict the type of water that will be available to you in emergencies, so this really depends on how prepared you want to be. But the quality of your water source may affect the quality of your filtration technique. Even the best filters are only capable of removing a certain level of contaminants, so if it's at all possible to test your water beforehand, I'd recommend doing that.
Contaminants Removed
Maybe it's only important to you that a filter can remove parasites, waterborne bacteria and viruses, in which case you have the most options. But perhaps you want a filter that can also remove contaminants like lead and chemicals. In this case, you'll be better opting for a water distiller, which will remove a broad range of contaminants. Some portable water filters are also capable of removing larger contaminants, but check before you buy if that's important to you.
In most cases, if you're looking for a survival water filter, it just needs to disinfect water without actually improving taste and odor. But if you find a purification solution that can remove contaminants like chlorine and sulfur, you'll be able to benefit from improved water taste, too.
How Long it Takes to Treat Water
No purification solution takes an excessive amount of time, and you'll be able to access safe drinking water within a matter of hours, normally minutes, with all of the options mentioned in this guide. But you may want instant, within-the-second access to purified drinking water; in which case you may have to restrict your options somewhat.
Water distillers take around two to three hours to produce around 2 liters of water, making them the slowest option of all. But they offer the convenience of simply adding water to the boiling chamber and leaving the machine to do the entirety of the hard work for you.
Boiling water should only take a few minutes, though it takes some effort on your part, requires a cooktop of some definition, and isn't failsafe – there's no way to prove that you've killed the protozoa, bacteria and viruses, and so on when you've finished boiling.
Gravity water filters will require some patience, and generally take between 10 and 20 minutes to filter water, depending on the filter you're using. If you're looking for a filtering option with a faster flow rate, filter straws, bottles and pumps tend to be better, as you're using a sucking or pumping force to send water through the filter immediately.
Daily Water Need
How many people do you plan to produce filtered, clean water for? Are you intending to provide for your whole family or just yourself? Your daily water need may not be an issue with certain water purification solutions on this list, but it's best to be certain before you make a purchase.
Using a distiller or boiling water can be a lengthy process, and the setback here is that a distiller's boiling chamber or your boiling pot can only hold a certain capacity of water. Yes, you can find the highest capacity distiller on the market, but it'll probably still mean operating the distiller all day to make batch after batch if you're purifying water for your whole extended family.
Things like straw filters, inline filters and bottle filters have a better capacity; in some cases an unlimited capacity. Think practically, though – if you're sharing a straw filter between six people, it'll take a while for everyone to satisfy their thirst, so you may want to purchase two or three filters to share around for the sake of logistics.
Remember to factor in your daily water needs for things like washing, too. If your whole home has been left without water, you'll probably want to access clean water for washing with, as opposed to a dirty water source that's packed full of contamination particles. In that case, a water bottle filter with a straw or a straw filter alone probably won't be suitable, as the only way to access purified water is to suck through the straw. Consider a filter with a squeeze bag instead, so you can force water out of the filter and into a clean pot for washing.
Weight & Size
It's hard to predict an emergency situation beforehand, but you may want to consider whether having something large, bulky or heavy on your person might be an inconvenience if you have to leave your home.
For instance, owning a pot for boiling water or a distiller for purification purposes seems fine until you have to figure out how to transport it to your next location if you're unable to stay at home. A UV water filter is another awkward one in terms of portability, as this type of filter may require installation at your home's waterline.
You may feel better prepared to have a filtering solution that can easily be stashed in a backpack or even a large pocket, so you can easily take it with you if you need to. The majority of emergency filtering options on this list, including straws, gravity filters, bottles and squeeze filters, are designed with portability in mind. A word on UV purification – you can still benefit from this type of protection in lightweight, portable form if you purchase a UV purifier water bottle.
Clean Water Storage
Perhaps you want to make a batch of clean water in advance. In this case, you'll need somewhere to store your water before you use it.
Most purification solutions don't come with parts for water storage. Distillers are the exception, as they usually include a clean carafe that will catch the condensed water droplets as they drip out of the machine. UV water bottles also store clean, purified water, though they have a relatively limited capacity and will require regular refills.
In most cases, you'll need to plan ahead and sort out your own water storage solutions. A large, 1-gallon or 2-gallon water bottle with a handle is a good idea, and should store enough water to meet a single person's daily needs. If you have a big family, it's generally more practical to use your filtering devices to refill the single water storage bottle rather than buying a bottle for each person.
Filter Longevity
When it comes to filter lifespan, some filtering solutions are more impressive than others. A water distiller, for instance, will pretty much last forever, as long as you look after it and clean out the boiling chamber regularly. UV bottle purification is the same – the purification process itself can't be damaged by water or contaminants, though with a whole-home UV system, you'll still need to replace your lamp once a year.
Water filters are a little different. You'll generally find that portable survival filters last a lot longer than your average activated carbon filter because you can backflush them – or send water in the opposite direction through the filter to clear out the contaminants. Most filters have a lifespan of around 10 years, which is pretty good, but it's important to know that that's a shelf-life, so even if you've never needed to use a filter over that 10-year period, you'll still need to replace it with a new one.
Some manufacturers have produced more durable filters than others, and there are even some filters on this list that will last a lifetime. You can judge whether a filter needs changing by its flow rate – if water is struggling to pass through the filter even with regular backwashing, it may be time for a new one. Though, of course, it's no good discovering that your filter needs replacing when you're facing an emergency.
🙋 Frequently Asked Questions
Do I need a water filter for emergencies?
The thing about emergencies is that you can never plan for them. That's why it's a good idea to have a survival water filtration device – because you simply never know when you might not have access to safe drinking water. Many people find it reassuring to know that they can purify water no matter what situation they may face.
Are emergency purification solutions easy to use?
It depends which one you go for. Straw filters and bottle filters are the easiest-to-use of all and require no setup, which makes them a good option for children. In any case, look for a purifier that's self-explanatory or comes with clear instructions for use.
Can all emergency filters offer the same level of protection?
No. A UV purifier, for instance, tends to be the best all-round option for the removal of viruses, protozoa, and other parasites. Distillers are the same, as they can remove pretty much every single contaminant from water.
While many water filters are capable of removing viruses, bacteria, protozoa and cysts, be sure to read the small print carefully. Some filters can't remove viruses at all, and some can't remove bacteria below a certain size, simply because these contaminants are able to slip through the cracks. US freshwater generally doesn't contain viruses, so virus removal may not be important to you, but it's best to be aware before you buy.
Which is best, a UV purifier or a water filter?
It just depends on what you're looking for. A water filter can remove contaminants from water, offering a high level of protection, but flow rate may be affected by repeated use. A slow flow rate means a longer wait for clean water, and you'll need to put in the effort to backwash the filter regularly to improve flow. Some types of UV purifier, such as a UV water bottle, may be limited when it comes to storage capacity.
Should I opt for a trusted survival water purifier brand?
There are certainly advantages to buying from a brand like Berkey, LifeStraw or Sawyer Products. You get the peace of mind from knowing that your choice of emergency protection has acted as a reliable solution for many preppers before yourself, and the reassurance that you're buying from a trusted brand.
But don't discredit the innovative products that are being released by new manufacturers, as you can often get a great deal on something that's just as impressive in quality and capabilities. Just be sure to read reviews – both impartial reviews and customer reviews by other preppers – before you part with your money.
How do I care for a survival water purifier?
If you're using a portable filter for protection, you'll need to backwash the filter regularly, preferably after every use, to maintain a good flow rate. You should also be aware of when the filter needs replacing. You should find specific instructions about how to look after your purifier in the user manual.
What's the difference between a water filter and a water purifier?
You may have heard both terms being used interchangeably, which gets a little confusing. But scientifically speaking, a water filter uses filtration media to greatly reduce the number of contaminants in water. They're a popular option amongst preppers as they remove contaminants, rather than just altering their makeup, but a setback of a filter is that it may not remove all microorganisms (most can't remove viruses, for instance).
A water purifier, on the other hand, purifies water – which means it eliminates viruses, bacteria, protozoa and other pathogens in water. Water purifiers don't usually filter impurities from water. Instead, they'll use a technique like UV purification or distillation to either separate water from its impurities or kill the impurities and prevent them from causing harm.
Can I use a filtering solution for anything other than emergency preparedness?
Yes! Many preppers use their survival water purifiers for camping and hiking. This is a great way to test out your filter and actually get some use out of it (as you'd hope you'd never face an emergency in your lifetime). Some preppers may also use their purification devices in day-to-day life; for instance, a UV water bottle can be used to sterilize poor-tasting tap water as well as in survival situations.