🧾 Overview
Staying hydrated while backpacking, camping or hiking is no longer a case of having to manually sterilize your own water or weigh down your backpack with bottled water.
The Water-to-Go bottle is one of the best portable filtration offerings for travel and outdoors enthusiasts. It's simple to use and provides immediate results. In this Water-to-Go review, I've tested the product and will be covering the bottle in detail, shedding light on its capabilities, weighing up its pros and cons, and helping you to decide whether it's worth buying for yourself.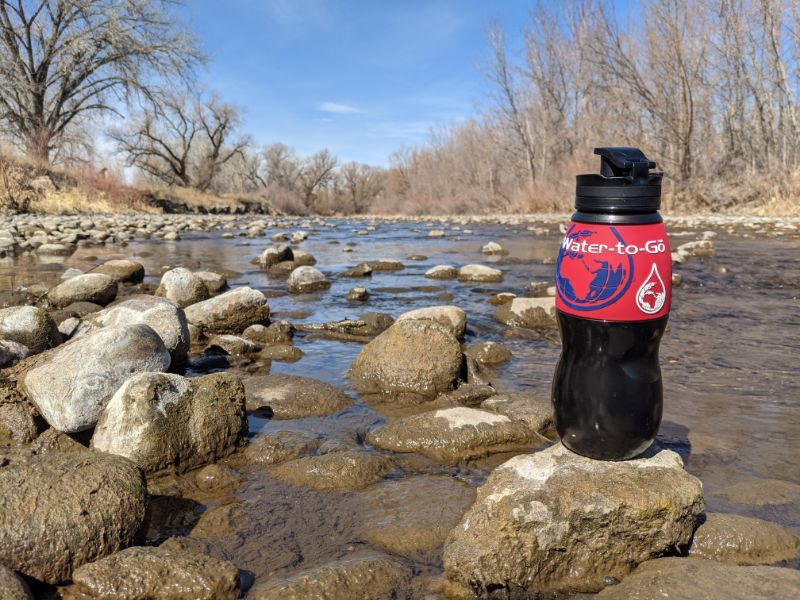 The Water-to-Go is a reusable water filter bottle that provides access to safe, clean drinking water on your travels. It uses 3-in-1 filter technology to remove more than 99.9% of all microbiological contaminants from any water source (excluding saltwater). The bottle is available in 2 different sizes and 3 bottle designs, all of which use BPA-free material, and costs between $15 and $50.
The 26 oz Active bottle is Water-to-Go's newer cycling, MTB and athletic filter bottle, and it has some benefits over the 18 oz bottle. As well as having a larger capacity, the filter itself is larger. I would recommend this bottle for easy drinking and better flow rate, though it comes at an extra cost. I'll be discussing both bottle sizes equally in this On the Go bottle review.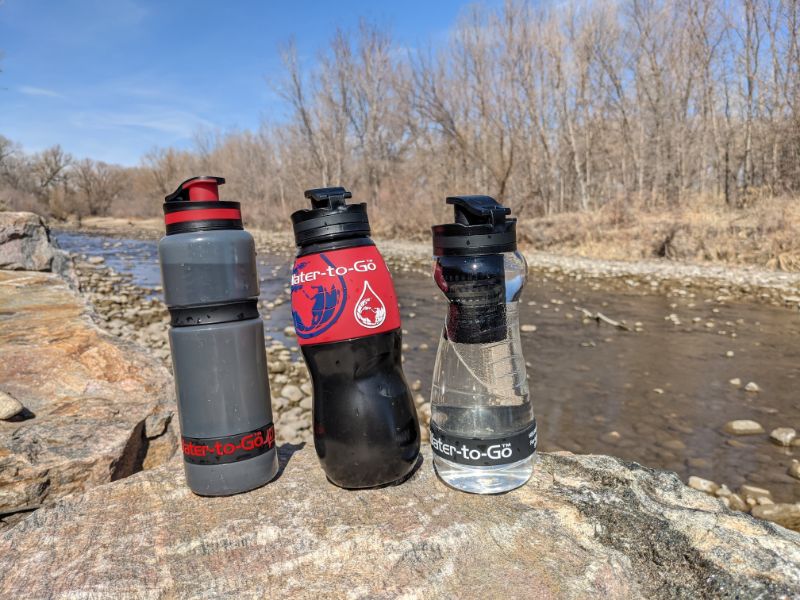 💡 Specifications
2 sizes:
26 oz filter (200 liters of water lasting 3 months), 98g when empty
18 oz filter (lasting 130 liters and 2 months), 138g when empty
Filter: Nano alumina and activated carbon
🚦 Performance & Filtration Rate
Not all water filter systems are as cost-effective, reliable and easy to use as the Water-to-Go water filter bottle. When it comes to performance, you won't get much better than this water bottle. Its 3-in-1 filter technology combines 1 traditional and 2 nano filtration technologies, which removes 99.9999% of microbiological impurities from any water source – lakes, streams, rivers, or even unpleasant-tasting tap water.
Independent testing has determined that the Water-to-Go filter bottle can remove more than 99% of chlorine, bacteria, viruses, protozoa, pesticides, cysts, metals like lead, and chemicals like chlorine. You can enjoy a similar water quality as you would get from a single-use bottle of water, without having to repeatedly buy water bottles to keep you well-stocked during your hiking trip.
This filtered water bottle is fast, too, filtering water at around 10 to 12 milliliters per second. You won't need to wait for filtration before you start drinking, as the design of the bottle means that water is filtered as you drink. The larger 26 oz bottle has a wider spout than Water to Go's original travel filtration system, helping to improve flow rate.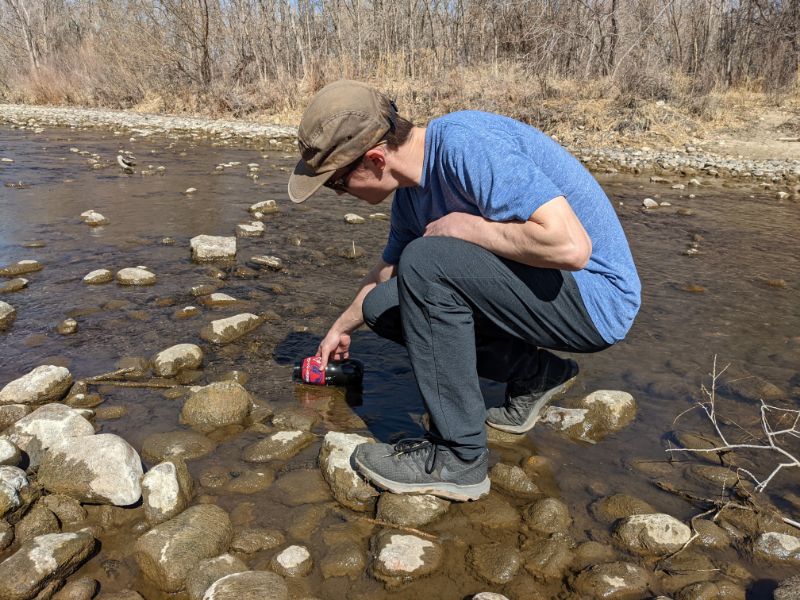 How Does it Work?
The Water-to-Go filter bottle works like any normal sports bottle with a spout, making it quick and easy to set up and use by travelers on-the-go. You simply fill the bottle with water and put the lid on. When you tip the bottle and suck through the spout, water will pass through the filter, which will trap contaminants, allowing only water molecules to enter the straw for drinking.
You might be wondering how the activated carbon filter removes microbiological impurities from water, as most can't. In the case of the Water to Go filter, it uses nano technology that reduces the pore size of the filter media, preventing these tiny contaminants in water from being able to pass through.
The three types of filter technology in the Water-to-Go filter bottle can only be activated when the filter is thoroughly wet, so it's recommended that you fill the bottle, tip it upside down, and leave it for at least 25 minutes when you use it for the first time. You can then squeeze the bottle to expel the water from the spout, flushing the filter.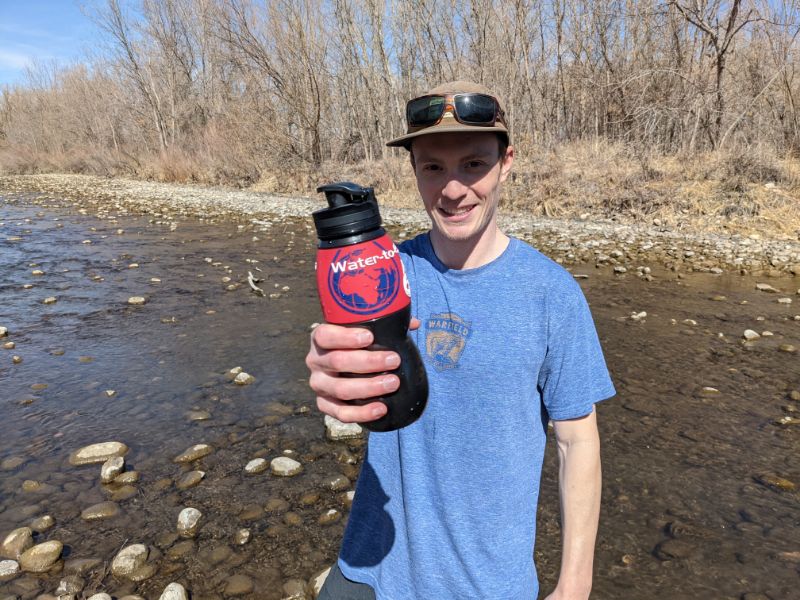 🧫 Contaminants Removed by the Water-to-Go Filter
The Water-to-Go bottle can remove viruses, protozoa, pesticides, metals, and chlorine and fluoride. Not only does this mean your water is safe to drink, but it also improves the taste of water, so you won't resort to buying bottled water for taste purposes alone.
👌 Ease of Use
Because the Water-to-Go filter is essentially a glorified water bottle, you won't need to learn how to use something that's completely alien to you, and nor will you need to worry about using a pump, connecting tubes to bags and waiting for filtration to take place as you may have to with other portable travel filter types.
To use the Water-to-Go filter bottle, you simply fill it up with water and put the lid on with the filter attached. When you're ready to drink, open the spout and tip the bottle back, sucking through the straw. The water will pass straight through the filter and into your mouth. It doesn't get any more challenging than that.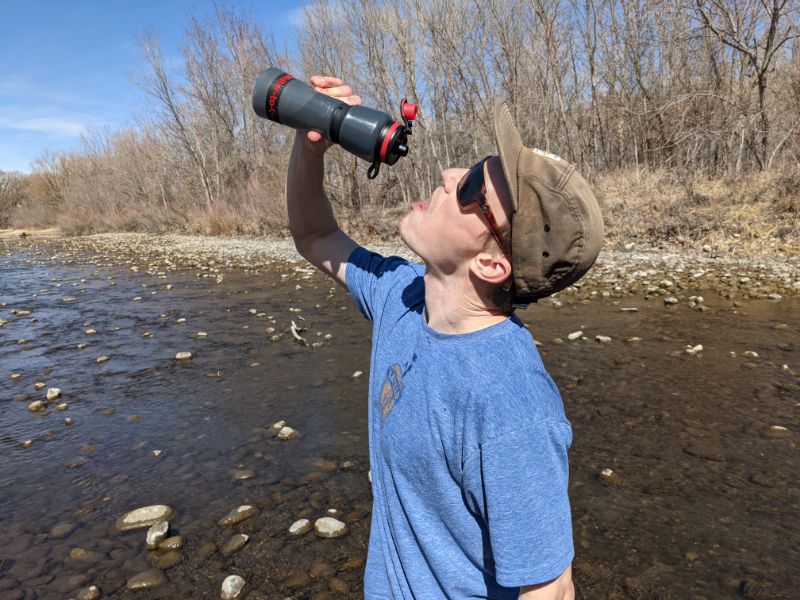 🏋️ Weight & Portability
The Water to Go comes in two different weights: the 50cl bottle weighs 98g when empty with a dry filter, and the 75cl bottle weighs 138g. While this filtered water bottle is heavier than a single-use plastic bottle, it's not so heavy that it'll put noticeable strain on your shoulders when you're carrying it in a backpack on a long hiking trip. The filter is very lightweight and doesn't add any bulk or extra heaviness to the bottle.
The larger Water-to-Go bottle will obviously take up more room than the smaller 18 oz bottle, but both are designed to fit inside a rucksack water bottle holder, and the extra capacity is made in width, not length. You'll most likely save space when using the Water to Go water bottle as you won't need to buy a stock of single-use plastic bottles or fill a bulky hydration bladder to carry with you.
🔨 Durability
You can expect the Water to Go bottle to last for years of use, providing you don't subject it to too much wear and tear. There's no information on exactly what the bottle is made from, but, being exclusively designed for travel, backpacking, and gym use, you can pretty much guarantee that it can withstand drops, bumps and knocks without breaking.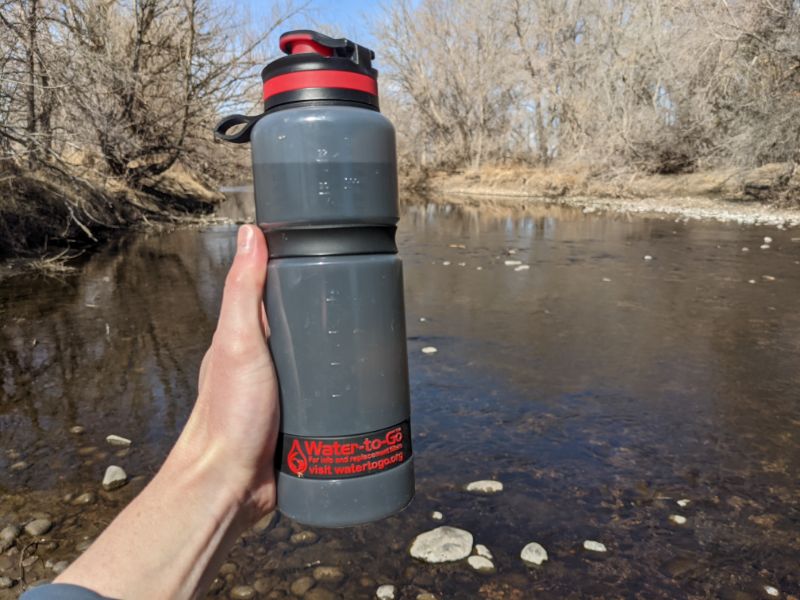 📆 Filter Longevity & Replacement
In terms of the filter cartridges themselves, exact longevity depends on which filter you buy. The larger filters for the 26 oz bottle last for up to 200 litres, or three months of all-day, everyday use. The 18 oz filters last for two months, or 130 liters of constant use. This isn't the best I've seen when it comes to portable travel filters – but for most people who only take one- or two-week backpacking trips at a time, this filter lifespan will more than do the job.
Replacement filters are easy to buy online and cost around $10 (for the 18 oz filter) and $20 (for the 26 oz filter) – so the 26 oz filter cartridges are the better-value option. You can also buy the 26 oz filter in a pack of 2 for $35, and the 18 oz filter cartridges in packs of 6 for $50, which is a great saving.
As a nice bonus, to Water-to-Go bottle's filter cartridges are 100% recyclable, so you can do your bit for the environment every time you change a filter by putting the membrane on your compost heap and the caps and casing in your plastic recycling.
Note that how long your water bottle filter lasts can also depend on factors such as the quality of your water source and how many litres of water you drink per day.
🔔 Pros & Cons
👍 What I Like
Affordable water treatment option – The smaller 18 oz Water-to-Go bottles only cost ~$35, while the larger Water to Go bottles cost ~$50. Both include the first filter in this price, which means you're technically paying around $5 or $10 for the initial bottle. As I mentioned in this review, replacement filters are relatively low-cost, too, helping you to save money in the long run. Compare buying and using the Water to Go bottle with drinking exclusively from plastic, single-use bottles of water and it's easy to see which is the more affordable long-term clean water solution.
Kind to the environment – Because the Water-to-Go bottles make your water safe and enjoyable to drink during travel, you can use the same bottle again and again, without having to buy multiple plastic water bottles to access filtered drinking water. This means travelers can cut down on plastic waste and do their bit for the environment.
Can be used with multiple water sources – Whether you wish to filter unpleasant-tasting safe drinking water from a tap, fresh water from a lake, or flowing water from streams or a waterfall, you can use your Water-to-Go bottle for the job. You can use it to filter water anywhere – the only water sources you can't use in this bottle are those that contain salt, such as sea water and saltwater lakes.
Thorough filtering – For a portable travel water filter, the Water-to-Go bottle can do more than the rest. Most filter bottles for travelling only remove pathogens like bacteria and protozoa, and some can't even remove viruses. The Water to Go filtered water bottle, on the other hand, has been tested to remove a variety of microbiological organisms and heavy metals and chlorine, thanks to its unique filter design.
Simple to use – There's virtually no way to do it wrong, even if you've never used a filter water bottle before. You can always trial the bottle with some tap water before using it out and about if that makes you feel more confident.
👎 What I Don't Like
Not very attractive – If you like things to look visually appealing, you'll probably find Water-to-Go's travel filter bottles a little ugly. But if you're looking for a purely practical filter water bottle, you probably won't care that the bottles are a little squat and chunky. You can at least choose your own filter color in these water bottles, which may make you warm to your bottle of choice a bit more.
No squeezability with some bottles – You can't squeeze the 18 oz or 26 oz Classic bottles to release the water as you can with other bottle filters, which is a bit annoying. It also takes quite a bit of sucking to filter the water, especially when you're running low. However the 26 oz Active bottle is much better for helping travelers or those practicing sports to drink with less effort, as this version is squeezable.
Found this review helpful?
Comment below or share this article!