We've been testing and reviewing water treatment products for nearly a decade. The best water filters in 2023 on this list were selected based on their contaminant reduction capability, ease of use, quality of construction, filter longevity, and of course, affordability.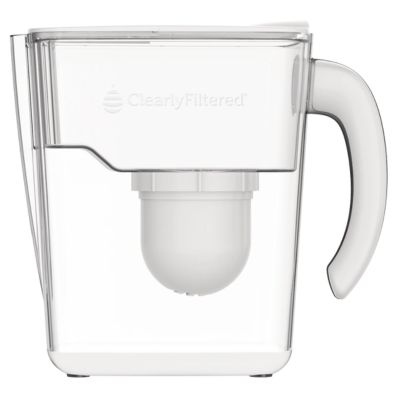 Clearly Filtered Water Filter Pitcher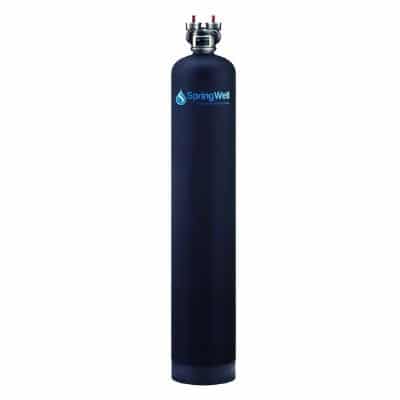 SpringWell CF Whole House Water Filter System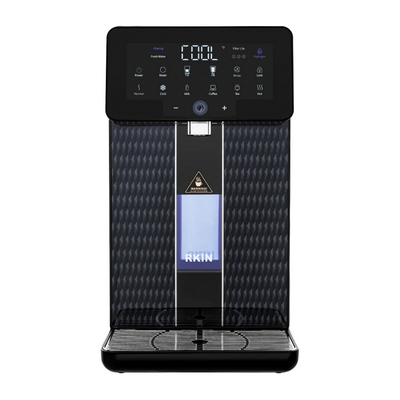 RKIN U1
Public drinking water supplies are teeming with chemical, microbial and radiological contaminants, many of which pose a serious health risk. I'm not surprised if you want to remove these contaminants from your water as quickly and effectively as possible.
In this guide, I've shared:
The best water filters worth investing in this year
The most popular filtration methods you should know about
Things you should consider before purchasing a water filter
🥇 Our Water Filter Picks
---
📊 Comparison Chart of the Best Water Filters
| System | Clearly Filtered Pitcher | SpringWell CF | RKIN U1 | Evo E-1000 | Big Berkey | Clearly Filtered Under Sink | Epic Pure Dispenser | Waterdrop G3P800 | PUR Faucet System | Epic OG Outdoor Bottle |
| --- | --- | --- | --- | --- | --- | --- | --- | --- | --- | --- |
| Ranking | 1st | 2nd | 3rd | 4th | 5th | 6th | 7th | 8th | 9th | 10th |
| Ratings | 5/5 | 5/5 | 5/5 | 4.5/5 | 5/5 | 5/5 | 5/5 | 5/5 | 5/5 | 5/5 |
| Price | $ | $$$ | $$$ | $$ | $$ | $$$ | $ | $$$ | $ | $ |
| Contaminants Reduced | 365+ | 20+ | 1000+ | 10+ | 200+ | 232+ | 200+ | 1000+ | 70 | 70+ |
| Certifications or Testing | NSF 42, 53, 401 & 473 | – | NSF 58 (in progress) | – | – | NSF 42, 53 & 401 | NSF 40, 42, and 53 | NSF 58, 372 | NSF 42, 53, 401 | EPA standards |
| Process | Mechanical + Carbon + Ion Exchange | Coconut Shell Catalytic Carbon + KDF | Mechanical + Carbon + RO + Alkaline + Hydrogen infusion | Mechanical + Carbon | Carbon + Ion Exchange | Mechanical + Carbon + Ion Exchange | Mechanical + Electroadhesion + Ion Exchange | RO + Carbon | Carbon + Ion Exchange | Carbon |
| Filter Life | 100 gal. | 1,000,000 gal. | 792 – 1,200 gallons | 80,000 gal. | 3,000 gal./ cartridge | 2,000 gal. | 150 gal. | 6, 12, 24 months | 100 gal. | 300L |
| Annual Cost | ~$140 | ~$40 | ~$100 | $120 – $300 | ~$40 | ~$200 | ~$140 | ~$145 | ~$100 | ~$90 |
| Warranty | Lifetime | Lifetime | 1 year | Lifetime (limited) | Lifetime | Lifetime | Lifetime | 1 year | 2 years | Lifetime |
---
⭐ Reviews – Best Water Filter 2023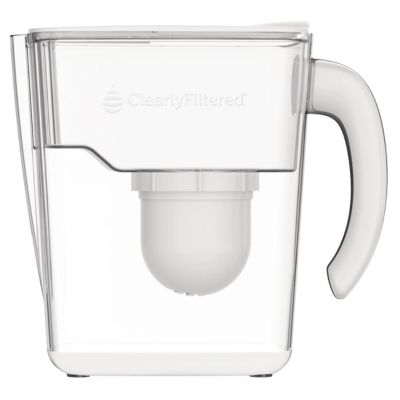 Clearly Filtered Water Pitcher
The Clearly Filtered filter pitcher can reduce more than 365 contaminants from unfiltered water, making it the best water filter pitcher on the market.
Key Features
Reduces more than 365 contaminants from water – The Clearly Filtered filter pitcher can reduce harmful contaminants more thoroughly than any other water filter pitcher, including chlorine and chloramine, (99.9%), pharmaceuticals (99.9%), VOCs (99.9%), bacteria, cysts, and microorganisms (99.9%), and lead (99.5%).
Independently tested to NSF Standards – The Clearly Filtered is independently tested to a number of NSF Standards: 42, 53, 401 & 473.
Retains healthy minerals – Although this water filter pitcher reduces more contaminants than any other pitcher, it still retains healthy minerals in drinking water.
Made from strong plastic – The Clearly Filtered is made from BPA- and BPS-free durable Tritan plastic, so it won't add other contaminants to water or affect water's taste.
Best for: Anyone looking for a no-install, no-fuss water filter pitcher offering an exceptional performance at an affordable price.
Pros
There are a massive amount of contaminants filtered in the Clearly Filtered, including difficult-to-remove contaminants like fluoride.
The water filter pitcher comes with a lifetime guarantee, so if it ever breaks, the manufacturer will send you a free replacement.
The Clearly Filtered is an incredible value for money considering just how many contaminants it can reduce.
Cons
As a gravity water filter pitcher, the Clearly Filtered takes longer than other filters to provide a batch of purified water.
There's no indicator to alert when it's time to change the filter, so you'll need to use your own judgment or time four months from installing the filter.
Read the full review: Clearly Filtered Pitcher Review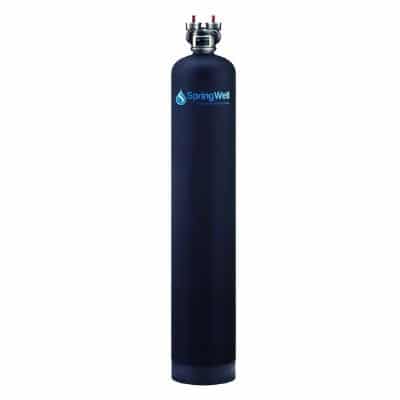 SpringWell CF Whole House Water Filter System
The SpringWell CF is our top choice for the best whole house water filtration system.
We love this carbon-based POE water filter because it's durable and long-lasting, with a 1,000,000 media lifespan, and it thoroughly removes more than 20 contaminants from your entire home's water supply. Plus, you get a limited lifetime warranty and a 6-month money-back guarantee when you buy this system – better protection for your investment than you'll find anywhere else.
Key Features
Removes a range of contaminants – The coconut shell catalytic carbon and KDF certified media remove contaminants such as heavy metals, chloramine, chlorine, PFAS, pesticides, and herbicides.
Thorough filtration – The 4 stage design makes it possible for the longest contact between the water and media, ensuring the most thorough filtration.
Long filter lifespan – The system has a 1 million gallon capacity, so the media should last for around 10 years before needing to be replaced.
Sediment pre-filter – To protect the media in the filter, a sediment filter is used to remove particulates from water.
Best for: Anyone who prefers to filter the water in their whole home and is looking for whole-house water filters with minimal maintenance.
Pros
The Springwell targets all of the most common drinking water contaminants, from chlorine to PFOS.
With its 10 year lifespan, the Springwell requires minimal maintenance.
Various parts of the system are covered by a limited lifetime warranty.
Cons
Although the filter media has a long lifespan, the sediment pre-filter will need to be changed every 6-9 months.
The system should be relatively easy to install for those who have basic plumbing knowledge. If not, it would be best to hire a plumber.
Read the Full Review: Springwell CF Whole House Water Filtration System Review
---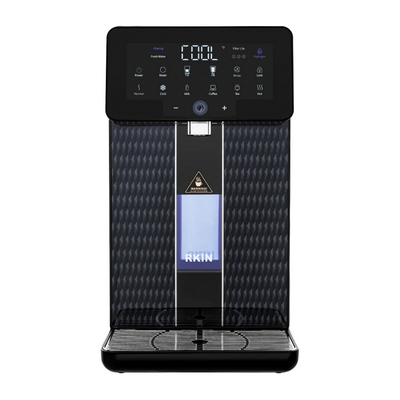 RKIN U1
Our leading choice for the best countertop water filter is the RKIN U1.
This reverse osmosis system is packed with useful and exciting features, including a built-in mineral filter, hot and cold water dispensing, and a smart touch-screen display with preset buttons for various cup sizes, milk, tea and coffee, and more. It also offers the more general benefits of countertop filtration, including easy setup and installation, portability, and suitability for apartments and rentals.
Key Features:
Up to 94% TDS removal – The RKIN U1 uses RO membrane separation to reduce up to 94% TDS (total dissolved solids), according to independent testing.
5-stage reverse osmosis – Along with its sediment filter, RO membrane, and carbon filter, this RKIN model offers two unique water treatment stages: an alkaline post-filter and a hydrogen infusion filter.
Hot and cold water dispensing – Most water filters can only provide filtered cold water, but the RKIN U1 heats or cools water after filtering to provide the ideal temperature for your use.
1-year warranty & guarantee – You get a warranty and guarantee of 1 year when you buy the U1, so your purchase is protected.
Best For: Folks looking for the most capable countertop water filter system with a host of features designed to provide the cleanest, healthiest, best-tasting drinking water as conveniently as possible.
Pros:
The U1 is a fantastic example of the capabilities of water filtration technology available today. It's more than just a reverse osmosis system – it also adds healthy minerals and infuses water with hydrogen, delivering a negative ORP of 340.
It's good to see that RKIN has obtained IAPMO testing for the U1's contaminant removal and for lead-free components, and it looks like the unit will be awarded an official NSF certification soon.
We love the convenience of this machine. At the press of a button, you get water at any temperature and in the right amount for your cup.
If you hate DIY, you'll be happy to know that this RKIN model is zero installation – just plug it into your nearest power outlet.
Cons:
Despite being great value for money for the features it offers, the U1 is on the pricey side for a countertop water filter. Not everyone can afford – or justify – $700 for a POU filter.
Like all reverse osmosis systems, the U1 wastes water, so it's not as efficient as a non-RO water filter.
Read the full review: RKIN U1 review
---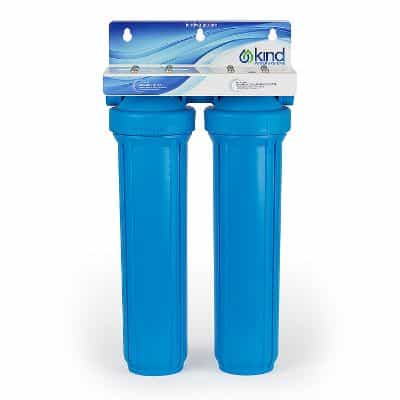 Evo E-1000 Whole House Water Filter
Our top-choice cartridge-based POE system on this list is the Evo E-1000. This system is more durable, better-built, and offers better value than any other POE cartridge filtration system available today, boasting an impressive 15 GPM flow rate and 80,000-gallon filter cartridge lifespan.
Thanks to its dedicated catalytic carbon filter cartridge, this Evo model is similar to the SpringWell CF in that it removes both chlorine AND chloramine – a rarity for a standard whole home water filter. The E-1000 is great value for money, too, with an upfront cost of less than $100.
Key Features:
Whole home water treatment – Like the SpringWell CF, the Evo E-1000 is installed at your home's point of entry, meaning that water is treated before entering your plumbing system.
Catalytic carbon block water filtration– The main filter media in the Evo E-1000 Whole House Water Filter is catalytic carbon block. This media, housed in a dedicated filter cartridge, removes tens more contaminants than standard activated carbon, including chlorine, chloramine, PFAS, chloroform, benzene, and more.
Reusable sediment pre-filter – The other filter cartridge in this system is a sediment filter, which is washable and reusable, helping to reduce filter change frequency.
Lasts up to 80,000 gallons – Both filters need to be changed just once a year on average thanks to their 80,000-gallon lifespan.
Best For: Folks who are specifically looking for whole-home water treatment and prefer the simplicity of a cartridge-based system with just 2 filters to replace per year.
Pros:
As a whole house water filtration system, the Evo-1000 offers the benefit of filtered water throughout your home, reducing contaminants in your shower water and the water you use to drink, cook with, and wash your hands, clothes, and dishes.
Many POE filters only remove a handful of contaminants, but this Evo model exceeds our expectations.
Cartridge-based whole house filter systems can sometimes have limitations, but the Evo E-1000 is one of the best of its kind, offering a super fast flow rate of up to 15 GPM for households with up to 6 people.
Don't fret if you're not the best at DIY. Installing this system is surprisingly easy thanks to its uncomplicated design, requiring just two connections.
Cons:
The Evo-1000 isn't currently certified for its contaminant removal abilities, which would be the icing on the cake for us.
This Evo model requires more maintenance than the other POE system, the SpringWell CF, because of its limited-capacity filter cartridges.
Read the full review: Evo E-1000 System Review
---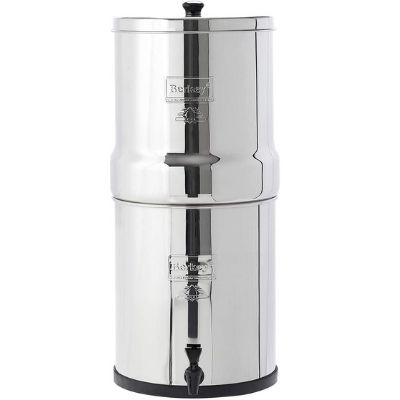 Big Berkey Gravity-Fed Water Filter
The Big Berkey is one of the most famous and widely-used gravity-fed countertop filters. Offered in a range of different sizes, the Big Berkey is made from stainless steel to prevent rusting over time.
Key Features:
3,000 gallon filter capacity – The two included Black Berkey purification elements can filter up to 6,000 gallons (combined) of water before they need replacing. This will provide the average family with around 3 years of clean water, making the Big Berkey one of the best water filters of gravity filtration style in terms of filter life.
Removes more than 200 contaminants – The Berkey system can remove contaminants like chlorine, heavy metals (including lead and arsenic), inorganic minerals, and pharmaceutical drugs. Additionally it can remove bacteria and viruses, and will dramatically reduce protozoa, allowing you to filter nearly any surface water source.
Stainless steel design – Most models are made of stainless steel instead of plastic, making the system much more durable.
Large Holding Capacity – The amount of clean water these systems can hold is much greater than similar systems.
Best For: Emergency preparedness. Being portable, with no need to connect it up to a water supply or electricity, the Big Berkey is ideal for using in emergency situations or during power outages.
Pros:
Incredibly long-lasting filters
Can be used in emergency situations
Strong contaminant removal capabilities
Cons:
No NSF testing or certification
Fluoride removal filters come at an extra cost
Not recommended to use the fluoride filters either
Won't produce immediate clean water
Read the Full Review: Big Berkey Review
---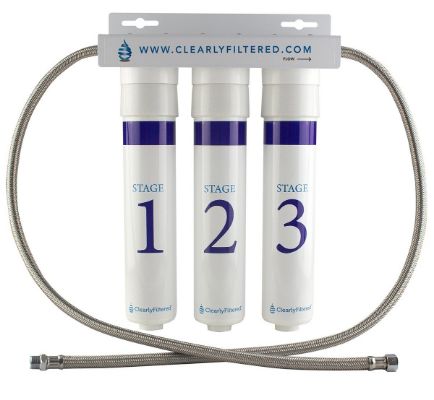 Clearly Filtered 3-Stage Under the Sink System
Key Features
Reduces more than 200 contaminants – This impressive system reduces or reduces more than 232 contaminants, including fluoride, lead, PFAS, pharmaceuticals and pesticides.
Tested to NSF Standards – The Clearly Filtered direct connect under sink system is tested to NSF standards 42, 53, 401 and 473.
Healthy mineral retention – The system retains healthy minerals our bodies need like magnesium and calcium.
Long-lasting filters – The filter cartridges last from 9 to 15 months, depending on usage.
Best for: Anyone with the budget for a high-end, highly effective under-sink system that is quick and easy to install.
Pros
The Clearly Filtered doesn't require a separate faucet installed at your sink, and is compatible with most standard faucets.
Although the system doesn't hold the actual NSF certifications, the filter is backed by independent 3rd party testing to NSF Standards.
Installing the system is extremely simple, and should take ten minutes or less. You'll only need to connect the system's input line to your cold water line, then output up to your faucet line.
Cons
Compared to other under-sink filters, the Clearly Filtered is an expensive purchase.
The system reduces your water pressure by up to 20 percent.
Read the Full Review: Clearly Filtered Under-Sink System Review
---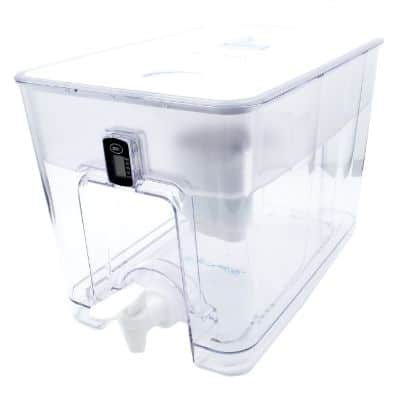 Epic Pure Water Filter Dispenser
Key Features
Impressive contaminant removal – The Epic Pure can remove more than 200 drinking water contaminants, and offers targeted fluoride removal.
Tested to NSF Standards – This filter has been tested independently by an accredited laboratory to meet or exceed NSF Standards 42, 53, 401, and P473, to remove chlorine, emerging contaminants, pesticides, fluoride, microplastics, PFOA and PFOS, and more.
Retains healthy minerals – The Epic Pure doesn't remove magnesium, calcium, or potassium, so you can still enjoy the mineral content of your tap water.
LED filter countdown timer – The LED timer counts down 90 days from filter setup to ensure that filter changes are made accordingly.
Best for: Anyone looking for a larger version of a filter pitcher that requires fewer water top-ups and can remove all the most common contaminants in municipal water.
Pros
The Epic Pure can hold up to 1.5 gallons of purified water at a time, so you won't need to top up the water frequently.
The system is great for people with smaller budgets, costing less than $100, and its 3-4-month average filter life means you'll only have to think about filter changes 3 or 4 times a year.
With a countertop design, made from 100% BPA-free plastic, the Epic Pure Dispenser is low-hassle and requires virtually no installation.
Cons
Although the Epic Pure is tested to NSF Standards, it isn't actually NSF certified.
Some customers complained that the Epic Pure's filtration speed slows down significantly after a few weeks.
Read the Full Review: Epic Pure Dispenser Review
---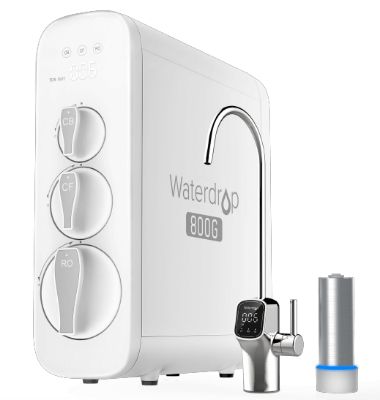 Waterdrop G3P800
Key Features
One of the most thorough filtration methods – The Waterdrop removes hundreds of contaminants with thorough RO filtration, blocking particles bigger than 0.0001 microns in water.
Long-lasting UV light – The built-in UV light reduces more than 99.99% of bacteria and viruses, and lasts 50 years.
TDS and filter tracker – The system monitors filter life and TDS with a TDS tracker and filter life light, so you know that the filter is working as it should.
Inhibits scale – The Waterdrop has scale-inhibiting technology that reduces hardness minerals, preventing scale formation.
Best for: Anyone with the budget for one of the smartest tankless RO systems available to buy today.
Pros
The Waterdrop does waste some water, like all RO filters – but it wastes only 1 gallon of water for every 3 gallons produced.
With its slim design, (just 5.67 inches across), the Waterdrop is ideal for under-sink locations with minimal space.
Installing the Waterdrop is easy. Even if you're not handy, you'll find the job straightforward enough.
Cons
The 1-year warranty could be better.
The upfront cost of the Waterdrop is high – even if the value for money is good.
Read the Full Review: Waterdrop G3 P800 Review
---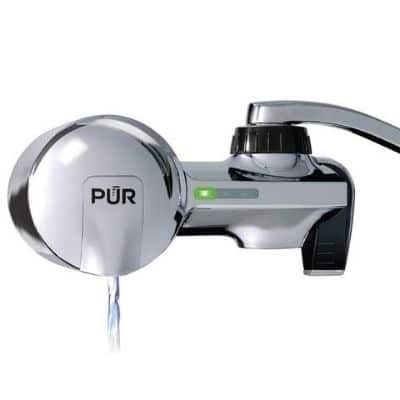 PUR Plus Faucet Filtration System
Key Features
NSF certified – The PUR has an official NSF certification for reducing over 70 harmful contaminants, like chlorine, heavy metals (including lead), mercury, and some pesticides.
Durable chrome design – The filter has a chrome design, making it a standout against other plastic-build faucet filter solutions that are prone to cracking under pressure.
On/off lever – You can use the on/off lever to divert the water flow through the main faucet when you're using hot water, which will help protect the filter and extend its lifespan.
Activated carbon filter – The PUR uses an activated carbon filter with a 100-gallon lifespan.
Best for: Anyone looking for a no-fuss faucet filter that will produce instant clean drinking water at an affordable price.
Pros
The PUR is easy to attach to your faucet with one click – you don't need tools or experience for the job.
With a modern, no-fuss build, the PUR Advanced Faucet Filtration System looks like a natural extension to a kitchen sink faucet – and is compatible with most standard US faucets.
The PUR Advanced filter has an unrivaled flow rate, as it uses the force of water pressure to instantly filter water.
Cons
You'll need to change the filters after 100 gallons, or 2-3 months, which isn't the best filter lifespan out there.
Although compatible with standard faucets, the PUR isn't compatible with all kitchen sink faucets.
Read the Full Review: PUR Faucet Filter Review
---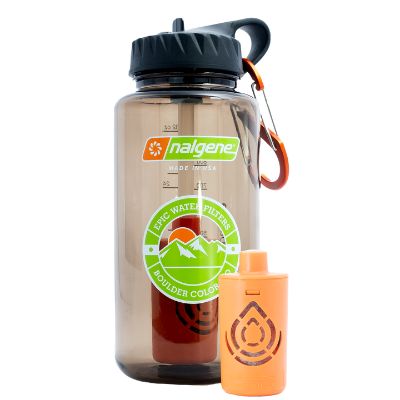 Epic Outdoor OG Woodsman
Key Features
Thorough contaminant removal – This filter bottle can eliminate up to 99.99% of contaminants, like heavy metals, chlorine, pharmaceuticals, agricultural pollutants, and more.
Purifies water – The Epic Nalgene can also remove contaminants found in outdoor water sources, like bacteria and viruses, making water safe to drink.
Long filter lifespan – The filter lasts for up to 300 liters, or around 300 bottle fills, before it needs to be replaced.
Dishwasher-safe – The bottle (not the filter) can be washed in the dishwasher for convenience.
Best for: People who are out of the house a lot and want an on-the-go water filtration solution, whether for work or travel.
Pros
For a relatively small bottle filter, the Epic Nalgene removes an impressive range of impurities, including dangerous contaminants.
The filter has a big 1-liter capacity, so it has plenty of space for storing water, and you can drink water straight from the bottle.
The bottle is made from durable, BPA-free Tritan.
Cons
There's no filter countdown, so you'll have to either count your bottle refills or replace the filter when flow rate becomes significantly slower than usual.
The bottle is quite bulky, so it's not ideal if you're traveling light.
Read the Full Review: Epic OG Outdoor Woodsman Filtered Water Bottle Review
---
🧾 Buyer's Guide – How to Select the Best Water Filter
This guide covers everything you should keep in mind when searching for a water filtration system for your family.
📌 Personal Filtration Needs
Everyone has their own unique reasons for wanting to buy a water filtration system. Perhaps you want to cut down on the number of plastic water bottles you use, or your tap water doesn't taste good, or you're concerned about contaminants – or a combination of all three.
Think about when, and how, you'd be using a water filtration system. There are different kinds of water filters that suit different filtration needs.
Consider whether you'll benefit most from a filter you can take with you on the go, a filter that provides clean water for your whole home, or a filter that you can store out of sight when not in use.
Understanding Water Quality
Your tap water quality is unique to where you live. Although tap water is generally safe to drink, there are still hundreds of possible contaminants that it might contain.
Ask yourself the following questions about your water quality:
Does your water come from a municipal supplier or private well?
Are there high concentrations of any specific minerals in your water?
What common contaminants might be found in your water?
Are there particular substances you know you want to remove?
Check out this guide to learn all about testing your home's water quality.
🧫 Contaminant Removal Capability
Virtually every water filter with basic filtration capabilities can greatly reduce or remove chlorine, heavy metals like lead, and VOCs. But the best water filters can do so much more than that.
Different types of water filters remove different types – and quantities – of contaminants. You don't always have to pay more money for more thorough filtration, either – there are plenty of water filter pitchers that can remove more than 100 contaminants nowadays.
If you want to achieve the purest drinking water, consider reverse osmosis systems.. Some of the more unique contaminants that RO systems can remove are sodium, mercury, barium, arsenic, selenium, nickel, total volatile organics, cyanide, algae, and silicate.
Of course, it's not essential that you purify your water if you're only dealing with a few select contaminants.
Learn all about common drinking water contaminants 👈 Click Here
✅24 Specific Water Filter Buying Guides
🔍 What to Look For in a Water Filter
System Type
The main water filtration system types, and what they do, are listed below:
Water filtering pitcher – Water is added to the pitcher and moves through a filter, which traps contaminants
Countertop filter system – Water is added to a top container and flows through a filter into a lower container
Faucet filter – The water from a faucet is forced through a filter attached to the end of the spout
Whole home water filter – Unit is set up at water's point of entry into a home, filters water flowing through the plumbing system
Reverse osmosis – Can be installed under a kitchen sink or on a countertop for point-of-use applications, forces water through an RO membrane and several filters
Shower filter – Attached to the end of a showerhead, removes contaminants like chlorine
Backpacking filter – Gravity filter type, water is added to the bag and passes through the filter at the bottom of an attached pipe
Water bottle filter – Works like a small pitcher, filters faucet, river, lake, and well water for drinking directly from the bottle
Water softener – Doesn't technically filter contaminants, but removes magnesium and calcium ions, which cause limescale
Filtration Method
Though there are a wide variety of system types, some of them use the same filtration methods. The most popular methods, and how they work, are:
Reverse osmosis
A reverse osmosis filter system forces water through a semi-permeable RO membrane, which prevents most total dissolved solids (TDS) from passing through. These molecules are then eliminated through a waste pipe, and only tiny water molecules can pass through the RO membrane. Reverse osmosis is a highly effective filtration solution with a price tag to show for it.
Adsorption
The chemical process of adsorption is used in activated carbon, carbon block, or granulated carbon filters. During adsorption, contaminants are trapped inside the pore structure of the carbon filter media. An activated carbon filtering cartridge is the best adsorptive filter media because of its large surface area.
Distillation
One of the oldest filtration methods is distillation. In the process, water is heated to extremely high temperatures and vaporized. The vapor then condenses back into liquid form. This process purifies water, as the majority of contaminants can't evaporate and condense like water, and remain in the boiling tank after distillation.
Ion exchange
Ion exchange is traditionally used in salt-based water softeners. During ion exchange, calcium and magnesium hardness minerals are replaced with sodium ions, preventing scale formation. Ion exchange systems are designed to regenerate frequently to flush out the unwanted calcium and magnesium ions and replace the used sodium ions.
Water conditioning
A popular alternative to salt-based water softening is water conditioning, which alters the structure of hardness ions and prevents them from sticking to surfaces as scale. The most popular water conditioning technique is template-assisted crystallization.
Filter Capacity
The filter capacity measures the amount of water a filter can treat before it needs to be replaced. The capacity of a system varies depending on the system you opt for. The size and design of a filter greatly affect how long it will last. You will also see this expressed as a length of time.
Here's how long the most popular media and cartridge filters typically last for:
Water filter pitcher – 2 months
Countertop – 4-8 months
Faucet – 2 months
Whole home – 3-6 months
Reverse osmosis – RO membrane: 2-5 years; additional filters: 6-12 months
Shower filter – 6 months
Backpacking filter – 2-6 years
Water bottle filter – 2 months
Water softener -10-20 years
Keep in mind that there's other maintenance to consider aside from replacing filters or media. Even if a system has a high capacity, you may need to spend money on maintenance between filter changes.
Flow Rate
A filter's flow rate determines how quickly it can process unfiltered water.
There are several filter types that use gravity to filter water, and have a slower flow rate of up to 20 minutes, depending on how much water is needed:
Water filter pitchers
Some countertop filters
Backpacking filters
Straw/ bottle filters (these use the force of suction, not gravity)
Other filter systems are hooked up to your water supply and use the force of water pressure to filter water. These filters include:
Whole house systems
Under-sink filters
Water softeners
RO systems
Faucet filters
Sediment filters
Showerhead filters
All water filters, whether they're supported by your home's water pressure or not, will experience a slow-down in flow rate as the filter becomes more clogged with sediment. The tap water quality in your home will, in part, determine how quickly you need to replace your filters.
Installation & Maintenance
Installation of a water filter depends on the type of system you're using.
Systems that are easiest to install are those that don't need connecting up to your plumbing are countertop units, filter pitchers, water bottle filters, and gravity filters.
Also easy to install are faucet water systems, which can be attached to your faucet without the need for tools, and showerhead units, which can be attached to your shower hose in the same fashion.
Units that are more difficult to install are under-sink systems, which need attaching up to your cold water line, and whole-house filtration system units and water softeners, which you need to attach at your home's point of entry. If you don't have much plumbing knowledge, a plumber can do the job for you at an extra cost.
The majority of filters require maintenance. Buying replacement filters is the biggest responsibility, and most systems require a replacement filter at least twice per year. If the system uses media or resin, it may require less frequent maintenance.
Costs
There are water filtration solutions to suit all budgets, and you don't have to spend thousands on a filter to achieve the desired results.
Water filter systems fall into three tiers:
Low-cost (between $20 and $200)
Mid-price (between $200 and $600)
High-cost ( $600+)
Low-cost systems include water pitchers, faucet water filtration systems, water bottles with a filter, and backpack water filtration systems. Though these have cheaper upfront costs, you'll generally need to replace the filter more frequently (around every two months on average). Still, filter replacement cartridges for these systems are cheap, and maintenance will cost around $50-$100/year.
Mid-price systems include countertop filter units and some under sink filtration systems. These are a little more expensive, for both the unit and its replaceable components, but you may only need to replace their filter media once every year or more.
The highest cost systems are reverse osmosis units, water softeners, and whole-home filtration systems. These can cost thousands of dollars but provide the biggest benefits, either filtering your entire home's water supply or greatly improving the quality of tap water.
📝 Filter Certifications
An official certification is the best indication of a filter's performance. There are two common certifications that a manufacturer can apply for: a WQA certification and an NSF certification.
WQA
The WQA, or Water Quality Association, is a not-for-profit independent trade party that represents the water treatment industry. Manufacturers who have gained a WQA certification have been able to achieve a "certified level of professional expertise and are dedicated to high professional standards".
NSF
NSF International is an accredited third-party certification body that tests and certifies water filter products to check that they meet their promotional claims. There are a number of NSF Standards that a product can be certified for, including:
NSF 42, for chlorine removal
NSF 44, for cation exchange water softeners
NSF 53, for contaminants with health effects, like lead
NSF 58, for reverse osmosis systems
NSF 177, for chlorine removing showerhead filters
NSF 401, for emerging contaminants
NSF P473, for the removal of PFOA and PFOS
❔ Frequently Asked Questions
Which contaminants should I be most concerned about in my drinking water?
It depends whether you're more bothered about water taste or quality. If you're looking to improve the taste of your water, a chlorine water filter can be used to remove the chlorine taste and odor from water. If your water has a higher-than-average lead content, look for a filter that is specifically advertised to remove lead. If you want to remove total dissolved solids (TDS), only a reverse osmosis filter system can be used.
Other city water and well water contaminants to be concerned about include harmful chemicals like pesticides and herbicides, volatile organic compounds, other heavy metals like mercury and arsenic, and microorganisms like bacteria and viruses.
Which water filter is best of all?
That's impossible to answer! The best filter for you might be different from the best filter for somebody else. You may have a higher budget that allows you to consider thorough filtration options like reverse osmosis units, but these aren't necessarily "best" for everyone. Systems like countertop filtration units can remove the most common contaminants, like chlorine and lead, for a fraction of the cost.
What's the best filter for using to treat well water?
Anything that removes common contaminants often found in well sources, including heavy metals, fluoride, nitrates, organic compounds, and viruses and bacteria. Whole home systems, reverse osmosis systems, and systems designed specifically for treating well water, will work best for you.