We've been testing and reviewing water treatment products for nearly a decade. The best water filters in 2023 on this list were selected based on their contaminant reduction capability, ease of use, quality of construction, filter longevity, and of course, affordability.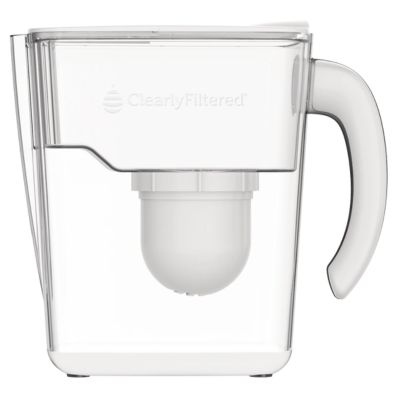 Clearly Filtered Water Filter Pitcher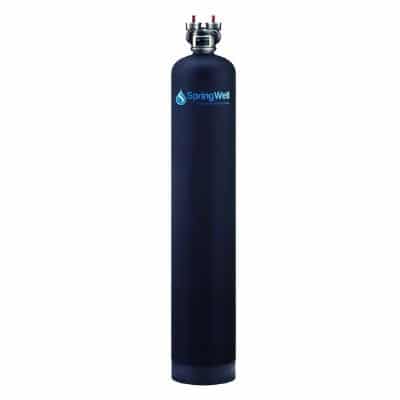 SpringWell CF Whole House Water Filter System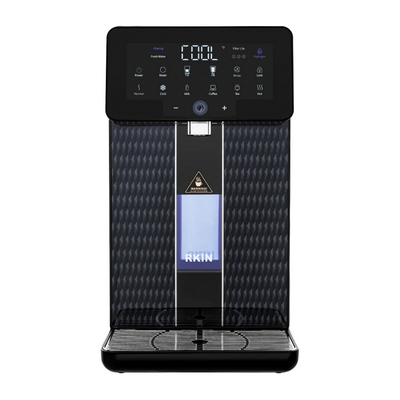 RKIN U1
Public drinking water supplies are teeming with trace contaminants, many of which pose a serious health risk. We're not surprised if you want to remove these contaminants from your water as quickly and effectively as possible.
Luckily, when it comes to shopping for the best water filter to address these contaminants, we have more choice than ever before. There are hundreds of water filters available – but it's worth noting that only a very small percentage of these are top-performing.
Researching, comparing, and shortlisting water filters yourself is no easy task, and will probably take you hours. There are so many considerations to make, and even when you think you've found the best water filter for you, you might simply have been misled by the manufacturer's false claims.
The good news is that we're here to help you make the best choice when it comes to buying the right filter for your situation. We've done the hard work for you, having researched and reviewed all the best water filter systems available today, and we've shared our shortlisted picks – based on our own personal experience using them ourselves – in this guide.
🥇 Our Water Filter Picks
During our decade of using and reviewing water filters, we've seen demand for filtration solutions grow exponentially as public knowledge of the harmful contaminants in our drinking water continues to spread. We're happy to see that the market is now bursting with options for a variety of situations.
Our top picks are sold by reputable, established water filter manufacturers like SpringWell, Clearly Filtered, and Epic, as well as newer, up-and-coming brands that are paving the way with revolutionary technology, like RKIN.
---
📊 Comparison Chart of the Best Water Filters
| System | Clearly Filtered Pitcher | SpringWell CF | RKIN U1 | Kind E-1000 | ProOne Big+ | Clearly Filtered Under Sink | Epic Pure Dispenser | Waterdrop G3P800 | PUR Faucet System | Epic OG Outdoor Bottle |
| --- | --- | --- | --- | --- | --- | --- | --- | --- | --- | --- |
| Ranking | 1st | 2nd | 3rd | 4th | 5th | 6th | 7th | 8th | 9th | 10th |
| Ratings | 5/5 | 5/5 | 5/5 | 4.5/5 | 5/5 | 5/5 | 5/5 | 5/5 | 5/5 | 5/5 |
| Price | $90.00+ | $1016.44+ | $749.95 | $776.12 | 229.95+ | $550.00 | $75.00 | $999.00 | $48.95+ | $54+ |
| Contaminants Reduced | 365+ | 20+ | 1000+ | 10+ | 200+ | 232+ | 200+ | 1000+ | 70 | 70+ |
| Certifications or Testing | NSF 42, 53, 401 & 473 | – | NSF 58 (in progress) | NSF 53 | NSF 42, 53, P231 | NSF 42, 53 & 401 | NSF 40, 42, and 53 | NSF 58, 372 | NSF 42, 53, 401 | EPA standards |
| Process | Mechanical + Carbon + Ion Exchange | Coconut Shell Catalytic Carbon + KDF | Mechanical + Carbon + RO + Alkaline + Hydrogen infusion | Mechanical + Carbon | Ceramic + Carbon | Mechanical + Carbon + Ion Exchange | Mechanical + Electroadhesion + Ion Exchange | RO + Carbon | Carbon + Ion Exchange | Carbon |
| Filter Life | 100 gal. | 1,000,000 gal. | 792 – 1,200 gallons | 80,000 gal. | 1,000 – 1,200 gallons | 2,000 gal. | 150 gal. | 6, 12, 24 months | 100 gal. | 300L |
| Annual Cost | ~$140 | ~$40 | ~$100 | $120 – $300 | ~$100 | ~$200 | ~$140 | ~$145 | ~$100 | ~$90 |
| Warranty | Lifetime | Lifetime | 1 year | Lifetime (limited) | 1 year | Lifetime | Lifetime | 1 year | 2 years | Lifetime |
---
🏷️ The Best Water Filters in the News: The Latest Deals and Discounts
This section highlights some of the current news, deals, and discounts for the filters in this guide. We update the below information regularly, so you might not find the same deals if you check back later.
Clearly Filtered: Get 20% off on filtration systems – Black Friday Sale
Springwell: Save 20 percent on everything store-wide through November 26
RKIN: Buy 1 get 50% off another item, offer lasts till Black Friday
Waterdrop G3P800: Get up to 50% off through November 26
⭐ Reviews – Best Water Filter 2023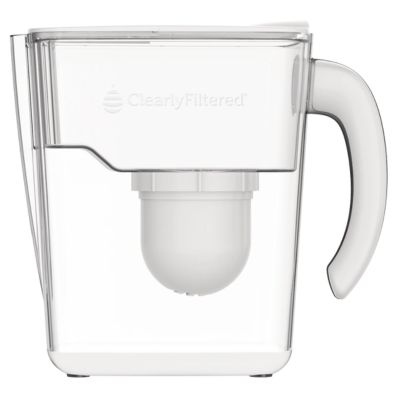 Clearly Filtered Water Pitcher
The Clearly Filtered filter pitcher can reduce more than 365 contaminants from unfiltered water. It's the best water filter pitcher on the market that we've ever tested.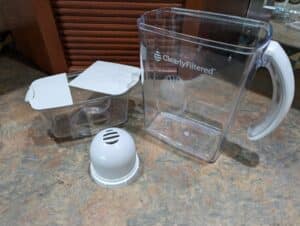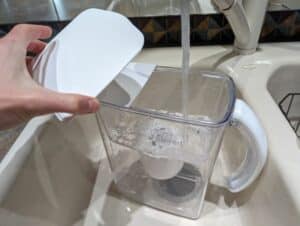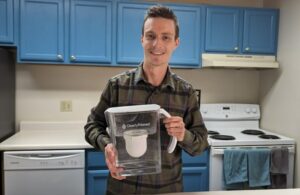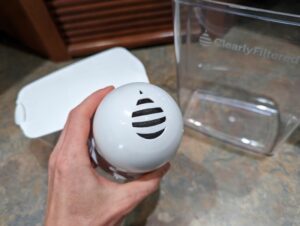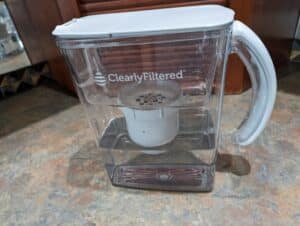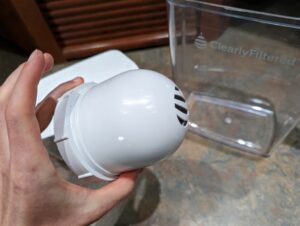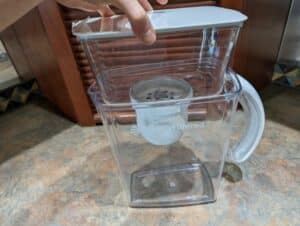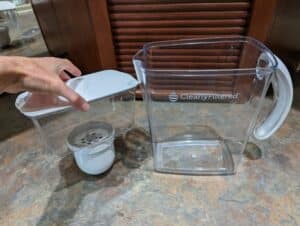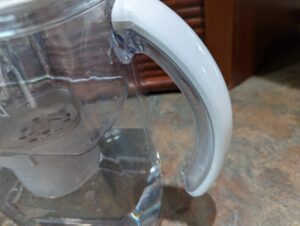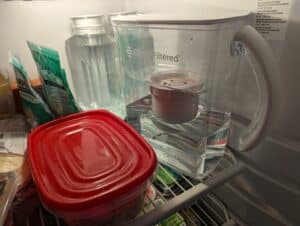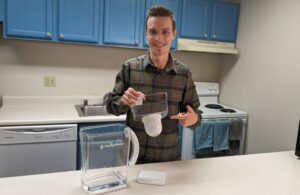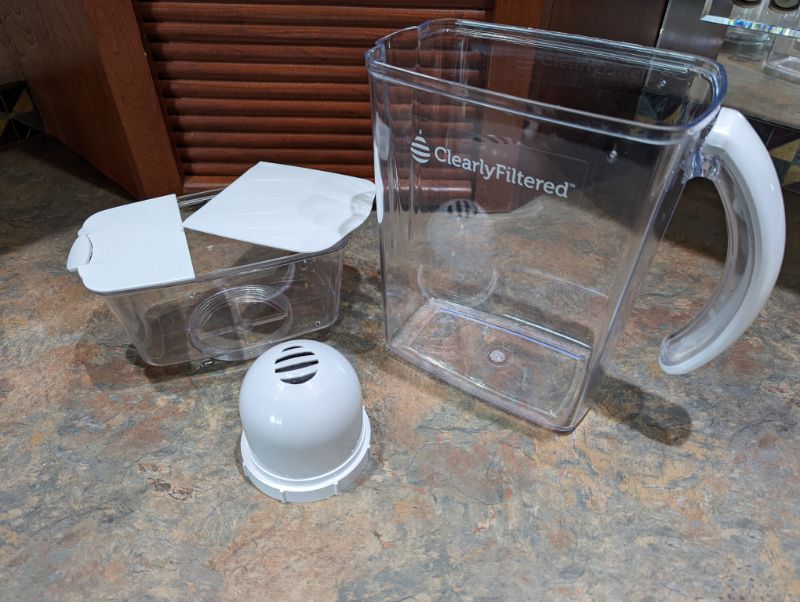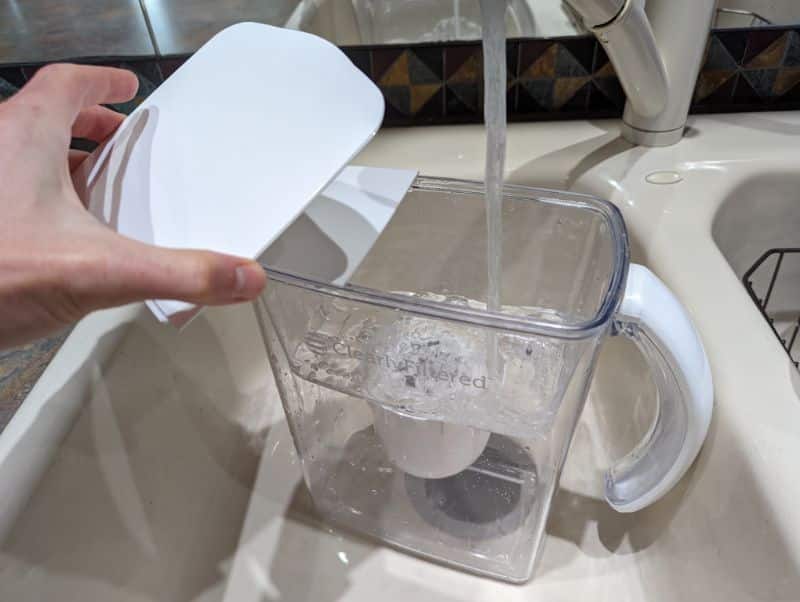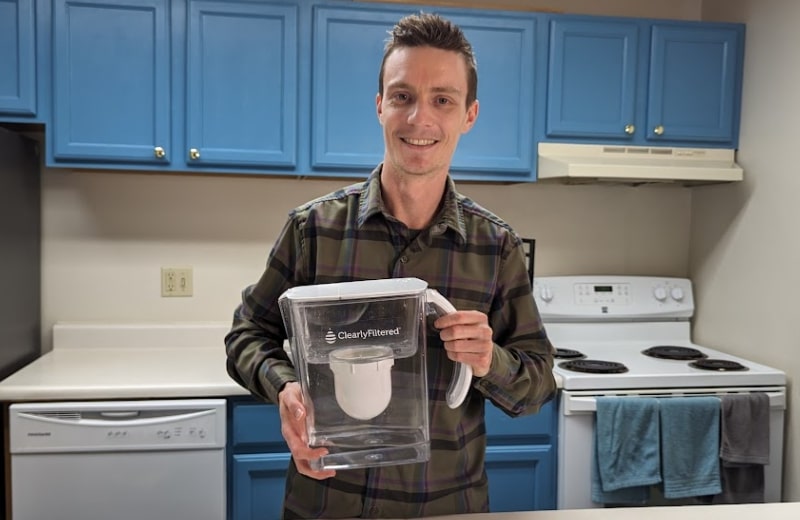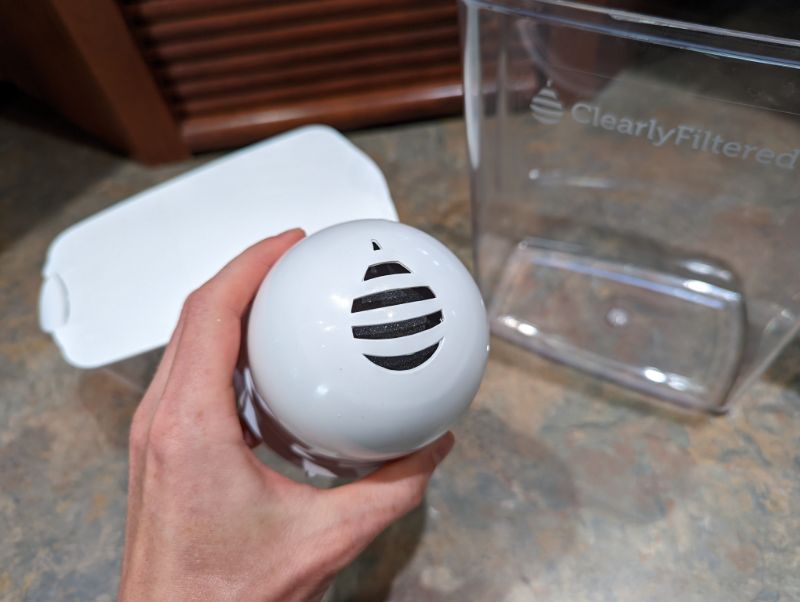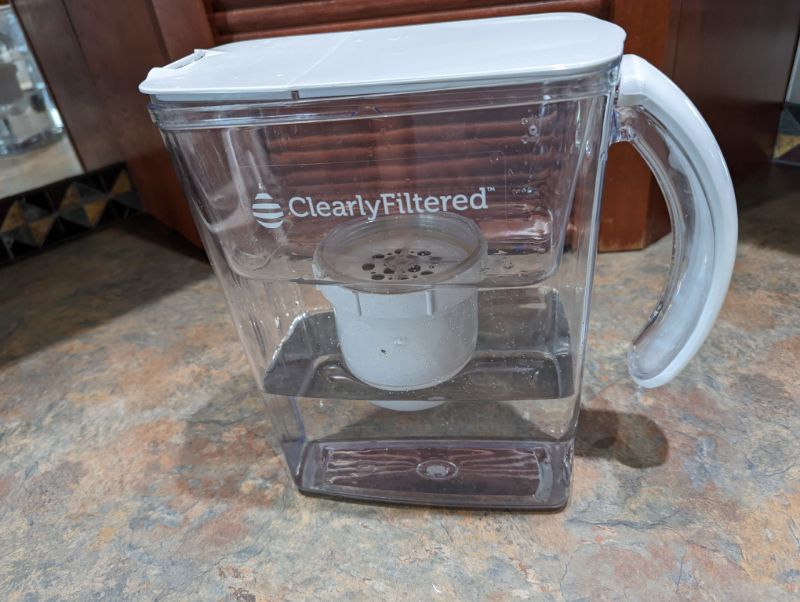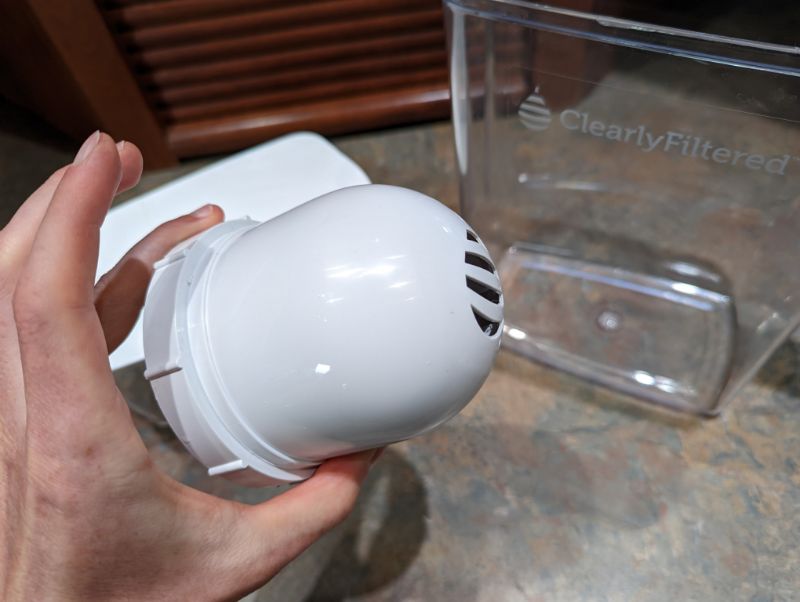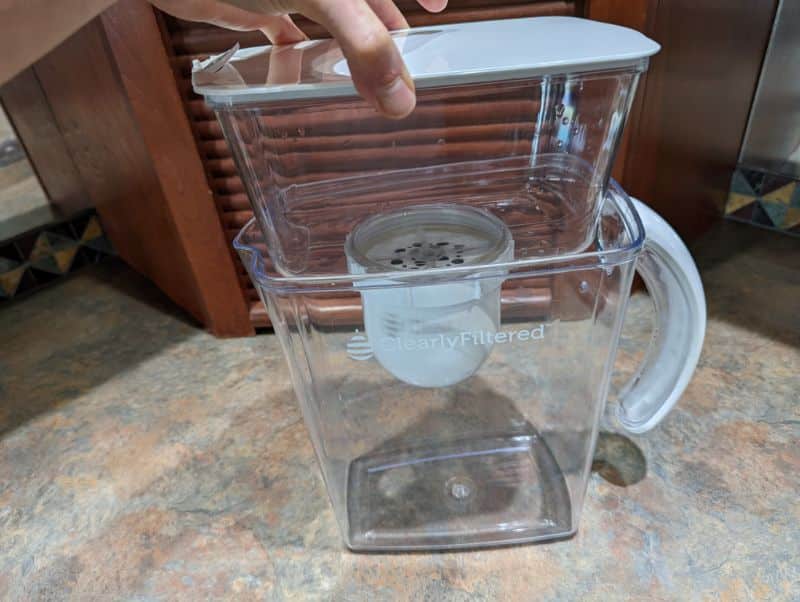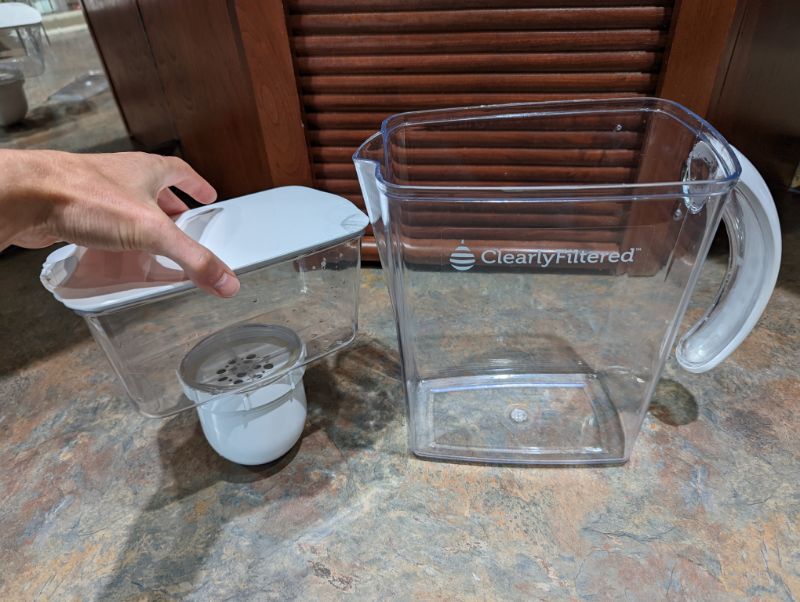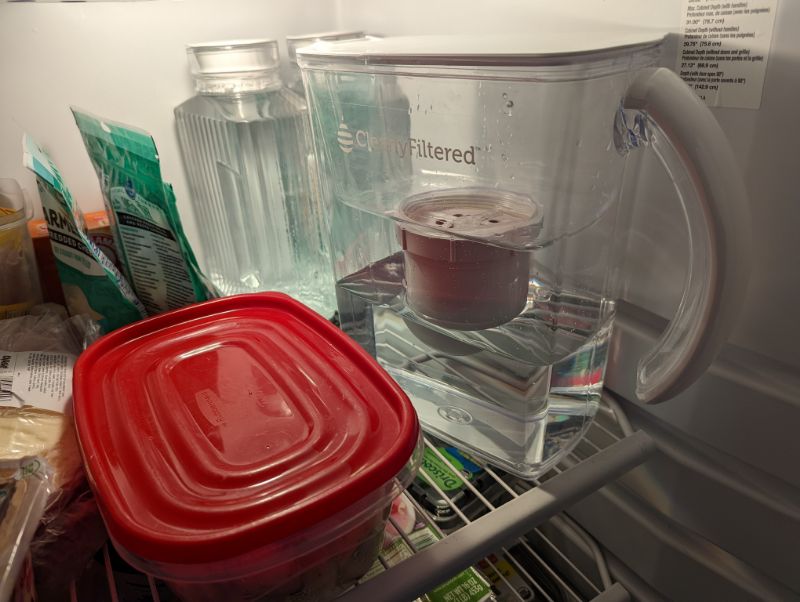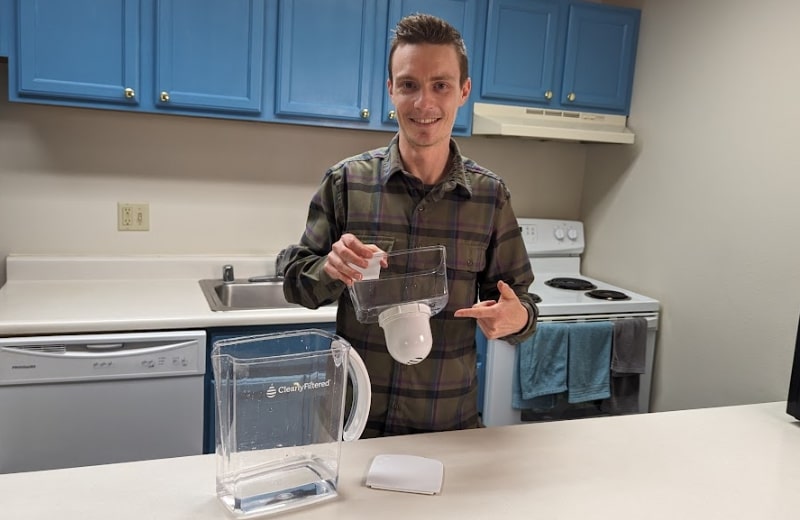 Specs
| | |
| --- | --- |
| Price | $90.00+ |
| Contaminants Reduced | 365+ |
| Certifications/Testing | NSF 42, 53, 401 & 473 |
| Process | Mechanical + Carbon + Ion Exchange |
| Filter Life | 100 gal. |
| Annual Cost | ~$140 |
| Warranty | Lifetime |
We used the Clearly Filtered pitcher to treat tap water in Fort Collins and Steamboat Springs, Colorado. Our own experience testing the filter was overwhelmingly positive, and we truly believe that it's the best pitcher for the price that you can buy today.
Let's talk a little bit about price before we look at the filter's performance. A new pitcher, with one filter included, costs $90. We noted that this price is a bit steeper – on average around $20-$35 more expensive – compared to other pitchers, but it hasn't changed in over a year, while many other pitchers see one, two, or even three price increases per year. We got the pitcher on its own, but you can upgrade to the Autoship option, which reduces the price of the pitcher to $81 and gives you a 10% saving on filters (you can choose to get a filter shipped every 2, 3, 4, 5, or 6 months). Each filter cartridge can filter up to 100 gallons of water before it needs replacing. We found that a single filter lasted about 3.5 months for us. That's slightly better than the average 2-3-month filter lifespan for a pitcher.
| Bundles | Price |
| --- | --- |
| Pitcher Only | $90 |
| Pitcher + 3 Pack | $245 |
| Pitcher + 6 Pack | $395 |
Best For:
Anyone looking for a no-install, no-fuss water filter pitcher offering an exceptional performance at an affordable price.
What We Like
Filters more contaminants than any other pitcher, including difficult-to-remove contaminants like fluoride
Sold with a lifetime guarantee
Affordable long-term solution
BPA- and BPS-free
What We Don't Like
More expensive than other filter pitchers
Limited holding capacity, needs regular refills
Removes Up to 73x More Contaminants than Other Top-Selling Pitchers
Right off the bat, the obvious advantage of the Clearly Filtered pitcher is that it's tested to remove more contaminants than any other pitcher on the market. To note our personal experience, we've tested all the most popular water pitchers currently available, including offerings from Brita, PUR, and ZeroWater, and we worked out that the Clearly Filtered pitcher removes up to 73x more contaminants than these brands.
According to test data on Clearly Filtered's website, some of the contaminants that the pitcher can remove include chlorine and chloramine, (99.9%), PFAS (99.9%), pharmaceuticals (99.9%), VOCs (99.9%), and lead (99.5%). We're planning to do our own testing on our tap water before and after using the Clearly Filtered so we can see exactly how it improves our water quality, but going off taste alone, we noticed that our water was much more refreshing and clean-tasting, and the usual chlorine after-taste was undetectable.
We appreciated that we had more to go off than simply Clearly Filtered's claims when it came to contaminant removal. The manufacturer has recently obtained a WQA certification to NSF/ANSI Standard 42, for the reduction of aesthetic contaminants, and 53, for the reduction of PFOA/PFOS. The pitcher is also independently tested to a number of NSF Standards: 42, 53, 401 & 473. We look for official NSF/ANSI/WQA certifications as a priority over third-party testing because they offer the best proof of performance from a trusted testing organization.
Another major performance bonus of the Clearly Filtered pitcher is that retains healthy minerals in drinking water. We personally prefer the taste of natural minerals in our tap water, and we know that most other folks do, too. We enjoyed being able to benefit from the pitcher's incredibly thorough contaminant removal without having to compromise by losing the minerals in our water, as we would with a reverse osmosis system.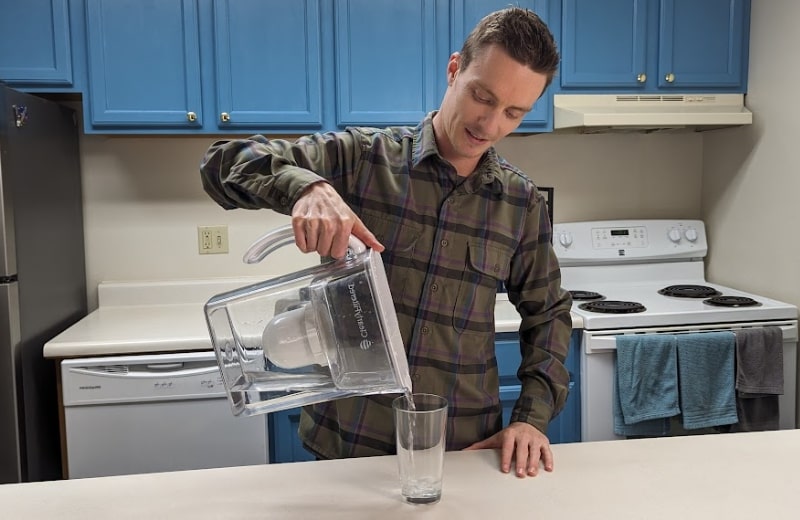 Easy to Assemble and Use
While we're prepared to put a bit of work into a filter install when necessary, we know that other folks don't want the hassle, and we found the Clearly Filtered pitcher refreshingly easy to assemble.
Admittedly, the filtration rate is a bit slow, and we don't recommend this pitcher to anyone who wants instant access to filtered water. But we didn't have a problem with filling the pitcher and leaving it for a few minutes to filter water into the bottom reservoir while we got on with other household chores. And because the media Clearly Filtered uses is so complex, it makes sense it will take longer to filter the water. We'd personally rather wait a bit longer for the peace of mind of removing as many contaminants as possible from our water.
The 80-ounce capacity is pretty standard for a pitcher filter. We refilled it three to five times a day, and that was with us exclusively using the pitcher for all our drinking, cooking, and other potable water uses.
Read the full review: Clearly Filtered Pitcher Review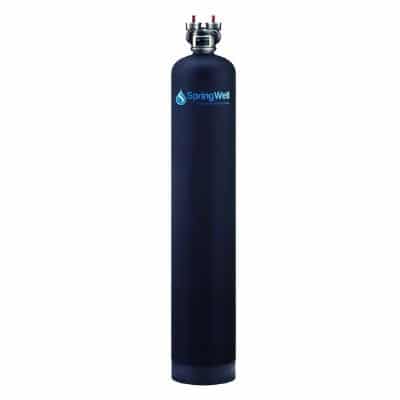 SpringWell CF Whole House Water Filter System
The SpringWell CF is our top choice for the best whole house water filtration system.
We love this carbon-based POE water filter because it's durable and long-lasting, with a 1,000,000 media lifespan, and it thoroughly removes more than 20 contaminants from your entire home's water supply. Plus, you get a limited lifetime warranty and a 6-month money-back guarantee when you buy this system – better protection for your investment than you'll find anywhere else.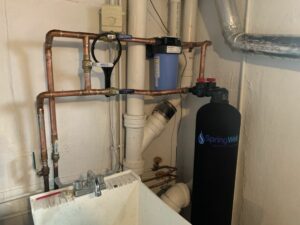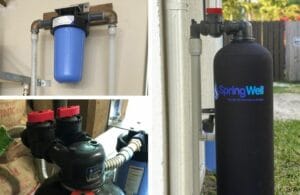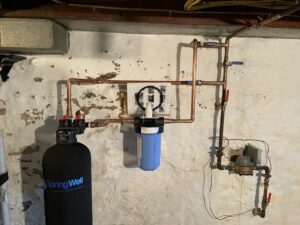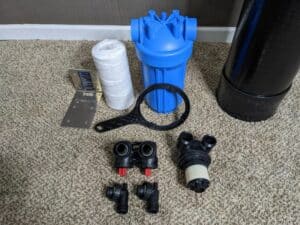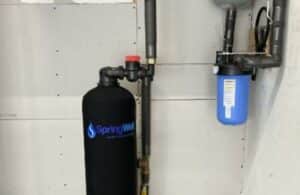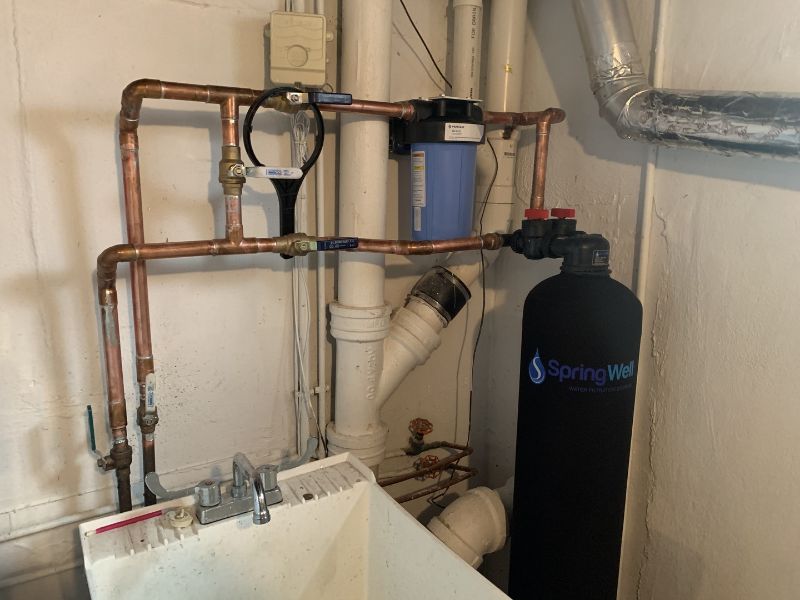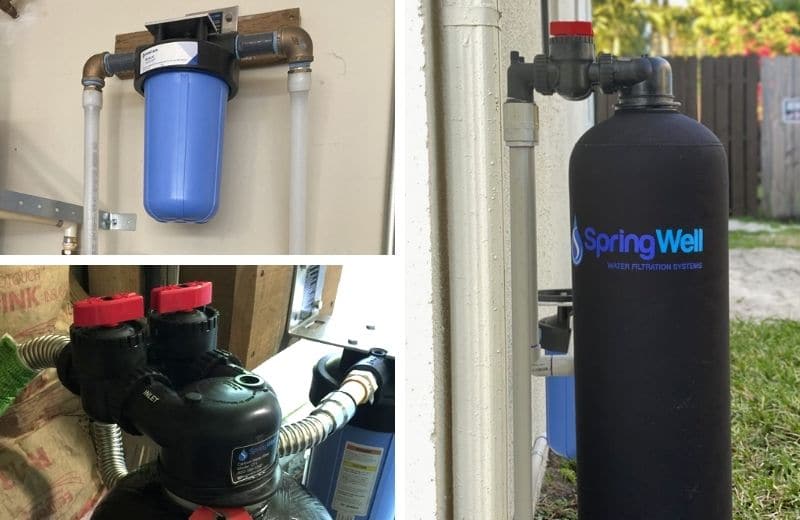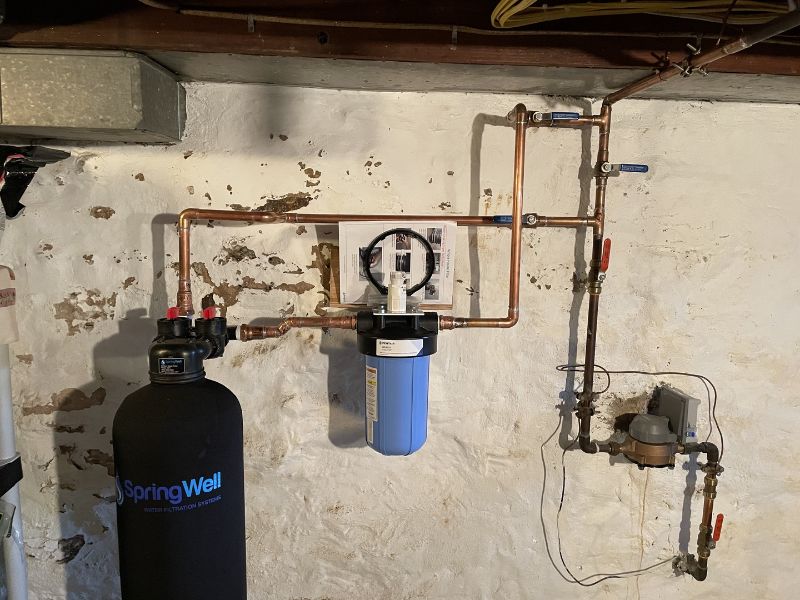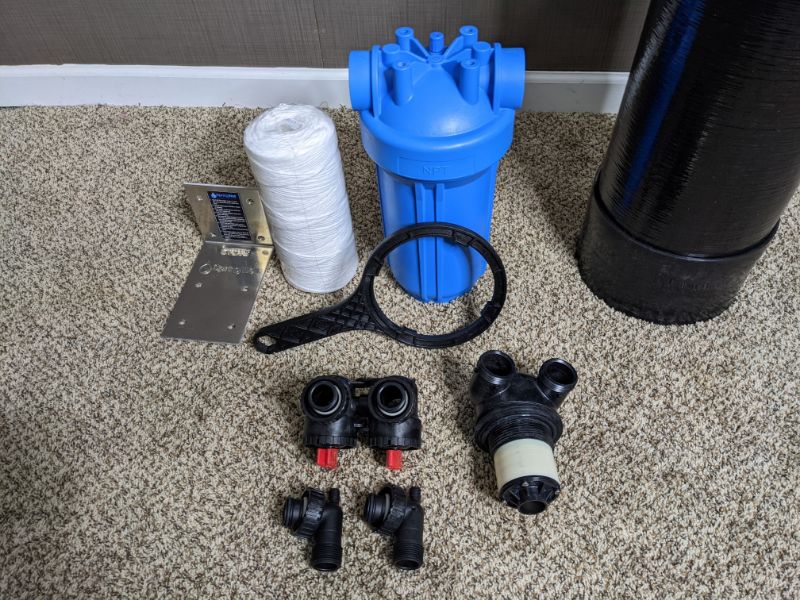 Specs
| | |
| --- | --- |
| Price | $1016.44+ |
| Contaminants Removed | 20+ |
| Certifications/Testing | – |
| Process | Coconut Shell Catalytic Carbon + KDF |
| Filter Life | 1,000,000 gal. |
| Annual Cost | ~$40 |
| Warranty | Lifetime |
We installed and tested the SpringWell CF with a third-party laboratory (more on this later). Our experience with this system was obviously very different than with the Clearly Filtered pitcher, starting from the upfront purchase. With SpringWell, you're getting a much bigger, higher-capacity, longer-lasting system that's designed to protect your whole home from harmful and aesthetic contaminants, rather than just your drinking water after it has left your faucet. We were unsurprised to see the system sold at a higher upfront cost given that we'd get to benefit from clean water in our entire home's appliances and plumbing. The price is fair for a whole-home system at around $1,016, but we have noticed it creeping up recently – when we made our video review last year, the price was around $900.
What else did we note about the SpringWell CF upfront? We had three system sizes to choose from:
| SpringWell CF Configurations | Price |
| --- | --- |
| CF1: 1-3 Bathrooms | $1016.44 |
| CF4: 4-6 Bathrooms | $1199.66 |
| CF+: 7+ Bathrooms | $1737.20 |
We chose the 1-3-bathroom CF1 for our three-bed, two-bath home. The system was shipped with a blend of catalytic carbon and KDF media, which has a capacity of 1 million gallons or up to 10 years. We personally prefer tank-based whole house filters over cartridge-based filters because of their longer-lasting media, and the CF1 didn't disappoint in this respect. We were pleased with the lack of maintenance needed – only replacing the pre-filter every 6-9 months.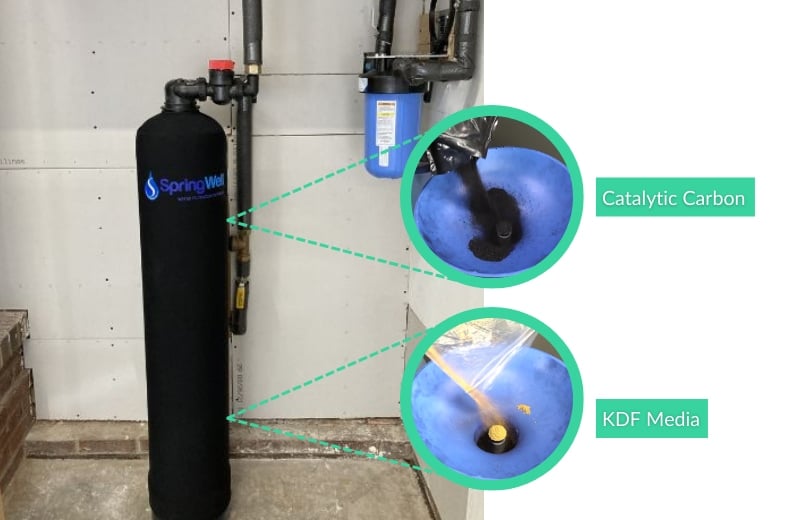 Best For
Anyone who prefers to filter the water in their whole home and is looking for whole-house water filters with minimal maintenance.
What We Like
Targets all of the most common drinking water contaminants, from chlorine to PFOS
Provides whole-home protection
Requires minimal maintenance
Great system warranty
What We Don't Like
No official certification
Not all parts for installation are included
Whole Home Water Treatment
We hired a professional plumber to install the SpringWell system for us. Since it needed to be installed at our home's POE, we didn't want to risk getting something wrong and potentially disrupting the water flow into our plumbing system. We read through the install instructions and they're pretty easy to follow, but we'd recommend exercising caution if you plan to install the system yourself.
While the Clearly Filtered pitcher treated our drinking water only, the SpringWell CF improved the quality of the water flowing through our entire home. That meant we had the reassurance of showering and bathing in, washing our clothes and dishes in, drinking, and cooking with, clean water that had been treated to reduce disinfection chemicals and byproducts, PFAS, pesticides and herbicides, and more.
Reduced Disinfection Byproducts & Heavy Metals in Our Water
We tested the SpringWell CF on municipal drinking water in Arvada, Colorado. In this case, we were able to conduct our own water test before and after installing the system. The test detected three carcinogenic disinfection byproducts (bromodichloromethane, trihalomethane, and chloroform) as well as trace levels of lead and nickel – likely caused by corrosion of a lead fixture or pipe- fluoride, and other heavy metals, including copper, cobalt, zinc, and barium.
There's no better reassurance of performance than proof of testing in your own home, and we were pleased to see that our test results for our filtered water from the CF system were much clearer. Lead, which we should all be extremely concerned about in our water, was reduced by 96%, and the KDF media did a good job of reducing the heavy metals in our water in general, although it didn't eliminate all of them entirely. Our water's fluoride levels decreased by around 17%, which isn't bad given that the system isn't actually intended for fluoride removal. Of course, there were limitations to our testing – we only took a sample from a single tap in our home, so results may vary based on your own situation and water quality.
Below is an overview of how the Springwell CF performed in our 3rd party laboratory analysis.
| Contaminant | Pre-Filtration | Post-Filtration | % Reduction |
| --- | --- | --- | --- |
| Barium | 0.0267 PPM | 0.0158 PPM | 41% |
| Bromodichloromethane | 0.00832 PPM | 0 PPM | 100% |
| Chloroform | 0.0208 PPM | 0 PPM | 100% |
| Cobalt | 0.0011 PPM | 0 PPM | 100% |
| Copper | 0.222 PPM | 0.0532 PPM | 76% |
| Fluoride | 0.6 PPM | 0.5 PPM | 17% |
| Lead | 0.0182 PPM | 0.0007 PPM | 96% |
| Manganese | 0.002 PPM | 0.0013 PPM | 35% |
| Molybdenum | 0.0016 PPM | 0 PPM | 100% |
| Nickel | 0.0125 PPM | 0 PPM | 100% |
| Strontium | 0.125 PPM | 0.09 PPM | 28% |
| Sulfate | 36 PPM | 27.2 PPM | 24% |
| Total THMs | 0.02912 PPM | 0 PPM | 100% |
| Zinc | 0.917 PPM | 0.255 PPM | 72% |
Read the Full Review: Springwell CF Whole House Water Filtration System Review
---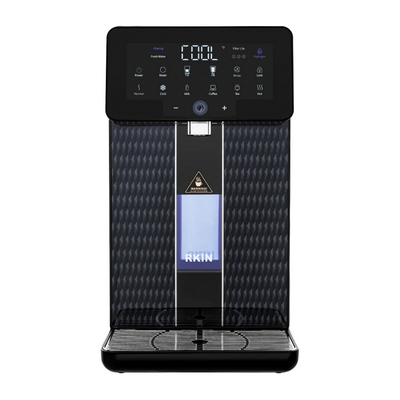 RKIN U1
Our leading choice for the best countertop water filter is the RKIN U1.
This reverse osmosis system is packed with useful and exciting features, including a built-in mineral filter, hot and cold water dispensing, and a smart touch-screen display with preset buttons for various cup sizes, milk, tea and coffee, and more. We also enjoyed the general benefits of countertop filtration, including easy setup and installation, portability, and suitability for apartments and rentals.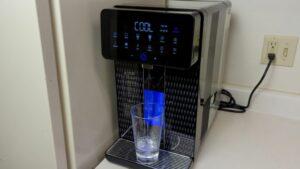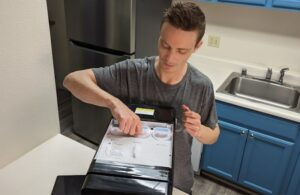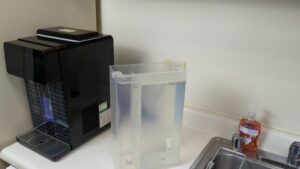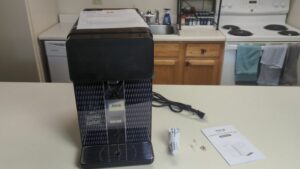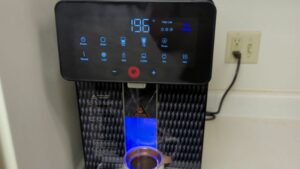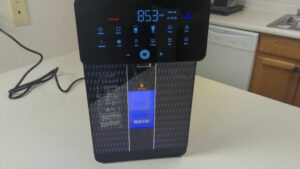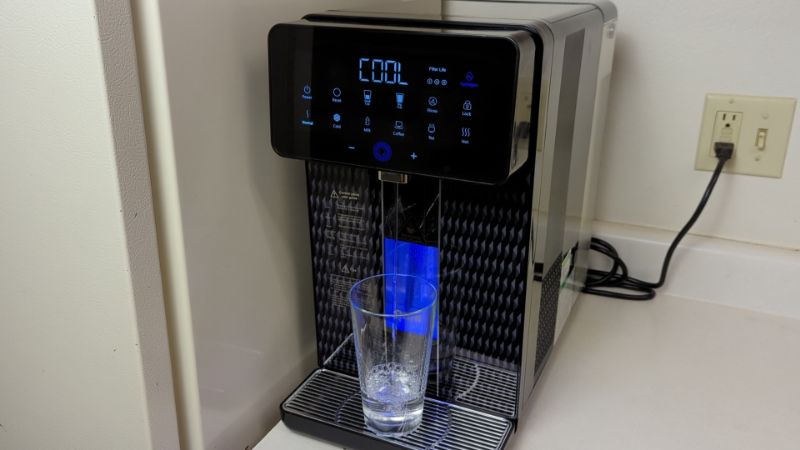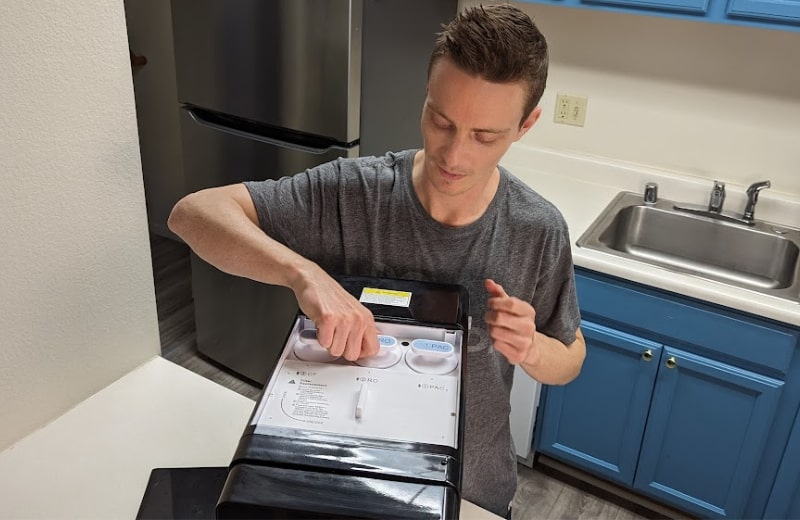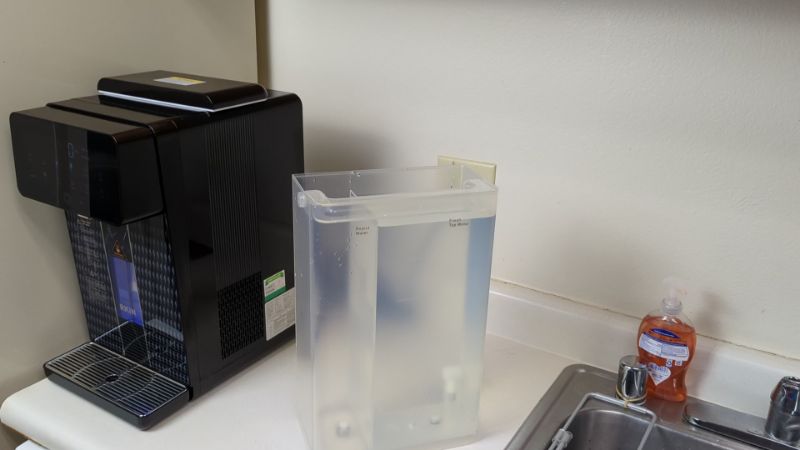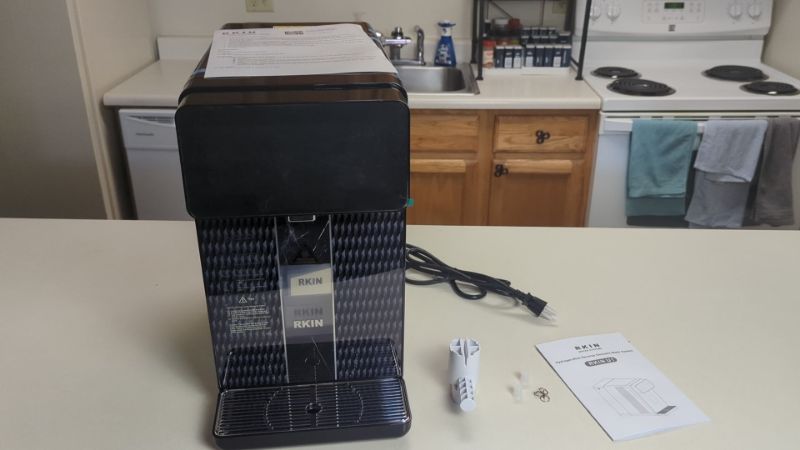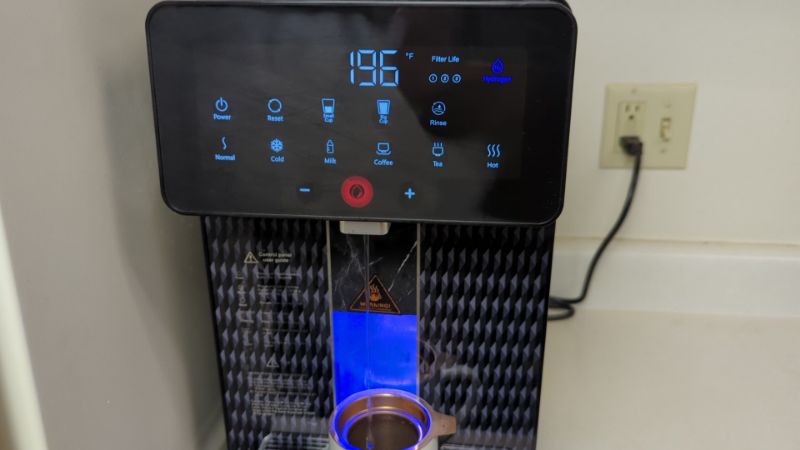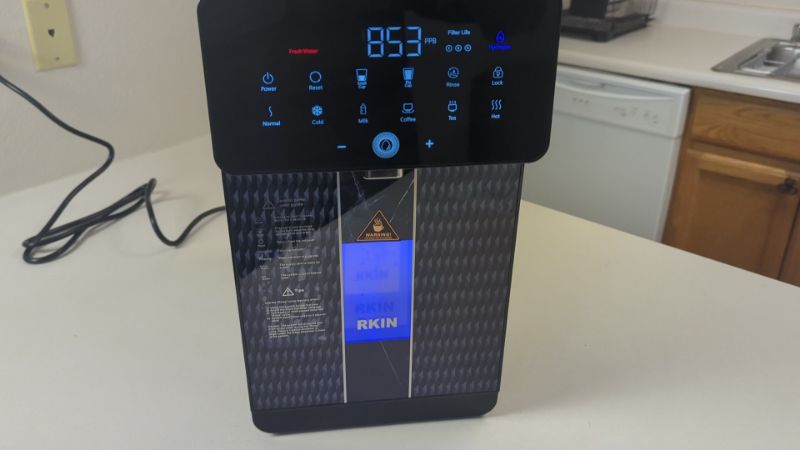 Specs
| | |
| --- | --- |
| Price | $749.95 |
| Contaminants Removed | 1000+ |
| Certifications/Testing | NSF 58 (in progress) |
| Process | Mechanical + Carbon + RO + Alkaline + Hydrogen infusion |
| Filter Life | 792 – 1,200 gallons |
| Holding Capacity | 0.5 gallon |
| Annual Cost | ~$100 |
| Warranty | 1 year |
The U1 is one of the newest water filter systems that we've had the opportunity to review, having been released in March of 2023. It quickly became apparent to us that this RKIN model is head-and-shoulders above similar RO systems offered by other manufacturers because of its advanced, forward-thinking technologies and features.
We installed the U1 on our kitchen countertop. It needs connecting to an electricity supply but has the advantage of requiring no connection to a water line, so it took us a matter of minutes to assemble the unit, fill it with water, and get going. The unit has a 1:1 efficiency ratio, so one gallon of our water was wasted for every 1 gallon purified. This is better than most conventional RO systems, but not the best we've ever reviewed.
Unsurprisingly, given its superior performance and unique offerings, the U1 is pretty expensive. It's around $575, and that's not even accounting for filter replacement costs, which will set you back $100-$150 bucks a year on average. Is the U1 worth the money? In our eyes, 100% yes – but it depends on what you're looking for in a water filter.
| Upgrades | Price |
| --- | --- |
| 2-Year Filter Bundle | $290 |
| Turntable | $260 |
Best For
Folks looking for the most capable countertop water filter system with a host of features designed to provide the cleanest, healthiest, best-tasting drinking water as conveniently as possible.
What We Like
Thorough reverse osmosis water treatment
Adds healthy minerals and infuses water with hydrogen (a unique benefit)
IAPMO tested for contaminant removal
Zero installation – just plug it into your nearest power outlet
What We Don't Like
Expensive
Wastes water, so not as efficient as a non-RO water filter
Innovative Features
When we examined the RKIN U1, we found that its basic mechanics are pretty similar to other systems. It uses the typical three-stage RO process, with a sediment filter, an RO membrane, and a carbon filter. But that's where the similarities end, because this system boasts a host of unique offerings, too, including an alkaline post-filter (a filter stage that's becoming more popular but isn't a guarantee in all RO systems) and a hydrogen infusion filter (a feature that we've found on no other system within this price range, making the U1 truly one of a kind).
The optional hydrogen infusion feature gave our filtered water a negative ORP reading of 340, which, combined with the addition of minerals from the remineralization filter, improves its health properties.
Other features we love include the smart display that provides info and notifications on the system performance, the various presets, including the customizable on-demand water temperature at the touch of a button, and the filter life indicator, which turns yellow once the filter has been 80% used, and red when it needs to be replaced. We didn't realize how useful the hot water dispensing would be until we tested it on this unit – we now use it for tea and coffee at least twice a day, and boiling water separately is a totally unnecessary task.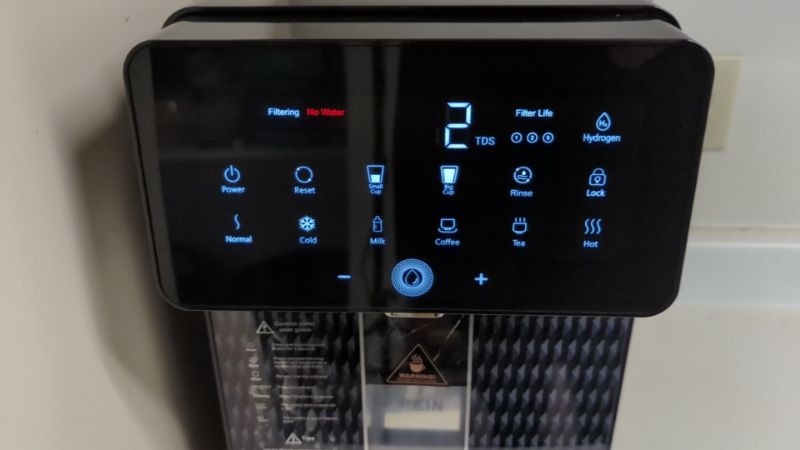 Superior Water Filtration
Given that the U1 is a reverse osmosis system, our standards for water filtration were high – and we weren't disappointed. Our own testing, which we conducted on city water in Steamboat Springs, CO, confirmed that the RKIN system could remove most contaminants from our water. We noted that the system was particularly effective in reducing lead, chloride, copper, fluoride, molybdenum, uranium, zinc, and phosphorus – these were reduced by 100%.The system also reduced magnesium, nitrate, calcium, TDS, and more. One unexpected result that we want to note is that our filtered water actually had more strontium (increased by 2140.74%) compared to the unfiltered water. We plan to continue to test the U1 to determine its long-term performance, especially since it's a relatively new system and nobody so far has had the chance to test the unit in the long run.
See our RKIN U1 laboratory testing data in the table below.
| Contaminant | Pre-Filtration | Post-Filtration | % Reduction |
| --- | --- | --- | --- |
| Barium | 0.014 PPM | 0.0087 PPM | 37.86% |
| Calcium | 23.9 PPM | 3.6 PPM | 84.94% |
| Chloride | 9.2 PPM | 0 PPM | 100% |
| Copper | 0.0525 PPM | 0 PPM | 100% |
| Fluoride | 1.5 PPM | 0 PPM | 100% |
| Lead | 0.0009 PPM | 0 PPM | 100% |
| Magnesium | 6.08 PPM | 0.39 PPM | 93.59% |
| Molybdenum | 0.0047 PPM | 0 PPM | 100% |
| Nitrate (as N) | 2.1 PPM | 0.2 PPM | 90.48% |
| Phosphorus | 1.1 PPM | 0 PPM | 100% |
| Sodium | 9.91 PPM | 1.2 PPM | 87.89% |
| Strontium | 0.108 PPM | 2.42 PPM | +2140.74% |
| Sulfate | 7.6 PPM | 1.6 PPM | 78.95% |
| Total Dissolved Solids | 112 PPM | 23 PPM | 79.46% |
| Uranium | 0.0182 PPM | 0 PPM | 100% |
| Zinc | 0.559 PPM | 0 PPM | 100% |
In terms of taste and general water quality, we noticed a significant improvement in our drinking water after installing the system. Our water is chlorinated, but the U1 soon sorted this out. Filtered water from the unit tasted crisper, cleaner, and fresher than our normal tap water.
While the U1 isn't officially performance certified just yet, we were told by RKIN that they're currently in the process of obtaining an NSF certification. The U1 has already passed third-party IAPMO testing for the reduction of TDS, lead, fluoride, chromium 3 and chromium 6, PFOA, and PFOS.
Read the full review: RKIN U1 review
---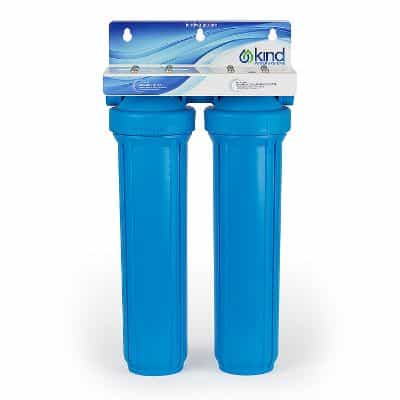 Kind E-1000 Whole House Water Filter
Our top-choice cartridge-based POE system on this list is the Kind E-1000. This system is more durable, better-built, and offers better value than any other POE cartridge filtration system available today, boasting an impressive 15 GPM flow rate and 80,000-gallon filter cartridge lifespan.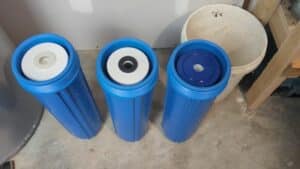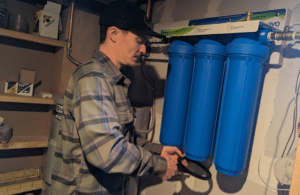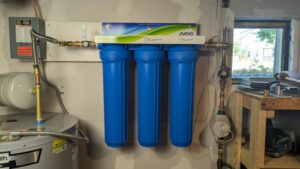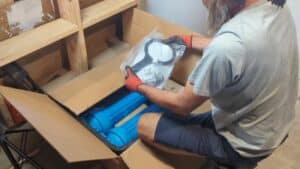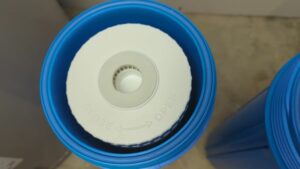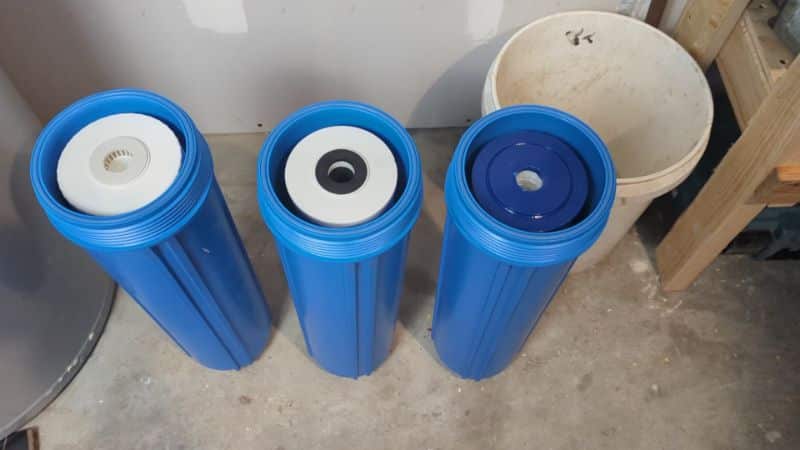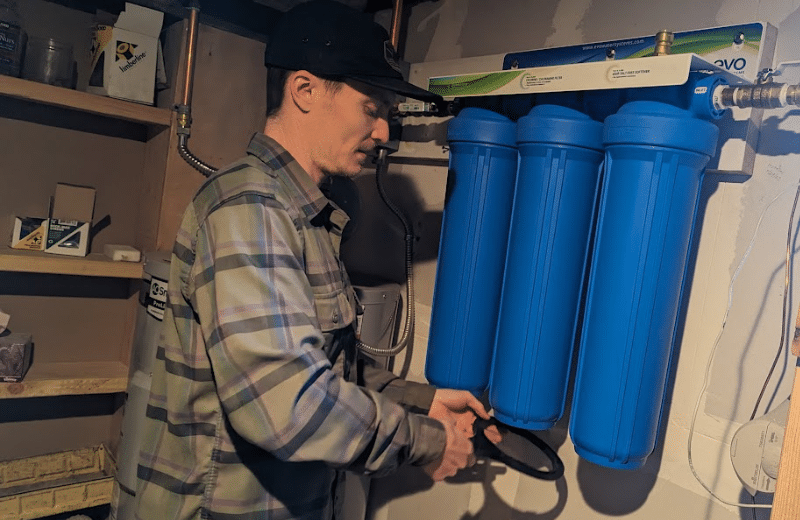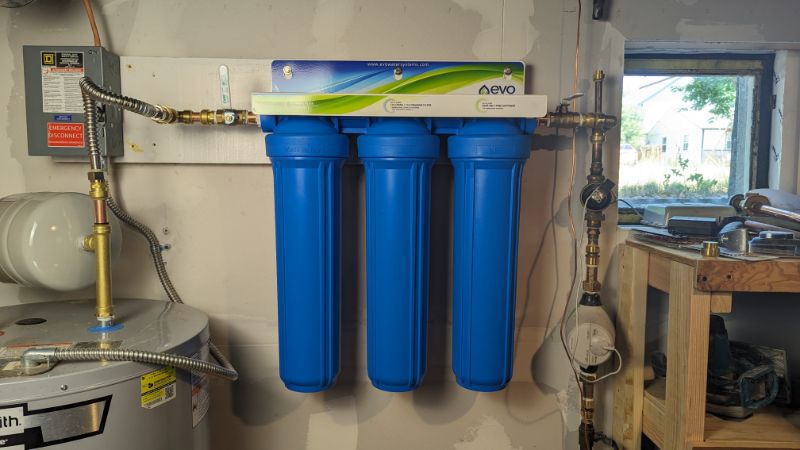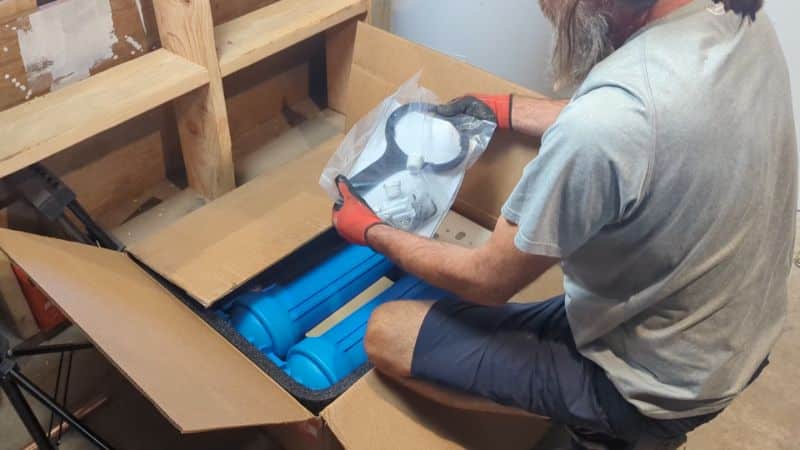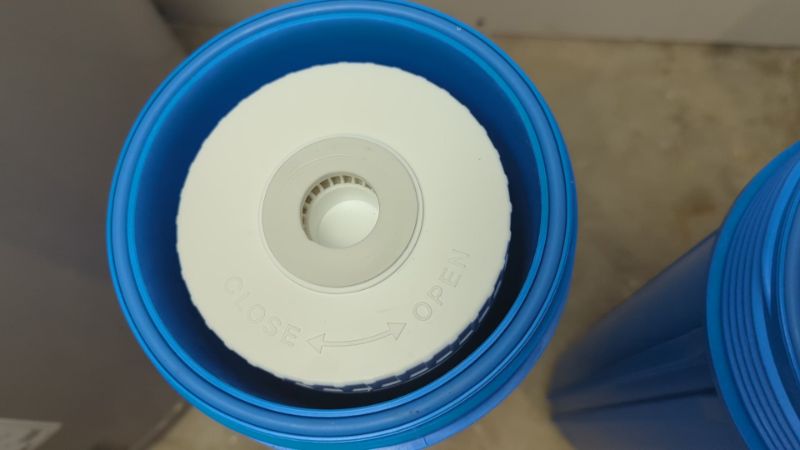 Specs
| | |
| --- | --- |
| Price | $776.12 |
| Contaminants Removed | 10+ |
| Certifications/Testing | NSF 53 |
| Process | Mechanical + Carbon |
| Filter Life | 80,000 gallons |
| Annual Cost | $120 – $300 |
| Warranty | Lifetime (limited) |
Thanks to its dedicated catalytic carbon filter cartridge, this Kind Water model is similar to the SpringWell CF in that it removes both chlorine AND chloramine – a rarity for a standard whole home water filter.
The E-1000 is great value for money, too, with an upfront cost of less than $1,000. When we got the system, it cost just $776 – reduced 15% from its upfront price of $913. Kind Water Systems regularly offers deals and discounts to take advantage of.
The big difference between this system and the SpringWell CF (our top recommended whole home system) is that the Kind E-1000 uses filter cartridges rather than media loaded in a tank. We identified a few benefits of this: the upfront cost was cheaper, the system took up less vertical space in our install location, and we liked the reassurance of being able to visibly check the filters for dirtiness and replace them when necessary. That said, our projected annual spend for this system (around $150) is higher than for the SpringWell CF due to the E-1000's higher maintenance requirements.
Best For
Folks who are specifically looking for whole-home water treatment and prefer the simplicity of a cartridge-based system with just 2 filters to replace per year.
What We Like
Filtered water throughout your whole home
Removes more contaminants than most similar systems we've tested
High 15 GPM flow rate
Pretty easy to install – requires just 2 connections
What We Don't Like
Not currently certified for performance
Requires more maintenance in the form of filter cartridge replacements
Whole Home Cartridge Filtration
Like the SpringWell CF, the Kind E-1000 is installed at your home's point of entry, meaning that water is treated before entering your plumbing system.
We installed and tested the Kind E-3000, which contains the same two filter cartridges as the Kind E-1000 (which we're reviewing as the most suitable filter in this guide). The only difference between the E-1000 and the E-3000 is that the E-3000 combines the two filters with a salt-free softener cartridge, so it conditions water as well as filtering it. We used the system to treat water in Steamboat Springs, CO, and installed the system ourselves in less than an hour. There are just two connection points (the inlet and the outlet) so we felt that the potential for making mistakes was greatly reduced compared to systems with multiple separate components to connect to our water supply. We think anyone who enjoys getting suck into DIY will be able to install this system, and the fact that it's wall-mounted means it's suitable for folks who have limited installation or floor space. While we identified that the SpringWell CF might need to be professionally installed, we concluded that the Kind E-1000 is easy enough for a DIY installation, which saved us the extra expense of hiring a plumber to do the job for us.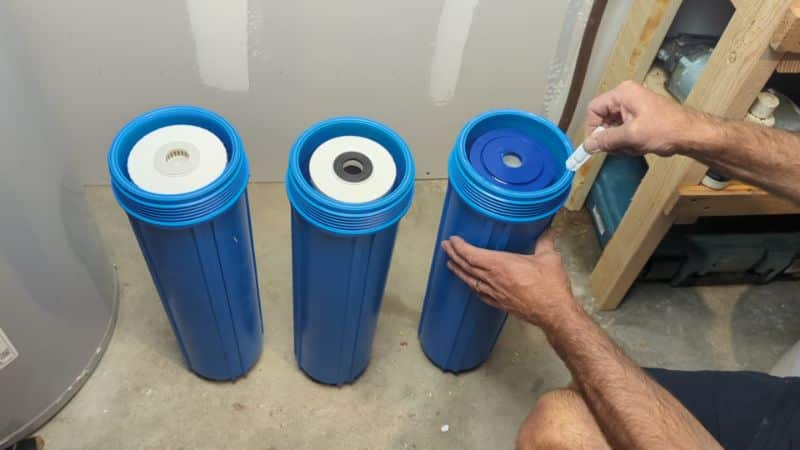 No Flow Interruptions
Cartridge-based whole house filter systems can sometimes have limitations when it comes to flow rate. We've tested systems that significantly reduce our whole home water pressure and flow because the filter cartridges simply can't filter water at the required rate, but the Kind E-1000 didn't have any problems with flow. In fact, it has a higher flow rate than many tank-based systems, allowing for up to 15 gallons per minute (GPM) of filtered water production for households with up to 6 people. Our flow rate measured at about 12 GPM after installing the system, which was plenty for our three-bed, two-bath property.
Removes Tens Of Contaminants
Performance-wise, the Kind E-1000 was on par with some of the best tank-based systems we'd tested. While we haven't yet been able to test our unfiltered vs filtered water for contaminants, we noticed a definite improvement in our water quality, clarity, and taste after installing this system. The fact that it was installed at our POE meant we could enjoy the same high-quality water from all our fixtures and in all our appliances, rather than just from a single drinking faucet.
In terms of the filter materials, we were pleased to see that one cartridge uses carbon block, rather than granular activated carbon, since carbon block has a larger surface area which increases the water contact time with the media, allowing for more thorough contaminant removal. The other filter is a sediment filter, which helps extend the carbon filter's lifespan.
While the Kind E-1000 hasn't been certified for its performance just yet, the manufacturer has listed the contaminants that the carbon filter should address in a datasheet. The E-1000 is said to be made from "certified components", but we couldn't find Kind or Evo Water (the company's former name) on the NSF/ANSI or WQA database.
Read the full review: Kind E-1000 System Review
---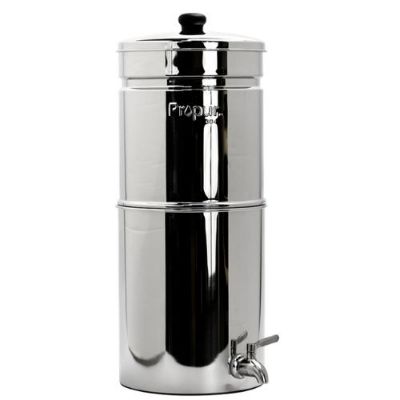 ProOne Big+ Gravity Water Filter
The ProOne Big+ Gravity Water Filter is one of the most popular and widely-used gravity-fed countertop filters, and is our top-recommended gravity countertop filter to buy today. This stainless steel unit holds 2.75 gallons of water and uses an activated carbon ceramic filter to remove more than 200 drinking water contaminants.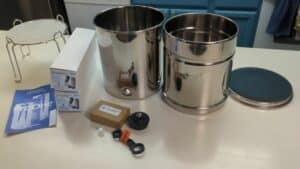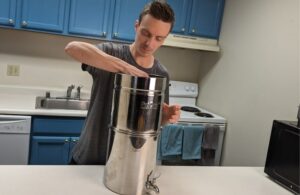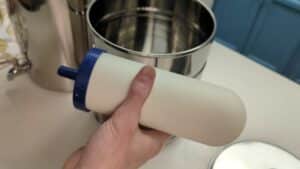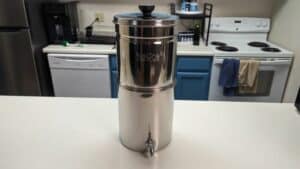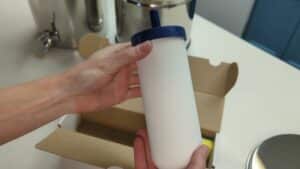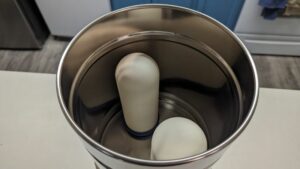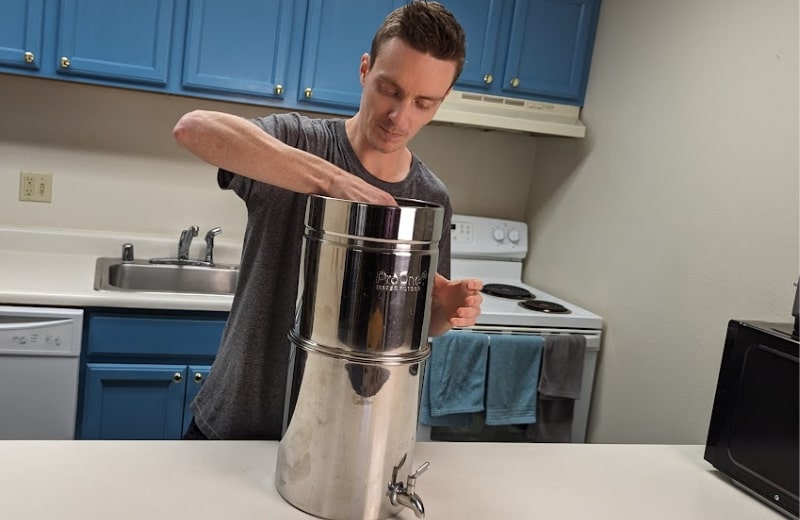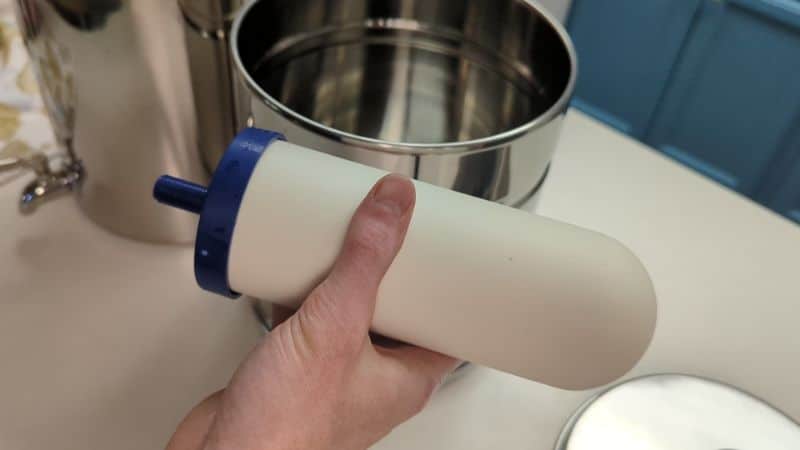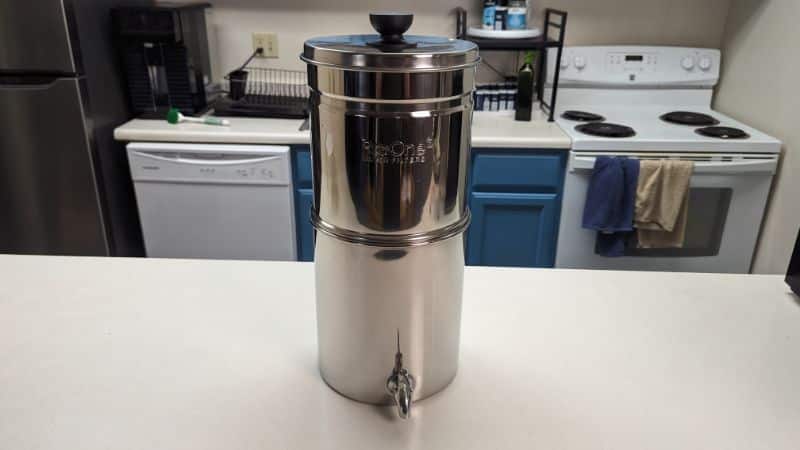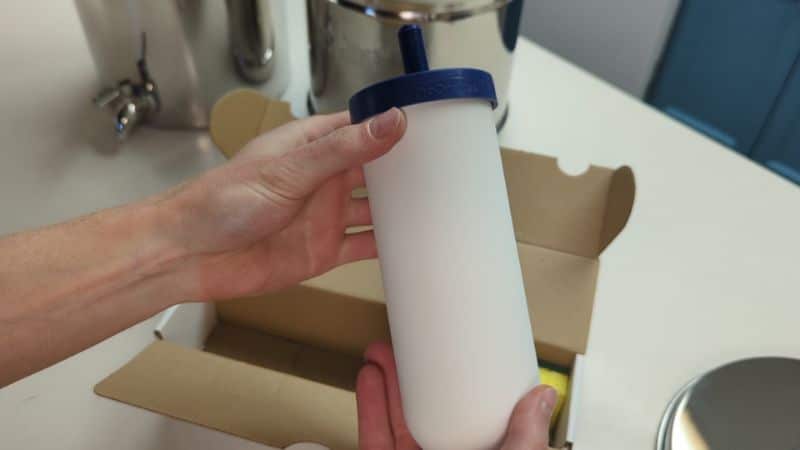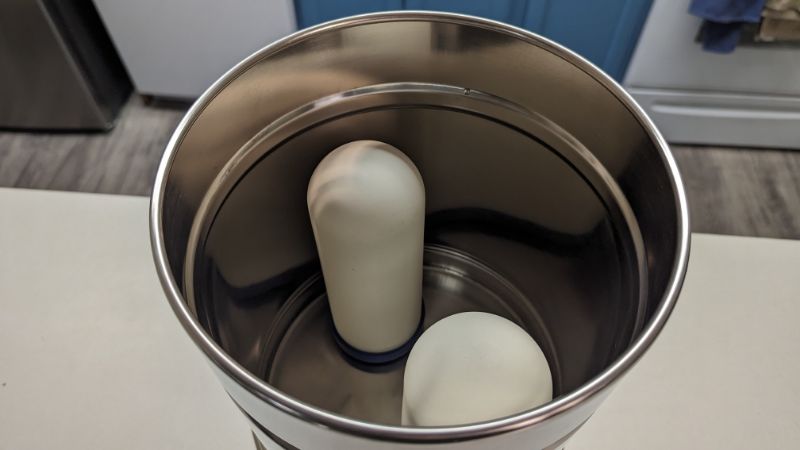 Spec
| | |
| --- | --- |
| Price | 229.95+ |
| Contaminants Removed | 200+ |
| Certifications/Testing | NSF 42, 53, P231 |
| Process | Ceramic + Carbon |
| Filter Life | 1,000 – 1,200 gallons |
| Holding Capacity | 2.25 gallons |
| Annual Cost | ~$100 |
| Warranty | 1 year |
As a gravity filtration system, The ProOne Big+ has a simpler design than some of the other systems we tested. Out of the box, there's just the main stainless steel filter unit, the filters, and a few other necessary components, including the stainless steel spigot. We assembled it on our countertop and moved it to the most convenient spot, since we didn't have to worry about power or waterline connections.
We got the Big+ with two filters in the polished finish, which was priced at $290. That's a great deal when you consider how long the filters last (generally between 9 and 18 months depending on your water usage and how many filters you use), and the fact that the annual cost is less than $100 for filter changes. You can buy the unit with three filters for an extra $90 or spend $50 less on the system with just 1 filter. The number of filters you choose is up to you and doesn't affect contaminant removal – we chose the 2-filter option because the more filters you use, the faster the rate of filtered water production. So, if you have a big family, we say go for the 3-filter unit.
| ProOne Big+ Options | Price (Polished) | Price (Brushed) |
| --- | --- | --- |
| 1 G2.07 Filter Element | $229.95 | $239.95 |
| 2 G2.07 Filter Element | $289.95 | $299.95 |
| 3 G2.09 Filter Element | $369.95 | $379.95 |
Best For
Folks who want a portable, easy-assemble system that can be used for everyday water filtration and doubles down as an emergency preparedness solution to treat non-potable water.
What We Like
Highly capable contaminant removal
Emergency preparedness solution
Portable and doesn't require electricity
Removes fluoride and arsenic without the need for a separate filter
What We Don't Like
Not super effective at removing disinfection byproducts
Doesn't give fast access to filtered water
Gradual Gravity Filtration
We mentioned that the ProOne Big+ is a gravity filtration system. That means it doesn't use a pump or water pressure from your plumbing to send water through the filters. Instead, water from the top chamber gradually passes down through the filters and into the bottom chamber due to gravitational pull. Contaminants are removed by the filter media, so the water that collects in the bottom chamber is cleaner and better-quality.
Water production in this system is obviously slower, but it's difficult to give an exact measurement because it depends on the number and size of the filters you use in the unit. For us, with two 7-inch G2.0 filters, our water flow was around 0.5 gallons per hour. That's not quick, but we got into a routine of filling the unit in the morning and at intervals throughout the day depending on our water usage, which meant filtered water was always ready for us when we needed it.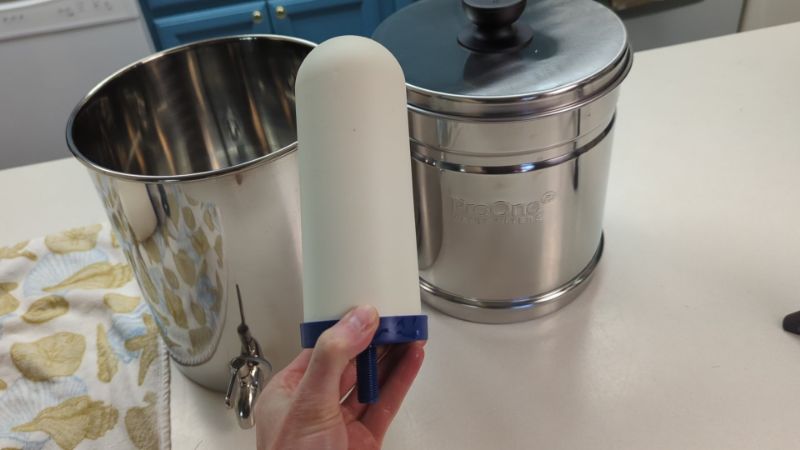 Treats Potable & Non-Potable Water Sources
The ProOne Big+ has been independently tested to NSF Standards 42, 53, P231, P401, and P473 (read the datasheet here) to reduce or remove contaminants like chlorine, fluoride, bacteria, heavy metals (including lead and arsenic), inorganic minerals, and pharmaceutical drugs. It's one of the few water filtration systems that can be used to treat both municipal and natural water sources, so we took the opportunity to test the system on both city and river water in our Steamboat Springs, CO testing location.
Our city water test findings were pretty interesting. The Big+ addressed lead, fluoride, aluminum, copper, and manganese really well, removing 100% of these impurities. It also reduced THMs and chloroform (two types of disinfection byproducts) by around 50%. The concentration of some contaminants, including calcium, chloride, sodium, and magnesium, actually increased in our filtered water, and, after a conversation with our testing lab, we determined that this effect is likely temporary and not caused by an issue with the filters. These impurities are safe in trace amounts anyway.
Below is a table of our third party laboratory testing data for the ProOne Big+ with G2.0 Filters.
| Contaminant | Priming Water | Test 1 Pre-Filtration | Test 1 Post-Filtration | % Reduction | Test 2 Pre-Filtration | Test 2 Post-Filtration | % Reduction |
| --- | --- | --- | --- | --- | --- | --- | --- |
| Aluminum | ND | 0.052 PPM | 0 PPM | 100% | 0.03 PPM | 0 PPM | 100% |
| Barium | 0.0265 PPM | 0.0127 PPM | 0.0275 PPM | +116.54% | ND | ND | ND |
| Bromodichloromethane | 0.00289 PPM | 0 PPM | 0.00319 PPM | n/a | ND | ND | ND |
| Calcium | 35.1 PPM | 8.8 PPM | 19.3 PPM | +119.32% | ND | ND | ND |
| Chloride | 14.4 PPM | 6.9 PPM | 8.3 PPM | +20.29% | ND | ND | ND |
| Chloroform | 0.0141 PPM | 0.0352 PPM | 0.0155 PPM | 55.97% | ND | ND | ND |
| Cobalt | 0.0013 PPM | ND | ND | ND | ND | ND | ND |
| Copper | 0.0424 PPM | 0.0434 PPM | 0 PPM | 100% | ND | ND | ND |
| E. coli | ND | ND | ND | ND | 15 CFU/100ml | 0 CFU/100ml | 100% |
| Enterococcus | ND | ND | ND | ND | 4 CFU/100ml | 0 CFU/100ml | 100% |
| Fluoride | 0.1 PPM | 0.1 PPM | 0 PPM | 100% | ND | ND | ND |
| Iron | ND | ND | ND | ND | 0.1 PPM | 0.02 PPM | 80% |
| Lead | 0.0009 PPM | 0.0006 PPM | 0 PPM | 100% | ND | ND | ND |
| Magnesium | 10.6 PPM | 2.19 PPM | 7.91 PPM | +261.19% | ND | ND | ND |
| Manganese | ND | 0.001 PPM | 0 PPM | 100% | 0.02 PPM | 0 PPM | 100% |
| Phosphorus | ND | ND | ND | ND | 0.01 PPM | 0.21 PPM | +2000% |
| Potassium | 1.91 PPM | 0 PPM | 1.27 PPM | n/a | ND | ND | ND |
| Sodium | 12.5 PPM | 10.4 PPM | 14.2 PPM | +36.54% | ND | ND | ND |
| Strontium | 0.193 PPM | 0.062 PPM | 0.098 PPM | +58.06% | ND | ND | ND |
| Sulfate | 24.1 PPM | 10 PPM | 16.9 PPM | +69.% | 42.29 PPM | 27.4 PPM | 35.21% |
| Total Coliform | ND | ND | ND | ND | 75 CFU/100ml | 0 CFU/100ml | 100% |
| Total THMs | 0.01699 PPM | 0.0352 PPM | 0.01869 PPM | 46.90% | ND | ND | ND |
In our untreated river water test, the ProOne came through with the microbiological contaminant removal. It eliminated all bacteria, including E. coli and Total Coliform.
A final word on certifications: the Big+ has an official NSF certification for its component quality. Honestly, we thought that the way ProOne put across this information was a bit misleading – they say the filters are "NSF 42 component certified", which many folks would assume is for performance, but currently, the filters are ONLY certified for material quality.
Read the Full Review: ProOne Big Plus Review
---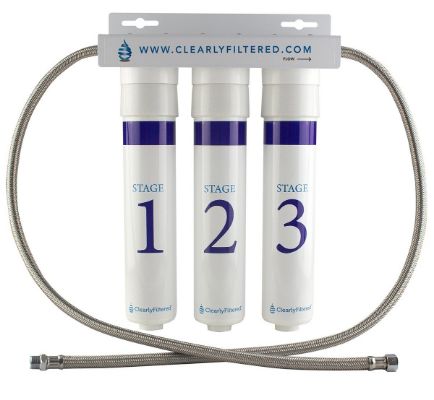 Clearly Filtered 3-Stage Under the Sink System
The Clearly-Filtered 3-Stage Under-The Sink System is our favorite under-sink water filtration system for one simple reason: it removes more contaminants than any similar system (more than 232, to be exact).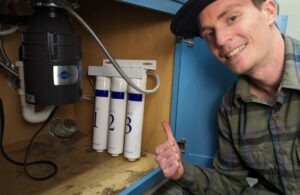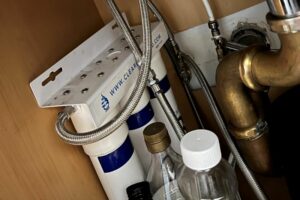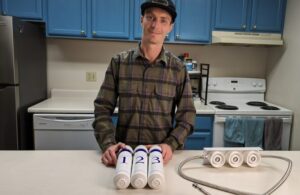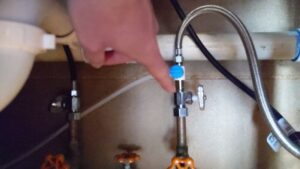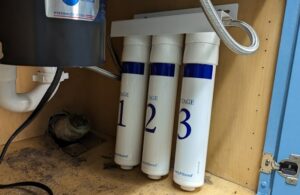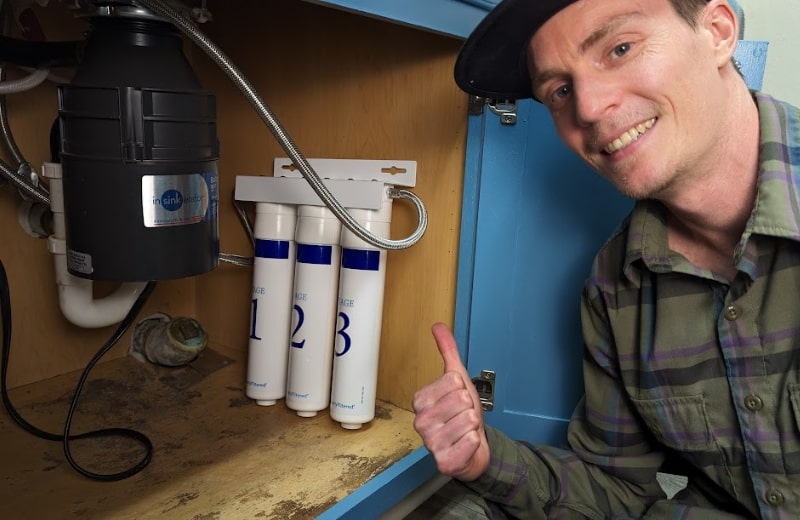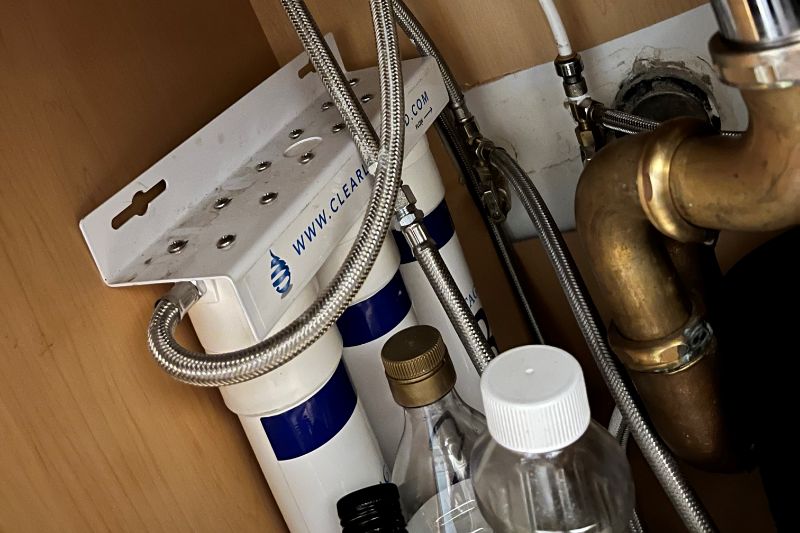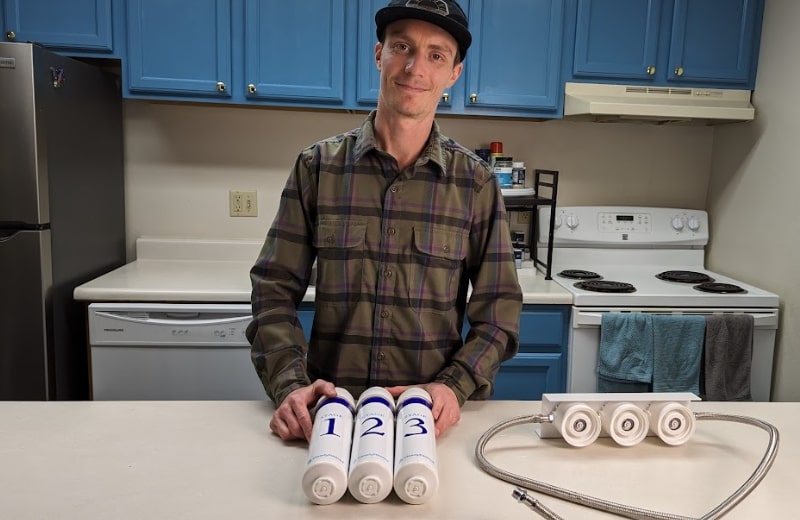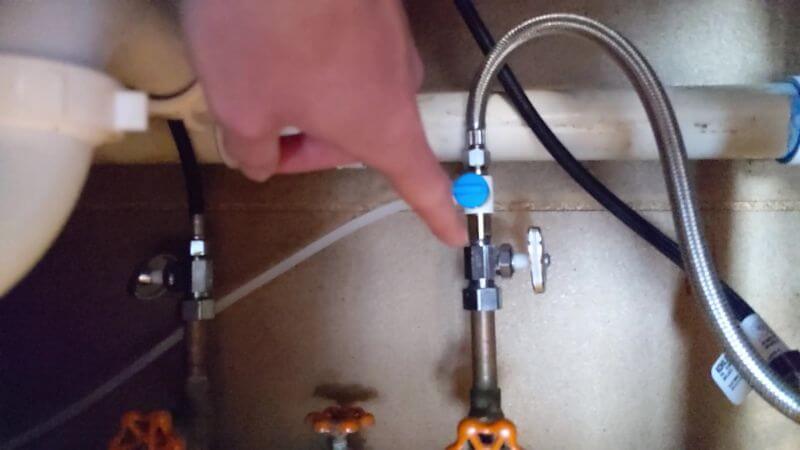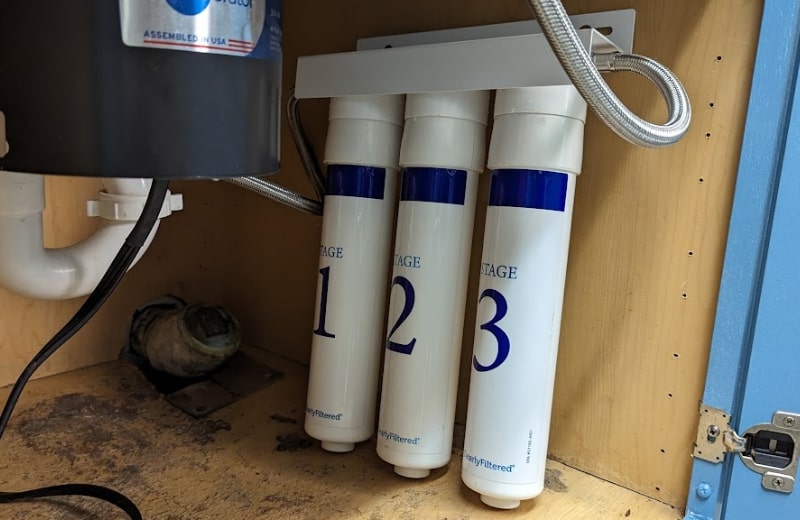 Specs
| | |
| --- | --- |
| Price | $550.00 |
| Contaminants Reduced | 232+ |
| Certifications/Testing | NSF 42, 53 & 401 |
| Process | Mechanical + Carbon + Ion Exchange |
| Filter Life | 2,000 gal. |
| Annual Cost | ~$200 |
| Warranty | Lifetime |
We were already fans of the Clearly Filtered Pitcher, so the CF Under-Sink System was high on our priority list for testing. And the manufacturer's claims for this system – including that it can remove 232+ contaminants and reduces water flow by just 20% – only further enticed us to try it out. But did it live up to our expectations? We've shared our feedback on the system performance below.
First, a few basics about what we received, and at what cost. The Clearly Filtered Under-Sink System is a three-stage water filtration system designed primarily for use with municipal water. At the time of our review, the upfront cost for the system was $495, and this included the three filters: the priming carbon filter, the heavy metals and VOC filter, and the fluoride filter. We also factored in the cost of replacement filters, which have a 2,000-gallon lifespan (we estimated they'd last us around 12-15 months, but for larger families who use more water, they'll likely have a shorter lifespan of up to 9 months). You shouldn't spend more than $200 a year on filter replacements.
We connected the system directly to the cold water line under our kitchen sink using the included flexible connectors – we didn't need to install a dedicated faucet because it filters the water supplied for your existing faucet. We'd read that the system is intended for easy DIY installation, requiring just Teflon tape and a wrench, and having installed it ourselves, we think that's a fair claim to make. The process took us less than 30 minutes, and it should take you a similar time, depending on your DIY experience.
Best For
Anyone with the budget for a high-end, highly effective under-sink system that is quick and easy to install.
What We Like
Easy to install & doesn't require a dedicated faucet
Performance backed by independent 3rd party testing to NSF Standards
Removes more contaminants than most similar systems
Long filter lifespan
What We Don't Like
More expensive than similar models
Decreases water flow more than advertised
Thoroughly Removes 200+ Contaminants
As we mentioned, the contaminant removal claims for the Clearly Filtered Under-Sink System are impressive. The system is tested to reduce or remove more than 232 contaminants, including fluoride, lead, PFAS, pharmaceuticals, and pesticides. The independent lab results, obtained from testing by EPA-accredited laboratories can be reviewed online, and the system is performance certified by the WQA to NSF/ANSI Standard 42 to reduce chlorine taste and odor. It also has a WQA certification to NSF/ANSI Standard 372 for lead-free materials.
There were a couple of specifics that we wanted to determine when we tested the system: how it affected our water flow, and whether it noticeably improved our water quality and taste. Pre-filter, we could fill a large glass of water in about 4 seconds, and after installing the system, the filling time increased to around 8 seconds. That means our water flow was reduced by about 50% – worse than the manufacturer's 20% claim, but still not bad since our initial water flow was so fast anyway. We then taste-tasted a glass of filtered water and compared it to the taste of our unfiltered water. The filtered water tasted really pure, with no hint of chlorine, and had a smooth mouthfeel.
We're planning to do a before-and-after water test for contaminants soon, and we'll update this review when we have.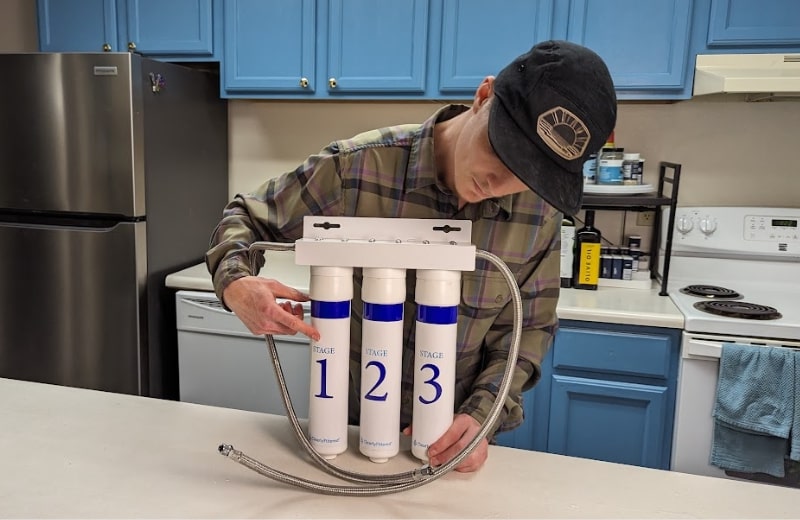 Read the Full Review: Clearly Filtered Under-Sink System Review
---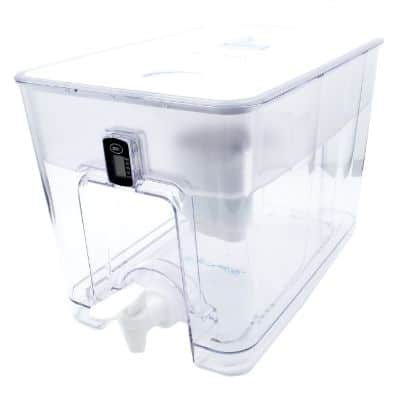 Epic Pure Water Filter Dispenser
We recommend the Epic Pure Water Filter Dispenser to anyone with a small budget who's looking for an affordable, effective countertop water filtration solution. It costs just $75 – impressive given that it removes more than 200 drinking water contaminants using sub-micron gravity filtration.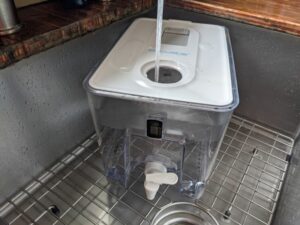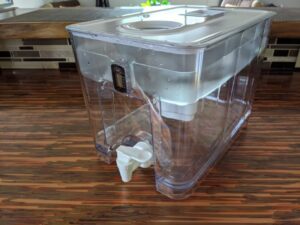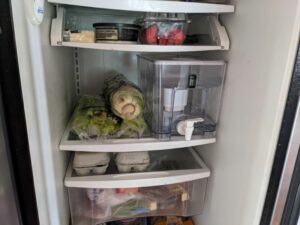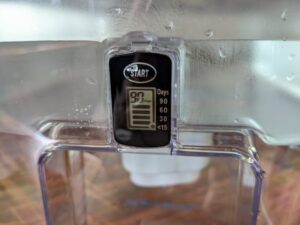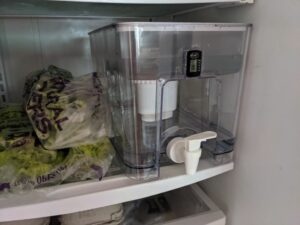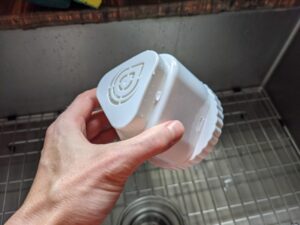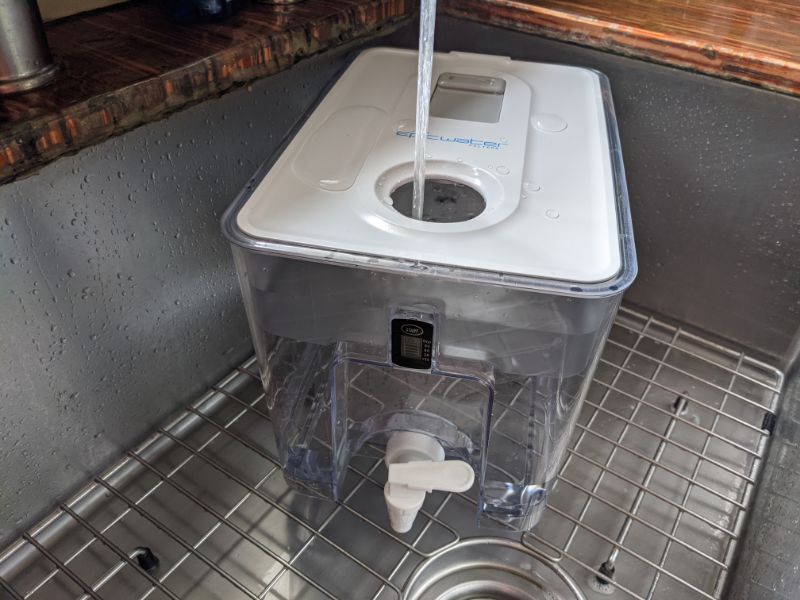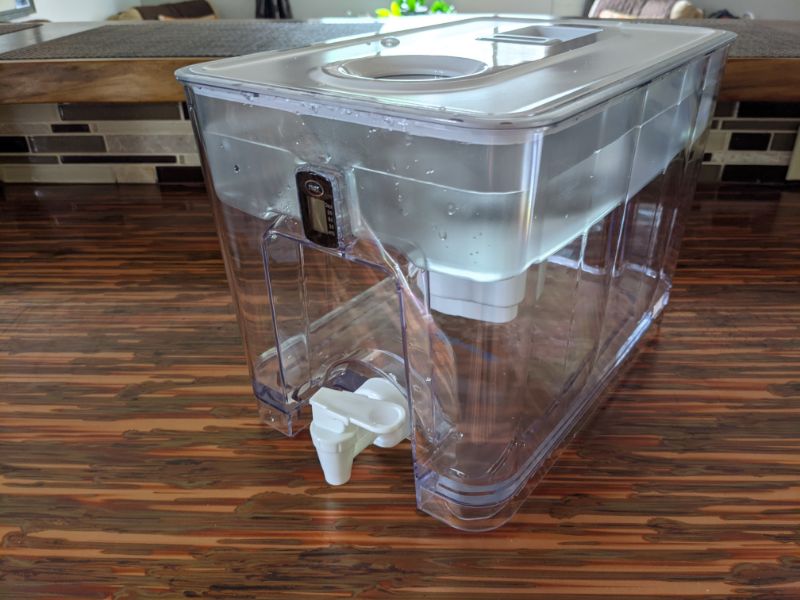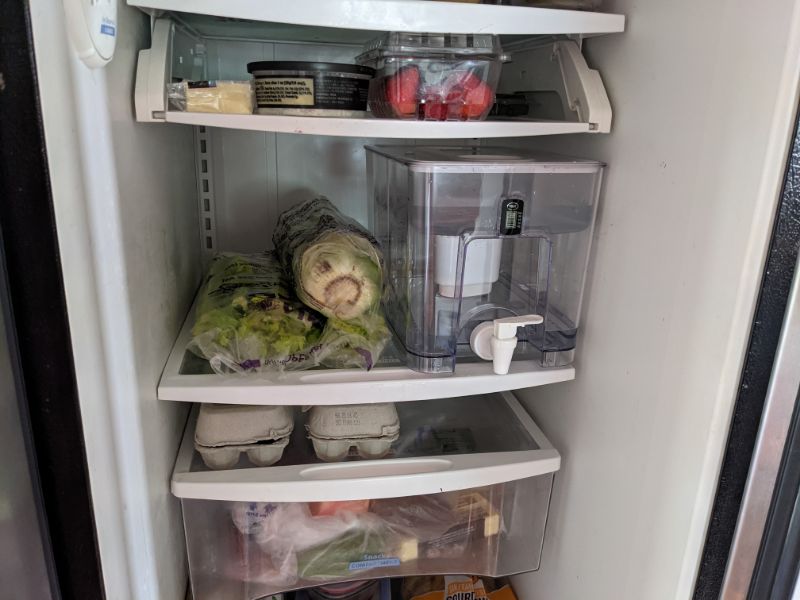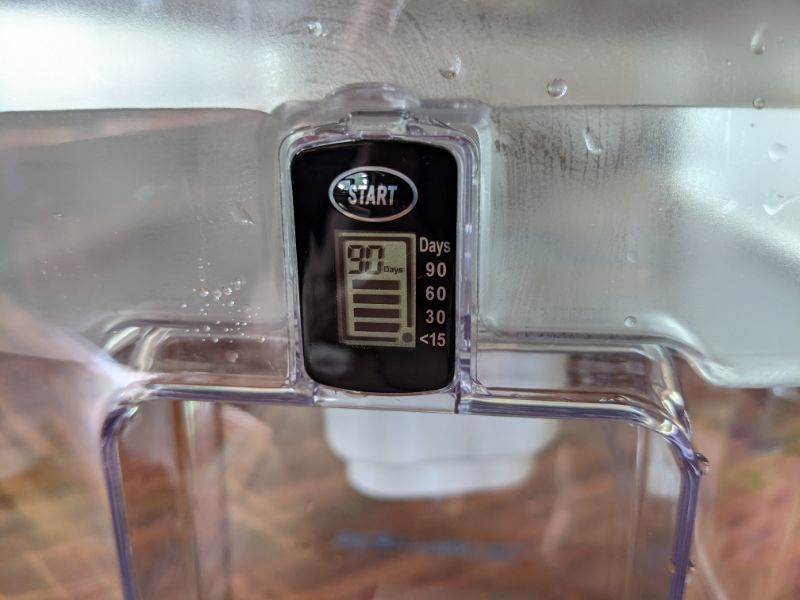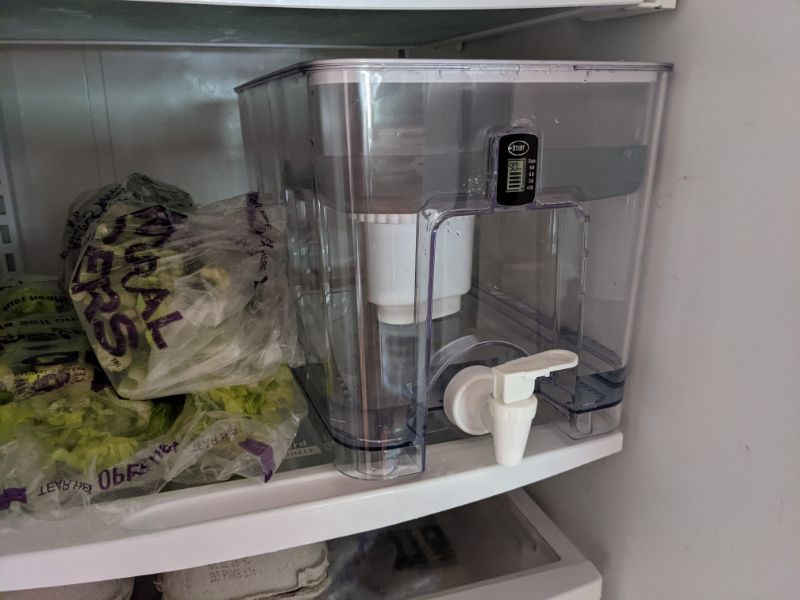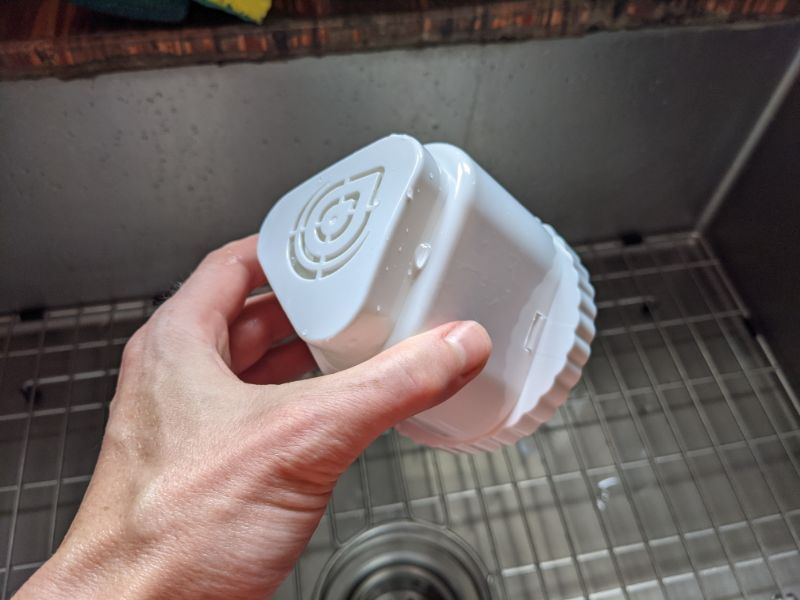 Specs
| | |
| --- | --- |
| Price | $75.00 |
| Contaminants Removed | 200+ |
| Certifications/Testing | NSF 40, 42, and 53 |
| Process | Mechanical + Electroadhesion + Ion Exchange |
| Filter Life | 150 gal. |
| Annual Cost | ~$140 |
| Warranty | Lifetime |
We used the Epic Pure Dispenser to filter city water in Steamboat Springs, CO. Of all the filters we've shortlisted in this guide, the Pure was the easiest to assemble and required the least setup out of the box. The fact that the dispenser is made from clear plastic meant it was easy for us to see into the unit to make sure everything was properly aligned.
We also found the dispenser easy to use, and we think it's a great choice for folks who have potentially never used a water filter before and don't want to be confused by multiple filter stages or complicated technology. We simply filled the reservoir with water from our tap and left it to filter into the bottom reservoir. There's just one filter to change, which lasted just short of 3 months for us (each filter has a lifespan of up to 150 gallons). We appreciated having a built-in LED timer on the unit, which counts down 90 days from the filter setup. We could simply glance at the timer to know roughly when our filter needed changing.
Best For
Anyone looking for a larger version of a filter pitcher that requires fewer water top-ups and can remove all the most common contaminants in municipal water.
What We Like
Holds up to 1.7 gallons of purified water, so doesn't need frequent topups
Affordable upfront & ongoing costs
Made from 100% BPA-free plastic
Low-hassle and requires virtually no installation
What We Don't Like
Slightly elevated spigot design means that some filtered water can't be accessed
Slow filtration
Low Price, High-Quality Performance
We've tested enough water filters in our time to know that in this industry, price and quality are often linked. However, after testing the Epic Pure Dispenser ourselves, we think that its affordable price is largely down to its simplistic, single-filter design, and doesn't have much to do with quality or performance.
One thing to note is that the dispenser is a gravity filter, like the ProOne Big+ and the Clearly Filtered, so the rate of water production is pretty slow. Unlike the Big+, you can't add more filters to the dispenser unit to speed up filtration. Epic doesn't mention how long you'll have to wait for water to filter, but for us, it took around 15 minutes for enough water to be filtered for us to fill a glass. We had to wait for the water to get high enough to reach the spigot, which is slightly raised above the bottom of the unit.
When we eventually got to taste-test our water, we were pleased to note that the chlorine taste was no longer present and that the water tasted cleaner and purer. That's exactly what we were anticipating, given that the filter can remove the likes of chlorine, PFAS, benzene, microplastics, and lead. As expected from a filter of this kind, our water's healthy minerals were retained, so we were still able to enjoy the taste and health benefits of calcium, magnesium, and so on. For us to know which contaminants we know the filter removed, we'll need to do a water quality comparison test – something we plan to do within this coming year.
Read the Full Review: Epic Pure Dispenser Review
---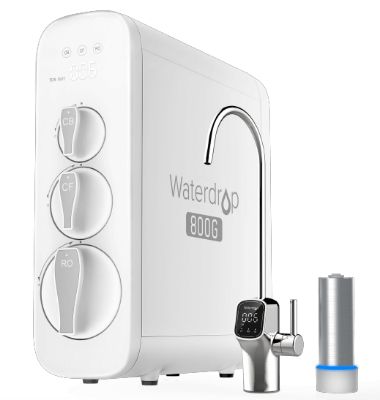 Waterdrop G3P800
The Waterdrop G3P800 is the best reverse osmosis system we've tested. It's an 800 GPD system that doesn't have the extra bulk and hassle of a tank. Instead, it produces purified RO water on demand whenever you turn on the faucet.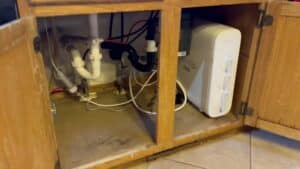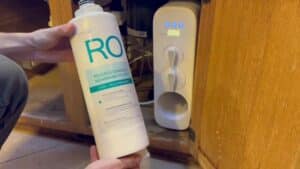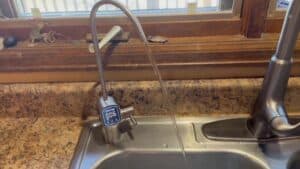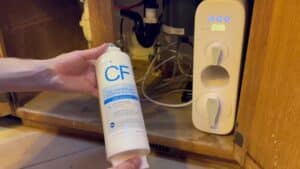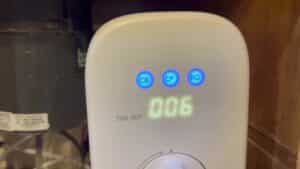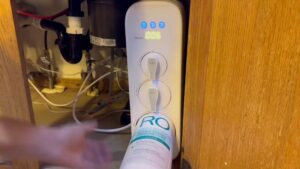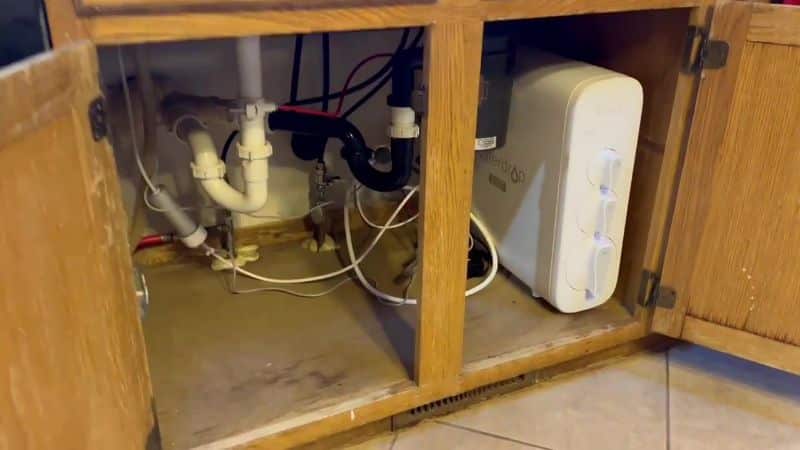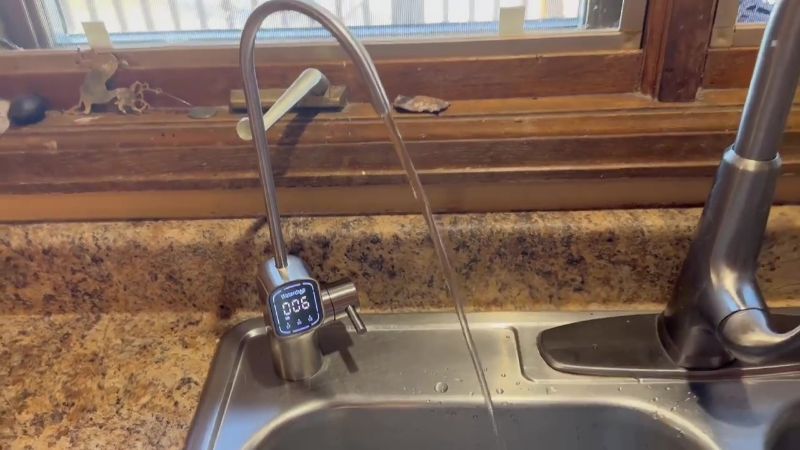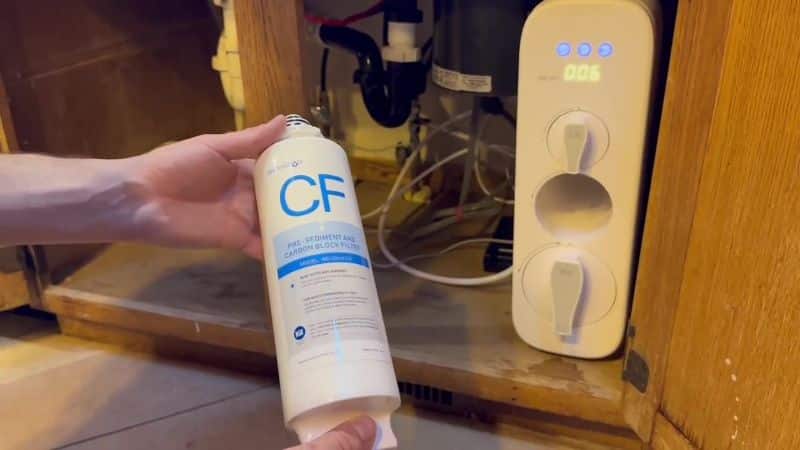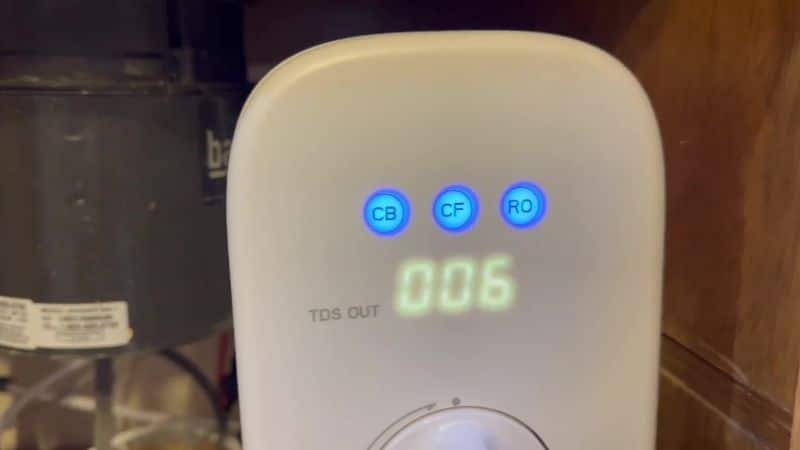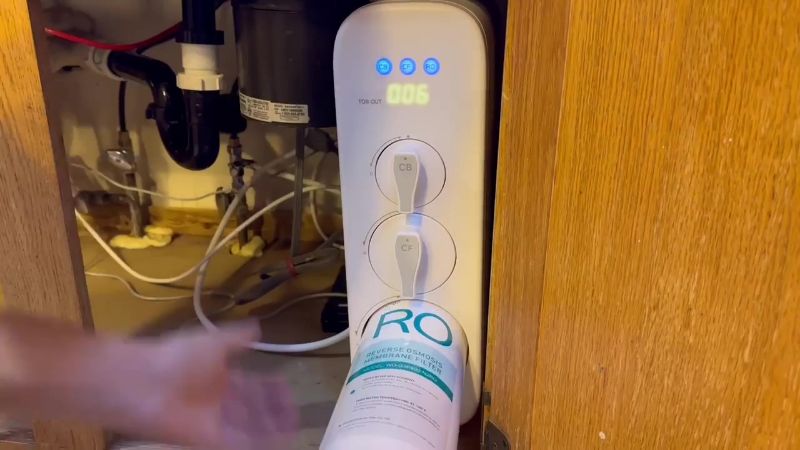 Specs
| | |
| --- | --- |
| Price | $999.00 |
| Contaminants Removed | 1000+ |
| Certifications/Testing | NSF 58, 372 |
| Process | RO + Carbon |
| Filter Life | 6, 12, 24 months |
| Annual Cost | ~$145 |
| Warranty | 1 year |
We installed and tested the Watedrop G3P800 in Parker, CO. As the unit is only designed to treat municipal water (not well water or any other natural water source), we used it exclusively to filter our city water supply.
Our first impressions of the system were positive. It packs three filters, including a carbon filter and an RO membrane, into a single unit, which is sleeker and smarter than conventional RO systems. The unit took up virtually no space under our kitchen sink, owing to the fact that, unlike many conventional units, it doesn't need a water storage tank. That's thanks to the 800-gallon-per-day water production rate, which is faster than any other point-of-use tankless reverse osmosis system we've ever tested.
As far as RO systems go, the G3P800 is not cheap. It costs just under $1,000 upfront, and filter replacements (including 2 pre-filters, 1 post carbon block filter, and the RO membrane) cost about $155 a year. We were disappointed that the post-remineralization filter was an add-on at an extra cost. We would advise spending $30 on this filter because the RO process removes healthy minerals from water and we much prefer the taste of water with minerals. Do we think the upfront cost of the G3P800 is fair? Yes, because of its performance, super high flow rate, and its additional features, which we think makes it superior to any other cheaper system available today.
| Upgrades | Price | Uses |
| --- | --- | --- |
| Remineralization Filter | $29.99 | Adding minerals back to water |
| Refrigerator Connector | $32.99 | Connect RO system to refrigerator water line |
Best For
Anyone with the budget for one of the smartest tankless RO systems available to buy today.
What We Like
Actually purifies water
Fastest flow rate we've seen for a POU tankless RO system
Outstanding 3:1 pure-to-drain ratio
Easy installation & filter changes
What We Don't Like
High upfront cost
The optional remineralization stage costs extra
Quality On-Demand Filtration
We personally prefer tankless under-sink RO systems like the G3P800 because they provide on-demand filtration, so there's no hassle of filling and emptying a tank (as with a countertop system), and we didn't have to clear out our under-sink area for a storage tank. With this system, we got instant access to RO purified water whenever we switched on our faucet.
The system ticked our performance boxes in several areas. For a start, it has a 3:1 efficiency ratio, which means that for every 3 gallons of water purified, only one gallon is wasted. This is actually a really good ratio considering many conventional RO systems will only produce 1 gallon of water for every 4 wasted. Water waste is an unavoidable outcome of RO purification, so if you're looking specifically for reverse osmosis, the G3P800 is about as good as it gets in terms of efficiency.
We tested a sample of our water before and after filtering it in the system, and we were pleased with the outcome: TDS was reduced by 82%, from 84 to down to 15 mg/L, and the system removed 100% of lead, arsenic, fluoride, chloride, and other dangerous contaminants. Plus, it reduced 90% barium, 82% sodium, and more. Our water's pH decreased from 7.3 to 6.3, which is pretty normal given that the filter removes minerals, which contribute to alkalinity. You shouldn't notice such a drop in pH if you buy the add-on alkaline filter.
See our Waterdrop G3P800 3rd party laboratory testing data below.
| Contaminant | Pre-Filtration | Post-Filtration | % Reduction |
| --- | --- | --- | --- |
| Total Dissolved Solids | 84 PPM | 15 PPM | 82.14% |
| Arsenic | 0.0029 PPM | 0 PPM | 100% |
| Barium | 0.0283 PPM | 0.0033 PPM | 88.34% |
| Calcium | 20.2 PPM | 2.6 PPM | 87.13% |
| Chloride | 2.2 PPM | 0 PPM | 100% |
| Copper | 0.203 PPM | 0 PPM | 100% |
| Fluoride | 0.3 PPM | 0 PPM | 100% |
| Lead | 0.0008 PPM | 0 PPM | 100% |
| Magnesium | 2.13 PPM | 0.27 PPM | 87.32% |
| Manganese | 0.0048 PPM | 0 PPM | 100% |
| Nitrate (as N) | 1.1 PPM | 0.1 PPM | 90.91% |
| Potassium | 2.12 PPM | 0 PPM | 100% |
| Selenium | 0.0015 PPM | 0 PPM | 100% |
| Sodium | 9.33 PPM | 1.65 PPM | 82.32% |
| Strontium | 0.199 PPM | 0.025 PPM | 87.44% |
| Sulfate | 7.8 PPM | 0 PPM | 100% |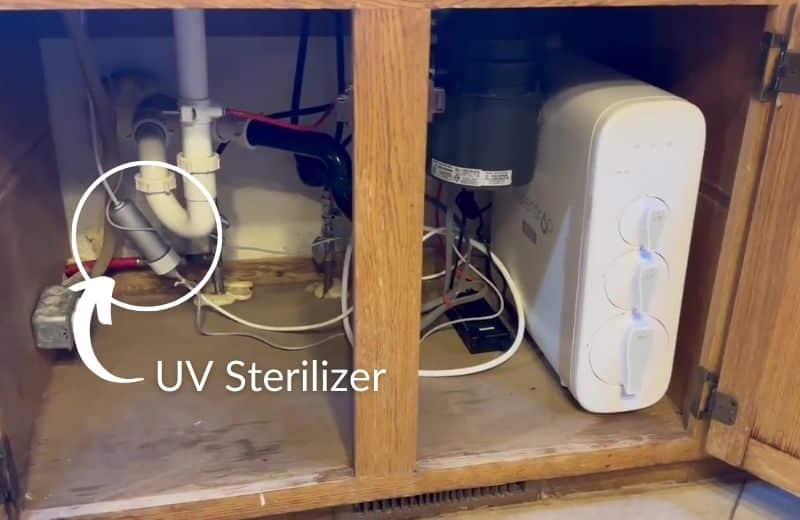 We noted a few features of the system that were particularly beneficial from our user perspective. The unit has a built-in tracker, so we didn't need to manually track filter life or set calendar reminders to change our filters. We also loved the two built-in TDS meters – one on the smart faucet and another on the body of the unit itself – which we could glance at to quickly confirm that the system was performing properly. The final-stage UV sterilizer, which has a massive 50-year lifespan, gave us the extra piece of mind that our water was microbiologically safe.
Read the Full Review: Waterdrop G3 P800 Review
---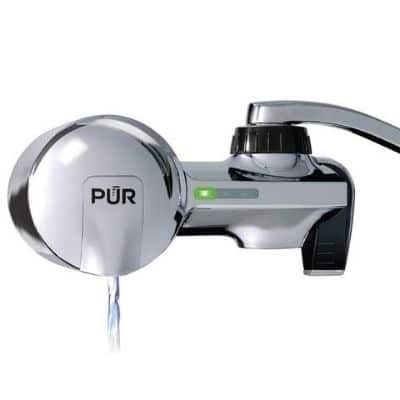 PUR Plus Faucet Filtration System
In our opinion, the PUR Plus Faucet Filtration System is the best faucet-mounted water filter available today. It removes more contaminants and is better built than any of the other faucet filters we've tried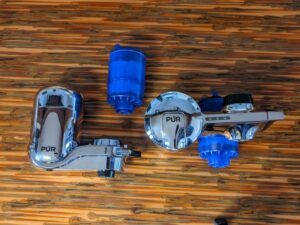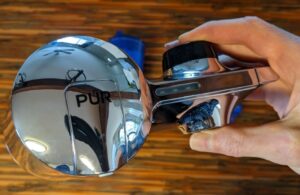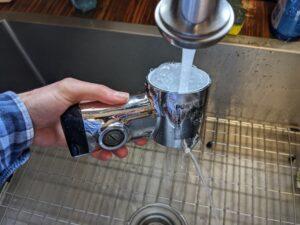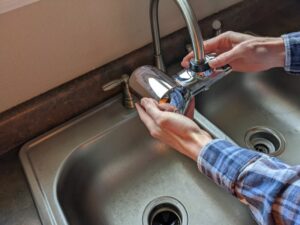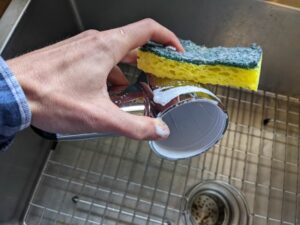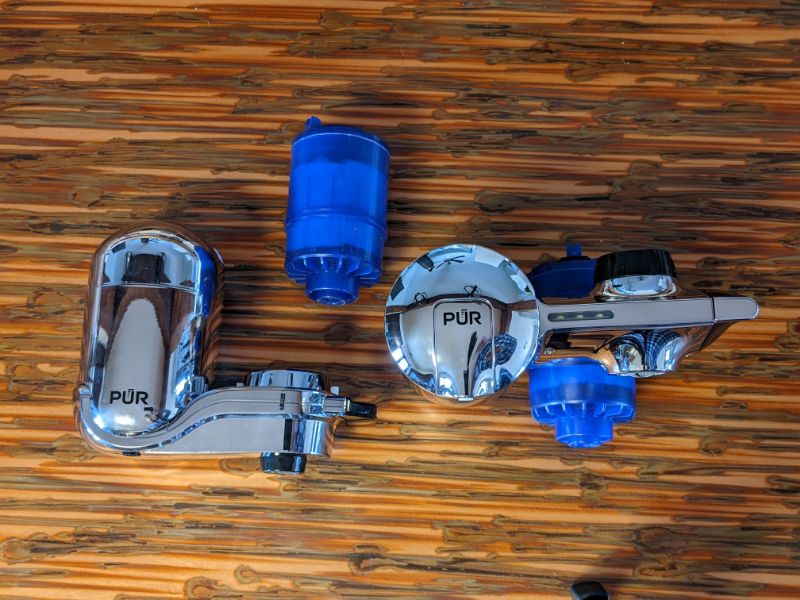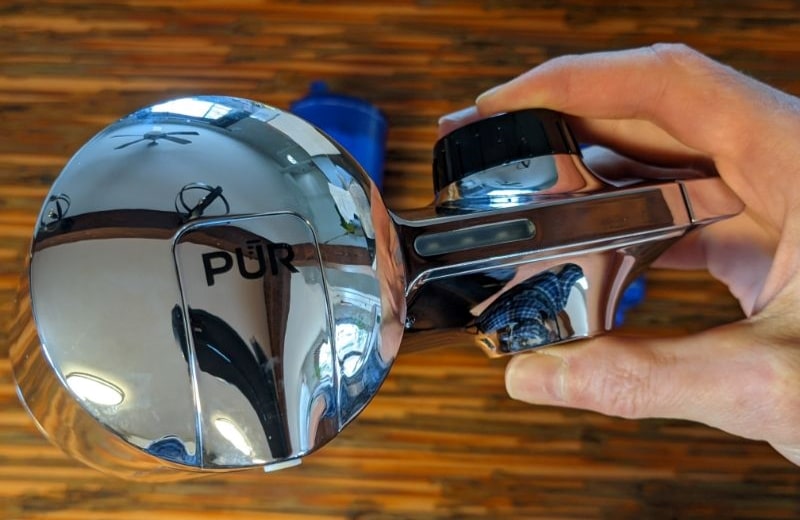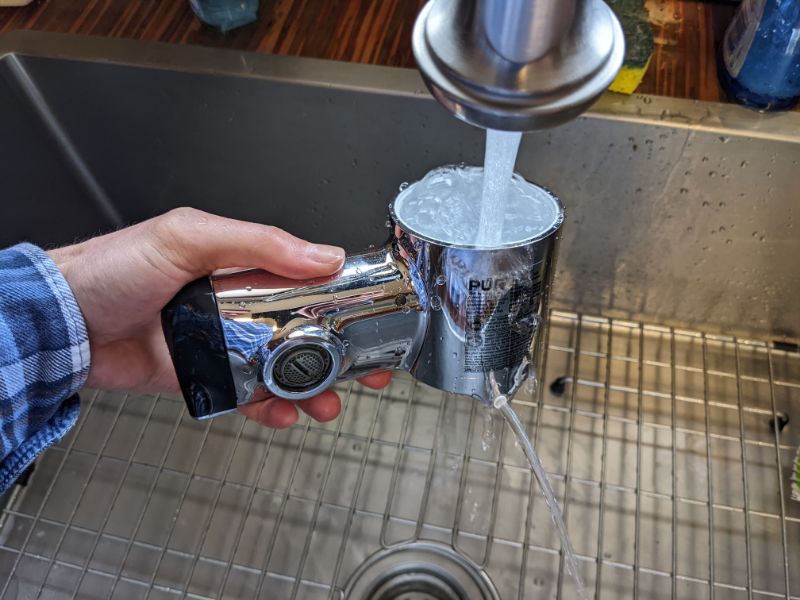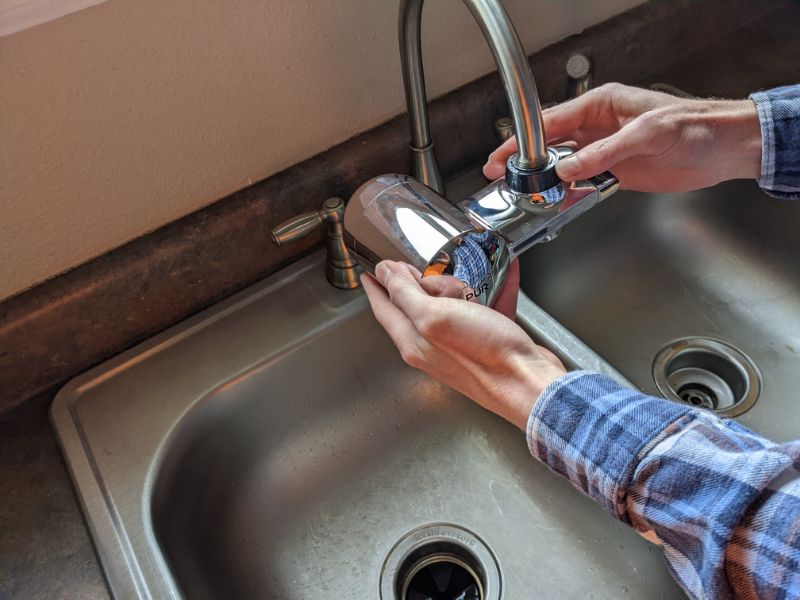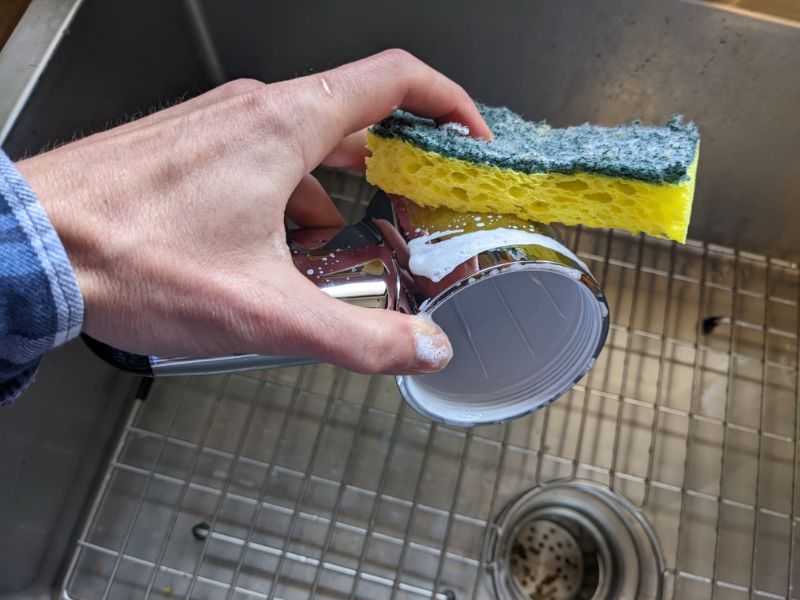 Specs
| | |
| --- | --- |
| Price | $48.95+ |
| Contaminants Removed | 70 |
| Certifications/Testing | NSF 42, 53, 401 |
| Process | Carbon + Ion Exchange |
| Filter Life | 100 gal. |
| Annual Cost | ~$100 |
| Warranty | 2 years |
If we're being honest, faucet filters have let us down in the past due to their poor design quality and performance. Most faucet water filters we've tested removed less than 10 contaminants from our water and had flimsy plastic designs that ended up cracking and leaking after just a few months of use. But the PUR Plus Faucet Filtration System didn't have any quality issues and felt significantly better-made than other systems. It's also WQA and NSF certified to reduce or remove more than 70 harmful impurities, making it the clear winner when it comes to contaminant removal.
We attached the PUR Plus filter to the end of our faucet. According to the user manual, the system should fit most standard faucets, and it has three adaptors in case it doesn't fit as it is. In our old rental, we had a sprayer faucet, which is a big NO for faucet filters. It was only when we moved that we were able to test this system with a conventional faucet. And then, the installation process was super simple: we just removed our faucet aerator and screwed the filter housing onto the underside of the faucet spout (where the water comes out of). The job took less than 5 minutes from start to finish.
As for price, it doesn't get better than this. Faucet filters are known for being cheap, and the PUR Plus system is no exception – the horizontal system set us back just $48.95, proving that you don't have to spend a fortune for a filter that's NSF certified to remove tens of contaminants. We estimate that our annual filter replacement cost will be less than $100 (the filters need to be replaced every 3 months or so depending on your water quality and usage).
Best For
Anyone looking for a no-fuss NSF certified faucet filter that produces on-demand clean drinking water at an affordable price.
What We Like
NSF and WQA certified performance
Removes more contaminants than most similar systems
Easy to attach to your faucet – no tools or DIY skills required
Good flow rate
What We Don't Like
Filter lifespan is quite short
Not compatible with most modern faucets
On-Demand Faucet Filtration
The thing we loved the most about the PUR Plus Faucet Filtration System is that it gave us all the benefits of an under-sink system without the hassle of an under-sink installation. While you can get easy-install under-sink filters (the Waterdrop G3P800 is an example), there's no denying that faucet filters like the PUR system are easier to install, and offer the same perk of filtered water on tap. The manual says you shouldn't use the system to filter hot water, which could damage the activated carbon filter media. This wasn't a problem, though, because the filter has an on-off lever that made it easy for us to divert the water flow straight out of the faucet when using hot water for washing our hands, dishes, and so on.
The obvious number-one performance benefit in our eyes is that the PUR filter is officially WQA and NSF certified to Standards 42, 53 & 401 to reduce 70 contaminants, including chlorine, disinfection byproducts, heavy metals like lead and mercury, herbicides, VOCs, pharmaceuticals, and more. That means we weren't buying the filter based on the manufacturer's claims or testing by an unknown third party – instead, we had the reassurance of proof from two official certifying bodies. Our filtered water tasted great and was clearly cleaner and purer than our normal tap water, proving yet again that spending thousands on a multi-stage system isn't always necessary if you just want to remove all the common contaminants in your tap water.
Read the Full Review: PUR Faucet Filter Review
---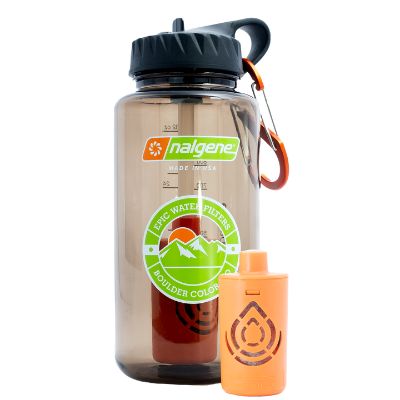 Epic Outdoor OG Woodsman
We've tested pretty much every popular filtered water bottle available today, and based on design quality and contaminant removal, the Epic Outdoor OG Woodsman is our top pick in this category. It removes more than 70 contaminants, including many of those found in natural water sources, making it a reliable go-to solution for anyone looking to filter water at home and away.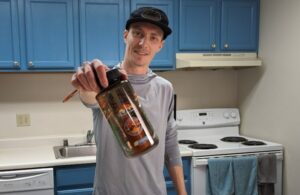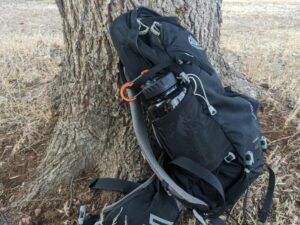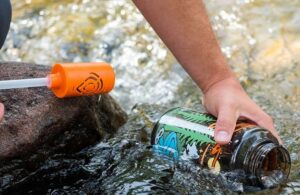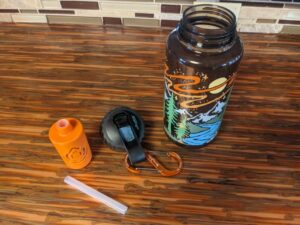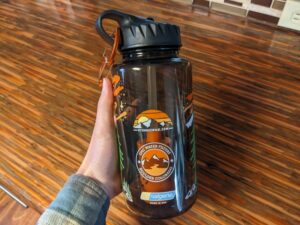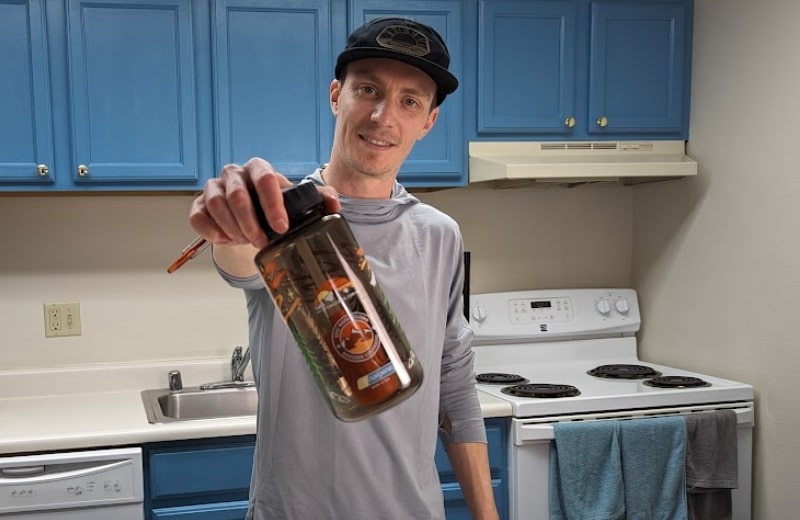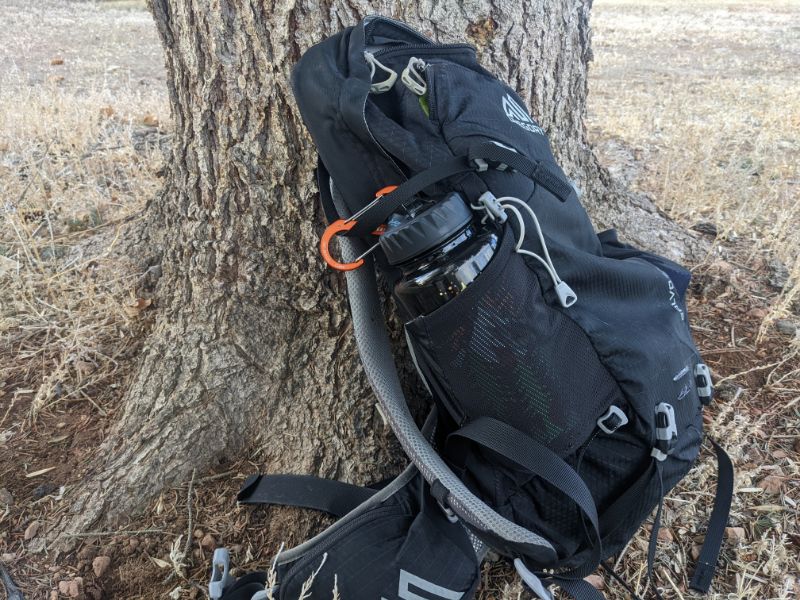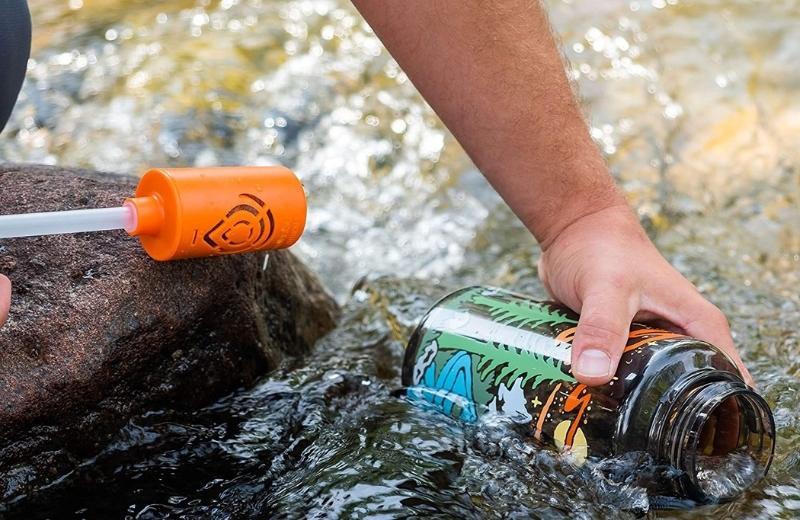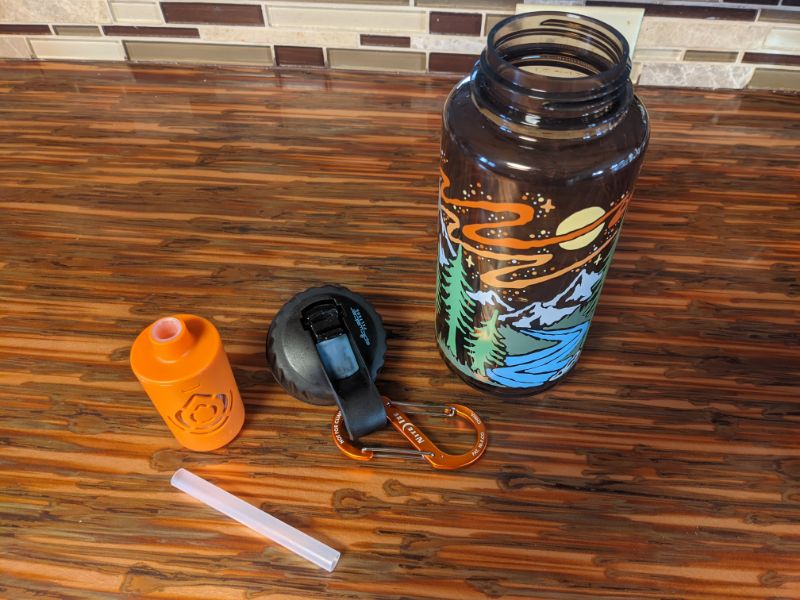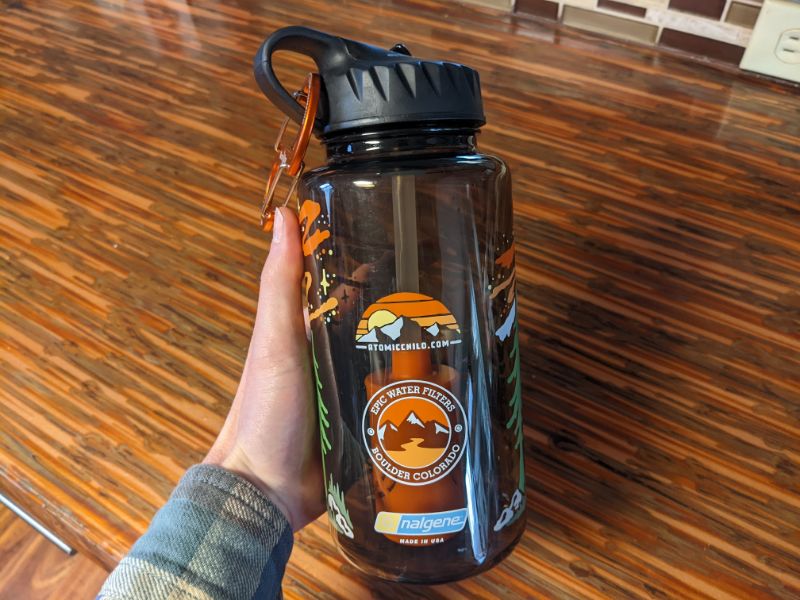 Specs
| | |
| --- | --- |
| rice | $54+ |
| Contaminants Removed | 70+ |
| Certifications/Testing | EPA standards |
| Process | Carbon |
| Filter Life | 300L |
| Annual Cost | ~$90 |
| Warranty | Lifetime |
The Epic OG Outdoor Woodsman is a bottle filter with a straw attached. There's just one size: 32 ounces, which holds just under 1 liter of water – almost double the capacity of a single-use water bottle. We wanted to put it to the test, and since it's intended for use on both disinfected and natural water supplies, we tried it out with both city and river water in Steamboat Springs, CO. More on what we thought of the filter's performance later.
When we got the filter, it was just over $54, which is certainly a price that we can't complain about. We had to replace the filter twice during our 6-month test of the bottle, which is pretty average given that the filters are designed to be replaced around 3-4 times per year, depending on your water quality. The dirtier the water source, the faster the filter will become clogged.
We know that folks looking for a portable water filter want something quick and easy to assemble and use, and the Epic OG fit this description for us. The Tritan plastic bottle felt lightweight yet sturdy, and it took us seconds to attach the filter and screw the straw lid onto the bottle – no instructions necessary (but those included are handy if you need them!). You have to suck on the straw pretty hard to send water through the filter and up into your mouth, and the amount of water from the straw is fairly limited. While this could be a bit annoying when we were super thirsty and wanted a big drink, it wasn't a deal breaker for us.
Best For
People who are out of the house a lot and want the best personal on-the-go water filtration solution, whether for work or travel.
What We Like
Removes 70+ contaminants
Easy to assemble and use
Suitable for everyday filtration and emergency preparedness
Fast assembly & dishwasher-safe for easy cleaning
What We Don't Like
The straw filter design means the filtered water can only be used for drinking
Quite bulky, not ideal for traveling light
Ideal Personal Portable Filtration Solution
As we mentioned, we wanted to use the Epic OG Woodsman to its full potential, so we used it to filter both city and natural water in our Colorado testing location. Epic's claims are certainly big for this filter – it can apparently eliminate up to 99.99% of contaminants, like heavy metals, chlorine, pharmaceuticals, agricultural pollutants, and more. Plus – and this is what really sells it to us – it can also remove contaminants found in outdoor water sources, like bacteria and viruses, so it's a versatile solution for hiking, camping, boil water notices, or general emergency preparedness.
This Epic bottle filter is definitely one of the easiest-to-use filters we've tested. To fill it, we simply unscrewed the lid and held it under running water. When testing natural water sources, we did the same. This was so much easier than faffing about with a bladder or pump filter, and required far fewer components – just the bottle and the included straw filter.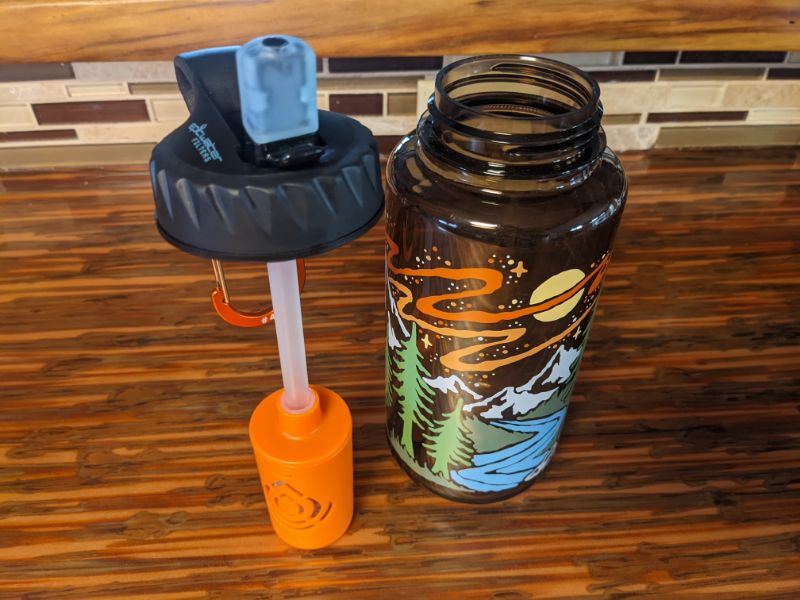 We were intrigued to know exactly how a fairly small filter could remove contaminants so impressively, and we did our research on the filter materials used. Epic actually uses dual-filter technology, which means it combines two filter media to do a more thorough job of water treatment, with an outer nano fiber layer that removes submicron particulates, and an inner carbon fiber layer that plays a more traditional role, removing the likes of chlorine, VOCs, and heavy metals. We haven't yet had the chance to do a water contaminants test for the filter, but our filtered water tasted great. Since we didn't get sick after drinking our natural water, we assume it worked as intended and removed any microorganisms from the river source.
Read the Full Review: Epic OG Outdoor Woodsman Filtered Water Bottle Review
---
🧾 Buyer's Guide – How to Select the Best Water Filter
The best water filtration system for you is unique to your own personal situation, preferences, and needs. It's important to consider all the factors that might influence your buying decision before you spend your money.
Below, we've shared all the considerations we made when choosing which filters we wanted to try. We recommend that you make the same considerations to ensure you invest in the right product for your home.
Personal filtration needs – Everyone has their own unique reasons for wanting to buy a water filtration system. Perhaps you want to cut down on the number of plastic water bottles you use, or your tap water doesn't taste good, or you're concerned about contaminants – or a combination of all three. As we were shopping for water filters, we thought about when, and how, we planned to use a water filtration system. There are different kinds of water filters that suit different filtration needs. We considered whether we'd benefit most from a filter we could take with us on the go, a filter that provides clean water for our whole home, or a filter that we could store out of sight when not in use.
Water quality & composition – Our tap water quality is unique to where we live. Although municipal tap water is generally safe to drink, there are still hundreds of possible contaminants that it might contain in "safe" trace amounts. If we had it our way, we'd want these contaminants out of our water before it reached our homes, and we know many folks feel the same. We asked ourselves a few questions about our water quality when shopping for the best filters, including, "Are there any high concentrations of any specific minerals in our water?" and "Are there particular substances we know we want to remove?"
Filter's contaminant removal abilities – Another of our important considerations was to determine the contaminant removal abilities of different filters and decide on the most suitable process for us. Different types of water filters remove different types of contaminants. We identified reverse osmosis systems as the best solution for purifying water, while other filter types removed most of the common impurities in tap water. We noted that different filters would likely appeal to different audiences.
System type – It's important to be aware of the different types of systems available to filter your water. We outlined our possible options, which included gravity-fed water filters (pitchers, dispensers, and countertop units), under-sink filtration systems (both RO and non-RO), whole-house filters, faucet filters, and portable filters (water bottle filters and other small backpacking filter systems).
Filtration method – Choosing the right system type is simple when you know the different filtration methods they use. We noted that the reverse osmosis filtration method is the best available for purifying water, but that other methods that effectively target specific contaminants also exist. Some of these methods include activated carbon adsorption (which traps contaminants inside the pore structure of the carbon filter media), ion exchange (which targets heavy metals and other charged ions), and KDF filtration (which converts harmful contaminants into harmless forms with chemical reactions).
Filter capacity/lifespan – Filter capacity measures the amount of water a filter can treat before it needs to be replaced. In our experience, the capacity of a system varies based on the system type, size, and design. For instance, we found that water filter pitchers, dispensers, and faucet filters generally have a smaller capacity and last 2-4 months on average, while larger countertop units typically have a filter capacity of 6-12 months. The whole-home systems we tested had a capacity of 1-7+ years, depending on whether they used filter cartridges or a tank loaded with media.
Flow rate/water pressure – A filter's flow rate determines how quickly it can process unfiltered water. We knew that flow rate was particularly important in filters that intercepted our water line, especially point-of-entry systems, which could cause a drop in water pressure around our entire home if their flow rate was inadequate. We made sure to buy the right system size for our house size and water usage to avoid flow issues post-installation.
Installation & maintenance – Since we were reviewing such a wide variety of water filters, we knew that their installation and maintenance requirements would also be varied. We found that the easiest-to-install systems were those that didn't need connecting up to our plumbing or required a very basic connection, like countertop units, filter pitchers, water bottle filters, faucet filters, and gravity filters. In most cases, under-sink systems were slightly more challenging to install but still pretty DIY-friendly, and whole-home systems were the most difficult to install. We also noted that the majority of filters required some form of maintenance – typically buying replacement filters. The rate of filter changes depended on the system type and capacity.
Costs/budget – As far as costs were concerned, we outlined three price tiers in our research, which most water filter systems fell into: low-cost (between $20 and $200), mid-price (between $200 and $600), and high-cost ( $600+). In our research, we found that low-cost systems included water pitchers, faucet water filtration systems, and filtered water bottles. Mid-price systems were countertop filter units and some under-sink filtration systems. The highest-cost systems were reverse osmosis units and whole-home filtration systems.
Filter certifications – The best water filters have official NSF, IAMPO, or WQA certifications to various NSF/ANSI Standards for contaminant removal. We don't think certifications are absolutely necessary, but they are admittedly the best indication of a filter's performance. In cases where the manufacturer hadn't obtained an official certification, we looked for systems with third-party testing by EPA-approved laboratories to NSF Standards, including NSF 42, for chlorine removal, NSF 53, for contaminants with health effects (like lead and PFAS) NSF 58, for reverse osmosis systems, and NSF 401, for emerging contaminants.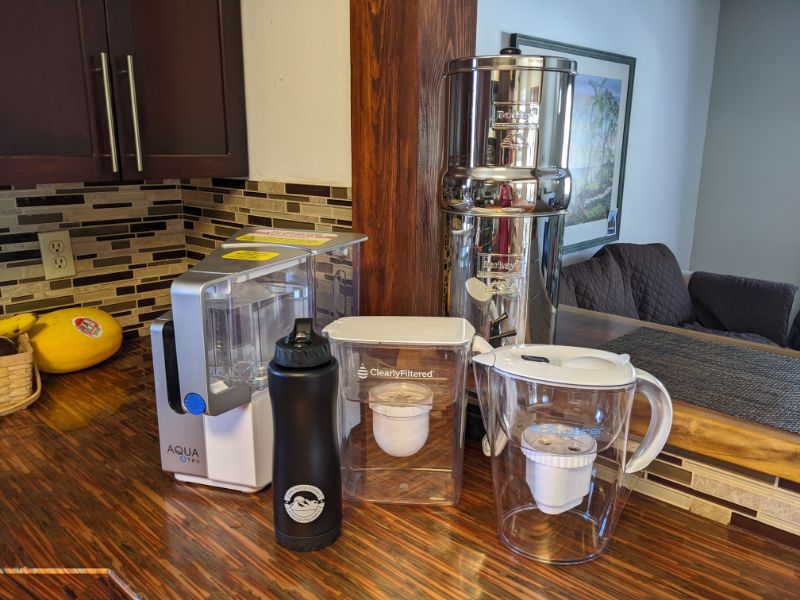 ✅ 26 Specific Water Filter Buying Guides
🔎 How We Determined Which Water Filtration System Is Best
When we were shortlisting and reviewing the filters in this guide, there were a few things that we wanted to understand. We wanted to be certain that we were choosing the right water filters for our situation, and that water filters were even necessary in the first place. Below, we've shared a few of the steps that we took before we started shopping for the best water filters, including questions we asked when determining who needed a water filter, the advantages of water filters, our testing methodology, and more.
🤔 Why Buy A Water Filter?
First, we wanted to know why we, or anyone else, should invest in a water filter system.
We wanted to learn about drinking water quality in the US, and find statistics that could help us to understand the concerns associated with contaminants in our water supplies.
Water Quality Facts and Figures
Some of the studies that we found in our research on US water quality were:
An NRDC analysis, which found that over half of the population in the US drank from water supplies with detectable lead levels between 2018 and 2020.
A USGS study, which estimated that that at least 45% of the nation's tap water contains at least one PFAS chemical. PFAS are known as "forever chemicals" and have dangerous health effects, including cancer.
An investigation by Consumer Reports and the Guardian, which took samples from municipal supplies across the US and found "alarming levels" of arsenic, lead, and PFAS.
These studies made one thing obvious to us: our local water utilities may reassure us that our water is safe to drink, but the facts say otherwise. Public health crises like the Flint, Michigan water disaster have caused thousands of people to lose trust in authorities to keep us safe, and the best solution is to take control of our own water quality and filter our drinking water at home.
Dangerous contaminants like lead, disinfection byproducts, PFAS, chromium-6, and mercury are all known to have long-term health effects, including organ damage, developmental issues in children, reproductive effects, and cancer. We concluded that the best water filters offered an effective and reliable at-home solution to improving water safety and quality for all families, including our own.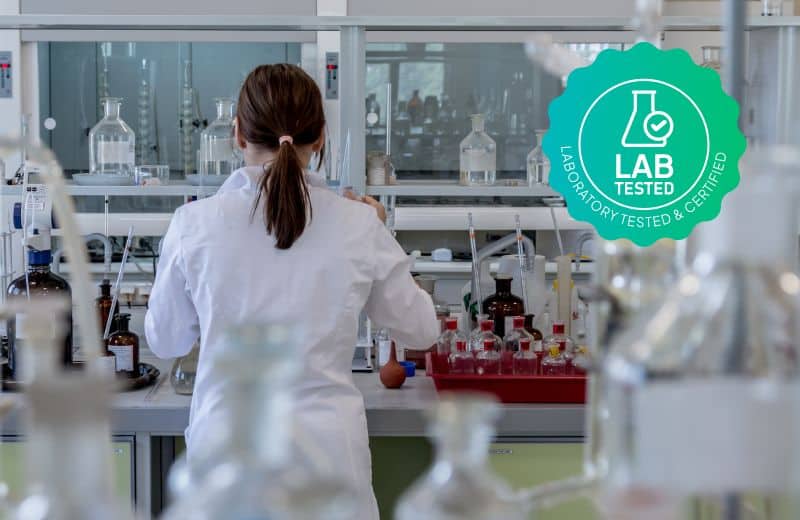 👍 Top 6 Advantages of Water Filters
We've tested multitudes of water filters in the making of our guides and reviews for WaterFilterGuru. Here are the top 6 advantages of the best water filters that we identified:
Give you control over your water quality: A water filter gives you complete control over your water quality, including the contaminants that you remove, and the thoroughness of the water treatment.
Peace of mind: You don't have to worry about how your water utility is treating your water because you'll have the peace of mind that you're removing contaminants regardless of the quality of the water that enters your home.
Cheaper alternative to bottled water: Many water filters produce water that's superior to bottled water quality. The upfront and maintenance costs of water filters are generally cheaper than the cost of sustaining a bottled water habit year-round.
Improve water taste and smell: While the main reason folks filter their water is to address health-concerning contaminants, a nice bonus is that most filters remove contaminants with aesthetic effects, improving water taste and smell.
Endless options: We've seen the water filter industry expand rapidly over the past few years, and we're now lucky to have endless options when it comes to choosing the best water filter. There are plenty of filter types for a variety of situations and budgets.
Environmentally friendly: The best water filters aren't only cheap to maintain – they're also better for the environment than going through hundreds of single-use plastic bottles a month. Most water filters have recyclable filter cartridges, and some manufacturers even offer recycling schemes.
🛒 How to Buy
When choosing the best water filter, we took four important steps. We recommend following the same process once you know that you want to buy a water filter.
Before we started shopping, we:
Considered our water filtration needs: Before we even started looking at our options, we considered what we wanted to remove from our water. We've tested our water enough times to know exactly what it contains, but if you've never done a water test before, that's the place to start. Check out this guide to learn all about testing your home's water quality.
Noted the features we wanted: Next, we made a list of all the features that were absolutely essential to us in a water filter. With knowledge of what we needed, we could approach our shopping with clarity, and we were able to consider upgrades objectively without being sucked into marketing copy.
Set a pre-determined budget: We did this from the beginning to ensure we were only spending within our means. After researching all the best filters available, we noted the average price ranges for each category, including maintenance costs, and avoided overpriced systems.
Look out for discounts and deals: Since we were buying to review and couldn't afford to wait, we looked for all the deals and discounts available at the time. If you're not in a hurry, we recommend shopping during seasonal events and sales to save a chunk of money on your investment.
📚 Methodology: How We Tested The Best Water Filters
Moving on to our testing process, we used the following ranking factors when shortlisting the products for this review.
Filter Performance
First, we assessed a filter's performance and compared it to the performance of other filters in a similar category. Contaminant removal was the most important performance factor for all the filters we reviewed. Some filters had specific performance factors that we had to take into account – for instance, water production/rejection rate was an important consideration for reverse osmosis systems only.
Price
Price was another ranking factor that we considered when shortlisting the best water filters. We made a note of the upfront and annual maintenance costs for all the filters we reviewed to determine the average price ranges in different categories. We then prioritized filters that we deemed to be a good value for money based on their price and features.
Maintenance Requirements
We also considered a filter's maintenance requirements when shortlisting the filters for this guide. We know that most folks would prefer to keep maintenance to a minimum, so we looked specifically for filters that made maintenance as simple as possible.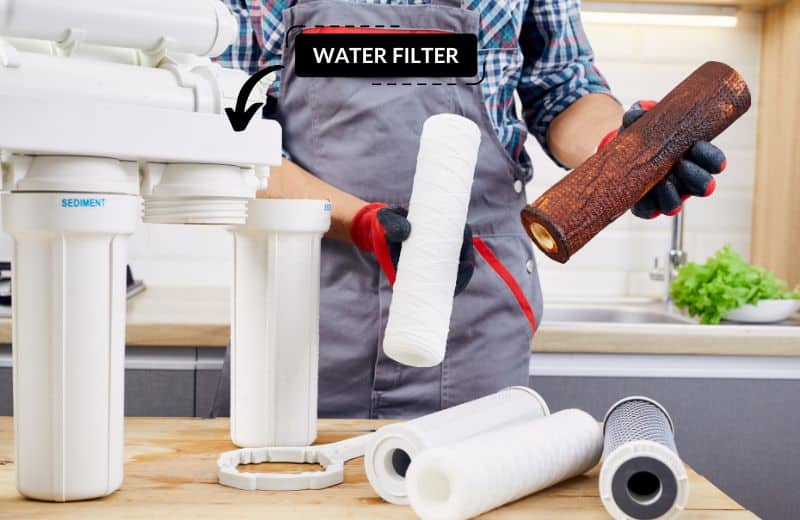 Water Production Rate
Water production/delivery rate was another important factor for us to consider. We wanted to find options that delivered water on demand, as well as filters that had a slower rate of water production but provided other unique benefits, such as portability.
Company Reputation & Customer Reviews
Finally, we read customer reviews and researched manufacturers to ensure they were reputable before spending our money. We wanted to be certain that customers in general were pleased with the performance of the filters that we'd personally had a good experience with. Reading reviews on websites like Amazon was a great way for us to learn this.
❔ Frequently Asked Questions
Which filter is best for drinking water?
The best filter for drinking water depends on a number of factors, including what contaminants your water contains and what you want to remove, as well as what you can afford based on your budget. You may have a bigger budget that allows you to consider thorough filtration options like reverse osmosis units, but these aren't necessarily "best" for everyone. Many water filters don't purify water, but they still remove most common contaminants, like chlorine, PFAS, and lead, for a fraction of the cost of an RO system.
Which company water filter is number 1?
There isn't one company that we recommend for the best water filters because different companies sell different filters, which appeal to different needs. However, a few manufacturers that consistently offer high-quality products include Clearly Filtered, SpringWell, Epic, PUR, and Waterdrop.
Which water filter removes contaminants but not minerals?
The majority of water filters remove contaminants but not minerals. Most water filter pitchers, under-sink systems, faucet filters, and whole-home systems are designed to target specific contaminants without affecting water's natural mineral composition. Only water purifiers like reverse osmosis systems and water distillers remove minerals as well as harmful contaminants.
Are water filters worth the money?
Water filters are worth the money if you're concerned about the contaminants in your drinking water and want to keep your family safe. You can't put a price on good health – but if your budget is on the lower end, an affordable filtration solution like a pitcher or faucet filter will likely be worth the money for you, while a costlier system might be too expensive to be worth it.
What is the purest water filtration system?
The purest water filtration system is a reverse osmosis system, which uses membrane separation to remove virtually 100% of all dissolved solids from water. If you want to purify your water at home, we think you can't get any better than reverse osmosis.
🤓 About Our Experts
Brian Campbell, WaterFilterGuru.com's Founder and Water Filter Specialist, and Laura Schallcross, Senior Editor, personally researched, tested, and reviewed all the water filters in this guide. You can learn more about Brian in the author bio below.