Public drinking water supplies are teeming with more than 90 chemical, microbial and radiological contaminants, many of which pose a serious health risk. I'm not surprised if you want to remove these contaminants from your water as quickly and effectively as possible.
I've been working in the water filter industry for nearly a decade, writing for WaterFilterGuru.com and other key water industry publications, including HowStuffWorks, Water Quality Product Magazine, Water and Wastes Digest Magazine, Sawyer Products.
When there are so many water filters available nowadays, a filter has to offer something really special to make it onto this list. After so long in this industry, I'm well aware of the products that are consistently favorites amongst customers, based on reliability, performance, contaminant removal capabilities, quality of construction, filter capacity, and much more.
In this guide, I've shared:
The best water filters worth investing in this year
The most popular filtration methods you should know about
Things you should consider before purchasing a water filter
🥇 Best Water Filters
Best Pitcher – Clearly Filtered Water Pitcher
Best Countertop Water Filter – Big Berkey Gravity-Fed Water Filter
Best Dispenser – Epic Pure Water Filter Dispenser
Best Under Sink Filter – Clearly Filtered 3-Stage Under the Sink System
Best Reverse Osmosis System – Waterdrop WD-G3-W
Best Faucet Water Filter – PUR Advanced Faucet Filtration System
Best Shower Filter- AquaBliss High Output Revitalizing Shower Filter
Best Portable Water Filter – Travel Berkey
Best Backpacking Water Filter – Sawyer Gravity Water Filtration System
Best Filtered Water Bottle – Clearly Filtered Water Bottle
Best Whole House Filter – SpringWell Whole House Water Filter System
Best Water Softener for Hard Water – SpringWell Futuresoft
Filter
Details
Clearly Filtered Water Pitcher

Capacity: 10 cups
Filter longevity: 100 gallons
Dimensions: 11.1 x 10.8 x 5.6 inches
Contaminants removed: 270



☝️ Get 15% off - Click here for code


👉 Read the full review
Big Berkey Gravity-Fed Water Filter

Filter longevity: up to 6,000 gallons
Dimensions: 8.5 x 8.5 x 19.2 inches
Contaminants removed: 200+


👉 Read the full review
Epic Pure Water Filter Dispenser

Filtration: 1 stage
Capacity: 10 cups
Dimensions: 12 x 9 x 8 inches
Contaminants removed: 200+



☝️ Get 20% off - Click here for code


👉 Read the full review
Clearly Filtered Under Sink Filtration System

Filter stages: 3
Filter longevity: 1 year
Dimensions: 19.7 x 15.7 x 3.7 inches
Contaminants removed: 232+



☝️ Get 15% off - Click here for code


👉 Read the full review
Waterdrop WD-G3-W

Filtration: 7 stages
Type: Tankless
Water Production (GPD): 400
Dimensions: 18.1 x 5.7 x 17.8 inches
Contaminants removed: 99.9% all contaminants



☝️ Get 5% off at waterdropfilter.com with code WFG-5OFF


👉 Read the full review
PUR Advanced Faucet Filtration System

Filter longevity: 100 gallons
Material: Chrome
Dimensions: 3.2 x 7.3 x 7.7 inches
Contaminants removed: 70+

👉 Read the full review
AquaBliss High Output Revitalizing Shower Filter

Filter longevity: 12,000 gallons
Flow rate (GPM): 2
Filter type: In-line
Dimensions: 7.7 x 3.8 x 3.7 inches
Contaminants removed: 4+


👉 Read the full review
Travel Berkey

Filter longevity: up to 6,000 gallons
Dimensions: 7.5 x 7.5 x 18 inches
Flow Rate: 0.05 GPM
Contaminants removed: 200+
Sawyer Gravity Water Filtration System

Type: Hanging
Bladder capacity: 1 gallon
Flow Rate: 0.3 GPM
Contaminants removed: Biologicals & microplastics
Clearly Filtered Water Bottle

Capacity: 12 or 20 oz
Filter longevity: 25 gallons
Material: Insulated stainless steel
Contaminants removed: 220+
SpringWell Water Whole House Water Filter System


Type: Carbon & KDF
Capacity: n/a
Flow rate (GPM): 12
Dimensions: 10 x 54 inches
Contaminants removed: 20+



☝️ Get 5% off - Use code GURU5


👉 Read the full review

SpringWell Futuresoft


Capacity (grains): 1M
Type: Salt-free
Flow Rate (GPM): Up to 20
Dimensions: 13 x 54 inches
Contaminants removed: 3



☝️ Get 5% off - Use code GURU5


👉 Read the full review

---
⭐ Reviews – Best Water Filter 2021
Best Pitcher – Clearly Filtered Water Pitcher
My readers get 15% off at clearlyfiltered.com 👉 Click here to get your coupon.
The Clearly Filtered pitcher, like their under sink system, removes a massive amount of contaminants, more than 270. This includes chlorine, lead, fluoride, herbicides, pesticides, PFAS, and even radiologicals.
The pitcher itself is made from 100% BPA free plastic. Each filter cartridge should last for around 100 gallons before needing to be replaced – about 4 months on average.
It even comes with a lifetime guarantee, ensuring that if it ever breaks you can get a replacement for free.
Pros:
BPA free plastic
Extremely high number of contaminants removed
Lifetime guarantee
100 gallon filter lifespan
Cons:
Takes longer to filter than others
No indicator to alert when its time to change the filter
---
Best Countertop Water Filter – Big Berkey Gravity-Fed Water Filter
The Big Berkey is one of the most famous and widely-used gravity-fed countertop filters. Offered in a range of different sizes, the Big Berkey is made from stainless steel to prevent rusting over time.
It features two Black Berkey purification elements, which last for up to 6,000 gallons of water before they need replacing. This will provide the average family with around 3 years of clean water before the elements need replacing, making the Big Berkey one of the best water filters of countertop filtration style in terms of filter life. For double the filter life, you can even add another two purification elements at an additional cost.
The Berkey system can remove contaminants like chlorine, heavy metals (including lead and arsenic), inorganic minerals, and pharmaceutical drugs. Being portable, with no need to connect it up to a water supply or electricity, the Big Berkey is ideal for using in emergency situations or during power outages.
A big selling point of the Big Berkey is that it's designed to not just filter water, but purify it, which means it'll also remove the likes of bacteria and viruses, and will dramatically reduce protozoa. You can use the Big Berkey for well water, and there's also a Travel Berkey that's designed for easy portability if you want to take it with you on a trip into the wilderness.
The only downside of Berkey products is that they're not NSF certified – though the Big Berkey has been subjected to rigorous independent testing for lead and PFCs.
Pros:
Incredibly long-lasting filters
Can be used in emergency situations
Cons:
No NSF certification
Won't produce immediate clean water
---
Best Dispenser – Epic Pure Water Filter Dispenser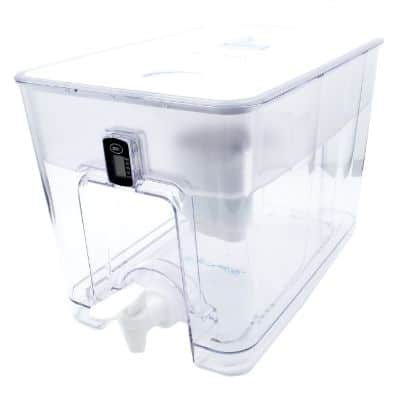 My readers get 20% off at epicwaterfilters.com 👉 Click here to get your coupon.
Capable of removing fluoride, lead, PFAS, microplastics, and more than 200 other common drinking water contaminants, the Epic Pure is a water filter dispenser that provides an effective, affordable water treatment solution. 
With a countertop design, made from 100% BPA-free plastic, the Epic Pure Dispenser is low-hassle and requires virtually no installation. 
The system is great for people with smaller budgets, costing less than $100, and its 3-4-month average filter life means you'll only have to think about filter changes 3 or 4 times a year. The LED timer counts down 90 days from filter setup to ensure that filter changes are made accordingly. 
The Epic Pure Dispenser has been tested and proven to exceed NSF/ANSI Standards 42, 53, 401, and P473 for the reduction of chlorine, lead, emerging contaminants, and more. The filter has a solid carbon block design, and uses gravity to gradually filter water, while trapping contaminants in its media.
Pros:
Impressive contaminant removal
Filter is good for up to 150 gallons
Handy LED timer counts down until filter changes
Simple installation
Cons:
Not actually NSF certified
No option for larger or smaller reservoir sizes
---
Best Under Sink Filter – Clearly Filtered 3-Stage Under the Sink System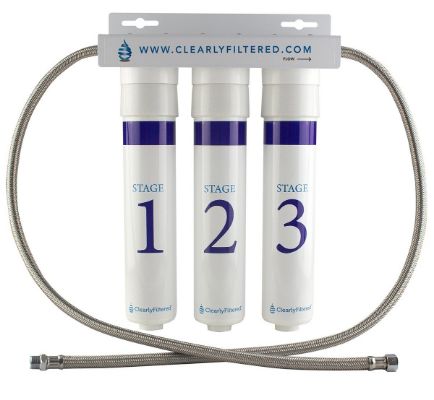 My readers get 15% off at clearlyfiltered.com 👉 Click here to get your coupon.
The 3-stage filtration of the Clearly Filtered direct connect under sink system is tested to NSF standards 42, 53, 244, 401 and 473. This impressive system reduces or removes more than 232 contaminants, including the likes of fluoride, lead, PFAS, pharmaceuticals and pesticides while retaining healthy minerals our bodies need like magnesium and calcium. Although the system doesn't hold the actual NSF certifications, independent 3rd party testing to the standards has still be completed.
Installing the system is extremely simple. The instructions are easy to follow and the only tool required is a hex wrench. You'll only need to connect the system's input line to your cold water line, then output up to your faucet line. It should take 10 minutes or less.
The filter cartridges last from 9 to 15 months, depending on usage. Replacements can be purchased directly from Clearly Filtered's website and changing them is a simple as unscrewing the old and twisting in the new.
Pros:
Impressive contaminant removal
Long lasting filters
Simple installation
Cons:
Can reduce water pressure
Expensive upfront cost
---
Best Reverse Osmosis System – Waterdrop WD-G3-W
My readers get 5% off at Waterdropfilter.com – Use code WFG-5OFF at checkout
One of the best filtration methods, in terms of contaminant removal, is reverse osmosis, and the Waterdrop WD-G3-W is one of the most popular systems to use this method. If you think it's time to up your filtration game, the Waterdrop RO is a system well worth considering. Being NSF 58 and 372 certified for lead removal, this filter unit is incredibly thorough, eliminating 94% of total dissolved solids from water.
As well as lead, the Waterdrop WD-G3-W removes chlorine, limescale, sedimen, sand and rust, bacteria, viruses, and more than 1000 more contaminants, using seven stages of deep filtration. What makes the Waterdrop RO system different from a standard filter is that it forces water through a reverse osmosis membrane, which only lets tiny water particles through. Larger contaminants like lead and chlorine are unable to pass through.
Alongside the RO membrane, the WD-G3-W features carbon block filter media, which use the process of adsorption to trap any lingering contaminants, providing the freshest and best-tasting drinking water. Despite its numerous components, the system is relatively slim and compact in design. It doesn't use a tank like other RO systems, making it much more space-saving for under sink storage.
The WD-G3-W's numerous filter cartridges have different lifespans: one has a 6-month lifespan and one has a 1-year lifespan. The RO membrane lasts even longer before it needs changing; around 2 years. With a smart faucet that indicates filter lifespan, you'll never have to guess when it's time to change the filter.
Pros:
NSF certified for lead removal
Removes 94% of all TDS
Cons:
May be out of budget for some customers
Installation is more challenging
---

Best Faucet Water Filter – PUR Advanced Faucet Filtration System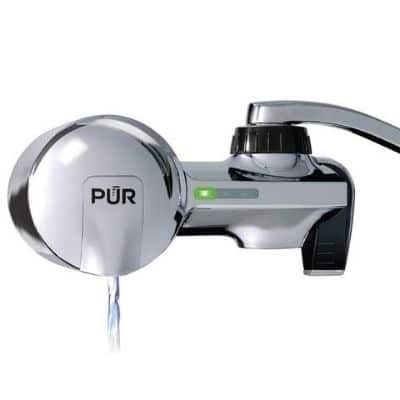 If you're looking for a no-fuss faucet filter that will produce instant clean drinking water, the PUR PUR Advanced Faucet Filtration System is one of the best options around. It has a chrome design, making it a standout against other plastic-build faucet filter solutions that are prone to cracking under pressure. With a modern, no-fuss build, the PUR PUR Advanced Faucet Filtration System looks like a natural extension to a kitchen sink faucet – and, on that subject, is compatible with most standard US faucets.
The biggest reason to love the PUR is that it's NSF certified for reducing over 70 harmful contaminants, like chlorine, heavy metals (including lead), mercury, and some pesticides. The unit uses PUR's famous MineralClear filters, which provide 100 gallons of water, meaning you'll need to change it between every two and three months of use. While this isn't the longest filter life, it's the best you can get from a faucet filter of this size.
Being connected onto a faucet, the PUR Advanced filter has an unrivaled flow rate, as it uses the force of water pressure to instantly filter water. Unlike many filters that are connected to your plumbing, the PUR is easy to install and doesn't require any tools for the job. There's a handy on/off lever that you can use to divert the water flow through the main faucet when you're washing up or using hot water, which will help protect the faucet filter and give it the longest lifespan.
Pros:
NSF certified for Standards 42, 53 and 401
Easy to install and use
Cons:
Not compatible with every kitchen sink faucet
Doesn't have the longest filter life
---
Best Shower Filter- AquaBliss High Output Revitalizing Shower Filter
It's not only consuming impurities in our tap water that can be bad for us – inhaling certain metals and chemicals can have negative health impacts, too. The Aquabliss is one of the best water filters for installing on a showerhead for reducing contaminants in the water you wash with.
In a relatively small surface area, the Aquabliss manages to fit a multi-stage filter, featuring sediment filters, redox media, activated carbon, calcium sulfite, and ceramic balls, all of which are designed to improve quality of water, reduce odors, and balance out pH levels. As an added bonus, the AquaBliss also adds minerals to water that your hair and skin can benefit from.
If you're not a fan of DIY, the AquaBliss has a simple snap-on snap-off design that you won't struggle with. You don't need tools or spare parts for the job, and the fitting works with all showerhead types, including handheld, fixed, and rain.
It's recommended that you replace the AquaBliss every six months to keep it working at its peak. The filter won't initially reduce flow rate, but some customers have commented that flow rate will get slower when the filter needs replacing.
Pros:
Multi-stage filter does more than most showerhead filters for water
No installation required
Cons:
No NSF certification
Water with high chloramine content may clog the filter faster
---
Best Portable Water Filter – Travel Berkey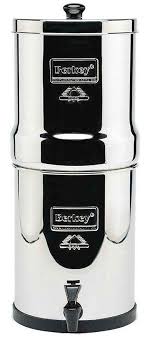 If you're looking for the best filter for water that you can take with you on your travels, the Travel Berkey is the most popular option out there. This unit is specially designed for portability, with a small but practical 1.5-gallon capacity and easy-to-disassemble components for storage. Rather than taking bottled water with you on a camping trip or to a vacation home, you can simply take the Travel Berkey, which can be used with any natural water source.
The best thing about the Travel Berkey is that you don't need to connect it up to a water supply or electricity. Simply add water to the top container and the Black Berkey elements will remove contaminants like viruses, heavy metals, pharmaceutical drugs, inorganic materials, and pathogenic bacteria (which means you're fine to use the Travel Berkey with non-municipal drinking water sources like lakes and streams).
The Black Berkey elements are designed to last for 6,000 gallons, giving you roughly 3 years of use – that's plenty of travel before you'll need a new set. And the stainless steel construction of the Travel Berkey makes it ideal for rough-and-ready camping trips, where it'll withstand everything from bad weather to the occasional bump during travel.
It's a shame that the Travel Berkey isn't NSF certified, which would give it a bit of extra industry credibility. But Berkey's private independent testing deems the purification elements effective at removing a broad range of contaminants, and Berkey's overwhelmingly positive customer reviews speak for themselves.
Pros:
Doesn't require electricity or connecting to a water supply
Can filter well, lake and river water
Cons:
No NSF certification
Some customers experienced leaks
---
Best Backpacking Water Filter – Sawyer Gravity Water Filtration System
For an even more portable option than the Travel Berkey, the Sawyer system is a backpacking gravity filter that you can carry with you in your backpack on hikes and camping trips. With a one-gallon capacity, the Sawyer is a handy drinking water solution for use in areas where clean water is lacking. You can pack light and skip the bottled water with this portable filtering system.
The Sawyer gravity filter might be small, but it's extremely effective at what it does. The tiny filter can fit in your palm and weighs just two ounces, but has a high performance with 0.1-micron pores that are designed to trap even the smallest of contaminants, including bacteria, protozoa, and microplastics.
It only takes seconds to set up the Sawyer system for filtration. You simply hang the bag from a height (such as a tree branch), then connect the provided tube between the bag and the filter. Fill the bag with water from a lake, stream, faucet, or whatever you have close by, then use the water to fill your bottles, pitchers, or cooking pots.
If you're looking for immediate access to water, it takes the Sawyer filter less than 3 minutes to filter 1 gallon. With a 100,000 gallon overall rating, you can use it time and time again before you need to replace it with a new one. A major advantage of the Sawyer filter is that you can perform a backwash every time the flow begins to diminish, which will bring flow rate back up to 98% of its original performance.
Pros:
Incredibly portable and practical
Long-lasting filter
Cons:
Filter may require regular backwashing when filtering water containing silt
Built-in hanger is fairly small
---
Best Filtered Water Bottle – Clearly Filtered Water Bottle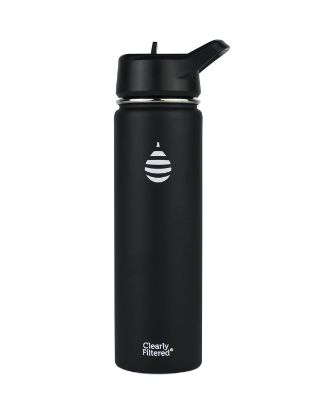 If you spend more time out of home than in, it may make more sense for you to invest in a water bottle filter that you can take with you on the go. The Clearly Filtered Water Bottle is one of the best water filters for drinking bottles, made from insulated stainless steel and ideal for use for any out-of-home situation, from the gym to public water fountains.
It should be noted this filter is not intended for use with municipal water, and cannot remove biological contaminants such as bacteria from lake or stream water. For bottles capable of this, see this guide.
The Clearly Filtered bottle uses an Affinity® Filtration Technology for the most effective contaminant reduction. This filtration media blends a dozen materials, which when working together ionically target a reduce a broad range of over 220 contaminants.
The filter has been tested to NSF/ANSI standards 42, 53, and 401 for reduction of contaminants and chemicals such as chlorine, fluoride, lead, pesticides & more. It's designed to last for 25 gallons of water before it needs replacement.
The filters are designed not only to make water taste better, but also make it safe to drink. But that's not to say you should only use this filtration system for situations where you don't have access to safe drinking water – if you're just trying to cut down on your single-use bottled water habit, the Clearly Filtered bottle is a good option for you.
Pros:
220+ contaminants removed
Insulated stainless steel keeps water cold up to 24 hours
Easy, portable filtration system
Lifetime guarantee
Cons:
Does not hold an actual NSF certification
Does not remove biological contaminants
Cannot be used with natural water sources
---
Best Whole House Filter – SpringWell Whole House Water Filter System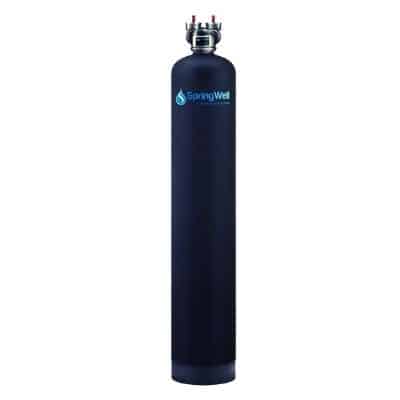 One of the best industry leading options for whole house filtration, the Springwell system reduces high levels of contaminants and is covered by a 6-month money back guarantee. The coconut shell catalytic carbon and KDF certified media addresses contaminants such as heavy metals, chloramine, chlorine, PFAS, pesticides, herbicides and more.
The 4 stage design makes it possible for the longest contact between the water and media, ensuring the most thorough filtration.
The system has a 1 million gallon capacity, so the media should last for around 10 years before needing to be replaced. It should also be noted that the sediment pre-filter will need to be changed every 6-9 months.
The system should be relatively easy to install for those who have basic plumbing knowledge. If not, it would be best to hire a plumber. Various parts of the system are covered by a limited lifetime warranty.
Pros:
Extremely low-maintenance
Certified components used
Lifetime warranty & 6-month money back guarantee
Cons:
More difficult to install
Expensive upfront cost
---
Best Water Softener for Hard Water – SpringWell Futuresoft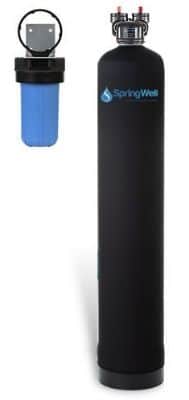 The majority of water filters don't soften water – i.e. get rid of calcium and magnesium, which cause water hardness – so finding a high-quality water softener like the SpringWell Futuresoft is a must if you're looking to eliminate scale. The Futuresoft is designed to soften water in your whole home, benefiting your plumbing, your sink faucets, and your water-based appliances.
A big benefit of the SpringWell Futuresoft is that it doesn't use salt for its water softening process, as many water softeners do, so it's suitable for people on low-sodium diets or anyone who doesn't want any of their sodium intake to come from their water. It uses a process called Template Assisted Crystallization, or TAC, which converts the hardness-causing calcium and magnesium crystals into a crystal that won't bind to surfaces, preventing a build-up of scale.
The SpringWell Futuresoft doesn't just descale water; it also cleans and removes existing scale, so there's no need to replace your plumbing before installing this system. You also don't need to connect the system up to your electricity to use it, making it an environmentally-friendly option compared to salt-based softeners.
Another huge advantage of the SpringWell Futuresoft is that its media is designed to last a lifetime – that is, the lifespan of the unit itself. This means you can enjoy an essentially maintenance-free experience using the softener once you've installed it. If you're a DIY person, you'll be able to handle installation yourself. If not, a plumber or a handyman will get the job done in minutes.
Pros:
Doesn't use salt for softening
No maintenance required
Cons:
May require a professional installation
Doesn't soften water; conditions it
---
🧾 Buyer's Guide – How to Select the Best Water Filter
Finding the best water filter for you is a challenge when there are so many available. Rather than getting sucked into manufacturers' promises, it's a wise idea to consider your own water filtration needs before heading online to do some shopping. Here's everything you should keep in mind when searching for a water filtration system for your family:
🗯 Personal Filtration Needs
What is your biggest water filtering need? If you wish you could stop buying bottled water while you're shopping or at work, you'll benefit most from a filtered water bottle. For low-cost, low-maintenance, at-home tap water filtration, water pitchers are a great option. Slightly more expensive, but still without the need for any major installation or maintenance, are countertop systems.
An under-sink filter costs more money and you may not find it easy to install, but you have the advantage of storing it out of sight – handy if you don't have a lot of countertop space or you just don't want your water filter on show. A reverse osmosis under sink system is even more effective, completely eliminating hundreds of contaminants from tap water or well water – but its upfront cost is very expensive.
If you want your whole home's appliances to benefit from clean water, a whole house option is the system for you. Or, if you just want to shower in clean water alongside having clean tap water, installing a filtering showerhead alongside a countertop system or under sink filter in your kitchen is usually the more affordable option.
For taking clean drinking water with you on your travels, there are multiple options: filtered water bottles, travel filters, and hanging gravity filtering bags, which are portable and easy to take with you to a camping trip or vacation home.
Understanding Water Quality
It's also important to get a good understanding of the water quality in your home. You will want to know where your water comes from, its mineral contents, and any possible contaminants it might contain.
As you are doing your homework to gather this information, here are some questions to keep in mind:
Does your water come from a municipal treatment plant or private well?
Are there high concentrations of any specific minerals in your water?
What common contaminants might be found in your water?
Are there particular substances you know you want to remove?
Check out this guide to learn all about testing your home's water quality.
🧫 Contaminant Removal Capability
You can guarantee with pretty much any water filter that it has the basic filtration capabilities it can greatly reduce or remove chlorine, heavy metals like lead, and VOCs. But the best water filters can do so much more than that.
Generally, the more you pay for a filter, the more thoroughly it'll filter contaminants. The most expensive products, reverse osmosis systems, can remove between 95% and 99% of all inorganic material – that means anything other than the water particles is removed, greatly improving purity. Some of the more unique contaminants that reverse osmosis systems can remove are sodium, mercury, barium, arsenic, selenium, nickel, total volatile organics, cyanide, algae, and silicate.
Learn all about common drinking water contaminants 👈 Click Here
But that doesn't mean that the best low-cost water filters are incapable of removing contaminants – it's just likely that they remove a smaller number of contaminants very effectively. Take water pitchers, which specialize in the removal of common drinking water contaminants that give water a bad taste, like zinc, chlorine, and hydrogen sulfide. Some are also capable of removing lead.
It's best that you know exactly which contaminants your water contains before you get a filter. If you're looking to filter well water or water from a lake or stream, a filter that can eliminate the likes of viruses and bacteria is much more important than one that can improve water taste. If you want to buy a filter for your own home, use a water testing kit to determine the contaminants that are most present in your water. Then look at buying a filter that will remove them.
🔍 What to Look For in a Water Filter
System Type
The type of filter you buy will determine which water in your home is filtered. A faucet filter, under sink filter, reverse osmosis system, water pitcher, and countertop filter are all designed to filter the water from your kitchen faucet, but they each have their own unique filtration process that removes a slightly different combination of contaminants. The main system types, and what they do, are as follows:
Water filtering pitcher – Water is added to the pitcher and moves through a filter, which traps contaminants
Countertop filter system – Water is added to a top container and flows through a filter into a lower container
Faucet filter – The water from a faucet is forced through a filter attached to the end of the spout
Whole home water filter – Unit is set up at water's point of entry into a home, filters water flowing through the plumbing system
Reverse osmosis – Can be installed under a kitchen sink or at a home's POE for under sink or whole home use, forces water through an RO membrane and several filters to thoroughly filter it
Shower filter – Attached to the end of a showerhead, removes contaminants like chlorine
Backpacking filter – Gravity filter type, water is added to the bag and passes through the filter at the bottom of an attached pipe
Water bottle filter – Works like a small pitcher, filters faucet, river, lake and well water for drinking directly from the bottle
Water softener – Doesn't technically filter contaminants, but removes magnesium and calcium ions, which cause limescale
Filtration Method
Though there are a wide variety of system types, some of them use the same filtration methods. The most popular methods, and how they work, are:
Reverse osmosis
Reverse osmosis forces water through a semi-permeable RO membrane, which prevents larger molecules from passing through. These molecules are then eliminated through a waste pipe, and only tiny water molecules are able to pass through the RO membrane. Reverse osmosis is a highly effective filtration solution with a price tag to show for it. You're likely to find whole home and under sink systems offering reverse osmosis filtration.
Adsorption
The chemical process of adsorption is used in activated carbon, carbon block, or granulated carbon filters. You can find these filters in lots of different systems, from whole home filters to under sink systems, faucet filters, gravity filters, and countertop water filters. It's one of the most effective solutions for reducing or removing chlorine from water, and many carbon-based filters can also remove lead. During adsorption, contaminants become trapped inside the pore structure of the carbon filter media. Activated carbon tends to be the best filter media, as it has the largest surface area out of all treated carbon.
Distillation
One of the oldest filtration methods is distillation, which takes place in a water distiller. In the process, water is heated to extremely high temperatures and vaporized. The vapor then condenses back into liquid form. This process majorly improves water purity, as the majority of contaminants aren't able to vaporize and liquify like water, and remain in the boiling tank after distillation.
Ion exchange
Ion exchange is traditionally used in salt-based water softeners. During ion exchange, calcium and magnesium hard-causing ions are replaced with sodium ions, which prevents the formation of scale. Once ion exchange has been completed, the system fully regenerates to flush out the unwanted calcium and magnesium ions and replace the lost sodium ions.
Water conditioning
A popular alternative to salt-based water softening is a process called water conditioning, which, instead of replacing the calcium and magnesium ions with sodium, alters the structure of the ions and prevents them from sticking to surfaces and causing scale. There are a number of different water conditioning methods at the moment, including treating the water with a process called Template Assisted Crystallization, and electronic descaling, which uses an electromagnetic waveform to increase water solubility, which causes scale deposits to dissolve.
Filter Capacity
The filter capacity, or how long a filter will last, of a system varies greatly depending on the system you opt for. Though some systems use the same filters, the varied size and design of these filters means that one can have a very different lifespan from another. Let's take a look at some of the most popular system types, and how long their filters will typically last for:
Pitchers – Two months
Countertop – Four to eight months
Faucet – Two months
Whole home – Three to six months
Reverse osmosis – RO membrane: two to five years; additional filters: six months
Shower filter – Six months
Backpacking filter – Two to six years
Water bottle filter – Two months
Water softener -Ten to twenty years
This is not a definite list that applies to all systems of each kind. As proven by many of the systems featured in this guide, some filters are capable of lasting much longer than the average lifespan for the system they belong to. And while water softeners may last more than a decade, many require frequent maintenance that's worth taking into account. But if you want an idea of averages, keep this list to hand when you're shopping for filters.
Flow Rate
The flow rate for some filters isn't even worth worrying about, while for others, it's much more important.
Gravity, countertop, backpacking, and water bottle filters are known for having a slower flow rate, because they're not supported by the power of the water pressure from your own home's plumbing like a faucet filter, whole home filter and under sink filter are. It takes gravity water filters up to 30 minutes to filter water, sometimes even longer if the filter is reaching the end of its lifespan. You'll get much more immediate access to water with a filter that's connected up to your home's plumbing.
It's worth keeping in mind, though, that all water filters, whether they're supported by your home's water pressure or not, will experience a slow-down in flow rate as the filter becomes more clogged with sediment. The water quality in your home will, in part, determine how quickly you need to replace your filters.
Installation & Maintenance
Installation of a water filter depends on the type of system you're using.
Systems that are easiest to install are those that don't need connecting up to your plumbing: countertop units, filter pitchers, water bottle filters, and gravity filters. Once you've assembled these systems and added the filter, all that's left to do is fill it with water and get started.
Also easy to install are faucet water systems, many of which can be attached to your faucet without the need for tools, and showerhead units, which can be attached to your shower hose in the same fashion.
Units that are more difficult to install are under-sink systems, which need attaching up to your cold water line, and whole home systems and water softeners, which you need to attach at your home's point of entry. It may be best to call a plumber to get the job done for you if you don't have much plumbing knowledge.
Costs
Buying a water filter doesn't have to cost a month's worth of your wages. When it's time to make an investment, this can mean different things for different people. There are water filtration solutions to suit all budgets, and you may actually find that a cheaper solution improves your water quality just as well as something more expensive.
Water filter systems fall into three tiers:
Low-cost (between $20 and $200)
Mid-price (between $200 and $600)
High-cost ( $600+)
Low cost systems include water pitchers, faucet water filtration systems, water bottles with a filter, and backpack water filtration systems. Though these have cheaper upfront costs, you'll generally need to replace the filter more frequently (around every two months on average).
Mid-price systems include countertop filter units and some under sink filtration systems. These are a little more expensive, for both the unit and its replaceable components, but you may only need to replace their filter media once every year or more.
📝 Filter Certifications
The best indication of a filter's performance is whether it has a certification or not. There are two common certifications that a manufacturer can apply for: a WQA certification and an NSF certification.
WQA
The WQA, or Water Quality Association, is a not-for-profit independant trade party that represents the water treatment industry. Manufacturers who have gained a WQA certification have been able to achieve a "certified level of professional expertise and are dedicated to high professional standards".
NSF
The certification that the majority of customers in-the-know look for when considering a product is an NSF certification. NSF International is an accredited third-party certification body that tests and certifies water filter products to check that they meet their promotional claims. There are a number of different NSF standards that a product can be certified for, including NSF 42, for chlorine removal, and NSF 53, for lead removal.
❔ Frequently Asked Questions
Which contaminants should I be most concerned about in my drinking water?
It depends whether you're more bothered about water taste or quality. If you're looking to improve the taste of your water, a chlorine water filter (preferably with an NSF certfication for chlorine removal) will remove the chlorine taste and odor from water. If your water has a higher-than-average lead content, look for a filter that is specifically advertised to remove lead. Though lead isn't dangerous in smaller quantities, you may prefer to eliminate it entirely. Other contaminants to be concerned about include other chemicals like pesticides and herbicides, other heavy metals like mercury and arsenic, and microorganisms like bacteria and viruses (which you're more likely to get in well water).
Which water filter is best of all?
That's impossible to answer! The best filter for you might be different from the best filter for somebody else. You may have a higher budget that allows you to consider thorough filtration options like reverse osmosis units, but these aren't necessarily "best" for everyone. Systems like countertop filtration units can remove the most common contaminants, like chlorine and lead, for a fraction of the cost.
What's the best filter for using to treat well water?
Anything that removes common contaminants often found in well sources, including heavy metals, fluoride, nitrates, organic compounds, and viruses and bacteria. Whole home systems, reverse osmosis systems, and systems designed specifically for treating well water, will work best for you.