The SpringWell Water whole house water filter is a fantastic-value, low-maintenance option for whole home water filtration, ideal for chlorinated or chloraminated tap water supplies. With a filtering capacity of 1,000,000 gallons, this whole house filter is built to last.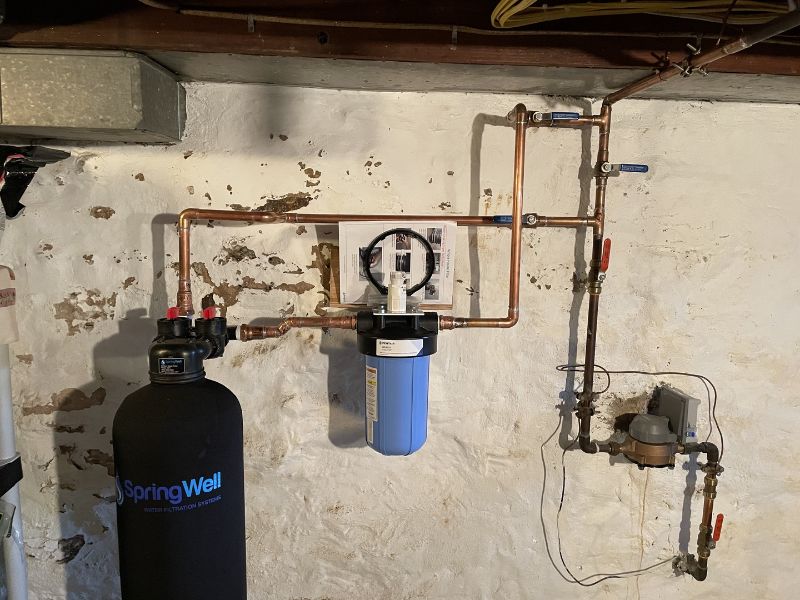 Our readers get 5% off at springwellwater.com 👉 Click here to get your coupon.
🧾 Overview
There are three whole house water filters in the CF series:
The 9 GPM SpringWell CF1 Whole House Water Filter (the most popular choice, which we'll be focusing on in this review) – for 1-3 bathrooms
The 12 GPM SpringWell CF4 Whole House Filter System – for 4-6 bathrooms
The 20 GPM SpingWell CF+ Whole House Water Filtration System – for commercial use
These SpringWell water filter systems all use the same 4-stage filtration to remove the most common harmful contaminants from city water. The only differences between the three filters are the filter capacity and flow rate.
Most families need the SpringWell CF1 Whole House Filter. This system significantly improves taste and gives water a cleaner appearance – and the price tag is lower than similar models offered by competitors.
💡 Features
The SpringWell Water whole house water filter system removes harmful contaminants like chlorine, chloramine, pesticides, herbicides, and more, with a media that lasts for up to 6 years before needing replacement.
Not only is this whole house filter system made to last, it's guaranteed to last. Your purchase with SpringWell comes with a 6-month money back guarantee, a lifetime warranty (for specific parts), and free shipping. This ensures that you get a quality product for the money you spend.
This whole house system is easy to install and, importantly, maintains your home water pressure. Choose between the three tank sizes based on the number of bathrooms in your home. As long as you appropriately size this filtration system, you shouldn't lose water pressure, even during peak times of water usage.
✅ Best For
We think the SpringWell CF series is ideal for city water users who want to invest in one of the most capable, reliable whole house water filter systems by a big-name brand. The SpringWell CF is a fantastic value for money when you consider the results it delivers.
🚦 Performance
The SpringWell CF1 Whole House Water Filter uses a sediment pre-filter, a KDF media, and a catalytic carbon media that effectively removes 99.6% of chlorine, plus chloramine, TTHMS, and other organic contaminants.
The pre-filter works to remove sediment from your water, preventing the need for extra maintenance.
A performance benefit of the SpringWell CF is that the unit's tanks are built with a proprietary internal design flow. This allows the water to flow through all the stages of filter media and ensures that the filter media has maximum contact time with the water. What does this mean? The maximum amount of contaminants can be removed from your water before entering your home.
What else do we love about this range of SpringWell filtration systems? They're made with certified components and their 9+ GPM water flow is great – better than most competitors.
You need a water pressure range of 25-80 psi for this filtered water solution.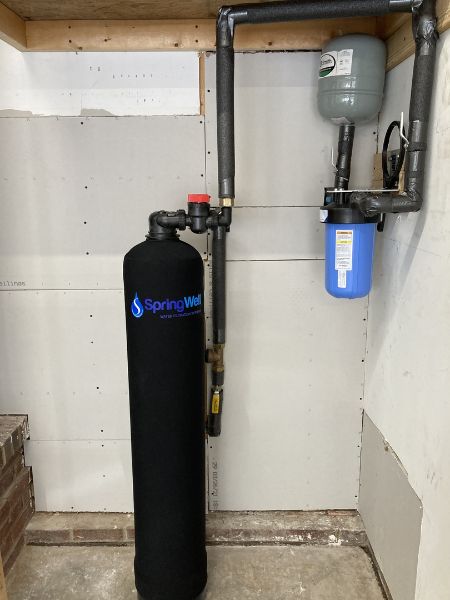 🔧 Installation
Installing any of the SpringWell water filtration systems in the CF range is relatively easy and quick. SpringWell's tech support is great, if you happen to need it.
However, a basic knowledge of your home water system and plumbing is necessary. If you're willing to follow the instructions closely, you should be fine. But if DIY isn't your strong point, consider hiring a professional plumber. Extra cost: about $200.
You can install the SpringWell CF1 Whole House Water Filter outside as long as your local temperatures don't drop below freezing.
Note: You'll need to prime the filter media for at least 48 hours before use. It's worth knowing this before you mark out time for the installation process.
What's Included?
The SpringWell SS Whole House Water Filter series comes an easy installation kit that includes all the basics needed for setup:
Pre-filter housing and 5-micron sediment filter
Mounting bracket
Main tank loaded with carbon media
Tank head
Bypass valve
Spanner wrench
Hose bib assembly
Installation instructions are also included in the package.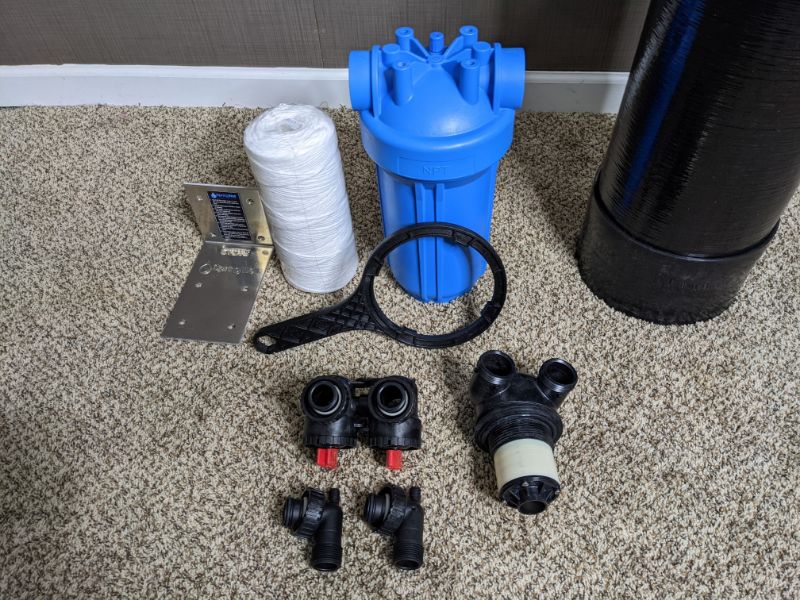 🛠 Maintenance
Even if you have to hire a plumber to install the SpringWell Whole House Water Filter system, the low maintenance of the unit will save you money in the long term.
The pre-filter should be changed every six to nine months, but this expense is only about $40 for a new filter.
The carbon media is designed to last 1 million gallons or 6 years before it needs replacing.
📕 User Manual
Here's the user manual, containing instructions for the CF1 and CF4: https://www.springwellwater.com/wp-content/uploads/2020/01/CF1_CF4-Installation-Instructions.pdf
Looking for the user manual for the CF+? Find it here: https://www.springwellwater.com/wp-content/uploads/2018/08/CF-Installation-Instructions.pdf
📝 Filter Info
The filter is one of the best on the market. The CF1 Whole House Water Filter has a proprietary internal design that forces water through four stages of filtration, removing contaminants at every stage.
The first stage is the 5-micron pre-filter, a small filter that's separate from the main tank. This filter siphons out sand and other sediment particles that could damage the main filtration media.
Next up is the KDF bed. This portion of the filter is made from media that is used to remove chlorine, lead and other heavy metals. It also inhibits bacteria growth – essential in a media-based system.
Finally, stage 3 is the coconut catalytic carbon bed. Catalytic carbon filtration media is the next step up from regular activated carbon, and is capable of removing both chlorine and chloramine, plus pesticides, TTHMs, and other organic contaminants. Most whole house water filters can only treat chlorine or chloramine, but SpringWell does it both, significantly improving water quality.
What makes this SpringWell water filtration system really special? It uses a "flex bed" to eliminate channeling (water flowing straight through the media without touching the sides). This extends the contact time with the media and allows for maximum contaminant extraction.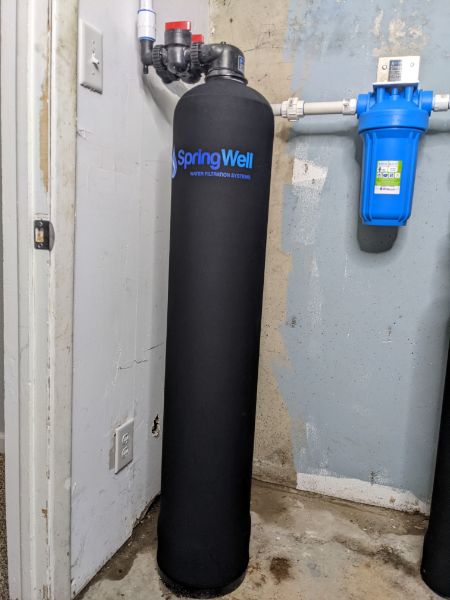 🔔 Pros & Cons
Pros
The SpringWell CF series removes chlorine and chloramine. If you use chloraminated water or you're not sure whether your water supplier disinfects with chlorine or chloramine, the CF systems cover you on any occasion.
SpringWell offers an unbeatable warranty and money-back guarantee, so you can buy this filtration system risk-free.
We found it easy to install this unit thanks to the included installation kit and easy-follow instructions.
Water flow is great, and the three size options mean you can choose a size for your needs.
The system has a low overall maintenance cost – you just pay annually for the sediment filter replacements.
Cons
Don't expect the KDF and coconut shell carbon filters to remove everything. This system doesn't filter out viruses or fluoride.
The pre-filter needs to be changed every 6-9 months, so the system isn't entirely maintenance-free.
💭 Our Verdict
The SpringWell CF1 Whole House Water Filter System has been our number one choice for city water filters for over a year now. Customers report great results even with the worst-quality feed water. SpringWell's customer support is great, and you're well protected with the manufacturer's six-month money-back guarantee and lifetime warranty. You won't be disappointed.
Our readers get 5% off at springwellwater.com 👉 Click here to get your coupon.
❔ Frequently Asked Questions
Will I need to purchase anything else to install the unit?
Yes, you'll probably need additional adaptors, connections, and a few other standard plumbing components. Contact SpringWell if you're unsure.
Will this filter soften my water?
No, the CF series is solely designed to tackle chlorine, chloramine, pesticides, TTHMs, some heavy metals, and a few other contaminants. If you want to soften your water or prevent scale, look at SpringWell's other water systems, such as the salt-free SpringWell FutureSoft and the SpringWell Salt-Based Water Softener.
Found this review helpful?
Comment below or share this article!