Find out what's actually in your water – these are the best DIY and lab tests based on accuracy, analytes tested, and turnaround time.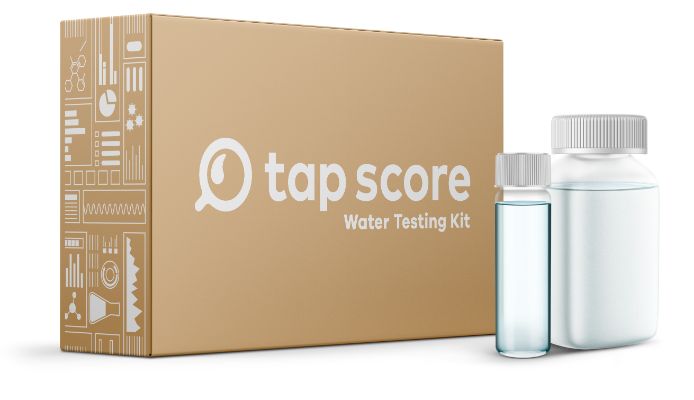 SimpleLab Tap Score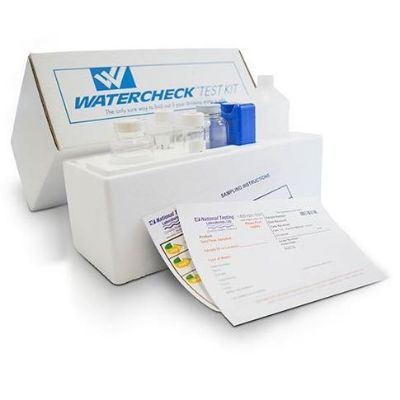 National Testing Laboratories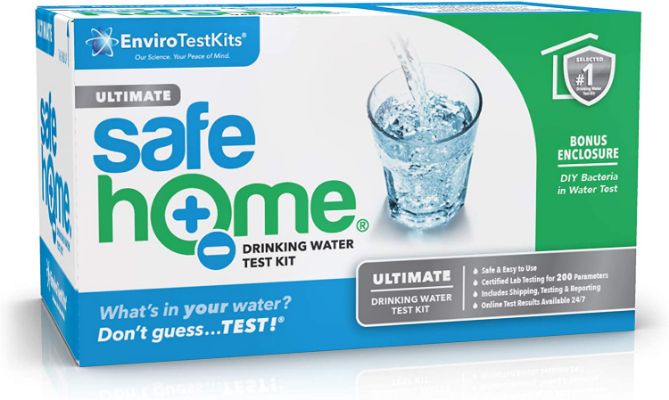 Safe Home ULTIMATE
There are many reasons why you might want to test your home's drinking water. Perhaps you've had a local scare, or you've learned about the common drinking water contaminants and you want to know how many of these your water contains.
Maybe you have your own well and need to check that your water is safe to drink, or maybe you're just curious about your water quality.
No matter why you choose to test your water, it's now cheaper and easier to do than ever before. There's no need to pay hundreds of dollars for a lab test anymore; prices are competitive, and there are plenty of options to choose from.
In this guide, I'll be sharing the best kits that you can use to test your water at home in 2023. Make sure to stick around until the end of the article, where I've provided all the info you may want to know about water testing kits.
🥇 Best Home Water Test Kits
📊 Comparison Chart of Water Test Kits
| Test | SimpleLab Tap Score | National Testing Laboratories Water Test Kit | Safe Home ULTIMATE Water Quality Test Kit | Quality Water Treatment Well Water Test Kit | Health Metric Drinking Water Test Kit | Watersafe Drinking Water Test Kit | Test Assured Drinking Water Test Kit | Hach Total Hardness Test Strips |
| --- | --- | --- | --- | --- | --- | --- | --- | --- |
| Ranking | 1st | 2nd | 3rd | 4th | 5th | 6th | 7th | 8th |
| Ratings | 5/5 | 4.5/5 | 4.5/5 | 4/5 | 4/5 | 4/5 | 4/5 | 4/5 |
| Price | $$$ | $$$ | $$$ | $$ | $ | $$ | $$ | $ |
| Type | Lab Test | Lab Test | Lab Test | Lab Test | Test Strips | Test Strips | Test Strips | Test Strips |
| Analytes Tested | 200+ | 75 | 200 | 85+ | 9 | 10 | 10 | 1 |
| Turnaround Time | 5 business days | 10-15 business days | 7-10 business days | – | 10 minutes | 10 minutes | 10 minutes | 10 minutes |
| Free Shipping | Yes | Yes | No | No | No | No | No | No |
---
⭐ Reviews of Drinking Water Test Kits 2023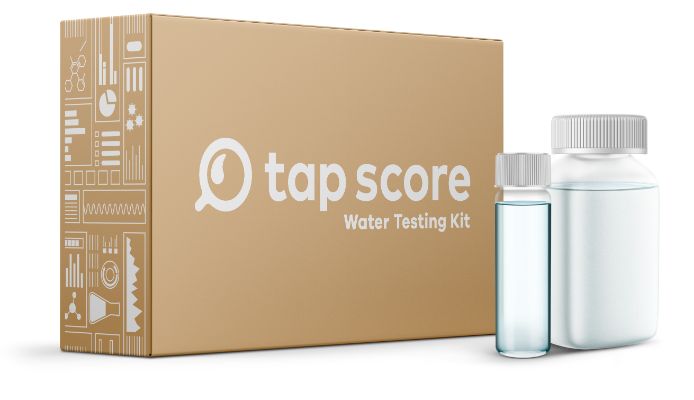 SimpleLab Tap Score
Tap Score is a comprehensive selection of laboratory water tests offered by SimpleLab. There are three city water test options, three well water tests, 54 specialized tests, and eight at-home add-ons.
No matter what you're looking to test in your water, whether you're after a general analysis or testing for a specific contaminant, you'll find the right Tap Score test for you.
The 3 options for city water testing and number of analytes tested are:
Essential City – 45
Advanced City – 108
Extended City – 118
And the 3 options for well water testing and number of analytes tested are:
Essential Well – 51
Advanced Well – 111
Extended Well – 182
With specialized packages, the options are endless.
After purchasing a Tap Score test, you'll receive a package in the mail that includes vials, an instructions manual, and everything else that's needed for testing. Once you've sent the sample to the laboratory, you'll receive a Tap Score report within 5 days.
The interactive report is very detailed, listing the contaminants present in your water, their detection (in parts per billion/ ppb or parts per million/ ppm), an "evaluation" of how much of each contaminant is present, and their potential aesthetic or health concerns.
Contaminants you can test for with Tap Score range from the more common contaminants like chlorine, fluoride, heavy metals and bacteria to the less common contaminants like radiologicals, flame retardants, perchlorate, and Hexavalent Chromium.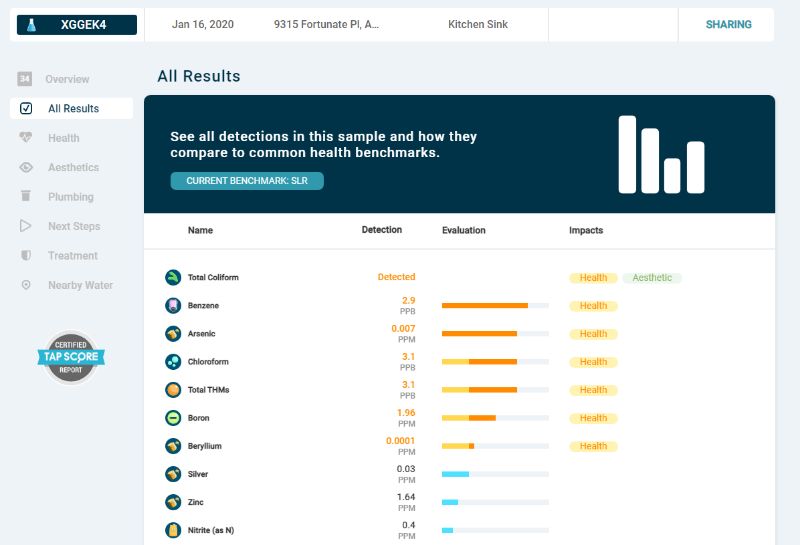 Read the full review: Tap Score by SimpleLab Review (Updated:2023)
👍 What I Like
Hundreds of tests to choose from
Tests for even the most specific contaminants
Dedicated options for city water and well water
👎 What I Don't Like
Even cheapest tests may be too expensive for small budgets
Overwhelming number of options to narrow down
---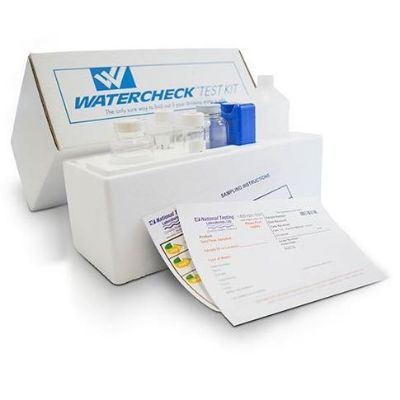 National Testing Laboratories Water Test Kit
National Testing Laboratories offers a variety of test kits for well water and city water. Kits are priced on how many contaminants they test for, with the cheapest (around $170) testing for 32 analytes and the most expensive (around $290) testing for a whopping 115 analytes.
Even the most affordable DIY water test kit can be used to test for the contaminants you're most likely to find in water, like metals, chemicals, materials, uranium, and disinfectants and their byproducts.
If you're not sure what you need to test in your water, National Testing Laboratories has a quiz-style page that lets you choose options based on whether you have city or well water, then choose add-ons based on your main concerns (color, tastes, bacteria etc).
When you've ordered a testing kit for your home, you'll just need to fill the water sample containers provided by National Testing Laboratories and ship them to the laboratory using guaranteed next-day delivery. Within days, you'll receive an in-depth report that compares your results alongside national EPA standards.
👍 What I Like
Tests for very specific contaminants, such as uranium and slime bacteria, which is hard to find elsewhere
Options for testing for a broad range of contaminants or singular particulates, depending on requirements
Handy quiz-style selection page for those who don't know what they want
👎 What I Don't Like
Expensive
Return shipping not included in price
---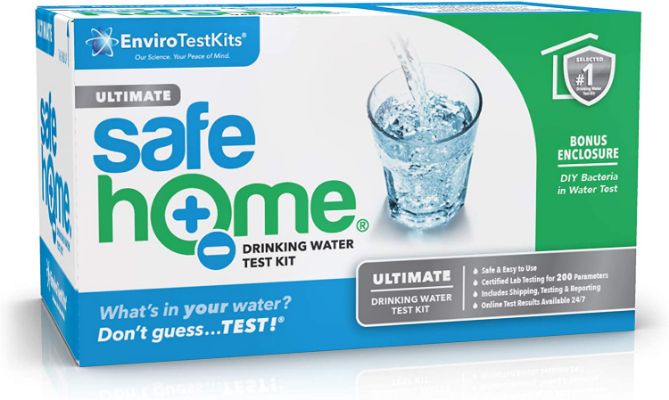 Safe Home ULTIMATE Water Quality Test Kit
Costing just under $400, the Safe Home ULTIMATE Water Quality kit tests for more than 200 parameters in drinking water. This water testing kit follows the usual rules of a DIY laboratory testing product: you collect your water samples in the included containers, ship them off to the Safe Home laboratory, and get your test results sent to you via email within around 14 business days.
You can't choose which contaminants you want to test for with the Safe Home ULTIMATE water testing kit – but that's okay, because it tests for pretty much everything that could possibly be in your water, anyway. From metals to physical properties, TTHMs to semi-volatile and volatile organic compounds bacteria to inorganics, if it's in your water, it'll be picked up by this test kit.
The Safe Home test kit uses a certified laboratory, and you'll be notified when the lab receives your samples and when you should expect your results. Included with the test is a DIY Bacteria in Water test, allowing you to test for bacteria yourself.
👍 What I Like
Thorough, comprehensive testing
Email updates when sample received
Comes with a free at-home bacteria test
👎 What I Don't Like
Can take up to 3 weeks to receive results
Doesn't tell you whether detected contamination levels are "safe"
---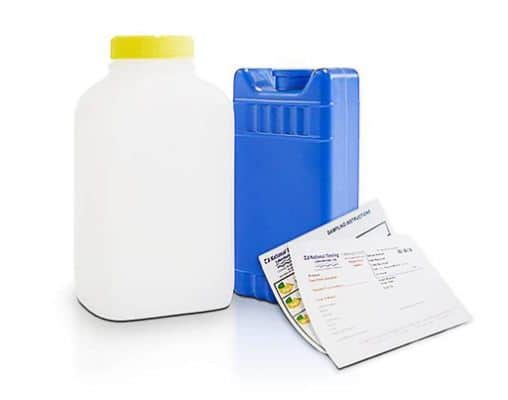 Quality Water Treatment Well Water Test Kit
The Quality Water Treatment Well Water Testing kit is designed for testing well water samples. It's a laboratory-style offering, so you'll be required to collect a sample of well water from your tap and send it off to the QWT laboratory. You'll then receive an email with your results, and you'll be put in touch with a water therapy consultant, who can review the findings with you.
This water testing kit tests for 32-87 impurities depending on whether you opt for the Lite, Basic or Standard kit. The Lite is the cheapest option and covers the impurities you'd most likely be looking to rule out: 7 inorganic chemicals, 22 heavy metals, and 5 physical factors. The Basic kit also tests for bacteria (total coliform and e coli), while the Standard kit is the most comprehensive offering, and tests for everything from lead and arsenic to uranium, fluoride, nitrates, VOCs, disinfection byproducts, and TDS.
If you don't want to pay upfront for your QWT testing kit, you can split it into 4 interest-free payments, which is pretty handy. All orders are processed within one day, so if you're in a hurry to test your tap water, you won't have to wait long to receive the testing package in the post.
👍 What I Like
Easy to understand and use
One of the most comprehensive well water testing options
Three kits to choose from
👎 What I Don't Like
Pretty costly compared to others on this list
Might not be best suited for municipal water
---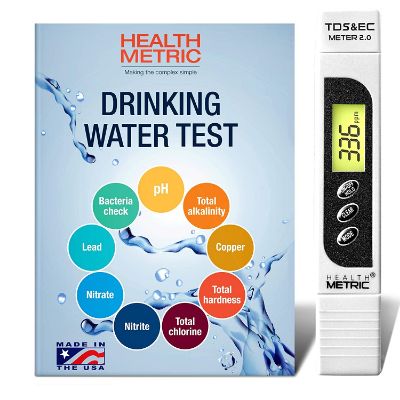 Health Metric Drinking Water Test Kit
The Health Metric Drinking Water Test Kit is an at-home test kit for wells and municipal tap water. The kit has easy-to-read test strips that you can use to test for 9 common contaminants in a water sample: copper, lead, coliform bacteria, pH, total alkalinity, hardness, total chlorine, and nitrate.
Using this kit is quick and simple: simply dip one of the provided strips in your sample and match the color-coded results with the color chart in the included booklet. When the strip changes color, it'll alert you to your water's contamination levels.
While it's a little on the pricier side compared with other at-home water tests, this kit does have the advantage of testing for pretty much all the initial parameters you'd need to check for in city or well water. There are several tests within a single pack, and each one has its own instructions. The majority of the water tests included in this kit provide instant results, apart from the bacteria kit, which takes a couple of days from start to finish.
👍 What I Like
Easy to use
Pretty thorough for an at-home kit
Good customer service
👎 What I Don't Like
Some customers had issues with inaccurate readings
More expensive to purchase than similar tests
---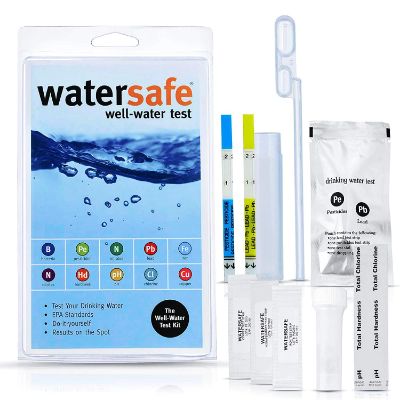 Watersafe Drinking Water Test Kit
The Watersafe Drinking Water Test Kit is a color-coded test strip kit. Water from your tap can be tested for lead, pesticides, bacteria, pH, hardness, copper, iron, nitrate and nitrite using these strips. Costing less than $30, the Watersafe is an affordable at-home testing solution, and includes all the materials you need to screen for common contaminants.
A standout feature of the Watersafe kit is its lead testing, which is particularly clear and has been validated in an EPA-certified laboratory for lead detection at minuscule levels. Because this kit can screen for odorless and colorless chemicals, you can take comfort in the fact that you're well protected, even from the impurities that you didn't know existed.
With the Watersafe being fairly cheap to purchase, it's a great option to use frequently for peace of mind. There are 6 separate tests included in the pack, and each can only be used once (unlike some kits, which can be reused). Results are easy to read and generally pretty precise.
👍 What I Like
Easy to use
Clear, accurate results – especially for lead
Tests for common contaminants
👎 What I Don't Like
Can't be reused
Some customers had issues with accuracy
---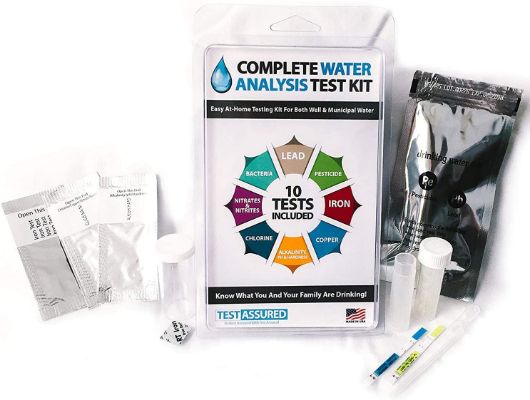 Test Assured Drinking Water Test Kit
The Test Assured testing kit is a worthy option if you don't need to scan your water for everything – but you do need to check for 10 of the most common impurities and TDS. In all, this kit tests for iron, lead, nitrates and nitrites, copper, pH, hardness, chlorine, and total dissolved solids – so all the stuff you're most likely to find in your tap water.
There's no need for lab testing with this kit. It's an easy-use, at-home testing solution. You just take your own tap water samples and follow the instructions to determine exactly what's in your water. The Test Assured kits are produced in line with the EPA standards for water quality limits, so if you want to check that the water from your tap is legally acceptable, this kit is a good option.
Most of this kit is single-use, but the TDS meter can be reused, making this a slightly better value option than other DIY testing kits. If you install a filtration solution that should improve your TDS, you can use the TDS meter to check it's worked. At about $45, this testing kit is a good price for what you get.
👍 What I Like
Reusable TDS meter included
Backed by a 100% satisfaction guarantee
Generates results within minutes
👎 What I Don't Like
Some customers found the lead tests to be defunct
Very simplified – doesn't offer a complete breakdown
---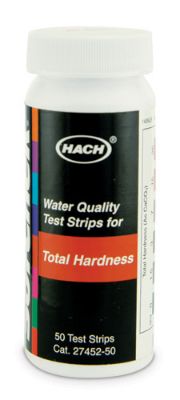 Hach Total Hardness Test Strips
If you think you have a hardness problem and you're keen to get a better idea of how bad the issue is, the Hatch Total Hardness Test Strips should come in useful. There are 50 strips included in a single kit, and each strip measures hardness from 0 – 425 ppm or 0 – 25 gpg.
Hardness can be a big issue if left untreated. The Hatch strips come with a color chart, which you can use to determine just how hard your water is. A higher hardness indicates a greater likelihood for limescale, so if you use this kit to discover you're dealing with a high level of hardness, you can use your knowledge to decide on a softening solution for your property.
Like most at-home testing strips, the Hatch strips expire after roughly 1 year and a half. It's unlikely that you'll need to use all 50 strips in that time, which does make you wonder why so many are included – unless you'd installed a softener and wanted to periodically check that it worked. The strips don't come with anything other than a color chart, so you'll need to have a clean container on hand to collect a sample of water.
👍 What I Like
Gives a clear indication of water hardness
Most users feel the test was accurate
Provides immediate results
👎 What I Don't Like
Won't give you a thorough indication of hardness
The range between the colors on the scale is a little wide
---
🧾 Water Test Kit Buyer's Guide
If you're on the market for water test kits, it's important you understand what to look for. You might not end up with the best testing kit for you if you don't actually know the options that are available, or the features that can be helpful in different circumstances.
That's where this buyer's guide will help you.
I've covered all the things you need to know, including the types of water test kits available, considerations to make when buying a test kit for your home, and a few frequently asked questions.
✅ 2 Specific Water Test Kit Buying Guides
🔠 Types of Water Quality Test Kits
If you search online for water test kits, you'll most likely come across a selection of these four most popular kit tests:
Lab Sample Kits
Lab sample kits are the most expensive water testing solution, but they're also the most accurate. With this type of water testing kit, you don't have to do the actual testing yourself. You'll simply collect a vial of water and ship it off to the laboratory.
You have plenty of choices when it comes to testing your water using a lab testing kit. You could opt for a complete water analysis for the most comprehensive overview of what's in your water. Alternatively, you could choose to test for only a select few contaminants – depending on the options the laboratory offers – which will save you money.
Most brands that offer lab testing kits can provide far more informative testing solutions, with the option to choose the best water test kit based on your preferences and water source (well water or city water, problems with taste, staining, odor, etc). Look for a lab that's accredited by the NSF for peace of mind – these labs have third-party approval of the services they provide, so they won't waste your money.
Lab water testing kits are capable of testing for every parameter out there, from water hardness to volatile organic compounds, bacteria to pharmaceuticals, chemicals to heavy metals.
However, the biggest turn-off of lab sample kits is that they tend to cost at least $100 per testing kit. Additionally, test results don't tend to be immediate – you may have to wait upwards of two weeks to hear back from the lab – which isn't ideal if you're facing a potential emergency and think your water might be dangerously contaminated.
Test Strips
Test strips are the most affordable and easy-to-use water testing option. Using test strips enables you to test your water at home, which brings costs down significantly. You can usually find test strips between $10 and $30 online, depending on the quality of the test, and the number of impurities tested for.
To use a test strip kit, you'll usually be required to dip the strip in a sample of water (or running water, depending on the instructions in the kit). The test strip will typically consist of multiple different squares, which you'll need to be careful not to touch when testing your water.
Each of these squares represents a different contaminant, and will take on a shade when exposed to water. The intensity of this shade will determine how prominent certain impurities are in your water.
You'll be provided with a color chart to understand your results.
This testing method is a lot faster, cheaper and more convenient than sending off your test results to a lab. However, test strips can only test for a specific selection of impurities, rather than for everything at once. So, for instance, if you wanted to test for water hardness, bacteria, and chlorine/chloride, you might have to purchase multiple tests for the highest level of accuracy.
On the subject of accuracy, since test strips can only indicate what's in your water using a color chart, you'll only have a vague understanding of how contaminated it is. You should also keep in mind that if you're looking for something really specific, like radium, you might not find a test strip kit that can provide you with the information you need.
Color Discs
You're less likely to come across a color disk water test, but it's still an option. With this type of test, you add water to a plastic container, then insert the container into a small box. Built into this box is the color disc. Simply spin the disk until you land on the shade that best matches the shade of your sample. Your results will tell you how contaminated your water is.
Color disc tests require more work than testing strips, so your results won't be as immediate. Additionally, these discs are unlikely to check for multiple parameters – they don't usually even check for as many contaminants in one go as water testing strips.
Typically, a color disc will only be used to test for one type of impurity, such as chlorine, iron, nitrate and phosphate. This can make it a more expensive option if you're keen to test for multiple impurities.
Digital Instruments
If you're looking for a non-disposable option, you might consider using a digital water testing instrument. Two of the most common devices are digital pH readers and TDS (total dissolved solids) meters.
A pH reader measures how acidic or alkaline water is, which is typically an indication of the types of contaminants it might contain. While alkaline water is likely to have a higher mineral content (and perhaps a higher water hardness) and a lower overall contaminant content, acidic water with a pH reading of 6.5 or less is more susceptible to contamination from pollutants. It's also more corrosive, which may pose a problem for your pipes and plumbing over time.
To utilize a pH reader, calibrate the probe in a neutral buffer solution (with a pH reading of 7) before dipping it into a clean container of tap water. You'll get a pH reading within 2 minutes. There is a bit of work involved in calibrating the pH reader to make sure your reading is accurate, so it's not quite as simple as it seems.
TDS meters are ideal for testing your overall water quality. TDS, or total dissolved solids, indicates how many dissolved solids water contains – the good stuff and the bad. Most tap water has a TDS reading of around 300 ppm (parts per million), which is rated as "good" by the EPA. However, it's recommended that your water's TDS doesn't exceed around 500-600 ppm, as this could be an indication that your water contains a higher-than-average level of harmful contaminants.
Like a pH reader, a TDS meter is a digital handheld device that can be used to analyze your water within minutes. When you dip a TDS meter in water, it'll measure the conductivity of the water, and, from there, understand its TDS.
A TDS meter can be helpful if you're keen to know whether a water purification system, such as a reverse osmosis unit, is working, but it won't provide you with information about what's actually in your water.
Water testing kits can explain which dissolved solids your water contains. This makes them more appealing to anyone who's looking for exact information.
🔬 Lab vs At Home Water Test: Which is Better?
Performing your own at-home water test may be more than enough for you. Perhaps you're just keen to have a vague idea of the contaminants your water contains, or you're looking for peace of mind that your water is clean. In that case, using one of the DIY water test kits mentioned in this guide will probably suit you fine.
However, at-home tests are nowhere near as comprehensive or accurate as a lab test. While you'll know vaguely what's in your tap water, you won't be given exact measurements with a testing kit you've used at home. That's where lab tests can prove invaluable, especially if you're testing water in a private well or you have reason to be concerned about water contamination in your area.
In short, one is not better than the other in this case. At-home water test kits are more affordable, and they tend to be the better option for on-the-grid water uses who just wish to know whether their water is clean or not. Lab tests are a good second option if you need to more thoroughly test for problem contaminants, or you use your own water source that you're responsible for testing and maintaining.
💭 Considerations When Buying a Water Testing Kit
Before you go ahead and purchase a water testing kit, it's worth considering the following things:
Water Source
Your water source may indicate which contaminants you should test for. Perhaps the most common water quality issue of all is water hardness, so you'll probably be keen to test for this no matter where in the country you're based. But when it comes to pretty much every other contaminant out there, whether it's in your water or not – and how much of it is in your water – will depend on your location.
If you get municipal or local water, your water will be disinfected by your area's authority before it's sent to your home – but that doesn't mean it'll be contaminant-free.
Depending on where you live, you might still wish to test for chlorine, sulfur, heavy metals and fluoride, and for any other contaminants that affect your water's taste, smell or overall quality. Lead is another contaminant that may show up in your tap water, especially if your area's underground pipes are very old, so you might want to consider ordering a lead test too.
If you're a private well owner, you're 100% responsible for testing your own water. Again, you might want to test for things like water hardness, along with some well-specific contaminants, like iron, bacteria, sulfur and manganese. Using a lead test or testing for chlorine is not as necessary with a private well. This is because well water isn't chlorinated like municipal water (unless you do it yourself), and it's unlikely that lead will get into your private well (unless your well's components are made from lead).
Testing Procedure
No matter what type of home water test kit you go for, the testing process is usually pretty straightforward. In either case, you'll need to take a sample of your tap water, then either send it off to a lab and wait for your test results, or test water on the spot.
Keep in mind that lab testing, while being a more accurate test option, is a much longer procedure. If you want to test water straight away, you're better off considering a DIY test that'll offer instant results.
Contaminants Tested For
Most water test kits can test for a selection of water's most well-known contaminants, but some are far more specific than others.
The best water test option for thoroughness is a lab test.
You'll learn everything about your water, and if it has even the smallest traces of contaminants like lead, bacteria, iron, copper, fluoride, chlorine, and so on, you'll find out. Water test kits can also be used to determine pH levels and total alkalinity, and their accuracy makes them a great option for anyone who needs to test private well water.
However, you may not always want – or need – to test for every single contaminant out there. If you just want to test for the most commonplace contaminants in your water supply, a DIY test kit like test strips will do the job. There are plenty of tests for lead, chlorine, pH, hardness and other contaminants that can be used within a matter of minutes at home.
I would suggest that if you have a reason to be concerned about a particular contaminant, you should consider professional testing, as you'll get a more accurate indication of the problem you're dealing with.
❔ Frequently Asked Questions
Are home water test kits accurate?
This is a bit of a loaded question, but I'd say yes – for the most part. Water test kits aren't as accurate as lab tests, but if they're designed properly, they'll accurately indicate what's in your water. Check out customer reviews for more information. It's also worth looking at the brand itself and the product description – some tests can have certain stamps of approval that can provide you with assurance before you buy.
One thing to be aware of is that the majority of kit tests have a relatively short lifespan. Storing your kit away from heat and humidity is also essential, as the kit can be easily damaged in hot or humid certain conditions. To make sure your results are as accurate as possible, store the kit as advised by the manufacturer.
If my area's authority already tests my water, why should I test it too?
There are many reasons why you might want to perform your own tests on your water supply, even after it has been tested and disinfected by your area's authority.
For starters, contaminants including lead may leach into your water on its journey through underground pipes to your property. Additionally, your area's authority will disinfect your water using chlorine or chloramine, which are considered chemical contaminants. Finally, while your area's authority will reduce different contaminants according to EPA standards, they may not remove them entirely, so you may still be exposed to harmful impurities.
If I have a private well, how often should I test my water supply, and what should I test for?
There are several contaminants and water quality indicators that you'll need to test for in your well water. These are coliform bacteria, E. coli, pH, nitrates, and VOCs. You may also need to test for contaminants including lead, hydrogen sulfide, copper, iron, arsenic, radium, pesticides and mercury, depending on where your well is based.
It's advised that you test your well water once a year for pH, TDS, nitrates, and coliform bacteria. You can test for additional contaminants in your well water once every three years, or if you have experienced problems with your well or been informed of pollution in your area.