The best salt-free water softener systems featured in this guide are the products that we've selected, through our own thorough testing, research, and discussions with the manufacturer. We've ranked the systems in terms of performance capabilities, quality of build, and of course, value for money.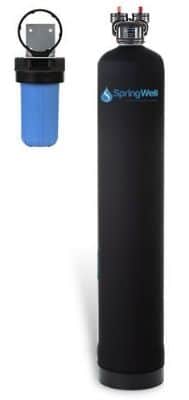 SpringWell Futuresoft Salt-Free Water Softener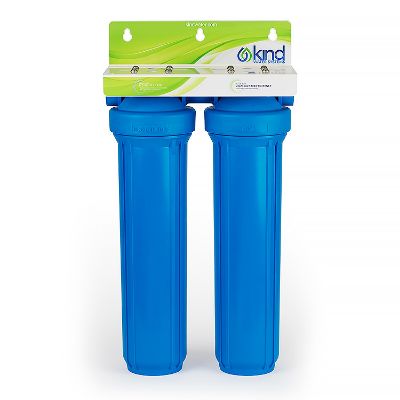 Evo E-2000 Whole House Salt-Free Water Softener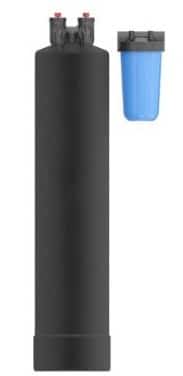 SoftPro Elite Salt-Free Water Softener
Limescale is, undoubtedly, the biggest water quality issue in the US. Though some states have harder water than others, we're all far too familiar with the problems that scale can cause.
If you like the advantages that salt-free water softeners offer, but you don't know which system to buy, this guide is for you. Since establishing WaterFilterGuru.com, we've gone on to share our water treatment advice with 250,000 monthly visitors. We've also been featured in the likes of the New York Magazine, HowStuffWorks, and Simply Recipes.
It's our job to understand the water softener market. Through extensive testing and research, we make sure to be aware of every new product, and how it competes with those already available.
By the end of this guide, you will know:
Which 6 salt-free water softeners are worth your money in 2023
What to consider when purchasing a salt-free water softener
How to install and maintain a salt-free water softener
🥇 Best Salt-free Water Softeners
📊 Comparison Chart of Salt-free Water Softener Systems
| System | Springwell Futuresoft | Evo E-2000 | SoftPro Elite Salt Free Water Softener | US Water Systems GreenWave Salt-free Water Conditioner | Yarna Capacitive Electronic Water Descaler | Pelican NaturSoft Water Softener Alternative | Aquasana Salt-Free Water Conditioner |
| --- | --- | --- | --- | --- | --- | --- | --- |
| Ranking | 1st | 2nd | 3rd | 4th | 5th | 6th | 7th |
| Ratings | 5/5 | 4.5/5 | 4/5 | 4/5 | 4/5 | 4/5 | 4/5 |
| Price | $$$ | $$ | $$$ | $$ | $ | $$$ | $ |
| Max Hardness | 81 GPG | 75 GPG | 17 GPG | 81 GPG | n/a | 75 GPG | 25 GPG |
| Method | TAC | TAC | NAC | NAC | Electromagnetic | TAC | NAC |
| Flow Rate | Up to 20 GPM | Up to 15 GPM | Up to 12 GPM | Up to 25 GPM | n/a | 10 GPM | 7 GPM |
| Warranty | Lifetime | Lifetime (limited) | Lifetime | Lifetime, 10 years, 5 years | 1 year | 1 year | 6 years |
---
⭐ Salt-free Water Conditioner Reviews 2023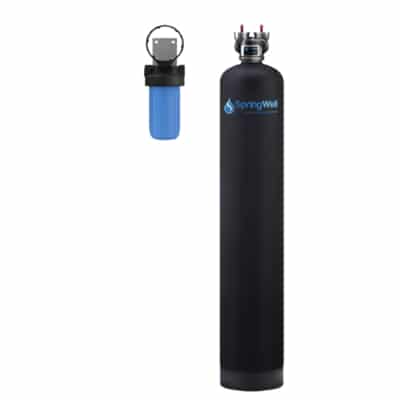 SpringWell Futuresoft Salt-free Water Softener
The Springwell Futuresoft Water Softener tops our list as the best salt-free water softener. This high-tech, excellent value water softening system is capable of preventing up to 99.6% of scale, without affecting your home's water pressure or producing wastewater all while maintaining the highest flow rate of all the systems we tested on this list.
Best For: Anyone looking for a quality conditioner from a trusted brand, using proven technology to reduce scale.
Pros:
The Springwell water softening system tackles hard water using the most effective salt-free water treatment technique: TAC (or Template Assisted Crystallization).
This unit doesn't need to regenerate. Plus, there's no water waste involved in the TAC process, and sodium ions are not needed for the job.
This salt-free system is also designed to have zero effect on the flow rate and pressure of your water supply, provided you buy the right size for your home.
The Futuresoft protects its softening media with a large, stainless steel tank. Also included with the Springwell is a pre- sediment filter, which filters out dirt, dust, and other large particles that could damage the softening media and reduce the system's lifespan.
Conveniently, the Springwell water system comes with everything you'll need for installation, including a bypass valve, a spanner wrench for tightening, fittings, and a mounting bracket.
This salt-free system has a durable softening tank made from stainless steel. The tank's capacity varies depending on the size you choose for your home's number of bathrooms: 1-3, 4-6 or 7+.
Springwell is one of the few manufacturers of soft water units that use completely certified materials in their designs. They offer this saltless water softener system with a lifetime warranty and a 6-month money-back guarantee.
Cons:
Unsurprisingly, considering it's one of the best conditioners out there, the Springwell is an expensive investment.
It's not easy to test for soft water after using the system.
You'll need to use pre-treatment if your water contains manganese, iron, copper, sulfur, or anything else that could damage the media.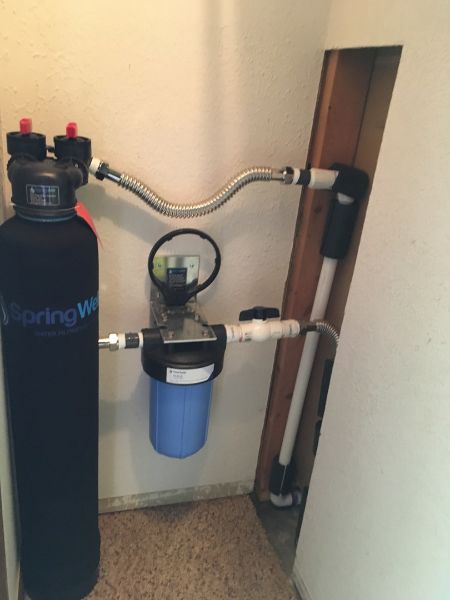 Read full review: Springwell Futuresoft 2023 Review
---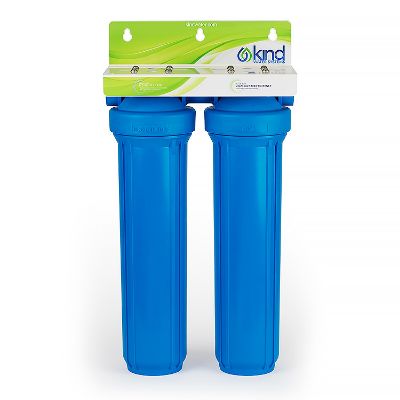 Evo E-2000 Whole House Salt-Free Water Softener
Our top cartridge-based salt-free water softener is the Evo E-2000. This unique system is easier to install and more affordable than most tank-based systems.
Best For: People looking for a conditioning system that's low-maintenance, easy to install & maintain, and doesn't waste water.
Pros:
The Evo E-2000 uses two filter cartridges – a sediment filter and a TAC cartridge – to filter and condition water while retaining healthy minerals.
This conditioner has the appearance of a whole house water filtration system, with two cartridges attached to filter housing. Its simplistic design makes it easier to install than tank-based systems.
Unlike most salt-free conditioners, the Evo E-2000 Whole House Salt-Free Water Softener doesn't need to backwash, so it doesn't waste water.
This Evo Water model uses the most popular conditioning method used by all the best salt-free water conditioners: template-assisted crystallization. The only difference is that the TAC media is encased in a filter cartridge, not a tank.
This system is made from certified components and comes pre-assembled and ready for use. Its flow rate of up to 15 GPM makes it ideal for homes with up to 6 bathrooms.
You're covered by a 120-day satisfaction guarantee when you buy the Evo E-2000 Whole House conditioner. This model is also backed by a limited lifetime warranty.
Cons:
If your water hardness is higher than 75 GPG, this system isn't suitable for you.
The sediment filter needs to be changed once a year, so the unit isn't completely maintenance-free.
---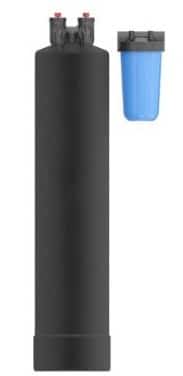 SoftPro Elite Salt-Free Water Softener
The SoftPro Elite is a salt-free water softener system that boasts "install and forget it" operation, with no maintenance and no need to do anything after you've programmed your settings (or let the smart system program itself).
Best For: Busy families looking for a conditioner that requires no work and no hassle. This water softening system is ideal for homes of 1-5 bedrooms with a water hardness of up to 17 GPG.
Pros:
Offering 99.6% scale prevention, SoftPro uses a process called SCT, or Scale Control Technology. It targets the hard water ions that are present in the water, dissolving them and making them inactive.
Not only does SCT offer scale prevention, but it also reduces existing scale in your plumbing and pipes.
The SoftPro system comes with a 5-micron sediment and chlorine pre-filter. This water filtration media is designed to remove larger sediment particles that could damage the softening resin or cause damage to your home's appliances.
This system lasts for 6 years and doesn't need electricity to run. It also doesn't waste water during the SCT process, making it one of the most environmentally-friendly, cost-effective softener systems on the market today.
The SoftPro Water Conditioner offers peace of mind with a lifetime warranty and live customer support.
SoftPro is currently offering a free optional upgrade for its system. You can check the box to receive a quick-connect hose kit at no extra cost, available in 3/4 inch size.
You can protect the outside of the SoftPro with a removable, washable neoprene jacket. This jacket helps to reduce condensation and protects the tank from humidity and cold temperatures.
Cons:
Some customers found installation of this system difficult. If you're not handy, it may be a job for the plumber.
The unit is only available in one size.
Your water should be free from sulfur, manganese and iron, which will damage the media.
---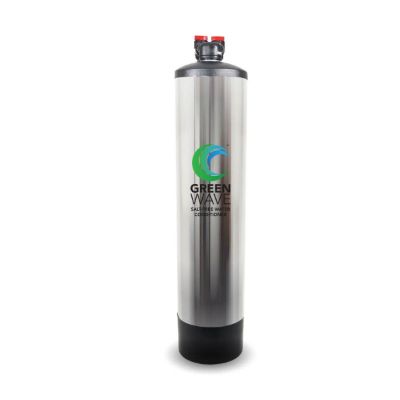 US Water Systems GreenWave Salt-free Water Conditioner
Using the Nucleation Assisted Crystallization (NAC) method of saltless softening, the US Water Systems GreenWave Salt-Free Water Conditioner is one of the newer conditioners to be added to the market, and boasts 97% effective conditioning capabilities.
Best For: Anyone looking for a heavy duty alternative, with plenty of options to choose from in size a fantastic flow rate.
Pros:
Rather than using ion exchange to remove calcium and magnesium from water, the GreenWave uses NAC to neutralize these hardness minerals, preventing them from being able to stick to surfaces and form scale. The system produces zero water waste and doesn't use electricity.
The Vortech tank evens the flow of water through the tank, increasing the number of NAC sites. This makes the system much more efficient, as water has more contact time with the media and channeling is eliminated.
The GreenWave softening tank comes in four sizes: the 10 GPM system uses a 9 x 52.5-inch tank, the 15 GPM system measures at 10 x 58.5 inches, the 20 GPM at 12 x 56.5, and the 25 GPM unit at 13 x 58.5 inches.
Installing the GreenWave is simple, and step-by-step instructions, accompanied by images, are available in the user manual. There are only 10 stages of installation, and the process isn't too complex at all.
You can buy the system in 4 sizes and with two inlet/outlet sizes (1 inch or 3/4 inch), which should further simplify setup.
After installing the GreenWave, your faucet aerators and drains may plug occasionally as scale is removed from the inside of your water pipes, and your water may look milky for a few days during this scale-removal process. This is a good sign that the system is working.
Cons:
The user manual notes that the GreenWave will improve your water's properties around the home, but you may still notice spotting on your sinks, fixtures, shower doors and tiles.
You'll need to filter any contaminant that could damage the media before it reaches the system. There's no sediment pre-filter included, so you'll have to buy one yourself.
There's a radial flow carbon filter advertised with this softener, but the filter comes at an extra cost.
---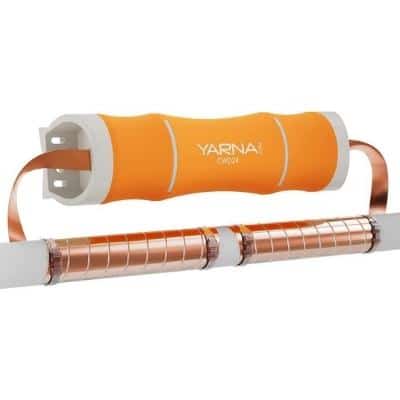 Yarna Capacitive Electronic Water Descaler
The Yarna Capacitive Electronic Water Descaler is a saltless water softener that prevents scale buildup with electric impulses. Costing just under $300, this salt-free softener is the cheapest on this list by far.
Best For: People looking for an affordable, zero-maintenance salt-free softener that requires a non-invasive installation.
Pros:
The Yarna Capacitive Electronic Water Descaler uses a single cable coiled around your waterline to deliver a high frequency modulated electromagnetic field, manipulating the behavior of hardness ions and preventing scale formation.
After installing the Yarna conditioner, you can enjoy benefits including lower heating costs, longer-lasting appliances, and reduced scale buildup.
You don't have to cut into your waterline to install the Yarna Capacitive Electronic Water Descaler. This is a big bonus if you live in a rented property or you're just not a fan of big DIY jobs.
Because the Yarna doesn't intercept your water, this method of water treatment has no effect on water pressure or flow rate.
This electric conditioner is a fraction of the price of other saltless systems, so it's ideal if you're on a budget or you don't want to spend upward of $500 on a softener.
You can use the Yarna on any type of pipe, including copper, iron, stainless steel, plastic, and PVC pipes.
You can use a single unit for your whole home – the Yarna is effective for up to 1.2 miles beyond the point of installation.
Cons:
The Yarna Capacitive Electronic Water Descaler can only be used on pipes up to 1 inch thick. If your water pipe is bigger, this system isn't suitable.
The electronic descaling method is still relatively new, and there isn't much evidence that it works.
You'll need to connect this unit to a source of electricity.
---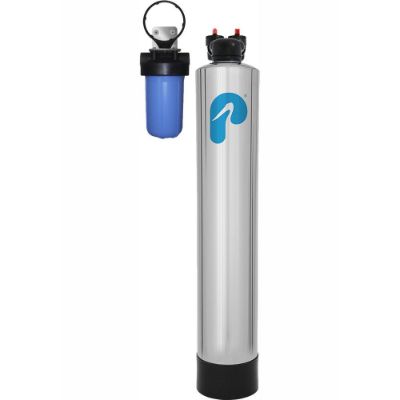 Pelican NaturSoft Water Softener Alternative
The Pelican NaturSoft is Pelican's saltless, maintenance-free water softener option. The system is certified by the DVGW (German equivalent of the NSF) to standard DW-9191 for the removal of up to 99.6% of hard water scale.
Best For: People looking to eliminate hard water scale with a certified product that requires minimal upkeep or maintenance.
Pros:
The Pelican NaturSoft helps to reduce hard water scale without the use of chemicals or water waste. It uses a media that features calcium carbonate structures on its surface. These attract dissolved hardness minerals and pull them into their crystallized surface.
The suspended particles also help to eliminate existing scale by mimicking the process that took place inside the softening system: attracting the minerals in the scale, crystalizing them, and pulling them into the water to pass through the system's plumbing.
This third-party certified scale prevention will increase the lifespan of your appliances and water heaters, offer cleaning benefits, reduce your detergent and soap use, and much more.
There are several features to save you time in installation and simplify the process. The Pelican's softening chamber comes pre-loaded with media, ready to install immediately. The bypass valve comes with 1-inch fittings for installing at your main water line before the pre-filter. Everything you need to know about installation is included in the system's installation guide.
The Pelican NaturSoft has one of the most impressive lifespans of all salt-free softeners. The media lasts for 12 years, while the pre-filter needs to be changed every 6 to 9 months.
A pre-filter is included in the price of the conditioner, so you won't need to pay extra to protect the media from contaminants.
It comes with a limited lifetime warranty, which warrants that the system will remain defect-free under normal use and service for 12 years after your original purchase.
Cons:
The Pelican is one of the more expensive saltless softening options on the market.
You'll need to pay more for brass fittings, which are durable and stronger. It would be better if these fittings came included in the price.
---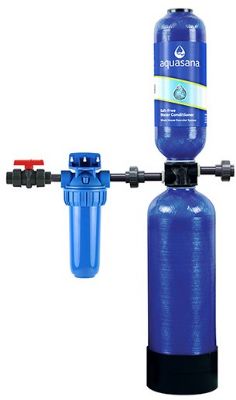 Aquasana Salt-Free Water Conditioner
The Aquasana Salt-Free Water Conditioner is an affordable, easy-install saltless softening system.
Best For: Anyone who has less money to spend, but still wants the reassurance of a quality salt-free water softener from a popular brand.
Pros:
The Aquasana uses Scale Control Media (SCM) to alter the structure of hard water ions. This technology is effective in treating present scale and preventing new scale from forming – and it doesn't require salt.
This salt-free softener is ideal for installing alongside another of Aquasana's filtration system products for thorough water treatment, tacking both hard water and water contamination issues. For treating well water, you have the option to buy this system alongside the Aquasana 500,000 Gallon Well Water Rhino filtration system.
Included with the Asquasana are a few installation essentials, including the conditioner and pre-filter, a shutoff valve, a wrench, and a pre-filter support bracket. You can pay slightly more to upgrade to a "professional-grade installation kit", which includes brass fittings and pex support brackets.
There's a pre-filter included, so you won't need to buy that separately for the system.
You'll need to replace the softening media inside the Aquasana every 6 years, making this a great low-fuss system if you're looking for something you can set up and leave to it.
The system doesn't waste water like traditional water softeners. It also doesn't need electricity to run, and you don't need to worry about salt top-ups.
You're protected when you buy the Aquasana thanks to its 6-year warranty and 90-day guarantee.
Cons:
The conditioner only comes in one size, so it might not suit you if your water use is outside of the average range.
Some information is missing from Aquasana's website – you'd have to contact them to learn more about system capacity, and what the sediment filter removes.
You have to pay extra for the installation kit, and there's no shutoff valve included in this kit.
---
🧾 Saltless Water Softener Buyer's Guide
Before you can buy the best salt-free water softener, it's important to know what to look for in a high-quality product. You'll find all the information you need to know about salt-free water softeners in this guide.
💭 Considerations When Choosing a Salt-free Water Softener
Your Water's Parameters
The quality of your water can affect the performance of a salt-free water softener. For instance, high iron, sulfur, manganese, and sediment levels can damage the media and shorten its lifespan. Some salt-free water softeners also require water within a certain pH range.
If you have city water, your water is more likely to be suitable for use in a conditioning unit than well water.
Many salt-free water softeners are sold with a sediment pre-filter. You should make sure to use this filter to protect the media in your salt-free system.
System Technology
There are various types of salt-free water softeners to choose from. The most popular – and most effective – salt-free softener type uses TAC (template-assisted crystallization) media. These salt-free softeners don't add anything into water, and don't remove healthy minerals, but they prevent water hardness minerals from causing scale.
Other salt-free systems use chemicals to soften water, and these are typically more affordable than TAC softeners. There are also electromagnetic water softeners, which are the most affordable – but the least effective.
Water Flow Rate
All POE water treatment units, including traditional water softening systems and salt-free systems, can provide a maximum flow rate. The size of your family and your water consumption should be factors to consider when sizing a salt-free softener for your home.
If you buy a water conditioning system that can't keep up with your water usage, you may find that your water flow rate isn't adequate. A low water flow rate can affect the efficiency of your appliances and reduce the power of your showers.
If your home has 1-3 bathrooms, look for a system with a flow rate of at least 12 GPM. For homes with 4-6 bathrooms, a salt-free system with a 15 GPM flow rate is necessary.
Installation & Maintenance
A water softener should be installed at your home's point of entry, before your water heater. This ensures that you get access to high-quality water, including hot water, around your home. Hot water heaters can lose efficiency as a result of scale buildup, so you'll want to prevent scale from the earliest possible point in your waterline.
Related: The best water softeners for outdoor installation
Installing a salt-free system is easy enough to do on your own, providing you have some plumbing knowledge and are confident in your DIY abilities.
Unlike traditional water softeners, salt-free softener systems require very little maintenance. Salt-free systems that use a TAC media bed only need their media replenishing around once every 6 years or more. As there's no backwashing or regeneration cycle, and no need to replace the water softener salt for the ion exchange process, you can enjoy a softener that's virtually maintenance-free.
If you want a system that's completely maintenance-free, go for one that uses magnetic softening rather than a softening media.
System Control & Features
Having a water conditioning unit that's easy to set up and control is a big plus point. Most soft water conditioners come with a digital control panel that lets you monitor the system and get notified when you need to change the media. Features like a backlit screen and touch display will make it easier to navigate your system information.
Physical Space Available
Salt-free conditioners generally take up less room than salt water softener systems, but you'll still need adequate room for installation and maintenance. Measure your planned area for installation and compare the dimensions with the no-salt water softener systems you're interested in. Make sure there's enough room for you to comfortably install the system and replace the resin.
Certifications
When a softening system has a third-party certification, it means an impartial organization has tested the system and deemed its claims about performance to be factual.
The most common certifications you'll find when looking for water softeners is NSF/ANSI Standard 61 and NSF/ANSI Standard 42, which both relate to structural integrity. There's no certification that proves a water softener reduces hardness levels or scale buildup, and this would be especially hard to prove with a salt-free conditioning water system anyway.
Some water conditioners also have a Water Quality Association (WQA) certification if they have been tested and proven to meet industry standards.
Costs Involved
After the initial purchase, there are small costs involved in running a saltless water system. The system will most likely require electricity to operate, which means it'll contribute towards your electricity bill – although definitely not on a noticeable level.
You'll also need to replace the softening media, if you're using resin-based TAC salt-free technology. Comparing a saltless system to a traditional water softener, however, you'll need to spend far less per gallon of water softened. This is especially the case if you have a magnetic water softener, which doesn't have a media bed, and requires virtually no maintenance.
Warranty
The best soft water units are backed by lifetime warranties and offer trial periods that guarantee refunds to unsatisfied buyers.
With a long warranty and a money-back guarantee period, you're safe to purchase a salt-free water softening system in the knowledge that if you don't like the system, you're not committed for life.
🤔 What is a Salt-Free Water Softener (Water Conditioner)?
A salt-free water softener is a water softener that doesn't require salt. While traditional softeners use a process called ion exchange, salt-free water softeners use another popular softening process to crystalize hard water minerals, rather than removing them entirely from a water supply. Salt-free water softeners condition, not soften, water.
📋 Variations of Salt Free Conditioners & How They Work
Template Assisted Crystallization (TAC)
The most popular means of softening water without salt is Template Assisted Crystallization (TAC). A TAC conditioner is not a softener, but offers near-identical results to salt systems.
TAC is a process that treats hard water minerals in a water supply, changing the composition of these minerals and preventing scale formation. A TAC media is used to offer all the benefits of soft water, while retaining healthy minerals.
When water flows through a TAC conditioner, hard water minerals are attracted to the resin and stick to it. The minerals remain in the resin until they become crystalized, and are released back into water in this new form.
Chelation
Chelation is another type of conditioning technology that binds hardness ions to a chelating agent, such as EDTA or citric acid. These mineral ions are suspended in water, and can't be deposited on surfaces as scale.
Traditionally, chelation was used in commercial applications, but several at-home chelation conditioning treatments have become available in recent years.
Electromagnetic
Electromagnetic water conditioners send electromagnetic coils to separate hard water minerals, preventing them from forming scale.
There are no tanks involved in this process. Usually, a coil or a pair of magnets is attached to the outside of your water pipe, intercepting water before it reaches your heater.
Electromagnetic conditioners are the most affordable salt-free softening solution, but there's little proof that these systems actually work.
👍 What Are the Advantages of Saltless Water Softeners?
There are many reasons why salt-free water conditioners are becoming a more and more popular softening solution for well and city water. These include:
They're space-saving
Because saltless water softeners don't require two large brine and resin tanks, they have a smaller footprint than salt-based water softeners. Salt-free systems generally consist of a single tank that contains the resin required for TAC. If you buy a magnetic water softener, this won't even use a tank – just magnets that are placed on either side of your water line, anywhere before your water heater.
They don't always use electricity
You can't avoid using electricity with a salt-based softener, as it needs to be hooked up to a power supply to regenerate. While some saltless water softening systems also need to be connected to a power supply, most don't.
They don't waste water
One of the biggest benefits of salt-free softeners is that they don't waste water during the softening process. With salt-based water softeners, water waste is unavoidable – when the resin tank is full to capacity with calcium and magnesium ions, it must be flushed through with water. With TAC-based water softening, there's no regeneration process, which means no water gets wasted.
They're low-maintenance
Owning a salt-based water softener takes commitment. You'll need to top up your salt frequently and deal with issues such as bridging. It's also recommended that you deep clean a salt-based water softener once every few months to keep it working well. Salt-free water softeners, on the other hand, require virtually no maintenance whatsoever.
They don't remove healthy minerals from water
Although calcium and magnesium minerals cause water hardness issues, they're actually good for us – and they give water an alkaline taste that most people enjoy. While a salt-based water softener completely removes these water hardness ions from water, salt-free water softeners simply change their structure, rather than fully softening water. This means you can still obtain the health benefits from calcium and magnesium without the water hardness issues.
They don't add salt to water
While a salt-based water softener only adds a small amount of salt to water, it's contributing to your sodium intake nonetheless. Salt-free softeners, on the other hand, don't add salt to your water. This is preferable if you're on a low-sodium diet or you don't want to consume any more salt than necessary.
👎 What Are the Disadvantages No-Salt Water Conditioners?
They won't produce soft-feeling water
When you use a salt-free water conditioner, your water won't actually feel soft (i.e., silky smooth, as salt-softened water feels). This is because the calcium and magnesium water hardness ions are still in your water.
They're not as effective as salt-based softeners
Because salt-free water softeners don't actually remove hard water minerals, you'll probably still experience some scale. While a salt-free softening system can be effective against limescale, it's not as effective as a salt-based water softener.
They take longer to show results
Salt-based softeners tend to be quicker to show results than saltless water softener systems. This is because of the higher effectiveness of the salt-based softening process.
They can affect water pressure
Like any POE water system, installing a salt-free system could reduce your water pressure. Correctly sizing your system will result in minimal impact, but you may still notice a drop in your water pressure after installing a conditioner.
It's difficult to prove that they work
With traditional water softeners, it's clear when a water softener is working, because the hard water minerals are completely removed. If you tested your water's hardness levels, you'd see that your water was soft.
If you tested conditioned water, however, the water would still technically be hard, because the hard water minerals are still there. The only evidence that the system is working is scale reduction.
❔ Frequently Asked Questions
How do I know that a salt-free water softener actually works?
The proof will be in your appliances. You'll notice a greatly reduced scale build-up after using a saltless water softener system for about a week. It's not possible to do a proper drinking water test to check how "soft" your water is – because the water isn't actually softened, just conditioned.
When might I want a salt-based water softener instead?
If you don't mind the extra maintenance of water treatment systems that use salt, you may prefer them for a more thorough, testable softening solution.
See our best salt based water softener system reviews in this guide.
Can a salt-free water softener filter water?
No. Conditioning units don't work like other water filtration systems. If you want to remove common contaminants from your drinking water supply, I recommend installing a whole-house water filter. Depending on the type of water filtration system you buy, the filter could remove
You can find out more about the best whole-home softener and water filtration system combos here.