Limescale is, undoubtedly, the biggest water quality issue in the US. Though some states have harder water than others, we're all far too familiar with the problems that scale can cause.
If you like the advantages that salt-free water softeners offer, but you don't know which system to buy, this guide is for you. Since establishing WaterFilterGuru.com, I've gone on to share my water treatment advice with 130,000 monthly visitors. I've also written for the likes of WQP Magazine, Sawyer Products, HowStuffWorks, and Simply Recipes.
It's my job to understand the water softener market. Through extensive research, I make sure to be aware of every new product, and how it competes with those already available.
The best salt-free water softener systems featured in this guide are the products that I've selected, through research, scouring the internet for reviews, and discussions with the manufacturer. I've ranked the systems in terms of value for money, performance capabilities and quality of build.
By the end of this guide, you will know:
Which 6 salt-free water softeners are worth your money in 2021
What to consider when purchasing a salt-free water softener
How to install and maintain a salt-free water softener
🥇 Best Salt-free Water Softeners
SpringWell Futuresoft Salt-free Water Softener
SoftPro Elite Salt Free Water Softener
Aquasana Salt-Free Water Conditioner
US Water Systems GreenWave Salt-free Water Conditioner
Pelican NaturSoft Water Softener Alternative
Tier1 Eco Series Whole House Water Softener Alternative
System
Details
SpringWell Futuresoft

Max hardness (GPG): 81
Flow Rate (GPM): Up to 20
Dimensions: 13 x 54 inches




☝️ Get 5% off - Use code GURU5


👉 Read the full review

SoftPro Elite Salt Free Water Softener

Max hardness (GPG): 17
Flow Rate (GPM): 12
Dimensions: 9 x 48 inches

Aquasana Salt-Free Water Conditioner


Max hardness (GPG): 25
Flow Rate (GPM): 7
Dimensions: 27 x 9 x 46 inches

US Water Systems GreenWave Salt-free Water Conditioner

Max hardness (GPG): 81
Flow Rate (GPM): Up to 25
Dimensions: 9 x 52.5 inches
Pelican NaturSoft Water Softener Alternative

Max hardness (GPG): 75
Flow Rate (GPM): 10
Dimensions: 18 x 49.5 inches

Tier1 Eco Series Whole House Water Softener Alternative

Max hardness (GPG): Not specified
Flow Rate (GPM): 12
Dimensions: 8 x 44 inches

---
⭐ Salt-free Water Conditioner Reviews 2021
SpringWell Futuresoft Salt-free Water Softener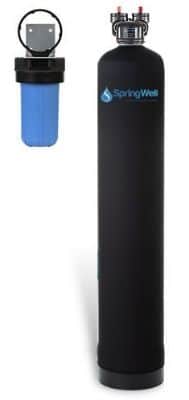 My readers get 5% off at springwellwater.com – 👉 Use Code GURU5
Overview
If your goal is to reduce scale as thoroughly as possible in your whole house without the need for salt, the Springwell Futuresoft Water Softener is a fantastic option to go for. This high-tech water softening system is capable of preventing up to 99.6% of scale, without affecting your home's water pressure or producing wastewater.
Features
Softening and water filtration unit – The Futuresoft protects its softening media with a large, stainless steel tank. Also included with the Springwell is a pre- sediment filter, which filters out dirt, dust and other large particles that could damage the softening media and reduce the system's lifespan.
Components for installation – Conveniently, the Springwell water system comes with everything you'll need for installation, including a bypass valve, a spanner wrench for tightening, fittings and a mounting bracket.
Softening tank – This salt-free system has a durable softening tank made from stainless steel. The tank's capacity varies depending on the size you choose for your home's number of bathrooms: 1-3, 4-6 or 7+.
Functionality
The Springwell water softening system tackles hard water using a typical salt-free water treatment technique: TAC (or Template Assisted Crystallization). Inside the Springwell softening tank is a bed of media, which crystalizes hard water ions and makes them unable to stick to surfaces. As a result, your whole house can benefit from scale-free water, and you'll still enjoy the healthful properties of consuming magnesium and calcium in your drinking water.
A benefit of the Springwell's functioning is that it doesn't need to regenerate. Plus, there's no water waste involved in the TAC process, and sodium ions are not needed for the job. This salt-free system is also designed to have zero effect on the flow rate and pressure of your water supply, provided you buy the right size for your home.
Springwell is one of the few manufacturers of soft water systems that use completely certified materials in their designs. They offer this saltless water softener system with a lifetime warranty and a 6-month money-back guarantee.
Pros/Cons
👍 What I Like
Doesn't need salt to operate
Only need to replace the pre-filter once a year
Lifetime warranty and 6-month money-back guarantee
👎 What I Don't Like
Quite expensive
Not easy to test for soft water after using the system
---
SoftPro Elite Salt-Free Water Softener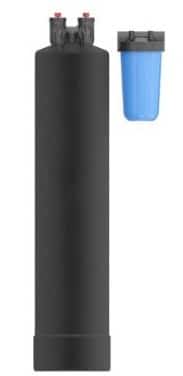 The SoftPro Elite is a salt-free water softener system that aims to provide a water treatment solution to busy families with no work and no hassle. It boasts "install and forget it" operation, with no maintenance and no need to do anything after you've programmed your settings (or let the smart system program itself). This water softening system is ideal for homes of 1-5 bedrooms with a water hardness of up to 17 GPG.
Features
Softening tank – The SoftPro system comes with a 5-micron sediment and chlorine pre-filter. This water filtration media is designed to remove larger sediment particles that could damage the softening resin or cause damage to your home's appliances.
Neoprene jacket – You can protect the outside of the SoftPro with a removable, washable neoprene jacket. This jacket helps to reduce condensation and protects the tank from humidity and cold temperatures.
Free installation kit – SoftPro is currently offering a free optional upgrade for its system. You can check the box to receive a quick-connect hose kit at no extra cost, available in 3/4 inch size. It's a good idea to opt in for this installation kit if you don't have the quick-connect hoses needed for the job already.
Functionality
For 99.6% of scale prevention, SoftPro uses a process called SCT, or Scale Control Technology. It targets the hard water ions that are present in the water, dissolving them and making them inactive. These crystal particles aren't removed entirely, so the SCT process doesn't affect your water quality. But they are transformed into minerals that can easily pass through your plumbing and down your drains without sticking to surfaces.
Not only does SCT offer scale prevention, but it also reduces existing scale on your plumbing and pipes. For your convenience and better health, the system doesn't require water softeners salt to run, making it much easier to enjoy the benefits of scale-free water.
This system lasts for 6 years and doesn't need electricity to run. It also doesn't waste water during the SCT process, making it one of the most environmentally-friendly, cost-effective softener systems on the market today. For peace of mind when buying the SoftPro Water Conditioner, it comes with a lifetime warranty and live customer support.
Pros/Cons
👍 What I Like
Comes with a free installation kit
Doesn't waste water per gallon
Includes a water filtration cartridge
👎 What I Don't Like
Some customers found installation difficult
Only available in one size
---
Aquasana Salt-Free Water Conditioner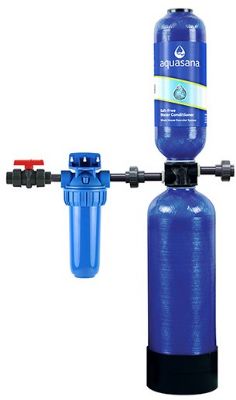 Overview
The Aquasana Salt-Free Water Conditioner is an affordable, easy-install saltless softening system. This particular salt-free softener is ideal for installing alongside another of Aquasana's filtration system products for thorough water treatment, tacking both hard water and water contamination issues. For treating well water, you have the option to buy this system alongside the Aquasana 500,000 Gallon Well Water Rhino filtration system.
Features
Pre-filter – The Aquasana comes with a pre-filter, as pictured. Although there's no information on the website about what this filter removes, it's likely that it works like most softening pre-filters, removing sediment like dust and rust that could harm the system.
Softening tank – Hard water is conditioned in the Aquasana's softening tank, which has a 9-inch diameter and is 27 inches across and 46 inches in height.
Basic installation equipment – Included with the Asquasana are a few installation essentials, including the conditioner and pre-filter, a shutoff valve, a wrench, and a pre-filter support bracket. You can pay slightly more to upgrade to a "professional-grade installation kit", which includes brass fittings, and pex support brackets, but doesn't include a shutoff valve, oddly.
Functionality
The Aquasana uses Scale Control Media (SCM) to alter the makeup of hard water ions. The system transforms these minerals into a crystallized structure, preventing them from being able to bind to surfaces and form scale buildup. This technology is effective in treating present scale and preventing new scale from forming – and it doesn't require salt for the process.
A big benefit of using the Aquasana is that it won't remove healthy minerals from your water. You still technically have "hard water" after it has been treated in the Aquasana – but the hardness minerals are no longer able to form scale.
You'll need to replace the softening media inside the Aquasana every 6 years, making this a great low-fuss system if you're looking for something you can set up and leave to it. The system doesn't waste water, it doesn't need electricity to run, and you don't need to worry about salt top-ups. You're protected when you buy the Aquasana thanks to its 6-year warranty and 90-day guarantee.
Pros/Cons
👍 What I Like
One of the most affordable saltless water softeners
Versatile – can install it alongside well water filters etc.
Very little maintenance required
👎 What I Don't Like
Only comes in one size
Some information is missing from Aquasana's website – you'd have to contact them to learn more about capacity etc.
---
US Water Systems GreenWave Salt-free Water Conditioner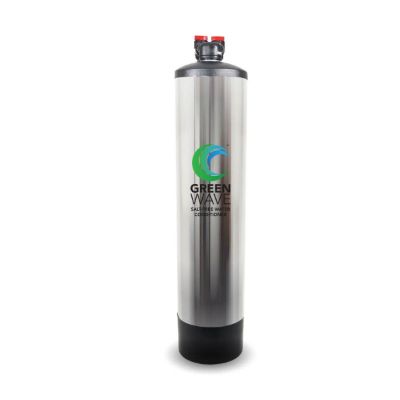 Overview
Using the Nucleation Assisted Crystallization (NAC) method of saltless softening, the US Water Systems GreenWave Salt-Free Water Conditioner is one of the newer conditioners to be added to the market, and boasts 97% effective conditioning capabilities.
Features
Softening tank– The GreenWave softening tank comes in four sizes: the 10 GPM system uses a 9 x 52.5-inch tank, the 15 GPM system measures at 10 x 58.5 inches, the 20 GPM at 12 x 56.5 and finally the 25 GPM unit at 13 x 58.5 inches. These tanks contain the media required for the saltless softening process.
Vortech Distribution Technology – Even's the flow of water through the tank, increasing the number of NAC sites. This makes the system much more efficient, as water has more contact time with the media and eliminating channeling.
Basic installation manual– With the US Water System's installation manual, you should find setup easy if you have basic plumbing knowledge.
Functionality
If you're wondering how NAC differs from TAC, it's just another name for the same process. Rather than using ion exchange to remove calcium and magnesium from water, the GreenWave neutralizes these hardness minerals, preventing them from being able to stick to surfaces and form scale. The system produces zero water waste and doesn't use electricity.
Installing the GreenWave is simple, and step-by-step instructions, accompanied by images, are available in the user manual. You can buy the system in 4 sizes and with two inlet/outlet sizes (1 inch or 3/4 inch), which should further simplify setup. There are only 10 stages of installation, and the process isn't too complex at all.
In the user manual, it's noted that the GreenWave will improve your water's properties around the home, but you may still notice spotting on your sinks, fixtures, shower doors and tiles. These should, however, be much easier to wipe away. Additionally, your faucet aerators and drains may plug occasionally as scale is removed from the inside of your pipes, and your water may look milky for a few days during this scale-removal process.
These are good signs that the system is working.
Pros/Cons
👍 What I Like
Uses NAC, a proven conditioning technique
Available in 4 sizes
Removes existing scale as well as new scale
No electricity required
Zero waste water
👎 What I Don't Like
No sediment pre-filter included
Still relatively new to the market – durability not tested
Doesn't eliminate scale entirely
---
Pelican NaturSoft Water Softener Alternative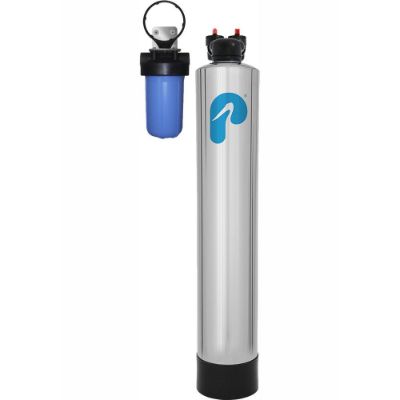 Overview
The Pelican NaturSoft is Pelican's saltless, maintenance-free water softener option. The system is certified to NSF/ANSI Standard 61 for the removal of up to 99.6% of hard water scale. It comes with a limited lifetime warranty, which warrants that the system will remain defect-free under normal use and service for 12 years after your original purchase.
Features
Sediment pre-filter system – The pelican's pre-filter comes with mounting hardware for installing it alongside the water conditioner unit.
Pelican NaturSoft system – To save you time in installation, the Pelican's softening chamber comes pre-loaded with media, ready to install immediately.
Bypass valve and fittings – The bypass valve comes with 1-inch fittings for installing at your main water line before the pre-filter.
Installation guide – Everything you may want to know about installation of the Pelican Natursoft is included in the system's installation guide.
Functionality
The Pelican NaturSoft helps to reduce hard water scale without the use of chemicals or water waste. It uses a media that features calcium carbonate structures on its surface. These attract dissolved hardness minerals and pull them into their crystallized surface. This causes the crystals on the media surface to enlarge.
With the friction of the movement of the water on this crystalized surface, fragments of newly crystalized hard water ions break off and pass back into your plumbing. Their outer crystalized form means they can now no longer stick to surfaces.
These suspended particles prevent future scale from forming. They also help to eliminate pre-existing scale by using the same process that took place inside the softening system to attract the minerals that make up the scale, crystalize them, and pull them into the water to pass through the system's plumbing.
This third-party certified scale prevention will increase the lifespan of your appliances, offer cleaning benefits, reduce your detergent and soap use, and much more.
The Pelican NaturSoft has one of the most impressive lifespans of all salt-free softeners. The media lasts for 12 years, while the pre-filter needs to be changed every 6 to 9 months.
Pros/Cons
👍 What I Like
Incredibly long softener life
No maintenance or salt needed
Comes in two size options
👎 What I Don't Like
One of the more expensive salt-free softening options
You'll need to pay more for brass fittings
---
Tier1 Eco Series Whole House Water Softener Alternative
Overview
The Eco Series Tier1 Whole House Saltless Water Softener uses saltless softening technology in a high-performance, low-maintenance system. Like most saltless softeners, this system uses the process of Template Assisted Crystallization (TAC) to prevent scale.
Features
Sediment pre-filter – The first sediment pre-filter comes free of charge with the Eco Series Tier1, and has its own filter housing, designed for installation before the softening unit. You'll need to buy your own replacement filters whenever you need them after installing the softener.
Softening tank – The Tier 1's softening tank has a capacity for softening water in homes with up to 3 bathrooms. Most people find installation of the tank relatively easy, though you may prefer to leave the job to a professional.
Installation components – As well as the softener and filter, the Tier1 comes with all the installation components that most users will need, including the mounting bracket, shut-off valve and flexi-connectors. The whole system takes up just 3 square feet of floor space, making it suitable for installing in smaller spaces.
Functionality
With the Eco Series Tier1 using TAC to soften hard water, it doesn't need a brine tank or a constant supply of salt to operate. Nor does it operate with a control valve or produce water waste from backwashing. Unlike traditional softeners, it doesn't remove magnesium and calcium from water. Instead, it alters their form, turning them into crystalline suspended particles that are unable to attach to plumbing and appliances.
Conveniently, the Eco Series' media is preloaded, saving you a job before installation, and there's no electrical programming to worry about during setup, either. Maintenance isn't something you'll have to focus on very often, as you don't need to top up this system with salt or replace the resin regularly.
The system's sediment pre-filter is the only thing you'll need to replace after every few months. It's important to keep up with these filter replacements as the pre-filter removes larger particles that can clog up the softening tank and make it more difficult to tackle hard water.
For extra peace of mind, the Eco Series Tier1 is NSF/ANSI certified to Standard 61 for health effects, so you can rest assured that it'll work as outlined by the manufacturer.
Pros/Cons
👍 What I Like
Lower-cost salt-based softener alternative
Installation is fairly easy
Treats hard water with little maintenance required
👎 What I Don't Like
Only comes in one size
Pre-filter needs changing every 2 months
---
🧾 Saltless Water Softener Buyer's Guide
🤔 What is a Salt-free Water Softener?
A salt-free water softener, as the name suggests, is a water softener that doesn't require salt. What this means is that the system will use another popular softening process to crystalize hard water minerals, rather than removing them entirely from water. You may also hear salt-free water softeners referred to as water conditioners, as they technically condition, not soften, water.
⚙️ How do Water Softeners Without Salt work?
You might be wondering, if they don't use salt for ion exchange, how do salt-free water softeners work?
Different water softener manufacturers might give different names for the salt-free softening process, and they may even use different techniques from one another. But the reaction that causes water to be softened (or conditioned) without salt is always the same, and it's known as Template Assisted Crystallization (TAC).
TAC is a process whereby hard water minerals are treated in order to change their composition, ultimately preventing them from being able to stick to surfaces and cause scale. There are a number of different ways that TAC can be achieved – some systems use a special resin bed, for example, while others use an electric or magnetic current.
In the case of TAC using a resin bed, the hard water minerals are attracted to the resin and stick to it. They then remain in the resin until they have undergone growth and alteration in their structure, after which they are released back into water in this new form.
👍 What Are the Advantages of Tankless Water Softeners?
There are many reasons to support why salt-free water conditioners are slowly becoming a more and more popular softening solution. These include:
It's space-saving
Because saltless water softeners don't require two large brine and resin tanks, they tend to have a much smaller footprint than salt-based water softeners. They generally consist of a single tank that contains the resin required for TAC. If you buy a magnetic water softener, this won't even use a tank – just magnets that are placed on either side of your water line.
It doesn't always use electricity
You can't avoid using electricity with a salt-based softener, as it needs to be hooked up to a power supply so it knows when to regenerate. While some saltless water softening systems also need to be connected to a power supply, most water softeners generally don't.
It doesn't waste water
One of the biggest benefits of salt-free softeners is that they don't waste water during the softening process. With salt-based water softeners, water waste is unavoidable – when the resin tank is full to capacity with calcium and magnesium ions, it must be flushed through with water. With TAC-based water softening, there's no regeneration process, which means no water gets wasted.
It's low-maintenance
There's a lot of commitment to owning a salt-based water softener. You'll need to top up your salt frequently and deal with any arising issues, such as bridging. It's also recommended that you deep clean a salt-based water softener once every few months to keep it working well. Salt-free water softeners, on the other hand, require virtually no maintenance whatsoever. Softeners that use TAC media usually just require that you replace the media once every 6 years or so. Magnetic softeners don't require any maintenance at all.
It doesn't remove healthy minerals from water
Although calcium and magnesium minerals cause frustrating water hardness issues, they're actually good for us – and they also give water an alkaline taste that most people enjoy. While a salt-based water softener completely removes these water hardness minerals from water, salt-free water softeners simply change their structure. This means you can still obtain the health benefits from calcium and magnesium without the hard water issues.
It doesn't add salt to water
While a salt-based water softener only adds a small amount of salt to water, it's contributing to your sodium intake nonetheless. Salt-free softeners, on the other hand, don't add salt to your water, which you may prefer if you're on a low-sodium diet or you just don't want to consume any more salt than necessary.
👎 What Are the Disadvantages No-salt Water Conditioners?
Won't produce soft-feeling water
When you use a salt-free water conditioner, your water won't actually feel soft (i.e., silky smooth, as salt-softened water feels). This is because the calcium and magnesium water hardness ions are still in your water.
Not as effective as salt-based softeners
Because salt-free water softeners don't actually remove hard water minerals, you'll probably still experience some scale. While a salt-free softening system can be effective against limescale, it's not as effective as a salt-based water softener.
Takes longer to show results
Salt-based softeners tend to be quicker to show results than a saltless water softener. This is again because of the higher effectiveness of the salt-based softening process.
Difficult to prove that they work
With a salt-based water softener, it's clear when a water softener is working, because there are no longer any hard water minerals present. If you were to test your water's hardness levels, you'd see plainly that your water was soft. If you tested conditioned water, however, it'd still measure at the same level of hardness that it had been pre-softener, because the hard water minerals are still there. That makes it difficult to know for sure that your water won't cause scale, as there's no evidence you can go off. Taking a "wait and see" approach is all you can do here.
💭 Considerations When Choosing a Salt-free Water Softener
System Size (Capacity)
With all saltless water softener systems, you'll usually have the choice of two softener sizes: one that's suited to homes with 1-3 bathrooms and one that's suited to homes with 3-5 bathrooms.
The general rule is, the more water-based appliances you use in your home, the more soft water you'll need access to at one time – and the greater-capacity system you'll require. If your home's water has high hardness levels, you'll also benefit from a greater-capacity softener that can do more work in less time.
Water Flow Rate
The speed at which water flows into your home is important to keep in mind when looking for a saltless water softener. If you buy a water conditioning system that can't keep up with your water usage, you may find that your water flow rate isn't adequate. A low water flow rate can affect the efficiency of your appliances. It can also reduce the power of your showers, especially when appliances are running at the same time.
Other Contaminants
You might want to treat other contaminants in your drinking water as well as reducing water hardness levels. A great way to improve your overall water quality and get access to better-tasting, cleaner, safer and healthier water is to install a saltless water softener alongside a whole home water filter. Some manufacturers offer bundle packages that allow you to buy a water softener and a water filter together, which is worth looking into if you're in the market for a whole house water filter in addition.
System Control & Features
Having a water conditioning unit that's easy to set up and control is a big plus point. Most water conditioners come with a digital control panel that lets you monitor the system and get notified when you need to change the media. Features like a backlit screen and touch display will make it easier to navigate your system information.
Physical Space Available
Salt-free conditioners generally take up less room than a salt water softener, but you'll still need adequate room for installation and maintenance. Measure your planned area for installation and compare the dimensions with the water softeners you're interested in. Make sure there's enough room for you to comfortably install the system and replace the resin.
Certifications
When a softening system has a third-party certification, it means an impartial organization has tested the system and deemed its claims about performance to be factual.
The most common certifications you'll hear when looking for water softeners is NSF/ANSI Standard 61 and NSF/ANSI Standard 42, which both relate to structural integrity. There's no certification that proves a water softener reduces hardness levels or scale buildup, and this would be especially hard to prove with a salt-free conditioning water system anyway.
Costs Involved
After the initial purchase, there are small costs involved in running a saltless water system. Namely, the system will most likely require electricity to operate, which means it'll contribute towards your electricity bill – although definitely not on a noticeable level.
You'll also need to replace the softening media, if you're using a resin-based TAC softener. Comparing saltless vs salt-based softeners, however, you'll need to spend far less per gallon of water softened. This is especially the case if you have a magnetic water softener, which doesn't have a media bed, and requires virtually no maintenance.
🔧 Installation & Maintenance for Water Softeners Without Salt
A water softener should be installed at your home's point of entry, before your water heater. This ensures that you get access to high-quality water, including hot water, around your home. Remember that water heaters can lose efficiency as a result of scale buildup, so you'll want to prevent scale from the earliest possible point in your waterline.
Related: The best water softeners for outdoor installation
Installing a water softener without salt is generally easy enough to do on your own. Providing you have some plumbing knowledge and are confident in your DIY abilities, you'll find most saltless softeners easy to install.
The step-by-step installation process to follow for a salt-free water conditioner is as follows:
Choose a location at your water line to install your softener. Remember, the closer to your water's point of entry into your home, the better.
Switch off your water supply. Turn the bypass valve at the lowest point in your home to drain the water from your pipes.
Measure and mark precisely where you want to cut into your water line to install your softening system. Then, using a pipe cutter, carefully cut out the pipe, using a bucket to catch any leaks.
Install the bypass valve before your system.
Attach the system in place at your water line, following the manufacturer's instructions.
Make sure everything is tightly screwed in place (but hand-tighten only). Then switch on your water slowly, allowing any trapped air to be released. Test out your new system.
If you're installing a magnetic water softener, you've got an even simpler job. Magnetic water conditioners are very easy to install, even for people with limited plumbing knowledge.
In this case, follow the steps for installation below:
Choose a spot on your water line to install your system. Again, make sure it's as close to water's POE into your home as possible.
Split your magnets up and separate them, keeping them a safe distance apart.
Take a magnet in each hand and carefully place them on either side of your water line, sticking them to the surface.
Screw the magnets in place.
When it comes to maintenance, there's not a lot you need to commit to with a no-salt water softener. Most systems that use a TAC media bed only need their media replenishing around once every 6 years or more. As there's no backwashing or regeneration cycle, and no need to replace the water softener salt for the ion exchange process, you can enjoy a softener that's virtually maintenance-free.
If you want a system that's completely maintenance-free, go for one that uses magnetic softening rather than a softening media. These systems operate without the need for maintenance at all.
❔ Frequently Asked Questions
How do I know that a salt-free water softener actually works?
A: The proof will be in your appliances. You'll notice a greatly reduced scale build-up after using a saltless water softener system for about a week. It's not possible to do a proper water test when it comes to checking how "soft" your water is – because it isn't actually softened, just conditioned.
When might I want a salt-based water softener instead?
A: If you don't mind the extra maintenance of water treatment systems that use salt, you may prefer them for a more thorough, testable softening solution.
How can a salt-free softening system benefit me and my home?
When you install a saltless water softener system, you'll benefit from a greatly decreased hardness level of your water supply. This means your appliances and water systems will need less frequent cleaning and should have longer lifespans without scale damage. Your skin and hair health should also improve with the use of soft water.