The best salt-free water softener systems featured in this guide are the products that we've selected, through our own thorough testing, research, and discussions with the manufacturers. We've ranked the systems in terms of performance capabilities, quality of build, and of course, value for money.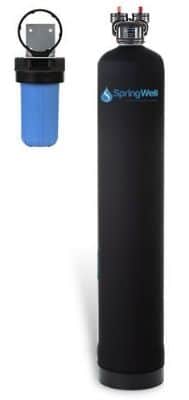 SpringWell Futuresoft Salt-Free Water Softener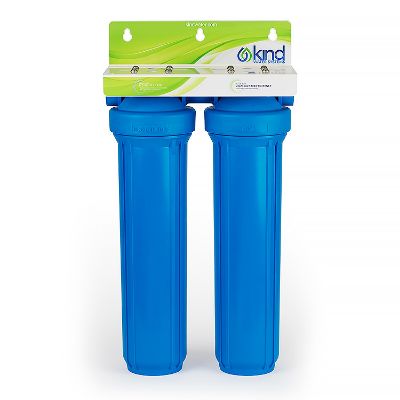 Kind E-2000 Whole House Salt-Free Water Softener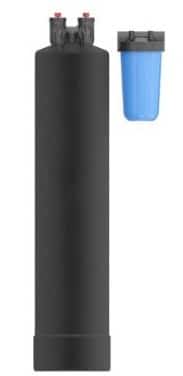 SoftPro Elite Salt-Free Water Softener
Limescale is, undoubtedly, the biggest water quality issue in the US. Given the expensive long-term effects of hard water, it's no surprise that for more and more of us, water softeners are becoming the norm.
But what if you're looking for a way to address hard water without the use of salt?
An increasing number of homeowners want the best, most effective solution to limescale, without the compromises of a salt-based system. The salt-free water softeners market has never been more lucrative – but with so many options available, how do you know what to go for? Choosing the right product for your situation is especially important when it comes to salt-free water softeners because they don't actually soften water, so you can't simply test your water hardness to determine if they're working. That means you need to invest in a reliable system from a reputable brand, which you can count on to address your water hardness issues around the clock.
In this guide, we've shared our top picks for the best salt-free water softeners based on our own extensive research, reviewing, and testing. By the end, you'll have a clear idea of which systems we've personally determined to be the best, and why.
🥇 Best Salt-free Water Softeners
📊 Comparison Chart of Salt-free Water Softener Systems
| System | Springwell Futuresoft | Kind E-2000 | SoftPro Elite Salt Free Water Softener | US Water Systems GreenWave Salt-free Water Conditioner | Yarna Capacitive Electronic Water Descaler | Aquasana Salt-Free Water Conditioner |
| --- | --- | --- | --- | --- | --- | --- |
| Ranking | 1st | 2nd | 3rd | 4th | 5th | 6th |
| Ratings | 5/5 | 4.5/5 | 4/5 | 4/5 | 4/5 | 4/5 |
| Price | $1597.31 | $1,263.80 | $1,322 | $1,484.06+ | $359.9 | $799 |
| Max Hardness | 81 GPG | 75 GPG | 17 GPG | 81 GPG | n/a | 25 GPG |
| Method | TAC | TAC | NAC | NAC | Electromagnetic | NAC |
| Flow Rate | Up to 20 GPM | Up to 15 GPM | Up to 12 GPM | Up to 25 GPM | n/a | 7 GPM |
| Warranty | Lifetime | Lifetime (limited) | Lifetime | Lifetime, 10 years, 5 years | 1 year | 6 years |
---
🏷️ The Best Salt-Free Water Softeners in the News: The Latest Deals and Discounts
If you like to wait for a sale or discount before you invest in expensive products, check out this section. We've shared any deals or price slashes that are worth your attention for the salt-free water softeners on this list, and we update it regularly with seasonal offers worth knowing about.
Springwell: Enjoy a 20 percent discount, available until November 30th
Kind: Get 20 percent off, sale ends this 30th at 2PM EST
SoftPro: Enjoy up to 40% off – sale ends on Friday, December 1st
US Water Systems: Save 70 percent off on select systems, ends this Friday, November 30
Aquasana: Cyber Week Sale – up to 60% off sitewide until this Friday
⭐ Salt-free Water Conditioner Reviews 2023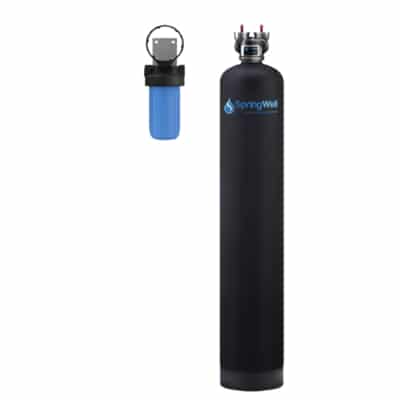 SpringWell Futuresoft Salt-free Water Softener
The Springwell Futuresoft Water Softener tops our list as the best salt-free water softener. This high-tech, excellent-value water softening system is capable of preventing up to 99.6% of scale, without affecting our home's water pressure or producing wastewater – all while maintaining the highest flow rate of all the systems we tested on this list.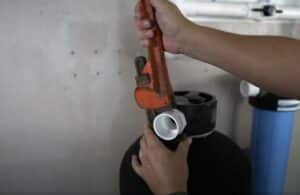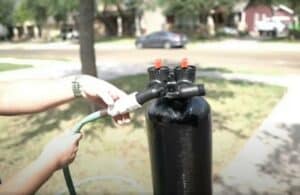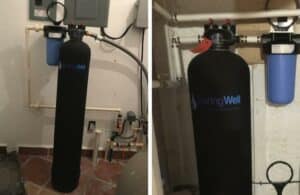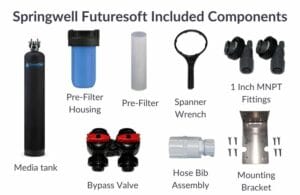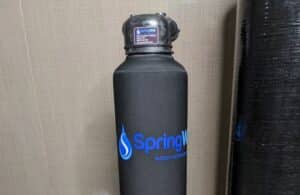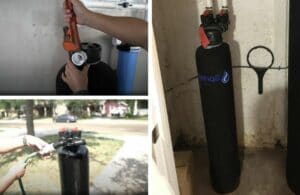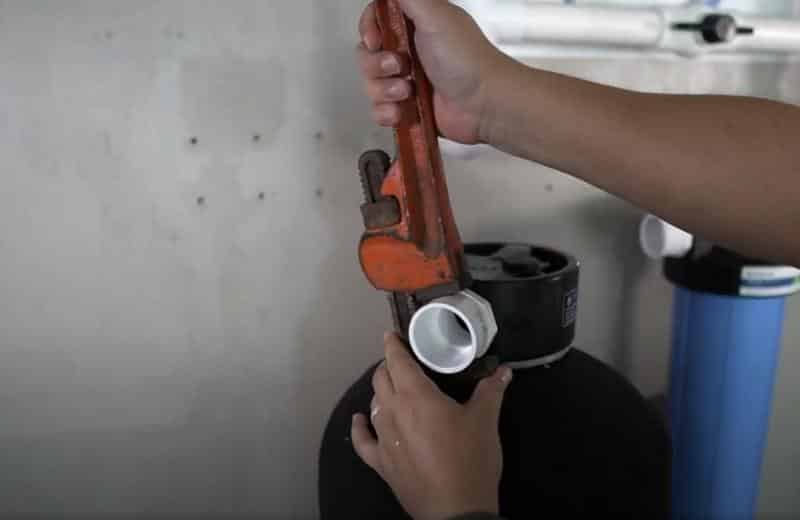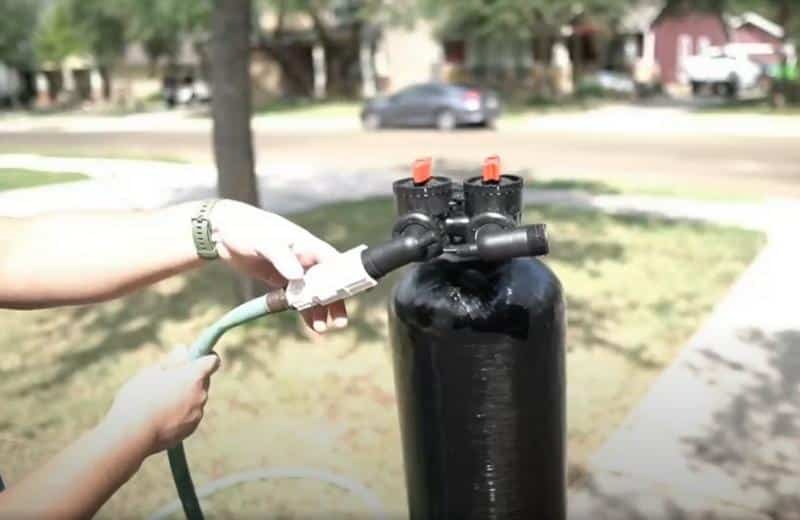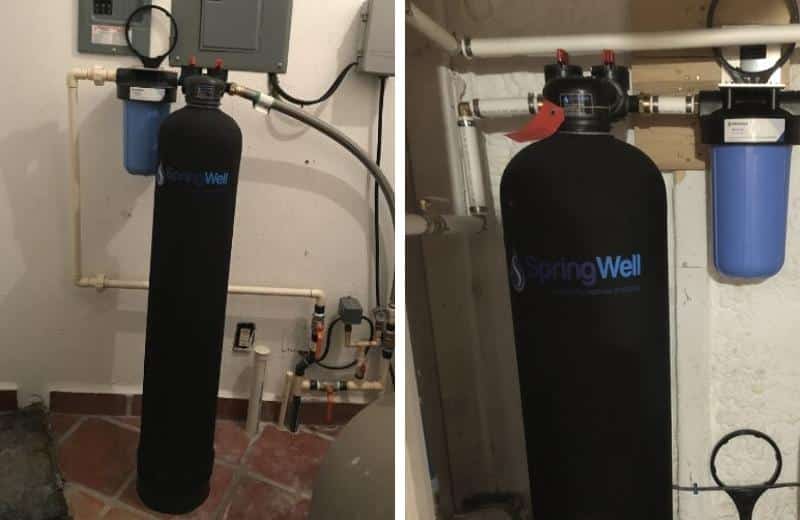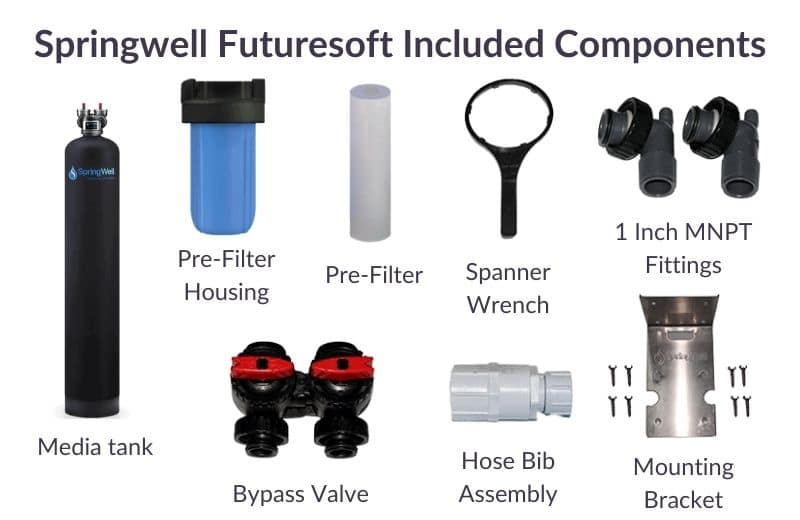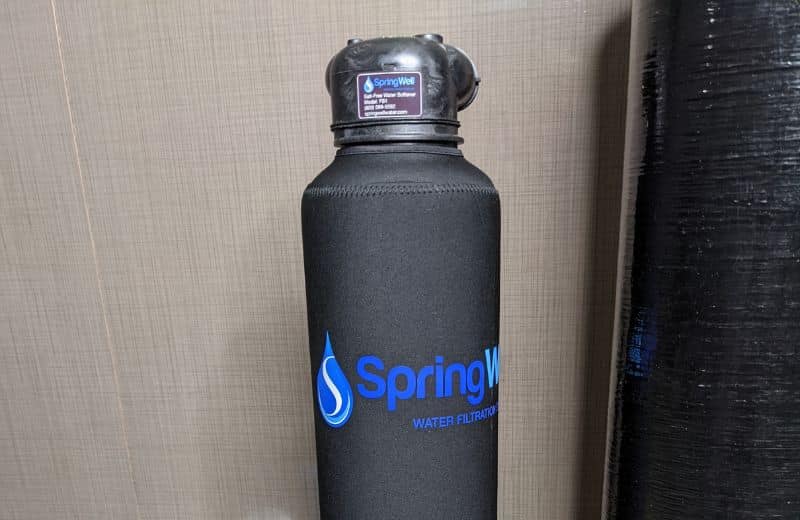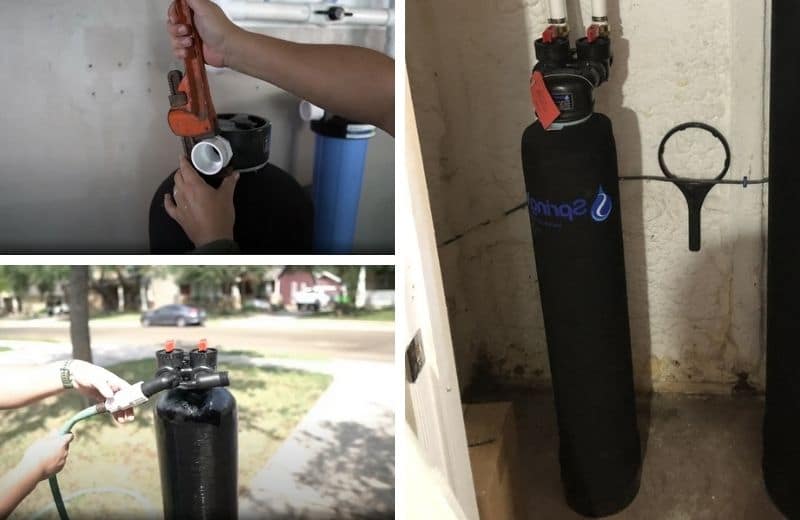 Specs
| | |
| --- | --- |
| Price | $1597.31 |
| Process | TAC |
| Max Hardness | 81 GPG |
| Water For | Up to 6+ people |
| Flow Rate | Up to 20 GPM |
| Warranty | Lifetime |
Out of the box, the Futuresoft is very much the type of salt-free conditioner we prefer. It's a tank-based unit that's pre-loaded with a TAC media (more on this later). Our order came with all the necessary components, including the pre-filter and housing, the spanner wrench, 1-inch MNPT fittings, a bypass valve, hose bib assembly, and a mounting bracket.
At around $1,450, the Futuresoft isn't cheap. But a major advantage of its tank-based design, and why we personally prefer these types of water conditioners, is that the media in the tank lasts years, meaning that the system's maintenance requirements are minimal. All we had to do was replace the sediment pre-filter every 9 months or so, costing around $20 a time.
Best For:
Anyone looking for a quality, low-maintenance conditioner from a trusted brand, using proven technology to reduce scale.
What We Like:
Uses a proven scale prevention technology
Virtually maintenance-free
Made from certified materials
Backed by a lifetime warranty and 6-month satisfaction guarantee
What We Don't Like:
Installation is complex – might need to pay for a professional install
Well water may require additional pre-treatment to prevent media fouling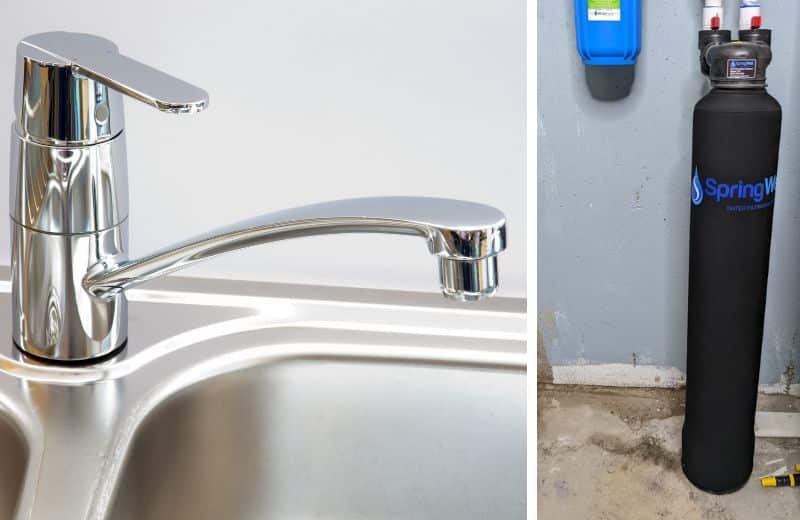 Proven TAC Water Conditioning
Of all the salt-free conditioners we tested, the SpringWell Futuresoft put us most at ease with its proven conditioning process called template-assisted crystallization, or TAC for short, to greatly reduce limescale issues in our plumbing. TAC works to alter the structure of hard water minerals by crystalizing them, preventing them from sticking to surfaces as limescale. A unique feature of TAC is that it doesn't only prevent scale formation – it can also reduce existing scale. That meant we had double the value from our system because it was preventing new scale and breaking up old scale, improving the quality of our plumbing. The TAC media lasts up to 1 million gallons, or around 6 years, so our maintenance requirements were minimal post-install.
There's a sediment filter that you install upstream of the conditioner to protect the TAC media and help it to last as long as advertised (sediment could cause media fouling). We liked having this filter included rather than being left with the responsibility of buying and plumbing in our own filter separately.
Environmentally-Friendly Water Treatment
Another major draw of the SpringWell Futuresoft for us was knowing that it'd condition our water without the environmental side effects of a salt-based water softener. The unit doesn't need to regenerate, and we appreciated that there was no water waste involved in its operation. The TAC media is sodium-free, so we didn't have the guilt associated with sending high-sodium water into our local sewage system. Because it doesn't use salt, you can still use a TAC conditioner like the Futuresoft even if you live in a community where water softeners are banned.
This salt-free system is also designed to have zero effect on the flow rate and pressure of your water supply, provided you buy the right size for your home. We went for the 1-3 bathroom system (there are also systems for 4-6 bathrooms and 7+ bathrooms) and personally saw no difference in the flow of water from our faucets, fixtures, and appliances after installing the Futuresoft, and we were able to use them as normal without a performance compromise.
| SpringWell Futuresoft Configurations | Price |
| --- | --- |
| FS1: 1-3 Bathrooms | $1597.31 |
| FS4: 4-6 Bathrooms | $1960.43 |
| FS+: 7+ Bathrooms | $2657.63 |
Springwell is one of the few manufacturers of soft water units that use NSF-certified materials for safety in their designs. Like all SpringWell systems, the Futuresoft is backed by a lifetime warranty and a 6-month money-back guarantee, so we didn't feel like we were taking a huge risk with our investment.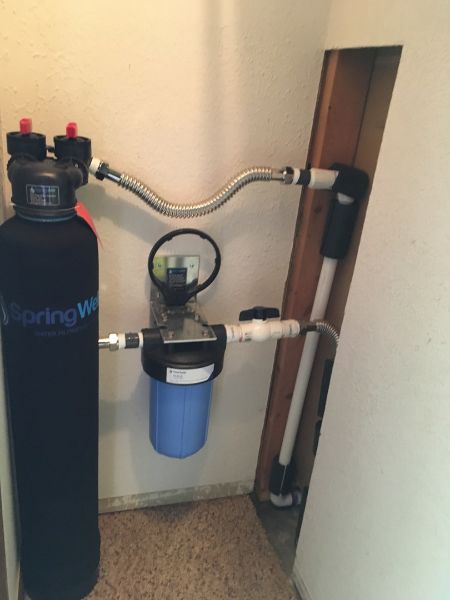 | Upgrades | Price | Uses |
| --- | --- | --- |
| UV Water Purification System | $1100.99 | Boil water advisory protection |
| Whole House Water Filter System | $1016.44 | Whole house water contaminant reduction |
| Reverse Osmosis Water Filter System | $442.23 | Drinking water |
Read full review: Springwell Futuresoft 2023 Review
---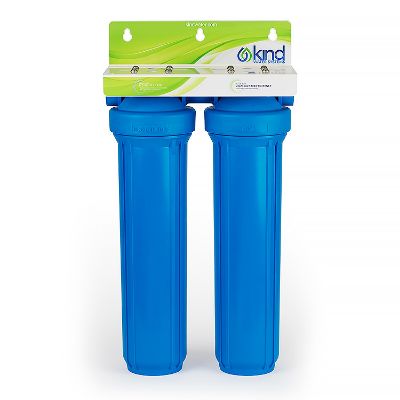 Kind E-2000 Whole House Salt-Free Water Softener
Our top pick for the best cartridge-based salt-free water softener is the Kind E-2000. This unique system is easier to install and more affordable than most tank-based systems and has an unbeatable flow rate of 15 gallons per minute.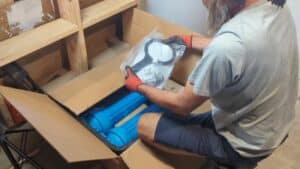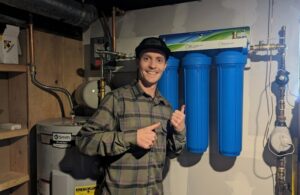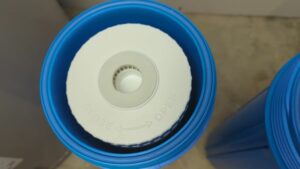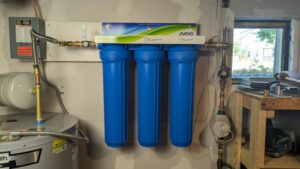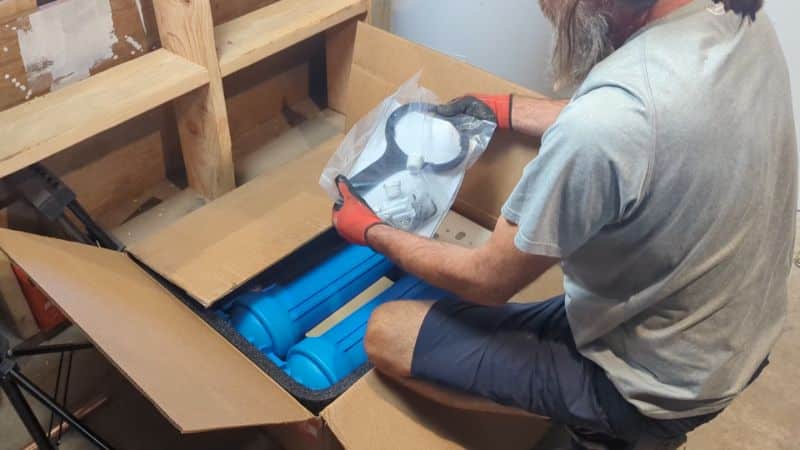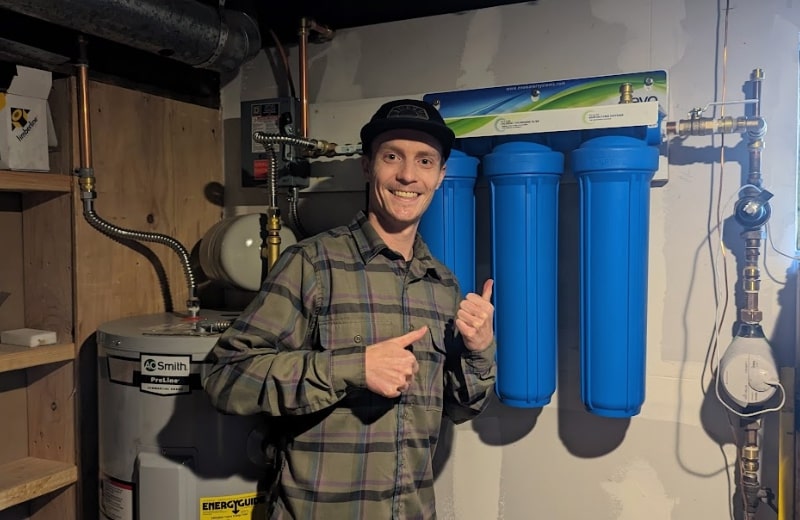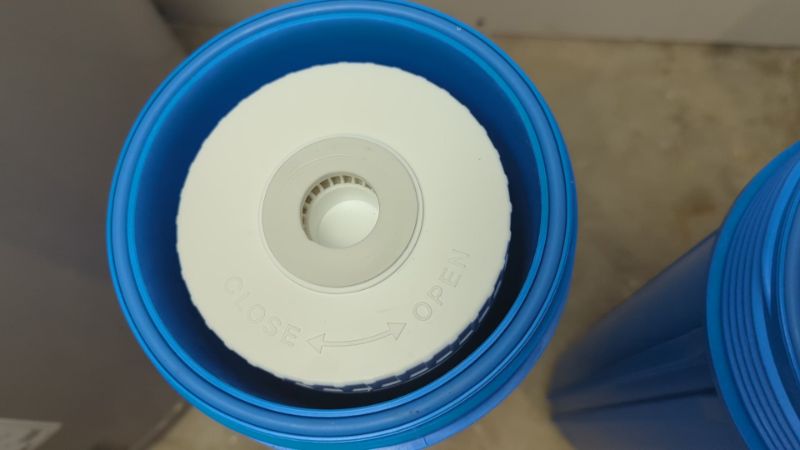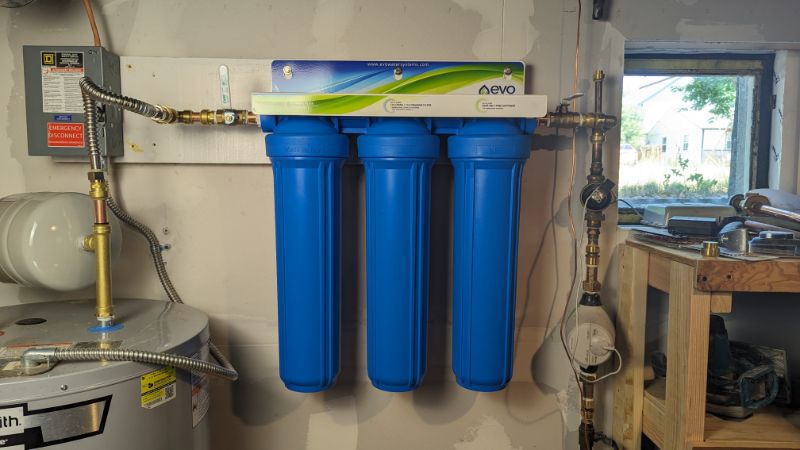 Specs
| | |
| --- | --- |
| Price | $1,263.80 |
| Process | TAC |
| Max Hardness | 75 GPG |
| Water For | 6+ People |
| Flow Rate | 15 GPM |
| Warranty | Lifetime (limited) |
The Kind E-2000 uses the same trusted TAC conditioning process as the SpringWell Futuresoft, but with one key difference: the TAC media is stored in a filter cartridge rather than a tank.
From our research stage, we identified an advantage of the Kind E-2000 compared to the SpringWell Futuresoft: price. At the time of our review, the E-2000 was on sale, at $1048 – around $400 cheaper than the Futuresoft. Even better, we learned that the TAC filter cartridge is a one-time deal and doesn't need replacing, so we only had to replace the sediment filter once a year (our estimated annual cost was less than $40).
Best For:
People looking for a cartridge-based water conditioning system that's more affordable upfront, easy to install & maintain, and doesn't waste water.
What We Like:
Effective TAC conditioning
Great flow rate
Low-maintenance solution
Affordable alternative to tank-based systems
What We Don't Like:
Not designed for very hard water
Intended for city water only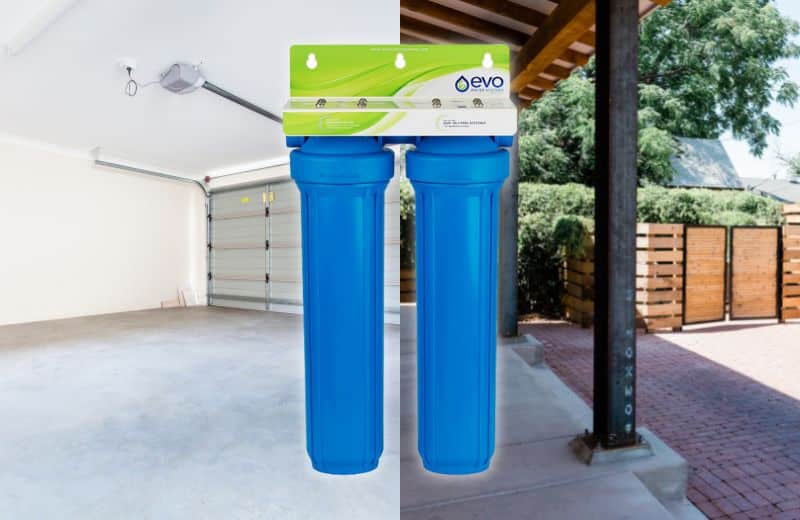 Cartridge-Based TAC Water Conditioning
The Kind E-2000 uses two filter cartridges – a sediment filter and a TAC cartridge – to filter and condition water while retaining healthy minerals. Again, we could enjoy all the unique benefits of template-assisted crystalization with this system: we no longer noticed scale deposits on our surfaces, but we didn't have the environmental impact, water waste, salt usage, or mineral loss of a salt-based system. Results-wise, we got the same outcome as with the SpringWell Futuresoft, which is what we were expecting, given that they use the same conditioning process.
Many of the cartridge-based water conditioners we've tested in the past have required much more maintenance than tank-based systems due to their shorter filter lifespans. Another reason why the Kind E-2000 impressed us so much initially was that its TAC filter cartridge never needs replacing (according to Kind Water, this is because the TAC process is physical rather than chemical), which immediately meant we were looking at a cartridge-based conditioner with much lower maintenance requirements. Only the sediment filter needs replacing around once a year on average, and we found this process fast and easy – we just unscrewed the canister and replaced the existing filter with the new one.
Fast 15 GPM Flow Rate
We could buy the Kind E-2000 in just a single size, with a flow rate of up to 15 GPM (meaning it can be used in homes with up to 6 bathrooms). The fact that the base model had such a high flow rate was another major selling point of this system for us. We didn't have to upgrade to get a decent flow, as we did with other systems. Even the base model for the SpringWell Futuresoft only has a 12 GPM flow rate, which is plenty for most homes, but we appreciated the extra flow potential of the Kind E-2000 in comparison.
The E-2000 is made from certified components and comes with a 120-day satisfaction guarantee. It's also backed by a limited lifetime warranty, so again, we felt like our investment was protected with this system.
---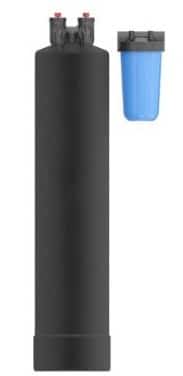 SoftPro Elite Salt-Free Water Softener
The SoftPro Elite Salt-Free Water Softener is our runner-up tank-based system on this list. This salt-free water softener system boasts "install and forget it" operation, with no maintenance and no need to do anything after you've installed the unit.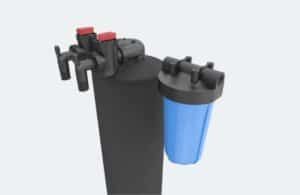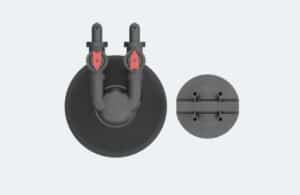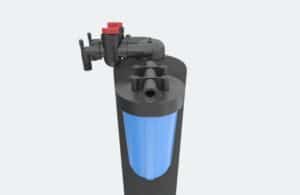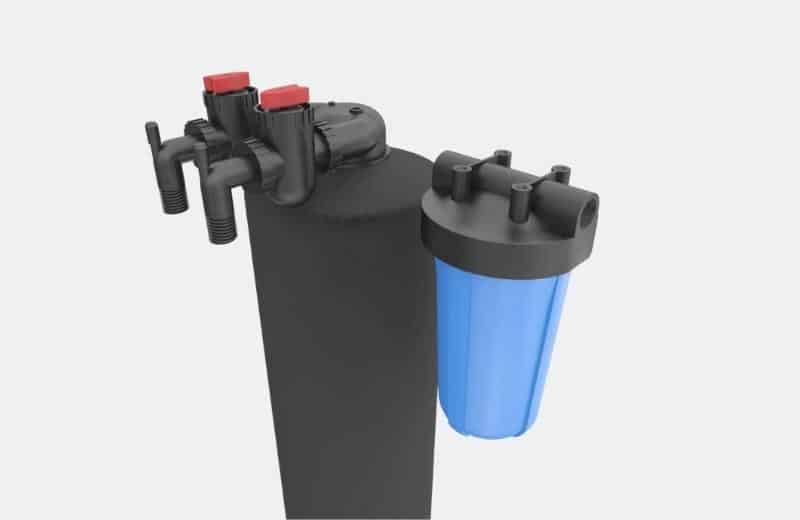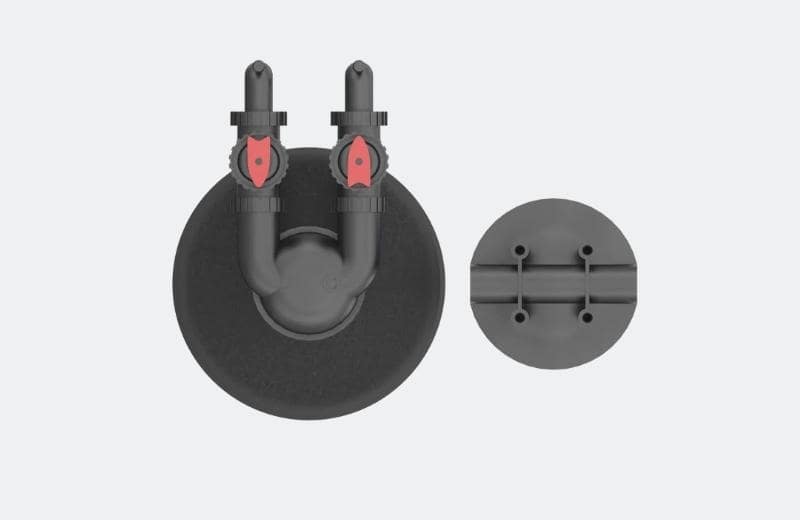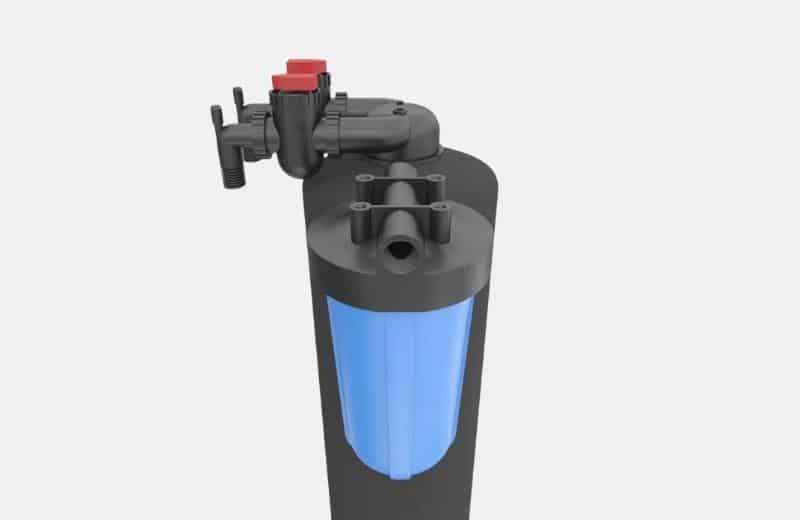 Specs
| | |
| --- | --- |
| Price | $1,322 |
| Process | NAC |
| Max Hardness | 17 GPG |
| Water For | 6+ People |
| Flow Rate | 12 GPM |
| Warranty | Lifetime |
As another tank-based system, we could draw comparisons between the SoftPro unit and the SpringWell Futuresoft. The big difference is that the SoftPro conditioner uses SCT (scale control technology) rather than TAC. Instead of crystalizing the hard water ions present in the water, the SoftPro Elite dissolves them, making them inactive.
Price is another difference between the two systems: the SoftPro Elite was the slightly cheaper option at the time of our review, costing around $1,320. Like the SpringWell Futuresoft, the TAC media in the Elite lasts up to 6 years, so our only maintenance responsibilities were to replace the sediment filter every 6 months (our estimated annual spend was less than $60).
Best For:
Busy families looking for a salt-free water conditioner that requires no work and no hassle. This water softening system is ideal for homes of 1-5 bedrooms with a water hardness of up to 17 GPG.
What We Like:
Low-maintenance tank-based conditioning
Prevents limescale issues without removing healthy dissolved minerals
Slightly cheaper than the SpringWell Futuresoft
Also addresses existing scale
What We Don't Like:
Difficult to install
Only one system size available
99.6% Scale Prevention
The SoftPro Elite Salt-Free Conditioner was another system that impressed us with its scale reduction abilities. According to the manufacturer, the system can prevent scale by up to 99.6% in water with up to 17 grains per gallon of hardness, using its SCT technology, which targets hardness minerals and prevents them from sticking to surfaces. Plus, like TAC, SCT was capable of reducing existing scale in our plumbing and pipes, which is something that a salt-based softener can't do.
As with the other systems we reviewed, the Elite conditioner comes with a 5-micron sediment pre-filter. Again, that keeps the media protected and prevents sediment damage – essential if you want it to last up to 6 years, as advertised. STC is similar to TAC in that it's environmentally friendly and cost-effective, conditioning water without the use of salt and with zero water waste.
High-Efficiency Water Conditioning
SoftPro softener systems are well-known for their high-efficiency performance, and the Elite conditioner is no different. We were pleased with the system's 12 GPM flow rate (equal to the SpringWell Futuresoft's) and appreciated that we could install the system and leave it to condition our water with no input from us. The system gets shipped with a removable, washable neoprene jacket, which protects the conditioning media from condensation, humidity, and cold temperatures. Tank jackets are usually seen as optional add-ons, so it's worth taking advantage of getting the neoprene jacket included for free, especially if you plan to install the system in a cold or humid location.
Finally, it was good to know that if anything did go wrong, we could utilize the system's lifetime warranty and live customer support, which gave us the best peace of mind we could ask for.
---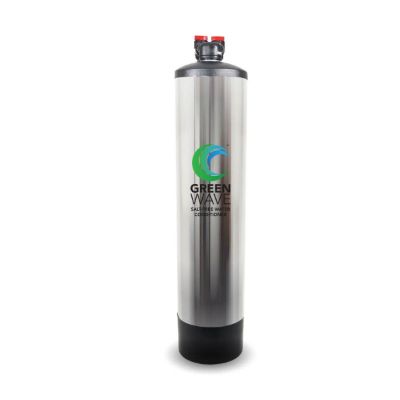 US Water Systems GreenWave Salt-free Water Conditioner
In our opinion, the US Water Systems GreenWave Salt-Free Water Conditioner is the best heavy-duty water conditioner available today. Using the Nucleation Assisted Crystallization (NAC) method of saltless softening, this high-capacity unit is one of the newer conditioners to be added to the market, and boasts 97% effective conditioning capabilities.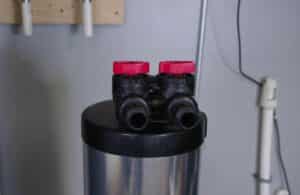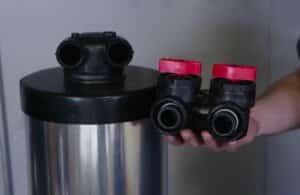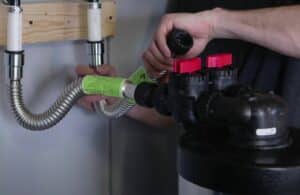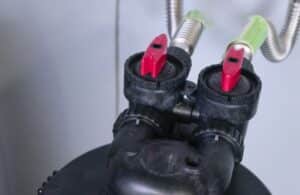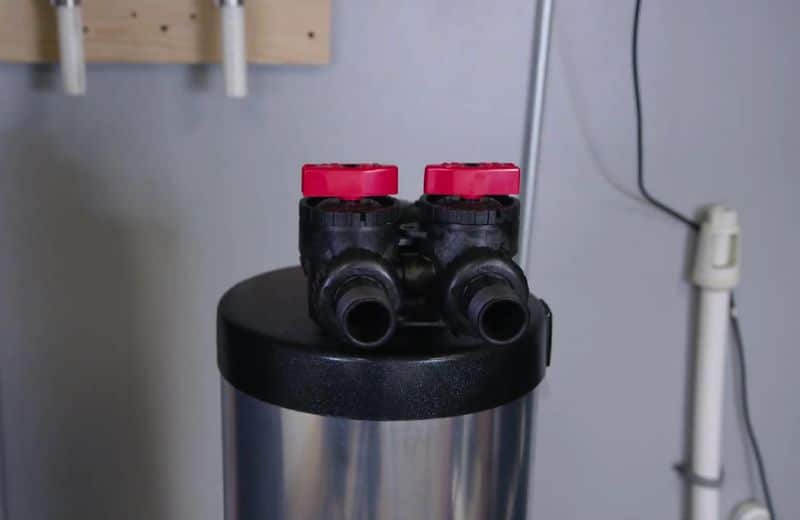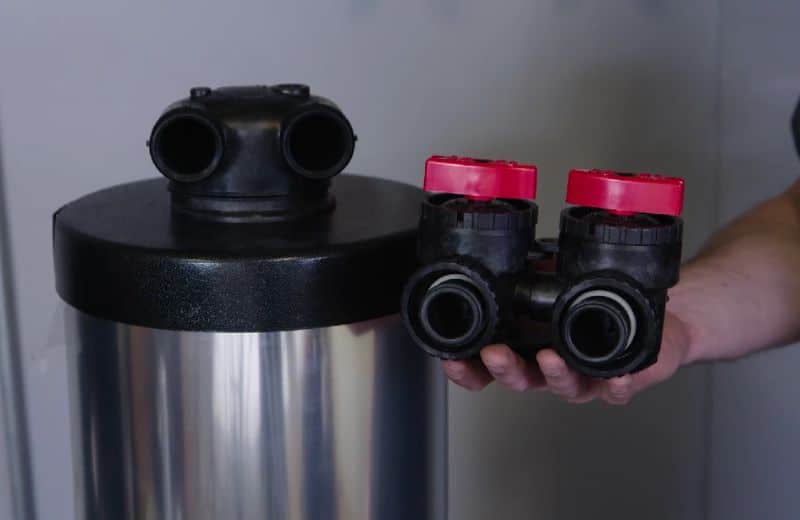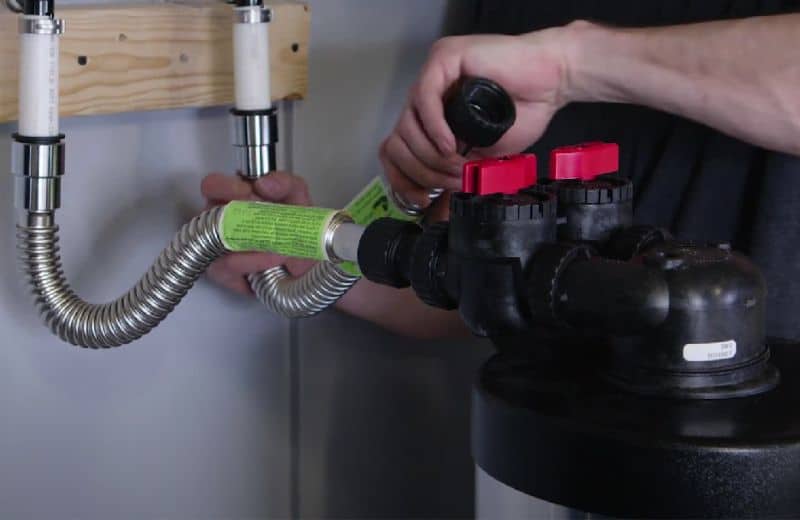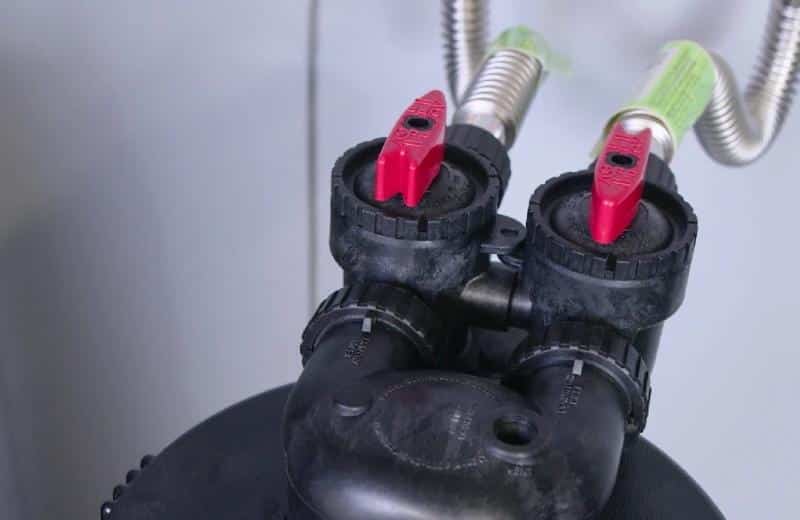 Specs
| | |
| --- | --- |
| Price | $1,484.06+ |
| Process | NAC |
| Max Hardness | 81 GPG |
| Water For | 6+ People |
| Flow Rate | 25 GPM |
| Warranty | Lifetime, 10 years, 5 years |
The GreenWave softener is another system with a pre-loaded conditioning media in a tank. The unit uses NAC, or nucleation-assisted crystallization, to transform magnesium and calcium into micro-crystals that can no longer adhere to surfaces and form scale. NAC and TAC are virtually the same processes, and have both been the most proven as effective water conditioning solutions.
We reviewed the smallest 10 GPM unit, which was a steal at just over $1,300. The only downside is that the system didn't come with a sediment pre-filter – there was only the option to upgrade to include the manufacturer's radial flow carbon filter, which is a great way to target contaminants alongside hard water but won't protect the NAC media from sediment damage. The media itself lasts 4-6 years, so we had no annual maintenance costs to consider.
Best For:
Anyone looking for a heavy-duty alternative to a conventional salt-based water softening system, with plenty of options to choose from in size and a fantastic flow rate.
What We Like:
Available in 4 sizes & flow rates
Uses the reliable NAC conditioning process
High-efficiency vortech tank
Also removes existing scale
What We Don't Like:
No sediment pre-filter included
May not completely prevent mineral spotting
Heavy-Duty Water Conditioning Up to 25 GPM
As we mentioned, the GreenWave conditioner uses NAC to neutralize hardness minerals, preventing them from being able to stick to surfaces and form scale. We read that our faucet aerators and drains might plug occasionally as scale was removed from the inside of our water pipes, and our water might look milky for a few days during this scale-removal process. Don't view that as a disadvantage – it's the most reassuring sign you'll get that the system is working.
We knew we'd enjoy all the usual benefits of a salt-free water softener with this GreenWave System. We were keen to avoid water waste, electricity usage, or the hassle of topping up a brine tank, and the GreenWave conditioner ticked our boxes across the board. It's another high-efficiency model like the SoftPro Elite conditioner, with a Vortech tank that evens the flow of water through the unit, increasing the number of NAC sites. This gives water more contact time with the media and prevents channeling – both of which help to deliver the most streamlined and efficient performance.
At the time of our review, we had the choice of four different system sizes: the 10 GPM system with a 9 x 52.5-inch tank; the 15 GPM system, measuring 10 x 58.5 inches; the 20 GPM at 12 x 56.5; and the 25 GPM unit at 13 x 58.5 inches. We don't often see the option of a 25 GPM unit for domestic use, and it's good to have this choice in a heavy-duty conditioner should your circumstances require it.
| USWS GreenWave Configurations | Price (3/4 in, Standard) | Price (3/4 in, w/ Carbon Filter ) | Price (1 in, Standard) | Price (1 in, w/ Carbon Filter ) |
| --- | --- | --- | --- | --- |
| 10 GPM | $1,484.06 | $1,569.06 | $1,484.06 | $1,569.06 |
| 15 GPM | $1,739.06 | $1,909.06 | $1,739.06 | $1,909.06 |
| 20 GPM | $1,994.06 | $2,164.06 | $1,994.06 | $2,164.06 |
| 25 GPM | $2,300.06 | $2,470.06 | $2,300.06 | $2,470.06 |
Custom Design Choices
Something that GreenWave does differently from other manufacturers is that it allows for more flexibility and customization during the buying process.
We appreciated being able to choose between ¾-inch and 1-inch inlet and outlet ports, at no extra cost, rather than being given only one default size that might not fit our plumbing. We also liked the simple check-box process for selecting our preferred flow rate, and we had 4 options – more than with any other system. Plus, we could check a box to buy the unit with the GreenWave radial flow carbon filter, meaning we had the option to also filter our whole-house water supply for an extra $80 or so.
---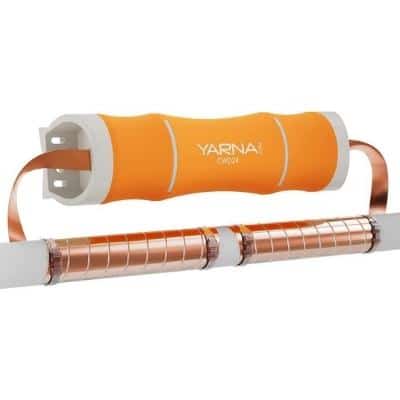 Yarna Capacitive Electronic Water Descaler
The Yarna Capacitive Electronic Water Descaler is our top recommended electronic water discaler. This saltless water softener features a no-install design and prevents scale buildup with electric impulses. Costing just under $300, this salt-free softener is the cheapest on this list by far.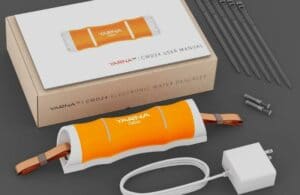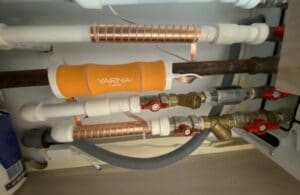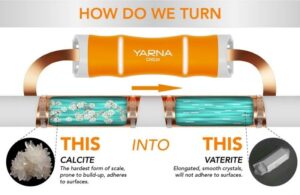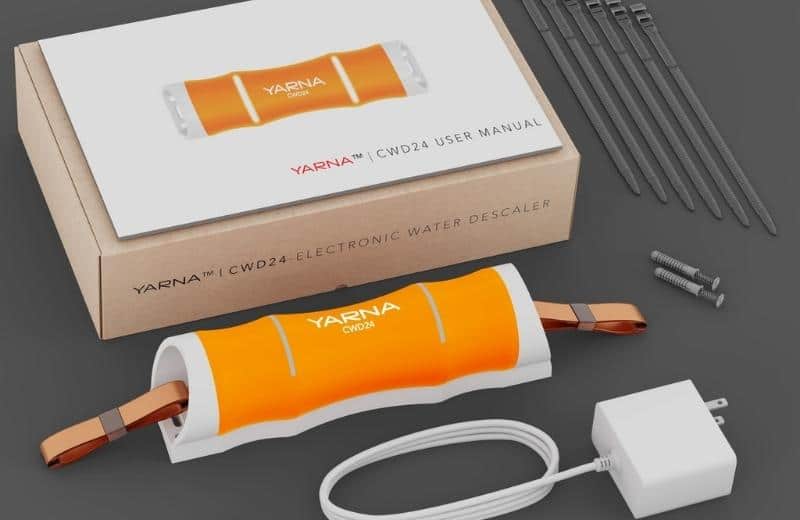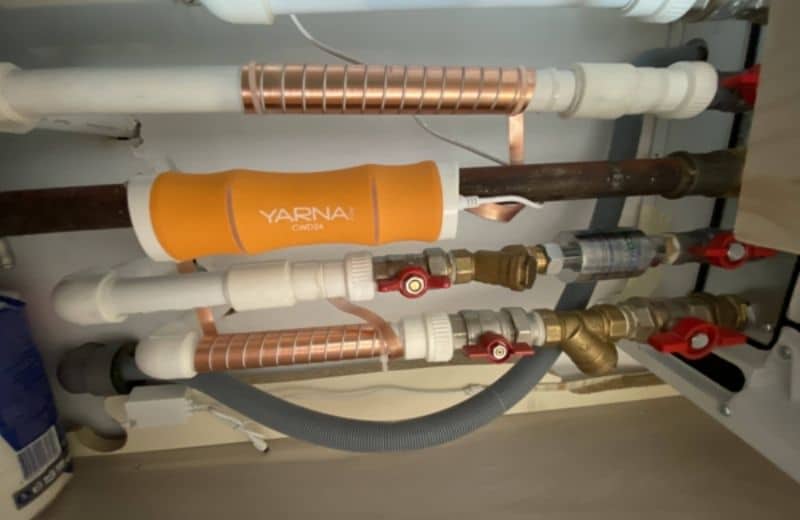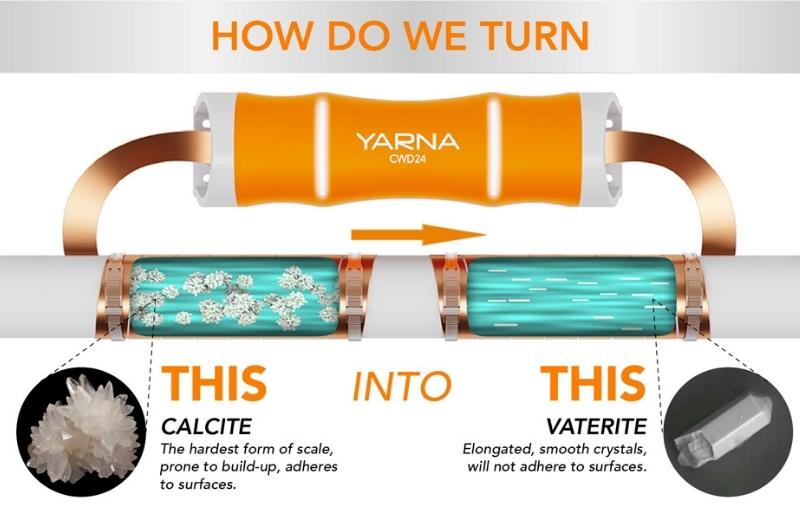 Specs
| | |
| --- | --- |
| Price | $359.99 |
| Process | Electromagnetic |
| Max Hardness | No limit |
| Water For | n/a |
| Flow Rate | n/a |
| Warranty | 1 year |
The Yarna Capacitive Electronic Water Descaler has a completely unique design to any of the salt-free softeners that use a conditioning media. It's is in its own category of electromagnetic water descalers, which meant, from an install perspective, we'd have a much easier job: the Yarna unit doesn't actually intercept your water line because it conditions water from the outside of the pipe.
The price tag is the lowest we've seen for a saltless softener: it's one of the best budget-friendly conditioners at just under $300 upfront. Plus, because the unit uses electricity rather than a conditioning media to descale water, and doesn't require a sediment pre-filter, it's entirely maintenance free and has no ongoing spend (apart from a small electricity cost).
Best For:
Folks looking for the best affordable, zero-maintenance salt-free softener that requires a non-invasive installation.
What We Like:
No-install design
Best for small budgets
Maintenance-free
Space-saving, tankless system
What We Don't Like:
Not as effective as media-based systems
Needs electricity to operate
Unique Electromagnetic Descaling Process
We'd researched electromagnetic descalers before producing this guide, and we were keen to learn more about the process from the system with the best performance stats we came across: the Yarna descaler. The unit has a design that's completely different from any of the other conditioners we reviewed. Rather than being tank-based or using filter cartridges, it has a single cable that gets coiled around your main water pipe. This cable then delivers a high-frequency modulated electromagnetic field, manipulating the behavior of hardness ions and preventing scale formation. It offers the same performance regardless of the type of pipe it's used on – whether it be made from copper, iron, stainless steel, plastic, or PVC.
The obvious benefit of the descaler's design is that we wouldn't have to cut into our waterline to install it, which meant we didn't have the dilemma of installing the system ourselves and potentially getting something wrong, or paying a few hundred bucks extra for a professional install. The fact that the Yarna descaler is a no-install system is also a big bonus if you live in a rented property, meaning you can still enjoy conditioned water around your home even if your rental terms don't allow you to make any permanent changes. A single unit does the job for your whole home, regardless of size – it's been tested and proven effective for up to 1.2 miles beyond the point of installation.
Does this electromagnetic descaling process work as well as the likes of TAC and NAC media? Various studies prove that this method of conditioning is legit, with one study finding that it could reduce between 17% and 70% of limescale, but it's considered less effective than media conditioning systems, which have been found to reduce greater than 88% of scale. That's something to keep in mind when choosing between affordability and efficacy.
---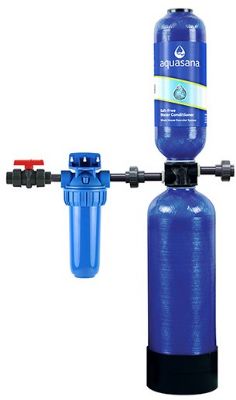 Aquasana Salt-Free Water Conditioner
The Aquasana Salt-Free Water Conditioner is an affordable, easy-install saltless softening system. It's our top pick as the best budget-friendly option for folks who want to spend less but still want the performance benefits of a media-based system.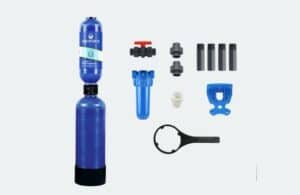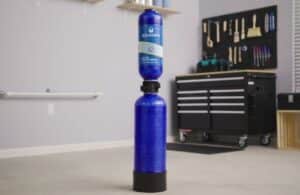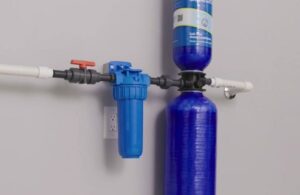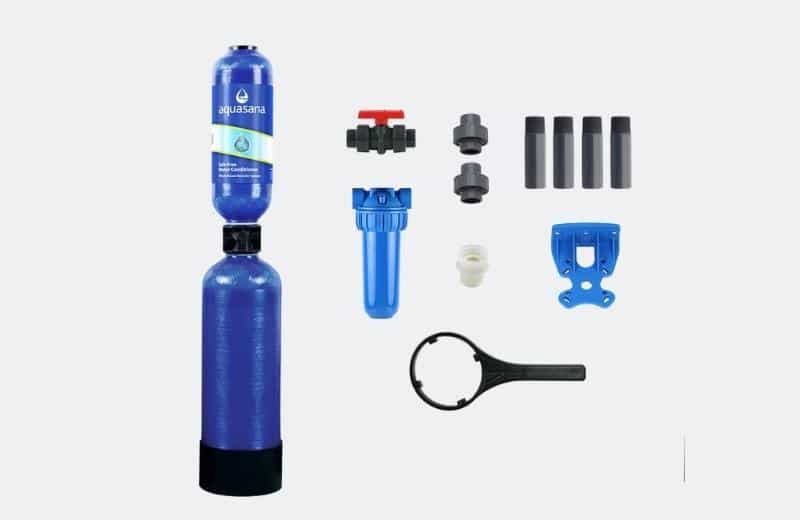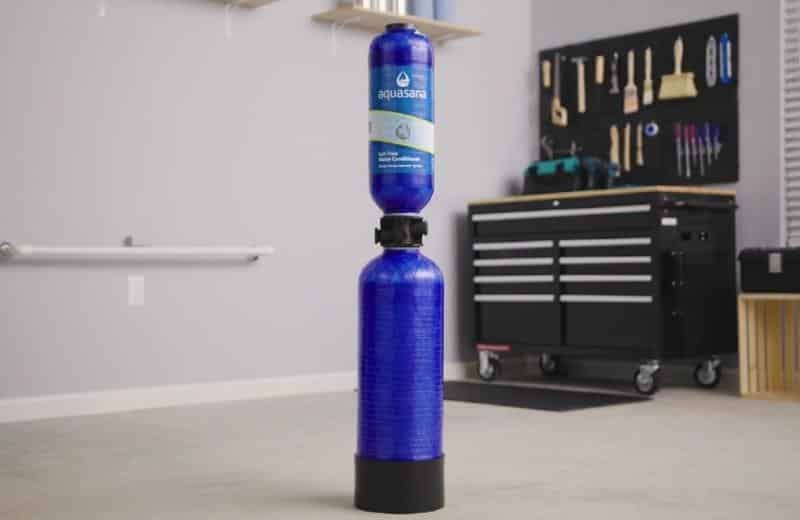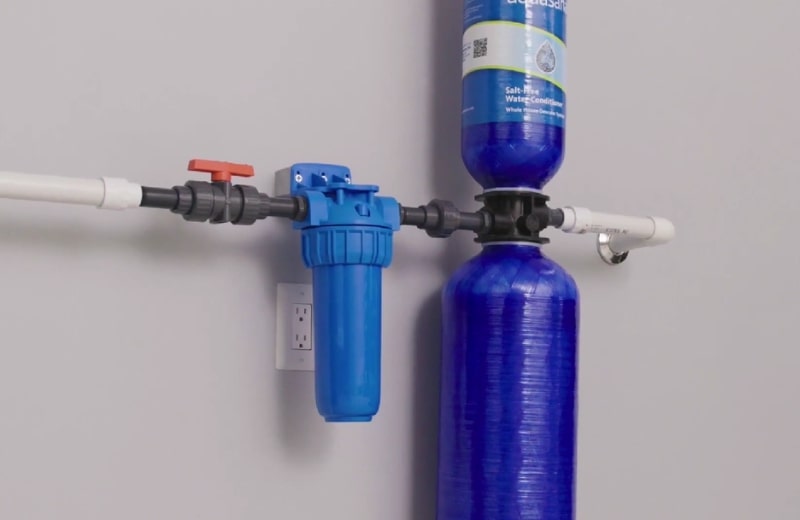 Specs
| | |
| --- | --- |
| Price | $799 |
| Process | NAC |
| Max Hardness | 25 GPG |
| Water For | 5+ people |
| Flow Rate | 7 GPM |
| Warranty | 6 years |
The Aquasana Salt-Free Water Conditioner is a tank-based system that uses Scale Control Media (SCM) to alter the structure of hard water ions. It has a basic yet functional design and comes with everything you need to get started, including the conditioner and pre-filter, a shutoff valve, a wrench, and a pre-filter support bracket.
At $800, this Aquasana model is one of the cheapest of its kind that we've reviewed. Before investing in a system that's significantly cheaper than others, we spend a lot of time checking that its performance stats are still meeting or surpassing our requirements, and the Aquasana conditioner met our criteria. In fact, it exceeded our expectations for lifespan – the media lasts up to 1,000,000 gallons, which equates to around 10 years, around 4 years longer than the average media lifespan in other conditioning systems. Our estimated cost of replacing the sediment pre-filter was around $60 annually.
Best For:
Anyone who has less money to spend, but still wants the reassurance of a quality salt-free water softener from a popular brand.
What We Like:
More affordable than other media-based systems
Includes sediment pre-filter and post-filter
Effective scale prevention method
Long media lifespan
What We Don't Like:
Only 1 system size available
Warranty is void if you DIY install the system
High-Capacity SCM Water Conditioning
The Aquasana Salt-Free Water Conditioner uses a conditioning media called Scale Control Media (SCM), which, as with similar systems we tested, prevents new scale from forming and helps reduce existing scale – all without the use of salt. Thanks to a recent design upgrade, the media is now longer-lasting than before, with a 10-year lifespan (when we originally reviewed the system, it had a 6-year maximum lifespan). Plus, it has a fantastic peak flow rate of 15.3 GPM, so we didn't feel we were compromising on performance in any way, despite the lower price tag.
As with other similar products, the system doesn't waste water like traditional water softeners. It also doesn't need electricity to run, and maintenance doesn't go beyond changing the pre-filter. And speaking of pre-filtration, what makes this system slightly different from the SpringWell Futuresoft and other similar systems is that it comes with both a pre-filter and a post-filter. The pre-filter is a standard sediment filter, but its 2-month lifespan is a lot shorter than the 6-12-month pre-filter lifespans of the other systems we reviewed (at least replacement filters are cheap at around $30 for a pack of 3). The post-filter further reduces sediment, but if you have city water, we don't think you'll need it – it's just an extra filter to have to replace, so it's not worth the install in our eyes.
We expect to see a great product warranty on a water conditioner, regardless of price, so we were pleased to see that Aquasana offers a 10-year warranty and 90-day guarantee for its Salt-Free Water Conditioner.
Also check out Aquasana's filtration system products
---
📚 Methodology: How We Tested The Best No-Salt Water Softeners
We wanted to be able to recommend the best salt-free water softeners in this guide based on our own in-depth research, testing, and reviewing. It was important for us to consider a variety of factors during these processes, which helped us to narrow down our recommendations based on what we – and other customers – were looking for.
Intended outcome – First, we outlined our expectations and determined how a salt-free water conditioner could meet them. We were keen to address scale buildup without the side effects of a traditional water softener, including salt use and water waste. In our research, we learned from various studies that salt-free systems aren't quite as effective as salt-based water softeners (even the best salt-free softeners offered up to 90% scale prevention on average), and many systems weren't intended for treating very hard water. Since our water was moderately hard and our main priority was to prevent the majority of scale formation without having to use salt, we determined that a salt-free softener would meet our expectations.
System type & technology – We identified several different types of salt-free water softeners on the market. The most popular – and most effective – salt-free softener type uses Template Assisted Crystallization (TAC) media. TAC conditioners, also called NAC conditioners, change the composition of calcium and magnesium hardness ions, preventing them from sticking to surfaces as scale buildup. Electromagnetic water softeners were another type of salt-free anti-scale solution that we found, and these were the most affordable – but, according to our research, the least effective. For that reason, we prioritized media-based conditioners in our testing and reviewing processes, with the aim of recommending the most effective scale-prevention salt-free alternatives. We also identified systems that used chelation to bind hardness ions to a chelating agent, such as EDTA or citric acid, but none of these systems made our shortlist due to their use of chemicals.
Testing & certifications – When we produce our best guides, one of our key aims is to recommend systems that have testing or performance certifications, meaning that an impartial organization has tested the system and deemed it capable of performing as intended. However, there are currently no performance certifications for salt-free water softeners – we only found NSF/ANSI Standard 61 and NSF/ANSI Standard 42, which both relate to structural integrity. There's no certification that proves that no-salt systems can reduce hardness levels or scale buildup, and this would be especially hard to prove because these systems don't produce soft water in the conventional sense. With this in mind, our priority was to test as many systems as we could ourselves, so we could see first-hand how effectively they were able to prevent scale buildup in our home.
Water quality & parameters – As with any whole-house system, we noted that the quality of our water could affect the performance of a salt-free water softener. For instance, high iron, sulfur, manganese, and sediment levels would damage the media in a tank-based conditioner and shorten its lifespan. We did our testing in our home with city water, since most salt-free softeners aren't suitable for use with well water without adequate pre-filtration. Many salt-free water softeners are sold with a sediment pre-filter, which goes some way to protect the media in the system, but may not be sufficient for high-TDS water supplies.
Unit size & available space – We knew that saltless water softeners would take up less room in our install location compared to traditional water softener units because they didn't require two large brine and resin tanks. We considered several different water conditioner models and types, and they all generally had a smaller footprint than salt-based water softeners. The systems that used a softening media typically had a single tank and a sediment pre-filter, while the magnetic water softener units we tried were even smaller, with just a small control box and magnets or wire to place around our water pipe. Whatever system you go for, we recommend measuring your planned area for installation and comparing the measurements to the system's dimensions. If you choose a tank-based system, make sure there's enough room for you to comfortably install the system and replace the media.
Flow rate – Since salt-free water conditioners are whole house systems, finding systems with an adequate flow rate to avoid disruption to our plumbing was essential. The size of your family and your water consumption should be factors to consider when you're sizing a salt-free softener for your home. We found that the average flow rate range for salt-free conditioners was 12-25 GPM (gallons per minute). For our 2-bedroom property, a conditioner with a 12 GPM flow rate was more than adequate. Some manufacturers sell their water conditioners in multiple sizes, so you can upgrade to a larger model if you have a bigger home.
System control & features – We identified salt-free systems as being a great alternative for folks who want to avoid the hassle of salt-based softener programming and setup. Most soft water conditioners don't require a digital control panel because they contain a conditioning media that effectively addresses limescale formation regardless of your water hardness. That means they work from the moment they're installed, without you having to program a control panel for backwashing and salt usage.
Installation & maintenance – We knew that one of the perks of a salt-free softening system for many people is their easier install and maintenance. Tank-based water conditioners still require some element of installation due to their need to be plumbed into the water line, but we found that they were easier to install than conventional water softeners with a drain line. Once they're installed, these systems are easy to maintain – most have a sediment pre-filter that needs to be replaced, but their media lasts up to 6-10 years and requires no backwashing. If you want to avoid any kind of installation and maintenance, consider electromagnetic descalers, which just need to be mounted on a wall and assembled around your main water pipe, and require no maintenance whatsoever.
Costs involved – There were a few costs involved in owning a salt-free water conditioner that we identified. As well as the possible cost for a professional installation, these included electricity costs (only for electromagnetic descalers), the annual cost of replacing the sediment pre-filter, and the cost to replace the conditioning media (only for tank-based conditioners). We found that the majority of systems we tested cost less than $50 per year to operate, making them significantly cheaper to run than salt-based softeners.
Warranty & guarantee – The best water conditioners we tested were backed by lifetime warranties and offered trial periods that guaranteed refunds to unsatisfied buyers. We specifically looked for systems with a long warranty and a money-back guarantee period because we wanted the reassurance that our investment was protected.
❔ Frequently Asked Questions
Do saltless water softeners really work?
Yes, salt-free water softeners do work – but our advice is to spend your money on one of the best systems with a great reputation when shopping in this area. You should notice a reduction in scale build-up after using a saltless water softener system for about a week. It's not possible to do a proper drinking water test to check how "soft" your water is – because the water isn't actually softened, just conditioned.
What is the best alternative to salt water softeners?
The best alternative to a salt water softener is a water conditioning system. Template-assisted crystallization, or TAC, is the most research-backed salt-free softening process available today. Go for a TAC system if you want the closest results to salt-based softening, without the salt.
Can a salt-free water softener filter water?
No, a salt-free water softener doesn't work like other water filtration systems. If you want to remove common contaminants from your drinking water supply, we recommend installing a whole-house water filter. Or, you could combine a whole house filter with a water conditioner or water softener. Find out more about the best whole-home softener and water filtration system combos here.
🤓 About Our Experts
This guide was produced by Brian Campbell, WaterFilterGuru.com's Founder and Water Filter Specialist, who researched, tested, and reviewed the systems featured above. Brian's author bio (below) shares more details about his role at WaterFilterGuru.