The Clearly Filtered is the best overall water filter pitcher in 2023, capable of removing up to 70x more contaminants than the most popular brands on the market. These are the top runners up based on contaminant removal capability, durability, filter lifespan and of course, value for money.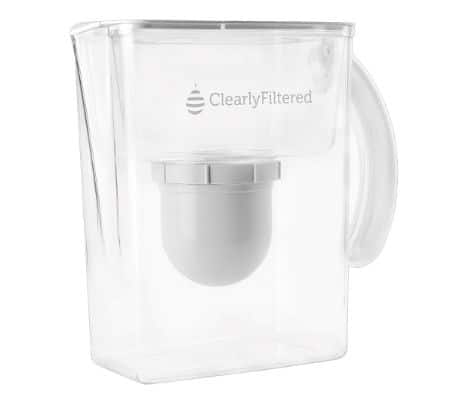 Clearly Filtered Water Filter Pitcher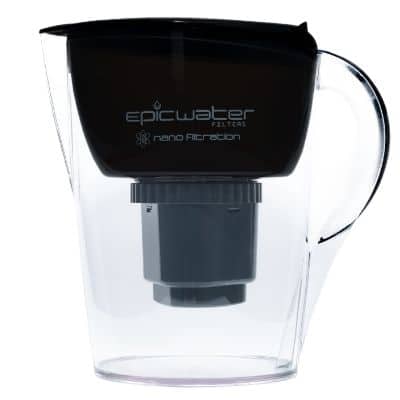 Epic Nano Water Filter Pitcher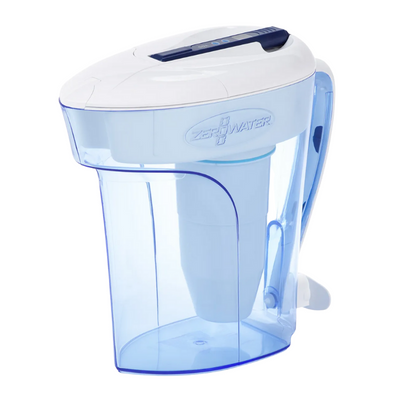 ZeroWater 12 cup
We'd all hope that the water supplied to our homes was safe to drink, but there's just no guarantee of that.
A recent report found that roughly 63 million people in the US were exposed to unsafe water on multiple occasions within the past 10 years. This is a result of a number of factors, including farming pollution, industrial dumping, and deterioration of distribution pipes.
Thankfully, filter pitchers make filtering water more affordable and convenient than ever. But the water filter market is incredibly saturated – so how do you narrow your search down to one?
We can help you with that.
At WaterFilterGuru.com, we review all manner of water treatment solutions for a monthly audience of 150,000. When a new product comes out, we make it our business to know all there is about it. We know what makes a filter pitcher a standout – for the right and wrong reasons.
Based on personal testing, research into performance, filter capacity, customer satisfaction and ease of use, we've put together this list of the top water filter pitchers on the market today. We've recommended the products that have consistently received the most positive customer feedback throughout their existence.
By the end of this guide, you will know:
Which 7 water pitcher filters are the best investments in 2023
The benefits of using pitchers compared to other at-home filters
What to consider when buying a filter pitcher
🥇 Best Water Filter Pitcher
📊 Comparison Chart of Water Filter Pitchers
| Pitcher | Clearly Filtered Water Pitcher | Epic Nano Water Filter Pitcher | ZeroWater 12 cup | PUR PLUS Pitcher | Epic Pure Water Filter Dispenser | Invigorated Water pH Restore Alkaline Water Pitcher | Proone Water Filter Pitcher |
| --- | --- | --- | --- | --- | --- | --- | --- |
| Ranking | 1st | 2nd | 3rd | 4th | 5th | 6th | 7th |
| Ratings | 5/5 | 4.5/5 | 4.5/5 | 4.5/5 | 4.5/5 | 4/5 | 4/5 |
| Price | $$$ | $$ | $$ | $$ | $$ | $$ | $$$ |
| Contaminants Reduced | 365+ | 200+ | 99.6% of all TDS | 20 | 200+ | 10+ | 200+ |
| Certifications or Testing | NSF 42, 53, 401 & 473 | NSF 42, 53, 401, P473, and P231 | NSF 42 & 53 | NSF 42, 53 & 401 | NSF 42, 53, 401, & P473 | – | NSF 42 |
| Holding Capacity | 10 cups | 8.4 cups | 12 cups | 11 cups | 8 liters | 8 cups | 6.5 cups |
| Filter Lifespan | 100 gal. | 150 gal. | 40 gal. | 40 gal. | 150 gal. | 96 gal. | 225 gal. |
| Annual Cost | $150 | $138 | ~$160 | $50 | ~150 | $80 | $80 |
| Warranty | Lifetime | Lifetime | 90-day warranty | 1 year | Lifetime | 1 year | 4 months |
---
⭐️ Best Water Filter Pitcher Reviews 2023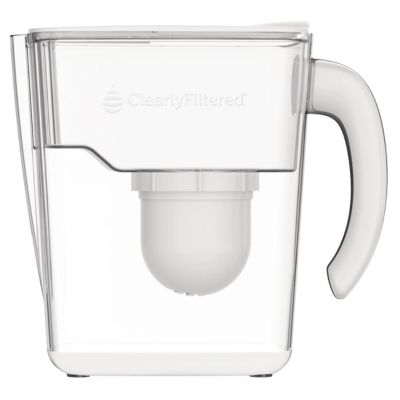 Clearly Filtered Water Pitcher
The Clearly Filtered pitcher is the best-performing pitcher filter on the market, reducing more than 365 contaminants from unfiltered water.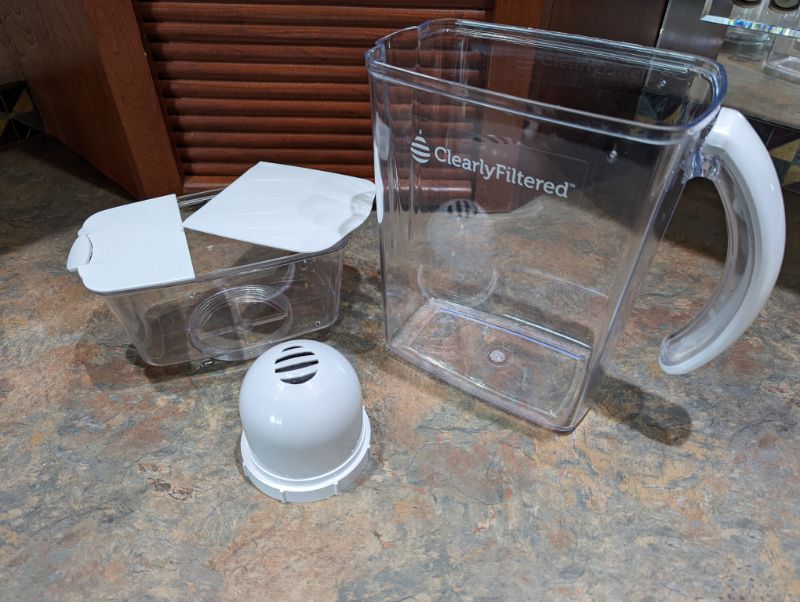 Best For:
Anyone looking for the very best pitcher water filter system that money can buy. When it comes to contaminant reduction, this pitcher is almost twice as capable as any of its competitors.
Pros:
The Clearly Filtered pitcher combines proprietary filter media and granular activated carbon to reduce more than 365 impurities from drinking water, using affinity filtration technology.
Some of the contaminants reduced by the Clearly Filtered pitcher are pharmaceuticals (99.9%), chlorine and chloramine, (99.9%), VOCs (99.9%), PFAS (99.9%) and lead (99.5%).
Despite its incredibly thorough filtration, this pitcher obtains healthy minerals in tap water.
The Clearly Filtered has been independently tested to NSF Standards 42, 53, and 401, and P473.
With a BPA-free design, the filter won't add anything dangerous to your water.
The Clearly Filtered doesn't involve much maintenance because the pitcher provides you with 100 gallons worth of clean water before the filter needs to be changed – that's an average of four months per filter.
The manufacturer offers a lifetime guarantee – so if your pitcher ever breaks, they will provide you a new one free of charge.
Cons:
It takes a while for this pitcher to filter water, so you'll need to be patient.
For an everyday water filter pitcher, this model is more expensive than others on this list – but the price is justified.
There's no filter change indicator, so you'll need to make your own judgement call when it comes to changing your water filters.
Read the Full Review: ClearlyFiltered Pitcher Review
---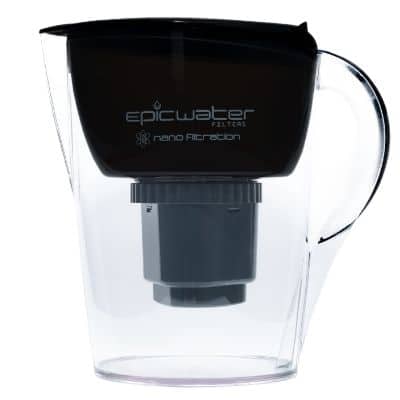 Epic Nano Water Filter Pitcher
The Epic Nano is an Epic Water Filters pitcher, designed to remove microbiological contaminants from well water.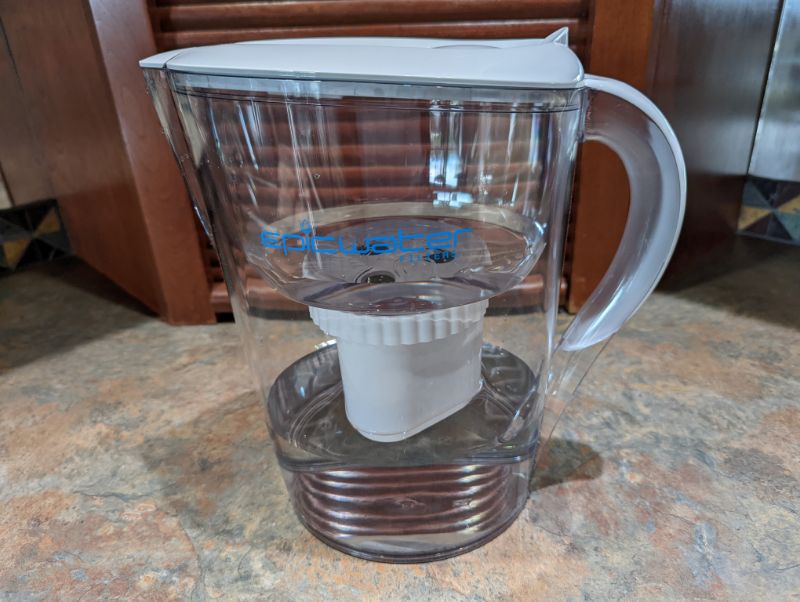 Best For:
Anyone looking for a pitcher to use for filtering well water, or to be prepared for an emergency situation. The Epic Nano is one of the top performing pitcher water filters in terms of contaminant removal.
Pros:
If you get your water from a well, the Epic Nano is a cost-effective filtration system that can remove harmful impurities from your water, making it safe to drink.
Aside from microorganisms, this pitcher boasts a massive 99.99% removal of over 200 tap water contaminants including lead, fluoride, bacteria and viruses, hugely improving water quality.
All filters in the Epic Nano are made in the USA and are 100% recyclable. You'll receive a free replacement filter if you collect four filters and send them back to the manufacturer.
This 8.5-cup pitcher has a 1/2 gallon capacity, providing enough filtered, clean water to serve your whole family.
The filters are tested against NSF standards 42, 53, 401, P473, and P231 for contaminant removal in unfiltered tap water.
You can use the Epic Nano for around 150 gallons (3-4 months) before the filters need to be replaced. There's a built-in filter change reminder so you know exactly when to change the filter.
The body of the pitcher is made from 100% BPA-free plastic and is 100% recyclable.
The filter is backed by a lifetime warranty.
Cons:
Some customers complained that the Epic Nano's water filters don't last as long as advertised, and that filtration becomes extremely slow after a few weeks of use.
The pitcher isn't dishwasher safe, so you'll need to hand-wash it to clean it.
The Epic Nano is costly to buy, and with more frequent filter replacements, running costs are high, too.
Read the Full Review: Epic Nano & Pure Filtration Pitchers Review
---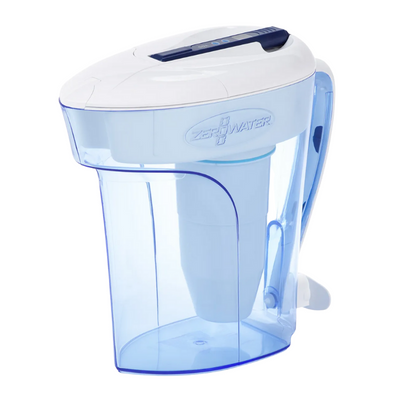 ZeroWater 12 cup
Our top pick for the best water filter pitcher with fast filtration is the ZeroWater 12-Cup Ready-Pour Pitcher.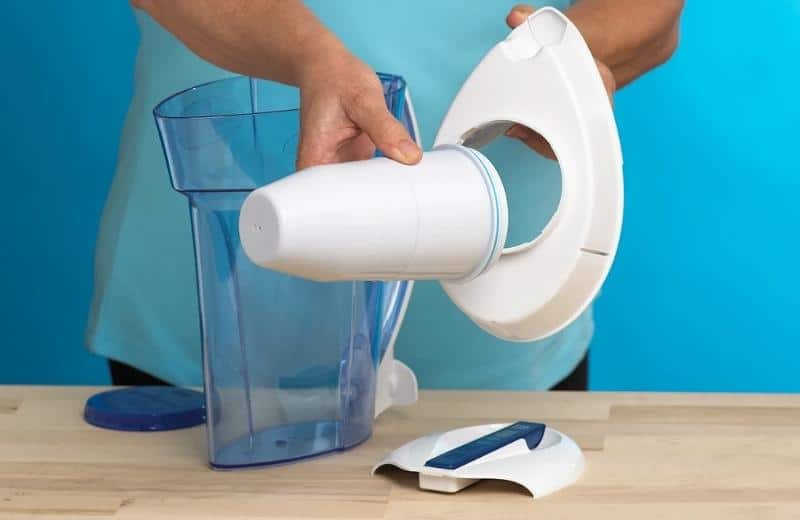 Best For:
Folks who lead an on-the-go lifestyle and want a water filter pitcher that they can use to access filtered water almost instantly, without having to wait for the entire reservoir to finish filtering first.
Pros:
Our favorite feature of this ZeroWater filter pitcher is its patented Ready-Pour technology, which means you get to access water as it's filtering. No waiting around for all the water to be filtered before you can pour yourself a glass.
If it's contaminant removal that you're interested in, you'll be happy to know that this pitcher is officially NSF certified to Standards 42 and 53, for the reduction of lead, chlorine, and PFOA/PFOS. And the proof is on the NSF website.
ZeroWater goes above and beyond with its filtration process. It doesn't just have one or two filter stages – there are five stages of filtration within a single cartridge, which allows for up to 99.6% of all dissolved solids to be removed.
The 12-cup capacity is ideal for families of 2 or 3 who want a pitcher that they don't have to constantly refill.
Setup is super easy: just attach and tighten the filter to the reservoir, then add cold water and put the lid on top.
Cons:
ZeroWater's marketing focuses on the fact that it can reduce TDS – you even get a free TDS meter to check your water after filtering – but TDS reduction isn't the solution. Many dissolved solids, like healthy minerals and salts, are beneficial in water.
There are a couple of design flaws that customers mentioned, including the wide stream of water from the pouring spout, which makes it difficult to fill a glass without some spillage.
---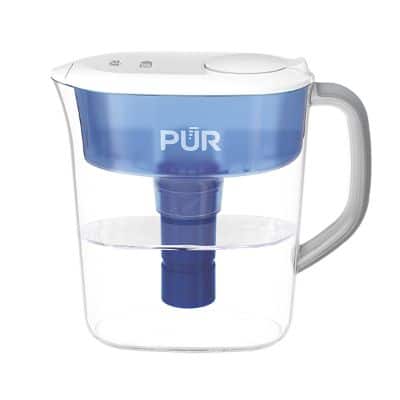 PUR PLUS Pitcher
The PUR PLUS is an 11-cup pitcher that is designed to offer WQA-certified lead removal.
Best For:
Anyone who is most concerned about lead in their water, and is looking for a lead reduction filter that's certified to remove this metal.
Pros:
The PUR PLUS is one of the best lead reduction filter pitchers on the market, and is WQA certified for lead reduction.
As well as reducing lead, the PUR PLUS reduces mercury, pesticides, chlorine, and more.
This PUR filter has a filter change light, so there's no guessing when you need to buy a filter replacement. You'll need to replace the filter after 40 gallons, or two months.
With a comfort-grip handle and a stay-tight lid, the PUR pitcher is easy and convenient to use. You can also store this pitcher in the refrigerator thanks to its slim, space-saving design.
PUR offers dishwasher safe products, so you can save time and avoid manual work when you need to clean the pitcher.
Cons:
The filter indicator doesn't have a replaceable battery, which means eventually, it will stop working, and you'll have to guess when to change your PUR's filters.
PUR filters only have a 90-day warranty.
Even with the stay-tight lid, the spout design on the PUR filters means some leaking may still occur.
Read the full review: PUR Basic & Plus water filter pitcher review
---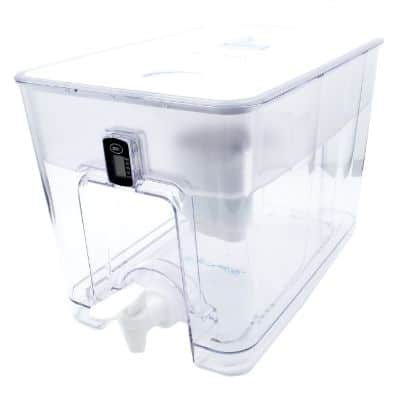 Epic Pure Water Filter Dispenser
The Epic Pure is a dispenser offered by Epic Water Filters. This dispenser is designed to remove heavy metals and fluoride.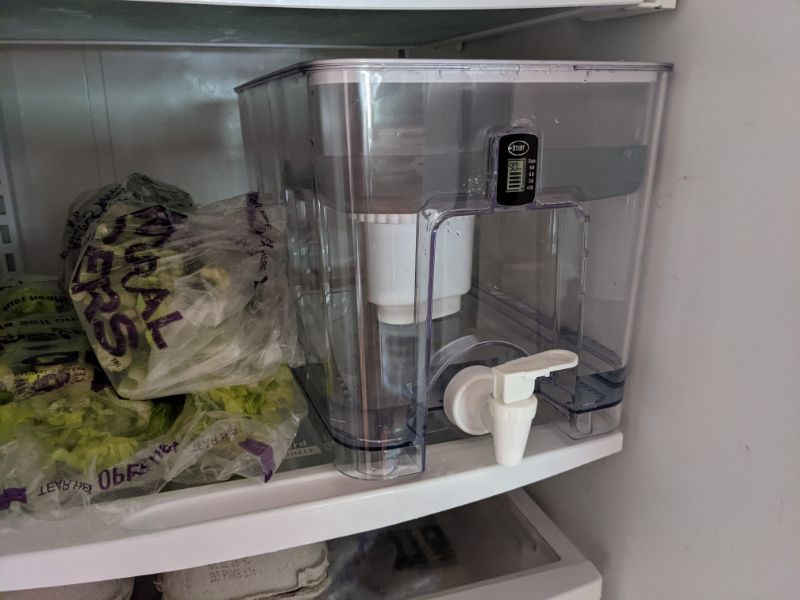 Best For:
Anyone looking for a reliable everyday water filter pitcher that can remove common municipal water contaminants.
Pros:
The Epic Pure can target more than 200 drinking water contaminants, making it one of the best water pitchers on today's market.
Designed to filter municipal tap water, the Epic Pure filter offers targeted fluoride removal. Fluoride is a particularly difficult contaminant to remove from a water supply. The filter is also highly effective at heavy metal (such as lead) reduction.
Holding 1.5 gallons, or 14 cups of water, the Epic Pure is designed for families, and requires fewer refills.
The Epic Pure is tested in accredited laboratories to NSF Standards 42, 53, 401, and P473 to remove chlorine, fluoride, VOCs, pharmaceuticals, pesticides, microplastics, PFOS and PFOA, and more.
Unlike some water filters, the filter doesn't remove calcium, magnesium, potassium, or any other healthy minerals from water.
The Epic Pure is more affordable than some filters on this list, and the filter is a good value for money.
Filters last for 2-6 months, and you get a free replacement filter if you recycle four filters with the manufacturer.
Cons:
As with the Epic Nano, some customers complained that the Epic Pure's filtration speed becomes very slow within a few weeks, and that the dispenser doesn't have a long filter life.
Again, the dispenser isn't dishwasher-safe, so you'll need to clean this product by hand
Read the full review: Epic Pure Dispenser Review (Updated 2023)
---
Invigorated Water pH Restore Alkaline Water Pitcher
The Invigorated Water pH Restore pitcher is one of the best alkaline water filter pitchers on the market, providing filtered, alkaline water within minutes.
Best For:
Anyone who wants to stop buying plastic water bottles, but still wants the high water quality of bottled alkaline water.
Pros:
The Invigorated Water pH Restore pitcher uses an innovative filter that removes chlorine, heavy metals, and even some fluoride from your water while increasing the pH (by up to 2.0) and lowering the ORP.
The filter contains mineral stones, which introduce healthy minerals into water, including calcium, zinc, and magnesium.
With all of the benefits of this filter, you'd think it wouldn't last long, but this filter lasts over 4 months.
There's no need to worry about when to change the filter because the pitcher comes with a filter change indicator – making your job much easier.
The filter holds 10.5 cups of water, and is a good size to provide a day's worth of clean water to single people and couples.
All plastics used in the Invigorated Water pH Restore are BPA-free, so this filter won't add dangerous chemicals to your water.
Cons:
There's no definitive proof to say that alkaline water is actually better for you – so although the Invigorated Water is one of the best alkaline water pitchers, it may not offer many more health benefits than a standard filter pitcher.
The Invigorated Water isn't a lead reduction filter, which is a big letdown.
Some customers complained that the lid leaks when you pour water from the filter.
---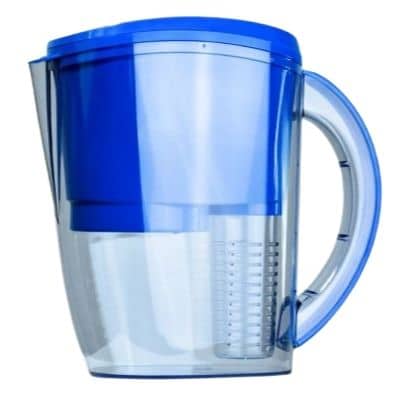 ProOne Water Filter Pitcher
This Proone water purification pitcher has one of the longest filter lifespans we've seen.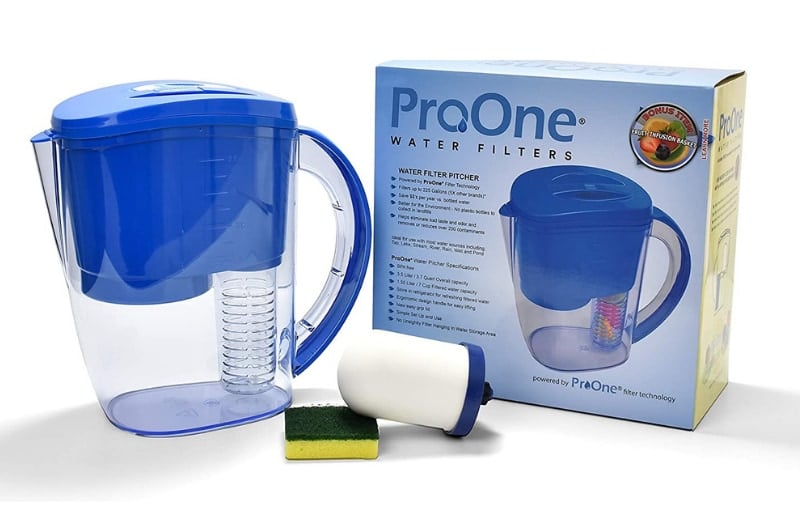 Best For:
Folks looking for a high performing and extremely long lasting filters.
Pros:
The Proone filter removes/reduces 200+ contaminants including fluoride, lead, chlorine, heavy metals, pesticides, pharmaceuticals, PFAS and more, greatly improving water quality.
Not only does this pitcher provide you with safe, clean drinking water, but you can also use the pitcher to create safe, clean, fruit-infused drinking water in the included fruit infusion portion.
The BPA-free and PVC-free plastic pitcher fits perfectly in your fridge, supplying cool, clean water.
The heavy-duty filter lasts for six months, providing you with clean drinking water on a daily basis.
With a 6-month lifespan, the Proone has one of the longest-lasting filters on the market.
The pitcher holds up to 6.75 cups of water, providing enough water for one person for a full day.
Cons:
There's no filter indicator, so you'll need to note down when to make a filter replacement.
The Proone is a drip filter, taking a very long time to filter water.
Some customers complained that leaking can occur if you pour from the jug while water is in the upper reservoir.
Read the full review: ProOne Water Filter Pitcher Review
---
🧾 Water Purifier Pitcher Buyer's Guide
Use the below guide to learn everything you need to know about buying a water purifier pitcher.
✅ 6 Specific Water Filter Pitcher Buying Guides
💭 Important Things to Consider When Buying a Filter Pitcher
Contaminant Reduction Capability
Not all water filter pitchers are equal in what they can remove.
Most pitchers can remove the basic set of contaminants: lead, chlorine, and other contaminants that affect water taste and smell. If this is all you're looking for in a filtration system, that's fine.
However, there are so many more trace contaminants in our tap water – hundreds, in fact. Some of the best water filter pitchers remove a range of impurities, including emerging contaminants, volatile organic compounds, and toxic metals.
If you want to be as protected from these harmful contaminants as much as possible, choose a filtered pitcher that can remove at least 50+ contaminants.
Testing & Certifications
Third-party certifications allow manufacturers to show their customers that their product performance claims are legitimate.
NSF International and the WQA both offer certifications for a water filter system, including water pitchers.
The most common certifications for filtered pitchers are listed below.
NSF/ ANSI 42 – For aesthetic contaminants that affect taste and smell, like chlorine
NSF/ ANSI 53 – For the removal of health-concerning contaminants, like asbestos and lead
NSF/ ANSI 401 – For emerging contaminants, such as pharmaceuticals
NSF/ ANSI P231 – For microbiological water purifiers that can remove disease-causing microorganisms
NSF/ ANSI P473 – For the reduction of PFOA and PFOA in drinking water
Filter Capacity (Lifespan) & Replacement Costs
The filter life of a pitcher filter will determine your maintenance requirements, and the costs involved.
A standard filter for a pitcher lasts for up to three months. The longer a filter lasts, the less frequently you'll need to pay for new water filters – but this doesn't always mean you'll get a better deal.
Generally, the greater a filter's contaminant removal capacity, the more expensive it will be. You can expect to pay $30-$100 per year on replacement filters for a pitcher filter, depending on the filter type and the deals you find. When possible, bulk-buy your replacement filters for big savings.
Speed of Filtration
Pitcher filters aren't the fastest water filters on the market because pitchers use gravity to filter tap water.
It takes the average 6-cup pitcher up to 10 minutes to filter a full jug of water. Towards the end of the filter life, when the filter is clogged with contaminants, it may take a standard filter up to 20 minutes to filter a full jug.
The design of a filter can affect the speed of filtration. The more complex a filter, and the more layers tap water needs to pass through, the longer the filtration process will take.
Most pitchers allow you to pour water from the jug while filtration is taking place, so you won't need to wait for the full jug to filter before pouring.
Filtered Water Storage Volume (Jug Size)
You can find filtered pitcher models in a range of sizes.
Standard pitchers are 2-3 liters, or 6-8 cups. This should be enough to provide clean water for a single person throughout the day.
Some water filter pitchers have much smaller capacities of 1 liter or less, which might be a better choice for you if you're looking for a personal pitcher that you can take with you to work or on trips away.
You can also find much larger water purification pitchers, measuring up to 8-10 liters, which are a good option for big families or workplaces.
BPA-Free Construction Materials
BPA is an industrial chemical that is used in manufacturing plastics, and has proven health effects.
BPA has been found to interfere with the body's production of hormones, which can, over time, lead to developmental and reproductive issues.
Most tap water purifier pitchers are BPA-free, so they won't leach harmful chemicals into your drinking water. If a pitcher is BPA-free, you should be able to find the information in the product's description.
Warranty
Even if a pitcher has nothing but positive reviews and good feedback from customers, a warranty of a minimum of 6 months is essential for peace of mind.
Most manufacturers will offer a warranty that allows you to return the filtration pitcher for a refund or replacement product if the pitcher contains defective parts, or becomes broken or damaged through no fault of your own.
A product warranty demonstrates that manufacturers expect their product to work as advertised for at least the length of the warranty period.
⚙️ How Do Water Purifier Pitchers Work?
Most water purifier pitchers use an activated carbon filter, which removes heavy metals like lead and copper, chemicals like chlorine, pesticides and herbicides, and organic compounds that give tap water an unpleasant taste or smell.
Carbon filtering works by using activated carbon, with each granule of carbon spreading out across the whole filter surface.
This gives the highest chance of all water particles being exposed to the activated carbon, which then traps pollutant molecules inside the pore structure of the filter surface.
Some filters also use an ion exchange resin, which removes copper and zinc, as well as hardness minerals, like magnesium and calcium.
Water filters continue to become more advanced, and many filters today combine a variety of media to tackle specific contaminants with each filtration layer.
🧫 What Contaminants Do Water Purifier Pitchers Remove?
The purpose of water pitcher filters is to deliver water that looks cleaner, tastes better, and smells fresher.
Originally, the best water pitchers could remove around 5-10 contaminants. Nowadays, pitcher filters can remove hundreds of contaminants, including:
Nitrates
Arsenic
Lead
Chlorine and chloramine
Fluoride
Radium
Bacteria
Copper
Volatile organic compounds
Mercury
❗️ Reasons to Use a Water Filtration Pitcher
Health Benefits: Removes Contaminants From Water
A water filter pitcher can remove a whole host of health-harmful contaminants from your water. These contaminants are supposedly safe in trace amounts, but, if given the choice, most people would rather drink safe, contaminant-free water.
You should definitely consider buying a water purifier pitcher if your household water supply contains a higher-than-average quantity of contaminants.
Improves Water Taste (Aesthetics)
Chemicals like chlorine can have a big impact on drinking water's taste, and many buy bottled water because they find the taste of tap water so unpleasant.
Water purifier pitchers remove these chemicals from water, producing water that tastes as good water from plastic bottles.
Related: See our top picks for best alkaline water filter in 2023
Easy to Use
One of the more appealing aspects of a water filtration pitcher is that it requires no installation. This makes them a perfect water filter for apartments and condos.
Water filter pitchers come pre-assembled, and you only need to click or twist the filters in place for use.
Portable On-the-Go Use
If you want to take your filter pitcher away with you for work or travel, you'll be able to do so easily.
Water purification pitchers aren't tethered to one spot, so you can get fresh drinking water on the go. You can store a pitcher in the fridge, giving you access to cool, crisp drinking water.
A water filtration pitcher requires no installation, making it easy to bring with you wherever you might be heading.
Cost-Effective
A filter pitcher might be a bigger up-front cost than bottled water, but it's a much more effective money-saving alternative.
With a filter pitcher, you can take water straight from your tap. Most filter pitchers cost around the $50 mark, although prices can be higher or lower depending on quality of filtration.
Once you've bought your pitcher, you'll only have replacement filters to buy, which don't tend to cost more than $10-$20.
👥 Who Should Be Using a Water Purifier Pitcher?
Anyone can use a water filtration pitcher, but people who have particularly contaminated water should especially consider using one.
Water purification pitchers are low-cost alternatives for people who want to drink cleaner, fresher water but can't afford, or don't want to invest in, more expensive water filter systems, like under-sink reverse osmosis, or countertop water filters.
Because of their portability, pitchers are a good option for travel, non permanent housing, or transferring between your home and workplace.
People who drink well water should make sure to identify a pitcher capable of removing well water contaminants.
🗓 When to Change a Water Pitcher Filter
For most pitcher filters, you'll need to replace filters between 1 and 3 months. Filter life can vary depending on filter quality, usage, and the level of total dissolved solids in your water.
Some long-lasting filters are designed to work effectively for up to six months, or 120 gallons.
It's becoming popular for filter pitchers to use a filter life indicator LED light, which will alert you when your filter needs to be replaced. This is a handy feature to have if you don't think you'll remember to change your filters in advance.
Below, you can find information on filter life for the pitchers listed in this guide.
| Pitcher | Filter Capacity (gals.) | Time Max. (Months) |
| --- | --- | --- |
| Clearly Filtered Water Pitcher | 100 | 4 |
| Epic Nano Water Filter Pitcher | 150 | 5 |
| Epic Pure Water Filter Dispenser | 150 | 5 |
| Invigorated Water pH Restore Alkaline Water Pitcher | 96 | 4 |
| PUR PLUS 11 Cup Pitcher | 40 | 2 |
| Proone Water Filter Pitcher | 225 | 6 |
How to Change the Filter Cartridge
Empty the pitcher and remove the lid, or the part of the pitcher that houses the filter.
Remove the old filter by twisting it or clicking it out of the housing.
Discard the old filter and unpackage the new filter.
Twist or click the new filter in place.
Prime the filter as directed in your user manual.
The filter will then be ready for use in your pitcher.
📌 Other Top Brands & Why They Didn't Make the List
Brita
There was a time when Brita filters were the best of the best. It seemed that everyone had a Brita filter, and we all talked about how Brita filters could remove chlorine and improve water's taste.
Fast-forward a decade, and the standard Brita filter just doesn't match up to some of the other water filter pitcher brands on today's market. Even the Brita LongLast filter removes a disappointing selection of contaminants. Although Brita is a trustworthy brand, its filters just aren't worthy of my list.
You might also like: PUR vs Brita comparison
Aquagear
The Aquagear water filter pitcher is a close contender, and you'll probably see it recommended in other guides. However, in this review, I've covered only the best pitcher filters, and the Aquagear water filter pitcher doesn't perform as well as my other top recommendations.
Related: 2023 Aquagear vs Brita Comparison
Soma
While Soma are making an impact to reduce the brands' carbon footprint, the filtration capacities of their pitcher are severely lacking.
Read our Soma water filter review here to find out more.
❔ Frequently Asked Questions
What do filter pitchers remove from water?
All water filter pitchers are designed to reduce substances found in water, including chlorine, heavy metals, sediment, some bacteria, and any other contaminants that could give water a negative taste or odor – making them a worthy investment!
Do I need my water filtered?
Not necessarily. Opting to drink filtered or purified water is a choice. All household tap water is treated to industry standards before it reaches your faucet, and it shouldn't make you sick. However, some people are hesitant to trust the quality of their drinking water, especially after disasters like the Flint water crisis.
Ultimately, while no-one needs to filter their water, the choice is yours. If you usually buy bottled water because you prefer the taste, you'll benefit from a water purification pitcher.
Why is my filter filtering slowly?
Your filter should take a maximum of 15-20 minutes to remove impurities from a full jug of drinking water. Any longer than this and you're probably due a filter change. High water usage and tap water with a higher sediment content can shorten the lifespan of your filters.
How long do water filter pitchers last?
The shelf life of your actual pitcher is indefinite. Providing you wash it regularly with warm, soapy water, change filters when they need changing, keep the pitcher clean, and look after it, you should get many years of use out of the system.
Your pitcher's filters have a lifespan of around 1 to 3 months, or up to 6 months if you pay for longer-lasting filters. Changing your filters regularly will help to ensure your whole pitcher system lasts for as long as possible.
Can I use any filters in my pitcher?
No, usually not. If you're buying from a certain brand, you'll normally need to purchase branded filters that fit in your pitcher properly if you want to avoid leaks and get the best use out of your pitcher.
If you're looking to save money and buy off-brand, make sure the product description lists your specific pitcher as a match to the filters you're buying.
How do I clean my filter pitcher?
You can clean your filter pitcher in the same way that you'd clean any item of kitchenware. Hand-wash the pitcher and lid a minimum of once a week with mild soap and warm water. Air dry it by placing it upside down, then reassemble.
Make sure to remove your filters and leave them in a safe place while you're washing the pitcher.
How long can I store water in my filter pitcher?
You can store water in a filter pitcher for up to one day at room temperature. When storing water, avoid areas of direct sunlight or heat sources.
If you're planning to store water in your filter pitcher for more than a day, you should keep it in your fridge to maintain freshness.
My filtered water doesn't taste as expected. What can I do?
Water filter pitchers are designed to remove the chemicals and contaminants that affect water taste and odor, but remember that taste is subjective, and it may simply be that you don't enjoy the taste of fresh water.
If you think your new filters might be the issue, try flushing them again, then soaking them in water overnight. This should remove any lingering sediment from the filters and solve the taste issue. Otherwise, poor-tasting water might be a sign that you need to change your filters.
Are pitcher filters recyclable?
It depends on the pitcher you buy. Many pitcher filters can now be recycled, so take a look at your product manual if you're unsure.
Some manufacturers offer incentives, like a free spending voucher or discount, for sending the filters straight back to them once you've finished with them. If there's an option to recycle your filters, be mindful to do so.
Does a water filter pitcher remove bacteria and viruses?
In most cases, no – a filter pitcher is not designed to remove these sorts of microorganisms. However, some of the best filtered pitcher products can now remove some microbiological contaminants. If you're not sure, contact the manufacturer directly.