These are the best water softeners in 2023 in terms of softening capability, efficiency, quality of build, customer satisfaction, and of course, affordability.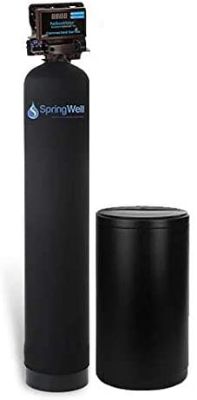 SpringWell Salt-Based Water Softener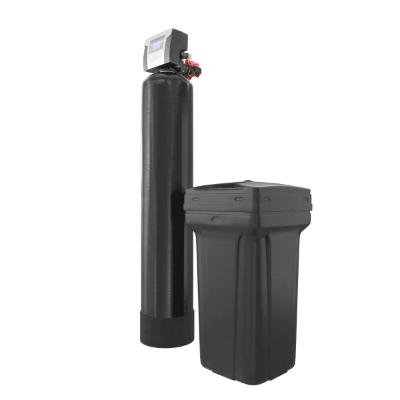 SoftPro Elite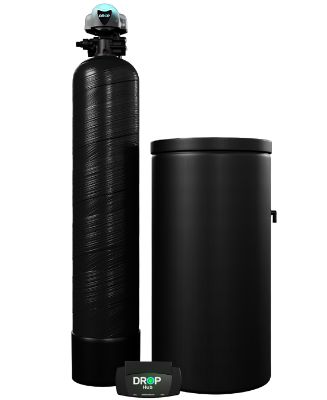 DROP Smart Water Softener
An estimated 85 percent of the USA has hard water. Considering the damage that hard minerals can do to a plumbing system, it's no surprise if you want to find a residential water softening solution ASAP.
In our best water softener reviews guide, you'll learn:
Which 8 water softeners are worth your money in 2023
How we selected the products that came to be on this list
The absolute essentials that you need to know before spending your hard-earned cash on a water softener for your home
🥇 Best Water Softeners
---
📊 Comparison of the Best Water Softeners
Product
SpringWell SS

SoftPro Elite

DROP

Springwell Futuresoft

Kind E-2000

Fleck 5600 SXT

On The Go

Yarna Descaler

Ranking
1st
2nd
3rd
4th
5th
4th
7th
8th
Ratings
5/5
4.5/5
5/5
4.5/5
4.5/5
4.5/5
4.5/5
4/5
Price
$1530.93+
$1129+
$1992.40+
$1597.31+
$1074.23
$1189+
$272
$359.99
System Type
Salt-Based
Salt-Based
Salt-Based
Salt-Free
Salt-Free
Salt-Based
Salt-Based
Electronic Descaler
Capacity/ Max Hardness
32K - 80K
24K - 110K
32K, 48K or 64K
81 GPG
75 GPG
24K - 80K
8K (Standard) or 16K
none
Flow Rate (GPM)
11 - 20
10 - 32
10 - 12
11 - 20
Up to 15 GPM
7 - 15
5 GPM
n/a
Warranty
Lifetime for valves
10 years for tanks
7 years for electronic head
Limited lifetime for valves
Lifetime for tanks
7 years for circuit board
5 years
Lifetime for valves
10 years for tanks
7 years for electronic head
Lifetime (limited)
5 years for valves
10 years for tank
1 year
1 year
⭐ Reviews – Top Water Softeners of 2023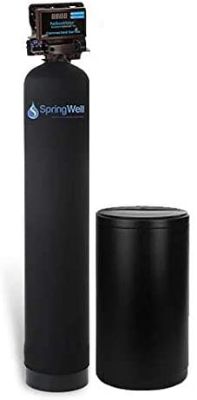 SpringWell Salt Based Water Softener System
In our opinion, the SpringWell SS Salt-Based Water Softener System is one of the most dependable and capable ion exchange water softeners currently on the market. We love this salt-based system because it uses a durable, chlorine-resistant 10% crosslink resin and completely removes unwanted minerals (namely calcium) from both well and city water.
The folks at SpringWell offer a series of softeners in the SS range: the 32k grain SS1 (ideal for homes with 1-3 bathrooms), the 48K grain SS4 (for 4-6 bathrooms), and the 80K grain SS+ (for 7 or more bathrooms).
Key Features
Traditional ion exchange performance – All three SpringWell SS softeners use an ion-exchange process to minimize scale buildup in your home appliances, plumbing, and fixtures. The result? Longer-lasting appliances, reduced maintenance, softer laundry, and healthier skin and hair. Ion exchange is the most effective way to tackle water hardness in well and city water in your home.
Automatic regeneration – The SS line produces far less water waste by using automatic regeneration. i.e. the softeners only regenerate when they need to. This saves you money and resources, so it's good for a penny-pinching or eco-conscious family.
Bluetooth control – Our favorite super-convenient feature: you can connect the control head to your phone to adjust backwash, regeneration cycles, salt use, and timing with the tap of a button. Just install the Legacy View app (available on iOS and Android devices).
Lifetime warranty – You can buy this SpringWell SS system at no risk because it comes with a lifetime warranty and a 6-month money-back satisfaction guarantee. You'll struggle to find a warranty this decent for any other water softening system.
| SpringWell SS Configurations | Price |
| --- | --- |
| 1-3 Bathrooms | $1530.93 |
| 4-6 Bathrooms | $1683.59 |
| 7+ Bathrooms | $2086.32 |
Best for
Families of any size looking for the best-value salt-based residential water softener, and anyone who prefers to spend their money on a trusted brand. We think the SpringWell SS softeners are the best for everyone because they offer more features than any other softening system at the most affordable price.
Pros
The SS range has been designed to offer state-of-the-art digital metered regeneration. This significantly reduces water waste, so you can spend less money every time your system regenerates. The pennies add up to substantial savings every year.
The SpringWell systems are manufactured by a trusted brand, so you know you're spending your money wisely. Plus, SpringWell's tech support is top-notch, and from our experience, staff are super helpful.
Thanks to its high chlorine resistance, the 10% crosslink resin lasts twice as long as the 8% resin used in most water softeners. By buying one of the SS models, you literally get double the value of a standard water softener with an 8% resin. You'll only have to replace the resin once every 15-20 years.
You get endless features from SpringWell water softening systems. A vortech tank design to improve backwashing efficiency by 30%, NSF certified components, lifetime system warranty, 6-month money-back guarantee, Bluetooth control head that connects to your phone… you won't find any other water softener that offers so many features at such a low price point.
| Upgrades | Price |
| --- | --- |
| UV Water Purification System | $1100.99 |
| Reverse Osmosis Water Filter System | $442.23 |
Cons
The SpringWell SS has a brine tank and requires salt top-ups, so maintenance is frequent.
Installation of this system is complex. Unless you're really confident, you'll probably have to hire a plumber for the job.
Read the full review: Springwell Salt Based Water Softener System Review (2022)
---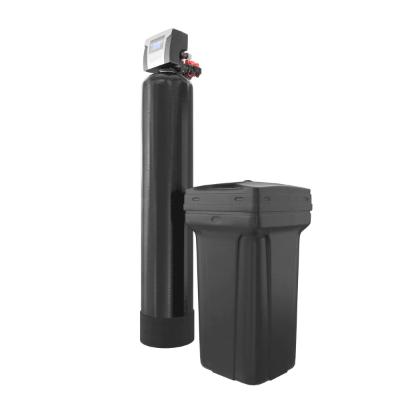 SoftPro Elite
The SoftPro Elite is our second choice for the best overall water softener systems that use salt. This system blew us away with its efficiency-boosting features, including upflow tank design, limited backwashing, and demand initiated regeneration.
This water softening system doesn't have some of the convenient features of the SpringWell SS range or the smart functioning of the DROP softeners, but it's available in an impressive seven grain capacities, so it's ideal if you want a water softener that's accurately sized for your exact daily soft water requirements.
Key Features
Highly efficient performance – The SoftPro Elite helps save on both salt and water consumption during its operation. Its upflow design allows for a more exact resin recharge, and backwashing only occurs every fifth regeneration cycle, minimizing water waste. According to SoftPro, the Elite uses only 3 bags of salt per year – max.
Demand initiated regeneration cycles – The unit is powered by next-gen sensors, which trigger a quick demand initiated regeneration cycle outside of the normal scheduled time if the resin gets below a 3% threshold. What does this mean in simple terms? You'll never go without soft water because the SoftPro Elite will automatically replenish the resin whenever necessary.
User-friendly LCD screen – We found it easy to operate the SoftPro Elite's LCD screen, which lets you set a variety of presets including auto-refresh, auto-variable backwash, vacation mode, and auto reserve (some useful extra features).
Affordable system – Prices start at around $1,600. That's a couple hundred more than the smallest SpringWell SS model, but slightly cheaper than the DROP softeners. You pay more upfront to spend less on maintenance in the long run.
Best for
Anyone looking for a highly efficient softening system that perfectly suits their water usage. The unit comes in seven grain capacities, which means there's a system size to suit every family size. If standard softener sizes don't typically suit your needs, you'll appreciate the fine-tuned sizing options offered by SoftPro.
Pros
The SoftPro Elite is one of the most efficient water softeners we've tested, using up to 50% less salt than a standard salt-based water softener.
The SoftPro's resin lasts up to 20 years – that's twice as long as the average 8% resin found in most water softeners – and comes with a reassuring lifetime warranty. Worried you won't like the system? It's backed by a no-risk guarantee, so you can get your money back in the unlikely event that you're unimpressed.
You can choose from a total of seven system sizes, from 24,000 to 110,000 grains. Whether you're a single-person household or an office manager, you'll find a SoftPro system that's ideally sized for your property.
The system is manufactured by the folks at Quality Water Treatment, a brand with more than 30 years' experience. We've read reports about outstanding customer support from the QWT team.
| SoftPro Elite Configurations | Price |
| --- | --- |
| 24000 | $1129 |
| 32000 | $1229 |
| 40000 | $1289 |
| 48000 | $1369 |
| 64000 | $1419 |
| 80000 | $1629 |
| 96000 | $2189 |
Cons
There is no base model for this system.
As a salt water softener with a brine tank, the SoftPro requires salt top-ups – even if it is more efficient than other salt water softeners. We wouldn't recommend it for anyone who doesn't want to commit to long-term maintenance.
Read the full review: SoftPro Elite Review (2023)
---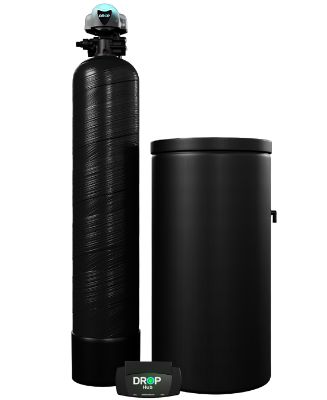 DROP Smart Water Softener
Our top pick for the best premium whole-house water softener is the DROP Smart Water Softener. This high-tech water softener integrates with the DROP App and DROP Hub to let you monitor the system on the go and shut off water to your home if a leak is detected.
What else should you know about this softener? It's a traditional salt-based system, so it eliminates calcium and magnesium, and it has a 9V battery backup in case you ever lose power. Plus, it comes with a reassuring 5-year warranty.
Key Features
Smart app connection & DROP Hub integration – The DROP Smart Water Softener connects to the DROP app, allowing you to monitor and program the softener from any location. It also integrates with the DROP Hub smart water monitor and has a patented piston design that shuts off water if a leak is detected (leak detectors sold separately).
Available in three configurations – You can buy this water softener in three configurations: 27,000 grains, 40,000 grains, and 54,000 grains. The smallest model can treat up to 60 grains of hardness, while the mid-sized model can tackle up to 80 grains, and the largest model treats up to 100 grains.
Also reduces iron & manganese – All three configurations of the DROP softener can reduce up to 5 PPM of clear water iron and manganese.
Fast flow rate – The smallest S-32 system has a decent 10 GPM service flow rate, while the S-48 has an 11 GPM flow rate and the S-64 has a 12 GPM flow rate.
| DROP Smart Configurations | Price |
| --- | --- |
| 32000 Grains | $1992.40 |
| 48000 Grains | $2192.20 |
| 64000 Grains | $2458.00 |
Best for
Folks looking for the smartest premium water softener that gives them the most detailed and informative insights into their softener performance and the most remote control over their system for convenience and peace of mind.
Pros
The DROP Smart Water Softener brings together all the features you didn't know you needed for convenient operation and peace of mind when you're out of the house. If you pair this system with the DROP Leak Detectors, you get the three benefits of a premium water softener, a water conservation system, and home leak protection in one.
You can choose to extend the resin lifespan if you prefer to spend more upfront to reduce your maintenance down the line. We appreciate that you have the choice of buying the system with the 8% resin as standard, but the longer-lasting 10% resin is available on request.
As for performance, this system won't let you down. With a fast 10 GPM+ flow rate and the ability to tackle up to 100 grains of hardness, it's well equipped to soften even the hardest water supplies – and remove iron as an added bonus.
You get so many conveniences from connecting the DROP softener to the manufacturer's app, including the ability to control the system from anywhere, and access to water usage data and history.
Cons
If you want to enjoy all the benefits of this system and use it to the best of its abilities, you'll need to spend additional money on the DROP Leak Detectors.
The softener only works when used with the DROP Hub.
The upfront cost (prices starting at around $1,800) is higher than average – you're paying for a premium system.
---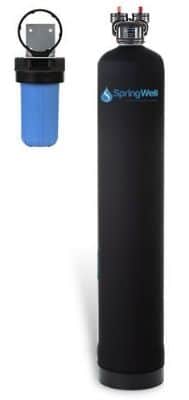 SpringWell Futuresoft Salt-free Water Softener
The SpringWell FutureSoft is our top choice for the best overall salt-free softener system. This is because the system uses the highly effective TAC scale-control process and comes with all the perks of a SpringWell product, including a lifetime warranty and top-class support.
What else can you expect? Quality scale reduction (up to 99.6%) even for extremely hard water, flow rates of up to 20 GPM, and an entirely salt- and chemical-free performance. This system is head-and-shoulders above the other water conditioners on the market.
Key Features
Effective TAC technology – The SpringWell FutureSoft uses a process called Template Assisted Crystallization (TAC). Simply put, this process crystallizes hard minerals, preventing from from adhering to surfaces. Water is still hard, but it's no longer able to damage your plumbing.
Three size options- You can choose between system sizes based on the number of bathrooms you have. There's the FutureSoft FS1 (1-3 bathrooms, 12 GPM), the FS4 (4-6 bathrooms, 15 GPM), and the FS+ (7+ bathrooms, 20 GPM)
No maintenance – The FutureSoft is virtually maintenance-free, with no salt to top up and no resin to clean, so it's a good choice for people looking for a low-hassle solution. You just need to replace the sediment pre-filter every 6-9 months, which costs about $50 per year.
Best for
Anyone looking for an affordable water conditioner that provides almost the same performance as salt based water softeners. Thanks to its impressive scale-reducing performance, we think the FutureSoft is the best alternative to an ion-exchange water softening system that money can buy.
Pros
The SpringWell FutureSoft's TAC conditioning has a few notable benefits: it protects your plumbing system and appliances from scaling, gets rid of existing scale build-up, and makes water gentler on skin, hair, and clothes, while retaining healthy, tasty minerals. The effectiveness of TAC has been proven in this study.
In our opinion, the FutureSoft's increased energy efficiency, NSF certified components, lack of maintenance, and ability to extend appliance lifespans make the $1,500 price tag worth the investment.
SpringWell is a reliable brand with a professional, friendly customer support team.
You won't find a more effective water conditioner than the SpringWell FutureSoft. It can handle extreme water hardness up to 81 grains per gallon – that's better than even some salt-based softeners can treat.
Cons
If your water contains iron or other heavy metals, you'll need to install a pre-treatment system to avoid damage to the conditioning media.
Although the TAC media has a long lifespan, it will still need to be changed eventually.
Read the full review: SpringWell Futuresoft Salt-free Water Softener Review (2022)
---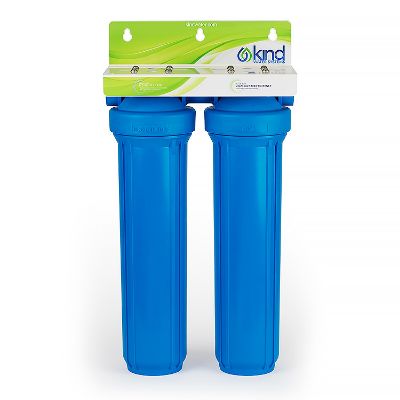 Kind E-2000
The Kind E-2000 is our pick for the top cartridge-based water conditioner. This conditioner is the best alternative to tank-based water conditioners for folks who prefer the extra convenience and flexibility of being able to change cartridges rather than using a pre-loaded media. It's also cheaper than most tank-based conditioners, while still being backed by a lifetime warranty.
This water conditioner is our second-choice conditioner after the SpringWell Futuresoft because it doesn't quite provide the same level of water treatment – the Futuresoft's ability to tackle up to 81 GPG of hardness is next-level.
Key Features
Conditions with cartridges – The Kind E-2000 is one of the few water conditioners of its kind. It uses two filter cartridges, a pre-filter and an eSoft cartridge, to filter water (sediment only) and prevent hardness minerals from causing scale with template-assisted crystallization.
Single-size system – You can buy this salt-free softener in a single size and flow rate: 15 GPM, for homes with up to 6 bathrooms.
Removes & prevents mineral stains – The Kind E-2000 offers virtually the same benefits as the SpringWell Futuresoft. It prevents new scale formation and removes existing scale, which salt-based systems apparently struggle with.
Installation kit included – You get everything you need to install this conditioner with the initial purchase, including the filters and housings, a mounting bracket, o-rings, 3/4-inch reducers, spanner wrench, and lube.
Best for
Folks who prefer to spend less upfront on a compact, convenient conditioner that doesn't take up a huge amount of vertical space with a long tank.
Pros
You'll struggle to find another water conditioner that's as affordable as the Kind E-2000 – AND as effective. The manufacturer often holds sales, too – you can currently (at the time of writing) get an extra 17% off your entire purchase, so the system costs just over $1,000.
Kind Water Systems ticks our boxes with two of the most trustworthy features for any water softening or conditioning unit: certified components and a lifetime warranty.
Don't be put off by the fact that this conditioner is cartridge-based. It might be built like a filtration system, but just like tank-based conditioners, it's virtually maintenance-free. The eSoft cartridge lasts for the entire system's lifespan, and you can spend less than $40 a year on a replacement sediment filter, lube, and o-rings if you sign up to Kind's AutoShip program.
Cons
The Kind E-2000 only comes in one size, so its potential for tailoring for specific flow rates and house sizes isn't as high as the SpringWell Futuresoft's.
You can't use this conditioner on extremely hard water.
---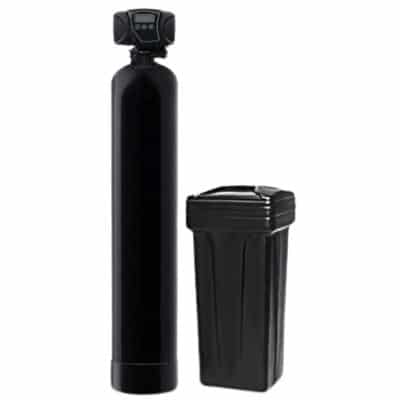 Fleck 5600SXT
In our opinion, the Fleck 5600SXT Digital Control 24-64,000 Grain Water Softener is the top budget-friendly whole house water softening system available today. Why? Because this system has been consistently praised by customers for years – and it costs less than $1,500, making it an absolute steal.
You're spoilt for choice with the size options available for this system. There are five models to choose from, ranging from 24,000 grains to 64,000 grains. We recommend 32,000 grains for most families of three.
We'd put this system slightly behind the SoftPro Elite, which has a better warranty, an IAMPO certification, and a more efficient performance.
Key Features
Our top budget pick – With pricing starting at around $1,375, the Fleck 5600SXT is brilliant value for money.
Programmable USA-made control valve – This softening system's advanced water flow meter comes with a fully programmable control valve. We found it easy to configure the digital head unit.
Efficient regeneration – The Fleck 5600SXT doesn't regenerate until it needs to, minimizing water waste.
Best for
Anyone looking for an affordable whole house water softener offering high-quality performance. Considering this softener's low upfront cost, excellent warranty and guarantee, and USA-built components, we think it's a reliable choice for families on a budget.
Pros
Experienced DIYers will be able to install and configure this unit in a couple of hours. The Fleck softener comes ready to install with a 1. 5 cubic feet high capacity resin, 48,000 grain water softener (10X54) tank, 15x17x36 salt tank with safety float.
You'll struggle to find a better-performing softener system for the price.
We're pleased with the warranties that come with this system (a 10-year warranty with the tank and a 5-year warranty with the valve). Plus, the folks at customer support are happy to help and know what they're talking about.
Cons
The Fleck 5600SXT isn't as easy to install as alternatives on this list, and you'll probably need to pay extra to get it professionally installed.
The 5 and 10-year warranties don't quite match up to the lifetime warranties offered by SpringWell and SoftPro.
Unlike SpringWell and SoftPro products, the Fleck 5600SXT doesn't use certified parts and doesn't have an IAMPO certification.
Read the full review: Fleck 5600SXT 48K Grains Water Softener Review
---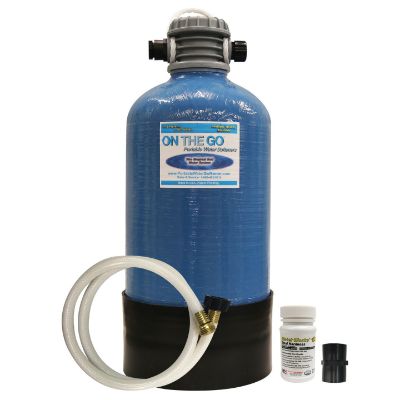 On The Go Portable Water Softener
We recommend the On The Go Portable Water Softener as the number 1 portable water softening system on today's market. This system can be used to protect the plumbing and appliances in your RV or vacation home and delivers soft water for up to two people.
We love how easy it is to use this small but powerful softener – but, as you might expect, you'll need to manually regenerate the unit with salt.
Key Features
Two models to choose from – You can buy the On The Go softener in two compact, space-saving models: a 6¾ x 22-inch standard model (8,000 grains), and a 9.5 x 22 double standard model (16,000 grains). If you want to reduce how often you regenerate the system, we recommend the double standard model.
Simple, speedy regeneration – Although you need to manually regenerate this portable softener, it's not hard. There's a large opening to add salt (either table salt or rock salt is fine), and there's a built-in drain valve and backwash adapters included.
Test strips included – To check that the softener is working properly, the manufacturer includes some handy hard water test strips in the package.
Best for
Anyone who needs a portable water softening solution that's both affordable and effective.
Pros
You don't need special water softening salt to regenerate this system. We used normal table salt, since it's affordable and easy to get your hands on.
It's simple to install this system – you just need a standard garden hose connection. Setup is a tool-free process, and we found the installation instructions really easy to follow.
The media lasts up to 7 years before it needs to be replaced. Aside from adding salt, you don't need to do much to maintain this system.
Cons
Take the word "portable" with a grain of salt. While it might be relatively small, this water softening system weighs a hefty 32 pounds, so lifting it might be a two-man job.
---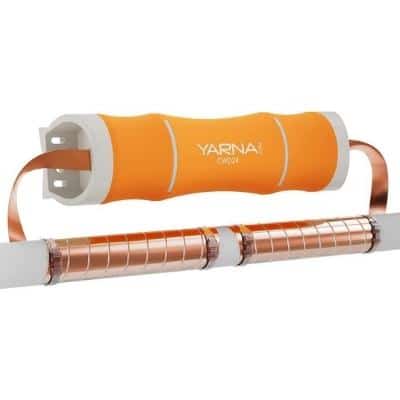 Yarna Capacitive Electronic Water Descaler
In our opinion, the best electronic water descaler available today is the Yarna Capacitive Electronic Water Descaler, an affordable softening alternative that's designed to reduce scale buildup in pipes and improve the efficiency of appliances in your entire house.
According to this study, electromagnetic water treatment reduces about 50% of scale – pretty effective, considering it uses no salt, no tanks, and no media.
The Yarna Capacitive is our top pick for electronic descaling because it has a better design and more features than other descaler on the market.
Key Features
Electronic scale prevention method – The Yarna Capacitive doesn't soften water in a traditional sense. Instead, it uses a changing field of electricity to crystallize hard minerals, preventing them from forming scale on surfaces. This descaling method doesn't remove beneficial minerals from your home's drinking water supply, but reduces their unwanted limescale-forming effects.
Affordable softening solution – The Yarna descaling water system costs only $300 and comes with a guaranteed returns promise in your first year of ownership. That sounds like a great deal in comparison to the cost of standard water softening systems, but the Yarna Capacitive is pretty high-end compared to its closest competitors.
Ultra-flat impulse bands – Unlike other descalers, this Yarna model doesn't use round cables to treat water. The unit uses flat impulse bands, which cover twice to three times the surface area of a water pipe and have less spacing, covering 95.7% of the surface.
Best for
Anyone with a small budget who prefers softening systems that don't have a salt brine tank and don't require a lot of maintenance. This whole-house electronic descaler is an ideal no-fuss solution for people who don't want to spend thousands on a tank-based traditional softener.
Pros
As a saltless descaler, the Yarna Capacitive reduces limescale buildup but doesn't require salt or a bypass valve, and doesn't need to regenerate. There's no GPG limit for this system – it's effective regardless of your water flow.
The Yarna is one of the most solidly-built electronic descalers available today, thanks to its resilient, corrosion-resistant, impact-resistant, ABS plastic case. There's no risk when you buy this system, because you can return it for a full refund within the first year.
It takes than 15 minutes to install the Yarna, and no maintenance is needed from that moment on. You can install this system on a copper, plastic, iron, or stainless steel pipe up to 1 inch in thickness. Plus, you don't have to configure anything once you've done the DIY – the unit uses a PCB chip that automatically controls the strength of the electronic signals based on your pipe type and water pressure.
Cons
t may take up to 3 months for this descaler to produce noticeable effects, depending on the hardness of your water supply.
We've read reports from some customers saying that the system didn't work for them.
Read the Full Review: Yarna Water Descaler Review
---
🧾 Buying Guide: How We Picked the Best Water Softening Systems
With the plethora of new water softener systems available, it can be overwhelming even knowing where to start.
There are a number of important features to keep in mind if you're choosing between water softening systems for your home or business. We used these features as our criteria when choosing the softeners for this guide.
Technology/ System Type
There are a variety of different technology types that can be used to soften water.
If your water is very hard and you want to remove all mineral ions from your water, opt for the most capable system: a salt-based softener. If you want to avoid limescale but you enjoy the taste of mineral-rich water, look at salt-free conditioners or descalers.
Grain Capacity
You need to choose the right grain capacity for your water softener so that the maximum amount of hardness is removed from your water.
To size your water softener, you need to know two things:
Your water hardness
Your water usage
Your water bill has information on your water usage. If you don't want to work out how much water you use per day, just use the average: 80 gallons per person per day.
Multiply your daily water usage by your water hardness, which gives a figure of how many grains per gallon of hardness you need a water softener to treat.
To work out the minimum weekly grain capacity for your water softener (how many grains per gallon the system should treat per week, minimum), multiply the number by 7.
Let's say you have 8 grains per gallon of hardness and four people living in your home, using 320 gallons of water per day. The calculation you'd do is:
8 (GPG) x 320 (daily water usage) x 7 (to achieve the weekly figure) = 17,920
From the results, you know that you need a water softener with a grain capacity of at least 17,000 gallons. Because this is only an average figure, it's best to look slightly higher, aiming for a softener that softens at least 19,000 grains per gallon.
Water containing iron or other heavy metals needs a softening system with a slightly higher minimum grain capacity, so you need to add 5 GPG for every PPM of hardness when hunting for an iron removal water softener.
Resin Crosslink Percentage & Durability
All water softener resins have a crosslink percentage rating. The higher the percentage, the more durable the resin.
8% resin usually lasts for between 10 and 12 years, 10% resin can last for much longer, usually up to 20 years.
Flow Rate
The average water softener flow is between 7 and 12 GPM. The larger the system's capacity, the higher the flow rate.
You need to choose the right flow for your house size and your water usage. For most families, a flow rate of up to 12 GPM is ideal.
Regeneration Method
If your water softener needs to regenerate, there are several regeneration methods to be aware of.
Metered – Metered regeneration is triggered by water usage. You input your water's hardness and the size of your family, and the system will calculate how much water it can soften before it runs out of salt and needs to regenerate.
Timed – Timed regeneration systems regenerate at a specific time every week. Typically, timed regeneration takes place when water isn't needed, e.g. 2 am, so you'll never be without soft water. However, this programming wastes more salt and water because the softener will regenerate before it needs to.
Manual – Manual regeneration lets you program your own regeneration cycle timings. This can be more convenient, as you have full control over exactly when your softener is out of operation.
Installation & Maintenance Costs
Technology type can also affect the initial costs and long-term maintenance of a water softener.
Generally, salt softeners are more expensive to purchase than salt free water softeners, and upkeep can also cost a little more.
Certifications
There are two independent organizations that certify water softening systems: the Water Quality Association and NSF International.
While certification isn't a legal requirement, there's no denying that industry certifications look good.
Below are the certifications available for ion exchange water softeners today:
NSF/ANSI 44 – for cation exchange or ion exchange softeners that use sodium or potassium chloride. If a water softener is NSF 44 certified, it can remove hardness to below 1 grain per gallon, and meets structural integrity and material safety requirements.
NSF/ANSI 372 – ensures a water softener isn't made from lead components and won't leach lead into your water. Salt-based and salt-free water softeners can obtain an NSF 372 certification because this certification is about design, not performance.
Local Municipal Regulations
Before looking at whole house water softening systems, check whether your state has its own regulations and plumbing codes for water softeners.
Make sure that a system's regeneration drain water meets requirements, and that maintenance and installation processes are also in line with these requirements.
Initial Price
Most water softeners are priced around the $1,000-$1,500 mark. The bigger the system's capacity (i.e. the more soft water it can provide at once), the higher the cost.
We recommend setting aside at least $650 for the initial cost of a water softener. Anything cheaper than this, and you risk paying for something that doesn't live up to expectations.
Manufacturer & Warranty
For your own peace of mind, only buy a water softening system from accredited manufacturers with reliable customer feedback.
The water softener should have at least a 2-year warranty for its components. Read a warranty's terms carefully, so you know what you're covered for, before buying a water softener.
Bypass Valve, Area Available to House the Unit, and Other Considerations
A bypass valve is used to switch off the water supply to your water softener, while still allowing water to flow through your home's pipes and into your appliances. It's much easier to service a water softener with a bypass valve than one without.
If a water softener comes with a built-in bypass valve, it saves you the job of having to install a separate valve.
Once you've chosen a location to store your water softener, make some careful measurements of the available space, and match this up to the water softeners you're considering purchasing.
You might need to install a whole house filtration system as pre-treatment before your water softener if your water contains contaminants that could damage your softener's mineral tank.
If you want to easily find parts for your water softener over the years, stick to systems with universal, not proprietary, components.
If a water softener is offering a new, revolutionary water treatment process, keep in mind that there might not be proof that it works. It's best to buy a product that has a few years of positive customer feedback behind it.
✅ 10 Specific Softening System Buying Guides
💦 What is Hard Water?
Hard water is water that has a high mineral level. Water hardness can cause a number of costly issues in your home.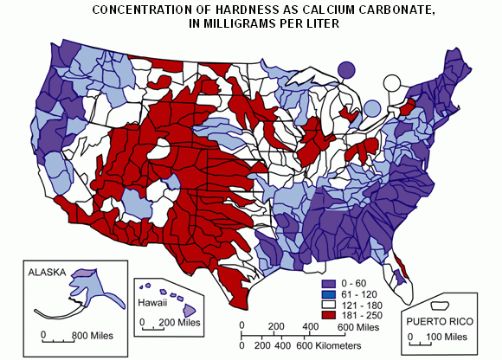 How Hardness is Measured
Hardness is measured in concentrations of calcium and magnesium minerals in milligrams per liter (mg/L) which is the same as parts per million (PPM), or grains per gallon (GPG).
1 GPG = 17.1 mg/L = 17.1 PPM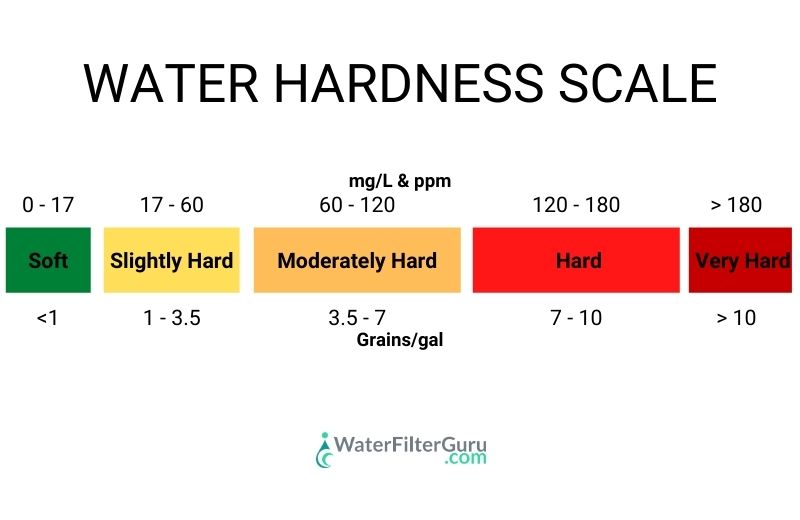 Determining your Water Hardness
You need to know your exact water hardness to focus your search on water softeners that can handle this hardness level.
To work out your water hardness level, you need to measure your water's calcium levels. To reiterate the information from the hardness scale above:
| Hardness Classification | Grains/gallon | mG/L or PPM |
| --- | --- | --- |
| Soft | < 1 | < 17.1 |
| Slightly Hard | 1 - 3.5 | 17. - 60 |
| Moderately Hard | 3.5 - 7 | 60 - 120 |
| Hard | 7 - 10 | 120 - 180 |
| Very Hard | > 10 | >180 |
There are a few options for measuring hardness:
Test your water using an at-home test kit (easy, less than $10)
Get your water professionally tested by a laboratory (easy, costs around $50)
Check your local authority's latest Water Quality Report (easy, free, not applicable to private well owners)
Once you know how hard your water is, you can start looking for the best water softener system to meet your softening requirements.
⚠️ Signs & Issues Caused by Hard Water (Why You Need a Water Softener)
Use this quick checklist to work out whether you have hard water:
You've noticed a white or grey scale residue on your plumbing, showerheads, faucets, bathtubs, sinks, and coffee maker.
You notice your skin and hair are dry all the time.
Dishes come out of the dishwasher with stains.
Soap and shampoo don't later well with your water.
Your laundry is stiff, stained with white spots, or the colors are fading.
Your drinking water has a strong mineral taste.
These signs are indicators that you're dealing with hard water problems.
Scale Deposits in Pipes & Appliances
Limescale deposits in hard water damage your plumbing. The damage goes far beyond the kitchen and bathroom features we can see. Water passing through the pipes is dragged back by the limescale, reducing water flow.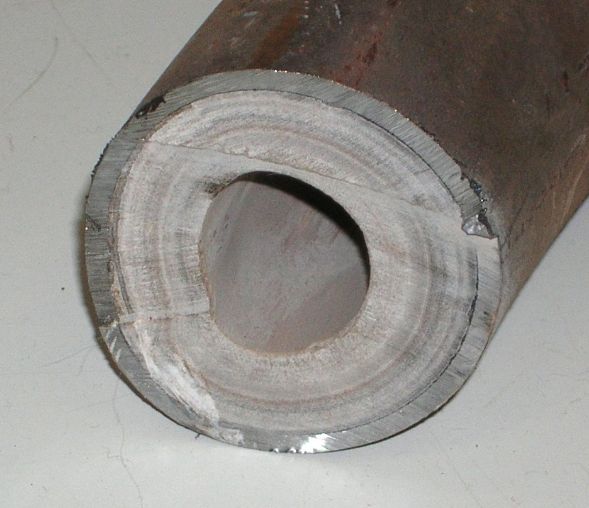 Hard water running through your home's appliances gradually causes damage. Your dishwasher will clean your dishes less effectively, and a build-up of hard water sediment on the heating element in your water heater will affect its performance efficiency.
Dry Hair & Skin
When you wash with hard water, hardness residue deposits a film that clogs pores and sticks to hair, aggravating conditions like eczema, dandruff, and acne. Hard water can also strip the moisture from the surface of the skin and hair, leading to dry skin and irritation.
Staining on Dishes
When you've washed your dishes in hard water, instead of looking clean and clear, they're coated with a white, cloudy residue from the calcium and magnesium minerals in the water.
Soaps & Shampoos Not Lathering
The same minerals make it difficult for shampoo soap to lather, and thus provide a proper cleaning.
Faded Laundry
To clean your clothes properly, you'll need to use almost twice the amount of detergent in a machine that uses hard water, compared to one that uses soft water. Clothes take on a dull-faded look.
💡 What Is A Water Softener?
A water softener is a type of water softening system that removes minerals like calcium and magnesium from water. These minerals are what make water "hard".
There are three main components in traditional salt-based water softeners:
A brine tank: a large tank that contains salt, and fills with water to form brine
A resin tank: the other tank containing the tank media, called a resin, where the water softening process takes place
A digital control head or control valve: The digital control head uses touchpad controls and operates the softening system
🔡 Types of Water Softening Systems & How They Work
Different types of water softeners use different components and techniques to remove calcium, magnesium, and other hard water minerals from water.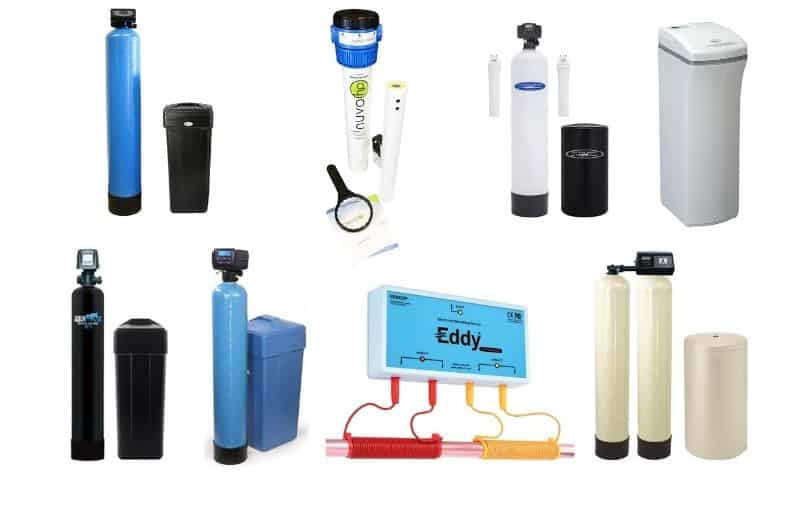 | | Water Softener | Water Conditioner | Electronic/ Magnetic Descaler |
| --- | --- | --- | --- |
| Technology | Ion Exchange | Template Assisted Crystallization (TAC) | Electromagnetic Waves |
| Completely Removes Minerals | ✔️ | ❌ | ❌ |
| Produces Wastewater | ✔️ | ❌ | ❌ |
| Requires Electricity | ✔️ | ❌ | ✔️ |
| Average Price | $800 - $1,500 | $1,200 - $2,500 | $250 - 500 |
| Maintenance Requirement | Every 6 - 8 weeks | Every 6 - 12 years | None |
Salt Based Ion Exchange Water Softeners
The most common method of softening water takes place in an ion exchange system, where calcium and magnesium are removed from the water, replaced by sodium ions.
Salt based water softeners (also called ion exchange softeners) contain resin beads, which have a negative charge. The calcium and magnesium minerals in hard water have a positive charge, and because opposites attract, they move towards and pass through the resin beads, where ion exchange takes place.
How exactly does ion exchange work?
During the ion exchange process, the calcium and magnesium minerals are trapped in the resin, and equal amounts of positively charged sodium ions are released into the water to balance out its charge. When water leaves the system, it's completely free from hardness minerals, so no mineral buildup can occur.
Keep Reading: How ion exchange water softeners work
Pros:
Strip all hardness out of the water, leaving no magnesium and calcium minerals behind
Many are NSF/ANSI certified
Also remove low levels of iron
Cons:
Tend to be more costly because of their efficiency in removing minerals from water
Not everyone wants to add salt into their water, even in small amounts
Require more maintenance than a water conditioner or electronic water softener and waste water during the regeneration process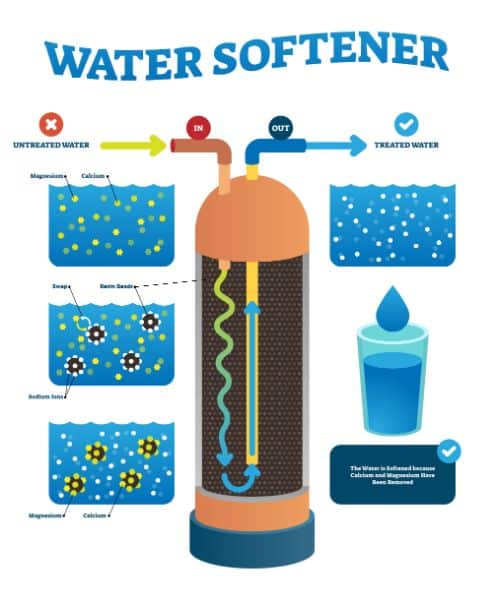 Salt-free Water Conditioners
The best salt-free water softeners use a conditioning technique like template assisted crystallization (TAC) that changes the composition of hardness ions so that they're no longer capable of depositing limescale onto a surface.
Salt free water softeners descale water instead of softening it. Water still contains calcium and magnesium ions, and it doesn't contain sodium ions. The big difference is that the hardness ions can't form mineral buildup.
This study by experts at Arizona State University provides compelling evidence of the effectiveness of TAC in salt-free softeners.
Pros:
Scale-causing minerals aren't actually removed from water, so you can still benefit from their nutritional value
Don't usually require in-depth installation or maintenance, and don't require a regeneration cycle
Use less electricity, are more environmentally friendly, and are suitable for people on a low salt diet
Cons:
You may still notice minor issues with skin, hair, and laundry
Can't be used with well water sources
Don't work well in areas where hardness is higher than 75 GPG
Electronic/ Magnetic Water Descalers
Magnetic water descalers, otherwise called magnetic water softeners or electronic water softener units, are water softening systems that offer a chemical-free water softening process.
A powerful magnet on the outside of the system alters the magnesium and calcium ions in hard water, descaling the water before it enters the household plumbing system.
Pros:
The most affordable salt-free softeners available
Easy to install
Not permanently installed at your water line
Cons:
There's a lot we don't know about the electromagnetic descaling process and its effectiveness
Only useful for treating mildly or moderately hard water
Salt Based Softeners vs Salt-Free Water Conditioners
Salt-using softeners and salt-free softeners have the same purpose: scale reduction However, the water produced by a salt-free conditioner isn't technically "soft". It still contains magnesium and calcium carbonate, but these minerals are crystallized and unable to form scale.
The water produced by a traditional salt-based water softening system has had its calcium and magnesium minerals removed, so it's actually "soft".
Check out our comparison guide on water softeners vs saltless conditioners if you're keen to learn which is best for you.
Product Variations
Dual Tank Water Softeners
A dual tank softener, otherwise known as a twin tank water softener, is considered more capable than a single tank softener because it consists of 2 resin tanks, allowing for a higher water capacity.
When one tank needs to regenerate, a dual tank water softener automatically switches over to the second tank, preventing a lag in water production at any stage in the regeneration cycle.
Portable Water Softeners
Whether you need soft water for your RV, boat, or vacation home, you can use a portable water softener.
Portable water softeners are smaller versions of single-tank salt-based water softeners that are designed for lower water consumption and water pressure.
Combination Water Softeners
For hard water that contains high quantities of iron, combination salt-based systems can filter out iron, magnesium and calcium particles in just one system.
A fine mesh resin is used to trap ferrous iron, while a dedicated iron filter removes ferric iron.
Does Reverse Osmosis Remove Hard Water?
Reverse osmosis systems remove almost every impurity from water, including magnesium and calcium minerals.
We don't recommend installing a reverse osmosis water filter system if your water is more than moderately hard. High water hardness damages the reverse osmosis membrane and shortens its lifespan.
💲 Average Cost by System Type
| System Type | Average Price Range |
| --- | --- |
| Single Tank Ion Exchange | $800 - $2,000+ |
| Dual Tank Ion Exchange | $1,500+ |
| Salt-free Conditioners | $500 - $2,800 |
| Portable Ion Exchange | $150 - $400 |
| Commercial Systems | $2,000+ |
| Electronic/ Magnetic Descalers | $50 - $300 |
| Tanks Only | $100 |
What Factors Influence the Price of a Water Softener?
Residential water softeners vary significantly in price, from $500 to more than $2,000.
Some of the biggest factors influencing the upfront and long-term running costs of a water softener are:
Installation and maintenance – you may need to pay for a professional installation of your water softener at your incoming water supply line, and there's also an ongoing cost to top your system up with salt.
Pre-filter – a pre-filter prolongs the lifespan of your softener. Most pre-filters need replacing every 6-8 months.
Brand – top brands, such as Aquasana, Pelican, SpringWell, iSpring, and Fleck, all price their products higher than their lesser-known competitors.
Single tank or dual tank – single-tank salt-based systems are cheaper than dual-tank softeners, but a dual-tank water softener will allow for consistent performance, even during regeneration.
Regeneration cycle – use a softener that follows a demand-initiated regeneration cycle to save money as the unit will only regenerate when needed.
✔️ Benefits of Using a Water Softening System
Using one of the best water softeners is the simplest way to eliminate hard water issues in your entire plumbing system, without majorly altering the quality of your drinking water.
The key benefits of using water softening systems are:
Appliance longevity: The best soft water treatment system can protect your pipes and prevent the deterioration of appliances.
Improved water heating efficiency: Water softeners eliminate limescale buildup in your water heater, maintaining its efficiency and preventing a spike in heating bills.
Fast flow rate: Softened water contains no calcium carbonate and won't leave scale deposits, preventing a dip in water pressure.
More efficient cleaning: Soft water lathers with soap much more easily. You'll be able to use fewer cleaners and spend less money to get the same results.
Lime/ Stain-free Surfaces: With softened water, you'll save yourself hours of cleaning limescale deposits from surfaces and appliances.
Healthier Skin and Hair: Soft water balances your skin and hair's pH, helping it to maintain its moisture and smoothness.
🛠 How to Install a Whole House Water Softener
To install a water softening system, you'll need:
Pipe cutter
Flexible tubing
Torch/solder (optional, depending on your pipes)
Drain line
Air gap fitting
Tape measure
Plumber's tape
Pliers
Fittings
Valves, adaptors, and tees
Step-by-step Installation Instructions
These step-by-step instructions show how to DIY install a traditional water softening system:
Find the best location for your water softener at your main water pipe, before your heater.
Turn off your main water supply, and drain water from your pipes.
Turn off your water heaters.
Use a pipe cutter to cut into the main line where you want to position your water softener.
Install an elbow fitting to feed water from the pipe into your filter.
Use the compression fittings that come with the unit to attach the elbow fitting to your system.
Attach the hose to the unit and clamp it in place. Check that it feeds to where water will drain.
Attach the overflow tube to the salt or brine tank.
Adjust your bypass valve to the bypass position and flush it with the recommended amount of water.
Plug in your unit and return the valve to the backwash position. Slowly open the valve, allowing water to pass through bit-by-bit while freeing air from the pipes.
Flush your water softening system's resin bed as per your manufacturer's instructions.
🔧 Maintaining Your Water Softener
Salt based softeners require simple maintenance for long-term performance.
Adding salt to the brine tank is the main, regular maintenance task. You'll also need to:
Clean out your brine tank
Clean your resin bed, especially if your water contains high iron or tannins levels
Clean the resin tank injector
Check out our full guide on water softener maintenance here.
👁‍🗨 Other Popular Softener Brands & Companies
When we picked the best softened water systems for this list, we considered products from the following popular brands:
Clack
Clack has been selling water softening solutions since 1946. Clack is a lesser-known brand, largely because it doesn't have many products to choose from, and the products that are available can be difficult to buy online.
Culligan
Culligan provides a range of water treatment solutions. The biggest setback of Culligan is that you have to purchase its products through a Culligan rep, who will visit your house and tell you what products you need. You can't buy products online, and you can't easily compare Culligan's prices to the prices of competitors on the market.
GE
GE is a big brand known for its home and kitchen appliances, including salt-based water softener systems. You can get GE softeners for an affordable price, but, because GE isn't exclusively a water treatment brand, some of its products don't live up to expectations.
Kinetico
Founded in 1970, Kinetico manufactures traditional salt-based softeners. You can only buy from local dealers, who take a sizeable cut of the sale. You'll need to put more work into finding a local distributor and spend more money in the process.
Morton
Morton is most recognizable as a table salt brand, but you can also buy salt-based softeners from this manufacturer. Morton's water softener machines are better than average, but they're not exceptional. You can't buy Morton water softeners online – you'll need to find out whether a water softener is available "at a store near you".
Waterboss
Waterboss first started selling water softening systems in 1991. Although Waterboss sells good products, its products aren't anything particularly exciting, and they're not the easiest to come by.
Genesis
Genesis softeners are salt-using units that are sold by Discount Water Softeners. While Genesis systems are manufactured in the US and offer a decent performance, their high price tag deterred us from featuring them in this guide.
Kenmore
Kenmore is a well-known kitchen appliance brand, selling dishwashers, refrigerators, microwaves, and more. We think Kenmore's salt softeners are good, but their performance doesn't blow us away.
❔ Frequently Asked Questions
Which water softener is best for home?
The SpringWell Salt Based Water Softener System is the best salt-based water softening system for home, and the SpringWell Futuresoft Salt-free Water Softener is the best salt-free system.
What size water softener do I need for a family of 6?
It depends on your water hardness. If your hardness is only around 5-10 GPG, you'll be fine with a 32,000 grain water softener. If your hardness is between 21 and 30 GPG, a 64,000 grain water softener will be more effective.
How many years does a water softener last?
Most salt-based systems have a lifespan of 10-15 years. Salt-free systems last 10-20 years, or longer, depending on the type of system.
What makes one water softener better than another?
Value for money. If a water softener…
Uses less salt and water than others
Is made from more durable materials than others
Has a longer-lasting resin than others
Is more reliable than others
… and it's still priced fairly, it's superior to its competitors.
How much salt does a salt-based softener add to water?
Most water softeners add between 20 and 40 milligrams of salt to soften water. To put this into context, a single slice of white bread contains around 700 milligrams of salt.
Does my water bill increase with the use of a water softener?
A traditional water softener will slightly increase your water bill due to the water used to regenerate the system. Water conditioners and electric water softeners won't affect your water bill.
Can I use potassium chloride in place of salt in my softener?
Yes, you can use potassium chloride pellets in place of salt in a water softening system. Salt is more efficient at removing magnesium and calcium from water, so you should move your hardness setting up by 20% when using potassium chloride.