🧾 Overview
The Springwell Salt-Based Softener is one of the most popular traditional water softening systems offered by highly-rated filter and softener manufacturer, Springwell. Using the conventional ion exchange method to remove hardness minerals, the Springwell system eliminates limescale and removes existing scale in pipes and fixtures.
The system comes with everything you need for a DIY installation. It's made from certified, durable components and is wrapped in a neoprene sleeve to insulate it against temperature drops and humidity.
You're well covered when you buy the Springwell Salt-Based Softener, as it comes with a limited lifetime warranty and a 6-month money-back satisfaction guarantee.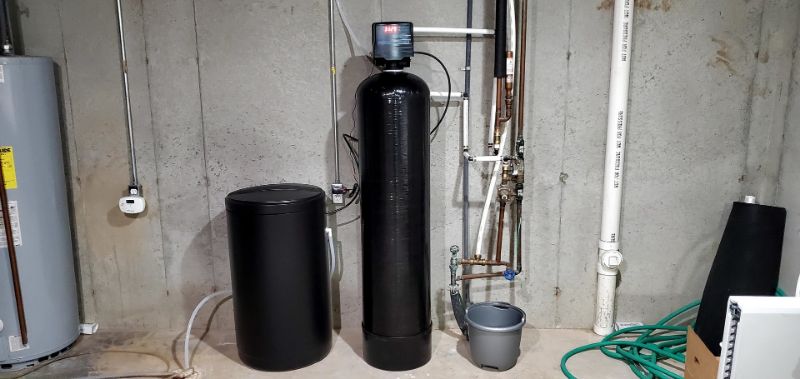 My readers get 5% off at springwellwater.com – 👉 Use Code GURU5
💡 Features
Bluetooth control head
The smart Bluetooth control head lets you check the status of the system and pre-programmed regenerations. You can also download the Springwell app to eliminate the need to use the control head at all.
Polypropylene tanks
The Springwell softener is built to last with high-quality, certified polypropylene tanks. There are two tanks: one that holds the brine (salt) and one that holds the softening resin.
Softening resin
Included with the Springwell is a batch of softening resin (which typically lasts for around 8 years). The resin beads are pre-loaded in the system to save the hassle of loading them yourself.
Installation kit
For simple installation, the system comes with an installation kit that includes the electronic head, a 50-inch drain line, a brine tank, a hose clamp, and a bypass valve. Written instructions and a video overview are also available for installation.
Limited lifetime warranty
You can buy the Springwell salt based softener with confidence, as the system comes with a limited lifetime warranty and a 6-month money-back satisfaction guarantee – so if you receive a faulty product or you simply don't like the system, you should be able to return it or receive a free replacement.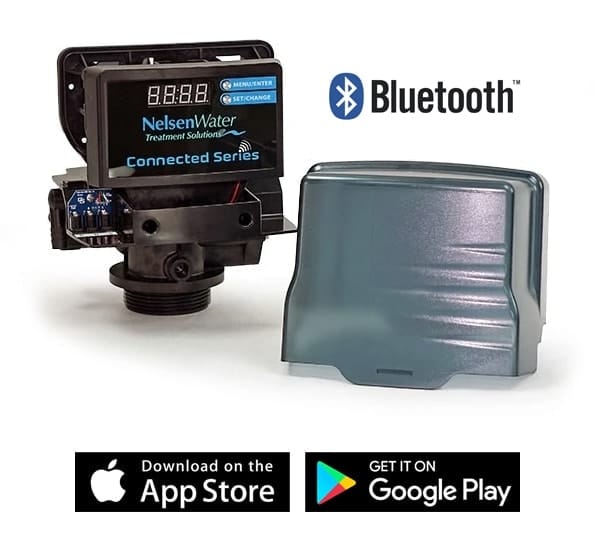 🚦 Performance
Even from looking at the system's design from the outside, it's clear that this water softener is going to perform better than a cheaply-produced softener ever could.
Made from sturdy, durable polypropylene and wrapped in a neoprene sleeve, the tanks are designed to keep the cold and humidity out, preventing tank sweating or freezing and ensuring optimum performance in all climates.
If you're looking for the most efficient performance, high-quality ion exchange softeners like the Springwell are the best option.
The innovative design of the Springwell makes it capable of completely removing hardness minerals from your water, so you won't just see a reduction in limescale, but an elimination. The system measures the saturation of the ion exchange resin and only regenerates when absolutely necessary, preventing salt and water waste and helping to extend each cycle.
The Springwell operates at a flow rate of between 11 and 13 GPM.
To put this into perspective, the average water softener flow rate tends to be between 7 and 10 GPM, which may cause a drop in water pressure in homes with multiple water-based appliances on-the-go at once.
With the Springwell, you can guarantee you won't be caught short when you're trying to shower with the washing machine on, or flush the toilet while your dishwasher is running. Note, though, that if your ingoing water pressure is higher than 80 PSI, the system won't work.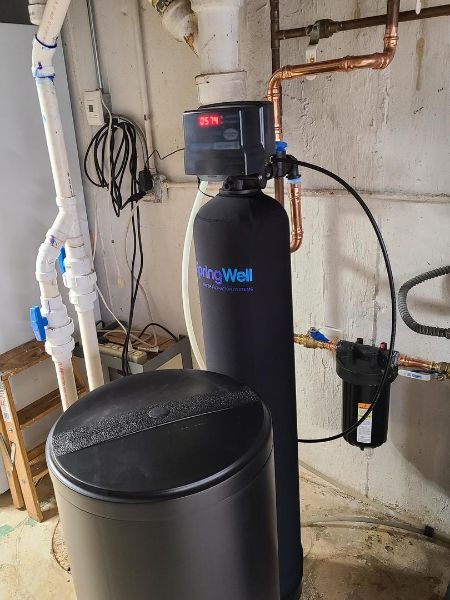 My readers get 5% off at springwellwater.com – 👉 Use Code GURU5
🔧 Installation & Maintenance
Like all Springwell systems, the Salt-Based Softener is designed to be installed easily by the homeowner. But you'll be installing the system at your waterline, which involves cutting through pipe, so you'll need some basic plumbing understanding to stay on the safe side.
If you're a handy person, you'll be able to install the Springwell softener in roughly 4 hours. It's not a quick job by any means, but the instructions are clear, and you can find video tutorials online or speak to a Springwell customer support rep for additional support.
Anyone who doesn't feel confident in their plumbing abilities would be better off hiring an expert for installation, which will add around $200 to $400 onto the initial price tag, depending on who you hire.
The Springwell uses ion exchange to soften water, which means it requires salt to operate. You'll need to add salt to the unit's brine tank every few months, according to advice in the user manual. The brine tank can hold more than 200 lbs of salt, and it's easy to load with its wide mouth. There's no other maintenance involved with the Springwell, as the unit and softening resin will last for around 8 years.
📝 System Info
The Springwell gives you full control over the unit with its smart bluetooth head, which you can use to set your own backwash timings, view and change settings, check the status of the system, and more.
For ultimate simplicity, you can download the Springwell app and use it to monitor and control your system from anywhere in the world. It'll let you start a backwash cycle remotely at any time and help you to better understand how the system works, so you can make decisions to improve efficiency and save money in the long run.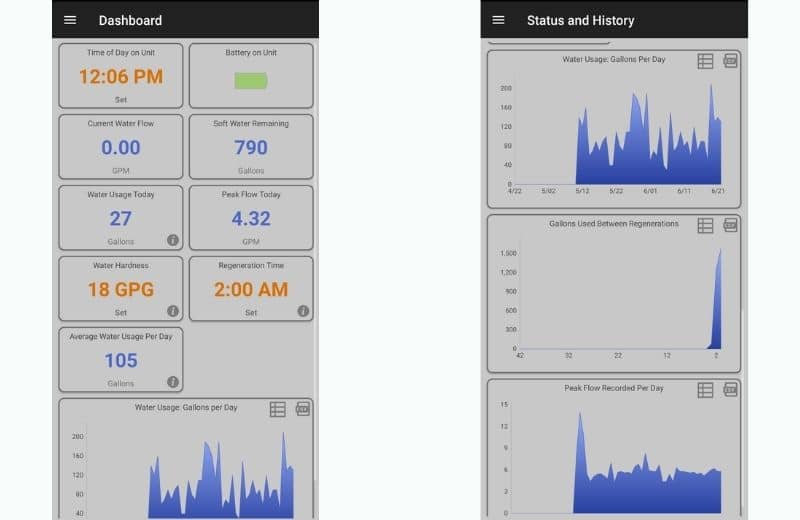 Instead of being advertised in grain capacity, which can often confuse customers as most people don't know what size water softener they need for their home, the Springwell is available in different sizes based on the number of bathrooms you have.
The smallest softener size is suitable for most homes with 1-3 bathrooms, and measures 9" by 57" with the control head.
The medium sized softener is ideal for homes with 4-6 bathrooms, and measures 10" by 63" with the head.
The biggest softener can be used in homes with 7 or more bathrooms, and measures 13" by 63" with the head.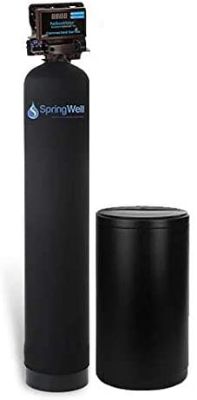 🔔 Pros & Cons
👍 What I Like
Highly efficient softening performance
Built for DIY installation
Intuitive regeneration saves money on salt & water
Easy sizing by number of bathrooms
👎 What I Don't Like
Quite expensive
May need a professional handyman for installation
Won't work with water pressure of 80 PSI or higher