Our team has tested the fluoride removal capability of hundreds of filters, and these are the best performers.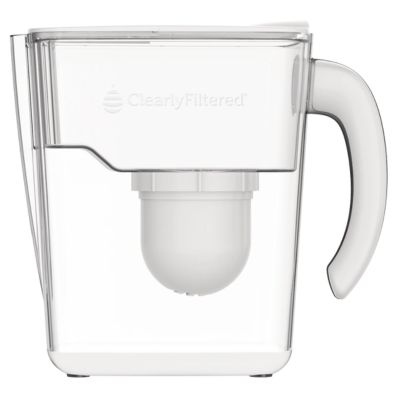 Clearly Filtered Water Pitcher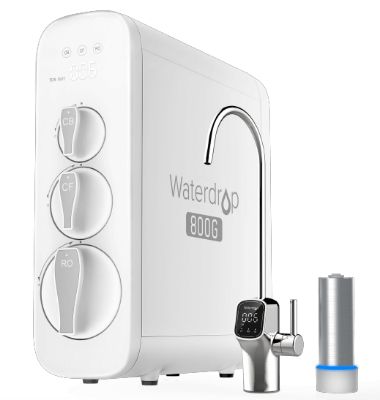 Waterdrop G3 P800 Reverse Osmosis System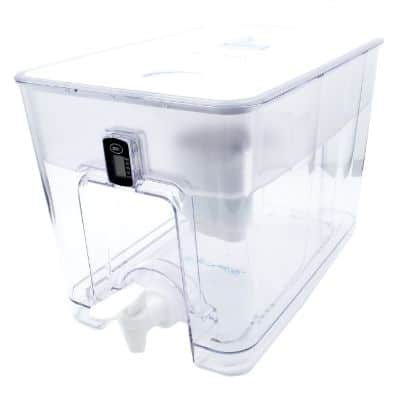 Epic Pure Water Filter Dispenser
Fluoride is one of the most controversial drinking water impurities out there. It poses dental and bone health risks, and has also been linked to thyroid problems, reproductive issues, and even heart abnormalities. Despite this, 2018 statistics show that 73% of the US population on community water systems have access to fluoridated water.
If you've landed on this guide, I'm guessing that you're among the millions of Americans who would rather not drink fluoride in their water. Considering most states actually add fluoride to city water, you know that the only solution is to remove this contaminant at home using a fluoride filter.
If you're new to WaterFilterGuru.com, welcome. I share buyers' guides, reviews and blog posts with an audience of 150,000 monthly visitors. In my years of testing, reviewing and comparing water filters, I've been published in a number of key water industry publications, including WQP Magazine and WWD Magazine.
To create this guide, I spent months researching more than 20 fluoride filters on the market, weighing up their performance capabilities, the quality of filtration, and long-term durability. The 7 filters on this list proved to be the very best at removing fluoride – and most can remove a broad range of additional contaminants, too.
Read on to learn:
The 7 best fluoride water filters, based on my testing and popularity with customers
The 6 types of water filters that can remove fluoride
3 things you must consider when purchasing a fluoride filter
🥇 Best Fluoride Water Filters
📊 Comparison Chart of Fluoride Water Filters
| System | Clearly Filtered Water Pitcher | Waterdrop G3 P800 Reverse Osmosis System | Epic Pure Water Filter Dispenser | Big Berkey Gravity-Fed Water Filter | AquaTru Countertop RO | Waterwise 4000 Water Distiller | Waterdrop Water Faucet Filtration System |
| --- | --- | --- | --- | --- | --- | --- | --- |
| Ranking | 1st | 2nd | 3rd | 4th | 5th | 6th | 7th |
| Ratings | 5/5 | 5/5 | 4.5/5 | 4.5/5 | 4.5/5 | 4/5 | 4/5 |
| Price | $$ | $$$ | $$ | $$$ | $$$ | $$ | $ |
| Fluoride Reduction Rate | 99.5% | 99% | 99% | 99.9% | 93.5% | 97% | 94.2% |
| Total Contaminants Removed | 365+ | 1,000+ | 200+ | 200+ | 83+ | 1000+ | 10+ |
| Testing/ Certifications | NSF 42, 53, 244, 401 & 473 | NSF 58 & 372 | NSF 42, 53, 401 & P473 | NSF 53 | NSF 42, 53, 58, 401 & P473 | – | NSF 42 & 372 |
| Filter Life | 100 gal. | 6, 12, 24 months | 150 gal. | 3,000 gal./ cartridge | 600 – 1,200 gal. | n/a | 320 gal. |
| Warranty | Lifetime | 1 year | Lifetime | Lifetime | 1 year | 1 year | – |
---
⭐ Reviews – Best Water Filters That Remove Fluoride 2022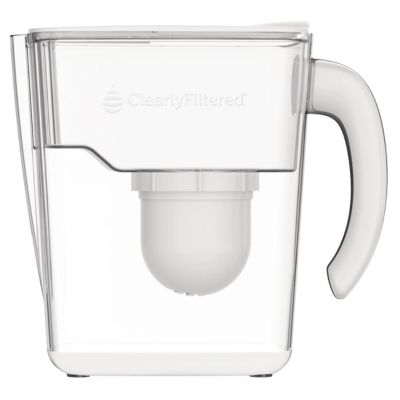 Clearly Filtered Water Pitcher
The Clearly Filtered is a fluoride water filter pitcher that is tested to NSF standards and will remove fluoride and 364 additional contaminants from water. The US-manufactured filter is BPA-free, and made with medical grade Tritan plastic.
Priced at less than $100, the Clearly Filtered pitcher is an ideal fluoride-removal solution for health-conscious consumers with lower budgets. After paying the upfront cost of the pitcher unit itself, you will just need to factor in the price of a filter change after around 100 gallons of use.
You can trust that the pitcher does what it claims to do, as it has been NSF tested to standards 42, 53, 244, 401 & 473. NSF 42 is for chlorine reduction, and NSF 53 is the important Standard if you're looking for fluoride reduction, as this Standard is for the removal of contaminants that pose a risk to health.
Although the filter does not hold the actual NSF certification, the Clearly filtered pitcher has undergone third-party testing to prove the legitimacy of its claims with datasheets and test results available on the company's website.
You will need to change the Clearly Filtered water filter pitcher's filters after roughly 100 gallons of use – which is about average of a lifespan than you can usually expect from the filters in a standard water pitcher. The pitcher currently has a lifetime guarantee, and the manufacturer will replace the product if it breaks, which is certainly a very promising sign.
👍 What I Like
Great value for money
Tested to NSF standards for removal of 270+ contaminants, including fluoride
👎 What I Don't Like
Slower filtration rate
Filters a limited amount of water
Read the full review: Clearly Filtered water pitcher
---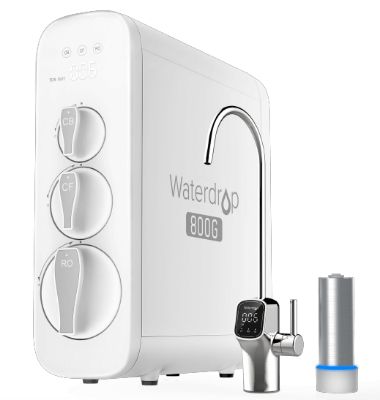 Waterdrop G3 P800 Reverse Osmosis System
The Waterdrop G3P 800 reverse osmosis system is NSF 58 and 372 certified to reduce a whole host of contaminants in drinking water, including fluoride. It has a tankless design that prevents bacteria breeding, and comes with a smart faucet that displays your exact water quality in real time. The Waterdrop RO system can read the TDS level of your water and lets you know just how clean your water is after filtration.
For homes with high fluoride content in their water, RO systems like the Waterdrop can do the most thorough job at removing almost all traces of fluoride, leaving healthier, better tasting water for drinking. The unit uses a DOW® reverse osmosis membrane that has a higher quality and a longer life, helping it to remove all contaminants with accuracy.
Let's look in more detail at the NSF 58 Standard, for which the Waterdrop is certified. It's the American National Standard for RO systems, and requires that RO systems use safe materials, demonstrate structural integrity, and are capable of powerful contaminant reduction performance.
When a manufacturer applies for an NSF 58 certification, they can ask that this certification is backed by tests that verify certain claims made by the manufacturer, including fluoride reduction.
The Waterdrop system is NSF certified for fluoride reduction, which means that the NSF has tested and found the unit to be effective in reducing fluoride. This is a very reassuring sign from a customer's perspective; it's proof that the RO unit has been proven to work as advertised.
You can connect the G3 P800 system up to your cold water line underneath your kitchen sink. It has a slim, space saving design that won't take up too much storage space, and it's very quiet while in operation. It has a 800 GPD water flow rate, so you won't need to wait around when you're thirsty.
👍 What I Like
RO design removes fluoride almost entirely from water
Tankless design is more space-saving
Super efficient 3:1 pure to drain water ratio
👎 What I Don't Like
Pricier than other filter options
Wastes water while in use
Read the full review: Waterdrop G3 P800 Review (2022)
---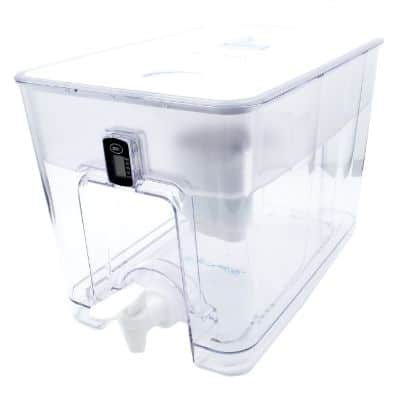 Epic Pure Water Filter Dispenser
The Epic Pure is a water pitcher dispenser that's capable of removing up to 99.9% fluoride from drinking water. This dispenser holds 2 liters of filtered water and has a clear countertop design. Setup is easy, with no installation required, and the filter is affordable at less than $100 for the entire system.
If you're looking for a fluoride filter that you can use at home and away, the Epic Pure Dispenser is an option worth considering. The filter is sized to fit on a refrigerator top shelf, providing access to cool, clean water. Made from lightweight BPA-free plastic, it's easy to take with you on the go if you're headed on vacation or you just want to drink fluoride-free water at work.
You don't need a separate fluoride filter when buying the Epic Pure – a single solid carbon block filter is used to remove fluoride and 200 other common drinking water contaminants, including lead, PFAS, microplastics, chlorine, and much more.
The Epic Pure Dispenser's filters have a lifespan of around 3 to 4 months, depending on your water use. The system has a 90-day countdown timer that will remind you when you need to replace your filters.
👍 What I Like
Removes up to 99.9% fluoride
Handy filter countdown timer
Lightweight and portable
Affordable option
👎 What I Don't Like
Filter lifespan isn't as long as some fluoride filters
Read the full review: Epic Pure Filter Dispenser Review
---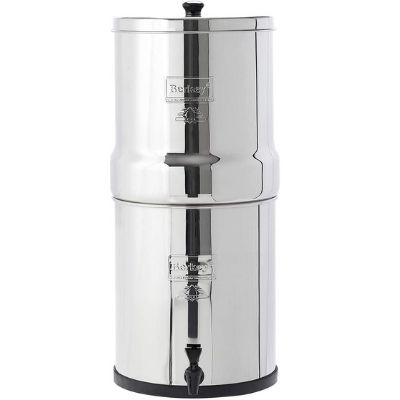 Big Berkey Gravity-Fed Water Filter
The Big Berkey countertop water filter is a fluoride filter that is great for families of 1 to 4 people. With an ability to filter approximately 6,000 gallons of tap water before requiring a filter change, this unit takes just minutes to install and can store 2.1 gallons of filtered water at any time, giving you access to filtered water whenever you need it.
Containing two Black Berkey purification elements, the Berkey system can also be bought with two additional PF2 filters, which connect to its lower chamber, and are designed to filter out arsenic and fluoride. If you're looking for a filter for removing fluoride, it's a good idea to purchase the Big Berkey with these PF2 filters included.
We looked into the Big Berkey fluoride filter's purification elements in more detail. They have been tested by the manufacturer and found to remove up to 99.9% of fluoride. According to the manufacturer, it's common for these carbon-based purification elements to quickly lose effectiveness when it comes to fluoride reduction. For this reason, they recommend using the additional elements, which can remove fluoride contaminants from up to 1,000 gallons of tap water.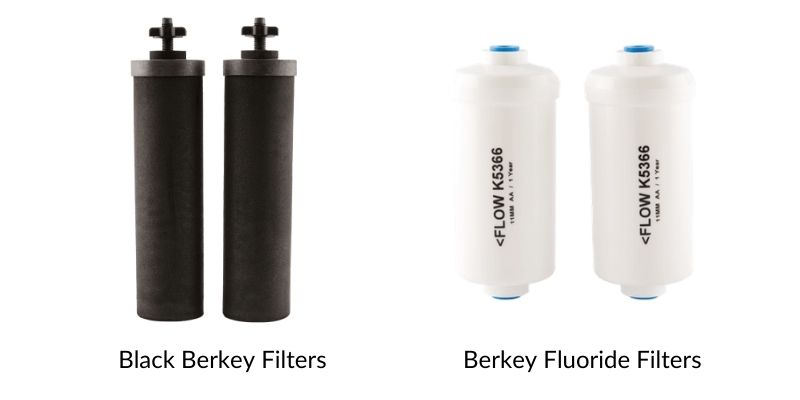 While these additional PF2 filters don't last as long as Big Berkey's purification elements (which are effective for roughly 3,000 gallons of water each), the manufacturers argue that they still last much longer than alternative filters for removing fluoride, including those that use carbonized bone char.
You can purchase the easy to use Big Berkey fluoride filter in a number of different sizes, so be sure to make the right choice depending on your water usage and the size of your family. The larger sizes are, of course, more expensive, and take up more storage space, so you might want to opt for something smaller if your water consumption is relatively average.
An obvious advantage of the Big Berkey is that it's portable, and you can fit the upper chamber inside the lower chamber to make it smaller during transport. It doesn't need to be connected to a faucet like some tap water filters, so you can set it up virtually anywhere in your home.
👍 What I Like
Can be set up or stored anywhere
Not attached to a pipe so fairly portable
Fluoride filters are longer lasting
👎 What I Don't Like
Fluoride specific filters come at an extra cost
Quite large; not an ideal space-saving option
Read the full review: Big Berkey Review
---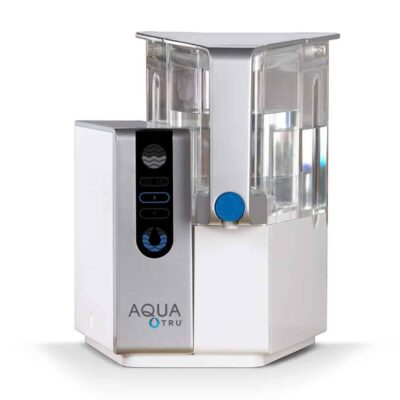 AquaTru Countertop RO
The AquaTru is a countertop water filtration system that uses ultra reverse osmosis technology to filter fluoride and thousands of other contaminants. It is NSF certified for the removal of 83 contaminants total, but being an RO system it can actually remove up to 99.9% of total dissolved solids – that's everything that might be in your water.
The system doesn't require a plumbing connection or any complex installation to filter fluoride. Simply pour unfiltered water into the holding tank and let the system run. Purified water will then be ready for drinking at the push of a button.
There are a total of 4 stages of filtration in the AquaTru system:
A mechanical pre-filter
A reverse osmosis pre-filter
The RO membrane
An activated carbon post filter
The filters have a longer lifespan compared to other RO systems, lasting between 6 months and 2 years, depending on their use.
Like all reverse osmosis systems, the AquaTru will produce water waste. It should be noted that this system is about average in terms of efficiency, as it works on a 1:4 purified to wastewater ratio. This means for every 1 gallon of purified, fluoride-free water, four gallons of wastewater are created.
👍 What I Like
Quick & easy setup
NSF certified
Plumbing connection not required
Filter change alerts and digital display
One of the top fluoride water filters
Longer lasting filters
👎 What I Don't Like
Creates wastewater
Needs electricity to work
Small holding tanks
No remineralizing filter
---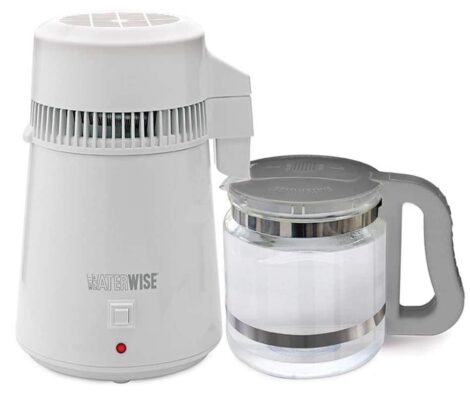 Waterwise 4000
The Waterwise 4000 is a countertop water distiller that can produce up to 1 gallon of distilled water in 4 hours. It uses a vapor distillation process to remove fluoride, as fluoride can't vaporize and return to liquid form like water particles can. When water evaporates, the fluoride is left behind in the distiller's boiling tank along with other contaminants, including inorganic compounds and non-volatile molecules.
Distillation is considered one of the most effective ways to remove fluoride from water. A distiller is also a great long term investment, as unlike water filters, it doesn't need replacing every 3 to 6 months. This means you only need to make the initial investment, and clean the distiller according to the manufacturer's instructions. Many distillers also have a small filter before the spout to remove any lingering contaminants from water, but these are fairly low-cost to replace.
Set-up is quick and easy, and the unit includes an activated carbon filter that refines water's taste before it's served up for you. The Waterwise 4000 is a bigger investment – but thanks to its durability, it should pay itself off in a couple of years.
👍 What I Like
Distillation is considered highly effective for removing fluoride
Automatic shut-off for safety
Carbon filter reduces VOCs
Easy to use and clean
👎 What I Don't Like
Not compact or portable
Quite a costly upfront price
Only purifies a small amount of water at a time
---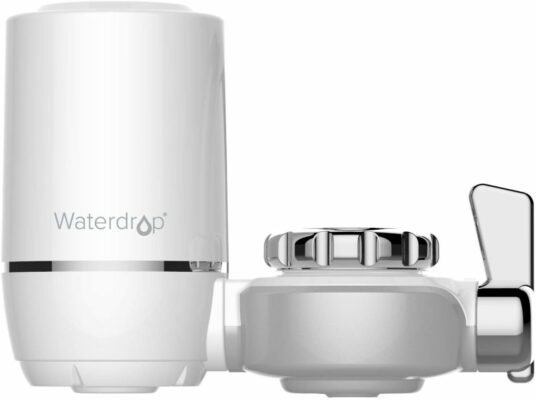 Waterdrop Water Faucet Filtration System
The Waterdrop AFC faucet filter system connects up to your faucet to produce instant filtered water at your kitchen sink. It has two NSF certifications, for chlorine and lead, and can also remove fluoride – not many faucet water filters can do this. It's installed directly to a standard US faucet, and can be set up ready for use in a matter of minutes.
If you're looking for a small, instant, non-invasive and easy to use means of reducing fluoride in your tap water, the Waterdrop AFC is great for the job. The unit uses a 0.5 micron carbon filter to remove even the smallest of contaminants, and the cartridge lasts for roughly 320 gallons of use before it needs replacing.
The Waterdrop faucet filter system doesn't have an NSF certification for removing fluoride, which is likely because it uses an activated carbon filter. These filters are designed to remove roughly 60% of fluoride. They aren't capable of trapping all fluoride isotopes, so the Waterdrop AFC will be effective for fluoride reduction, not removal. However, a 60% fluoride reduction will make your water much safer to drink than no fluoride reduction at all.
You don't need a plumber or a DIY expert to install the Waterdrop faucet fo;ter at your kitchen sink faucet. Providing the unit fits to your faucet (with or without an adapter), you will simply be able to click it in place and have access to clean drinking water instantly.
You can switch between filtered water and tap water by moving the dial on the filter housing, so you can protect the filter when using hot water and get the most out of its use for drinking water. If you have lead in your water as well as fluoride, you'll appreciate that the Waterdrop AFC is NSF certified to remove 97% of lead.
👍 What I Like
Small and space-saving
0.5 micron filter capable of removing fluoride
👎 What I Don't Like
Doesn't fit on non-standard faucets
Plastic design may not last as long as metal or chrome
Read the full review: Waterdrop Water Faucet Filtration System
---
🧾 Fluoride Water Filter Buyer's Guide
🤔 What is fluoride?
Fluoride is a mineral that is found in rocks and soil. It can be released into water, and can also be found in naturally occurring levels in certain foods.
🚰 How are people exposed to fluoride from drinking water?
In some states, fluoride is added to water to minimize the risk of tooth decay. Fluoride can also make its way naturally into drinking water supplies, and during the treatment process, it is never fully removed.
If you don't know whether your local area uses fluoride in its water, search online for a water quality report. You will be able to see the exact level of fluoride in your drinking water, and how this compares to the average.
Drinking water is the primary source of fluoride, but you can also find it in some dental products.
🩺 What are potential fluoride health risks?
There's lots of debate about whether the oral hygiene-related benefits of fluoride are worth it when its potential health risks are considered. Some of these health risks are as follows:
Dental fluorosis
Dental fluorosis is characterized by white spots or discoloration on the teeth. It is caused by consuming large amounts of fluoride, especially as a child, when teeth are in the development stage and are still forming under the gums.
Fluorosis doesn't affect the functioning of the teeth, but it can create aesthetic damage and significantly change the appearance of the teeth. Severe dental fluorosis can even cause pits to form in the teeth.
Adults can't develop fluorosis. Only children under 8, whose teeth are still developing, are at risk of the condition. The more fluoride sources a child is introduced to, the more at risk they are of developing fluorosis. Ironically, though fluoride is a means of preventing tooth decay, it has the potential to cause discoloration that looks almost as bad as mild decay itself.
Skeletal fluorosis
Skeletal fluorosis is caused by too much fluoride in the bones. This disease can cause irreparable damage to the bones and joints, which may be accompanied by pain and reduced joint mobility.
A high level of fluoride in a person's body can cause their bones to become hardened, reducing their flexibility. As a result, people with skeletal fluorosis are more at risk of broken bones and solidified cartilage and ligaments.
One of the most common causes of skeletal fluorosis is drinking water containing a high level of fluoride. Other causes include inhaling fluoride fumes in a factory setting and drinking fluoride tea, especially tea bricks.
Thyroid problems
One of the organs in the body that is most impacted by excess fluoride is the thyroid. The thyroid gland is particularly sensitive to fluoride, as fluoride mimics TSH, or thyroid stimulating hormone, enhancing the effects of this hormone needlessly. Fluoride may also force iodine to leave the thyroid gland – iodine is needed for the production of the thyroid hormone.
The thyroid gland is needed for the regulation of the body's metabolic rate, among other things. When minerals like fluoride interrupt its function, it can lead to a whole host of health issues. There is concern that fluoride intake might be linked to an increased rate of under-active thyroid, characterized by tiredness, weight gain and depression.
Neurological problems
Scientists are only presently starting to understand the neurological side-effects of an excess of fluoride. Studies have found that fluoride is a neurotoxin, which means that it can cause damage to the brain. One study has even found that a moderately high fluoride exposure can lead to reduced intelligence.
Fluoride is linked to an impaired capacity to remember and learn, and may harm brain development in unborn babies. It can also lead to neurobehavioral deficits and disorders. More research needs to be carried out into how and why fluoride can have such effects on the brain, but multiple research studies have helped to shine a light on what we know of the issue so far.
Fluoride poisoning
Fluoride poisoning, otherwise known as fluoride toxicity, is caused by elevated levels of fluoride in the body. Fluoride is considered safe in small concentrations, but if it is consumed in large amounts, it has the potential to cause serious health complications.
It's very unlikely that you will experience fluoride poisoning in the US from drinking water, where fluoride is regulated. However, if you drink from a well water source, and do not measure the fluoride content in your water, you may be more at risk.
Other health issues
High levels of fluoride consumption is linked to a number of additional health issues, some more serious than others. There is a possible link between fluoride and cancer, with some studies finding that fluoridation may cause plates in the bone cells to grow faster, eventually forming tumors. However, more studies are needed to support this theory.
Fluoride has also been found to cause an increased risk of arthritis-like joint pain and stiffness, which may be diagnosed as arthritis, but is actually a symptom of low-grade fluoride poisoning. Additionally, fluoride has been linked to hypersensitivity of the skin, gastric distress, headaches and weakness.
One study has found that skeletal fluorosis may lead to abnormalities in the heart and cardiovascular disease. Finally, fluoride has been found to disrupt normal endocrine response and function, which secreted hormones that the body needs for a wide range of functions.
⚙️ How a Fluoride Filter Works
Fluoride is a suspended particle found in drinking water among other particles, including chlorine, lead and hard water minerals. The role of a fluoride filter is to trap this particle in its media while allowing the rest of the water particles, which are much smaller, to pass through the filter. There are also filters that replace fluoride with another ion. This produces cleaner, fresher drinking water containing a much smaller amount of fluoride (typically 10% of the original content or less).
🔠 Water Filters That Remove Fluoride
Countertop fluoride filter
Countertop water filters are, as the name suggests, placed on your kitchen countertop and are usually connected up to your kitchen faucet with a flexible tube. When you turn on your kitchen faucet, water flows through the tube into the filter unit, where it passes through one or several filter media.
It's common for a countertop fluoride filter to contain a bone char activated carbon filter. This filter exchanges fluoride ions for hydroxide ions, greatly reducing the amount of fluoride in water. Once water passes through the filter, it will come out of the dispenser or faucet attached to the unit.
Under sink fluoride filter
Under sink water filters are connected to the cold water line underneath the kitchen sink. When you turn your faucet on, water flows out of the pipe, through the filter and back into the pipe, where it comes out of the kitchen sink faucet.
Under sink water filters that remove fluoride usually consist of multiple filters, each which is designed to remove sediment and contaminants of different sizes. An under sink filter that removes fluoride will have a filter stage that traps fluoride particles, preventing them from passing any further with the smaller water particles.
Distiller
A water distiller works by boiling water and evaporating it into steam, and condensing that steam back into liquid form. Distillers don't have a fluoride removal filter. Instead, during the evaporation process, many contaminants remain left behind in the boiling chamber, as they are unable to change form when heated. Fluoride is one of these contaminants.
The distillation process for 1 gallon of water takes between 4 and 6 hours in a countertop water distiller. But distillation is one of the most thorough and effective means of removing fluoride.
Faucet fluoride filter
Faucet water filters are small, compact filters that attach onto the end of a kitchen faucet. When a faucet is turned on, water flows through the faucet, and then the filter, before coming out of the filter's spout. The larger particles in the water become trapped in the filter media, leaving cleaner, purer water for drinking.
The majority of faucet water filters don't reduce fluoride, so be sure to read a product's description and reviews before committing to a purchase.
Filtered Pitcher
Water pitcher filters are the cheapest option for removing fluoride. To use, you simply fill the pitcher with water, then leave the water to pass through the filter, which traps contaminants. It can take around 15 minutes for water to become fully filtered, although exact times depend on the model and the age of the filter.
Again, not many water filter pitchers can effectively filter fluoride, so be sure to do your research carefully. Filters that are capable of fluoride reduction will contain a special type of media for doing so.
Reverse Osmosis
Some reverse osmosis filter units are positioned underneath a kitchen sink, and have the same exterior set-up of an under sink filter. They are connected up to the cold water line, and filter drinking water before returning it back to the pipe, where it will continue to the faucet. Other newer models sit on your countertop and do not need a direct plumbing connection.
These filters use a reverse osmosis membrane that prevents up to 99.9% of total dissolved solids (TDS) from passing through with water. This makes it one of the most effective methods of removing fluoride.
💭 Other considerations when purchasing a fluoride water filter
Filter lifespan
Not all fluoride removal filters have the same lifespans. Some filters will last for 3 months, while some can last for a year. If you buy a product that has a lower up-front price, consider whether making double the number of filter replacements per year might make it more expensive in the long-run.
You will know when your filter needs replacing as it will become much slower at filtering water, or it won't work at all, so changing a filter is not something you can put off or avoid.
Other contaminants in water
Your main goal might be to remove fluoride from your water, but it's always worth looking into the other contaminants that a fluoride removal filter can remove. Look online for a water quality report for your local area, and note which contaminants are highest in your drinking water.
If your chlorine content is high, you may want to opt for a filter that is NSF certified for chlorine removal. The same goes for lead, VOCs, herbicides and pesticides, or BPA. If you have a well water source, you should look for a filter that is NSF certified for standard P231, meaning it can remove microbiological particles like viruses and bacteria.
Investment (long term vs. short term)
Some different types of water filters, like reverse osmosis filters and water distillers, are very high in price. You might feel nervous at the thought of spending so much money upfront for any product – but the investment should always pay itself off over the years.
When you pay several thousands of dollars for a reverse osmosis filter, you're investing in something that will last virtually forever providing you treat it well and service it when needed. Faucet water filters, on the other hand, are much cheaper, but tend to become faulty or broken after several years of use. If you're not prepared to make a long term investment on a filter just yet, start small. You can always make that bigger investment a few years down the line.
❔ Frequently Asked Questions
How do I know that a filter removes fluoride?
You will read it somewhere in the product description and manufacturer's marketing. Some products may be certified to NSF Standard 53, the reduction of contaminants that are known to cause health effects.
If a product doesn't have an NSF 53 certification, turn to customer reviews to see if a customer has posted a "before" and "after" of their water testing results to determine whether the product definitely removes fluoride. Just remember to be open-minded and consider all reviews thoroughly.
Do fluoride shower filters exist?
Yes, though they're not everywhere at the moment. When looking for a fluoride shower filter, try and find one that's NSF certified to do what it claims. Also keep in mind that showerhead filters are less effective at thorough water filtration, as water only has a second to pass through the filter media before it comes out of the showerhead at a relatively high pressure. You will find that a fluoride shower filter generally reduces your water's fluoride level by about half, which, compared to no filtration at all, is still pretty decent.
Is it dangerous to drink fluoride?
In small quantities, no. However, you may prefer not to drink water containing fluoride for your own personal health reasons. If you have children, they are at risk of developing dental fluorosis from too much fluoride consumption, which is another reason why you may choose to reduce your fluoride intake through water as a family.
What types of filters remove fluoride?
Aside from water distillers, which reduce fluoride with distillation, there are several filter media types that can be found in a variety of filter units for fluoride reduction.
Carbon filters can remove around 60% of fluoride, as they can't remove all fluoride isotopes from water. Bone char activated carbon filters can remove a higher level of fluoride, and replace it with hydroxide. Reverse osmosis filters can remove almost every single fluoride ion from water.