We tested & reviewed the top water filter systems that offer PFAs removal. Here are 6 models we found to be the most effective in tackling forever chemicals.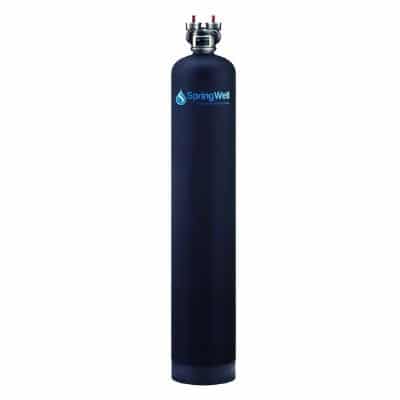 SpringWell CF Whole House Filter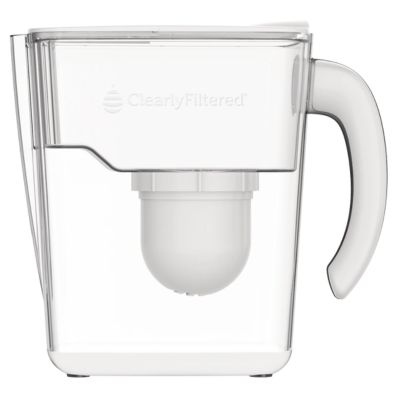 Clearly Filtered Water Filter Pitcher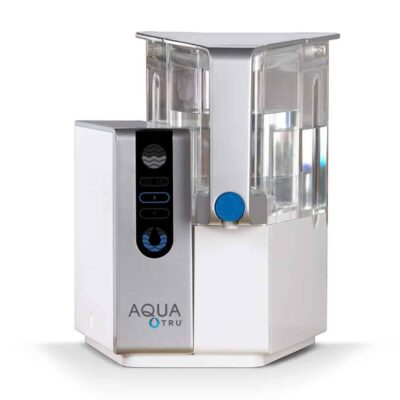 AquaTru Countertop RO
Hey, health-conscious homeowner! Welcome to our best water filters for PFAs guide.
Worried that your public water is laced with dangerous chemicals? You've come to the right place. We've tried and tested over a dozen water filters for PFAs in our own moderate-to-highly-contaminated water supplies across the US.
Feel free to make an uninformed purchase on a filtration system that removes virtually no PFAs from your water – but we'd strongly recommend protecting your family and near-eliminating this harmful chemical with one of these next-level PFAs water filters.
#1 is our favorite, but #2 is the best-value solution and #5 will give you filtered water straight from your fridge.
In this guide, you'll learn:
Which 6 water filters are superior in PFAs removal in 2023
Our testing and research process for selecting the products in this review
The essential considerations to make before parting with your money and investing in a PFAs filtration solution
🥇 Best PFAs Water Filter
📊 Comparison Chart of PFAs Water Filters
Product

SpringWell CF

Clearly Filtered Pitcher

AquaTru Countertop RO

Aquasana AQ-5300


Clearly Filtered Universal
Inline Fridge Filter

Big Berkey
Ratings
5/5
5/5
4.5/5
4.5/5
4.5/5
4.5/5
Ranking
1st
2nd
3rd
4th
5th
6th
PFAs Reduction
99%
99.8%
99.9%
96%
99.8%
99.9%
Contaminants Reduced
10+
365+
83+
77+
232+
200+
Filter Life
1,000,000 gallons
100 gallons
600 – 1,200 gallons
600 gallons
365 gallons
3,000 gallons/ cartridge
Annual Cost
~$40
~$140
~$80
~$130
–
~$40
Price
$$$
$
$$
$$
$
$$
Warranty
Lifetime
Lifetime
1 year
180 days
Lifetime
Lifetime
Certifications or Testing
–
NSF 42, 53, 401 & 473
NSF 42, 53, 58, 401 & P473
NSF 42, 53 & 401
NSF 42, 53, 401
–
---
⭐ Reviews – Top PFAs Filters 2023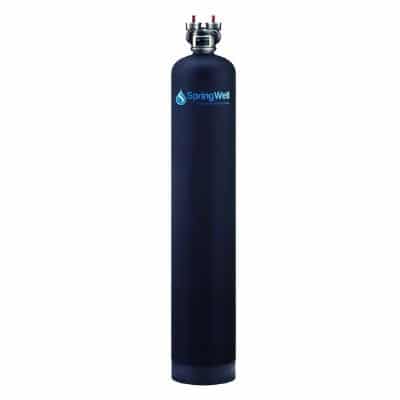 SpringWell CF
The SpringWell CF is a whole home water filter that effectively tackles contaminated drinking water, using highly capable KDF and catalytic carbon media to remove virtually all PFOA and PFOS from your entire water supply.
Key Features
Almost entirely eliminates PFAs – While your average granular activated carbon whole home filter won't remove PFAs, the SpringWell CF combines two of the best filter media to virtually eliminate PFAs from your water.
Broad contaminant removal – Aside from PFOS and PFOA, the CF uses four thorough stages of filtration to target a whole host of other common impurities in drinking water, including heady metals, chlorine, pesticides, herbicides, and more.
Three size options – You shouldn't have a problem with flow rate or water pressure with SpringWell, as the CF is available in three sizes: 1-3 bathrooms, 4-6 bathrooms, and 7+ (commercial).
6-month money-back guarantee – It's good to know that the SpringWell CF comes with a 6-month money-back guarantee, so you can return it for a refund if it's not for you. The unit also has an impressive lifetime warranty.
Best For: Anyone looking to invest in one of the best value-for-money whole house systems, offered by one of the most trusted brands, that can virtually eliminate forever chemicals in water supplying your entire home.
Pros
We like that the components in the SpringWell CF are all made in the US and officially certified for quality and durability.
This whole house filtration system does much more than your standard activated carbon filter. The system combines two highly effective media to provide an extra depth of treatment.
We enjoyed the low-maintenance performance of this system – we only had to remember to change the sediment filter cartridges.
Cons
You'll need to buy some parts separately for installation.
Read the Full Review: SpringWell CF Whole House System Review
---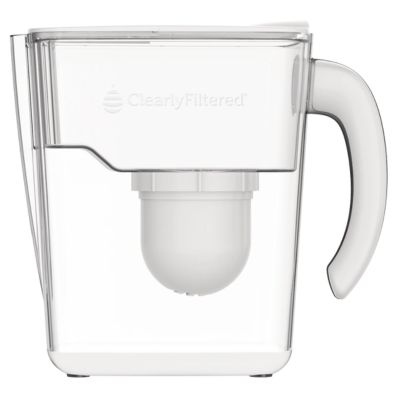 Clearly Filtered Water Pitcher
You'd never believe that the Clearly Filtered Water Pitcher is a humble water pitcher filter when it can reduce nearly as many contaminants as a reverse osmosis system, including 99.8% PFAs – one of the most impressive figures for PFAs reduction that exists today.
Key Features:
Reduces 99.8% of PFAs– The Clearly Filtered Water Pitcher is independently tested to reduce virtually all PFAs from drinking water.
Targets 365 impurities – This filtration pitcher is more than just a PFAs filter. It also reduces or reduces hundreds of common drinking water contaminants, including chlorine, chloramine, VOCs, lead, bacteria, mercury, arsenic, and chromium-6.
Tested to NSF Standards – The Clearly Filtered Water Pitcher has been tested by a third party to NSF Standards 42, 53 (for reducing toxic PFAs), 401, and P473.
Best for: Anyone looking to spend less than $100 on one of the most capable PFAs water filtration solutions that takes just minutes to set up and requires minimal maintenance.
Pros
We're blown away by the Clearly Filtered Pitcher's ability to reduce more than 350 contaminants and almost 100% PFAs.
This filter was one of the easiest to use in our testing, with no complex installation or maintenance required.
Cons
Being a gravity pitcher, the Clearly Filtered doesn't offer clean water on demand. We had to wait for more than 10 minutes for a full batch of purified water.
Read the Full Review: Clearly Filtered Pitcher Review
---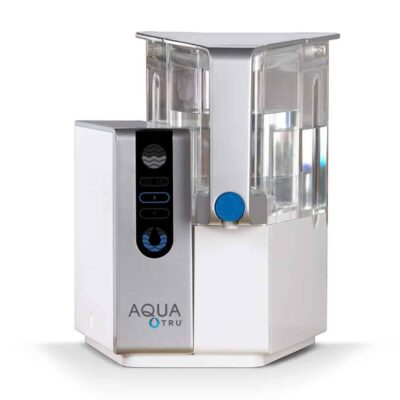 AquaTru
The AquaTru is the best countertop reverse osmosis system for removing man-made chemicals like PFAs. This impressive water system is NSF certified to remove up to 99.99% of contaminants, including PFAs.
Here, we've reviewed the AquaTru Classic – AquaTru's base model. You can also buy this unit in three upgrades:
AquaTru Connect
AquaTru Alkaline Classic
AquaTru Alkaline Connect
The Connect has built-in WiFi and lets you view your water usage and filter status information on an app. The Alkaline Classic uses an alkaline remineralization filter instead of the standard VOC filter. The Alkaline Connect features both the WiFi connection and the alkaline remineralization filter. Price difference: up to $70.
Key Features
Certified for PFAs removal– According to AquaTru Water, the AquaTru RO system is the only countertop RO system that's currently officially certified to NSF Standards 53 and 58, for the removal of PFAs contaminants.
Reduces 82 contaminants – Aside from PFAs, the AquaTru also holds certifications for the removal of chlorine, cysts, fluoride, lead and other heavy metals, and overall total dissolved solids.
Smart countertop design – The unit's modern, tasteful design makes it easy to blend in with most kitchens. You'd never know that the unit consists of multiple filter stages, including a granular activated carbon pre-filter and an RO membrane.
Best for: Anyone who prefers a portable PFAs removal solution with the thoroughness of the reverse osmosis process, without the fuss of under-sink installation.
Pros
Our testing found that the AquaTru is a fast-filtering system, thanks to the built-in booster pump, which produces up to 1 gallon of water in as little as 10 minutes.
Only 20% of water is wasted by this system, which is significantly less than the water waste produced by other reverse osmosis units.
Cons
Leaking is a common issue amongst customers using this system.
Read the Full Review: AquaTru Countertop Filter Review
---
Aquasana AQ-5300
The Aquasana AQ-5300 is our top under-sink filter unit for PFAs removal. This filter has been proven by the NSF to remove 77 impurities, including 96% PFAs.
Key Features:
Key Features:
96% PFAs removal – NSF testing data shows that the AQ-5300 removes up to 96% PFAs, including PFOA and PFOS.
Thorough filtration – This under-sink filter combines three stages of filtration, including Aquasana's Claryum® technology, catalytic and granular activated carbon media, and a sediment pre-filter, to remove 77 impurities from drinking water.
Officially tested to NSF Standards – The Aquasana AQ-5300 is one of the few existing filters to hold an official NSF certification for reducing PFAs contaminants.
Best for: Anyone who prefers the reassurance of an official NSF certification for PFAs reduction and ideally wants an on-demand filtered drinking water solution.
Pros:
The fact that the AQ-5300 has an official NSF certification is a big bonus. You don't have to take the word of an unknown third-party laboratory. An official NSF mark is a stamp of approval.
We appreciated being able to choose between three faucet styles for this system, and the unit was one of the most space-saving under-sink water filters we've installed.
Cons:
We tested other under-sink filters that had longer filter lifespans than the AQ-5300's lifespan of six months.
Read the Full Review: AQ-5300 Review
---

Clearly Filtered Universal Inline Fridge Filter
Clearly Filtered has made our list twice, being one of the few brands to provide exceptional PFAs removal. The Clearly Filtered Universal Inline Filter is a highly capable inline filter that removes up to 99.8% of PFAs.
Key Features:
Removes up to 99.8% PFAs – If you want to entirely remove PFAs from your refrigerator or ice maker water, the Clearly Filtered Universal Inline Filter is the best solution we found.
Removes 230 different contaminants – Lead, chlorine, fluoride, PFAS, glyphosate, pharmaceuticals, microplastics, and arsenic are all removed by this filter – plus so much more. The filter is privately tested to NSF Standards 42, 53 & 401.
Connects to any¼-inch waterline – As long as you have the right-sized waterline, this in line filter can be used upstream of any water-based appliance, including your ice maker, fridge, or kitchen sink.
A simple 5-minute installation is all you will need – simply connect the inlet and outlet water lines and you're good to go.
Best For: Anyone looking for the most thorough in line filtration system that removes PFAs much more effectively than a standard granular activated carbon system, providing filtered fridge water and ice cubes.
Pros:
No other in line filter can remove PFOS and PFOA as thoroughly as the Clearly Filtered Universal Inline Fridge Filter. Drinking crisp, cool, filtered water from the fridge felt like a treat.
We were pleased with the filter life of 365 gallons, or 12 months, and felt reassured by the lifetime warranty.
Cons:
The Clearly Filtered Universal Inline Fridge Filter isn't officially NSF certified, which is a shame.
---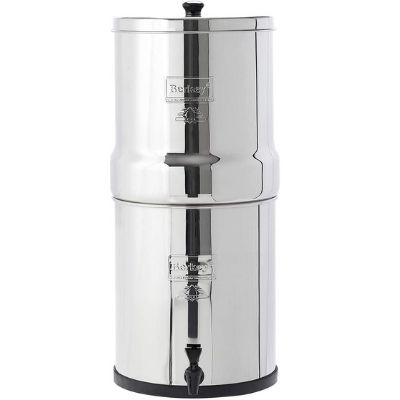 Big Berkey Gravity-Fed Water Filter
The Big Berkey is the most popular countertop filter system available today – and for good reason. This durable, stainless steel unit removes more than 99.9% of PFAs, according to private testing.
Key Features
Removes more than 99.9% of PFAs – The Big Berkey rivals the Clearly Filtered Pitcher for PFAs removal. If you want to avoid drinking forever chemicals entirely, the Big Berkey will keep you safe.
Filters more than 200 contaminants – Aside from PFAs, the Big Berkey greatly reduces or removes lead, VOCs, chlorine, chloramine, pesticides, and herbicides – plus the more difficult to remove contaminants, like pharmaceuticals, viruses, and bacteria.
Third-party tested for contaminant removal – This countertop filtration system has been extensively tested by a private laboratory for contaminant removal.
Best for: People looking for a modern, capable countertop filter that provides big batches of PFAs-free drinking water.
Pros
The Big Berkey is one of the most thorough, reliable water filters for removing forever chemicals, and we felt reassured drinking purified water from this system.
The unit is built to last, with a sturdier, durable design that should outlive the majority of plastic pitchers and countertop alternatives. We like that there are different sizes to choose from, too.
Cons
Berkey deceived customers by saying its products were tested to NSF Standards, but these claims were proven false.
When using the Big Berkey, we noticed that water continues to flow into the chamber when the bottom chamber is full – an unfortunate design flaw.
Read the Full Review: Big Berkey Water Filter Review
---
🕵️Our Research
This section of the guide provides all the information you need to know about PFAs, including how to test for forever chemicals, and why you might need to remove them. We've also shared our testing and selection process for the products in this review.
🤔 What are PFAs Chemicals?
PFAs chemicals are a large group of manufacturing chemical compounds, including PFOS and PFOA, that are used in a variety of products, from cookware to carpets, fire fighting foams to creams and cosmetics. PFAs are known as "forever chemicals" because they have strong carbon-fluorine bonds that don't degrade in the environment.
The Environmental Working Group (EWG) estimates that more than 200 million Americans could be drinking dangerous levels of PFAs in their water, and more than 40,000 municipal or industrial sites are potential sources of PFAs pollution into water supplies across the US.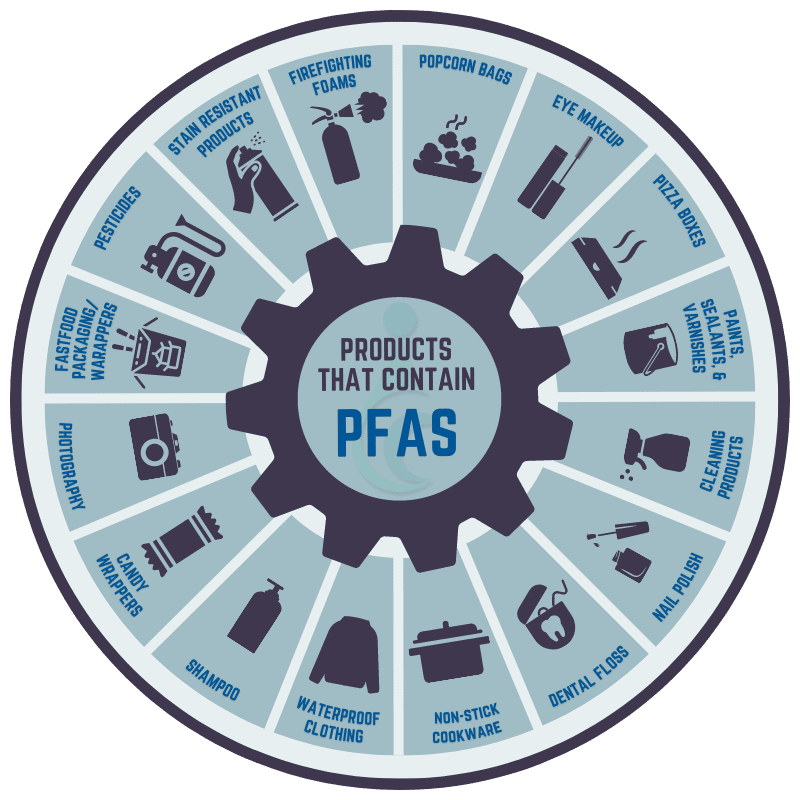 🚰 Do I Need a Water Filter That Removes PFAs Chemicals?
Considering the EWG's stats on PFAs in drinking water, it's highly likely that your own water supply is contaminated with this chemical.
To find out the quantity of PFAs in your water, reach out to your local authority and request a water quality report.
Dangerously, the Environmental Protection Agency (EPA) currently doesn't have a Maximum Contaminant Level for this chemical, so your water supplier doesn't have to even reduce PFAs if they don't want to.
Some authorities choose to follow the non-enforceable health advisory level of 70 parts per trillion both PFOA and PFOS set by the Environmental Protection Agency. In comparison, the Environmental Working Group recommends a health guideline of 1 ppt of forever chemicals in drinking water.
If you prefer, you can test your own water with a private laboratory.
PFAs chemicals have such dangerous health effects that you should remove them from your tap water even if they're only present in trace amounts. Installing a drinking water filter is the safest and most cost-effective way to protect yourself against PFAs.

🚱 How Do PFAs Get Into Drinking Water?
PFAs chemicals have been gradually phased out in the US since an agreement was signed between the EPA and eight major manufacturing companies in 2006. However, the toxic chemicals are still frequently imported into the country. Not forgetting that PFAs are so-called "forever chemicals" – so even those from tens of years ago linger in the environment.
PFAs get into water by seeping through soils or being transported by rainwater into surface or groundwater sources that are used as public drinking water supplies. Standard water treatment practices can't remove these forever chemicals, so they remain in our water supplies as they're sent to our homes.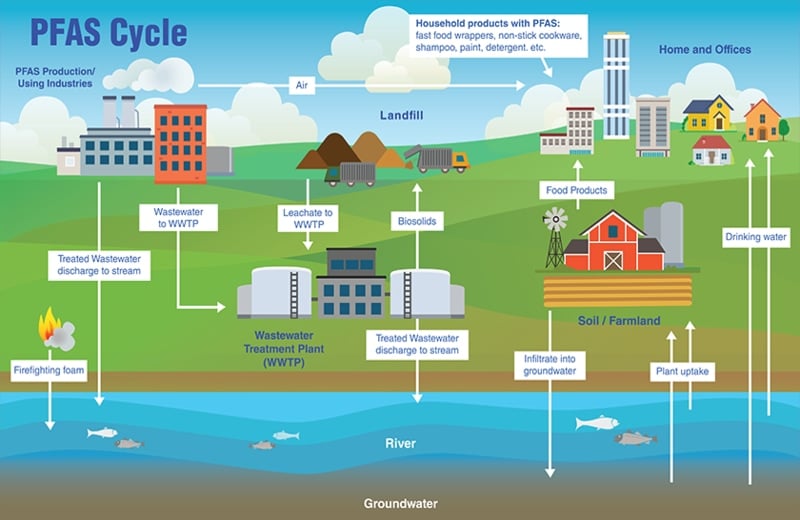 🩺 Why are PFAs Chemicals Dangerous to Our Health?
According to the EPA, the biggest health risks of PFAs exposure are:
Developmental delays and effects in children, such as behavioral changes, low birth weight, and accelerated puberty.
Reproductive effects, like fertility problems and high blood pressure during pregnancy.
Increased risk of some kidney, testicular, and prostate cancers.
Interference with hormones produced naturally in the human body.
Impact on the immune system's response to infections, and reduced response to vaccines.
Risk of obesity and increased cholesterol levels.
🧪 How to Test for PFAs in Water
The best way to test for PFAs in your tap water is to purchase a private testing package from a laboratory.
We use SimpleLab Tap Score for all our water testing purposes. The cost of a PFAs water test is just under $300, so it's not cheap – but you'll get much more accurate results than you would from any other means of testing.

🙋‍♀️ Who This Guide is For
This guide is for:
Anyone interested in different types of water treatment for PFAs removal. We've shared multiple forms of filtration in this guide.
People with a varied range of budgets. We've shared options to suit small budgets, so this guide is for you no matter how much money you have to spend.
Anyone who wants to avoid untrustworthy manufacturers and invest in a reliable product from a manufacturer that has decades of industry experience.
📊 How We Chose
When researching and testing products for this guide, we focused solely on water treatment systems that are designed for reducing PFAs contamination.
We chose the filters on this list based on the ability to remove PFAs, feedback from customers, value for money, and overall quality.
PFOA and PFOS Removal Capability
First and foremost, if you're looking for a drinking water filter that reduces PFAs, the filter should achieve this to an exceptional standard.
The more PFOA and PFOA a filter can remove, the better. We prioritized water filters that are capable of removing at least 90% PFAs, preferably up to 99% and beyond.
Customer Feedback
If you want to know how a product performs with everyday use, check out its customer feedback.
We scoured hundreds of customer reviews when deciding which filters to include in this guide. This helped us to narrow down our focus to products that were consistently praised by hundreds of customers.
Value for Money
Different types of filters have different costs to consider. For instance, some systems have multiple filters to change, while others have only a single filter. Some systems have longer filter lifespans than others. Some are hundreds of dollars to purchase, while others cost less than $50.
Rather than finding the cheapest products, we chose the filters on this list for the value for money they offered, based on their ability to remove PFOA and PFOS, their quality, and their reliability.
Overall Quality
The quality of the components in a filtration system determines every aspect of performance, including its reliability and lifespan.
We focused on filters that looked, felt, and acted the part. We also reviewed customer feedback to asses a filter's long-term performance and durability with everyday use.
🧪 How We Tested
Originally, we analyzed the performance of all the products we reviewed with third-party laboratory testing, but this testing had its setbacks. Our water source was nowhere near as contaminated as the test waters used in official industry testing, so we couldn't get a clear idea of the filter's ability to remove PFAs.
For this reason, we now leave the testing to industry experts like the NSF, ANSI, the WQA, and third-party laboratories that test to the NSF's stringent Standards. Our own testing assesses the everyday user-friendliness, reliability, and durability of a product, and we combine our results with professional testing data available online to get a clear understanding of a filter's overall performance.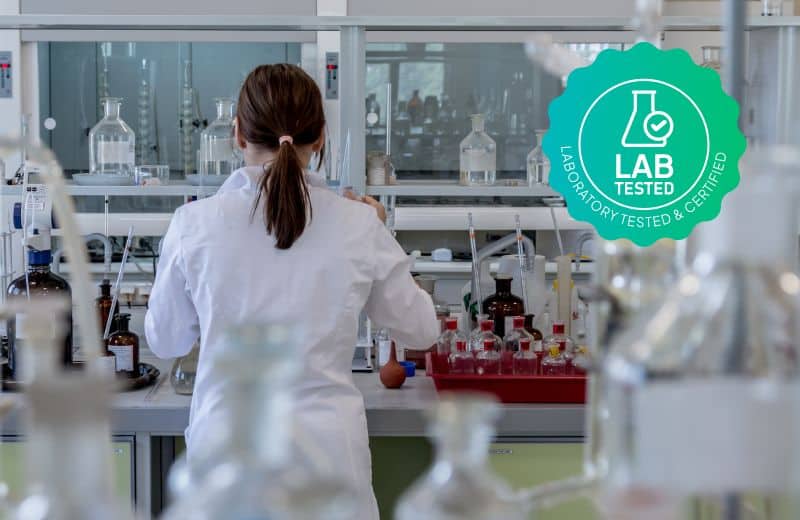 🧾 Buyer's Guide: Selecting a Drinking Water Filter for PFAs Chemicals
If you're narrowing your options and you want to find the most suitable PFAs filter for you, don't make a purchase without considering the following things:
Other Contaminants Present
You know that you have a PFAs contamination issue in your tap water. But what else does your water contain? It's highly likely that there are other impurities that your local city water treatment plants aren't removing.
Most filters are capable of removing a range of contaminants, so look beyond PFOS and PFOA to other common impurities, like lead, chlorine, and other chemicals and heavy metals.
Filtration Method
Consider the treatment methods available for PFAs removal and make a list of your favorites. Would you prefer a filter installed directly at your waterline, providing filtered water on demand? Or do you prefer the convenience of a portable pitcher or countertop filter?
The filtration method also determines the percentage of PFAs the system removes, and what other contaminants it targets, as well as filter life, the upfront purchase price, and maintenance costs.
Certifications
If you want to be absolutely certain that a filter can remove PFAs as advertised, look for an official NSF certification.
There are two NSF certifications that a water treatment system can have for the removal of PFOA and PFOS:
NSF/ANSI 53, for contaminants with health effects
NSF/ANSI 58, for reverse osmosis drinking water filters
To obtain an official NSF certification, manufacturers must submit their products for rigorous testing – and a certification is only granted if the product meets the NSF's stringent requirements. Third-party testing to NSF Standards is still reassuring, but not quite as impressive.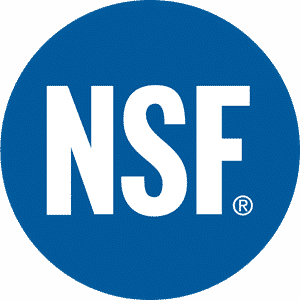 Flow Rate
The flow rate of a filter depends on the type of system you opt for. If you don't mind waiting several minutes for clean water, consider a gravity filter, such as countertop filters and water filter pitchers.
If you'd rather drink filtered water on demand, you'll need a filter that's installed at your water line, like a whole house filtration system or an under-sink filter.
Filter Capacity
The capacity of a filter refers to how much water a filter can produce at any time, and how long the filter will last before it needs to be replaced.
The size of your family, your daily water usage, and your maintenance preferences should all be considered when you're choosing between different filter capacities.
Installation & Maintenance
Finally, installing and maintaining PFAs water filters is something that can't be avoided – but some filters are much easier to install and maintain than others.
Portable filters, like pitcher filters, can be assembled in a matter of minutes, while whole house systems and under-sink reverse osmosis filters require a more complicated installation.
A water filter's lifespan affects the frequency of maintenance. Some filters last for upwards of 6 months, while others last for 3 months or less, and some even last for 2 years or beyond.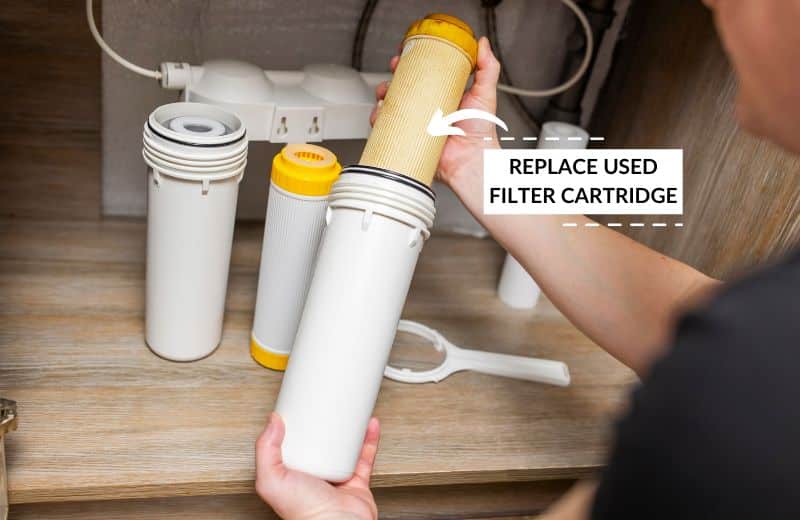 ❔ Frequently Asked Questions
What water filter will remove PFAs?
The best water filters for removing PFAS are reverse osmosis systems, certain carbon filters, and water distillers.
Do water filters filter out PFAs?
Not all water filters are guaranteed to reduce PFAs levels, so shop around and read guides like this one to invest wisely in the best filter for removing PFAs.
Does Brita water filter remove PFAs?
No, Brita filters aren't designed to filter PFAs. These filters can only remove a small selection of contaminants, namely those that affect water's taste and smell.
Does the Zero Water filter remove PFAs?
Yes, Zero Water pitcher is advertised to remove PFAs, but this filter isn't quite as capable as the Clearly Filtered pitcher, so it didn't make our list.
Does distilling water remove PFAs?
Yes. Up to 99% of PFAs is removed by distilling water. However, distillation is an incredibly lengthy process, so we didn't include any distillers in this guide.
Do reverse osmosis filters remove PFAs?
Yes, a reverse osmosis filter can remove almost 100% of PFAs.
Can granular activated carbon filters remove PFAs?
It depends. Some activated carbon filters remove virtually all PFAS from drinking water. However, some types of activated carbon filters don't reduce PFAs at all.
How can I reduce my PFAS exposure?
Aside from treating your PFAs contaminated drinking water, you can reduce your PFAS exposure by:
Avoiding using non-stick cookware, which is often manufactured with PFAs, and takeaway food packaging
Checking your clothes labels, especially the labels of water-resistant clothing, to ensure they're PFAs- or PFC-free
Avoiding cosmetics and dental floss that use ingredients with PTFE or "fluoro" in their names
Does bottled water have PFAs?
Yes, PFAs have been found in bottled water, so you're not necessarily safer if you exclusively drink bottled water rather than tap water.
Does boiling water reduce PFAs?
No. Boiling water will only cause some of the water to evaporate, increasing the concentration of toxic substances compared to the volume of water.