🧾 Overview of the Clearly Filtered Water Filter Pitcher
The Clearly Filtered water filter pitcher uses gravity filtration to trap an impressive range of contaminants commonly found in drinking water, including chlorine, lead, and fluoride. You can use this filter for filtering both city and well water sources, giving water a better taste and making it healthier to drink.
The activated carbon filters in the Clearly Filtered water pitcher feature the manufacturer's own Affinity Filtration, a type of filtration that uses dual-technology approach to remove more than 270 impurities. You can learn more about what makes Affinity Filtration better than other manufacturers' offerings in the performance section of this review.
There's a lot of information online about the Clearly Filtered water filter, but it's generally not compiled together in a readable form. You can get a good idea about the product from descriptions and reviews, but you may feel that you're still missing things you could do with being aware of.
In this Clearly Filtered water pitcher review, I'll be offering an in-depth look at everything you need to know about this product, which is considered the best water filter by many – and you'll be well informed to make your own judgment on that once you've read the information I've gathered from my own testing and online.
🏷️ Clearly Filtered Discount Code
I've partnered with Clearly Filtered to get my readers a special 10% discount on their first purchase. 👉 Click here to get your coupon.
📝 Specifications
Capacity: 80 oz or 10 cups
Dimensions: 11.2 x 5.1 x 10.2
Empty weight: 2.3lb
Filter life: 100 gallons
Warranty: Lifetime guarantee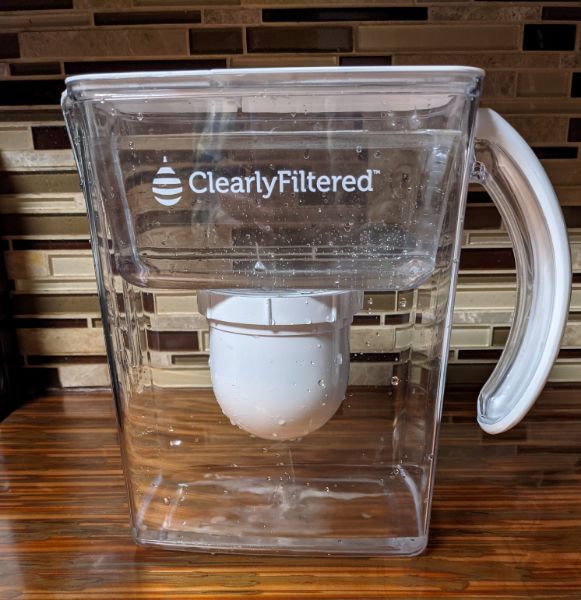 My readers get 15% off at clearlyfiltered.com 👉 Click here to get your coupon.
💡 Features
100-gallon filter longevity
Included with the Clearly Filtered system is one 100-gallon filter that'll last approximately 4 months before it needs replacing.
Top reservoir
The pitcher's top-section reservoir holds half a gallon of water when full. This then passes through the filter into the bottom reservoir, ready for drinking.
80 oz pitcher
The pitcher itself has one of the smartest, most attractive designs of all the pitchers on the market today, and is easy to pour from and carry around, and fits comfortably inside a refrigerator door.
Lifetime warranty
All of Clearly Filtered's products are backed by a lifetime limited warranty, which means that if your filter ever breaks, Clearly Filtered will replace it free of charge.
Easy-grip handle
The system's easy-grip handle makes it easy to carry and pour from when it's full.
🚦 Performance
You won't find filters like those in the Clearly Filtered system elsewhere. They do a whole lot more than remove your basic common contaminants (though they do that too), and this is down to their unique design.
Three-stage Filtration
A single Clearly Filtered filter combines three stages of filtering, and can even remove difficult contaminants like fluoride – which is pretty rare for water filter pitchers. Its filtration technology makes it capable of removing so much more than other brands, making it almost as effective as reverse osmosis – though, unlike RO, the filters treat water without removing the beneficial minerals.
One of the best filter materials is used to make Clearly Filtered's filters: activated carbon. Activated carbon filtration technology uses adsorption to trap contaminants in the filter's pores – and Clearly Filtered's filters have a unique structure that sends water through the media in twists and turns, trapping a higher number of impurities than if water was allowed to pass straight through. This huge performance bonus makes Clearly Filtered's offering so much more effective than many of the other water filter pitchers on the market.
A woven mesh screen and composite shell are also involved in the filtering stages of this system. The woven mesh screen prevents large particles from clogging up the activated carbon media and the composite shell allows water to have more contact with the media.
Water-dam
The design of this filter complements its filtering performance, and the water dam in the top-section reservoir lets you pour water out of the spout without unsettling any unfiltered water that's in the reservoir – I love this feature 💯
Not all filtered water pitcher models come with a water dam like this, and it's incredibly useful that Clearly Filtered does, as it's typical for the filtering process to take up to 20 minutes. Clearly Filtered eliminates the need to wait the full 20 minutes for complete filtering for you to access clean water.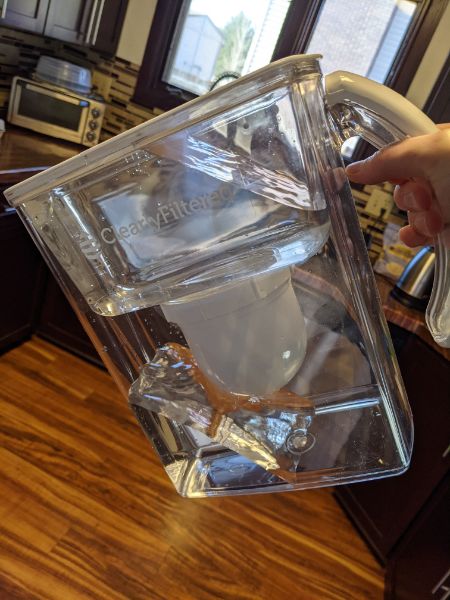 Related 👉 Check out my favorite filtered pitchers currently available in 2021
🧫 Contaminants Removed
Clearly Filtered's filter removes an impressive 270 contaminants, leaving healthier, clean, better-tasting water. The filter removes bacteria, too, which is a rarity amongst the majority of filtering systems. You won't find many filters – especially pitcher filters – that can remove this level of contaminants.
To see the full list of contaminants removed by Clearly Filtered, check out the table below.
| Contaminant | % Removed |
| --- | --- |
| Bacteria, Cysts & Microorganisms (E. Coli, Giardia, +3 more) | 99.9% |
| Chemical Disinfectants (Chlorine, Chloramines) | 99.9% |
| Fluoride | 98% |
| Heavy Metals (Arsenic, Cadmium, Iron, Lead, Mercury, +10 more) | 99.9% |
| Herbicides (Glyphosate, Dicamba, Chloramben, + 7 more) | 99.9% |
| Microplastics | 99.9% |
| Perfluorinated Chemicals (PFAS, PFOA, PFOS) | 99.6% |
| Pesticides (2/4-D, Butylate, Endrin, +46 more) | 99.9% |
| Pharmaceutical Drugs (Acetaminophen, BPA, Caffeine, Ibuprofen, +16 more) | 99.9% |
| Radiological Elements (Plutonium, Thorium, +8 more) | 99.9% |
| Semi-Volatile Compounds | 99.9% |
| Volatile Organic Compounds (VOCs) | 99.7% |
You can also check the full details on the company's website here
⚙️ Setup
Like any pitcher system, the Clearly Filtered pitcher doesn't need installing at your waterline or attaching to your faucet, which makes it portable – and best of all, easy to install.
Setup of a new filter pitcher takes less than 5 minutes. To set up the filter, you'll need to follow these basic instructions:
Remove pitcher and filter from box – After taking the pitcher out of its box and removing any packaging, take the included filter, unscrew the flushing disk and remove the sticker that protects the filter from becoming contaminated before use.
Soak the filter – Fill your pitcher with normal tap water, then place the filter in the water (it doesn't matter which way). To keep the filter submerged, place something on top of it – simply putting the reservoir on the pitcher will do the job.
Flush the filter – After 10 to 15 minutes, remove the filter and re-attach the flushing disk, being sure to screw it properly in place. Hold the flushing adapter against your faucet and turn the water on to about medium. Let the water flush through the filter for up to 5 minutes.
Install the filter in the pitcher – Remove the flushing disk from the top of the filter and attach the filter in place beneath the reservoir lid. Then slide the reservoir onto the pitcher and fill it with water. You'll notice water trickling through the filter into the bottom reservoir immediately.
Setup is pretty self-explanatory, as there are few parts to this system. But if you need a little more guidance, here is a handy video explanation.
🕖 Filter Longevity & Replacement
The Clearly Filtered pitcher, best for thorough contaminant removal, has a fairly decent filter life, too. The average water pitcher filter lasts for around 3 months, but the filter life of Clearly Filtered's cartridges is around 4 months. You can't get much better than this for a pitcher filter at the moment – Brita's Longlast filters are the only ones to currently beat this with a 6-month lifespan.
You'll need to replace the filters after roughly every 100 gallons of tap water filtering. Because these are high-quality filters, you should get your money's worth out of them before they need replacing, though if your water has a higher-than-average contaminant saturation or you're using the pitcher for a particularly large family, you may need to replace them more frequently.
One filter replacement cartridge costs around $45. You can also buy packs of cartridges for a better value for money, which is worth doing if you plan to use the system in the long run.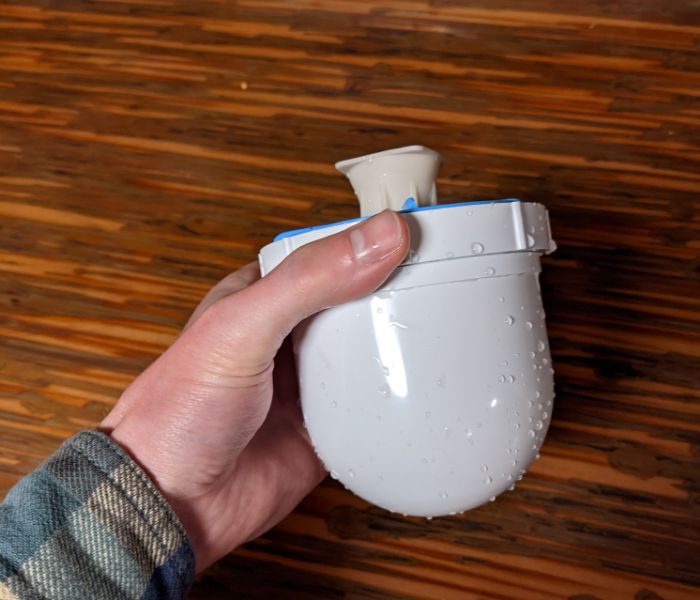 🔔 Pros & Cons
👍 What I Like
Made from BPA-free plastic – Because the Clearly Filtered system is made from medical grade, 100% BPA-free materials, you can guarantee that it won't add anything harmful during water filtration.
Portable filtration system – The Clearly Filtered system is easy to use on the go, with its lightweight, compact design making it ideal for taking to work or on your travels. This means you don't have to resort to drinking tap water or buying bottled water if you have the Clearly Filtered system to hand. You can also fit the system in the door of your fridge, which is very convenient.
Removes more contaminants than the top competitor – If you're looking to improve water quality, you can't go wrong with Clearly Filtered's water pitcher system. It's independently tested to NSF standards to remove more than 270 contaminants, including the likes of fluoride, lead and chromium-6.
Affordable – The Clearly Filtered systems cost less than $100 upfront, making them a much more affordable solution than the majority of water filtering solutions offered today. Replacement filters are sold at a pretty affordable price, too, and with each filter lasting for up to 100 gallons of tap water, you get plenty of use out of them before you need to buy another.
Lifetime warranty – A huge benefit of the Filtered Clearly water pitchers is that they come with a lifetime warranty – and customer service is pretty good, too.
Retains water's natural minerals – While the Clearly Filtered removes more than 200 contaminants, it doesn't remove healthy minerals like calcium and magnesium, which also give water a more pleasant alkaline taste.
👎 What I Don't Like
Flow rate is fairly slow – This filter can provide a means of improving water taste and quality to the highest standard, but it doesn't do it quickly. Pitchers typically take up to 25 minutes to filter 10 cups of water, which isn't the fastest I've seen, and some Clearly Filtered water pitcher reviews claim the process takes even longer than this, especially when replacement filters are needed.
More expensive than other pitchers – While the Clearly Filtered system offers a much more impressive clean water solution than other pitcher water filters, its replacement filter cartridges cost more money than the average filter – especially considering they only last for 4 months.
Capacity is quite small – The Clearly Filtered's top reservoir only has a relatively small capacity, with this being standard pitcher size. This means you'll need to refill it fairly frequently, especially if you have a big family.
Not actually NSF certified – It would be reassuring if Clearly Filtered had paid for an NSF certification as extra proof that the pitcher removes the acclaimed contaminants. I'll update this Clearly Filtered pitcher review if the product obtains an NSF certification.
My readers get 15% off at clearlyfiltered.com 👉 Click here to get your coupon.
Found this review helpful?
Comment below or share this article!