Ever been hiking, ran out of water, and decided to test your luck with a nearby waterfall? I definitely wouldn't advise this – considering 80 percent of the world's wastewater ends up back in the environment without being treated, you can be pretty certain that your clean-looking stream water isn't so clean after all.
The better alternative, which won't force you to cut your trip short due to digestive disturbances, is to filter your water with a portable water filter. But considering every scientist, celebrity and influencer seems to have produced their own portable filter these days, which one should you go for?
Don't stress – I've done the hard work for you. Having worked as an independent reviewer in this industry for more than a decade, with published works in the likes of WQP Magazine and Sawyer Products, you can trust that I know what I'm talking about.
I've sifted through the market and put together a list of the 11 best portable water filters worth your money in 2021.
This guide is split into three sections:
A review section, providing essential information about the portable water filters on this list
A buyers' guide, covering the ins and outs of portable water filtration
An FAQ, offering additional info about the stuff you need to know
🥇 Best Portable Water Filter
Gravity – Epic Nano Water Filter Dispenser
Gravity – LifeStraw Flex Advanced Water Filter with Gravity Bag
Gravity – Platypus Gravity Water Filter
Gravity – Sawyer Gravity Water Filtration System
Pump – PortaWell
Pump – Katadyn Vario Water Filter
Pump – MSR MiniWorks EX Microfilter Water Filter
Straw – LifeStraw Personal Water Filter
Straw – Sawyer Products MINI Water Filtration System
Water Bottle – Epic Nalgene OG
Water Bottle – LifeStraw Go Water Filter Bottle
Filter
Details
Epic Nano Water Filter Dispenser

Type: Gravity
Weight: 1.89 kg
Filter lifespan: 150 gallons




☝️ Get 20% off - Click here for code

LifeStraw Flex Advanced Water Filter with Gravity Bag

Type: Gravity
Weight: 7 ounces
Filter lifespan: 500 gallons



Platypus Gravity Water Filter

Type: Gravity
Weight: 15.2 ounces
Filter lifespan: 300 gallons



Sawyer Gravity Water Filtration System

Type: Gravity
Weight: 8.8 ounces
Filter lifespan: 100,000 gallons

PortaWell

Type: Pump
Weight:
Filter lifespan: Carbon filter 1,000 & ceramic filter 10,000 gallons
Katadyn Vario Water Filter

Type: Pump
Weight: 15 ounces
Filter lifespan: 500 gallons



MSR MiniWorks EX Microfilter Water Filter

Type: Pump
Weight: 1.3 Pounds
Filter lifespan: 2000 liters



LifeStraw Personal Water Filter

Type: Straw
Weight: 2 ounces
Filter lifespan: 4,000 liters


Sawyer Products MINI Water Filtration System

Type: Straw
Weight: 2 ounces
Filter lifespan: 100,000 gallons



👉 Read the full review
Epic Nalgene OG

Type: Water Bottle
Weight: 10.2 ounces
Filter lifespan: 100 gallons



☝️ Get 20% off - Click here for code

LifeStraw Go Water Filter Bottle

Type: Water Bottle
Weight: 7.84 ounces
Filter lifespan: 1,000 gallons



---
⭐ Reviews – Best Portable Water Filter 2021
Epic Nano Water Filter Dispenser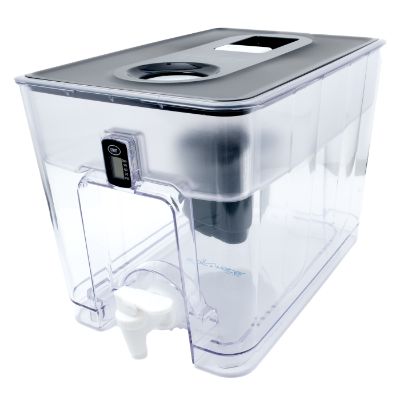 My readers get 20% off at epicwaterfilters.com 👉 Click here to get your coupon.
With a lightweight, portable design, the Epic Nano is an affordable portable water filter dispenser that can be easily stored and transported. This filter can remove more than 99.99% of more than 200 impurities, including bacteria, viruses, heavy metals, pesticides, chlorine, and herbicides. 
The Epic Nano is made from BPA-free plastic and uses gravity filtration to filter out contaminants at a steady rate. The filter has a 3-4 month lifespan, or up to 150 gallons, depending on how heavily you use it. 
While the Epic Nano is lightweight and portable, it has a relatively large holding capacity of up to half a gallon of water. This makes it ideal for using as a portable filtration solution for more than one person.
Pros:
Removes 200+ contaminants
Holds 150 gallons of water
Easy to use
Lightweight design
Cons:
Filter lifespan could be longer
Quite bulky
---
LifeStraw Flex Advanced Water Filter with Gravity Bag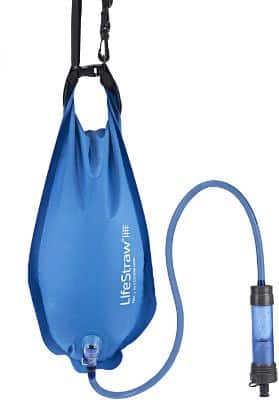 The LifeStraw Flex is one of the best portable water filter systems when it comes to versatility of use. You can use the filter as a personal straw filter to drink straight from a stream or a lake, attach it to your water bottle or the included bag for gradual gravity water filtration, and even use it as an inline water filter with your own water hydration pack.
You're safe to use the LifeStraw in any US natural water source, as the filter removes more than 99.9% of bacteria, as well as lead, microplastics, parasites, chlorine, other heavy metals, organic matter, and suspended sediment. This is an impressive range of contaminants removed for a filter of its kind; the majority of backpacking water filters aren't capable of removing chlorine and lead.
The system weighs just under 7 ounces, making it light and compact enough to carry with you in a backpack of any size. The filter has an impressive lifespan of 500 gallons, or just over 2, 000 liters of water, so it should last you a good few years before it needs replacing. Though the filter and connecting bag are a little tricky to put together at first, once you become familiar with the assembly, it's easy to put together and take apart.
Pros:
4 different ways to use
Long-lasting 500 gallon filter
Impressive range of contaminant removal
Cons:
Flow rate can be quite slow
Some customers had issues sucking through the straw
Needs to be flushed out regularly
---
Platypus Gravity Water Filter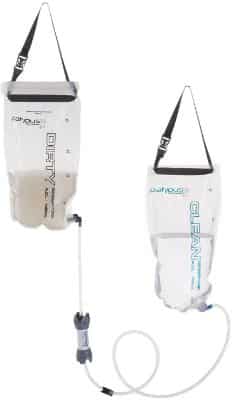 The Platypus is a 4-liter gravity water filter that you can use to filter, store and transport clean drinking water with you on the go. If industry certifications are important to you, you'll be interested to know that the Platypus meets EPA and NSF guidelines for the removal of bacteria and protozoa – though whether that means the gravity filter is actually NSF certified is unclear.
With a relatively fast flow rate, the Platypus can filter about 1.75 liters of dirty water per minute. It has a BPA-free construction, so the system won't add anything nasty into the water as it filters out contaminants. The filter is made from hundreds of hollow fibers, which are packed together and can trap the likes of giardia and cryptosporidium in their pores.
For its price, you get many years of use out of the Platypus. You can clean the Platypus and improve flow rate by backwashing the filter, and, with the right care and routine maintenance, this gravity water filter is designed to last for 1,500 liters of water, or just over 300 gallons. If you'd rather not filter water into the included bag, the Platypus comes with a handy universal bottle adapter, which makes it possible to filter water directly into a water bottle of your choice.
Pros:
Filter lasts around 5 years
Meets NSF guidelines for bacteria removal
Can be used with a water bottle or included filter bag
Cons:
Not the longest filter lifespan compared to other models
Filter clogs up quickly
Cleaning the inside of the "clean" bag is difficult; no easy way to get inside
---
Sawyer Gravity Water Filtration System
The Sawyer gravity water filter system is a easy-use filter with a 0.1 micron filtration pore size. The filter can remove more than 99.9% of all bacteria, like E. coli, salmonella and cholera. It also removes more than 99.9% of protozoa, like giardia and cryptosporidium, and 100% of microplastics. With a 1-gallon filter capacity, the Sawyer gravity system is a great filter for lightweight travel when hiking and camping.
When using the Sawyer filtration system as a gravity filter, it takes approximately 7 minutes for the system to filter a full gallon of water. With its wide cap, you can quickly and easily fill the water bladder. It also has a handle to make it easy to carry the bladder or hook it up on a tree branch for the quickest gravity water filtration.
Impressively, the Sawyer filter lasts for approximately 100, 000 gallons, or roughly just over 380, 000 liters of water. This is the biggest bonus of Sawyer filters by far – they last much longer than their competitors, providing you look after them well. To keep the filter in good shape, Sawyer recommends backwashing it regularly and sanitizing the filter after every outing.
Pros:
Ideal for lightweight travel
Impressive lifespan of 100, 000 gallons
Can use it to carry filtered water on the go
Cons:
No proper strap for suspending the bag
Bladder bag could be a little more robust
Some customers noticed leaking at the O-ring
---
PortaWell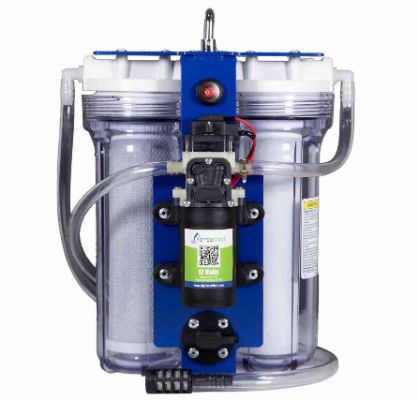 The PortaWell is a durable, high-quality electric pump filtration system that filters water at a rate of up to 60 gallons per hour. This filter can remove chlorine, metals, VOCs, and 100% cysts. It can also remove more than 99.9% pathogenic bacteria, making it suitable for filtering natural water sources.
There are two stages of filtration in the PortaWell: a carbon block filter (lasting for up to 1,000 gallons) and a cleanable ceramic filter (lasting for up to 10,000 gallons). Also included is a 5-micron sediment filter. 
It's easy to transport and store the PortaWell. The system does require electricity to operate, however. The company sells an addon solar panel & battery so that it can be used even in remote areas without direct electrical connection. One advantage of electricity use is that no hand-pumping is required, making this an effective no-fuss emergency water filter solution. 
Pros:
Two separate modes for convenince
Filter rate up to 60 gallons per hour
Long filter lifespans
No hand-pumping required
Cons:
Needs electricity
Solar panel and battery sold separately
Not the smallest filter on this list
---
Katadyn Vario Water Filter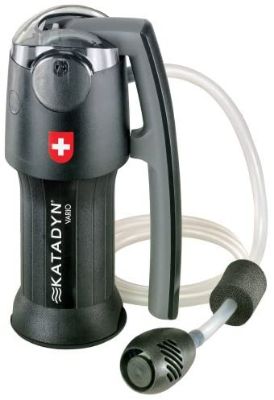 One of the best portable water filters when it comes to sturdiness and durability is the Katadyn Vario filter. The pump-style filter can completely eliminate a broad range of contaminants in water, including bacteria, protozoa, algae, cysts, spores and sediment, and all for a great price. Thanks to the system's activated carbon granulate, it can also reduce chemicals like chlorine, taste and odor.
Using glassfiber for microbiological filtration, the Katadyn Vario operates in two different modes for convenience. The "Longer Life" mode sends water through a ceramic disk for pre-filtration, working with an output of about 1 liter of water per minute. The "Faster Flow" mode sends water straight through the glassfiber filter membrane, with a faster water flow of about 2 liters per minute.
Inside the system is a dual-piston mechanism, which allows the filter to produce a continuous water flow without unnecessary effort. There's also an integrated bottle thread to make it easy to connect the filter to a water bottle. The system has a 2, 000 liter capacity, depending on your water quality, which is a fairly high volume compared to other pumps on the market. You can buy replacement filters separately online.
Pros:
Two separate modes for convenince
Eliminates a broad range of contaminants, including chlorine
Fairly long lifespan
Cons:
Fairly heavy; not ideal for taking on hikes
Pre-filter requires regular cleaning
Some customers experienced leaking problems
---
MSR MiniWorks EX Microfilter Water Filter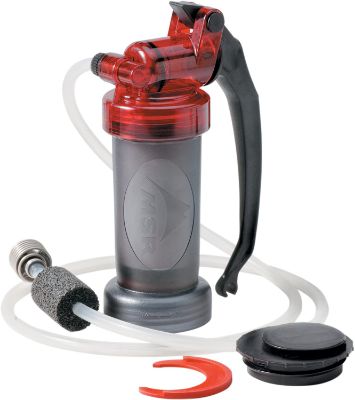 The MiniWorks is a Microfilter that eliminated disease-causing contaminants from water, such as bacteria, viruses and protozoa. The mini water filtration system has passed the EPA Guide Standard for the removal of these contaminants, meaning it removes more than 99.9% of them from water.
Being compatible with the majority of water bottles, including Nalgene bottles, the MSR Miniworks EX Microfilter is one of the most effective filters for using with particularly turbid or tannic water, such as lake water and melted snow. While it's bulkier and heavier than a squeeze water filter, gravity filters, or other mini backpacking water filters, there are benefits to owning this pump water filter that outweigh this slight inconvenience.
If you're happy to carry the extra weight, or you only need the MSR Miniworks EX for a stationary camping trip, you can use the system to fill your water bottles with clean drinking water that won't make you sick. It has a hose for suspending in water, with a small pre-filter that traps the larger contaminants. The flow rate of water won't be affected by this method of water filtration, as you force water through the system by pressing the pump.
The filter is coated with a ceramic media that has pores of 0. 2 microns, being tiny enough to prevent larger bacteria, viruses and protozoa from being able to pass through. A benefit of this portable water filter is that it also has a charcoal filter, which removes chlorine and improves water taste and odor.
Pros:
Passed the EPA Guide Standard for the removal of bacteria, viruses and protozoa
Compatible with wide-mouth water bottles
Additional charcoal filter for chlorine removal
Cons:
Heavier than other types of portable water filter systems
Have to carry around a damp hose after filtration
Not very compact
---
LifeStraw Personal Water Filter

The LifeStraw personal water filter is a handy straw-style water filter that can filter up to 1,000 gallons of water (or approximately 5 years of use). With a filter made from hollow fiber membrane, the LifeStraw's 0.2 micron pores block contaminants in the filter, allowing only clean water to pass through into the drinking chamber.
Its easy to use design makes the LifeStraw a popular portable water filter for hikers who have less water filtration experience with a hand pump or gravity filters. Acting as a filter and a straw in one, this portable water filter can simply be dipped straight into a water source and drank from. The only issue with this is that you might feel thirsty when you're not near to any water, and the LifeStraw doesn't have a container or bag for storing clean drinking water on the go. But for its price, this is a problem that's easy enough to put up with.
To make sure water flow is at its best, you'll need to backwash the LifeStraw and clean out the filter's contaminants from time to time. If you don't do this, you'll find that the filter becomes so clogged that it's difficult to suck through the straw because of the resistance. You can also blow into the filter as a quick and easy way to remove some of the bigger contaminants.
Pros:
Relatively long lifespan
Lightweight and portable
Easy to use
Cons:
Doesn't remove viruses from water
Other filters have longer lifespans
Doesn't have a feature for water storage
---
Sawyer Products MINI Water Filtration System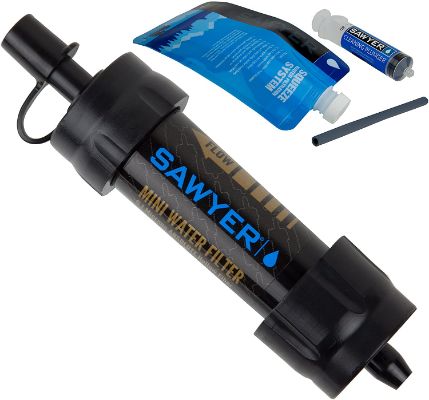 The Sawyer Products MINI water filtration system is the best backpacking water filter you can get if you're looking for the longest lifespan possible. This water treatment filter lasts for a huge 100,000 gallons of water, or nearly 4, 000 liters, which means you'll technically never need to replace the filter with a new one even if you use it for the rest of your life, providing you look after it well.
With pores of 0. 1 micron in size, the Sawyer Products filter can trap the smallest contaminants, including bacteria like E. coli and protozoa. Weighing just 2 ounces, the Sawyer MINI is ideal for carrying in your backpack on a hiking trip when every extra ounce of weight matters.
The Sawyer Products filter uses an absolute filtration media, which consists of hundreds of u-shaped tubes that are too small for contaminants to pass through. You can use the Sawyer MINI as a straw or as a personal filter with the included water storage bag or a bottle of your choice. The flow rate of this portable water filter is relatively good, especially for the filter's price, and Sawyer recommends backwashing it after complete filtration of so many gallons of water for your bottle or bag, which will remove any larger contaminants.
Pros:
Best water filter lifespan at 100,000 gallons
Easy to use
Tiny 0. 1 micron pores
Cons:
Doesn't remove viruses from water
Gravity filtration is relatively slow
Difficult to fill the full bag for carrying clean water
See also: Lifestraw vs Sawyer MINI Comparison (2021)
---
Epic Nalgene OG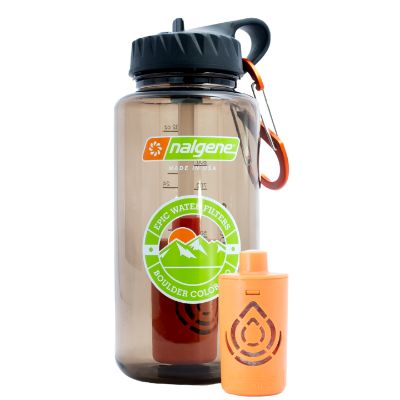 My readers get 20% off at epicwaterfilters.com 👉 Click here to get your coupon.
The Epic Nalgene OG Woodsman is a portable bottled water filtration solution designed for camping, hiking, and everyday use. The filter lasts up to 300 gallons, and, with the bottle having a 1-liter capacity, this should mean you can refill it 100 times before needing to replace the filter with a new one.
Whether you're looking to remove contaminants from public or natural water sources, the Epic Nalgene OG Woodsman has got you covered. This filter bottle can remove bacteria, viruses, heavy metals, chlorine, agricultural pollutants, pharmaceuticals, and more.
The bottle has a wide-neck design, making it easy to clean between uses. Keep in mind that, with its large 1-liter capacity, the bottle is quite big and bulky, which may not be ideal if you have very limited rucksack space.
Pros:
300-gallon filter lifespan
Easy to clean between uses
1-liter holding capacity
Cons:
Quite bulky for a water bottle
Straw can't suck up the last quarter of water
---
LifeStraw Go Water Filter Bottle
The LifeStraw Go water filter bottle is the best bottle filter for people who want to avoid using single-use plastic water bottles. This filter bottle can be used on a day-to-day basis, whether you are going to work or taking a trip away, but its ability to protect against parasites, bacteria, microplastics, silt and sand make it particularly handy to have on a hiking trip with limited access to clean water.
It's one of the higher-price filters available, but you pay for the convenience. Bottle filters like the Lifestraw are some of the simplest to use, as there's nothing you need to connect together – you simply add water to the bottle, and it'll filter out the contaminants as you drink. Though the Lifestraw personal water filter is slightly bulkier than other personal water purifier systems, it is fairly light in weight, and won't add any major weight to your backpack.
There are two filters that make up the LifeStraw's system: a membrane microfilter and an activated carbon filter. This helps the water purifier to remove not only bacteria and other pathogens from water, but also the likes of chlorine and organic chemical matter.
The membrane microfilter lasts for up to 1,000 gallons, and the carbon filter lasts for 26 gallons, so you'll need to be prepared to pay for replacement filters more frequently with this one. But the advantage is that you don't have to buy a whole new system like you would with other portable filter systems; you keep the same bottle and just buy the replacement filters.
Pros:
Very convenient to use
Won't add extra weight to a backpack
No setup required
Cons:
Filters don't last very long compared to other brands
Can only use the bottle to carry water
Drinking the water takes some work because of the resistance from the filter
---
🧾 Portable Water Filter Buyer's Guide
Use this guide to learn all you need to know about portable water filters before making a purchase.
🔠 Types of Portable Water Filters
Portable water filters come in different designs and all require slightly different methods of filtration. The type of water filtering system you opt for will most likely affect its weight, efficiency, lifespan, convenience, and ease of use. The best and most common types of portable water filters are listed below.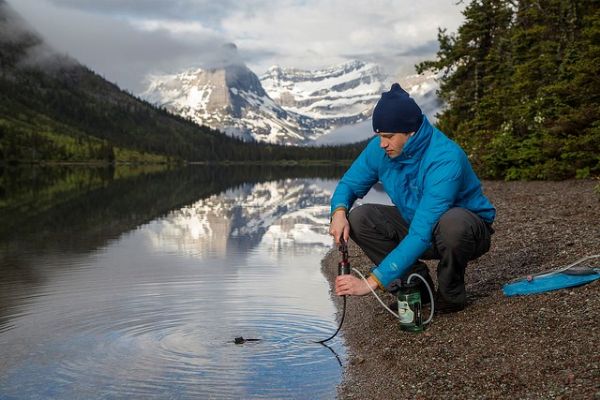 Straw Filters
Straw filters are one of the best backpacking water filter systems for people looking for the most compact, lightweight option. They don't come with any bulky bags, tubes or bottles – you simply stick the end of the straw into a water source, suck the straw as you usually would, and water passes through the filter and straight into your mouth. The sucking pressure sends the water quickly through the filter, giving you immediate access to clean water.
While they're incredibly handy for taking with you in a hiking area you're well familiar with, straw filters aren't considered the best emergency preparedness water filter for hiking, as they can't be used to filter water into a bottle or a bag. This means you can only use them when you stop at a water source, which isn't convenient if you're only planning to stop by a lake or a stream a couple of times a day.
Gravity Fed Filters
Gravity water filters are a better option for anyone who wants constant access to clean water during a hiking trip. With a gravity filter, there are two bags, connected by a pipe and a water filter. The idea is that you fill the "dirty" bag with dirty water, then allow for the water to travel through the pipe and the filter, which removes bacteria, protozoa and other contaminants. Water then flows into the "clean" water bag, which you can drink from directly or pour into a water bottle.
Gravity filters allow you to get a good supply of drinking water and keep topping up at any water sources you stop at, which you can then drink at intervals whenever you're thirsty. They're lightweight and easy to store in your backpack. When the gravity water bag isn't in use, you can simply fold it up and stash it away until you need it again.
Pump Filters
A pump filter is usually made from a ceramic filter cartridge that sits inside a plastic filter casing. A pump filter's cartridge is packed with thousands of tiny holes, which trap contaminants, helping to eliminate sediment and improve water taste. Some pump filters also have a pre filter that filters out large sediment and prevents it from clogging the ceramic filter.
The majority of pump filters come with two hoses: one that you use for clean water and one that is uses for unclean water. You submerge the end of your "dirty" hose into your water source, and the clean water hose sends filtered water into a jug or bottle of your choice. Using a pump filter is fairly simple – you just push down and pull up on the system's handle to force water through the "dirty" hose, through the filter, through the "clean" hose and into your clean water reservoir.
Filtered Water Bottles
Filtered water bottles look just like regular water bottles, except they contain filters that remove the likes of chemicals, bacteria and protozoa to make water safe to drink. They're one of the easiest methods of accessing clean drinking water, as there's no hassle of chemically treating water, drinking direct from a water source, or dealing with a multi-component gravity water filter before you can have a drink.
You can use a filtered water bottle with any freshwater source, whether that be a river or stream, or a non-drinking water faucet. The majority of water filter bottle systems contain a straw, and by sucking through the straw, you provide the force that sends water through the filter and into your mouth. After a certain amount of water filtered, you will need to buy a replacement filter cartridge, as it will be too clogged with contaminants to work quickly and effectively at contaminant removal.
UV Purifiers
UV water purifiers are handheld devices that use can use for disinfecting water with ultraviolet radiation. The major selling point of a UV purification system is that unlike the majority of handheld water filters, it removes bacteria, protozoa and viruses. It's difficult to find a filter that removes viruses from water, but because of its specific method of water purification, a UV water purification system gets the job done.
Most UV water purifiers work by sending water through an enclosed space, where it is treated by UV light. It penetrates the harmful contaminants in water and alters their DNA, preventing them from being able to cause harm. You can find portable UV water purifiers in a variety of shapes and sizes, but they're most commonly found in water bottle form.
💭 Key Portable Water Filter Features to Consider
Flow Rate
If you're solely relying on a portable water filter to provide clean drinking water for yourself and anyone else you're traveling with, flow rate is something that needs to be above average, at least. A poor flow rate will mean that water takes a much longer time to filter, especially with gravity water filters, which don't have pressure from a pump or a person sucking through a straw to force water through the filter. Usually, you can address a flow rate issue by backwashing your filter for gravity water filter types, or by buying a new filter as recommended by the manufacturer if you have pump system.
Filter Capacity
The filter capacity for the majority of portable water filters is generally quite good, and you should get at least 3 to 5 years out of a filter before you'll need to buy a replacement. Some filters are more impressive than others, like the Sawyer Products MINI filter, which has a lifespan of 100,000 gallons (or around 450, 000 liters). This is equal to about 200 years, but that's not to say it's the best choice to go for one like this. You might necessarily want (or need) a filter that lasts this long, especially as the majority of portable filters are very cheap to buy. If you only plan to use your filtering system once a month or less, a lifespan of a few years is more than enough.
Weight
Weight is a varying factor depending on which portable water filter you go for. Systems like straw, squeeze and gravity water filters are the lightest options, as they're usually made from BPA-free lightweight plastic and have hollow fiber filters that don't weigh much at all.
If you opt for a pump system, you should expect the system to be a lot more of a weight in your backpack due to its construction. The same goes for UV water systems – their materials will make them slightly heavier than all-plastic systems. Of course, any filter that allows you to carry around water will feel heavier when it's full, which makes straw water filters, which you can only use to drink directly from water sources, the lightest-weight option possible.
Physical Size
Size is just as important as weight if you're trying to keep your backpack as free of clutter as possible. Bottle filters and filters with a hand pump naturally take up more space because they're made from more components.
The smallest portable filters are the kind that you can use as a straw or attach to a bottle or bag if you choose to carry water with you – these tend to be small enough to fit into the palm of your hand, and can be easily stashed in an inner pocket of your backpack or in a pocket in your clothes. It's best to buy a smaller system if you're planning to take a particularly lengthy hike, including an overnight stop-off, and you know your backpack is going to be filled with camping supplies and other essentials.
Ease of Use
When you're out hiking and camping, you might see spending lots of time using a water filter with a handpump as a ritualistic part of your escape into nature. In this case, you won't mind that pump filters are slightly more difficult to use, and require a more thorough setup than other portable filters. The likes of squeeze water filter systems, bottle filters, and filters that attach to bags and bottles tend to be much easier to use as you only need to make a single connection, or, if the filter is already set up, none at all. Portable water filters that allow you to drink directly from a source of water are easiest to use as you simply suspend one end of the filter into the water and drink through the other.
Durability
Generally, all portable water filters have a lifespan you couldn't complain about. The majority of them last for more than 2, 000 liters, or roughly 500 gallons, of water. It's pretty standard for water filtration systems of this kind to last for thousands of gallons, so if you find a water filter that can't do this, it might be best considering whether for the price you're paying, you're getting a valuable product.
You can make a big difference to the durability of any portable water filter, too – the better you follow a manufacturer's instructions with maintenance and backwashing, the longer your filter will last. The manufacturer may also provide specific cleaning information, like recommending products you can use to clean out the system on a once-weekly or once-monthly basis. It's important to follow the advice of the manufacturer to ensure your system stays at its best for longest.
❔ Portable Water Filter Frequently Asked Questions
What does "potable water" mean?
"Potable" isn't an accidental misspelling of "portable" – if you hear water referred to as potable, it just means it's safe for human beings to drink. It's important to note that potable water doesn't automatically taste good just because it's safe to drink! You'll probably find that when you use a portable water purifier to make potable water, the water will still have a fairly unpleasant taste.
What makes natural river, stream or lake water unsafe?
Even if a natural body of water looks clean, fresh and inviting to drink, the reality is, it most likely isn't. This water probably contains microbiological pollutants, such as protozoa, bacteria and viruses, which can be a result of everything from farming activities to stormwater runoff and recreational use of the water by both humans and animals. That's why buying one of the portable water systems, like a bottle filter or a pump filter, is so important if you're planning to make a trip into the backcountry and drink water from one of these sources.
Are there any standards that a manufacturer needs to meet when selling a portable water filter?
No – there are no legal standards that a company must comply with. With the industry being relatively unregulated, it's important that you do plenty of research before you make a purchase. The best water filters in this genre are entirely transparent with exactly how their filters are made and what they're designed to do. Some filters may also be NSF certified, if they are capable of removing bacteria and viruses. Looking at reviews will help you to determine the value of a filter.
What is the best price to pay for a portable water filter?
The price varies depending on the type and quality of the product. Expect to pay more for a filter that has a longer lifespan of 100, 000 liters or more. The price will also be higher for a system that's been produced by a popular manufacturer, as there's more stability in buying from a well-known brand. Either way, there's never any need to pay more than $100, usually not even $70 or $80, for a good portable water filter that'll continue to work well over years of use.
I'm interested in buying a portable water system. What's the next step from here?
If you've finished reading this review, it's a good idea to jump straight into customer reviews for your favorite filters based on the facts you've read here. Opinions should always be taken with a pinch of salt, but customer reviews can help you to get more of a feel for a product. Look for reviews written by people like yourself, with similar water filtration goals.
What does it mean if a water filtering system is tested to EPA standards?
You might see that a portable water system you're interested in is marketed as meeting EPA standards. The EPA (Environmental Protection Agency) Guide Standard Protocol can be found here, and it essentially determines how much of certain contaminants water can contain to be safe to drink. If a filtering system has been tested to meet EPA standards, it means it should filter water to remove contaminants like bacteria and protozoa. The best filters can also remove viruses.
What other testing laboratories may I hear of when searching for a water filtering system?
There are a few other notable testing bodies that are nationally renowned for being the real deal when it comes to third-party approval. NSF (National Sanitation Foundation) and WQA (Water Quality Association) are two names that you're most likely to hear mentioned when searching for a portable filtration solution. If a system is NSF or WQA certified, it means it has successfully proved in laboratory testing that its quality of filtration meets its advertised standards.
What is the best feature of a personal water filtering system?
The best feature, regardless of your water filtration needs, is the filtering media itself. The best filters are made of hundreds of tiny pores, which are too small for contaminants to pass through. Pore sizes of 0.1 microns are the best, but 0.2 micron pores are still really effective at trapping even the smallest of impurities in water. If you opt for a system that doesn't have a traditional filtering media, like a UV filter, the best and most important feature is whatever process is used to clean the water.