The best whole home water filtration system for municipal tap water is the SpringWell CF. These are our top picks based on contaminant removal capability, capacity, quality, customer satisfaction, and of course affordability.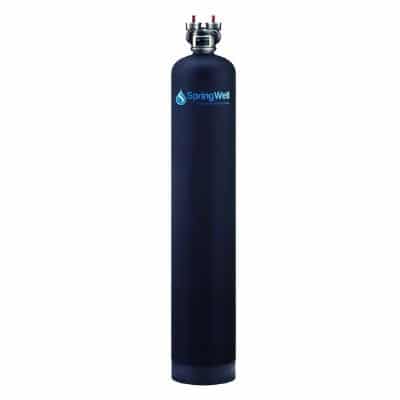 SpringWell CF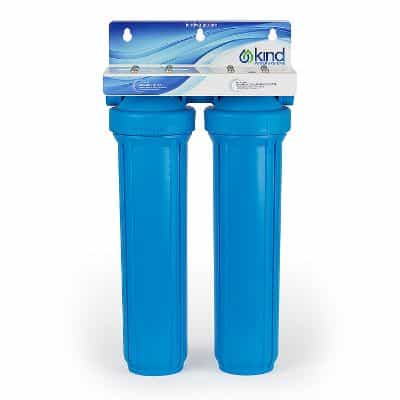 Evo E-1000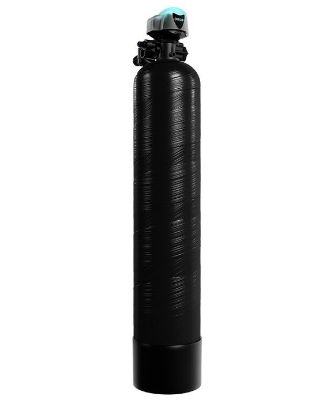 DROP Whole House Backwashing Filter
Water filters aren't essential, but it's easy to see why they're so popular. Homes that don't use whole house water filters typically experience rust staining, more frequent appliance breakdowns, and a higher likelihood of lead contamination compared to those that use filtration solutions.
Looking for the best whole house water filter can be overwhelming. When there are so many choices, how do you know what's right for you? Which brands can you trust? How can you be sure you're making the smartest investment?
That's where I can help.
I created WaterFilterGuru.com to share my knowledge in this industry and help people like you find the best at-home filtration solutions. With more than 3 million yearly visitors, I know the ins and outs of the water filter market, including the most promising brands and the products that customers are raving about.
In this whole home water filter buyers' guide, I've reviewed 8 products that have proved, after extensive research, to be the most popular, best-performing filters available in 2023. I've ranked the filters based on their features, durability, and ease of use, amongst other factors.
In this guide, I'll share:
The only 9 whole house water filters you need to know about right now
What to consider when buying a whole house water filter
Whole house filter installation and maintenance, plus answers to your FAQs
🥇 Best Whole House Water Filters
📊 Comparison Chart of Whole House Water Filters
| System | SpringWell CF | Evo E-1000 | DROP | SpringWell WS System | SoftPro System | US Water Systems Matrixx | US Water Systems BodyGuard Plus | Home Master HMF3SdgFeC | Home Master Custom System |
| --- | --- | --- | --- | --- | --- | --- | --- | --- | --- |
| Ranking | 1st | 2nd | 3rd | 4th | 5th | 6th | 7th | 8th | 9th |
| Ratings | 5/5 | 4.5/5 | 5/5 | 5/5 | 4.5/5 | 4.5/5 | 4.5/5 | 4.5/5 | 5/5 |
| Price | $$ | $$ | $$$ | $$$ | $$ | $$$ | $$ | $ | $ |
| Contaminants Removed | 10+ | 10+ | 10+ | 3 | 10+ | 3 | 10+ | 10+ | Sediment |
| Capacity | 1M gal. | 80K gal. | 1M gal. | n/a | 600k or 1M gal. | 1M gal. | 1M gal. | 100K gal. | – |
| Flow Rate | 9 – 20 GPM | 15 GPM | 5-8 GPM | 12 – 20 GPM | 6 – 15 GPM | 10 – 25 GPM | 10 – 20 GPM | 15 GPM | 20 GPM |
| Annual Cost | ~$40 | $120 - $300 | n/a | <$150 | ~$40 | $300 – $400 | ~$60 | $260 – $580 | $170 – $680 |
| Warranty | Lifetime | Lifetime (limited) | 5 years | Lifetime | Lifetime | Lifetime, 10 years, 5 years | Lifetime, 10 years, 5 years | 2 years | 2 years |
---
⭐ Reviews – Whole House Water Filters 2023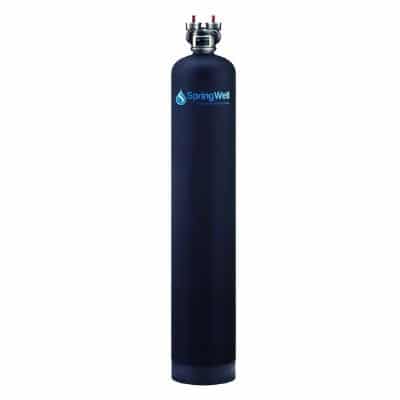 SpringWell CF
If you're looking for a certified whole home filter that reduces high levels of harmful contaminants, take note of the SpringWell system, as this top pick whole house water filter is one example of the best industry-leading options available.
Key Features:
Broad contaminant removal – The SpringWell CF uses certified KDF and catalytic carbon coconut shell filtration media to improve water quality and almost completely remove chlorine, chloramine, heavy metals, PFOS and PFOAs, herbicides, pesticides, and more.
4 stages of thorough filtration – This whole house water filtration system combines 4 stages: a sediment filter, KDF filtration media, a coconut shell carbon media, and a final stage that eliminates channeling while still giving the water plenty of contact time with the filters.
Potential for DIY installation – If you're familiar with plumbing, you'll be able to install the SpringWell whole house water filter system yourself.
6-month money-back guarantee – You can buy the SpringWell risk-free, knowing that you can return it within 6 months if it isn't right for your home.
Three size options – Flow rate isn't an issue with the SpringWell CF as there are three sizes available: one for 1-3 bathrooms, one for 4-6 bathrooms, and one for 7+ bathrooms.
We installed and tested a Springwell CF system in a home in Arvada, Colorado. Here are the results of the CF filter using mytapscore.com.
Pre-CF Installation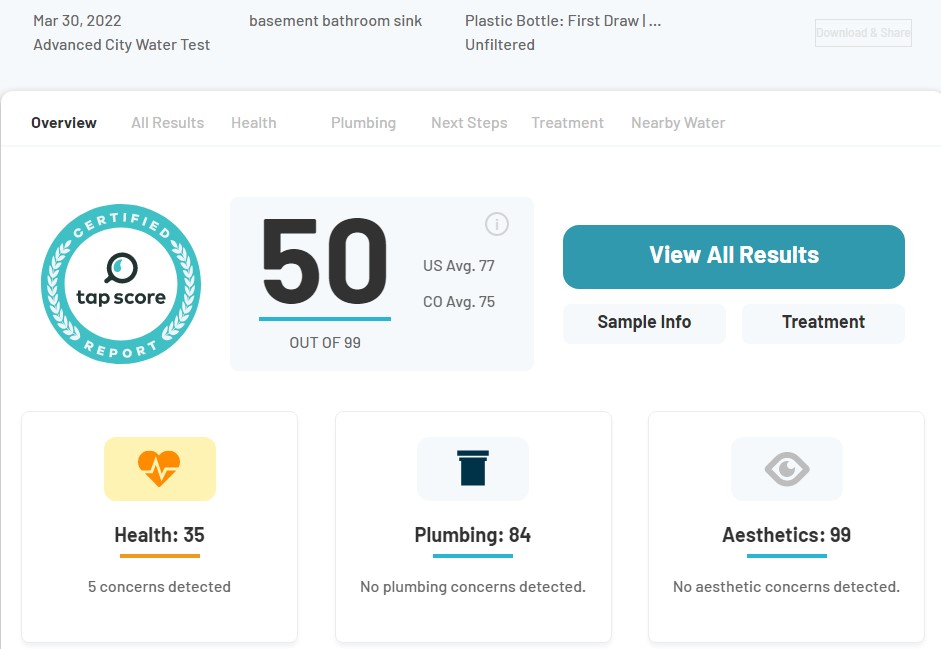 See the full lab test results report here.
Post-CF Installation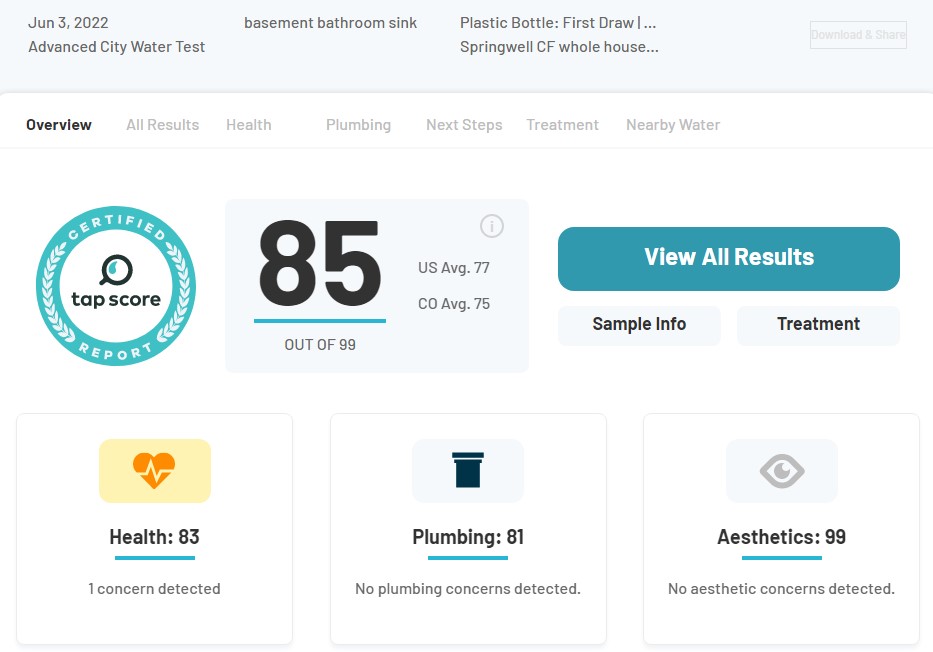 See our full lab test results report here.
Best For:
Anyone looking for one of the best value-for-money whole house water filter systems, manufactured by a trusted brand and backed by impressive lifetime warranty coverage.
Pros:
The SpringWell CF uses all NSF certified, USA made components, so you can guarantee the quality you're looking for.
The system is relatively low-maintenance – you don't need to do anything aside from changing the sediment filter cartridges.
When you buy this water filter, you're backed by a 6-month money-back guarantee and lifetime warranty.
Cons:
The cartridge sediment filter will need to be replaced frequently (every 6 to 9 months).
Not all parts for installation are included, so you'll need to buy the necessary parts separately.
Read the full review: SpringWell Whole House Water Filter System Review
---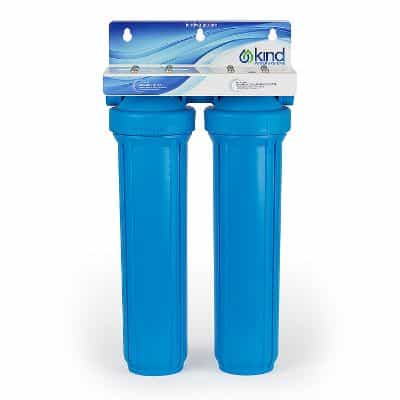 Evo E-1000 Whole House Water Filter
The Evo E-1000 Whole House Water Filter is the best cartridge-based whole house water filtration system for city water available today, using a long-lasting sediment pre-filter and catalytic carbon block filter to remove hundreds of contaminants.
Key Features:
Strong contaminant removal – The two combined filters in Evo E-1000 Whole House Water Filter give media-based systems a run for their money, removing contaminants including chlorine, chloramine, dirt, debris, rust, and more.
Washable sediment pre-filter – The system's sediment pre-filter is washable and reusable, so you can save money and avoid buying unnecessary filter replacements in the long run.
Catalytic carbon block media – The Evo E-1000 Whole House Water Filter uses catalytic carbon media, one of the most effective and commonly used media in whole house systems, capable of removing chlorine, chloramine, some heavy metals, PFAs, pesticides, and more
80,000-gallon lifespan – The cartridges in this whole house water filtration system last for up to 80,000 gallons. That's just 20,000 gallons less than our top cartridge-based system for well water (see below).
Best For:
Anyone with a smaller upfront budget who wants an effective way to remove chlorine and chloramine from their city water.
Pros:
The Evo E-1000 Whole House Water Filter is one of the most capable cartridge-based whole house water filters, removing hundreds of contaminants from our water without affecting our flow rate.
It's good to see that this whole house water filtration system has a flow rate of up to 15 GPM and is suitable for homes with up to 6 bathrooms, so one system is inclusive to everyone.
The filter system has a simple, two-cartridge design, and we found it easy to install the unit at our water line as it only requires two connections.
Solid carbon block does not produce carbon dust
Cons:
The Evo E-1000 Whole House Water Filter is an incredibly promising filter that undersells itself. We'd love to see more information on the website about how the filters work including test results (we obtained some of our info through a direct call with the company).
Increased yearly cost due to cartridge replacements.
Read the full review: Evo E-1000 Review
---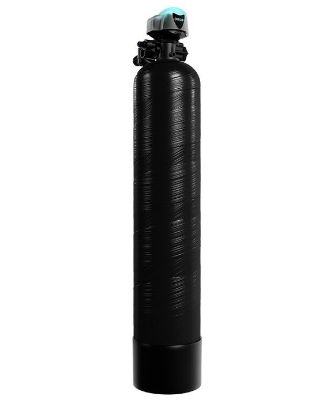 DROP Whole House Backwashing Filter
If you're on the hunt for a high-end, premium whole house water filter with all the latest tech features, you can't go wrong with the DROP Backwashing Filter. This smart water filtration system uses a Jacoby catalytic carbon filter to remove numerous organic solids, including sediment, chlorine, chloramine, pesticides, THMs, and other chemicals.
Key Features:
Comprehensive Jacoby catalytic carbon filtration – The DROP Backwashing Filter uses Jacoby catalytic carbon filtration to remove chloramine, chlorine, THMs, pesticides, and other chemicals commonly found in domestic water supplies.
Choice of two sizes – There are two system sizes to choose from: the F-15, with 1.5 cubic feet of media and a 5 GPM flow rate, and the F25, with 2.5 cubic feet of media and an 8 GPM flow rate.
Remote control via smart app – You can connect the DROP Backwashing Filter to the DROP smart app, letting you monitor and control the system from anywhere. You can also receive push notifications, emails, or SMS messages with important system information.
Smart leak detection –If you pair the system with the DROP Smart Hub and Leak Detectors, you'll have the peace of mind of having constant knowledge of the state of your plumbing system – and you'll be the first to know if a leak occurs.
Long-lasting filter media – The filter media has a lifespan of around 1 million gallons and is periodically refreshed by its backwashing cycle, which flushes the media to remove excess debris and chemicals.
Best For:
People who want a smart whole house water filtration system that they can connect up with a smart home system for leak detection, remote monitoring, and more.
Pros:
It's good to see that the DROP Backwashing Filter uses catalytic carbon filter media, since this is an upgrade from the less capable activated carbon filter, giving the ability to remove additional contaminants including chloramine.
Installing anything at your main water line carries the risk of leaks, and we appreciate that you can buy smart leak detectors (at an additional cost) that pair with the system and alert you if water is detected. DROP filters are currently the only filters in the world that can be paired with smart leak detectors.
If you hate maintenance, we think you'll love the lack of work involved in keeping this system operating. It backwashes automatically, and there's no need to replace filter cartridges – the media has an excellent 1-million-gallon lifespan.
Cons:
If you want to enjoy the smart leak detection, you'll need to spend extra on the DROP smart leak detectors.
The upfront cost is just under $2,000, so this isn't a cheap filtration system.
---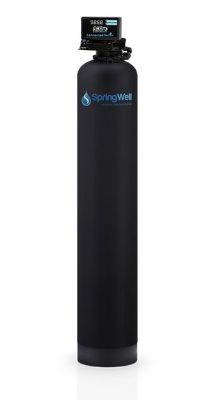 SpringWell WS
The SpringWell WS is my top pick for whole house well water filters, using air injection/oxidation to remove up to 8 PPM of hydrogen sulfide, up to 7 PPM iron, and 1 PPM manganese.
Key Features:
Four thorough stages of filtration – The WS's filtration stages include a sediment filter, an air induction oxidation filter, greensand media, and an automatic backwash stage.
Two sizes available – You can choose between two system sizes: 1-4 bathrooms and 4+ bathrooms, so flow rate should never be an issue.
Automatic backwash –The electronic control valve allows you to set and forget the automatic backwash cycle.
Virtually no maintenance required – The SpringWell WS doesn't use cartridge filters and doesn't need chemical top-ups. You just need to change the sediment filter every 6 – 9 months.
Free installation kit optional – SpringWell is one of the few brands to offer an installation kit free of charge, including everything you need to install the system.
Best For:
Well owners who want to remove a selection of common well water contaminants with a highly-efficient system from a trusted brand.
Pros:
The SpringWell offers a capable performance, removing8 PPM of hydrogen sulfide, up to 7 PPM of iron, and 1 PPM manganese – and with a good flow rate of 12 GPM.
The system connects up to a Bluetooth app that lets you view and amend settings from your phone.
The system requires no maintenance and uses no filters aside from the sediment pre-filter.
Cons:
This well water filter is expensive compared to other similar filters, and you'll likely have to pay additional costs for the filter to be professionally installed.
You'll need to source your own fittings and pipings for installation, and the fittings that come with the system are plastic.
---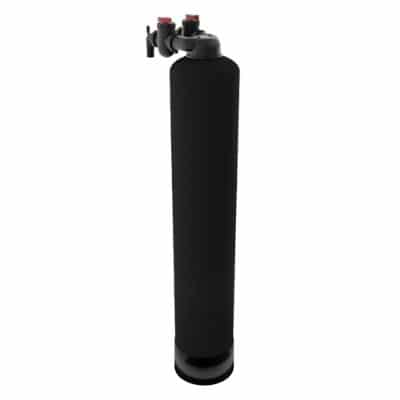 SoftPro Whole House Upflow Carbon Filter
The SoftPro 5-year water filter system is a long-lasting, low-maintenance whole home carbon filter that can filter 600, 000 gallons to 1,000, 000 gallons of water over approximately five years.
Key Features:
Catalytic carbon media – This whole house filtration system uses catalytic carbon, which works by using adsorption to trap harmful contaminants in the filter media and prevent them from passing through with the smaller water particles.
Removes common municipal water contaminants – The SoftPro can remove chlorine & chloramines, as well as pesticides, herbicides, heavy metals, and volatile organic compounds (VOCs) from water.
Additional KDF sponge and sediment pre-filter – Also included with the SoftPro is an added KDF sponge, which uses oxidation and reduction to remove heavy metals, and a 5 micron sediment pre-filter, which can remove sediment like sand and dirt from water.
Relatively easy installation – The SoftPro comes with an upflow valve and male threaded connections, filter media, and tank. It's easy for a person with DIY experience to install this system.
Best For:
Anyone looking for a capable media-based whole house filtration system that's capable of removing 99.9% of common city water impurities, including chlorine and chloramines, but doesn't cost a fortune.
Pros:
The SoftPro has a long filter life of between 600,000 and 1,000,000 gallons, or around five years.
The SoftPro doesn't require power to run. It also produces no wastewater, making it one of the more efficient systems available.
Costing around $700, the SoftPro won't break the bank, and is around half the price of similar whole house filtration systems.
You can choose between two systems depending on the size of your home, and how much water you need.
Cons:
Currently not much specific info on the manufacturer's website about the filter
No evidence of NSF certification
Read the full review: SoftPro Whole House Upflow Carbon Filter Review
---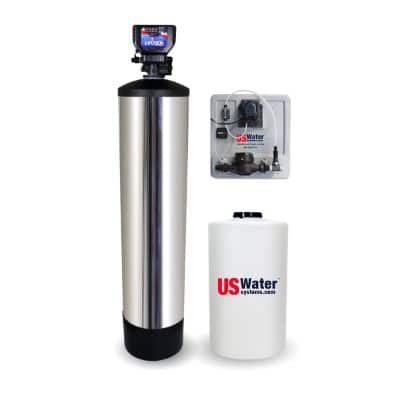 US Water Systems Matrixx Infusion Iron and Sulfur Removal System
The Matrixx Infusion is my top choice for well water containing iron and sulfur. This system filters 20 PPM of iron and 30 PPM of hydrogen sulfide – more than the majority of other well water filters on the market. You can choose from four flow rates: 10 GPM, 15 GPM, 20 GPM and 25 GPM.
Key Features:
Four thorough filtration stages – The Matrixx Infusion uses chemical injection and oxidation to remove iron and sulfur, split into four stages: hydrogen peroxide is injected into water; minerals are oxidized; minerals are filtered out of water by a coconut shell catalytic activated carbon media; automatic backwashing washes away the oxidized minerals.
Easy to set up and run – It takes less than 30 seconds to program the WaterLogix technology and set the system up ready for use.
Superior filter backwashing – The catalytic carbon media lasts up to 5 years thanks to the Matrixx Infusion's superior backwashing function.
Efficient operation –The filter's whirling Vortex backwashing technology allows you to use 30% less water and save money in the process.
Best For:
Anyone whose biggest concerns are iron and sulfur in their well water. This filter is head-and-shoulders above the competition for sulfur removal, and it's one of the best for iron removal, too.
Pros:
The Matrixx Infusion is of the best whole house well waters you can find for iron and sulfur removal.
You don't need to replace any cartridge filters in this system, and the filter media lasts up to 5 years before it needs replacing.
You can install the Matrixx Infusion yourself if you're a handy person, and the instructions manual features clear steps and images.
Anyone who buys this system is protected by a full 7-year warranty.
Cons:
This unit uses hydrogen peroxide, which will need replenishing frequently. Two 2.5 gallon bottles cost around $80.
The Matrixx Infusion doesn't use a natural iron or sulfur removal process, and you might not want to add chemicals to your water.
---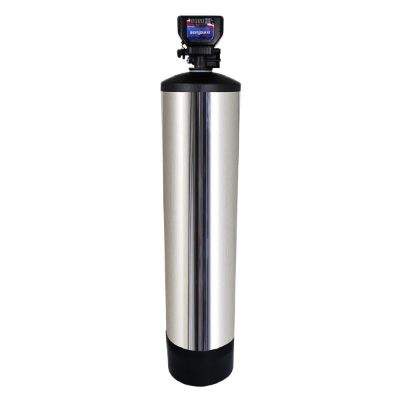 US Water Systems BodyGuard Plus
The Bodyguard Plus is a great budget friendly whole-house municipal filtration system, offered by popular water treatment brand, US Water Systems. This system is available in 3 flow rates: 10, 15 and 20 GPM, and can reduce or remove a combination of the most common drinking water contaminants.
Key Features:
New and improved design – Containing 35% more media than the original Bodyguard filtration system, the Bodyguard Plus is designed to work harder, for longer.
Removes a broad range of contaminants – This single-tank filtration system can remove chloramine and chemicals, as well as pesticides, lead and other heavy metals, chromium 6, bacteria, viruses, and cysts.
Efficient performance – Using smart valve technology and backwashing, this whole house softener is designed to run off as little water as possible, reducing water waste and improving efficiency.
Effective filter media design – The Bodyguard Plus' resin consists of catalytic carbon and granular activated carbon (GAC), two popular materials that have proved consistently effective at water filtration. There's also a 5-micron sediment filter that acts as a pre-filter, helping to protect the system.
Best For:
Anyone who wants to make their water healthier and safe to drink by removing a combination of aesthetic contaminants and microbiological contaminants using a single filtration solution – no UV purification required.
Pros:
While the Bodyguard Plus removes the bad stuff from your water, it still retains the healthy minerals, which helps improve the overall taste of water.
The system's smart valve technology reduces water waste, only backwashing when absolutely necessary
If you plan to install this system yourself, you should have no problem following the clear installation instructions.
You can buy the Bodyguard Plus in three sizes, so you can choose the precise flow rate that's right for your home. On all systems, the valves and electronics have a 10-year warranty, while the media has a 5-year warranty.
Cons:
Although the Bodyguard Plus has simple installation instructions, the process can be too complex for some people.
The system's pre-filtration options cost extra, but you'll need it to protect the media and extend its lifespan.
---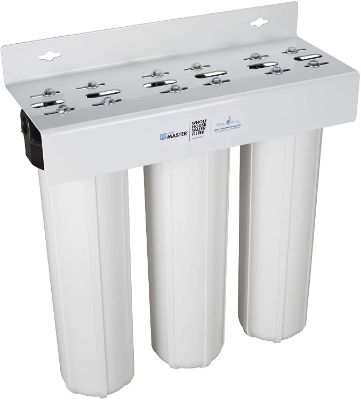 Home Master HMF3SdgFeC
The Home Master HMF3SdgFeC is designed to remove up to 95% of chemicals, sediment, and different contaminants commonly found in well water.
This high-capacity filter boasts a flow rate of up to 15 gallons per minute and lasts for up to 1 year before filter changes are required.
Affordable, effective contaminant removal – The Home Master HMF3SdgFeC removes a range of contaminants from water, including lead, sediment, VOCs, iron, and herbicides, an affordable price.
Oversized fittings and filters – Your water pressure won't drop when you use the Home Master system, thanks to its oversized fittings and filters.
Long-lasting filters – The filters last for 6-12 months before they need replacing, so maintenance isn't too frequent.
Install-and-forget design – With no control head to manage and no regenerations or backwashing to program, you can simply install the system and change the filters when needed.
Best For:
Anyone looking for an affordable, top-performing well water filter that tackles a variety of contaminants, rather than focusing purely on iron, sulfur, or manganese.
Pros:
If you have some DIY skills, you should be able to install the Home Master yourself.
The system targets a broader range of contaminants than most well water filters, including VOCs and herbicides.
The filters in this system last a long time compared to other cartridge filter systems. The carbon filters last for up to 95,000 gallons or around 6 months, while the sediment and iron filters last for 9–12 months.
The Home Master is backed by a 2-year warranty.
Cons:
As a cartridge filter system, the Home Master requires more maintenance than other systems. You'll also need to buy a few extra parts to install the system.
The Home Master only removes up to 3 PPM of iron, so it's not as effective as other well water iron filters.
---
Best Whole House Sediment Filter: Custom Home Master Filter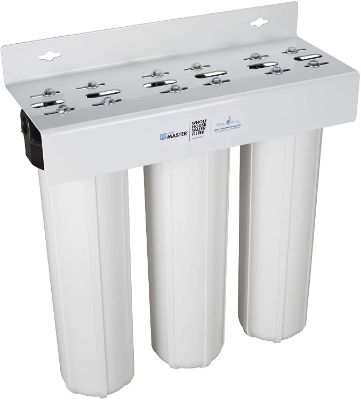 Custom Home Master Filter
My top whole house sediment filter is the Home Master Filter. This unique filtration system lets you choose from 1 to 3 filter stages, plus optional sediment filters, depending on your water quality.
Key Features:
Choose from a variety of sediment filters – There are several add-on sediment filters to choose with the Home Master, including a 25/10/5/1 micron multi-gradient sediment filter, a 1-micron sediment filter, a 5-micron filter, a 30-micron filter, and a 0.2 micron filter, depending on the type of sediment your water contains. You can opt for multiple sediment filters if you like.
Pick the number of filter stages – You can choose the number of filters that are included in the system, and Home Master will build the system for you.
Choose the types of filters – As well as sediment filters, Home Master offers a carbon block filter, and a radial flow iron filter. Remove chlorine, chemicals, lead, cysts, iron, and more.
Optional pressure gauges – You can add up to three pressure gauges per system, which measure the pressure of each filtration stage and let you know when the filters need changing.
Best For:
Anyone who wants to prioritize sediment removal, but doesn't necessarily want a filter that's only capable of removing sediment. With its custom filter options, the Home Master allows for thorough sediment removal and removal of other contaminants.
Click here and select the options as seen in the image below to configure the system
Pros:
You have more freedom to build a filter that suits your needs perfectly, thanks to the Home Master's custom design options.
You can even get a filter with 4-6 filter stages – just buy two systems.
Because you can choose the filter stages that feature in the system, you have more control over how much you spend.
The unit is backed by a 2-year warranty.
Cons:
Although the Home Master's pricing starts off low, once you begin adding filters, the cost soon adds up.
This well water filter might be good at removing sediment, but it isn't ideal for high iron, sulfur, or manganese levels.
🎭 The Competition
We've recommended some systems in the past that no longer make the list in 2023:
🧾 Whole House Water Filter Buyer's Guide
Looking for the most up-to-date information about whole house water filters?.
I've put together the guide below to help you learn everything you need to know to choose the best whole home water filter for your specific needs.
✅ 5 Specific Whole House Water Filter Buying Guides
💡 What are the Types of Whole House Water Filters?
There are several types of whole house water filtration systems available today:
Single Tank Systems
Single tank whole home water filters consist of a single tank containing a filtration media.
Typically you will see carbon, KDF, or a combination of media types used in these systems, targeting a range of contaminants such as chlorine, chloramine, PFAS, pesticides, and THMs.
Most single tank systems come with a sediment pre-filter to protect the media. Depending on the system you buy, the media should last between 6 months and 6 years before it needs replacing.
Because of their stainless steel tank designs, the majority of single tank whole home filters can be installed outside as well as inside.
Cartridge Filters
Cartridge filters consist of a series of filter cartridges and are designed to remove a broad range of contaminants from drinking water.
Most cartridge filter systems will include a granular activated carbon filter that can remove chlorine, heavy metals, pesticides, herbicides, and more. A cartridge whole house water filter system typically also features a carbon block filter and a sediment filter.
Using multiple types of cartridge filters allows this type of whole house water filter to target a bigger range of contaminants than a single carbon filter.
Whole Home Reverse Osmosis Systems
Another popular option for whole home water filtering is a reverse osmosis water filter system, a filter that can remove 99. 9% (or more) TDS from both well water and city water, including heavy metals, bacteria, and chemicals. You might need a whole house RO water filter system if you're looking for more thorough contaminant removal.
RO filters are more expensive than other whole house water filter alternatives, and can be costlier to maintain, but they're the most efficient at removing the broadest range of contaminants from water. While standard carbon filters are priced in the hundreds, RO types of filters for the home can cost up to $3,000 to $6,000 depending on the complexity of the model.
Traditional reverse osmosis systems waste around 4 gallons of water for every 1 gallon of filtered water produced during the RO process, although newer models are more efficient, wasting only 1-2 gallons of water per 1 gallon of purified water produced. RO also removes healthy minerals from a water supply.
Ultraviolet Disinfection (UV)
UV filters use ultraviolet light to damage the DNA of waterborne pathogens, like bacteria, viruses and protozoa. These filters can be used as standalone water treatment solutions, or combined with cartridge or tank filters to remove a broader range of contaminants.
A UV filter can only remove live pathogens from water. This type of whole house system can disinfect water by destroying harmful microorganisms, but won't improve water taste or quality.
Some whole home filtration systems offer UV filtration as an optional add-on, which is worth considering if you have well water or you have any reason to be concerned about microbiological contamination.
🤔 Do I Need a Whole House Filter System?
It's your choice whether you decide to install a whole house water filter system. However, most tap water supplies contain traces of harmful impurities, and the best way to stay protected is to filter your water at home.
You can test your water to determine whether a whole home water filter is needed in your home. If your test specifies one of the following things (or if you notice these things yourself), a whole house water filter can improve your water quality and make it safe to drink:
Your water contains a high level of impurities
Your water is chlorinated
Your water is cloudy or has small particles floating in it
Your water tastes or smells strange
The main purpose of a whole home water filter is to remove a broad range of contaminants from drinking water, giving it a nicer taste and making it safer to drink. If you want to improve your water quality, using a whole house water filter system is the best way forward.
📌 How to Choose the Right Filter for Your Home
1) Understand Your Water Quality
Before you can buy a whole house water filter system, the first step is to understand what you actually have in your water.
If you get your water from a municipal supply, you're probably dealing with chlorine and other chemicals, as well as some heavy metals, including lead. Well water, on the other hand, contains a completely different set of harmful contaminants: iron, sulfur, manganese, tannins, and even bacteria.
Finding out what your water contains will help you choose a system that will remove these impurities.

2) Select System Type
Once you know what's in your drinking water, you can look at your system options. The types of whole-house water filtration systems are listed earlier in this buyer's guide.
Make sure you're aware of all the available systems, and their pros and cons. This will help you to weigh up your choices when you come to deciding on the right system for you.
3) Determine the Right System Size
Not all whole-home filters might be sized to fit your home. Some filters come in multiple sizes to cater to different-sized households with higher or lower water consumption and flow rates.
It's important to size a whole house water filter system correctly to ensure the system can provide water quickly enough to meet demand and avoid possible issues such as leaking.
In many cases, the manufacturer will tell you exactly what sized home their water filtration system is suitable for (e.g. 1-3 bathrooms). Otherwise, you should find information on how many gallons of water a filter system can produce per minute, or per day. Here, you'll just need to work out your daily water use – or use the average water use of 80-100 gallons per day per person – and find a filtration system that can handle at least this amount.
4) Identify a System That Fits Your Needs
Finally, you should use the data from points 1, 2, and 3 to find a water filtration system that meets your requirements for contaminant removal, flow rate, and filter capacity. You may still have several water filter types to choose from, and here's where budget and personal preference will come into play.
Set yourself a price that you'd prefer to stick to and take a look at your available options. When you find a filter system you like, do your research and read up on customer reviews. If the product has a good reputation, you can consider making a purchase.
❗️ Key Considerations When Reviewing Whole Home Filtration Systems
A whole home water filter is a big investment, and it's important not to rush the purchasing process. Be sure to do plenty of research before you make a final decision, and read through buyer's guides like this one.
Here's what to consider when choosing between whole home water filters:
Water Source
Whether or not you get your water supply from a municipal or well source will determine which contaminants you're dealing with, and what type of water filter system is for you.
Most whole house filters are designed for municipal water supplies, and can remove common city water contaminants, including chlorine, pesticides and lead. Test your water supply in advance to find out which contaminants you need a filter to remove.
If you get your water from a private well, a well water filtration system is a better choice for you.
Water Consumption & Filter Capacity
A filter's capacity is the number of gallons of filtered water it can produce during its lifespan. The higher the water filter capacity, the more efficient a filtration system is, and the quicker you'll be able to benefit from filtered drinking water from a private well or a city water supply.
Standard whole home water filters, like carbon-based filters, don't produce any water waste and have better filter capacities. This method of water filtration doesn't flush away water during the process. A filter's capacity depends on its quality and the materials that make up the filter.
The longevity of a filter usually depends on the manufacturer and the quality of the product. Different water filter types may last longer than others.
Generally, pre-sediment water filters have the shortest lifespans, as they can become quickly clogged with large particles. Most pre-sediment filters need changing after about 3 to 6 months.
Carbon filters and remineralization filters (for adding healthy minerals to water) have an average lifespan of 6 months to 1 year, depending on filter use.
RO membranes can last for up to 2 years before they need changing.
Read up on a product to learn when the filters require changing. Some of the top whole house water filter systems contain more filters than others. No filter lasts forever, so no matter what model you go for, you'll have to regularly replace your filters if you want to get the most out of your system.
Contaminant Reduction Capability
Not all whole house filters remove the same contaminants. While most will target chlorine and lead, some are capable of removing hundreds of contaminants, while others can remove less than 10.
You need to know what's in your water supply before choosing a water filter based on its contaminant reduction capabilities. I suggest that you request a water quality report from your local area's tap water provider. This can give you a breakdown of the different elements in your drinking water. Another way to find out the quality of your water is to test yourself using a water test kit.
Once you know what's in your tap water, you can determine what you want to remove.
System Footprint & Space Available
Your household water system will need to be installed somewhere, which means having free space for connecting a whole house water filter to your main water line.
Not only will you need enough space to store your water filter, you'll also want easy access to the unit whenever you have to change a filter or perform system maintenance.
Sediment Pre-Filter Micron Rating
A micron is a unit of measurement, with 1 micron being equal to a millionth of a meter in length. Microns are tiny – we can't actually see anything smaller than 40 microns.
A filter's micron rating is its ability to remove contaminants based on their micron size. So, for example, a 5 micron sediment filter will be able to remove particles as small as 5 microns, or a 1 micron filter filters up to 1 micron in size.
Nominal micron rating gives a measurement of a filter's ability to remove specific particle sizes at an efficiency of 50% to 90%. So, if a filter has a nominal micron rating of 5, it can remove particles as small as 5 microns at a 50% to 90% efficiency.
Absolute micron rating provides information of a filter's ability to remove specific particle sizes at an efficiency of at least 98.7%. This means that if a filter has an absolute micron rating of 5, it's much more efficient in removing a particle as small as 5 microns – it will remove a minimum of 98.7% of the particles from water.
You should be able to find the micron ratings of a particular filter in its product information. As all particles are variously sized, a micron filter rating will give an indication of the types of particles it will remove best.
Household water filtration systems that consist of a larger variety of filters tend to be the best high quality water filter option for removing the largest quantity of contaminants from city and well water, because their filters are designed to remove particles at different micron sizes.
Your Budget
There's a substantial difference in price between carbon filters, and reverse osmosis or next generation technology filters.
Standard whole house water filtration carbon-based filters are generally cost-effective, costing $300 to $600 in price. Some whole house filters are more expensive, and you may need to pay more for features like remineralization filters or a UV filtration option for water purification.
RO and next generation filters cost between $1,000 and $3,000 to purchase. Whole house RO filters can reach the highest in price, with some peaking past the $5,000 mark. A RO system is a much bigger investment than a carbon-based filter, and if your budget is more flexible, you'll need to decide whether it's worth paying more for the additional benefits of RO. You can also use a UV filtration device with a RO system.
Check out this post to learn about all the costs involved with operating a whole home system.
Water Flow & Pressure
Your household's water flow and water pressure is a factor that will affect the efficiency of even the best home water filtration system, especially RO systems.
You might think that a higher water pressure or water flow is always the best way to filter water, but that isn't true. Carbon whole home water filter systems benefit from a slower water flow, as it allows the filters to thoroughly remove particles from water.
With RO filters, on the other hand, a water pressure of 60 PSI is optimal for water filtration. This type of filtration requires adequate water pressure to force water through the RO membrane at a sufficient rate, making it less environmentally friendly than other processes.
You can test your home's water pressure with a pressure gauge that measures in PSI.
Related: Do whole house water filters reduce water pressure?
Certifications
The best whole home water filtration systems are certified by either the WQA or NSF/ANSI. Certification proves that a filter works to the standards as advertised by its manufacturer, whether you plan to use it for city (municipal) water or well water.
Common NSF certifications for these systems are:
NSF/ANSI 42: for the removal of chlorine, taste & odor
NSF/ANSI 53: for lead reduction
NSF/ANSI 55: for killing microbiological contaminants with UV light
NSF/ANSI 58: for reverse osmosis systems that remove EPA-regulated contaminants
NSF/ANSI 401: for the reduction and removal of emerging contaminants, like pharmaceuticals or PFOAs
If a system is NSF certified, it means you can trust it to live up to its performance claims, which is good to know from a buyer's perspective.
Warranty
No matter what type of whole home filter you opt for, a good warranty is essential.
If a system has a warranty of 5 years, it tells you that the manufacturer expects to last for at least this long – and they're happy to offer replacement parts if something goes wrong. This is reassuring to customers, as it means you're covered if your filter has damage or defects that weren't caused by you.
Lifetime warranties tend to be the best warranties on offer for whole home water filtration systems. This means that you're covered throughout the entire lifespan of the system – although, of course, this could range from 1 year to 10+ years, depending on the model. Always read a warranty's terms carefully before making a purchase.
❔ Frequently Asked Questions
Which whole house water filter is the right one for me?
It's worth weighing up the advantages and disadvantages of the different kinds of whole house water filters when deciding which is for you.
Keep your budget in mind – and work out what you'd save if you stopped buying bottled water and bought a whole house filter. Decide what you want to get out of a cost-effective whole house water filter. This should make it easier to narrow down your search to a particular filter type.
Why should I choose a whole house water filter over a kitchen sink filter?
Your choice is entirely based on personal preference. A whole house water filter will give you all the benefits of a kitchen sink filter, as well as a couple of extras.
Because whole house water filters filter out chemicals at the water's POE, where water enters your home, you won't be exposed to dangerous chlorine vapors while you're showering. Some whole home water filter systems can remove iron, preventing rust from forming in your home's appliances.
These benefits are all great, but if you're just looking for clean drinking water from your well or municipal source, opting for one of the best performing whole house water filters isn't essential.
How much should I expect to pay?
Whole house water systems can cost anything from $500 to $3,000. You should only pay more than this for a filter if the product offers unique features or benefits that you won't find elsewhere.
What's the difference between a water filter and a water softener?
The filtration process is different from the water softening process, and each system has its own unique intended outcome.
A water softener doesn't actually filter contaminants. Instead, a traditional water softener uses ion exchange to eliminate water hardness, while a water conditioner alters the formation of hardness minerals and prevents scale formation. While a water filter can be used to remove a variety of contaminants, a water softener only focuses on water hardness.
💭 Final Thoughts
A whole house water filter is a water filtration option that's best for well water or a municipal water source. It provides all of the benefits of a kitchen sink filter, with the added bonus of supplying your entire home and its appliances with safe, chemical-free, clean water.
Now that you've read through this buyer's guide, it's time to start researching your available options. Check out a filter's product reviews and read up on what other customers are saying to get the best idea of how it functions in real life.