We are constantly researching and testing the latest countertop water filters. We've identified these to be the best countertop water filters in 2023 based on contaminant reduction capability, ease of use, production rate, and of course, affordability.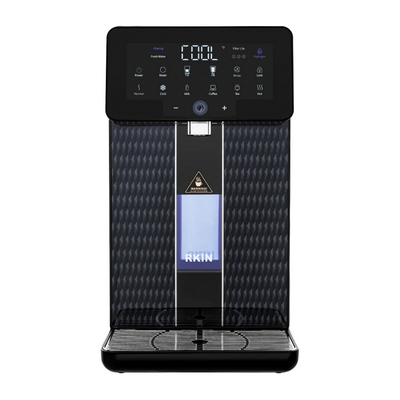 RKIN U1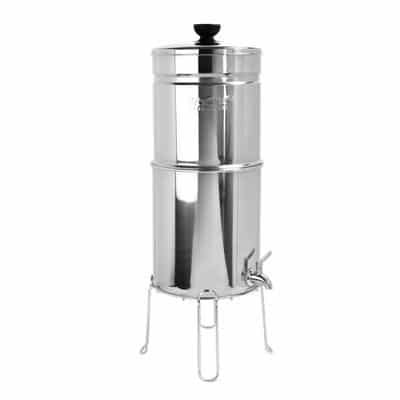 ProOne Big+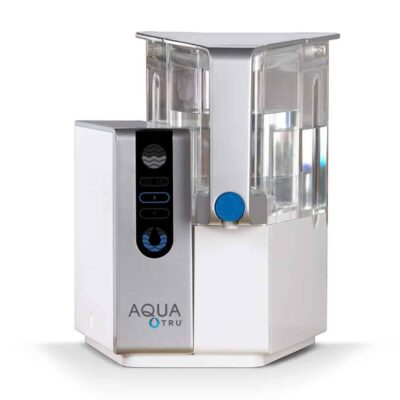 AquaTru Countertop RO Filter
In the last year, countertop water filters have seen a huge surge in popularity. A 2018 NSF study found that nearly half of the US population filters their water, and with the way the market has been booming recently, we'd hedge that this figure is now more like 60 to 70%.
If you're interested in countertop filtration, you're looking for advice on the internet you can actually trust, and rightly so. Countertop water filters are a big investment, so you don't want to buy something cr*p based off a biased review.
Our job is to impartially review every single water treatment solution on the market, so, as you can imagine, we've pretty much seen it all.
More than 150,000 people visit our website every month to read up on our advice – and if something's bad, I will tell you.
In this guide, you'll learn:
Which 6 countertop water filters are worthy investments in 2023
9 key considerations before your buy
How countertop water filters compare to other popular filters on the market
🥇 Best Countertop Water Filter
📊 Comparison Chart of Countertop Water Filters
| System | RKIN U1 | ProOne Big+ | AquaTru | Epic Pure Dispenser | Aquasana Clean Water Machine | NU Aqua 8 Stage Filter​ |
| --- | --- | --- | --- | --- | --- | --- |
| Ranking | 1st | 2nd | 3rd | 4th | 5th | 6th |
| Ratings | 5/5 | 4.5/5 | 5/5 | 4.5/5 | 4/5 | 4/5 |
| Price | $$$ | $$$ | $$$ | $ | $ | $ |
| Contaminants Removed | Up to 99% of all contaminants | 200+ | Up to 99% of all contaminants | 200+ | 78+ | 5+ |
| Certifications or Testing | NSF 58 (in progress) | NSF 42, 53, P231 | NSF 42, 53, 58, 401, and P473 | NSF 40, 42, and 53 | NSF 42, 53, 401, P473 401 | – |
| Filter Capacity | 792 – 1,200 gallons | 1,00-1,200 gallons | 600 – 1,200 gallons | 150 gallons | 300 gallons | 300 gallons |
| Holding Capacity | 0.5 gallons | 2.25 gallons | 0.75 gallons | 6.5 liters | 64 ounces | n/a |
| Annual Cost | ~$100 | ~$100 | ~$100 | ~$140 | ~$120 | ~$50 |
| Warranty | 1 year | 1 year | 1 year | Lifetime | 1 year | 5 years |
---
⭐ Best Countertop Water Filter Reviews (2023)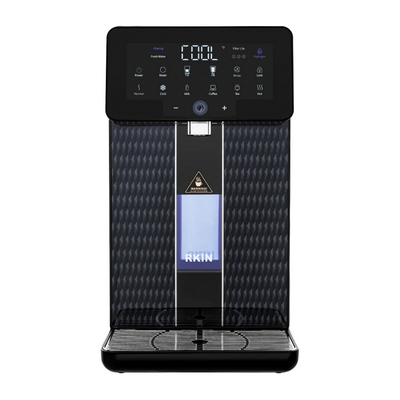 RKIN U1
Our top choice for the best overall countertop water filtration system is the RKIN U1. This stylish RO unit is more capable and has more features than any other countertop water filter available today, including hot, cold, and ambient water dispensing, hydrogen infusion, and alkaline post-filtration.
Plus, it's in the process of being NSF certified and has official IAPMO testing for removing chromium, PFAS, fluoride, and more – and it costs just $700, which isn't much more than you'd pay for a more basic filter without all the add-ons.
Key Features:
Hot, cold, & ambient water dispensing – Unlike most other countertop water filters, the RKIN U1 doesn't limit you to filtered cold water only. You can choose from three temperatures (hot, ambient, and cold) for your filtered water – no need to boil it separately yourself.
5 thorough filtration stages – This multi-stage countertop filtration system doesn't only filter your water with sediment and activated carbon filters and an RO membrane; it further enhances it by infusing it with hydrogen and healthy alkaline minerals.
75 GPD filtered water production – The RKIN U1's water production rate is pleasantly fast for an RO system, at 75 gallons per day (compared to the average 50 GPD).
1-year warranty – It's good to know that your purchase is protected by RKIN's 1-year warranty and 1-year money-back guarantee.
Best for:
Folks who are looking for the very best hot and cold purified countertop water dispenser, with all the mod-cons and add-ons for every convenience.
Pros:
You can expect the most thorough water filtration, as with any RO system. The U1 doesn't only filter your water – it purifies it.
We've only heard positive stuff when it comes to testing and certifications. The U1 is currently in the process of obtaining an NSF certification (it can take a while), and has also been tested by IAPMO for the reduction of TDS, Fluoride, Lead, Chromium III, Chromium VI, and PFOA/PFOS.
There are so many unique features to love, including hydrogen infusion, remineralization, filtered water at all temperatures, and more.
$700 is a steal of a price for a unit that can produce negative ORP water – similar systems with basic activated carbon filtration are usually sold for $2,000+.
Cons:
Only 1 gallon of water is wasted for every 1 gallon produced (much better than the average 4 gallons wasted for 1 gallon produced), but this unit is still less efficient than non-RO countertop systems.
As a relatively new product, the U1 doesn't currently have many customer reviews, so there's no way to know how the unit will fare with practical everyday use.
Read the full review: RKIN U1 Review 2023
---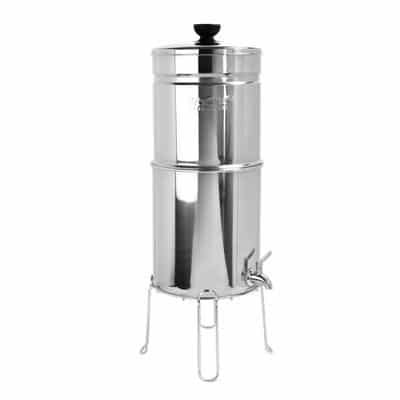 ProOne Big+
Based on our research & testing, the best gravity-fed countertop water filtration system available today is the ProOne Big+ Gravity Water Filter. This stainless steel 2.75-gallon system delivers filtered water without the need for electricity or water pressure, so it's ideal for folks who want the most convenient, affordable solution that can be used in emergencies as well as everyday life.
Key Features:
Durable Stainless Steel Body – The ProOne Big+ is made from stainless steel, a durable, BPA-free material that won't leach chemicals into your water. It also has a stainless steel spigot, and you don't have to pay to upgrade from a plastic spigot as you do with similar systems.
NSF-tested contaminant removal ability – This ProOne model is third-party tested to NSF Standards 42, 53, P231, P401, and P473 to remove more than 200 contaminants, including chlorine, chloramine, chromium-6, lead, fluoride, and bacteria. It also has an official NSF 42 certification for its components. See the test results here.
High capacity for water storage – The Big+ is large in comparison with some of its competitors at 9 x 22.75 inches. Overall, the system holds up to 300 gallons of water.
Best for:
Anyone looking for a reasonably priced, low-maintenance counter filtration system with impressive contaminant removal abilities.
Pros:
The ProOne G2.0 filter elements are some of the best gravity filters available today. The filters can remove heavy metals, pharmaceuticals, arsenic, VOCs, and more. They can also remove the majority of fluoride – no need to buy separate fluoride filters as is the case with many of the unit's top competitors.
Despite their impressive contaminant reduction, the ProOne Big+ filters retain beneficial minerals in the water.
The annual cost for owning this countertop filter is less than $100, making it one of the cheapest for long-term ownership on the market. You'll only need to change the filters once a year, saving you time and money.
Cons:
If your goal is to save space with a gravity filter, the ProOne Big+ isn't the best choice, as it's much bigger than a pitcher filter.
Even when the filtered water chamber is full, filtration will continue. You'll need to avoid over-filling the top chamber to prevent this.
Not certified for contaminant removal yet.
Read the full review: Proone Big Review (updated: 2023)
---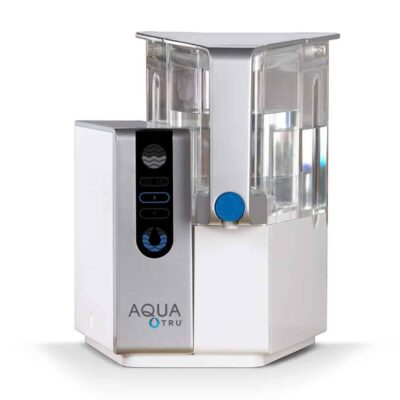 AquaTru Countertop RO Filter
Our runner-up choice for the best RO countertop water filtration system is the AquaTru. This unit is the most efficient countertop RO system we've come across with a pure to waste water ratio of only 4:1.
We've reviewed the AquaTru classic, with this being the manufacturer's standard offering. However, you don't have to stick with the AquaTru Classic if it's not quite the right fit for you. There are a few other variations for you to consider, too:
Classic Connect – Costs $50 extra, connects to your WiFi and offers filter life and water consumption tracking via an app
Alkaline Classic – Costs $20 extra, the classic model but with an alkaline boost VOC filter (rather than a standard VOC filter)
Alkaline Connect – Costs $70 extra, comes with WiFi compatibility and an alkaline boost VOC filter
Key Features:
4-Stage Reverse Osmosis Technology – Removes fluoride, chlorine, hormones, toxins, carcinogens and thousands of other contaminants from drinking water.
IAPMO R&T Certified – Against NSF standards 42, 53, 58, 401, and P473 – to remove up to 99 percent of 82 different contaminants from water.
Handy Digital Display – Tells you when the filters need changing.
Sleek, Modern Design – Looks the part in most kitchens and office spaces.
Efficient Performance – Only wastes 1 gallon of water for every 4 gallons of clean, filtered water produced.
Best for:
People looking for a countertop water filtration system that can remove nearly everything with one of the most thorough filtration processes available.
Pros:
Uses four stages of filtration:

Sediment filter
Coconut shell activated carbon filter
Reverse osmosis membrane
Final activated carbon block filter

Easy to use and requires minimal setup or installation, taking less than 10 minutes from start to finish. You simply push a button to dispense water.
Rejects almost all contaminants with the reverse osmosis membrane, from volatile organic compounds to microorganisms.
The system uses a pressure pump to boost the speed of the filtration process. You'll have access to a full gallon of water within 15 minutes.
The wastewater ratio is low – only 20% of water is lost.
You'll only need to change the filters every 6-12 months, or every 2 years for the reverse osmosis membrane. Filter changes are affordable, around $100 per year. The filter change indicator tells you when to change the filters.
Cons:
You need to be able to connect this system to a power source for it to work.
Although the filter is more efficient than most RO filters, it still wastes water during filtration.
There's no remineralization filter, so you'd have to pay for an extra filter stage if you want to drink mineral-rich water.
The AquaTru countertop water filter system comes with an unimpressive 1-year warranty.
Read the full review: AquaTru Review
---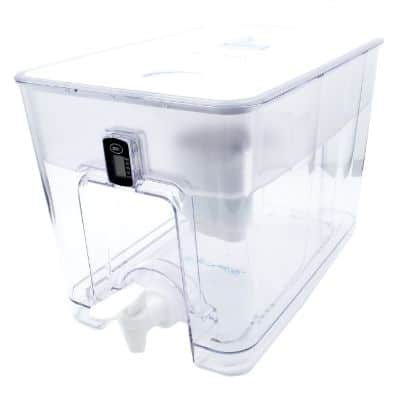 Epic Pure Water Filter Dispenser
The Epic Pure is our top budget pick for countertop water filtration systems. This affordable water filter dispenser can reduce or remove more than 200 common drinking water impurities.
Key Features:
Excellent Contaminant Removal Abilities – Reduces up to 99.99% of more than 200 contaminants.
Affordable Upfront Cost – Costs less than $100, making it a fantastic value for money, given its durable design and high quality of performance.
Tested to NSF/ANSI Standards – Including 42, 53, and 40.
Removes a Range of Impurities – Like lead, fluoride, chloramines, pesticides, herbicides, PFAS, and chromium 6.
BPA-free plastic – With an opaque design that makes it easy to see when the unit needs to be cleaned.
Best for:
For anyone looking for value for money, the Epic Pure Water Filter Dispenser is an affordable, effective countertop filtration solution.
Pros:
The unit is easy to clean and maintain, and can be disassembled in a matter of minutes. There are no tiny parts or crevices to clean.
You can buy filters on multipacks, and they're cheap to replace. The built-in filter reminder timer will let you know exactly when you need a new filter.
The manufacturer offers a filter recycling program, so you won't be contributing to plastic waste by using this countertop water filtration system.
You can dispense water from the bottom reservoir as soon as there's enough water to do so. You don't need to wait for the entire bottom reservoir to fill before you can have a drink.
Cons:
If you're looking for a countertop water filter that can be stored in your fridge, you'll need a lot of room for the Epic Pure. For most people, the filter will be too big.
While the reservoirs are dishwasher safe, Epic Water Filters recommends soaking them in warm, soapy water instead.
The Epic Pure carbon filter cartridges have a 150-gallon lifespan, and will need to be replaced roughly 3-4 times a year. This isn't the best filter lifespan for a countertop water filter.
Although the Epic Pure is tested to NSF Standards, it has no official NSF certification.
Read the full review: Epic Pure Water Filter Dispenser Review
---
Aquasana Clean Water Machine
If you're not a fan of high-tech appliances or you prioritize water filters that are easy to use, we think the Aquasana Clean Water Machine is best for your situation.
This no-install countertop system can filter water at the touch of a button, removing 78 contaminants, with performance certifications to four NSF Standards.
Key Features:
NSF Certified for Contaminant Removal – The Aquasana Clean Water Machine holds an impressive range of official NSF certifications to Standards 42, 53, 401, and P473, for the removal of 76 contaminants from drinking water. Contaminants removed include lead, PFOA/PFOS, pesticides, chlorine, and microplastics.
Decent Flow Rate – The unit has a 0.5 GPM flow rate. It's slow and steady, but faster than pitchers and dispensers that use gravity filtration.
Easy to Install – This Aquasana system is no-install, meaning you can unbox it, do some basic assembly, and start filtering your water right away.
Half-Year Filter Lifespan – The filters last for up to 6 months before they need to be replaced.
Best for:
People looking for a filter that's backed by a legitimate NSF certification and is guaranteed to live up to its performance claims.
Pros:
We love the thoroughness of filtration from what, from the outside, looks to be a fairly basic system. The Clean Water Machine combines activated carbon, catalytic carbon, ion exchange filter media, and sub-micron mechanical filtration, to remove 70+ drinking water contaminants.
This filter is capable of removing a variety of contaminants, including heavy metals, chlorine and chloramine, pesticides and herbicides, volatile organic compounds, and more.
You get reassurance from NSF certifications, so you know you're spending your money on a filter that has been third-party tested and proven to work.
Setup is simple (it took us less than 10 minutes from start to finish) and maintenance is made easy thanks to the filter indicator light built into the system, which takes the guesswork out of filter changes.
Cons:
The 6-month filter lifespan is decent, but not the best we've seen. Some countertop systems on this list only need replacement filters every 1-2 years.
The 1-year warranty isn't as long as some of the warranties for other filters on this list.
Read the full review: Aquasana Clean Water Machine Review
---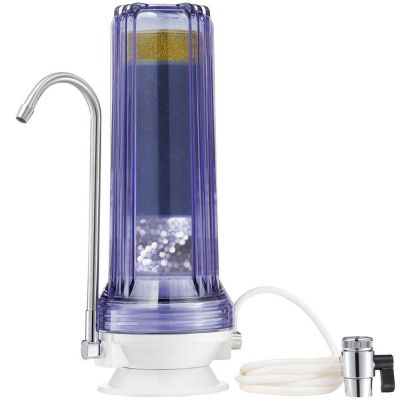 NU Aqua 8 Stage Alkaline Mineral Countertop Water Filter​
The NU AquaCountertop Water Filter​ is our recommended pick as the best countertop water filtration system with a faucet connection. This 8-stage non-RO countertop water filter delivers filtered, mineralized water straight from your kitchen faucet.
Key Features:
Quick Connect to a Kitchen Faucet – The NU Aqua easily connects to your kitchen faucet and delivers filtered tap water when you require it.
Single Filter Cartridge – All eight filter stages are packed into a single filter cartridge, so maintenance isn't a frequent or expensive task. The filter lasts for up to 8 months before it needs to be changed.
Good Warranty – The unit is backed by a decent 5-year warranty. There's also a 120-day money-back guarantee, which means that you can return the filter for a refund if you don't like it.
Best for:
Anyone looking for a countertop water filter that filters and remineralizes water and doesn't cost a lot of money to operate.
Pros:
There are an impressive eight stages of filtration packed into one cartridge:

A nano-silver filter (which prevents bacteria and fungus)
A KDF filter (which reduces heavy metals, chlorine, pesticides, microbiological impurities)
An activated coconut shell carbon filter (which targets chlorine and other chemicals)
An ORP ball (reduces water imperfections)
A bio-ceramic filter (which ionizes water)
A mineral stone filter (adds healthy minerals like calcium and magnesium back into water)
And two mesh filter screens (prevent larger particles from passing through)

The NU Aqua comes with a remineralization stage, which improves the taste of tap water by adding healthy minerals.
The system and filters cost less than $100 upfront.
Installing the NU Aqua is easy – just attach the filter to the water line, using the adaptor if needed.
Cons:
Compared to other countertop filters, the NU Aqua has a design that looks a little dated. It isn't the most attractive countertop filter on the market.
The NU Aqua doesn't have an NSF certification, so there's nothing to back up the manufacturer's performance claims.
---
🎭 The Competition
We've previously recommended additional products that no longer appear on this list in 2023. You can see our reviews of previously recommended systems here:
🧾 Countertop Water Filter Buyer's Guide
Once you've decided that a countertop water filter is the filter you need, your next task is to narrow down the right product from the hundreds of choices available.
I've put together this buyer's guide to help you understand everything you need to know before making a purchase.
📌 3 Specific Countertop Water Filter Buying Guides
💭 Considerations Before Buying a Countertop Water Filtration System
Before you buy a countertop water filter, you should consider the things that are important to you in a water filter, or those that may affect your purchasing decision.
Contaminants Present – Know What is in Your Water
If you want to buy a countertop water filter that filters out a specific set of contaminants, you first need to know what your water contains.
Water quality reports are available to the general public, and you should receive a report from your local water supplier at least once a year. These reports tell you what your water contains after it has been treated.
You can also do your own water test to gather more accurate data for your own home's water supply.
These kits usually come with strips that change color depending on the contaminants in your water. You can compare the color of the strip to the included color chart to determine what your water contains.

System Process
Not all countertop water filters use the same process to filter your water. Some of the most common processes amongst the best countertop water filter models are listed below:
Carbon Adsorption – A granular or activated carbon filter grabs onto particles and pulls them out of water. Adsorption is best for trapping harmful chemicals like chlorine, pesticides and herbicides.
Reverse Osmosis – Reverse osmosis water filters use a semi-permeable membrane to trap contaminants as small as 0.001 microns. The RO system process can remove up to 99% total dissolved solids.
Distillation – Distillation is a water purification process that involves boiling water until it evaporates, then condensing the water into a clean container. The majority of water's impurities, including minerals, salts, chemicals, metals, and microorganisms, are removed.
Filter Testing & Certifications
The best countertop water filters have either a WQA or NSF International certification to prove that the filter works as advertised by the manufacturer. These certifications can only be obtained through third-party testing, and are difficult to achieve.
Common certifications to look out for include:
NSF 42 – For removing aesthetic contaminants that affect water taste and odor, like chlorine.
NSF 53 – For the removal of heavy metals like lead, and other health-harmful contaminants like VOCs, asbestos, and mercury.
NSF 401 – For removing emerging contaminants, like pharmaceuticals.
Unit Size and Space Available
It's wise to measure the space near your kitchen sink if you're planning on buying a faucet water filter. There's no use in buying a countertop filter that doesn't fit in your available space.
If you plan to store your filter in a cupboard when not in use, you should check that the unit isn't too tall or wide to fit in the cupboard space you have spare.
Filter Capacity (Lifespan) & Maintenance
No matter what type of filter you buy, it will require regular maintenance if you want it to last for a long time.
Different filters have different maintenance requirements, so it's important that you read a specific filter's user manual carefully to be certain of what's needed.
Some filters require changing after 1 or 2 months of use, while others last for between 6 and 12 months before they need replacing.
Some models use more filters than others, which makes maintenance more costly. You'll need to make sure you can afford to buy new filters whenever you need them to maintain your system's performance.
Ease of Use
Some countertop filters are easier to use than others. Following installation, a faucet water filter is the easiest filtration system to use. You'll only need to press a button to instantly dispense water into a drinking glass.
Water filter pitchers, on the other hand, become heavy when they're full, making it more difficult to pour water into a glass. You'll also need to refill your pitcher manually whenever you want to benefit from clean drinking water.
Filtration Speed
The filtration speed of a countertop filter depends on the system type.
A countertop water filter system that's connected to your faucet has the advantage of water pressure on its side. This type of system will provide filtered water instantly.
Countertop filters that use gravity filtration will take longer to filter water. You'll need to wait around five to ten minutes for a pitcher filter to produce a full jug of filtered water.
Connection to Faucet
Some countertop water filters need to be connected to your faucet to provide filtered water from your tap. This means you won't need to fill the filter with water manually, because when you press the button to dispense water, the system will draw water from your faucet.
If you plan to buy a system that connects to your faucet, you should make sure you have the available space next to your kitchen sink. Faucet-connecting filters can only work when they're hooked up to a water supply, so they're not suitable for you if you need a portable countertop filter.
Remineralization/ Alkalization
Not all countertop filters will remove minerals like calcium and magnesium from the water. However, filters that offer a more thorough filtration, like reverse osmosis filters, probably will. Some people would rather these minerals weren't in their drinking water, but others find that without them, water tastes plain.
Some of the best countertop water filters remove healthy minerals naturally with the rest of the water's impurities, but add these minerals back into the water before drinking. This gives water a more alkaline taste.
Costs & Your Budget
The cost of a countertop filter is influenced by a number of different factors.
Countertop filters that are manufactured by a certain popular brand name, or offer a more complex water filtration process, are more expensive.
Water filter pitchers tend to be on the cheaper end of the scale, costing between $30 and $80.
Standard faucet countertop filters cost slightly more, usually ranging between $150 and $300. Some filters may even come in at over $1000, especially if they use reverse osmosis filtration.
👍 What Are the Advantages of a Countertop Water Filter?
Affordable Option
If you spend a lot of money on single-use plastic bottles of water, a countertop water filter can help you to make huge savings month by month.
With a countertop water filtration system, you'll only need to buy the initial unit and the replacement filters every couple of months.
Whatever filter you're after, there are plenty to suit your budget. You won't need to compromise for a good product.
Low Maintenance
Unlike most whole house or faucet water filters, a countertop water filter requires virtually no set-up and very little maintenance, making it a convenient option for anyone who would rather avoid a DIY situation.
You'll be able to get your water filter started with just a few insertions and presses of a button, as most arrive already pre-assembled.
Once your filters are in place, the system is ready to run.
Changing your filters is a simple job, and your filter's user manual will give you clear guidelines on when to replace them.
Don't Occupy Much Space
Countertop water filters are designed to be compact and space-saving.
While most under sink water filtration systems are large and bulky, countertop water filters are slim and elegant, and won't take up too much side or storage space.
Some countertop water filters, like water pitcher filters, are even more space-saving. You'll be able to store them wherever is most convenient for you, like your fridge, and put them in a cupboard out of sight when you're not using them.
Portable
Water pitcher filters, the lowest-cost countertop water filtration solution, are the easiest type of filter to move.
A water filter pitcher doesn't need to be connected to a sink, so once you've filled your pitcher with tap water from your faucet, you can take it to whichever location suits you.
Faucet countertop filters require more setup, but can still be moved around. It's easy enough to disconnect the filter and move it to a new location, as long as there's a faucet to connect it to. You can even take your filter on a vacation for clean, safe drinking water while you're away from home.
Easy, Non-Permanent Installation
Countertop water filters aren't a permanent fixture in your kitchen. You don't need to cut into your water line to install a countertop water filtration system.
A countertop water filter can provide you with clean tap water as and when you need it, but there's no pressure for you to keep it in one place, or make use of it, for the rest of your life.
Clean Water
Countertop water filters can provide you with a high quality of drinking water from the convenience of your own home.
Your countertop water filter should, at a minimum, be able to filter out chemicals like chlorine from your water, helping to give it a more pleasant taste.
The best countertop water filtration systems can remove up to 90% of all contaminants and impurities from water.
👎 What Are the Disadvantages of Counter Top Water Filters?
Slower Rate of Filtration
Countertop water filters are effective at what they do, but not all of them produce immediate results.
Water filter pitchers use gravity water filtration and take several minutes to filter tap water for drinking. Depending on the quality of your water, and the efficiency of your filters, you might need to wait up to 15-20 minutes for your filter to produce clean drinking water.
Always On Display
No matter how attractive a countertop filter might look, you still may not want it on show in your kitchen.
Unfortunately, if you choose a faucet water filter, you'll need your unit to sit out on the side next to your kitchen sink.
Single Point of Use
Many countertop water filters are connected up to your kitchen sink faucet, making them POU (point of use) systems.
Most countertop water filters can only be hooked up to a kitchen faucet, so you won't be able to use the filter in another location, like your bathroom.
Because they're not connected to your main water system, countertop water filters won't affect the quality of your home's water aside from at the kitchen sink.
Less Convenient
Some countertop water filters are less convenient than other filter styles. Water filter pitchers, for example, are heavy to carry when they're full, and will need to be refilled every time you run out of water. You'll then need to wait for the water to filter before you can take a drink.
🔠 Types of Countertop Water Filters
Gravity Fed Filters
Gravity-fed filters use gravity to send water from a top chamber, through a filter, into a separate, bottom chamber.
Gravity water filtration is seen most commonly in water filter pitcher models. Large standalone countertop units, like the ProOne Big+, also use gravity filtration.
A typical gravity water filter pitcher can take from five to 20 minutes to filter a full batch of water. It'll take several hours for a big gravity unit to filter a complete batch of filtered water.
Depending on the type of filter, you may need to wait for a full batch of water to filter before you can dispense or pour water for drinking. Alternatively, you may be able to dispense filtered water at any time.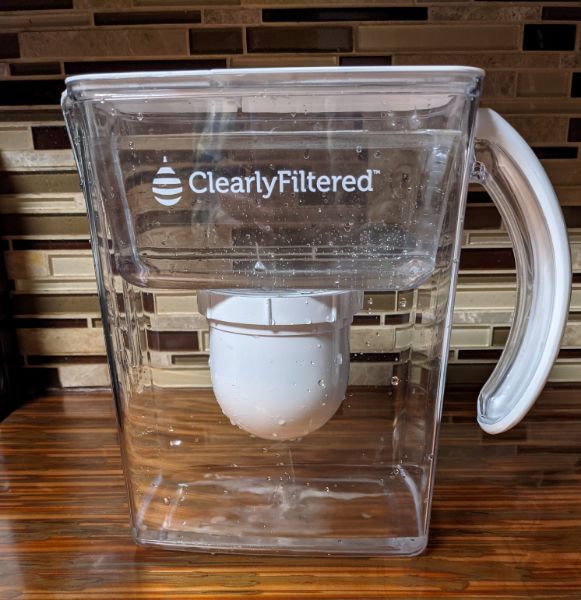 Faucet-Fed Units
Faucet water filters are designed to sit on your kitchen countertop near your sink, and are connected via a flexible plastic hose to your faucet.
They're very simple to install, as they usually come mostly pre-assembled. You'll just need to connect the unit to your faucet for it to work.
When you press the button on your faucet filtration system for water, water will flow immediately from your faucet, through the filters in the system, and out into your drinking glass.
Some faucet water filters will notify you with an LED light when it's time to replace your filters.
Reverse Osmosis Systems
Reverse osmosis filters are found in pricier countertop filtration systems.
Reverse osmosis is a highly efficient method of filtering water, which can eliminate up to 99.99% of all total dissolved solids in water. The process forces water through a semi-permeable membrane under high pressure.
Unlike most filters, reverse osmosis wastes water. The wastewater to pure water ratio for a standard reverse osmosis system is 4:1, so for every 4 gallons of water that are wasted, 1 gallon is produced. However, there are more efficient systems available today that only waste 1 or 2 gallons of water for every gallon produced.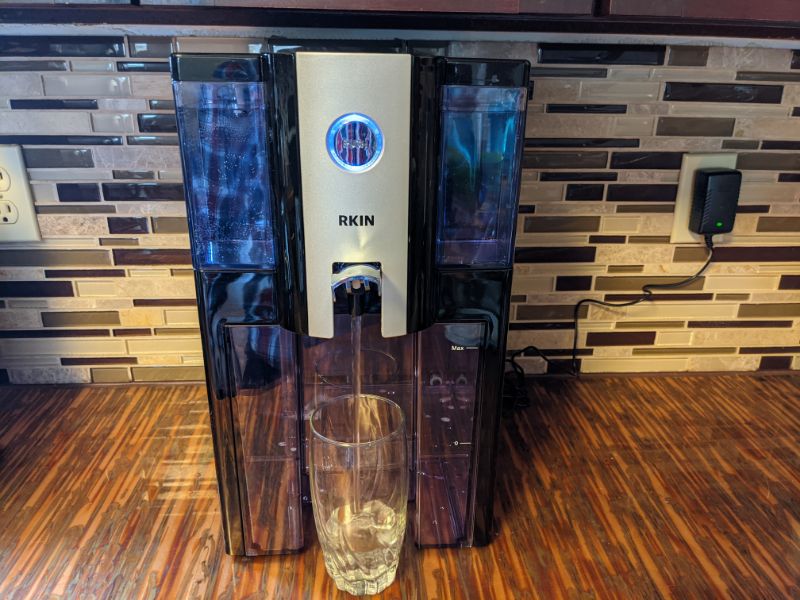 Water Distillers
A water distiller can remove arsenic, lead, fluoride, viruses and other contaminants from water. Through a process of boiling and condensation, water distillers can remove even the more difficult impurities, like salt and dissolved solids.
Water distillers work by evaporating tap water and turning it into vapor, before condensing it back into its liquid state. When water evaporates, contaminants are eliminated because they can't turn into steam. They're left behind in the boiling chamber when water becomes a vapor.
The majority of water distillers send water through an activated carbon filter in the spout once it has been condensed. This is because some contaminants can exist as gases, and can evaporate and condense with water.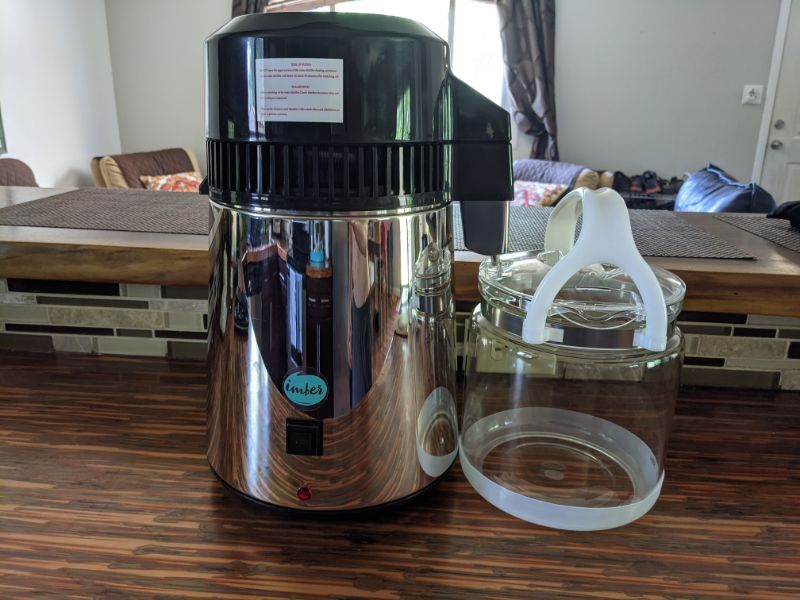 Common Media in Countertop Filters
There are various types of filtration media that can be found in a countertop filtration system, including:
Mechanical Micron Filters: Removes particles within a certain size range depending on the micron rating. The smaller the micron rating, the smaller the particles that can be removed. 3-6-month average lifespan.
Catalytic or Activated carbon: Broad surface area consisting of thousands of pores. Use adsorption to trap contaminants in the media. 2-6-month average lifespan.
KDF Media: Stands for Kinetic Degradation Fluxion. Uses a copper-zinc alloy to reduce contaminants using a chemical process known as redox. Average lifespan of 8 months to 1 year.
Ceramic Filters: Inexpensive media type that uses ceramic material to filter bacteria, debris, and dirt out of tap water. Provide about 6 months of filtration.
Ultrafiltration Membranes: Use hydrostatic pressure to force water against a semi-permeable membrane. Membranes last up to 5 years.
Reverse Osmosis Membranes: Contain tiny pores as small as 0.0001 microns, act as a barrier to block anything larger than water particles from passing through. 2-year average lifespan.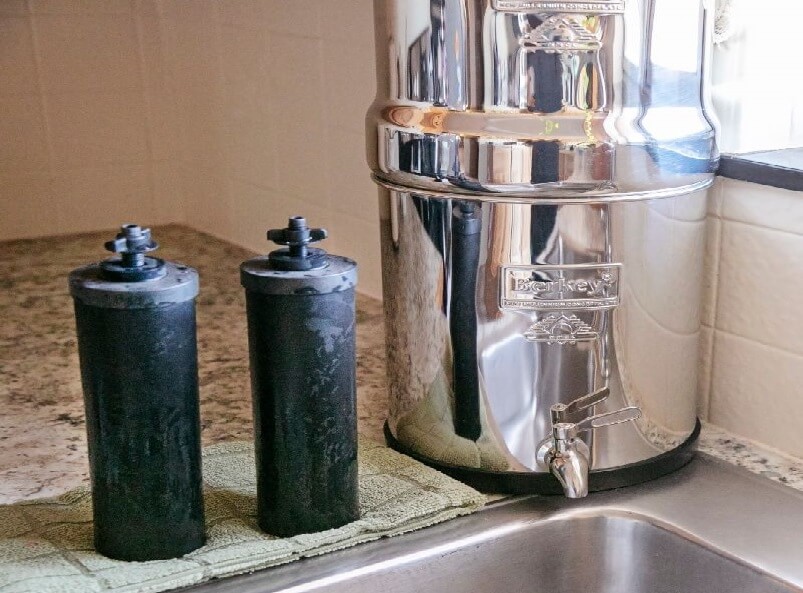 🧐 Is a Countertop Water Filter Right For Me?
To understand whether a countertop water filter is the best filtration system for you, you should compare countertop filters to the other types of e filters that are on offer.
Take a look at the filter options below to get an idea of the most popular choices on the market.
Countertop Water Filters vs Under Sink Water Filters
Under sink water filters are installed underneath your kitchen sink and connected to the sink's cold water line. These filters either send water straight to your standard sink's faucet or come with their own faucet.
Reverse osmosis under sink systems can filter out more contaminants from tap water. Some people may also prefer the fact that under sink filters are stored out of sight in a kitchen.
Under sink water filters require a more thorough installation than countertop alternatives. They usually take around an hour to install.
Countertop Water Filters vs Whole House Water Filters
Whole house water filters connect to the main water line at its nearest entry point into your house. These units can filter the water that's used in all faucets and appliances throughout your home.
There are different types of whole house water filters available, most of which remove contaminants like chemicals, sediment, metals and pathogens from tap water.
❔ Frequently Asked Questions
Do countertop water filters work for all kitchen faucets?
Countertop faucet water filters connect to the majority of standard kitchen sink faucets. If you're unsure whether one will fit your specific faucet type, contact the manufacturer.
Can I connect my countertop water filter to multiple faucets?
No, your filter can only connect to one faucet at a time. If you do want to move from one applicable faucet to another, it won't take too long to disconnect and reconnect in a new location.
What common contaminants does a countertop water filter remove?
Most countertop water filters can remove chemicals like pesticides, herbicides, and chlorine, as well as heavy metals, and some microorganisms. The best countertop water filtration system can provide you with water that tastes as pleasant as bottled water.
My water contains small black particles. Should I be concerned?
No. If you find black particles in your filtered water, it's usually no cause for concern. These are most likely carbon sediment from your filters, and aren't harmful to your health.
My water has a funny taste/smell. What's the problem?
If your water has gradually started to take on a bad taste or smell, it's most likely that you need to change the filters in your countertop water system.
Check your filter manual and work out how many weeks of use your filters have had so far. Even if you haven't used your filters for the number of advised months in the manual, the quality of your household's water or more wear and tear to the filters may have shortened their lifespan.
How do I find out if my countertop water filter is NSF or WQA certified?
Most manufacturers will mention certifications in their filters' product descriptions. NSF also provides an NSF mark, which proves that a product has passed third-party safety testing. You can also search the online NSF database.
Do countertop water filters remove all total dissolved solids?
It depends on what filter you go for, but the answer is usually no – unless you buy an RO filter.
In small amounts, some total dissolved solids are good for you. Calcium and magnesium minerals, for example, balance out water pH and give it a more pleasant alkaline taste. TDS isn't the problem – contaminants are.
Can I use my countertop water filter in my RV?
Yes, providing you have the side space to store your countertop water filter, you can use it in your RV. The portability element of faucet countertop water filters means that you can easily disconnect them from your kitchen sink faucet at home and temporarily connect them to your RV's faucet.
Water filter pitchers are even easier to take with you on the go. You can use them wherever there's a tap water faucet.