🧾 Overview of the AquaTru Water Filter
The AquaTru Countertop Water Purification System is a simple, compact, accessible take on a standard under the sink reverse osmosis system.
Sleek and modern in design, this water filtration system uses ultra reverse osmosis technology to remove a broad range of contaminants, producing a high-quality result that tastes as good as bottled water.
The unit can be stored on a kitchen counter to provide clean, pure drinking water at the touch of a button. With no complex installation required, the AquaTru RO system offers the convenience of simple set-up without the need to call a plumber for help.
In this AquaTru water filter review, I'll be sharing everything you need to know about this popular 4-stage water purifier.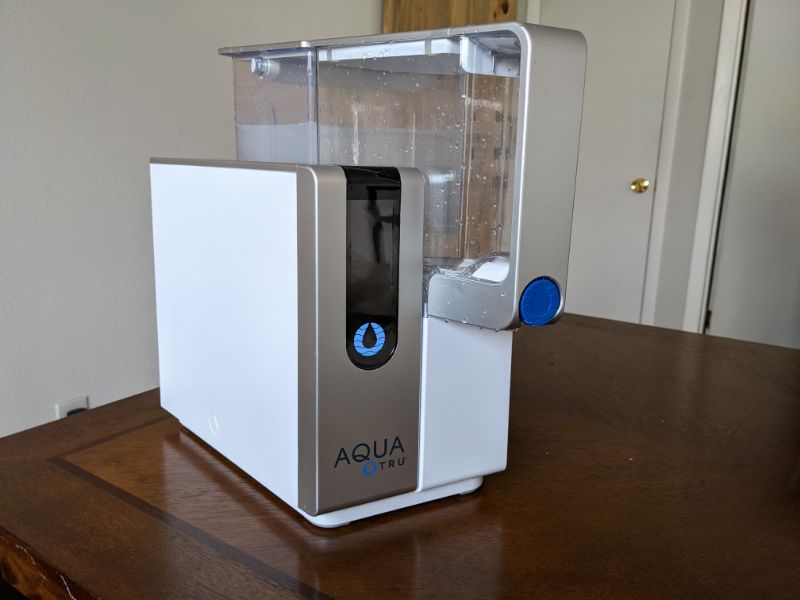 🏷️ AquaTru Discount Code
My readers get 15% off at waterandwellness.com – 👉 Click here for code
💡 Features
Quick-change Filters
The Aqua Tru features quick-change filters that require a simple twist and seal to replace one for another.
The machine will notify the user when it is time for a water filter change – expect to replace new filters for old after every 6 months to 12 years for maximum efficiency.
Mechanical Pre-filter
The first-stage mechanical pre-filter is an essential component in the Aquatru Countertop water filter. It prevents sediments like sand and rust from affecting the filters and membranes in the unit. This filter also removes cloudiness from water.
RO Pre-filter
In the AquaTru water filter, water runs through a second filter before it reaches the RO membrane.
The role of this filter is to remove more than 99% of chlorine and chloramine from tap water, which would damage the semi-permeable membrane if left in.
Many people find the taste of chlorine unpleasant, and if you want to stop buying bottled water right now, you'll be better off buying a filter like the AquaTru that can remove the bad chlorine taste – no more plastic water bottles needed!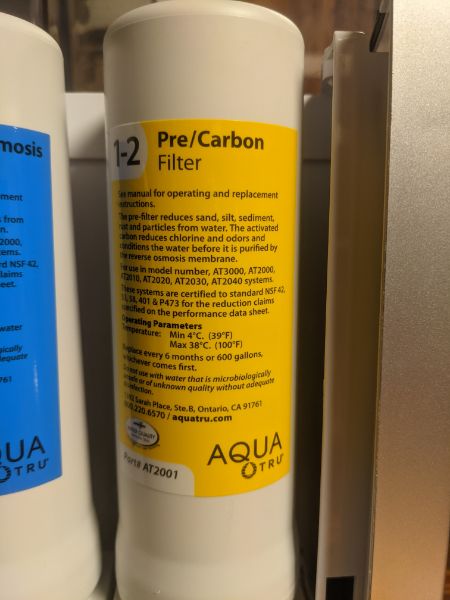 Reverse Osmosis Membrane
The RO membrane in this system is the most important, and effective, filter stage of all.
It's USA-made and works to a high efficiency, having been tested to remove contaminants including barium, chromium, copper, fluoride, iron, lead, radium, selenium, hard water minerals, chromium-6. drug residues and much more.
The role of the membrane is to remove up to 99% of total dissolved solids from water. You don't need to buy a separate fluoride or VOC filter when you own this water purification machine.
Activated Carbon VOC Filter
To remove any tastes or odors the RO water may have picked up from the water tank, tap water runs through one final activated carbon filter stage in the AquaTru water filter system before reaching your cup for drinking.
This filter can also remove smaller particles that may have passed through the RO membrane like herbicides, pesticides, fracking fuels and disinfectant by-products.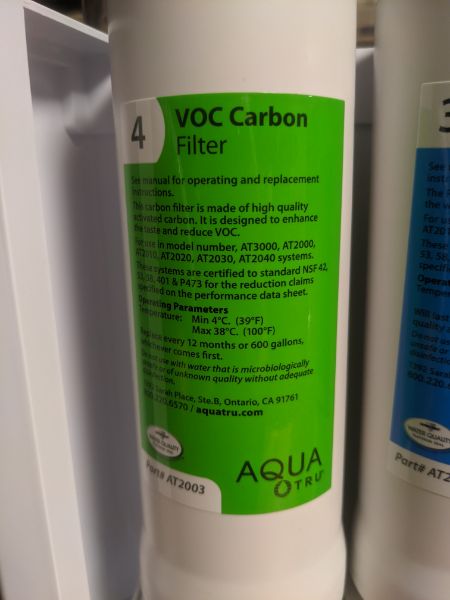 Wastewater Tank
This AquaTru water purifier diverts contaminated water into a waste water tank, which is removable for easy emptying. The product works in that for every ¾ of a gallon of pure reverse osmosis water is produced, ¼ of a gallon is wasted.
Purified Water Storage Tank
The water tank is essential in this water system for holding filtered drinking water once it has passed through the RO and filter stages. It takes up to 15 minutes to filter enough water to fill the entire storage tank. This front tank can hold a gallon of clean water at a time.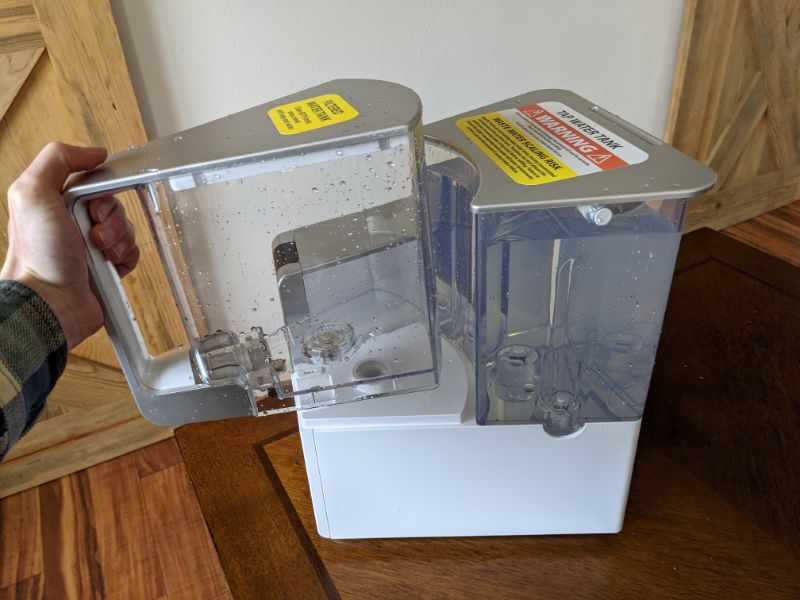 On/off Switch
For the simplest operation, this RO water purifier has an on/off switch to turn the system on and off according to a user's purified water needs. The switch can be found at the back of the machine, and is red in color. The system is easy to use – you simply set it up, switch it on, and leave it to run.
🚦 Performance
In terms of water waste, the water purifier is one of the more efficient reverse osmosis filter systems, especially when compared to a standard under sink design.
While these systems typically waste around 3 gallons of water for every 1 gallon that is produced, the AquaTru wastes only around 25% of water from the reverse osmosis process.
If you want a little reassurance when it comes to performance, AquaTru offers a money-back guarantee on its water filters, plus a 1-year warranty.
🔧 Installation & Maintenance of the Aqua Tru
There is virtually no installation required for the AquaTru, which makes set-up a significantly faster task then installation of most under sink RO systems.
The AquaTru contains all of its filters inside one body, and the user is not required to put these together after purchasing the product. The machine is switched on and ready to use with a simple touch of a button, with no plumber required to carry out the job.
Looking after the AquaTru is simple. The product recommends flushing with pure water once a week to clean, and the machine itself will let the user know when filters need replacing.
Replacement filters can be purchased at a relatively low cost online, and are easy to replace.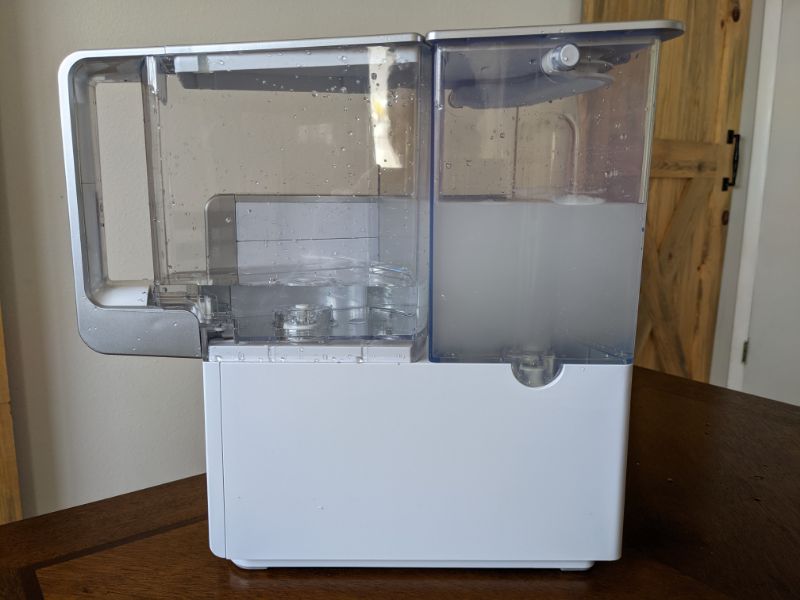 📝 Filter Info
The AquaTru uses 3 twist and change quick-seal filters– the mechanical and RO pre-filters and the carbon filtering cartridge – and one RO membrane to remove contaminants and improve overall water quality.
Each filter works to remove particles of different sizes from the water, producing much better-tasting water. The RO membrane removes up to 99% of total dissolved solids from the water, making it safer and purer for drinking.
You'll need to factor in for a filter replacement, and each of the filters last:
Pre-filter (stages 1&2): 600 gallons or six months
RO membrane (stage 3): 1200 gallons or two years
VOC filter (stage 4): 600 gallons or one year
🔔 Pros & Cons
👍 What I Like
With set-up taking only 3 minutes to complete, this system does not require extensive installation or the help of a plumber to get started. Switching the machine on and dispensing water requires only the press of a button.
Sleek in design, the AquaTru makes a visually appealing addition to a kitchen or workplace countertop. The base unit is compact and contains all of its components within one body. It does not take up under sink space.
This RO system is significantly cheaper than standard under sink systems, but still offers a thorough filtration process, filtering water through the same semi-permeable membrane for removal of contaminants, and provides a very similar quality of filtered pure water.
The AquaTru wastes far less water than a standard RO system, wasting only 1 gallon of water for every 3 gallons produced. It's fast, too, producing around 3 quarts of water in just over 10 minutes.
Water tastes great from this system, so there's no need to waste money on bottled water to drink at home.
Customer service is pretty helpful, and there's plenty of guidance when it comes to installation and maintenance. The machine comes with a 1-year warranty.
👎 What I Don't Like
The AquaTru reverse osmosis system has a smaller tap water tank than a standard under sink RO filter. The tank can hold up to 1 gallon of water, which may be inconvenient if a large quantity of water is needed at a time. The filtered water tank takes around 10 minutes to refill.
Although highly effective in removing impurities from a water supply, the AquaTru RO system does not consist of quite as many water filtration stages as many under sink filtration units. Depending on water type, a user may require a machine with more carbon filters for a more thorough filtration process.
The AquaTru removes up to 99% of total dissolved solids from water, including healthier minerals like calcium. If you like the taste of alkaline water, I recommend that you buy trace minerals to remineralize your water before drinking.
Some customer reviews mention that the machine stopped working at less than a year old, after the 30-day returns period.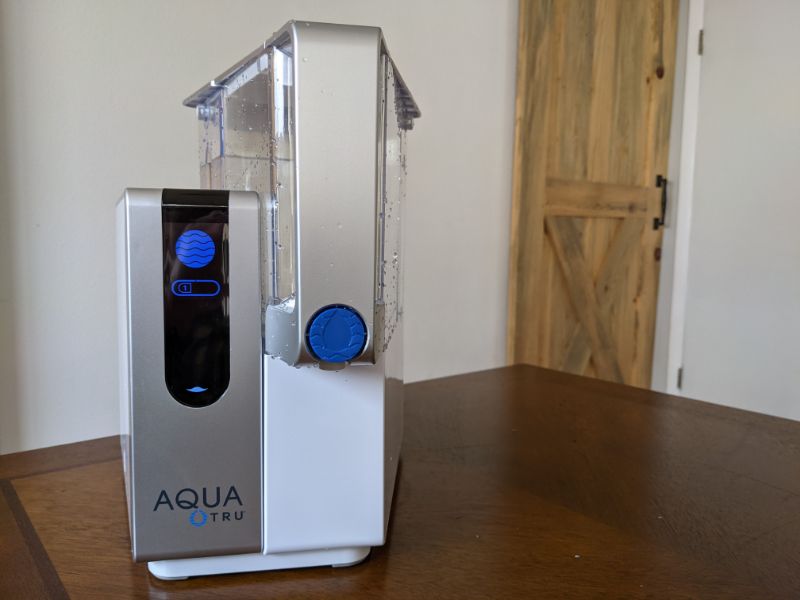 My readers get 15% off at waterandwellness.com – 👉 Click here for code
Found this review helpful?
Comment below or share this article!