Clearly Filtered is a brand that's popular with customers for its point-of-use water filters (including under-sink systems and water pitcher filters) that remove hundreds of drinking water contaminants. AquaTru is best known for its high-efficiency countertop reverse osmosis system, but it also sells an under-sink system.
In this guide, we've compared Clearly Filtered and AquaTru, discussing their similar product offerings, their best features, advantages and disadvantages, and more. By the end, you should be able to decide which of the two manufacturers (if any) is right for you.
📖 TL;DR Clearly Filtered vs AquaTru: Which is Better?
It's difficult to fairly compare Clearly Filtered with AquaTru because the brands offer such different products.
While their configurations are similar (countertop, under-sink, etc.), their performances are very different because AquaTru's systems use reverse osmosis, while Clearly Filtered uses single or multi-stage filters.
If you prefer more options and easy maintenance, Clearly Filtered's water filters are better for you. AquaTru, on the other hand, offers the most comprehensive filtration and optional remineralization for enhanced water quality.
⚖️ Comparison Chart
| System | Clearly Filtered Under Sink | AquaTru Under Sink RO | Clearly Filtered Pitcher | AquaTru Countertop RO |
| --- | --- | --- | --- | --- |
| Contaminants Reduced | 232+ | 80+ | 365+ | 80+ |
| Price | $$$ | $$$ | $ | $$$ |
| Certifications or Testing | NSF 42, 53 & 401 | NSF 42, 53, 58, 401, & P473 | NSF 42, 53, 401 & 473 | NSF 42, 53, 58, 401, & P473 |
| Filter Capacity | 2,000 gallons/ 1 yr | 600-1,200 gallons | 100 gallons | 600-1,200 gallons |
| Annual Cost | $396-$440/ 1 yr | $60-$150 | $120-$140 | $60-$150 |
| Warranty | Lifetime | 1 year | Lifetime | 1 year |
💡 Filter Comparison
Clearly Filtered Filters
Clearly Filtered offers a number of different filters for point-of-use installation or setup:
A Filtered Water Pitcher
A 3-Stage Under the Sink Water Filter System
A Universal Inline Fridge Filter
Several Filtered Water Bottles
In this review, we'll be discussing the 3-Stage Under the Sink Water Filter System and the Filtered Water Pitcher, because these are the most similar to AquaTru's two offerings.
The Clearly Filtered Pitcher is the brand's most popular offering. This single-stage gravity water filter uses Affinity Filtration, which removes 360+ contaminants with its dual-technology approach. You can buy the pitcher in a single 80-ounce/10-cup design, with an average 4-month filter lifespan.
The 3-Stage Under the Sink Water Filter System is a comprehensive under-sink water filter system that combines three separate filter cartridges: an advanced priming filter, a VOCs and heavy metals filter, and an arsenic/fluoride filter. Most under-sink filters can remove tens of contaminants from a drinking water supply, and the Clearly Filtered system is far superior, removing a total of 232 tap water contaminants. We've discussed the filter's contaminant removal abilities in more detail later.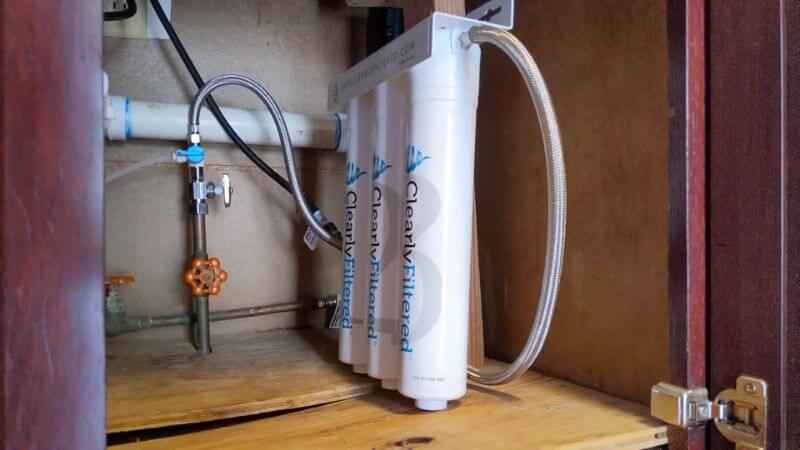 AquaTru Filters
AquaTru currently sells two reverse osmosis systems:
A Countertop Reverse Osmosis Water Purifier (Classic or Carafe)
An Under Sink Reverse Osmosis Water Purifier
There are a few different configurations of these systems. For instance, you can upgrade the Countertop RO System to add WiFi connectivity, and you can also switch the classic VOC carbon filter to a filter that also offers remineralization. You can also switch from the Classic Under Sink to the Alkaline Under Sink if you want to remineralize your RO water.
For the sake of this comparison guide, we'll be reviewing the AquaTru Classic Countertop Reverse Osmosis Water Purifier and the Classic Under Sink Reverse Osmosis Water Purifier, but we will occasionally mention the remineralization upgrades.
The Classic Countertop Reverse Osmosis Water Purifier is AquaTru's most popular model. It's an electricity-powered machine that combines three filter stages – a mechanical pre-activated carbon filter, a reverse osmosis membrane, and a VOCs filter – which remove the majority of dissolved solids present in a municipal tap water supply. You can switch out the final stage VOCs filter with an alkalizing VOCs filter if you want to add healthy minerals back into your water.
AquaTru also sells a more traditional tank-based under-sink RO water filter system. This filter uses the same three filtration cartridges as the countertop filter, but stores purified water in a 3-gallon tank and delivers it straight to your faucet whenever you switch it on. It offers the advantage of being stored out of sight under your sink and providing purified water on demand, but it's bigger, bulkier, and more difficult to install than AquaTru's countertop system.
Our readers get 15% off at waterandwellness.com – 👉 Click here for code
🧫 What Contaminants Do They Remove?
Clearly Filtered and AquaTru remove a similar range of contaminants from drinking water. We've summarized the contaminant removal abilities of each brand's systems below.
Clearly Filtered's Water Pitcher can remove 360+ contaminants, including nitrate, chlorine, fluoride, arsenic, microplastics, PFAS, chromium-6, vinyl chloride, heavy metals, disinfection byproducts, pharmaceuticals, radioactive substances, pesticides, semi-volatile compounds, VOCs, and more. View the performance datasheet here.
The Clearly Filtered under-sink system can remove 232 contaminants, including chlorine, chloramine, fluoride, lead, vinyl chloride, arsenic, PFAS, pesticides, chromium-6, pharmaceutical drugs, heavy metals, and more. View the contaminant removal datasheet here.
Both the pitcher and under sink system are certified by the WQA to NSF/ANSI standards 42 and 372. Additionally the pitcher is certified to standard 53 for PFOA/PFOS reduction.
The AquaTru systems greatly reduce total dissolved solids (TDS) in drinking water, removing 80+ contaminants (by our count). Some of the contaminants removed by AquaTru's reverse osmosis filter systems are chlorine, disinfection byproducts, pesticides, arsenic, fluoride, lead, nitrate, nitrite, radium, and selenium.
AquaTru's filters are certified by IAPMO to NSF/ANSI standards 42, 53, 58, 372, 401, and P473
🚦 Performance Comparison
Clearly Filtered Filters
Clearly Filtered might not use reverse osmosis technology like AquaTru, but it offers very similar performance benefits, without some of the disadvantages of RO (like wastewater production and the removal of healthy minerals).
The Clearly Filtered Pitcher is particularly impressive because it uses just a single filter cartridge to remove 360+ contaminants. However, the pitcher is a gravity filter, which has a key disadvantage from a performance perspective – flow rate is much slower because there's no additional pressure to send water through the filter, so you won't get instant access to filtered water (the entire filtration process takes around 40 minutes).
However, the pitcher setup is convenient when it comes to portability and ease of assembly, and it has an ergonomic design that makes pouring from the jug simple – you can even pour while there's unfiltered water still in the reservoir.
The Under-Sink Water Filter System also ticks our boxes for performance, offering the convenience of filtered water straight to the faucet on demand. Expect a slight decrease in your kitchen tap water flow (around 20-25%) – to be expected given the resistance that water meets when traveling through the filter media.
We know we can trust Clearly Filtered's performance claims because its products have been tested by the Water Quality Association (WQA) to NSF Standards 42 and 53, for the reduction of chlorine and contaminants with health effects, including PFOA/PFOS. Clearly Filtered has also obtained third-party testing by an accredited laboratory to support all its contaminant removal claims.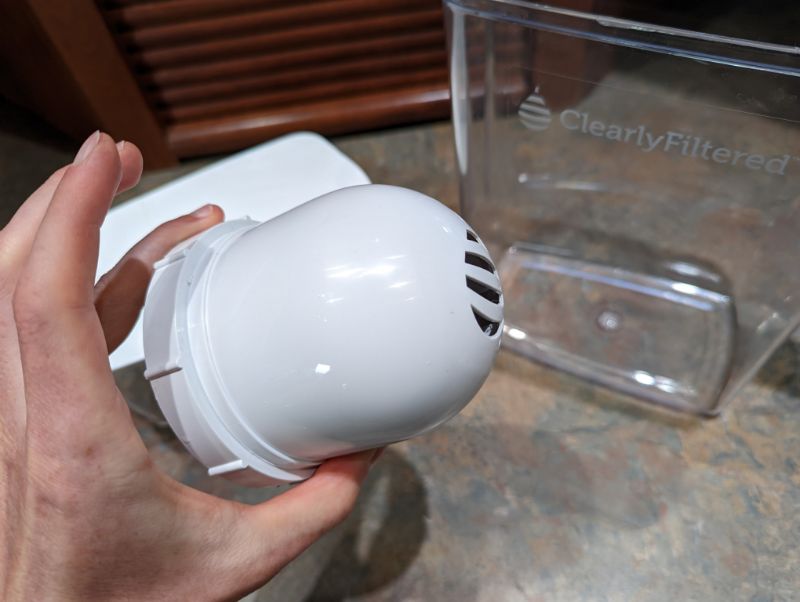 AquaTru Filters
As RO filters, the two AquaTru units have different performance benefits and setbacks compared to the Clearly Filtered Pitcher and Under-Sink models.
An advantage of the RO filtration method used in AquaTru's systems is that it treats water incredibly thoroughly. Even Clearly Filtered, which offers superior water filtration, can't compare to RO purification. The semi-permeable membrane rejects virtually all harmful contaminants, down to 0.0001 microns in size.
As for water production rate, both the AquaTru countertop filtration system and under-sink filter unit perform well here. The under-sink filter has a 54 GPD (gallon-per-day) water production rate – that's more than enough for domestic use – and the countertop system has a slightly lower (but still respectable) 48 GPD production rate. You should be able to access RO water almost instantly after turning on your faucet or pressing the dispenser button.
There are a couple of performance setbacks, however. For a start, like all RO systems, the AquaTre filters product a small amount of wastewater. The systems have a fairly decent efficiency ratio – around 25% of water is wasted for every 75% purified – but they still waste water all the same. That means that some of the water will be directed straight down the drain (in the case of the under-sink system) or you'll have to dispose of it yourself (for the countertop filter). You don't have this issue with Clearly Filtered – 100% of the water added to the system is filtered.
Another performance disadvantage is that, again like all RO systems, the AquaTru units remove all total dissolved solids, including beneficial minerals. The good news is that you can pay a bit more upfront to upgrade your system to include a remineralization filter, which will add these healthy, taste-enhancing minerals back into your water. We recommend doing this if you prefer the taste and properties of alkaline water, even if it costs more.
💲 Models & Upfront Cost
Clearly Filtered Models
Clearly Filtered offers several different filters, including:
Clearly Filtered's products are in the higher price bracket for what they are, for obvious reasons (superior contaminant removal). The manufacturer's audience is willing to spend more upfront on the most capable water filtration solutions that don't have the disadvantages of RO.
AquaTru Models
As we mentioned earlier, AquaTru sells several configurations of three filter models:
A countertop RO system with a classic dispenser style (reviewed in this guide), costing around $450 without remineralization and $470 with remineralization, plus another $50 for the WiFi upgrade
A smaller countertop RO system that dispenses water into a carafe, costing around $350 without remineralization and $370 with remineralization
A tank-based under-sink system (also reviewed in this guide), costing around $350 without remineralization or $370 with remineralization
AquaTru's products are aimed at customers with big budgets who want to invest in high-quality reverse osmosis water filtration systems to remove as many contaminants as possible from their drinking water supply, without the clunkiness and increased water waste of conventional RO systems.
📆 Filter Lifespan & Replacement Costs
Clearly Filtered
Clearly Filtered's average filter lifespan is around twice the lifespan of competing models. The advantage of the Clearly Filtered system lifespan versus AquaTru systems is that you don't have to worry about changing different filters at different times, so maintenance is easier.
Here are the average filter lifespans for the two Clearly Filtered water filters reviewed in this guide:
| System | Capacity | Lifespan |
| --- | --- | --- |
| Under-Sink Filter System | 2,000 gallons | 12 months |
| Refrigerator Filter | 365 gallons | 12 months |
The cost of replacement filters for Clearly Filtered's under-sink system is about $396-$440/year, and the annual cost for the pitcher filter replacements is ~$150 – definitely not cheap.
AquaTru
AquaTru's filter lifespan is about bang-on average when compared to similar RO systems. You'll need to buy replacement filters at different times for the two AquaTru systems:
| Filter Type | Capacity | Lifespan |
| --- | --- | --- |
| Pre-filters | 600 gallons | 6-12 months |
| VOC carbon filters | 600 gallons | 6-12 months |
| Semi-permeable membranes | 1,200 gallons | 2 years |
The advantage of AquaTru's countertop unit is that it tells you when the filters need replacing (something that Clearly Filtered doesn't offer), so you don't have to guess when the filters need to be replaced.
AquaTru's water filters have an annual filter replacement cost of around ~$100, so they're cheaper to maintain than Clearly Filtered's offerings, even if the filter replacement process is more of a hassle.
💬 Customer Reviews & Complaints
Clearly Filtered
Clearly Filtered's water filter pitcher and under-sink water filters are generally well received by customers. We read hundreds of reviews on Amazon and Clearly Filtered's website to help us understand whether customers, on the whole, were satisfied with their purchase.
Customers said that the Clearly Filtered Pitcher improved their water taste and were pleased with its superior contaminant removal, including its ability to remove fluoride. A few customers complained that the filter leaked.
The Clearly Filtered Triple Stage Kitchen Faucet Filtration System also had positive feedback, with reviewers saying that it greatly improves water quality and is easy to install, but some reviewers said that their tap water flow rate reduced noticeably.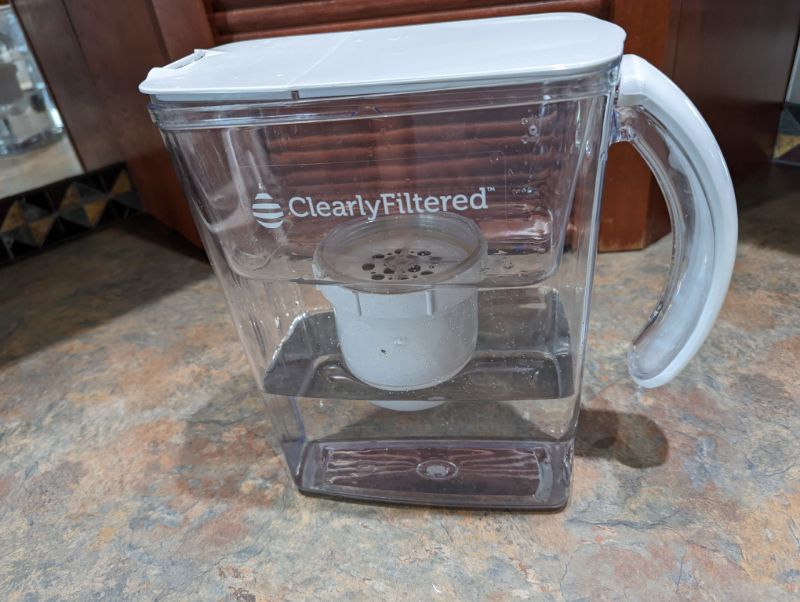 Our readers get 10% off at clearlyfiltered.com 👉 Click here to get your coupon.
AquaTru
We used Amazon and other websites to find customer reviews for the AquaTru systems (there are no reviews on the AquaTru website itself).
AquaTru's countertop RO system has mostly positive feedback, with customers saying it greatly reduces TDS (to around 30 PPM), is fast and quiet, and produces great-tasting water. However, some customers complained about the small water holding capacity (regular refills are needed).
Customers were also generally pleased with AquaTru's under-sink filtration system, saying that the installation instructions were easy to follow and commenting that the alkaline water filter stage works well (it boosts pH to around 9). Some customers questioned the quality of a few of the installation components.
☑️ Pros and Cons of Clearly Filtered vs AquaTru
👍 Clearly Filtered – Pros
Impressive contaminant removal– You'd be mistaken for thinking that Clearly Filtered's offerings used RO purification, but they don't – the manufacturer's filtration media is simply comprehensive enough to reduce hundreds of contaminants present in tap water. If you want to filter water to the very highest standard, you can't go wrong with Clearly Filtered's offerings.
No water waste or demineralization – The main advantage of the Clearly Filtered systems compared to the AquaTru models is that they don't present the disadvantages RO purification. Clearly Filtered's systems remove contaminants without wasting water, and they retain healthy minerals in your water – something none of AquaTru's RO systems can do unless you pay extra for remineralization.
👎 Clearly Filtered – Cons
Expensive – Since Clearly Filtered's systems don't actually offer the same level of purification as RO, they're pretty expensive. Expect to pay up to twice the amount of a similar filter for the benefits of enhanced contaminant removal. Filter changes are also expensive. Clearly Filtered isn't a budget-friendly brand.
Pitcher capacity & flow rate are lacking – The Clearly Filtered pitcher has the convenience of portability, but it holds just 10 cups of water and has a slow flow rate due to its gravity-fed filtration. If you want a larger-capacity countertop unit that delivers water at the touch of a button, look beyond Clearly Filtered's offering to AquaTru's RO system.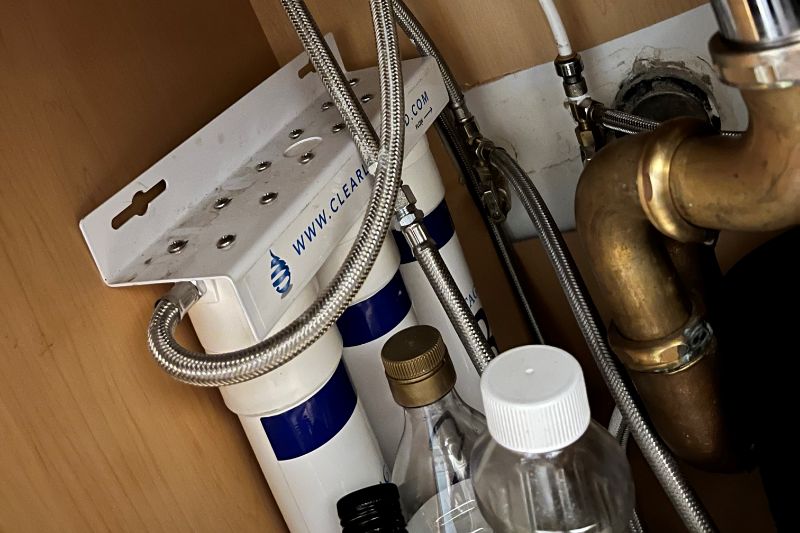 Our readers get 10% off at clearlyfiltered.com 👉 Click here to get your coupon.
👍 AquaTru – Pros
Most thorough water treatment – The Clearly Filtered systems might be good, but they can't compete with AquaTru's RO process when it comes to contaminant removal. AquaTru's filters remove at least 75% of dissolved solids, offering the best protection against a range of potential contaminants in your water.
Delivers water on demand – Regardless of the AquaTru water filtration system you opt for, you get the convenience of purified water on demand. The countertop unit uses a pump to maintain the high water pressure required for RO, so you don't have to wait around for your water to be filtered as you do with the Clearly Filtered gravity pitcher.
👎 AquaTru – Cons
Remineralization costs extra – A notable disadvantage of both of AquaTru's filters is that they remove minerals from your water, and the remineralization filter is an add-on that costs extra. We're pretty sure the majority of people would want to remineralize their RO water, so it's a shame that AquaTru charges extra for it.
Wastes water – Another disadvantage of AquaTru compared to Clearly Filtered is that its RO systems waste water. You can't do anything with this reject water because it has a high TDS concentration, and you might notice a slight increase in your water bill because you'll need to use more water to produce the normal amount that you need for everyday use.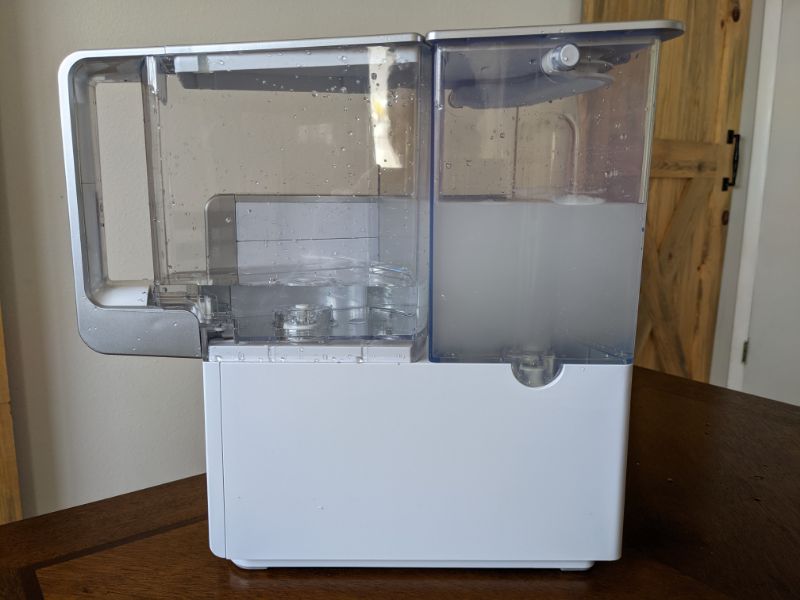 ❔ Should I buy AquaTru or Clearly Filtered?
So, is AquaTru or Clearly Filtered the better offering? It depends on what you're looking for in a water treatment system.
If your priority is premium water filtration without the side effects of RO purification, look at Clearly Filtered water filter systems. If you prefer to reduce TDS in your water and are in the market for an advanced RO system for countertop or under-sink installation, consider AquaTru water filters.
Regardless of the system you choose, you'll need to have a big budget for the upfront purchase, and you'll also have to be prepared to spend at least $100 a year on filter replacements. If your budget is small, none of these filters is the right choice for you.