Of all the clean drinking water solutions out there, countertop filters are some of the most convenient. They're simple to set up, portable, and, in some cases, just as effective as a point-of-entry filer connected to your water line.
📖 TL;DR AquaTru vs ZeroWater: Which is Better?
While these two brands offer a couple of the top performing products currently available, some people may prefer the lower price point of the Zerowater pitcher.
However for those looking for the most thorough contaminant removal, AquaTru's reverse osmosis filtration is comes out on top.
The AquaTru and the ZeroWater are two of the most popular countertop filters available today. AquaTru is a reverse osmosis countertop system that can remove more than 83 contaminants from water, while Zero Water is a gravity water filter pitcher that takes under two minutes to produce a cup of purified drinking water.
While both systems remove an impressive host of contaminants, that's about where their similarities end.
If you're on the hunt for a portable drinking water filter and you can't decide between one of the best countertop RO models and one of the best water filter pitchers, this AquaTru vs ZeroWater guide should help you choose the right one for you.
Note: In this guide, we've reviewed the AquaTru Classic – AquaTru's base model. However, AquaTru offers three other configurations of this unit, which we've mentioned briefly in some of the sections.
⚖️ Comparison Chart
💡 Filter Comparison
AquaTru Filters
The AquaTru uses reverse osmosis to filter water, and the process is a bit more thorough and complex than ZeroWater's. The four-stage filtration process begins with a pre-filter, which removes larger suspended particles like sand, silt and sediment. Next, water flows through a filter made from activated carbon, where nearly 100% of chlorine is trapped in the adsorption process.
Moving onto the feature that sets the AquaTru apart from the ZeroWater: the reverse osmosis semi-permeable membrane. When water is forced against this membrane, any impurities that are too big to fit through the membrane's tiny pores simply rebound off the surface. Everything from heavy metals to bacteria can be removed by the RO membrane.
Finally, water travels through the AquaTru's final filtration stage: a coconut shell carbon filter, which removes any remaining impurities.
If you upgrade to the AquaTru Alkaline Classic or the AquaTru Alkaline Connect, you'll get an additional filter stage: remineralization. This stage is combined with the VOC filter to add healthy minerals back into your purified RO water.
Note that for the filters to work, the unit needs to be plugged into a 120-volt outlet, which will power a pressure pump to send water through the system.
ZeroWater Filters
The ZeroWater uses gravity filtration, fitting five filtering stages into a single cartridge. Water flows through a coarse screen, an oxidation and carbon reduction alloy, an ultra-fine screen, a foam distributor, and a non-woven membrane. Each filter stage is designed to remove a select set of contaminants, resulting in a high level of contaminant removal overall.
The filter itself sits inside the ZeroWater pitcher, on the underside of the lid. When you fill the pitcher with water, it must pass through the filter before it can enter the chamber below. This chamber has its own dedicated spout, so when you pour from the pitcher, filtered water will come out of the lower chamber.
🧫 What Contaminants Do They Remove?
One of the reasons why AquaTru and ZeroWater are so popular is because they're both capable of removing an impressive selection of contaminants – especially as they're both relatively small and compact.
ZeroWater is NSF certified to remove 99.6% of all TDS (total dissolved solids) in water, while AquaTru's filters are certified to NSF Standards 53, 42 and 58 for reducing or removing a total of 83 contaminants.
The complete list of contaminants for each filter can be found here:
🚦 Performance Comparison
AquaTru
Because water is powered through its filters by a pump, the AquaTru has a much quicker performance than the ZeroWater, and provides immediate drinking water access. The system is just as powerful and capable as a standard under-sink RO filter, but it has the advantage of requiring virtually no setup, and maintenance that's less of a hassle.
In terms of the quality of performance, you can expect good things from the AquaTru. Having four filtration stages split into three different filter cartridges means the system can thoroughly treat water and remove impurities of all different forms and sizes.
Plus, if you upgrade to an applicable model, another performance benefit of the AquaTru is that it adds healthy minerals back into purified water, boosting its alkalinity. ZeroWater doesn't offer this water treatment.
The system has been third-party tested to NSF standards and deemed capable of performing as advertised.
ZeroWater
ZeroWater, like AquaTru, has also been tested to NSF standards – in this case to Standards 53 and 42 (AquaTru is tested to one extra Standard, 58, which is only applicable to RO filters).
A quirk of this system is that it comes with a free water meter, which reads the level of TDS and can be used by you to see how effectively the filters are working. This is a sign that ZeroWater's manufacturers have a lot of faith in their product – and once you've tried it for yourself, you will, too.
The ZeroWater doesn't use separate filter cartridges for each filtration stage. Instead, it packs 5 filtration stages into 1 cartridge. You might think this makes the filter less effective, but it's capable of removing 99.6% of TDS, so don't be so quick to assume.
Everything from rust and dust to suspended solids, organic and inorganic contaminants, chemicals and metals can be removed by this filter. Most gravity filters only offer two filtration stages at most, so the ZeroWater is definitely a standout of its kind.
However, a less favorable aspect of the ZeroWater's performance is its filtration speed. Being a gravity filter, it'll take the ZeroWater around 2 minutes to filter a glass of drinking water. It's not a long time to wait, but as the AquaTru provides filtered water instantly, this does make it slightly more appealing in that respect.
💲 Models & Upfront Cost
AquaTru models
The AquaTru currently comes in a single countertop water filter model: the 4-stage Ultra Reverse Osmosis filtration system.
There's no denying that this unit isn't cheap, costing around $430, but it's a pretty standard price for this type of filter – and you certainly pay for the long-term benefits of reverse osmosis.
This unit comes in four different configurations:
The AquaTru Classic – the base model
The AquaTru Connect – connects to an app via WiFi & gives details on filter life, water usage, and more
The AquaTru Alkaline Classic – uses an alkalizing mineral-boost VOC filter instead of the standard VOC filter
The AquaTru Alkaline Connect – comes with alkalizing mineral-boost VOC filter and built-in WiFi
There's a $70 price difference between the cheapest unit (Classic) and the most expensive model (Alkaline Connect), so it's worth considering whether the upgrades are worth it for you.
Plus, there are a few add-ons you can purchase for less than $50 alongside the AquaTru from the manufacturer, such as a remineralization solution, an extra tank for storing pure water, and descaling powder.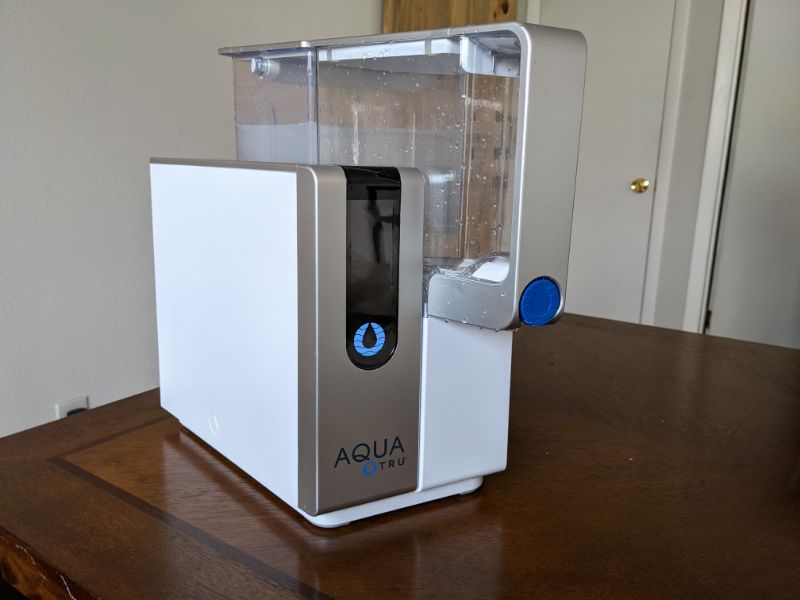 Our readers get 15% off at waterandwellness.com – 👉 Click here for code
ZeroWater Models
ZeroWater, being a gravity filter with a single cartridge, has slightly more flexibility when it comes to the shapes and sizes it's available in.
You can choose between several different pitcher sizes depending on your needs. The larger the pitcher, the more water you'll be able to filter in one go. Prices range from $20 to $70, so there's a filter for every budget.
The pitcher models currently available by ZeroWater are as follows:
📆 Filter Lifespan & Replacement Costs
AquaTru filters
As a reverse osmosis system, the AquaTru has several different filters that work independently and require replacing at different points in time.
The sediment pre-filter lasts for 6 months, and the carbon filters last for 12 months or 600 gallons, whichever comes first. The RO membrane has the longest lifespan of 2 years of 1,200 gallons.
Conveniently, the AquaTru has a filter change reminder function, so you won't need to guess when the filters need changing. Just be prepared to put some cash aside to purchase several filters, rather than just one.
There are always deals to be found when you're buying replacement filters, and in the case of the AquaTru, you can purchase the carbon, pre and post-filters for a discounted overall price of $70, and the RO membrane separately.
You can also buy a two-year filter replacement pack for around $160, which includes two lots of every filter and one semi-permeable membrane replacement. This is a more expensive upfront cost compared to the ZeroWater prices, but you'll only need to pay it once a year or once every 2 years, depending which package you go for.
Zero Water filters
There's only one ZeroWater filter cartridge to replace, which makes it slightly more appealing from a cost perspective.
You can buy two ZeroWater filters for around $30. With each of these filters lasting for 3-5 months, you'd likely end up spending less than $60 per year on filter replacements if you used the ZeroWater year-round. This is around $20 cheaper per year than if you were to purchase the AquaTru 4-pack filter, so I wouldn't say it's enough of a difference in price to sway you one way or the other.
Also, comparing the ZeroWater to other water filter pitchers, the ZeroWater's filter replacements are some of the most expensive – not a problem if your budget is flexible, but be sure to keep that in mind when you're choosing between filters.
💬 Customer Reviews & Complaints
AquaTru
AquaTru is one of the newer filtration brands, which does put it at a slight disadvantage – you don't get the feeling of security that you do with a brand that has built a fanbase over years of operation. However, most of the reviews for AquaTru so far are very positive, and overall, customers are generally satisfied that the system lives up to expectations in terms of durability and performance.
On Amazon, the system currently has a 4.3 star rating out of just under 500 reviews.
Customers commented that the system was fast and quiet – two big benefits for this type of filter, as reverse osmosis can sometimes be noisy and slow.
People particularly liked that the AquaTru offered the same benefits as an under-sink RO unit, but without the hassle of installation or the ongoing cost of wastewater.
However, some customers did note that the AquaTru had an issue with leaking filters, but this can usually be remedied by checking the placement of the filters inside the housing. On a positive note, customers reported that AquaTru's customer service team was particularly helpful in making sure that any issues were resolved quickly.
ZeroWater
ZeroWater is slightly more established than AquaTru, with reviews of its current products dating back more than 7 years. On Amazon, the 10-cup ZeroWater has a 4.5 out of 5 star rating, based on more than 17,000 reviews.
The affordability of ZeroWater makes it a more popular choice as it allows for people with all budgets to benefit from clean drinking water, and customers certainly don't complain about price or value for money.
Several customers noted that the ZeroWater did a better job than Brita and PUR filters, two popular competitors (see my ZeroWater vs Brita review here).
Many people also said that their water's taste was on par with bottled water after it had been filtered by the ZeroWater.
One thing to note is that a number of reviewers mentioned that the filter cartridge took on a bad smell over time. This odor comes from the contaminants that are trapped in the filter – but it won't affect performance, nor will it give your filtered water a bad smell.
Another recurring customer complaint was about the frequency of filter changes. Some people said that the filter didn't last as long as advertised, which is likely due to its design – it has smaller pores than most filters, which means it'll become more quickly clogged with contaminants.
One way to get around this is to use a separate filter before using the ZeroWater, which will give you the purest water and help the ZeroWater filter to last longer.
☑️ Pros and Cons of AquaTru vs ZeroWater
👍 Aquatru – What We Liked
Tested to NSF standards
Being tested to NSF standards is definitely a bonus – especially for the AquaTru, as you want to know in advance that you'll get value out of such a big investment. The system is tested to Standards 42, 53, and 58, which cover heavy metals and chlorine removal, and more.
Thorough, effective filtration
It's still pretty rare to find a countertop system that uses reverse osmosis, which is probably why the AquaTru is so popular. Reverse osmosis is considered one of the most thorough and effective filtration solutions available on the market, and the AquaTru is a highly capable countertop RO system. Plus, several of the AquTru's model upgrades remineralize water, which ZeroWater doesn't do.
Less hassle installation
Most reverse osmosis systems take a lot of effort to install and maintain. You have to connect the unit directly to your water line, and maintenance requires getting down low and to change the filters. The AquaTru, on the other hand, is already pre-installed, so all you need to do is plug it in and switch it on. Changing the filters is also easier as you can do so at eye-level.
Immediate drinking water access
Most countertop water filters use the slow gravity filtration process, but not the AquaTru. This system uses electricity to send water through the filters at a much faster rate, so you can instantly fill a glass with clean, drinking water after switching the system on. Of course, you do need to fill the system, as it isn't connected to a water line, so don't forget about that.
👎 Aquatru – What We Didn't Like
Requires electricity to operate
If you're thinking of buying a countertop water filter to save money, you may be disappointed to know that the AquaTru requires electricity to operate. There's no getting around this – RO filters can't use gravity filtration alone because of their design, so you'll only be able to get clean water from the filter in a location where electricity is easily accessible.
Uses plastic parts
In the world of water filtration, plastic materials are the enemy. In your research, you've probably come across customers moaning about broken plastic parts, and it's true – plastic has a much lower lifespan than other, more durable materials. You'll be happy to know that the AquaTru's plastic components are BPA-free, but it would be better if the system used all durable materials, like stainless steel.
👍 ZeroWater – What We Liked
Tested to NSF standards
The AquaTru isn't the only filter to be NSF tested- the ZeroWater is too. All of ZeroWater's gravity pitchers are tested to NSF standards to remove lead and chlorine from water.
Easy to store and carry
How small and compact your ZeroWater pitcher is depends on which one you buy, but there are plenty of options that are small enough to fit in your backpack and take with you to work or on vacation. While the AquaTru is technically portable too, it's not as portable as the ZeroWater – and, another bonus: the ZeroWater doesn't use electricity.
Lower upfront cost
The ZeroWater pitchers are a fraction of the price of the AquaTru. This makes the filters more accessible to anyone, regardless of budget, and you're still getting the same high quality of water filtration. While a first-time water filter user would be less willing to splash out nearly $500 for the AquaTru, they'd be happier to spend less than $50 on the ZeroWater.
👎 ZeroWater – What We Didn't Like
Filters need replacing regularly
The ZeroWater filters are a little more affordable than AquaTru's, but you'll need to replace them once every 2-4 months – far more frequently than the AquaTru. This may be a hassle to you, and you'll need to make sure you have filters in stock for when you need them.
Slow to filter
You won't get instant access to clean water with the ZeroWater. Because the system uses 5-stage gravity filtration, you'll have to wait longer to pour yourself a glass of water than you would with the AquaTru.