The RKIN U1 is an all-in-one water filter and hot/cold water dispenser that uses reverse osmosis to purify drinking water before heating or cooling it to your preference.
In this RKIN U1 review, we've shared everything you need to know about RKIN's most high-tech filter offering, including its specs, performance highlights, key features, filter info, and more.
🧾 Overview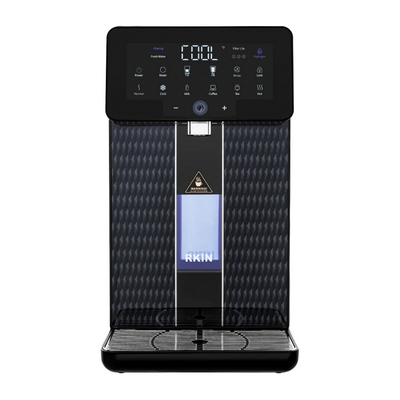 RKIN U1
The RKIN U1 is a countertop reverse osmosis machine that dispenses hot or cold purified water at the touch of a button. The unit is one of RKIN's most recent inventions, designed as an upgrade to the RKIN ZIP. It was released at the end of 2022 and is in the process of being certified to NSF Standard 58 for its performance.
You can buy the unit in a single size and model. It has a sleek black design and a touch control panel, and is 17 inches tall – about the same height as a countertop minifridge. You have the option to buy the system with a turntable, which costs an extra $60.
The RKIN U1 is backed by a 1-year warranty and money-back guarantee.
📝 System Specifications
| | |
| --- | --- |
| Size (W X H X D) | 9.5 X 17 X 19 inches |
| Weight | 26 pounds |
| Tank capacity | 0.5 gallons |
| Color | Black |
| System type | Countertop reverse osmosis |
| Included filters | Sediment; activated carbon; RO membrane; alkaline, hydrogen infusion |
| Water temperatures | Cold, ambient, or adjustable hot (194-202 F) |
| Contaminant removal rate | Up to 99% of all TDS |
| Flow rate | 75 GPD |
| Control | Touch-panel display |
| Warranty/guarantee | 1-year warranty & 1 year money-back guarantee |
📌 How do these specs compare to the U1's predecessor, the ZIP? The U1 is more capable across several areas – it offers cold, ambient, and customizable hot water temperatures, smart water dispensing, a touch-screen panel, a UV light, and easy change filters. None of these are offered by the U1.
💡 Features
What are some notable features of the RKIN U1?
Hot, Ambient, & Cold Water Dispensing
The RKIN U1 gives you complete control over the temperature of the purified water you dispense. No need to filter your water then boil it separately in a pot – the U1 heats water before dispensing it. You can choose how hot you want the temperature, or opt for refrigerator-cold or ambient water.
Zero-Install
You don't have to plumb this unit into your cold water line. Just plug it into a power outlet, fill it with water, and switch it on.
5-In-1 Filtration
There are 5 filter stages used in the RKIN U1: a sediment pre-filter; an activated carbon filter; an RO membrane; an alkaline post-filter, and a hydrogen infusion filter. The system also comes with a UV light that prevents microbiological contamination of the stored water when it's not in use.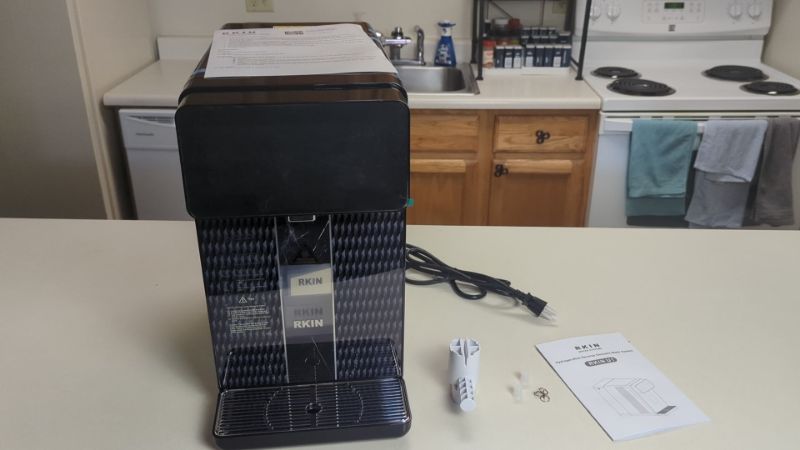 Sleek, Modern Design
You'll be happy to display the RKIN U1 on your kitchen countertop thanks to its sleek design. It should blend in nicely with most modern kitchens.
1 Year Warranty
RKIN backs your purchase with a 1-year warranty and a 1-year money-back guarantee.
🚦 Performance
We evaluate the performance of any reverse osmosis system by considering the following three factors:
The system's gallon-per-day water delivery rate (speed of filtration)
The system's wastewater to pure water ratio (efficiency of filtration)
The system's contaminant removal abilities (effectiveness of filtration)
Let's take a look at each of these performance categories for the RKIN U1.
Water Delivery Rate
First: water delivery rate. Reverse osmosis systems measure their flow/water delivery rate in gallons per day, not gallons per minute (as is the case with most other water filters). The RKIN U1 produces around 75 gallons per day of RO purified water.
This is a very fast water production rate for a countertop RO system. The average flow rate for a modern unit is 50 GPD, and we only know a couple of models that offer up to 100 GPD.
What does this mean for you? You should be pleased with the rate of water production in the RKIN U1. Water won't be dispensed as fast as it is from your faucet, but you should still expect a steady flow. Even boiling water is delivered instantly when you need it thanks to the system's instant-hot technology.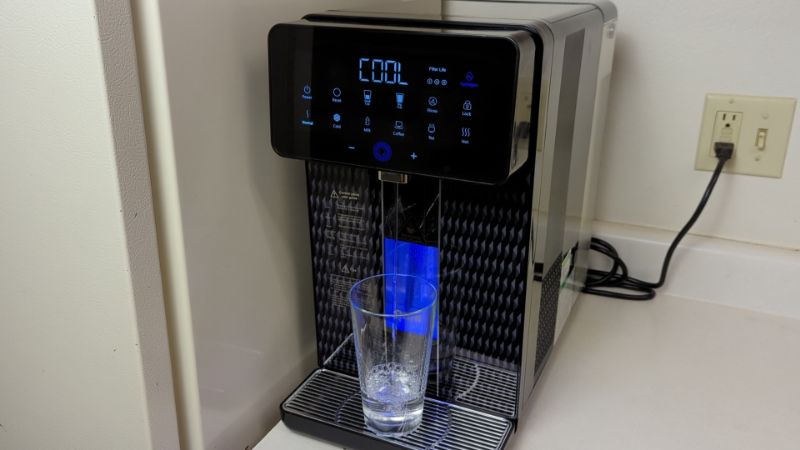 Efficiency Of Filtration
Let's move on to efficiency.
All reverse osmosis systems waste water during the RO process. This is due to the design of the membrane – it rejects contaminants (causing them to rebound back into the RO chamber) rather than trapping them in its pores, which means the contaminants must be flushed away with a small amount of waste water.
The RKIN U1 has a 1:1 wastewater to pure water ratio, meaning that 1 gallon of water is wasted for every 1 gallon of pure water produced. This is very efficient compared to the average pure water to wastewater ratio of 1:4 for conventional reverse osmosis systems.
So, while you still will have to dump half the water produced by the RKIN U1 (it's dispensed into a separate compartment), you can enjoy a decent amount of purified water, too.
Contaminant Removal
Finally, let's touch on the contaminants removed by this machine.
The RKIN U1 is designed to remove up to 99% of all contaminants, including chlorine, fluoride, lead, other heavy metals, and more – exactly as you'd expect from a reverse osmosis filter.
We're disappointed that we haven't been able to find a datasheet of third-party test results to confirm these contaminant removal claims.
RKIN has also applied for an NSF certification to Standard 58, for reverse osmosis performance, back in August 2022, but we can't currently find the product listed in the NSF's catalog of certified water filters (the NSF certification process can take quite a while). The good news is that we do have access to IAPMO testing for the removal of contaminants including TDS, Fluoride, Lead, Chromium III, Chromium VI, and PFOA/PFOS – it's just not available on the manufacturer's website at the time of writing.
Additional Performance Features
Are there any other performance features to note for this system?
If we look at the performance features that affect ease of use, there's a lot to like about the RKIN U1.
There are a number of preset buttons on the touch-screen display that make it really easy to dispense the purified water you need for a specific purpose, including modes for coffee, tea, milk, and different buttons for different water temperatures and cup sizes.
You can also view the filter life on the display, so it's clear when the machine's performance may be affected by a filter that needs changing. Plus, there's a rinse cleaning feature that means you won't have to take the machine apart to do all the internal cleaning yourself.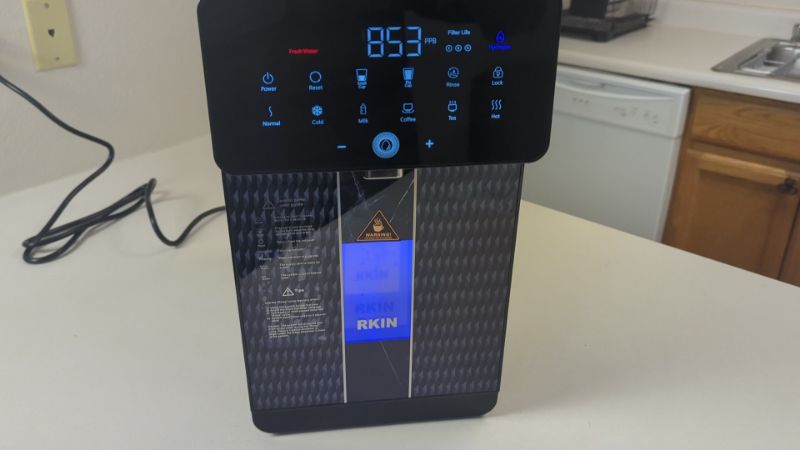 🔧 Installation & Maintenance
What sort of installation and maintenance tasks should you expect for the U1? Good news if you're not a fan of these – the answer is "not many".
Like all countertop RO systems, the RKIN U1 is a plug-and-play type of machine. You just assemble it, plug it in, fill the ½-gallon water tank and place it in the system, and press to dispense water.
The U1's zero-installation design makes it a good choice for folks who live in apartments or anyone who doesn't want the hassle of plumbing a filtration system into their water line.
Maintenance for the RKIN U1 is also easy. The system has a few self-cleaning features, including a UV light that zaps the stored water to prevent microbe formation when it's not in use, and a "rinse" setting that drains the system and flushes the filters. In short, you won't have to take apart the entire system to get it clean.
You will still need to wipe down the outside of the machine occasionally and replace the filters every 1-4 years on average. There's a filter life notification for each of the 3 filters which turns yellow once filter life reaches 80%, and red when the filter needs to be replaced, so no need to guess when new filters are needed.
The final maintenance task is to dump the wastewater from the tank every now and then (frequency depends on your rate of water use). This reject water contains contaminants and isn't recommended for drinking, but you could use it for cleaning, watering your plants, and so on.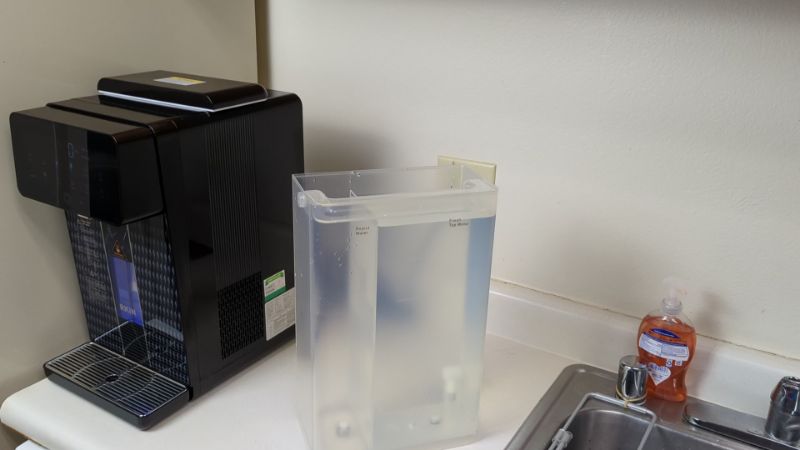 📝 Filter Info
The filters in the RKIN U1 are particularly interesting because we're seeing some filters that aren't always used in other RO systems.
There are the 3 standard filter stages: a sediment filter (which removes large sediment particles), an activated carbon filter (which removes chlorine, tastes, odors, and some VOCs and pesticides), and a semi-permeable membrane (which rejects up to 99.9% of all TDS).
There's also a remineralization filter. Remineralization filters are becoming a popular option for RO post-filtration because they add healthy alkaline minerals back into purified water and give it a better taste.
And finally, the most unique of the filter stages is the hydrogen infusion stage, which creates "hydrogen-rich water". There are several known benefits of hydrogen water, including reduced oxidative stress in cells and better sport performance, but research so far is limited. You can choose to turn off this treatment stage if you'd rather not use it.
These filter stages are split into three separate cartridges: a sediment and carbon cartridge, an RO membrane cartridge, and a final post-RO filtration cartridge. The pre-and post- filters need replacing every 12 months and the RO membrane lasts 2-4 years, depending on your water quality.
You can buy a filter bundle pack for around $70/year and a new RO membrane also costs around $70.
🔔 Pros & Cons
👍 What We Like
Attractive design. The RKIN U1 is one of the most attractive modern countertop RO systems available today. It should blend in nicely with your kitchen rather than standing out as an ugly or distracting feature.
Super convenient. We love the convenience of this system. You can pick your cup size and your water temperature, and even choose from presets for tea, coffee, and milk.
Fast, efficient performance. Compared to other RO systems, the U1 delivers water quickly and has a good 1:1 efficiency ratio.
Good contaminant removal. We're pleased with the machine's ability to reduce up to 99.9% of all drinking water contaminants.
👎 What We Don't Like
Expensive. At around $700, the RKIN U1 is about $300 more expensive than the average countertop RO system.
No certifications (currently). We were happy to hear that RKIN is in the process of obtaining an NSF 58 certification, but we've heard no updates on this and there are no third-party test results for us to view on the manufacturer's website (despite having obtained IAPMO testing).
No customer feedback. As a new product, the U1 doesn't have any customer reviews for us to gauge how the machine has lived up to user expectations so far.
Short warranty. We're impressed with RKIN's 1-year money-back guarantee for this system, but we think the 1-year warranty should be longer. However, this warranty is comparable to warranties for similar products from other brands.
Found this review helpful?
Comment below or share this article!