🧾 Overview
The Waterdrop Countertop Reverse Osmosis Water Filter System features a 0.0001 micron membrane and can remove a range of contaminants from water, including arsenic, chlorine, and antimony. Also included is a UV light, which kills pathogens like bacteria and viruses. The unit has an efficient 3:1 pure water to wastewater ratio.
📝 System Specifications
Unit size: 17.2"
Unit dimensions: 17.1 x 7.0 x 17.8 inches
Feed water temperature: 41-100°F/5-38°C
Daily production capacity: 75 gallons
Suitable for: Municipal tap water
Power specs: Input 100-240V AC; output 24V DC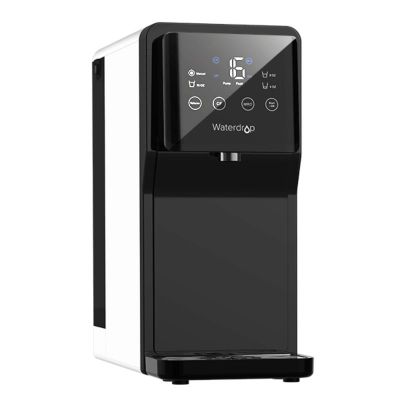 Our readers get 10% off at waterdropfilter.com – Use code WFG-10OFF at checkout
💡 Features
Sleek, Compact Exterior
The body of the Waterdrop unit is modern and compact, and should look the part in most kitchens. Because the unit is relatively small and portable, it's suitable for numerous scenarios, whether used in a bedroom, RV, kitchen or office.
Feed Water Tank
The feed water tank holds tap water before it is filtered inside the system. It sits at the very back of the unit. Because this unit isn't connected to a water line, the tank will need to be refilled manually every time the water runs out.
CF & RO Filters
The CF and RO filters sit inside the unit, just in front of the feed water tank. It's easy to install them – just screw them in place and close the top system cover.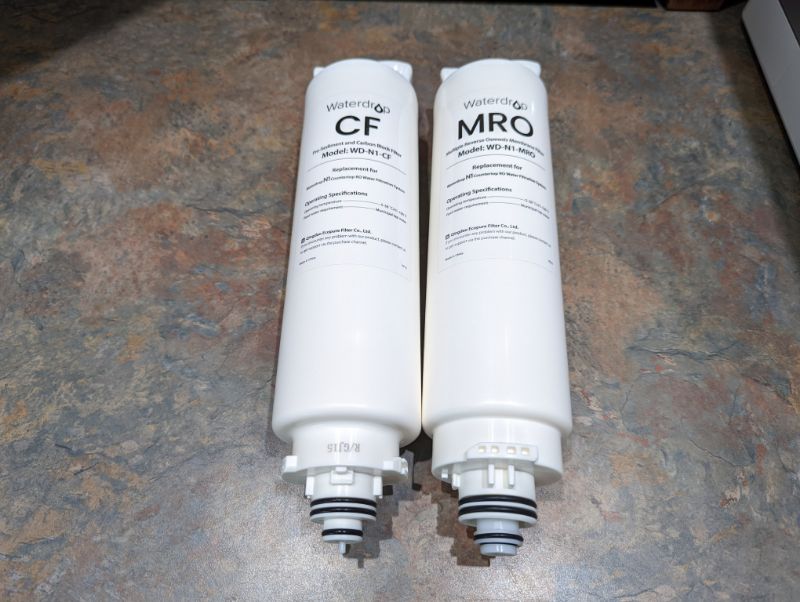 Display Screen
The display screen has several automatic and manual functions, including a TDS indicator, a filter life display, customized volume options, a water shortage indicator, and an auto-flush indicator.
Spout & Drip Tray
When you press the "start" button, filtered RO water is delivered from the Waterdrop's dispenser. There's plenty of room beneath the dispenser for a tall glass, and the bottom drip tray prevents accidental overflow.
🚦 Performance
In terms of performance, the Waterdrop uses 5 intelligent functions to help you get the most out of the unit.
The TDS display gives a reading of your water's TDS, making it easy to know when the RO filter is doing its job. The filter life indicator lets you know when to change the filters, and the customized volume settings let you adjust how much water the machine dispenses: 4 ounces, 8 ounces, 16 ounces, or manual.
There's also a water shortage indicator, which lets you know when you need to add more water to the unit in advance, and an auto-flush indicator, which tells you when the system is flushing.
There are a number of features that make this unit more efficient, too. The unit wastes only 1 gallon of water for every 3 gallons of water purified. This is much more efficient than the average under-sink RO unit, which wastes up to 4 gallons of water for every 1 gallon purified.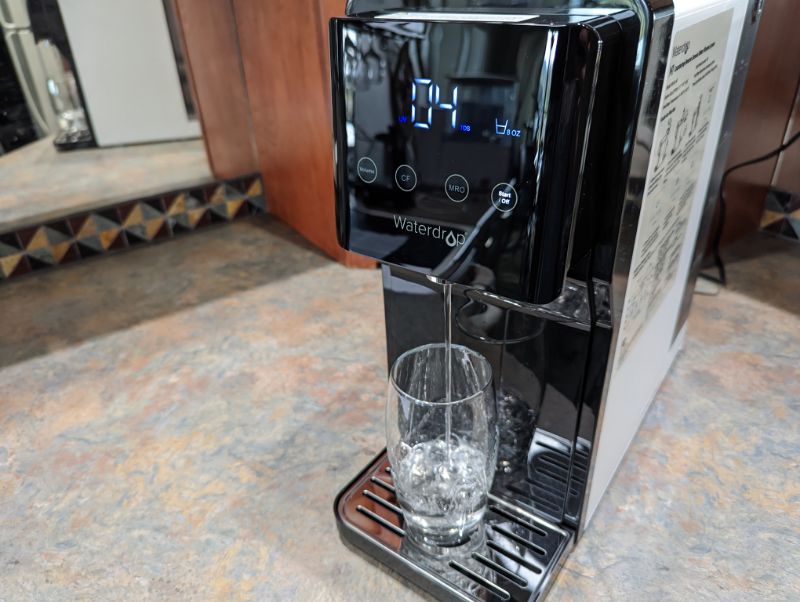 Additionally, the system has a standby mode and a sleep mode, which you can use to save power when you don't need to use it. The unit automatically switches to these modes, so you don't need to remember to do anything yourself.
As far as speed is concerned, the Waterdrop can produce filtered RO water in a matter of minutes. It's powered by electricity, which provides the force needed to send water through the membrane filtration stages at high speeds.
Our readers get 10% off at waterdropfilter.com – Use code WFG-10OFF at checkout
🔧 Installation & Maintenance
As a countertop filter, the Waterdrop requires very limited installation. You'll need to set it up near to a power outlet, which supplies the unit with the electricity it needs to operate. Most of the system is pre-installed, and it doesn't require connecting to your plumbing.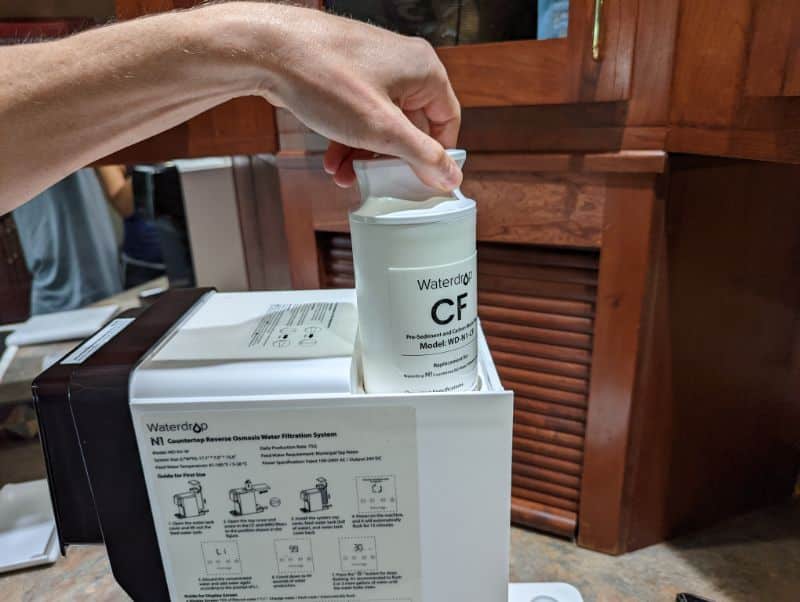 In terms of maintenance, you'll need to change the filters as recommended by Waterdrop. The pre-sediment and carbon block filter has a lifespan of 6 months, while the multiple reverse osmosis membrane has an 18-month service life.
If you're not sure you'll remember when to change the filters, you don't need to. The unit's front panel features "CF" and "MRO" filter change reminder lights, which will change color to let you know when you need to perform these routine filter changes.
📝 Filter Info
There are three main filter stages in the Waterdrop countertop filter: the pre-sediment and carbon block stage, the multiple reverse osmosis membrane stage, and the UV filtration stage.
The entire filtration process can remove up to 90% TDS from city drinking water, including rust, lead, chlorine, sand, PFAS, nitrates and fluorides. Reverse osmosis is one of the most effective water treatment techniques, and the Waterdrop's 0.0001 micron RO membrane acts as a barrier against the majority of common contaminants.
There are only two filter cartridges to deal with, and both have relatively long lifespans. The CF filter provides filtered water for up to 6 months before it needs replacing, while the MRO filter lasts up to 18 months.
Our readers get 10% off at waterdropfilter.com – Use code WFG-10OFF at checkout
🔔 Pros & Cons
👍 What I Like
Much more efficient than traditional RO technology
Removes up to 90% TDS from drinking water
Only 2 filters to change
Intelligent display screen
Great value for money
👎 What I Don't Like
Although more efficient, still wastes water
Some customers had leaking/dripping issues
Need to manually fill the tank
❔ Frequently Asked Questions
Does the Waterdrop RO System have a warranty?
Yes, but you will need to register online at warranty.waterdropfilter.com and enter your product serial number. The warranty covers the system for 1 year. There's also a 30-day return guarantee.
Is this unit suitable for well water?
No. Well water contains large particles that will clog the filters at a faster rate, resulting in the need for more frequent filter changes. Well water may also affect water pressure. The system requires a pressure of 14.5 psi minimum to be able to work properly. Anything lower than this and it may struggle to produce filtered water.
Can you use the Waterdrop without electricity?
No, the system needs electricity to operate. It can't rely on gravity alone to send water through the filters, as RO requires high pressure to move water at a fast rate through every filtration stage.
Found this review helpful?
Comment below or share this article!