These are the best countertop reverse osmosis systems in 2023.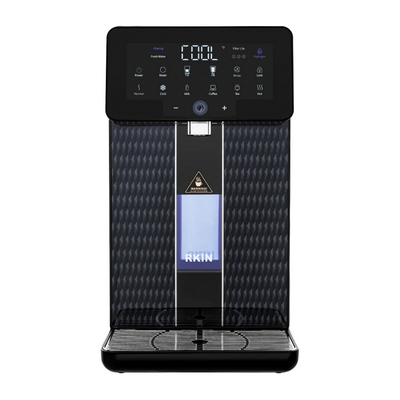 RKIN U1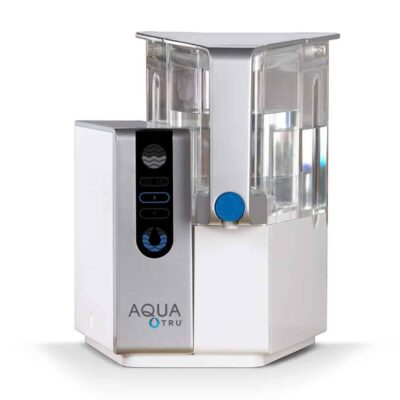 AquaTru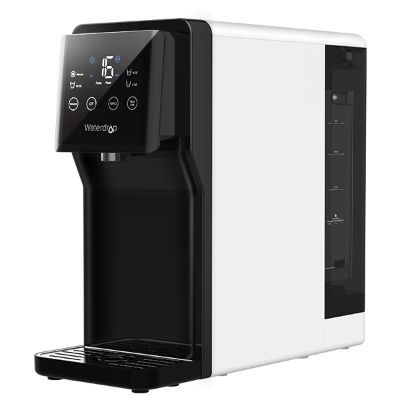 Waterdrop WD-N1-W
Things You Need To Know
If you're having trouble knowing which countertop reverse osmosis system is right for you, it's because countertop RO is still emerging as a relatively new concept (most RO units are designed for under-sink installation).
Many of our competitors share reviews of countertop reverse osmosis systems based on which brands will give them the most generous cut of their sales. This means their reviews aren't based on their honest opinion of a product or undisputed facts about how its performance compares to its competitors.
We reviewed and shortlisted the products in this list based on our own personal experience using the systems, which allowed us to fairly and impartially provide experience-backed feedback on each product's performance. We prioritized these important parameters over everything else when producing our reviews.
Don't buy the best countertop RO system without considering the quality of your water source, your water pressure, your remineralization preferences, and the system's pure-to-wastewater ratio, footprint, storage capacity, lifespan, and possible certifications.
🥇 Best Countertop Reverse Osmosis System
📊 Comparison Chart of Countertop Reverse Osmosis Systems
| System | RKIN U1 | AquaTru | Waterdrop WD-N1-W | NU Aqua CTRO | Crystal Quest |
| --- | --- | --- | --- | --- | --- |
| Ranking | 1st | 2nd | 3rd | 4th | 5th |
| Ratings | 5/5 | 5/5 | 4.5/5 | 4.5/5 | 4/5 |
| Price | $$$ | $$$ | $ | $$$ | $ |
| Efficiency Ratio | 1:1 | 4:1 | 3:1 | 5:1 | – |
| Filtration | 5 stages | 4 stages | 2 stages | 4 stages | 10 stages |
| Production Rate | 75 GPD | ~1 GPM | 75 GPD | 75 GPD | 50 GPD |
| Holding Capacity | 0.50 gallon | 0.75 gallons | 0.39 gallon | 1 gallon | 0.30 gallon |
| Certifications or Testing | NSF 58 (in progress) | NSF 42, 53, 58, 401, P473 | NSF 58, 372 | NSF 58 | – |
| Annual Cost | ~$100 | ~$120 | ~$70 | ~$150 | ~$100 |
---
⭐ Countertop Reverse Osmosis System Reviews 2023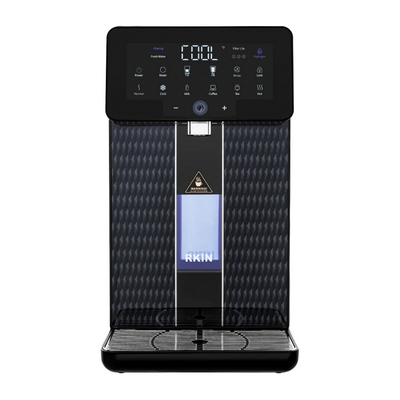 RKIN U1
In our opinion, the RKIN U1 is the best overall countertop reverse osmosis system. Newly launched at the end of 2022, this sleek, modern countertop water filter dispenses both hot and cold RO purified water and removes an impressive 99% of all contaminants with five filter stages. We love this system's 75 gallon per day water production rate, and it's reassuring to see that it's backed by a 1-year money-back guarantee and certified to NSF Standard 58.
Key Features:
5-stage filtration – The RKIN U1 offers 5 stages of certified RO filtration, removing sediment, chemicals, fluoride, lead, and more, and adding healthy minerals and hydrogen.

In the first filter stage, water is treated with a sediment filter, which removes particles of sand and rust.
Next up is an activated carbon filter, which reduces chlorine, VOCs, disinfection byproducts, and poor tastes and odors.
The reverse osmosis membrane is the third stage of treatment. It blocks virtually all harmful contaminants, purifying the water.
A dose of healthy minerals is then delivered back into the water via the remineralization stage.
Finally, there's an optional hydrogen infusion stage, which adds hydrogen into the water.

No-install setup – The RKIN U1 doesn't need to be plumbed into your waterline. Just take it out of the box, follow the instructions to assemble the unit, and start purifying batches of tap water instantly.
75 GPD flow rate – You won't have to wait for hours for a batch of purified tap water. This RO water filter produces up to 75 gallons of water per day, so you can spend less time waiting and more time enjoying your filtered water.
Best For:
Folks who want the very best that countertop reverse osmosis has to offer, with all the mod-cons, presets, and handy features – and are happy to pay a premium price for the experience.
Pros:
The RKIN U1 does more than any other RO countertop water filter currently on the market. It's the only system on this list to both remineralize and add hydrogen to water, further improving its finishing quality.
There's also the perk of hot and cold filtered water dispensing at the touch of a button. No need to separately boil your filtered water.
There are so many other handy features of the RKIN U1 that we love, including the Small Cup and Big Cup size options, the presets for coffee and tea, and the smart display screen that tells you when the filters need changing, when the water supply needs to be refilled, and when there's a system error.
You can confidently spend your money knowing that the system is in the process of obtaining an official NSF 58 certification and a 1-year money-back guarantee.
Cons:
The obvious setback is cost. You're paying $700 for the best countertop reverse osmosis water filter on the market – but some folks don't have, or can't justify, spending this amount.
As a new product on the market, the RKIN U1 doesn't have any customer feedback on its long-term performance.
The efficiency ratio of 1:1 could be better
Read the full review: RKIN U1 2023 review
---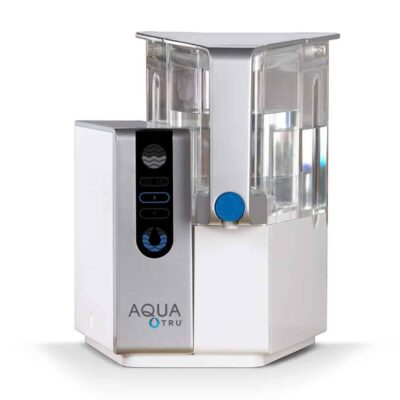 AquaTru
The AquaTru is a close runner-up to our top pick and another highly popular countertop RO system, this one with a few more years of customer experience. This system has been independently tested to NSF standards 42, 53, 58, 401, and p473, for the removal of an impressive 82 different contaminants in drinking water (you can view the results here). Plus, its flow rate and holding capacity are significantly higher than any other units on this list, and it's about half the price of our top pick, the RKIN U1. If it's quality filtration you're after, the AquaTru should tick your boxes – and all for less than $400.
The AquaTru comes in four different configurations:
The Classic, which we've reviewed in this guide. Provides standard RO filtration.
The Connect, which is the same as the Classic but also features built-in WiFi and connects to an app that gives you insights into the filter performance.
The Alkaline Classic, which has an alkaline mineral boost VOC filter instead of the standard VOC filter.
The Alkaline Connect, which has both additional features mentioned above.
Key Features:
Thorough filtration – The AquaTru can remove a whole host of contaminants from water with its 4 stage filtration, including chromium-6, fluoride, lead, cysts, chlorine, some pharmaceuticals, and VOCs. (You also get an additional remineralization stage if you upgrade to the Alkaline Classic.) This system uses a pressure pump to provide fast filtration, so there's no waiting around for filtered water.

First off in stages 1 & 2, water travels through a coconut shell activated carbon filter that acts as a pre-filter, trapping large sediment such as dust and rust, while also removing chemicals in water that affect taste and smell, like chlorine.
Next, the RO membrane eliminates the likes of heavy metals and fluoride,
A final activated carbon filter made from carbon block removes any leftover pesticides, organic compounds, and lingering tastes.

Quick, easy setup – A clear benefit of the AquaTru four-stage countertop RO filter is that you can simply plug it into your electricity and get it up and running instantly. There's no major installation and no plumbing required.
Fast flow rate – The system is electricity powered (no mention of how many watts it uses) and can produce about a gallon of purified water per 10 to 15 minutes, adding up to over 100 gallons per day.
Best For:
Folks looking to invest smartly in a low-maintenance, portable, easy-use countertop RO unit that produces fast, high-quality results.
Pros:
We love that the AquaTru has been tested to NSF Standards to reduce or remove 82 contaminants. This guarantees that the system will provide the best tasting, cleanest, purest and safest drinking water for your home. Note: the system actually removes thousands of contaminants more, these 82 are just what it is tested for.
Not only is this system space-saving, but it's also very easy to use, and you won't have the chore of learning what to do when you first set it up. Simply dispense water by pressing a button, and empty the wastewater tank from time to time.
In terms of maintenance, you can expect to pay around $100 per year for filter changes, which isn't too bad at all. The filters last for around 6 to 12 months (600 gallons), while the RO membrane lasts for 2 years (1,200 gallons).
As for efficiency, this system wastes around 20%-30% of water and produces around 70%-80% clean water, making it far less wasteful when compared to other systems.
Cons:
Some customers had a leaking problem and malfunctioning machines.
We love the testing to NSF Standards, but we'd be more reassured if the unit was certified by the NSF itself.
Read the full review: 2023 AquaTru Review
---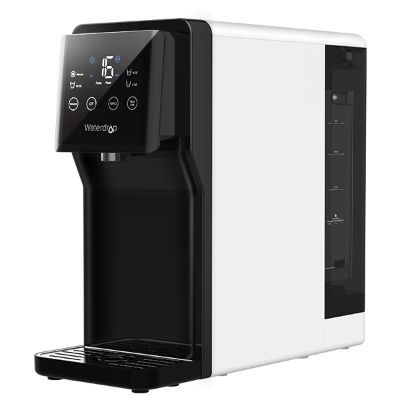 Waterdrop WD-N1-W
The Waterdrop WD-N1-WCountertop System is our runner-up countertop RO system. We think this unit is a close second to the AquaTru model, thanks to its sleek, easy-use design and no-fuss, thorough filtration performance.
Why didn't this unit take first place? Because it has a lower daily water production rate than the AquaTru unit (75 GPD versus 100 GPD), its efficiency rating isn't quite as good (3:1 versus 4:1), and it only offers two stages of filtration (versus AquaTru's four stages). But it's $100 cheaper than the AquaTru, so it's a great option for people with slightly smaller budgets.
Key Features:
Two filter stages – This unit features a solid carbon block filter and a reverse osmosis membrane, which remove a range of common tap water contaminants, including rust, chlorine, lead, sand, PFAS, nitrates, and fluoride. UV purification is also used to kill pathogens like viruses and bacteria, ensuring safe, pure water for drinking.
Installation-free – There's no major installation required for the Waterdrop WD-N1-W – simply plug it in, switch it on, and flush the system according to the instructions in the user manual.
Best For:
Folks looking for a more affordable alternative to the AquaTru unit that offers the most similar performance and value for money.
Pros:
You won't find many RO filters that use a built-in UV purifier. With this Waterdrop unit, you get the reassurance of pathogen-free water that's safe for drinking.
The WD-N1-W only wastes 1 gallon of water for every 3 gallons of pure water produced, making it one of the least wasteful systems available today. It's not quite the AquaTru's 4:1 ratio, but it'sclose.
We were pleased with the simplicity of maintenance with this unit. The system will auto-flush to clean itself, and you'll also need to clean the water tank. There are only two filters to change: the CF (carbon) filter lasts for 6 months, and the MRO filter lasts up to 18 months.
Cons:
Although the Waterdrop offers a very good performance, removing up to 90% TDS, it's not the most thorough offering for countertop RO.
We've read reports from customers about leaking/dripping in the unit.
Read the full review: Waterdrop Countertop Reverse Osmosis Water Filter System Review (Updated: 2023)
---
NU Aqua 4-Stage Countertop Reverse Osmosis System
Based on our research, the NU Aqua 4-Stage Countertop Reverse Osmosis System is the best countertop reverse osmosis system for hot water dispensing. Why? Because this system removes up to 99.99% contaminants with a performance that's independently tested to NSF Standard 58, and it dispenses both cold and hot water on demand – a rarity for an RO system.
Key Features:
4-stage filtration – The NU Aqua 4-Stage Countertop Reverse Osmosis System combines fourb stages of filtration in two filter cartridges: a sediment and carbon filter (reduces or removes chlorine, sediment, dirt, sand, VOCs, manganese, and iron), and a GAC filter and RO membrane (removes pesticides, herbicides, metals, minerals, salts, and pathogens).
Instant heating system – You can use this NU Aqua system to dispense both hot and cold water instantly. The heating system has several temperature options, including 100 °F for baby bottle warming, 160 °F, 175 °F, and 200 °F.
75 GPD water production – This countertop RO unit delivers up to 75 gallons of water per day – plenty for the average family of four.
Best For:
Folks who drink a lot of hot beverages or use a lot of hot water and want a quick and easy way to produce the purest hot water possible.
Pros:
We think the NU Aqua 4-Stage Countertop Reverse Osmosis System is an excellent system all round. The hot water delivery option is a clear selling point, but that's not the only reason to love this unit. The 75 GPD water production rate, the four thorough filtration stages, the testing to NSF Standard 58, and the attractive, modern design of this unit are just a few other reasons to proudly show it off in your kitchen.
Installation and setup of this system are a breeeze. We think you'll love it if you prioritize convenience over most other things.
This unit is one of the most efficient we've ever tested. It has a 5:1 efficiency rating, which means it only wastes 1 gallon of water for every 5 gallons produced. That's even better than our top pick AquaTru system, which has an efficiency rating of 4:1.
Cons:
The $450 price tag is pretty decent given the NU Aqua system's hot water feature – but it's too high for some people.
---
Crystal Quest Portable Reverse Osmosis System
In our opinion, the Crystal Quest Portable Reverse Osmosis System is the best budget countertop RO unit. This faucet-using system costs less than $200 – that's half the price of our top pick on this list, the AquaTru. Don;t think you have to compromise on value if you spend less, either – this system has a respectable 50 GPD delivery rate and a massive 10 stages of filtration.
Key Features:
10-stage filtration – The Crystal Quest RO system removes a broad range of contaminants with 10 filtration stages. The granular activated carbon filter removes chlorine, VOCs, and pesticides; the reverse osmosis membrane eliminates the majority of TDS; a copper-zinc oxidation media removes lead, chromium and arsenic and prevents the growth of bacteria; the ion exchange resin tackles hard water minerals; and the final GAC post-filter gets rid of lingering tastes and odors.
50 GPD delivery – The filter flow rate is 50 GPD, or about 2 gallons per hour. That's half as fast as the AquaTru model – but for most families, 50 GPD is acceptable.
Good portability – This Crystal Quest unit has a host of handy features that make it more portable than the other options on this list. A bonus of the unit is that it doesn't run off electricity, so you can take it with you to any location with a standard US faucet.
Best For:
People who want to spend the least amount of money on a countertop RO filter system that won't let them down.
Pros:
On a budget? This high-performance system is one of the cheapest to run and maintain, costing approximately $70-$90 per year.
Don't be fooled by this filter system's slightly clunky design. It can be set up instantly and comes with everything you need for the job. Plus, it's compact and lightweight, so you can easily travel with the unit without it taking up too much space.
For less than $200, it's impressive that you get a full 10 stages of filtration.
Cons:
Producing around 2 gallons of filtered water every hour, the Crystal Quest is a little slower than other available countertop reverse osmosis water filter system models, including our top picks on this list.
The 0.30 gallon holding capacity is lower than any other filter on this list.
---
🧾 Countertop RO System Buyer's Guide
Use this guide to learn everything about how to select a quality countertop ro filter.
🤔 What is a Countertop Reverse Osmosis System?
Countertop reverse osmosis systems combine the multiple stages of reverse osmosis into one compact system that's designed for storing on a kitchen countertop. These systems remove up to 99% of total dissolved solids (TDS), providing clean, pure water with an improved taste and smell. This is what allows for a more thorough filtration than other systems.
Most reverse osmosis systems are designed for installation underneath a kitchen sink, but countertop reverse osmosis systems are becoming an increasingly popular choice.
👨‍🔧 This type of portable water purifier is ideal for a homeowner who doesn't want to deal with the hassle of cutting through their waterline to install a reverse osmosis filter, or for anyone who's renting a home and still wants to benefit from filtered water.
⚙️ How Does A Countertop RO System Work?
RO countertop water filters either take their water directly from a faucet or they have a tank that needs filling and refilling. When water is introduced to this system, it passes through a number of filtration stages to ultimately come out of the spout as clean water.
The general stages of filtration are as follows:
Sediment pre-filter. This stage is a must-have in any water filter system and removes sediment, like sand, dust and rust, from water.
Activated or granular carbon filter. This uses adsorption to reduce chlorine, chemicals, bad taste and odor from water.
Reverse osmosis membrane, which removes up to 99.9% of all total dissolved solids.
A second carbon filter. This removes lingering sediment.
Some reverse osmosis water filtration system models also have an alkaline remineralization filter, which reintroduces healthy minerals to filtered water.
👍 Advantages
Reverse osmosis is one of the most tried-and-tested methods of producing clean water. It's so effective that it eliminates nearly every single contaminant from tap water.
The speed of filtration with a countertop RO water filter is usually very good.
It's easy to install a countertop water filter – just set it up on your counter, which takes a matter of minutes. There's little risk of getting it wrong, and you won't need to call a plumber.
Because countertop reverse osmosis water filtration system models don't require an invasive under-sink installation, they're suitable for renters to install in their homes.
Maintaining an RO water filter is much easier and more affordable than with an under-sink filtered water system.
Because RO countertop water filter systems are compact, they're usually portable. They only require hooking up to a water supply or having access to water to fill them, which means you can take them with you for great-tasting water on the go.
Most under-sink reverse osmosis water filter systems have a water storage tank, but RO countertop water filters produce water on demand.
👎 Disadvantages
No matter what kind of countertop reverse osmosis system you buy, if it needs connecting to a faucet, it'll only be compatible with a kitchen faucet.
The drinking water produced by reverse osmosis is clean and high-quality, but because RO strips water of all its minerals, some people find that the water tastes quite flat.
All counter RO water filtration systems waste water in the RO process. This is something that's unavoidable because it's how reverse osmosis water is made.
💭 Considerations When Buying a Countertop RO Filter
Water Source
Your water source is worth considering when looking for a countertop reverse osmosis system.
Reverse osmosis removes the great majority of contaminants from water, but some contaminants, such as hydrogen sulfide, some pesticides, herbicides, and some VOCs may slip through the RO membranes of even the best countertop water filter systems.
Water Pressure
Your water pressure is also important if you're using a reverse osmosis system that connects up to your kitchen faucet. The water flow needs to be strong enough to pass through the reverse osmosis membrane at a fast rate, limiting water waste.
If you're using a reverse osmosis system that connects to a power outlet, your water pressure isn't important. The electricity will power the water through the system at the required speed.
Produced Water vs Waste Water
The nature of the reverse osmosis process is that as water is produced, water is wasted.
When water is forced through the RO membrane, the contaminants are continuously sent down a drain. This wastes water while the contaminants are removed.
Traditional RO systems have a 4:1 ratio, which means that for every 4 gallons of wasted water, 1 gallon of purified tap water is produced. However, we're seeing more efficient systems coming onto the market all the time, and some on this list waste as little as 1 gallon of water for every 1 gallon produced.
Flow Rate
Your home's water pressure affects its flow rate. The higher the water pressure, the faster the flow.
Again, you only need to be concerned about flow rate if you're using a reverse osmosis water filtration system that hooks up to your faucet.
A fast flow rate will keep things moving quickly through your system, allowing for faster access to clean drinking water. A slow flow rate will produce more wastewater, as water won't be flowing through the RO membrane at a fast enough rate.
Remineralization Needs
Some reverse osmosis water filters designed for countertop use have alkaline remineralization filters. These reintroduce healthy minerals to your drinking water after filtration.
If you prefer the taste and health benefits of mineral water, look for a filter that offers an optional remineralization stage.
Storage Capacity
It's worth considering storage capacity if you're looking to buy a reverse osmosis filter that doesn't connect to a faucet.
A standalone countertop RO system has a storage tank for tap water. Once all the water has been used up, it'll be your job to refill it. It goes without saying, then, that you'll want the greatest possible storage capacity to reduce your work. Most RO filter systems have a storage capacity of at least 1 gallon, so set this as your benchmark.
Filter Lifespan
You should always be aware of the lifespan of an RO system's water filters before you buy it.
Filters that have a short lifespan will contribute to a higher system cost in the long run. Aim to find a sediment filter and post-filter with a 6-month lifespan, and a minimum of 2 years for the reverse osmosis filter membrane. This is pretty standard for a countertop water filtration system.
Counter Space Available
No matter what kind of reverse osmosis countertop system you're looking at, you need to have the space available for it. If your countertop space is fairly limited, look at the reverse osmosis water filtration systems with a smaller footprint that don't take up so much room width-ways.
👨‍🔧 To avoid buying a system that's too big, measure your available space and compare it to the dimensions of any of the reverse osmosis water filters you're considering.
Certifications
A certification can provide peace of mind that a portable countertop reverse osmosis system has been third-party tested and approved for its contaminant removal claims.
Two certifications for reverse osmosis filters are NSF 58 and 372, for material safety and lead-free components. You may also find systems that are certified for NSF 42, for chlorine removal, and 53, for lead removal.
🔧 Countertop Reverse Osmosis Water Filter Maintenance
The majority of countertop water filters are much easier to maintain than under-sink reverse osmosis filtration systems. You only need to keep the outside of your drinking water filtration system clean by wiping it down with a damp cloth, and change the filters as recommended.
👨‍🔧 While this maintenance is important to ensure your RO filter looks and works at its peak, it's relatively easy to keep up with. Some systems have filter change reminder lights that'll let you know exactly when you need to replace a filter.
🏕 Portable RO Systems for Camping
We think the best countertop RO systems are ideal for camping. They're portable and easy to transfer from one location to another.
Standalone RO systems are best if you don't have access to a faucet. If you're traveling in an RV and using some pretty dicey campsite water, you can connect a countertop RO unit with a faucet connection to your kitchen faucet. Just make sure the system fits (or you have an adaptor) first.
❔ Frequently Asked Questions
Can countertop reverse osmosis filtration systems remove the same contaminants as under-sink reverse osmosis filters?
Yes – countertop RO systems and under-sink reverse osmosis systems are designed the same, just smaller. Contaminants removed by counter RO filters include lead, chlorine, bacteria, and heavy metals. RO systems can also remove viruses and even fluoride from drinking water, producing bottled water-like quality.
If I'm installing a RO water filtration system that needs connecting to my faucet, what pressure should my home's water have?
A: Generally, a pressure of between 40 and 100 psi is ideal for ensuring these RO systems can run at peak performance. The majority of these systems come with a pressure booster, though, so even low pressure coming from your faucet isn't the end of the world.
Is it best to get a dispenser-style counter top filter or one that connects to a faucet?
It's easy to use a dispenser-style countertop water filtration system and a system that connects to your faucet, but and both are perfect for apartments, so it really comes down to your lifestyle preferences. Dispenser-style filters are more portable, so if you're planning to take yours to work, they're the obvious better choice.