In this best water filters for apartment living guide, we've reviewed 7 filters that are suitable for use in an apartments. We ranked these filters based on their most important factors from an apartment owner's perspective, including portability (or lack of invasive installation), ease of use, maintenance and costs involved, certifications, and, of course, contaminants removed
Around 1 in 8 people in the US live in apartments. That means that around 1 in 8 people likely assume that, because of rental terms or building layout, they're unable to filter their drinking water.
Luckily, that isn't true – and the market for water filters for apartment renters and owners is booming. We should know this, as our team has a combined 70 years of experience in the water treatment industry.
Here at WaterFilterGuru.com, we've seen how rapidly the industry has evolved. We now share reviews, tips and information with my monthly audience of 325,000 readers to help them stay ahead of the game and make the smartest buying decisions.
In this guide, you'll learn:
Which 7 apartment filters are worth your money in 2023
Your available water filtration options as an apartment owner
What to consider when purchasing a water filter for apartment living
🥇 Best Apartment Water Filters
📊 Comparison Chart of Water Filter for Apartment Living
| System | RKIN U1 | AquaTru | Clearly Filtered Water Pitcher | ProOne Big+ | PUR Plus Faucet Filtration System | Waterwise 4000 Water Distiller | LifeStraw Go Water Filter Bottle |
| --- | --- | --- | --- | --- | --- | --- | --- |
| Ranking | 1st | 2nd | 3rd | 4th | 5th | 6th | 7th |
| Ratings | 5/5 | 4.5/5 | 5/5 | 4.5/5 | 4/5 | 4/5 | 4/5 |
| Holding Capacity | 0.5 gallon | 0.75 gallons | 10 Cups | 2.25 gallons | – | 1 gallon | 23 ounces |
| Filter Capacity | 792 – 1,200 gallons | 600-1,200 gallons | 100 gallons | 1,000 - 1,200 gallons | 100 gallons | 6 gallons/ day | 264 gallons |
| Contaminants Reduced | 99% all contaminants | 83+ | 365+ | 200+ | 70+ | 99% all contaminants | 30+ |
| Price | $$$ | $$ | $ | $$$ | $ | $$$ | $ |
| Warranty | 1 year | 1 year | Lifetime | 1 year | 2 years | 1 year | 3 years |
| Process | Mechanical + Carbon + RO + Alkaline + Hydrogen infusion | Mechanical + RO + Carbon | Mechanical + Carbon + Ion Exchange | Ceramic + Carbon | Carbon + Ion Exchange | Distillation | Mechanical + Carbon |
| Certifications or Testing | NSF 58 (in progress) | NSF 42, 53, 58, 401, and P473 | NSF 42, 53, 401 & 473 | NSF 42, 53, P231 | NSF 42, 53, 401 | – | NSF 42, P231 |
| Annual Cost | ~$100 | ~$100 | ~$150 | ~$100 | ~$100 | ~$40 | ~$100 |
⭐️ Apartment Water Filter Reviews 2023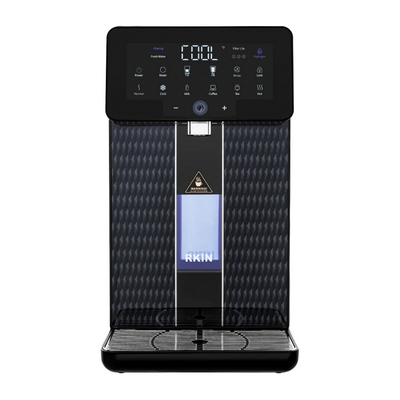 RKIN U1
The RKIN U1 is our top choice for the overall best water filter for apartment use. This sleek, space-saving unit should look the part in any modern apartment kitchen and – importantly – doesn't need to be hooked up to your water line, so it's landlord-friendly.
Why do we rank this unit at the top of our list? Because it's more exciting, stylish, and feature-heavy than any other apartment water filter available today. Enjoy unique perks including filtered water temperature control, hydrogen infusion, and remineralization – all for just $700.
Key Features:
Filtered water temperature selection – Most apartment water filters deliver filtered water in just one temperature: cold. The U1, on the other hand, lets you choose your preferred temperature post-filtration and will even boil water for tea or coffee.
Sleek & space-saving – Got limited counter space? The U1 should suit you just fine. All the filter stages are packed into a single slim unit (dimensions: 9.5 x 17 x 19 inches).
5-stage water filtration – There are 5 separate water treatment stages in this countertop water filter system: a sediment filter; an activated carbon filter; an RO membrane; a hydrogen infusion stage; and a remineralization stage.
1-year warranty – RKIN offers a decent 1-year warranty and 1-year money-back guarantee for the U1 – about average for a system of its kind.
Best For:
Folks who are happy to pay a bit more than the price of a standard activated carbon-based apartment water filtration system if it means enjoying all the perks and conveniences of the U1's numerous unique performance features.
Pros:
The U1 is ideally suited for apartment living, with its slim design and its super convenient setup. No need to connect the system to your water line as with an under-sink filter – you just need a nearby power outlet.
Water flow should be constant with this machine. It's rated 75 gallons per day (faster than the average for countertop RO systems, which is 50 GPD).
Reverse osmosis water purification is as thorough as it gets, and you don't have to take the manufacturer's word for it either – the U1 has been independently tested for the removal of TDS (total dissolved solids), fluoride, lead, chromium III, chromium VI, and PFOA/PFOS by IAPMO, and is also in the process of being certified by the NSF.
Considering the U1's plethora of impressive features (we especially love its hydrogen infusion and filtered water temperature selection), it's super affordable at just $700.
Cons:
All reverse osmosis systems waste water, and the U1 is no exception. It might only waste 1 gallon per 1 gallon of purified water produced, but that's still less efficient than a non-RO apartment water filter.
Since the U1 is a relatively new water filter system, we don't know from customer reviews how it performs in the long run.
Read the Full Review: RKIN U1 Countertop RO Filter Review
---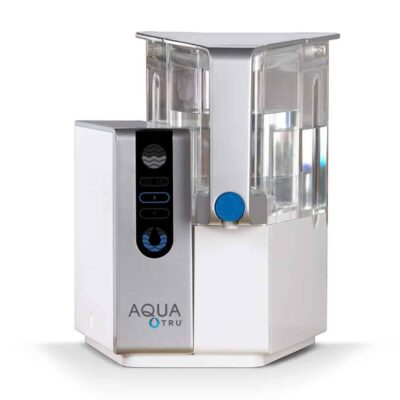 AquaTru Countertop RO System
Our runner-up for the best water filtration system for apartment use is the AquaTru Countertop RO system. As a reverse osmosis water filtration system, the AquaTru can get rid of up to 99.9% of all TDS. It's NSF certified for the removal of 83 contaminants, but will actually take care of thousands more.
Why is it our second choice, and not number 1? Because the AquaTru doesn't offer filtered cold and hot water, and it doesn't produce negative ORP water like the RKIN U1, so it's not as capable. Plus, it doesn't look as nice.
Note: AquaTru comes in a few different models, so make sure you compare before you buy. There's:
The Classic (we've reviewed this model here, as AquTru's standard base model)
The Classic Connect (exactly the same as the Classic but with WiFi connection, which gives it the ability to share information on your water usage and filter life through an app)
The Alkaline Classic (the same as the Classic but with an all-in-one VOC and mineral-boost filter, rather than a simple VOC filter)
The Alkaline Connect (the Classic, but with WiFi compatibility and a VOC and mineral-boost filter)
There's only a $70 price difference between the lowest-cost model (Classic) and the highest-cost unit (Alkaline Connect), so if any of those extra features appeal to you, definitely consider the upgrade.
Key Features:
4 stages of reverse osmosis filtration – The AquaTru has 4 filtration stages: a mechanical and RO pre-filter, the reverse osmosis filter membrane, and a final activated carbon post filter. Upgrade to the AquaTru Alkaline Classic to combine the VOC filter with remineralization.
Slim, space-saving design – Being slightly smaller than our top choice, the RKIN U1 (dimensions: 14 x 14 x 12 inches), this unit doesn't take up too much room and can be easily moved around if space is limited.
No installation required – The AquaTru also doesn't require a plumbing connection, making it perfect for use in apartments and condos where you may not be allowed to make permanent plumbing modifications.
Best For:
Folks who can't afford or don't want to pay for the RKIN U1 but still want to enjoy the purest water from a convenient, no-install apartment water filter.
Pros:
The AquaTru is more efficient than the RKIN U1 – it only wastes 1 gallon of water for every 4 gallons produced (versus the U1's 1:1 efficiency ratio). That means you'll enjoy more purified water in every batch and can spend less time throwing out the wastewater.
We love the smart features of this reverse osmosis system, including its digital display, which tells you when the filters need changing.
Speaking of filter life, it's good – the filters last 6 months to 2 years, depending on the cartridge type.
AquaTru's NSF 58 certification is a big bonus.
Cons:
It might have one of the best pure-to-wastewater productions we've seen, but the AquaTru still wastes some water – so it's not as efficient as a non-RO apartment filter.
You will need to upgrade and pay a bit extra for remineralization (adding beneficial minerals back into water).
---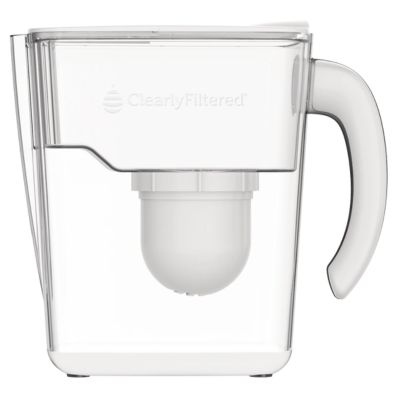 Clearly Filtered Water Pitcher
Based on our research and testing, the Clearly Filtered Water Pitcher is the best water pitcher filter for apartments.
Reducing an impressive 365+ contaminants, this water filter pitcher is an extremely effective filter for apartment use. It's much more capable than its closest competitors, reducing hundreds of common contaminants such as lead, fluoride, pesticides, PFAS, radiological contaminants, chlorine and more.
Key Features:
Gravity-based filtration – The Clearly Filtered water filter pitcher filters don't require a certain water pressure or electricity to work. They're gravity-based, so when you add unfiltered water to the system, it steadily passes through the filter and into the pitcher.
10-cup capacity – Even apartments with limited space should have room for the Clearly Filtered pitcher, which has a 10-cup capacity and is small enough to store away when not in use (dimensions: 11.2 x 5.1 x 10.2 inches).
Reduces 365+ contaminants – You won't find any other water filter pitcher on the market that reduces as many contaminants as the Clearly Filtered.
Best For:
Anyone who's looking for an affordable apartment water filtration system with a small footprint that won't take up too much space – but doesn't want to compromise on performance.
Pros:
A huge benefit of the Clearly Filtered pitcher is its affordability. It might be on the pricier side compared to other pitchers, but rightly so, since it reduces more contaminants. At less than $100 upfront, it's cheaper than most other apartment filters on this list.
And paying less certainly doesn't mean compromising with this filter. The Clearly Filtered reduces hundreds of contaminants – you can view the test results here – including difficult-to-remove impurities like fluoride.
What's even more impressive is that the company is so confident in their product that they offer a lifetime guarantee to replace it if anything happens.
The pitcher is made of 100% BPA free plastic, so no need to worry about chemicals leaching back into your clean water.
Cons:
The 4-month filter lifespan is good for water pitcher filters – but it's not the best we've seen and the Clearly Filtered will require more maintenance than most of the apartment filters listed here.
It takes about 15 to 20 minutes to fill the entire pitcher with clean drinking water, so don't expect immediate results.
Read the full review: Clearly Filtered Water Pitcher Review
---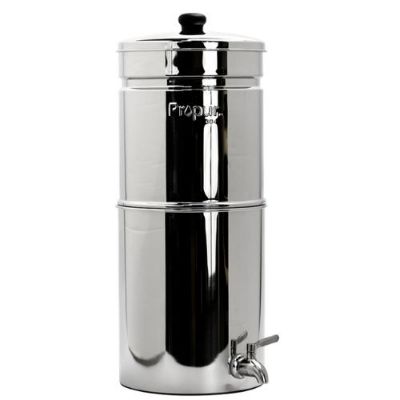 ProOne Big+ Gravity Water Filter
The ProOne Big+ is one of the best water filters for no-fuss, thorough filtration, proving exactly why you don't need a whole house filter to achieve a high standard of filtration results.
This countertop unit is our top pick for the biggest storage capacity – it's suitable for families of up to 4 people, holding 2.75 gallons of water that can be accessed at any time via the stainless steel spigot.
Key Features:
Gravity filtration process – The ProOne Big+ Gravity Water Filter is a drinking water filter that relies solely on gravity to work. Water passes through the system, coming out clean and contaminant-free at the other end.
NSF certified components – This ProOne filtration system is one of the only units of its kind to have an official NSF Standard 42 certification for components. It's also tested to NSF Standards 42, 53, P231, P401, and P473. See the lab report here.
Thorough contaminant removal – You can fit up to three G2.0 filters into the ProOne Big+ unit. These elements combine carbon and ceramic media to filter more than 200 contaminants in total, including chlorine, heavy metals, lead, bacteria, and volatile organic compounds.
Best For:
People looking for the best completely standalone apartment water filter unit that doesn't rely on electricity or water pressure from a plumbing connection to produce purified water.
Pros:
An obvious perk of the ProOne Big+ is that it's a gravity filter, so it doesn't need plumbing or electricity connections (even our top two picks use electricity). This makes it ideal for use in apartments where permanent plumbing changes can't be made, and great for folks who don't want to use additional electricity.
Unlike many of the other stainless steel countertop water filters, the ProOne Big+ doesn't need a separate fluoride filter – its main G2.0 filter removes up to 97.5% of fluoride and arsenic 3 and 5.
The filters are set to last for 12 months with daily regular use – a decent lifespan for countertop water filters.
Cons:
The ProOne Big+ is bigger than the other countertop units mentioned in this guide. It's just under 23 inches tall, so it won't fit on the countertop underneath your kitchen units.
The unit doesn't have an official NSF certification for performance – just testing to NSF Standards. While testing is still great, we'd love for ProOne to invest in getting its system officially NSF certified.
👉 Read our full ProOne Big Plus review
---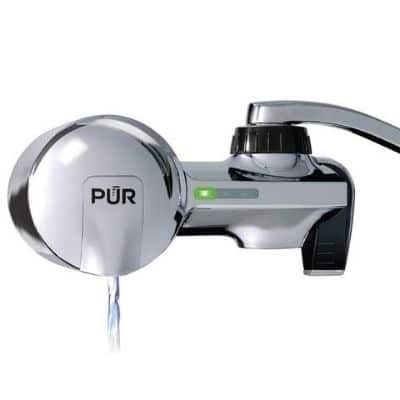 PUR Plus Faucet Filtration System
Most apartment rent terms will let you install a water treatment solution at the very end of your water line: your kitchen sink faucet. The PUR Plus Faucet Filtration System is our number 1 pick for renters looking for the best way to filter water straight from the tap.
Key Features:
Attaches to your existing faucet – With the PUR Plus, you can use your kitchen sink faucet as you usually would. It's suitable for apartments because, unlike with under-sink filters or whole house water filtration system models, you don't have to cut into your cold water line to install it at your plumbing – it just attaches to the end of your faucet.
NSF certified performance – The activated carbon filtering cartridge in this PUR model is NSF/WQA certified to reduce or eliminate a range of contaminants from tap water, like lead, chlorine, and certain pesticides.
Reduces 70+ contaminants – Most faucet filters remove a handful of contaminants, but the PUR Plus exceeds expectations, removing 70+ impurities.
Best For:
Folks who are budget-conscious and don't want to spend a fortune on a capable, compact apartment water filtration system with a certified performance.
Pros:
We appreciate that you can switch between filtered and unfiltered water with this PUR model. When this above-sink water filter filter is in use, you get access to clean, purified water straight from your faucet. But it's easy to switch to normal tap water when you don't want to use the filter (such as for washing dishes).
The PUR comes with everything you require for setup, and it's easy to install – you just click it into place.
So many faucet filters are made from ugly plastic, but with its chrome design, the PUR Plus shouldn't look out of place on the end of your faucet.
You get the reassurance of an NSF certification with this faucet filter.
Cons:
Faucet mounted filters tend to be less durable than other filter types due to their design materials, which are susceptible to cracking and splitting. The PUR Plus has a chrome finish, but many of its parts are plastic, which may affect its longevity.
Filters last 3 months on average, so you'll likely need to make 4 filter changes in a single year.
---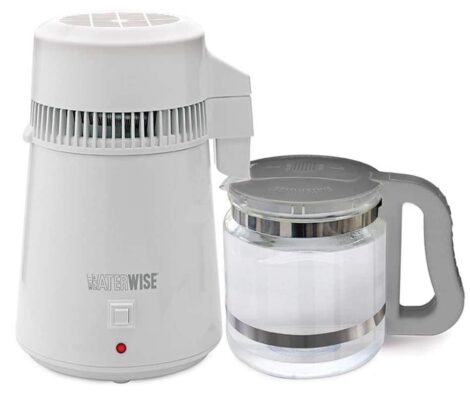 Waterwise 4000 Water Distiller
Interested in distilling the drinking water in your apartment? We recommend the Waterwise 4000.
There aren't many water distillers that are as sleek, modern and compact as this Waterwise model. This water treatment solution is designed to take up as little counter space as possible, is easy to set up, and comes with everything you require to make distilled water in less time than usual.
Key Features:
Thorough water purification – In up to 4 hours, the Waterwise 4000 produces 1 gallon of steam distilled water. Distillation is one of the most thorough methods of water purification.
Removes contaminants with evaporation & condensation – Distillation sees water evaporate and condense, leaving the contaminants behind in the boiling chamber. Everything from chlorine and lead to bacteria, nitrates and water hardness minerals are removed by this filtered water solution.
Compact size – This Waterwise model is just 15 inches tall and has a 9-ich diameter, so it's a good option if space is lacking and a tall countertop water filter wouldn't do.
No plumbing required – This water distiller doesn't have to be connected to your sink in order to work. You just have to place it near a power source (it uses 800 watts) and switch it on to get started.
Best For:
Distillers like the Waterwise 4000 are ideal for using in small apartments for folks with extensive water filtration needs.
Pros:
Size is a plus point for apartments with limited space. The Waterwise 4000 isn't much bigger than your average kettle or coffeepot, so it should fit comfortably underneath your kitchen countertop.
You don't just get a filtered tap water supply with the Waterwise 4000 – water is completely purified. That means it doesn't contain any impurities, so it's safe to drink and won't leave mineral stains on surfaces.
Costing around $370, this distiller is cheaper than many of the other countertop water filtration systems for apartments in this guide.
Cons:
Like all water distillers, the Waterwise 4000 leaves water tasting a bit flat due to its lack of minerals and salts.
The distillation process is long. Unlike with under-sink water filters or countertop filters powered by electricity, you won't get instant access to purified water – it takes about 4 hours for a single 1-gallon batch to be produced.
---
LifeStraw Go Water Filter Bottle
Our top choice for the best bottle filter for apartment owners, and perhaps the simplest and most budget-friendly apartment filtration option of all, is the LifeStraw Go.
This water bottle filtering solution couldn't be easier to use: you fill the bottle with water from your sink, then, when you drink through the straw, the sucking pressure sends water through the filtering cartridge and into your mouth.
Key Features:
Water bottle filter – The LifeStraw Go is a water bottle filter that's super easy to use. The filter is built into the straw, so when you take a sip, water is filtered before entering your mouth.
Thorough contaminant removal – Not only does this bottle filtration system eliminate the likes of chlorine, organic matter and turbidity, but it can also reduce more than 99.99% of bacteria and other microorganisms.
Tested to NSF Standards – According to the manufacturer, this LifeStraw model has been independently tested to meet NSF standards for contaminant removal. Unfortunately, it seems these test results aren't available online.
Best For:
People looking for an individual, portable apartment water filter solution that they can use not only at home but also at work and on the go.
Pros:
The filter has a super impressive lifespan of 1, 000 gallons. That means you should be able to use the LifeStraw Go for roughly 3 years, depending on how often you use the bottle.
Let's face it, most water filtration systems are pretty ugly – but the LifeStraw filter is concealed inside a fairly attractive water bottle. You can buy the bottle in more than 10 different colors, and in two different sizes: 22 oz and 1 L.
This water treatment option is ideal for use in apartments, but – unlike any of the other filters on this list – its portability and impressive contaminant removal means you can take it with you on the go and even use it to treat stream and lake water. No need to buy bottled water.
Plastic water bottles can sometimes be a source of contamination themselves, but this LifeStraw model is 100% BPA-free.
Cons:
A few customers have complained that sucking the straw is difficult because the filter creates resistance.
The LifeStraw bottle isn't ideal for big families (unless you bought a bottle for each family member).
---
🧾 Water Filter for Apartment Buyer's Guide
Not sure where to start? No worries, I will explain all you need to know right here.
🚰 Understanding Apartment Water Quality & Filtration Needs
Depending on your local water supply and your own personal drinking water preferences, your water filtration needs will be different from anyone else's.
First off, it's a wise idea to get your water tested to learn exactly what you're dealing with, and what type of filter you'd benefit from most. While you might be able to guess which contaminants are in your drinking water by taste or appearance (for instance, if it has a brownish-orange tint or it tastes like chemicals), proper testing will give you a breakdown of everything your water contains.
You can buy a water testing kit online or send a sample of the water from your faucet to a private lab testing company. Water testing kits aren't quite as thorough, but will still give you an accurate portrayal of your water quality.
💭 Key Considerations When Shopping for a Water Filter for Your Apartment
System Portability
If you're renting and you don't plan to stay in your apartment forever, it's a wise idea to think ahead and invest in a portable water filtration system that you can take with you from home to home. Water filters can last for up to a decade; some even longer, so you don't want yours to be tied down in your apartment if you don't plan to live there for more than a year or two.
Your Rental Contract
Check your rental contract carefully, because some won't allow you to make structural alterations to your home – even for the better. If this is the case for you, and you have plans to move out soon, it's worth just sticking to your rental terms and buying a portable system that doesn't need to be installed at your waterline. If you have no plans to move out in the foreseeable future, try bringing up the idea of installing a filter to your landlord, who may see it as a benefit for you and prospective future tenants.
Contaminants Removed
Different water filtration systems have different designs – and that means they each remove a different spectrum of contaminants. It's pretty much a given that a water filtration system will remove chlorine and lead, with these being two of the most common impurities. Some offer a more thorough filtration than others, and this usually means they come at an inflated cost.
Some filters can also remove the likes of bacteria and viruses, which may be useful if your apartment has a private well water source.
Universal Connectors
If you're buying a filtering system that requires some sort of setup or installation, finding ones with universal connectors will save you a whole lot of hassle. For instance, a faucet filter with universal adaptors can be installed straight onto any faucet without you needing to buy a new one – which often goes against the rental terms.
Physical Size
Depending on your apartment size, you might need to look at a filtration system that's a certain width or height. For instance, if you don't have a lot of side space, getting a large countertop filter or a distiller might not be the wisest decision. Equally, you should make sure that a system is big enough to keep up with your water consumption if you want to get the best value for your money.
Filter Certifications
Certifications are the easiest way for manufacturers to prove to customers that their water filters work as advertised. The most common certifications come from NSF International and ANSI. When a filter is certified to a certain standard, it means it has been third-party tested and deemed capable of reducing a particular contaminant. It's a good idea to look for filters that at least have an NSF 42 certification for chlorine removal.
Installation & Maintenance
The majority of the best water filters for apartments don't require installation at all, because they're designed with portability in mind. Usually, the most you'll have to do is unbox the system, slot the parts together, and get started. If you opt for a filter that needs to be installed at your waterline, you'll need basic DIY skills to get the job done.
The level of maintenance required depends on how frequently you need to change your filters. Some systems have filters that can last years; others only last for weeks.
Costs Involved
Maintenance and cost come hand-in-hand. The more frequently you'll need to change your filter, the more you'll be paying out after your initial purchase. Keep in mind, though, that the filters that need more frequent replacements tend to be cheaper – and you'll have to put some money aside for filter replacements, no matter what.
If you go for a filter that's slightly more difficult to install, you may need to hire a handyman for the job, which will come at an additional cost to you.
🔠 Ideal Filter Types for Use in Apartments
Countertop Gravity Filters
The great thing about gravity-fed countertop filters is that they're capable of holding high volumes of water, providing you with constant filtered drinking water whenever you want it, but they don't require invasive installation. You simply set them up on your preferred countertop, click the filters in place, and you're good to go. Most countertop filters have two chambers: one at the top and one at the bottom. Water passes from the top chamber into the bottom one, and to get there, it first must pass through a filter.
Filter Pitchers
Water filtering pitchers are like mini versions of countertop filters. The advantage of being smaller is that you can easily transport them from one room to another – but, of course, their reduced capacity means they hold less filtered water at a time. Filter pitchers tend to be the most affordable low-commitment option, and their filters can last for anything between 6 weeks and 3-6 months.
Faucet Filters
Faucet systems are attached to your kitchen faucet. Water can be diverted through the system when you want a drink, and sent straight through your tap when you're just washing up or using water for other purposes. This option tends to be relatively cheap, and filters generally last 3 to 6 months.
Distillers
Distillers are another relatively portable countertop filtration option. You just need to plug them into electricity to run. In the distillation process, water evaporates, then condenses, leaving behind all the contaminants that can't turn into gaseous form. Distillation is a fantastic option for thorough contaminant removal.
Filtered Water Bottles
One of the best on the go filtering options is the filtered water bottle. These filtration systems look like a typical water bottle, but contain a filter inside. When you drink from the bottle, water passes through a filter in the straw before reaching your mouth. Water bottle filters can be taken pretty much anywhere on the go, and require no installation.
❔ Frequently Asked Questions
My apartment uses water from a well. What's the best system for me?
Look for filters that remove bacteria and viruses. This is possible to find in apartment filters, especially those that use ceramic filter media. Other than that, most filters will remove common well water contaminants like heavy metals, organic chemicals, fluoride, and nitrates, so finding a good filter isn't difficult.
I'm on a budget. What do I go for?
Whether you've never tried filters before and you're hesitant to part with your money, or you only have limited funds to spend, there are plenty of affordable apartment filtration options for you to choose between. Both water filter pitchers and filter bottles are low-cost and relatively low-maintenance.