In this best water filters for apartment living guide, we've reviewed 6 filters that are suitable for use in an apartment. We ranked these filters based on their most important factors from an apartment owner's perspective, including portability (or lack of invasive installation), ease of use, maintenance and costs involved, certifications, and, of course, contaminants removed.
Around 1 in 8 people in the US live in apartments. That means that around 1 in 8 people likely assume that, because of rental terms or building layout, they're unable to filter their drinking water.
Luckily, that isn't true – and the market for water filters for apartment renters and owners is booming. We should know this, as our team has a combined 70 years of experience in the water treatment industry.
Here at WaterFilterGuru.com, we've seen how rapidly the industry has evolved. We now share reviews, tips and information with my monthly audience of 150,000 readers to help them stay ahead of the game and make the smartest buying decisions.
In this guide, you'll learn:
Which 6 apartment filters are worth your money in 2023
Your available water filtration options as an apartment owner
What to consider when purchasing a water filter for apartment living
🥇 Best Apartment Water Filters
📊 Comparison Chart of Water Filter for Apartment Living
| System | AquaTru Countertop RO System | Big Berkey Gravity-Fed Water Filter | Clearly Filtered Water Pitcher | PUR Plus Faucet Filtration System | Waterwise 4000 Water Distiller | LifeStraw Go Water Filter Bottle |
| --- | --- | --- | --- | --- | --- | --- |
| Ranking | 1st | 2nd | 3rd | 4th | 5th | 6th |
| Ratings | 5/5 | 4.5/5 | 5/5 | 4/5 | 4/5 | 4/5 |
| Price | $$$ | $$$ | $$ | $$ | $$$ | $ |
| Contaminants Removed | 83+ | 200+ | 365+ | 70+ | 99% all contaminants | 30+ |
| Certifications or Testing | NSF 42, 53, 58, 401, and P473 | NSF 53 | NSF 42, 53, 244, 401 & 473 | NSF 42, 53, 401 | – | NSF 42, P231 |
| Process | Mechanical + RO + Carbon | Carbon + Ion Exchange | Mechanical + Carbon + Ion Exchange | Carbon + Ion Exchange | Distillation | Mechanical + Carbon |
| Filter Capacity | 600-1,200 gallons | 3,000 gallons | 100 gallons | 100 gallons | 6 gallons/ day | 264 gallons |
| Holding Capacity | 1 gallon, 3 quarts | 2.25 gallons | 10 Cups | – | 1 gallon | 23 ounces |
| Annual Cost | ~$100 | ~$40 | ~$150 | ~$100 | ~$40 | ~$100 |
| Warranty | 1 year | Lifetime | Lifetime | 2 years | 1 year | 3 years |
⭐️ Apartment Water Filter Reviews 2023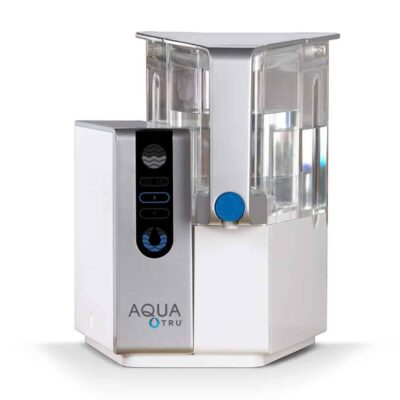 AquaTru Countertop RO System
If you're looking for the most thorough contaminant removal possible, then you're in luck. The AquaTru is a reverse osmosis water filter system for apartment use which means it can get rid of up to 99.9% of all TDS. It's NSF certified for the removal of 83 contaminants, but will actually take care of thousands more.
The system does not require a plumbing connection, making it perfect for use in apartments and condos where you are limited in modifications you can make to your plumbing. This also makes it easy to move around if space is limited.
The AquaTru has 4 filtration stages: both a mechanical and RO pre-filter, the reverse osmosis membrane itself, and a final activated carbon post filter. When it's time to change these, you will be shown a helpful alert on the unit's digital display. However don't expect to get these notifications all the time – the filters should last from 6 months to 2 years!
Being a reverse osmosis filter, you can expect that wastewater is produced during the process. The AquaTru runs on a 1:4 produced to wasted water ratio, making it more efficient than similar systems of its kind.
👍 What I Like
Simple setup
NSF certified
No plumbing necessary
Digital display & alerts
Long lasting cartridges
👎 What I Don't Like
Wastes water during purification
Needs a power source
Lower holding tank capacity
Does not have a remineralizing filter
---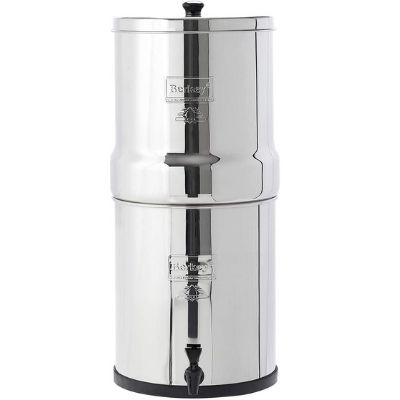 Big Berkey Gravity-Fed Water Filter
The Big Berkey is one of the best water filters for no-fuss, thorough filtration, proving exactly why you don't need a whole house filter to achieve a high level of filtration results. This countertop unit is suitable for families of up to 4 people, with a 2.1-gallon storage capacity.
You can fit up to 4 Black Berkey elements into this filtration system, with an overall lifespan of up to 6 years (or 3, 000). These elements combine 6 different types of filtration media, enabling the system to filter more than 200 contaminants in total.
The Berkey is a drinking water filter that relies solely on gravity to work. Water passes through the system, coming out clean and contaminant-free at the other end, without having to connect the system up to your plumbing or a source of electricity. This makes it ideal for using in apartments as a whole house filter without the invasive installation.
Providing results that are nearly as thorough as a reverse osmosis filter, the Berkey removes contaminants including chlorine, lead, arsenic and bacteria. Berkey can even remove fluoride, which most filters struggle to do.
👍 What I Like
Private lab testing backs up Berkey's claims
Long filter lifespan of 3, 000 gallons.
Easy to install – virtually no setup required
👎 What I Don't Like
Not NSF certified
Quite big, so not very portable
Takes up quite a lot of side space
👉 Read my full Big Berkey review
---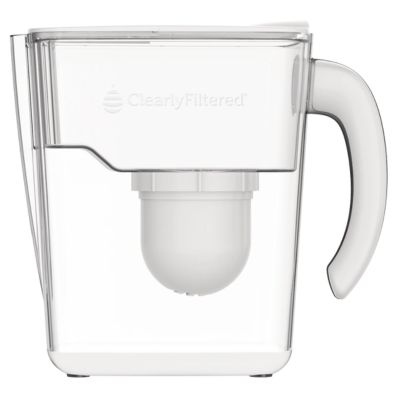 Clearly Filtered Water Pitcher
Removing an impressive 365+ contaminants, this water filter pitcher is an extremely effective filter for apartment use. It can remove common contaminants such as lead, fluoride, pesticides, PFAS, radiological contaminants, chlorine and more.
The pitcher itself is made of 100% BPA free plastic – so no need to worry about chemicals leaching back into your clean water. What's even more impressive, the company is so confident in their product that they offer a lifetime guarantee to replace it if anything happens.
With a lifespan of four months (or 100 gallons), the Clearly Filtered pitcher filters don't require a certain water pressure or electricity to work. They're gravity-based, so when you add unfiltered water to the system, it passes through the filters and into the pitcher at a slow but steady speed.
It takes about 15 to 20 minutes to fill the entire pitcher with clean drinking water, so this system doesn't provide immediate results. But it's one of the best budget-friendly options for apartments if you're looking for water filtration systems with a small footprint that won't take up too much space.
Replacement filter cartridges for this pitcher can be bought in packs of multiple filters to help you save even more money when using this pitcher in the long run.
👍 What I Like
Removes 365+ contaminants
BPA-free plastic construction
Long lasting filter lasts up to 100 gallons
Lifetime Guarantee
👎 What I Don't Like
No indicator for when its time to change the filter
Takes longer to filter than others
---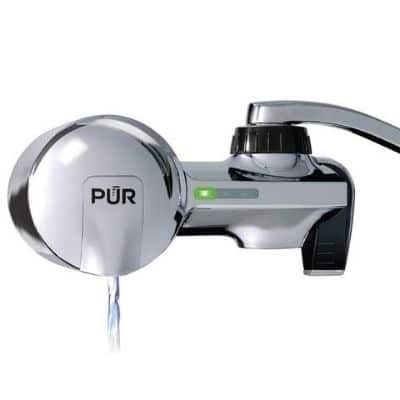 PUR Plus Faucet Filtration System
Most apartment rent terms will let you install a water treatment solution at the very end of your water line: your kitchen sink faucet. The PUR Plus Faucet Filtration System is one of the best sink filter solutions for filtering water straight from the tap.
With the PUR faucet mounted filtering system, you can use your kitchen faucet as you usually would. The only difference is that, when the filter is in use, you get access to clean water. The filtering cartridge is NSF/WQA certified to reduce or eliminate a range of contaminants from tap water, like lead, chlorine, and certain pesticides.
With its chrome design, this small, discreet faucet mount doesn't look out of place when installed on the end of your tap. And there's no requirement to use this water filter system all the time, either, as you can switch it off when you want water for non-drinking purposes. Make sure you only use this faucet mount with cold water, as heat may damage the filtering material.
The PUR comes with everything you require for setup, and it's easy to install – you just click it into place. Some faucet mounted filtering systems are made from plastic, which makes them susceptible to cracking and splitting, but the PUR's high-quality chrome design guarantees that it's made to last.
👍 What I Like
Affordable price
No major install needed
Doesn't take a long time to work
👎 What I Don't Like
Can only be used with cold tap water
Filtering capacity of 100 gallons (3 months) is a little low
Not compatible with some kitchen sink faucets
---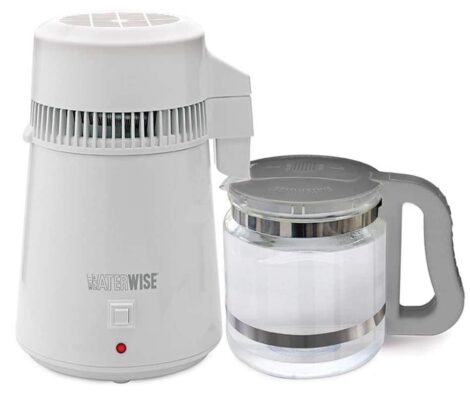 Waterwise 4000 Water Distiller
You've never seen a water distiller as sleek, modern and compact as the Waterwise 4,000. This water treatment solution is designed to take up as little counter space as possible, is easy to set up, and comes with everything you require to make distilled water in less time than usual.
This water distiller doesn't have to be connected up to your sink in order to work. You just have to place it on some free counter space in your home, near to a power source, and switch it on to get started. In up to 4 hours, the Waterwise produces 1 gallon of steam distilled water, which passes through the system and out of the dispenser into a carafe.
Distillers like the Waterwise 4000 are ideal for using in small apartments with extensive water filtration needs. While they don't require installation at your water line, they offer the most thorough type of purification processes, alongside reverse osmosis.
Distillation sees water evaporate and condense, leaving the contaminants behind in the boiling chamber. Everything from chlorine and lead to bacteria, nitrates and water hardness minerals are removed by this filtered water solution.
👍 What I Like
Easy to set up
Top pick for thorough filtration
Doesn't require connecting to sink or water line
👎 What I Don't Like
Eliminates beneficial minerals
Leaves water tasting quite "flat"
Expensive upfront cost
---
LifeStraw Go Water Filter Bottle
Perhaps the simplest and most budget-friendly apartment filtration option of all is the LifeStraw Go. This water bottle filtering solution uses a basic but effective concept: you fill the bottle with water from your sink, then, when you drink through the straw, the sucking pressure sends water through the filtering cartridge and into your mouth.
You can buy this bottle in more than 15 different colors, and in two different sizes – 22 oz and 1 L. Not only does this bottle filtration system eliminate the likes of chlorine, organic matter and turbidity, but it can also eliminate more than 99.99% of bacteria and other microorganisms. It's made from BPA-free material, and tested to meet NSF standards for contaminant removal.
With an impressive lifespan of 1, 000 gallons, you can use the LifeStraw Go for roughly 3 years, depending on how often you use the bottle. While this water treatment option is ideal for using in apartments, its portability and impressive contaminant removal means you can take it with you on the go and even use it to treat stream and lake water.
👍 What I Like
Thorough contaminant removal
Fantastic portable option
Affordable price
👎 What I Don't Like
Not actually NSF certified
Only treats one bottle of water at a time
Straw is quite difficult to suck through
---
🧾 Water Filter for Apartment Buyer's Guide
Not sure where to start? No worries, I will explain all you need to know right here.
🚰 Understanding Apartment Water Quality & Filtration Needs
Depending on your local water supply and your own personal drinking water preferences, your water filtration needs will be different from anyone else's.
First off, it's a wise idea to get your water tested to learn exactly what you're dealing with, and what type of filter you'd benefit from most. While you might be able to guess which contaminants are in your drinking water by taste or appearance (for instance, if it has a brownish-orange tint or it tastes like chemicals), proper testing will give you a breakdown of everything your water contains.
You can buy a water testing kit online or send a sample of the water from your faucet to a private lab testing company. Water testing kits aren't quite as thorough, but will still give you an accurate portrayal of your water quality.
💭 Key Considerations When Shopping for a Water Filter for Your Apartment
System Portability
If you're renting and you don't plan to stay in your apartment forever, it's a wise idea to think ahead and invest in a portable water filtration system that you can take with you from home to home. Water filters can last for up to a decade; some even longer, so you don't want yours to be tied down in your apartment if you don't plan to live there for more than a year or two.
Your Rental Contract
Check your rental contract carefully, because some won't allow you to make structural alterations to your home – even for the better. If this is the case for you, and you have plans to move out soon, it's worth just sticking to your rental terms and buying a portable system that doesn't need to be installed at your waterline. If you have no plans to move out in the foreseeable future, try bringing up the idea of installing a filter to your landlord, who may see it as a benefit for you and prospective future tenants.
Contaminants Removed
Different water filtration systems have different designs – and that means they each remove a different spectrum of contaminants. It's pretty much a given that a water filtration system will remove chlorine and lead, with these being two of the most common impurities. Some offer a more thorough filtration than others, and this usually means they come at an inflated cost.
Some filters can also remove the likes of bacteria and viruses, which may be useful if your apartment has a private well water source.
Universal Connectors
If you're buying a filtering system that requires some sort of setup or installation, finding ones with universal connectors will save you a whole lot of hassle. For instance, a faucet filter with universal adaptors can be installed straight onto any faucet without you needing to buy a new one – which often goes against the rental terms.
Physical Size
Depending on your apartment size, you might need to look at a filtration system that's a certain width or height. For instance, if you don't have a lot of side space, getting a large countertop filter or a distiller might not be the wisest decision. Equally, you should make sure that a system is big enough to keep up with your water consumption if you want to get the best value for your money.
Filter Certifications
Certifications are the easiest way for manufacturers to prove to customers that their water filters work as advertised. The most common certifications come from NSF International and ANSI. When a filter is certified to a certain standard, it means it has been third-party tested and deemed capable of reducing a particular contaminant. It's a good idea to look for filters that at least have an NSF 42 certification for chlorine removal.
Installation & Maintenance
The majority of the best water filters for apartments don't require installation at all, because they're designed with portability in mind. Usually, the most you'll have to do is unbox the system, slot the parts together, and get started. If you opt for a filter that needs to be installed at your waterline, you'll need basic DIY skills to get the job done.
The level of maintenance required depends on how frequently you need to change your filters. Some systems have filters that can last years; others only last for weeks.
Costs Involved
Maintenance and cost come hand-in-hand. The more frequently you'll need to change your filter, the more you'll be paying out after your initial purchase. Keep in mind, though, that the filters that need more frequent replacements tend to be cheaper – and you'll have to put some money aside for filter replacements, no matter what.
If you go for a filter that's slightly more difficult to install, you may need to hire a handyman for the job, which will come at an additional cost to you.
🔠 Ideal Filter Types for Use in Apartments
Countertop Gravity Filters
The great thing about gravity-fed countertop filters is that they're capable of holding high volumes of water, providing you with constant filtered drinking water whenever you want it, but they don't require invasive installation. You simply set them up on your preferred countertop, click the filters in place, and you're good to go. Most countertop filters have two chambers: one at the top and one at the bottom. Water passes from the top chamber into the bottom one, and to get there, it first must pass through a filter.
Filter Pitchers
Water filtering pitchers are like mini versions of countertop filters. The advantage of being smaller is that you can easily transport them from one room to another – but, of course, their reduced capacity means they hold less filtered water at a time. Filter pitchers tend to be the most affordable low-commitment option, and their filters can last for anything between 6 weeks and 3-6 months.
Faucet Filters
Faucet systems are attached to your kitchen faucet. Water can be diverted through the system when you want a drink, and sent straight through your tap when you're just washing up or using water for other purposes. This option tends to be relatively cheap, and filters generally last 3 to 6 months.
Distillers
Distillers are another relatively portable countertop filtration option. You just need to plug them into electricity to run. In the distillation process, water evaporates, then condenses, leaving behind all the contaminants that can't turn into gaseous form. Distillation is a fantastic option for thorough contaminant removal.
Filtered Water Bottles
One of the best on the go filtering options is the filtered water bottle. These filtration systems look like a typical water bottle, but contain a filter inside. When you drink from the bottle, water passes through a filter in the straw before reaching your mouth. Water bottle filters can be taken pretty much anywhere on the go, and require no installation.
❔ Frequently Asked Questions
My apartment uses water from a well. What's the best system for me?
Look for filters that remove bacteria and viruses. This is possible to find in apartment filters – the Berkey, for instance, has laboratory reports that prove its ability to remove these pathogens. Other than that, most filters will remove common well water contaminants like heavy metals, organic chemicals, fluoride, and nitrates, so finding a good filter isn't difficult.
I'm on a budget. What do I go for?
Whether you've never tried filters before and you're hesitant to part with your money, or you only have limited funds to spend, there are plenty of affordable apartment filtration options for you to choose between. Both water filter pitchers and filter bottles are low-cost and relatively low-maintenance.