🧾 Overview
PUR is a popular water treatment brand offering several types of water filter pitchers available in 7, 11, and 12-cup sizes, which can be mixed and matched with two filters: the PUR Basic and the PUR Plus.
PUR's pitchers are some of the most reliable filters available, and have been featured in some of our best water filter guides. We'll be reviewing the PUR Basic and PUR Plus filters in this review, looking at their features, performance, contaminant removal abilities, pros, cons, and more.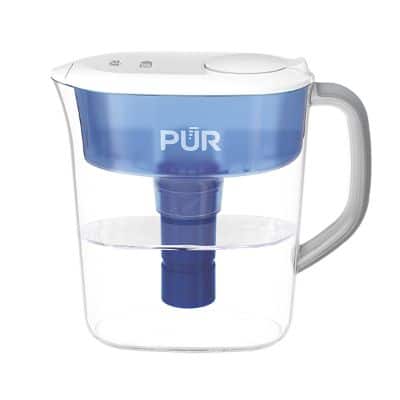 📝 System Specifications
| | |
| --- | --- |
| Brand | PUR |
| Pitcher Materials | BPA-free plastic |
| Filter Materials | Coconut shell activated carbon and ion exchange resin |
| Holding Capacity | Various capacities, from 7 to 12 cups |
| Filter Life | 40 gallons or 2 months |
| NSF Certified? | Yes – certified to NSF Standards 42, 53, 401 |
| Warranty | 90 days |
💲Models & Upfront Cost
There are several models of PUR water filter pitchers currently available on the PUR website:
| Model | Cost |
| --- | --- |
| PUR 7-cup pitcher | $18.49 |
| PUR 10-cup pitcher | $29.88 (only at Walmart) |
| PUR 11-cup pitcher | $31.99 |
| PUR Plus 7-cup pitcher | $26.99 |
| PUR Plus 11-cup pitcher | $37.49 |
| PUR Plus 12-cup pitcher | $42.99 (only at Target) |
The first three models use the PUR Basic filter, while the last three use the PUR Plus filter. Some of the models are available with different colored lids, including gray, black, and blue.
If you've been shopping around for water pitcher filters, you'll know that the PUR filter pitchers are very affordably priced compared to their competitors – although they do only remove a fraction of the contaminants that the top pitchers can remove (more on that later).
💡 Features
Several pitcher sizes available – There are three pitcher sizes for each PUR filter, from 7 to 12 cups. Both PUR filters can be used in any PUR pitchers – so if you bought a PUR 7-cup pitcher, for example, you could use either the PUR Basic or PUR Plus filter in it.
Two types of filtration – The PUR Basic filter removes a handful of contaminants, and the PUR Plus is designed to provide more thorough contaminant removal. As you'd expect, the PUR Basic filter is the cheaper option.
Activated carbon and ion exchange filters – PUR water filters are made from a blend of activated carbon and ion exchange, two commonly-used water filter pitcher media.
NSF certified performance – Both PUR water pitcher filter cartridges are certified by the NSF to Standards 42, 53, and 401, for reducing chlorine taste and odor, mercury, cadmium, simazine, and several more. The PUR Plus is also certified for lead removal.
Easy-fill lid – Filling the reservoir is easy with the PUR pitcher's easy-fill lid.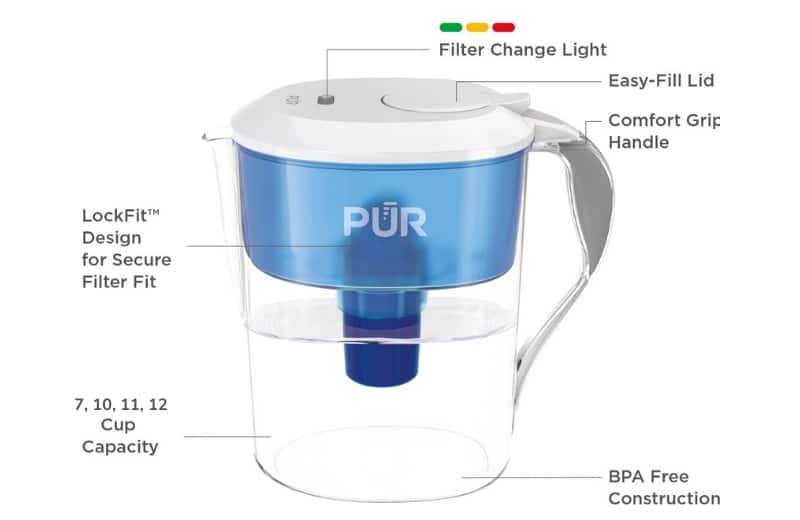 🚦 Performance
We measured the performance of the PUR filter pitchers based on three categories: water quality, flow rate, and durability.
We were pleased with the quality of our water after using both PUR filter cartridges, and there was a clear difference between our unfiltered water and PUR's filtered drinking water. Still, we thought both filters could remove more contaminants (we've covered contaminant removal in the "filter info" section).
The flow rate of PUR's filter cartridges was the performance letdown for us. PUR's cartridges are notorious for clogging, so much so that we even wrote a troubleshooting guide on the subject. Sometimes, better flow can be restored by getting rid of trapped air, but even so, we felt that the flow rate was slower than that of similar pitchers.
Finally, durability. Our filters lasted for the full two months, and the pitchers we trialed felt sturdy and strong. We had a good experience in this respect, and customers generally agreed that the filters and pitchers are long-lasting.
🔧 Installation & Maintenance
Setting up any of the PUR pitcher filters is easy. Both filtered water cartridges need to be soaked in normal water from your faucet for 15 minutes while you hand-wash the pitcher lid, chamber, and pour tray. Follow the manufacturer's instructions to flush the filter before pushing and twisting the filter in place.
Maintenance is easy, too, but frequent. PUR water filtration pitchers need filter replacements every 2 months or 40 gallons, whichever comes first. The filters might not last this long if your water quality is particularly bad. Luckily, the cost of a replacement filter cartridge is affordable – about $24 for a 4-pack of PUR Classic or Basic filters (or $6 per filter) and $27 for a 3-pack of PUR Plus filters (or $9 per filter).
Some of the PUR filtered water pitchers have a filter change reminder on the lid. The light will change color when the filter lifespan is running out, letting you know exactly when replacements are needed.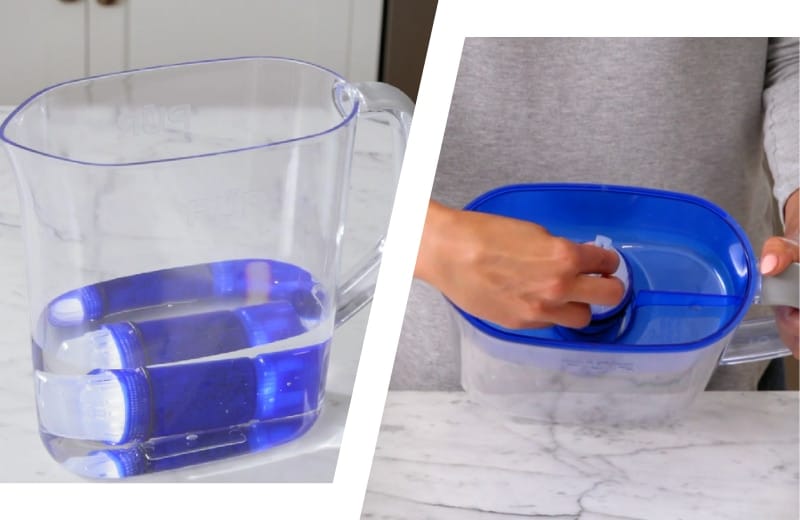 📝 Filter Info
Both the Basic and Plus PUR filters are made from a blend of granular activated carbon and ion exchange media. Activated carbon filters are commonly used in water filter pitchers because they remove a broader range of contaminants when water has an extended contact time with their surfaces. Ion exchange is commonly used in conjunction with activated carbon to enhance the media's contaminant removal abilities.
Activated carbon is well known for reducing chlorine, tastes, and odors, and both filters do this effectively. After using several of the PUR water filter pitcher models, with the PUR Plus and Basic filters, we noted that our filtered water tasted much cleaner and less chemical-ly than our normal tap water.
| Contaminant | PUR Basic Filter | PUR Plus Filter |
| --- | --- | --- |
| 2,4-D | ✓ | ✓ |
| Atelol | ✓ | ✓ |
| Atrazine | | ✓ |
| Benzene | ✓ | ✓ |
| Bisphenol A (BPA) | | ✓ |
| Cadmium | ✓ | ✓ |
| Carbamazepine | ✓ | ✓ |
| Carbon Tetrachloride | | ✓ |
| Chlorine - Taste and Odor | ✓ | ✓ |
| Copper | ✓ | ✓ |
| Estrone | | ✓ |
| Ibuprofen | | ✓ |
| Lead | | ✓ |
| Linuron | ✓ | |
| Mercury | ✓ | ✓ |
| Naproxen | | ✓ |
| Microbial Cysts | ✓ | ✓ |
| Nonyl Phenol | | ✓ |
| Particulate Class I | | ✓ |
| Particulate Class VI | ✓ | |
| Simazine | | ✓ |
| TCEP | ✓ | ✓ |
| Tetrachloroethylene | ✓ | |
| Trimethoprim | ✓ | |
| Zinc | ✓ | ✓ |
The PUR Plus can't remove Particulate Class VI or tetrachloroethylene, unlike the basic PUR filter. What you're really paying for with the PUR Plus is the lead removal, which is an incentive enough for most people to upgrade (and the reason why this filter is often called the PUR lead reduction filter). The removal of more pharmaceuticals is a bonus, too.
Related: Does PUR Remove PFAS from Water?
🔔 Pros & Cons
👍 What We Like
PUR is a reliable filter brand, and we noticed an improvement in our water taste and quality after using its pitchers.
The PUR can remove contaminants that are commonly found in drinking water, helping you to swap plastic water bottles for filtered drinking water straight from your faucet.
You can use the same filter in any of the PUR pitcher models, or switch between the two filters.
👎 What We Don't Like
PUR's filters don't remove as many contaminants as the top competitors. Some filter pitchers can remove more than 200 contaminants.
The filters are prone to clogging.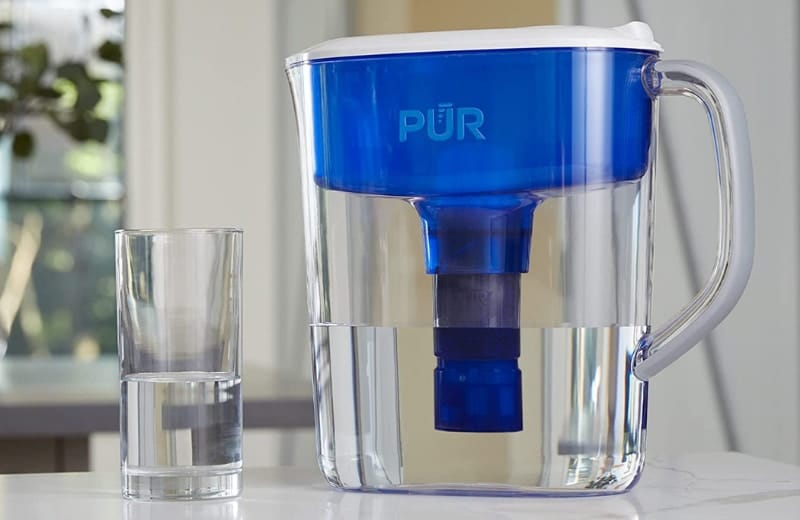 ❔ Frequently Asked Questions
Are the PUR Pitcher filter models better than the PUR faucet filter offerings?
It depends on what you're looking for. The PUR faucet filters remove more contaminants (more than 70) than the filter pitcher models, and provide on-demand filtered tap water straight from your faucet. But customers have had issues with water flow when using PUR's faucet filter, and the model is prone to leaks.
Are PUR filters better than Brita filters?
Yes. Even the PUR Classic, or Basic, filter removes two times more contaminants than the Brita filter, and the PUR lead reduction filter removes more than three times the contaminants of Brita pitcher filters.
How often are PUR replacement filters needed?
All of PUR's filters last for 2 months, which is a slightly lower lifespan than most other pitcher filters on the market.
What's the warranty for PUR water filtration systems?
PUR pitcher filter systems come with a standard 90-day warranty.
Found this review helpful?
Comment below or share this article!