PUR and Brita are two incredibly popular manufacturers of filters for water in the US. They offer a range of different filtration systems between them, and they're both most famed for their faucet filters and water filter pitchers. This PUR vs Brita guide will compare PUR and Brita's most popular water filters, to help you understand the key similarities and differences between the two.
📖 TL;DR PUR vs Brita – Which is the Best?
While both Brita and PUR offer a wide variety of filter models (pitcher & faucet), the PUR filters remove more contaminants when compared to Brita. However Brita offers longer lasting filters which remove lead at no additional cost.
If you need to remove a larger amount of contaminants, PUR is your best bet. But for most folks, Brita is better.
⚖️ PUR vs Brita Comparison Chart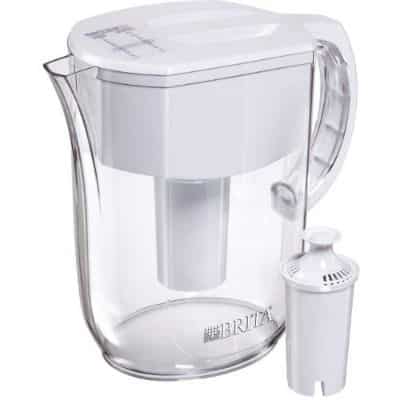 Brita Grand
Filter: Standard
Capacity: 10 cups
Contaminants removed: 5+
Filter lifespan: 40 gallons or 2 months
Warranty: 90 days
Price: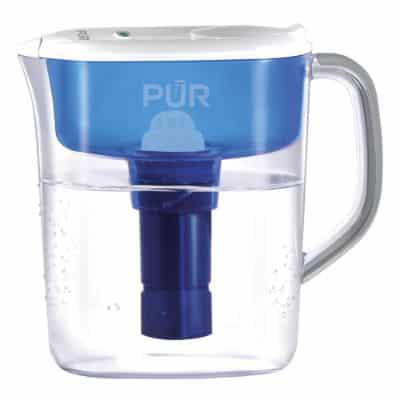 PUR Basic
Filter: Standard
Capacity: 11 cups
Contaminants removed: 24+
Filter lifespan: 40 gallons or 2 months
Warranty: 90 days
Price:
💡 Filter Comparison
PUR filters
PUR offers two types of water filter pitchers: a standard pitcher and a pitcher with LED. Both filters work almost identically: they use something called MAXION® Filter Technology, which is WQA certified to remove, lead, mercury, pesticides, chlorine and more.
When the PUR pitcher is filled with tap water, the filter gradually removes contaminants in a steady filtration process. The filter is made from coconut shell, which has pores that are even smaller than activated carbon. This traps contaminants on the surface area, allowing the smaller water particles to pass through.
PUR offers a Standard replacement filter as well as a Lead Reduction filter that removes even more contaminants.
Brita filters
Like PUR water filters, the Brita filter for water is placed inside a pitcher. When water is added to the pitcher, the Brita gradually filters out contaminants and makes it cleaner and tastier for drinking.
Brita's most popular filters are Long-Last and Standard Filters. The Standard Filter, which lasts for 40 gallons, helps reduce mercury, chlorine, copper, cadmium and more. Brita uses carbon block material to trap contaminants in water, as well as a non-woven element that's designed to remove sediment. The Long-Last filter is made from the same materials, but is designed to last up to 3 times longer than a Standard Filter.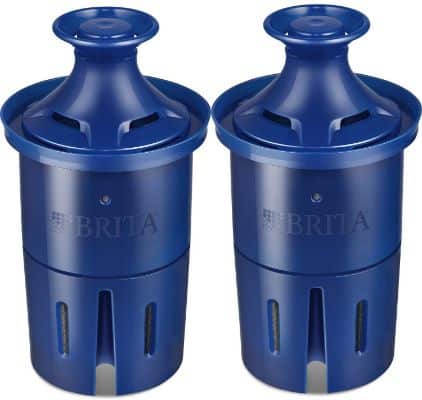 🧫 What Contaminants Do They Remove?
Water filter pitchers don't exactly rival reverse osmosis when it comes to contaminant removal. But both PUR and Brita are leaders of the water filter pitcher market with their own impressive filtration abilities, removing a broader range of contaminants than the average water pitcher filter is capable of.
| Contaminant | PUR Basic | PUR Plus | Elite (Longlast +) | Standard |
| --- | --- | --- | --- | --- |
| 2,4-D | | | 85.5% | |
| Asbestos | | | >99% | |
| Atenolol | | | >95% | |
| Atrazine | | | 99.3% | |
| Benzene | 86.4% | >96.8% | 93.5% | |
| Bisphenol A | | >99.0% | 95.5% | |
| Cadmium | 86.7%-90.2% | 98.9%->99.3% | 99.2%-96.9% | 89%-93.0% |
| Carbamazepine | | | >96% | |
| Carbon Tetrachloride | | >96.8% | 91.2% | |
| Chlorine | 97.5% | 97.5% | 97.4% | 95.0% |
| Copper | 85.7%-90.1% | 95.9%-99.3% | | 80%-94.0% |
| DEET | | | 98.0% | |
| Endrin | | | 98.7% | |
| Ethylbenzene | | | 99.0% | |
| Estrone | | >96.3% | 96.4% | |
| Ibuprofen | | | 94.9% | |
| Lead | | | 99.5%-99.6% | |
| Linuron | 94.5% | 94.5% | >93% | |
| Meprobamate | | | >94% | |
| Mercury | 88.8%-96.5% | >96.4% | 95.5%-95.9% | 93%-96.0% |
| Metolachlor | | | >94% | |
| Microplastics | | 99.8% | 99.6% | |
| Naproxen | | | 96.4% | |
| Nonyl phenol | | >95.8% | 93.5% | |
| Particulates | 99.6% (Class VI) | 99.8% (Class 1) | 99.6% (Class 1) | |
| P-Dichlorobenzene | | | 98.2% | |
| PFAS | | | 98.1% (PFOA, PFOS) | |
| Phenytoin | | | >95% | |
| Simazine | | >98.3% | 98.4% | |
| TCEP | | | 99% | |
| TCPP | | | >99% | |
| Tetrachloroethylene | | | 96.1% | |
| Trimethoprim | 94.3% | 94.3% | >96% | |
| Zinc | 63.3% | 92.70% | | 64.0% |
Brita Filters reduce chlorine taste and odor, lead, asbestos, copper, mercury, sediment, and other common contaminants from water.
PUR filters are just as capable, reducing chlorine and removing lead and mercury by 99.9%, plus other pesticides by 92%. PUR is advertised to remove 2 times more contaminants than Brita, which is a big selling point for targeting customers looking for the most effective contaminant removal.
🚦 Performance Comparison
The performance of a filter measures three primary things things:
How long it lasts
How effectively it does its job
The speed of filtration
PUR
Water filter PUR is designed to filter up to 40 gallons of water, or approximately 2 months' worth, before the filter needs changing. This is about as good as it gets for a water pitcher filter, and considering a pack of 3 filters costs around $25 (for a total 6 months of use), it's a pretty good value for money.
It takes 6 minutes for a full 11-cup classic PUR pitcher to purify water, which is really promising for a water filter pitcher. Some reviewers mentioned it actually takes 10 to 11 minutes to filter water, which is still good considering some pitchers can take up to an hour to get the job done. Keep in mind that the filter will slow down considerably when it nears the end of its lifespan; customers have reported that it takes up to half an hour to filter a full pitcher of water towards the end.
Brita
Brita's filter pitchers take slightly longer to filter water – around 15 minutes. You need to change the Standard Filter every 2 months, just like PUR filters, but in this PUR vs Brita battle, Brita wins with its 6-month-lasting Long-Last Filter. The Long-Last Filter costs around $17, and considering it lasts 6 months, it's a much better value for money than a pack of 3 PUR filters that last, between them, last the same amount of time.
There's a reason why Brita is one of the most popular water filter pitchers on offer: its performance is virtually unrivalled. It's hard to find a bad review about the speed or efficiency of water filtration for Brita, and many people who purchased Brita filters when the brand was first established are still loyal fans now, for the simple fact that Brita is, for the most part, a reliable filter. If you have hard water, you might need to change your filter more often than the recommended 2 months of 6 months, filter depending – the same applies for PUR filter pitchers.
Brita's filtration systems have NSF certifications to back up their performance claims, with the Long-Last filter boasting NSF certification for the removal of 12 contaminants, including lead. This is a major benefit to the company and proof that the systems work as advertised.
💲 Models & Upfront Cost
PUR Models
PUR sells a number of different pitchers at different costs. The most popular PUR water filter, the PUR Classic Basic 7-cup filter, costs around $17 – a very fair price when you compare it to the cost of buying a faucet filter or even a countertop filtration system. You can also buy the PUR Classic in an 11-cup size, which is slightly inflated in price (~$30) because of its LED feature.
Another option with PUR is to pay slightly extra for a 7-cup or 11-cup Filtration System that removes lead. Additionally the 18-cup Ultimate Dispenser with lead removal is also available.
As well as its pitcher filtered water options, PUR also offers a number of PUR faucet filter solutions.
The most popular PUR faucet filter is the Advanced Faucet Filter, which costs ~$35. There's also the Classic PUR Faucet Filter, costing ~$20, the Bluetooth Ultimate Filtration System, costing about $45, and the Basic Faucet Filter, costing around $25.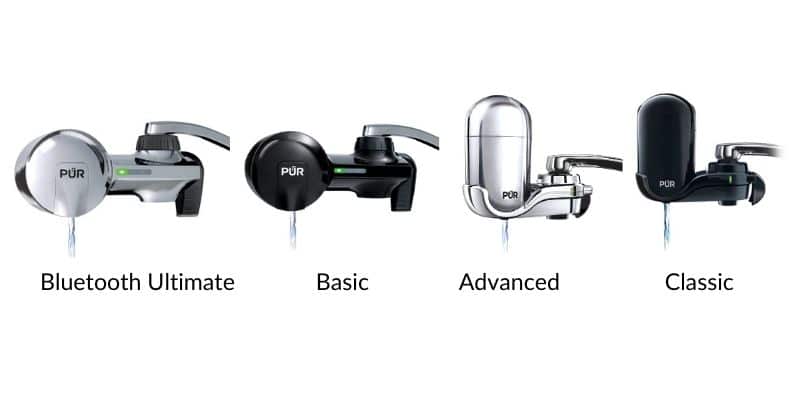 Brita Models
The Brita filter is a little more varied: there are 15 different types of water pitcher filter on offer, and each are unique in their own right. Some only differ aesthetically, while others have slightly varied filters – though they all follow the same concept.
The most popular water filter Brita option is the 10-cup Grand, costing about $33. There's also the 10-Cup Lake, costing near $30, the 10-cup Rapid Stream Pitcher, costing ~$45, the 5-cup Metro, costing around $20, and the 18-cup Ultramax Dispenser with Longlast Filter, costing running around $45.
Brita has released so many products over the years that when it comes to price and variation, you're spoiled with options. There's very little difference in pricing for PUR and Brita products, so it's harder to determine a winner in this area of the PUR vs Brita battle. Though Brita does offer slightly more than PUR, PUR's filter systems come in all the sizes and specifications that you'd need, and near-enough at Brita's price.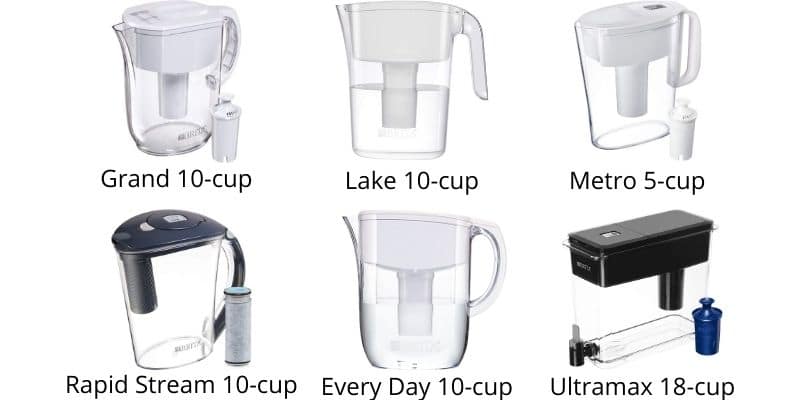 In addition to its water pitchers, Brita also offers its own range of Brita faucet water filters.
Their Complete Faucet Mount System system with just one filter runs around $30. There is also a Basic Faucet Water Filter for about $20.
There aren't many more PUR faucet filter options available than Brita faucet filters, but PUR's Bluetooth feature probably gives the brand the edge here.
Aside from its Brita faucet offerings, the company also sells its own range of water bottles, costing between $13 and $38.
📆 Filter Lifespan & Replacement Costs
PUR Filters
Both PUR's standard pitcher filter and lead-free pitcher filter will last for around 2 months, and you can buy replacements online in packs of 3 and 4. Filters cost around $6 each, which is a nice and low bi-monthly cost.
You can get 2 to 3 months – most customers say 2 – out of the PUR faucet water filter before you'll need to swap it out for a new one. PUR replacement filters cost about $20 bucks for a pack of 2, which is a pretty decent value for money considering you'll only need to pay it every 4 to 6 months. A pack of 2 MineralClear faucet water filter replacements costs slightly more at around $30.
Brita Filters
The Brita Water Long-Last pitcher filter, lasting for 6 months, costs ~$17 for a pack of 1, or $33 for a 2-pack. This is a fantastic value for money considering you only need to buy one every 6 months, and works out slightly cheaper than if you were to buy 3 PUR filters within a 6 month period. Brita's standard pitcher filter costs about $7, only pennies difference to PUR's. Brita also has a Stream filter, costing around $7 for 1 and $16 for 3.
Lasting for up to 4 months, the Brita faucet mount replacement filter costs ~$19 for a single filter. Though this is more expensive than PUR, to fairly consider PUR vs Brita here, we'd have to take into account how long the filters are designed to last for. The PUR faucet water filter lasts for 2 to 3 months, and you pay virtually the same for two 2-month PUR faucet filters as you do for one 4-month Brita faucet filter.
💬 Customer Reviews & Complaints
PUR
PUR is generally well-received by customers, with the majority of its products on Amazon receiving 4-star ratings or above.
The PUR pitcher replacement filter has more than 9,400 reviews and a respectable 4.5 out of 5-star ranking.
Customers have praised the filter for its ability to remove chlorine taste and odor and metal taste from water. A few customers mentioned that taste-wise, there was no difference between PUR and Brita filtered water.
The biggest problem people have with the PUR pitcher filter is that it's very slow on the job. Many long-time customers seem to think that PUR's quality has slipped over the past few years – though there's no evidence of this in terms of a change of materials or manufacturing methods. Some people noted that in a 3-pack of filter replacements, one would work better than the others, and for no good reason. But one customer explained that draining a filter with poor flow, drying it out and leaving it in a cup of water for 30 minutes gave it a second life.
PUR's MineralClear faucet filters have an average rating of 4.6 out of 5 stars based on more than 5,300 reviews. Customers enjoyed the fact that it's easy to install a filter, and knowing when it needs replacing is simple, thanks to its LED indicator. People were also generally impressed with the filter's ability to remove contaminants from tap water.
A problem that some customers reported with the PUR faucet filter is that they were receiving "knock-offs" instead of the real product.
Customers noted that instead of receiving a 6-pack as advertised, they received two sets of 3-packs, and the product boxes had no lot numbers stamped on the bottom of them. They also mentioned their filter housing was a different color to the official PUR filter housing. Of course, this may just be that PUR has changed its design and manufacturing process for its faucet filter replacements.
The best way to avoid buying a non-branded copy of PUR's faucet filters is to get familiar with the official filter that comes with your PUR faucet water system. You'll be able to pick up on changes in appearance and get in touch with PUR to check that you've received a genuine product.
Brita
With Brita being popular on a worldwide scale, the company's long-time customers have plenty of positive things to say about their experience with Brita products. On Amazon, Like PUR, all of Brita's filtration systems and filter replacements have 4 star-or-above ratings on Amazon, based on thousands of reviews.
Brita's Standard Filter Replacements for pitchers have an impressive 4.7 star rating from a total of more than 7,000 reviews.
The majority of customers are extremely happy with Brita's ability to filter tap water contaminants, and praised the company for allowing them to live a more eco-conscious plastic-free lifestyle.
Again, for Brita, customers question whether the pitcher filter replacements are genuine or not. When buying directly from Amazon or a third-party Amazon website, it's easy to become skeptical about a purchase. But it's highly unlikely that either Brita or PUR would allow for non-genuine products to be sold in their name on such a popular retail store. You should contact Brita directly if you ever have any concerns.
The Brita water filter for faucets also has a 4.7 star rating out of more than 3,000 reviews. Customers mentioned that set-up and replacing the filter was particularly easy, and, like with PUR, the LED light proved useful in indicating when the filter needed to be changed. Customers also liked that the bypass feature means not all tap water needs to be filtered.
A few people had issues with the Brita faucet filter's LED light, though, with some saying that the meter wouldn't reset after replacing a filter – perhaps down to receiving a defective product. Some customers also experienced a small leak, and others said that the Brita faucet filter slows down tap water somewhat, which could be as a result of having a high level of contaminants in their water.
☑️ Pros and Cons of PUR vs Brita
PUR – What I Liked
Removes more contaminants than Brita
It's probably the best selling point PUR could have: the company's pitcher filters remove more contaminants than Brita's. Brita's systems remove 60 contaminants, while PUR's remove more than 70. You're unlikely to notice much of a difference in water taste, but considering you pay virtually the same for a PUR filter as you do a Brita filter, you technically get a better value for money with PUR's offering.
Affordable cost
PUR's water filters are all very reasonably priced, and from the initial cost of a pitcher to replacement filter prices, there are options to help you save money. You can buy multi-packs of water filter replacements, which can be very cost-saving in the long run.
No-frills filtration
If you're looking for a water filter that just gets the job done, PUR's filtration solutions should tick all the boxes. They're not too fancy, and everything from set-up to daily use and maintenance is designed to be easy. If you've never used a water filter before, you won't be intimidated by any of PUR's products.
Brita – What I Liked
Very affordable
Though Brita is perhaps the most world-renowned water filter company, both the Brita faucet filter and the Brita water pitcher filter are sold at affordable prices. Brita hasn't significantly increased its prices much at all over the years, which has helped the company to build up a solid fan base.
NSF certified
All of Brita's products are NSF certified, meaning they have industry-standard third-party backup that their water filtration solutions work as advertised. The best performing Brita filter is its Long-Last filter, which is certified to NAS standards for removing 12 contaminants.
Good range of designs
In the PUR vs Brita design battle, Brita is the clear winner. With a range of filter pitchers in interesting shapes and styles, Brita gives a choice for every taste. If you're looking for a pitcher filter that isn't just practical, Brita's water filters give you plenty of options. Brita faucet filters are more basic, though, and you have less design selection with them.
PUR – What I Didn't Like
Lead filter costs extra
PUR's separate lead filtration offering is obviously an attempt by the company to make a little extra cash from sales, but it's confusing and slightly annoying that you have to pay more money for the lead filter when Brita's basic filters remove lead for a lower cost. As most people are looking for lead removal in their tap water, PUR should make this a standard feature of all its filters.
Fairly simplistic designs
Water filters PUR are pretty basic when it comes to design: just pitcher jugs in different sizes with water filters inside that produce filtered water. There's nothing particularly modern or interesting about PUR's products, and while they don't look unattractive, there's no appeal to them.
Brita – What I Didn't Like
Faucet filters are a slight letdown
Brita's faucet filter offerings have received mixed reviews, and while the overwhelming majority are positive, some customers have experienced issues with leaking, poor water flow, and short filter lifespan. It's clear that Brita's water filter pitchers are the company's main focus when it comes to making sales.
Doesn't remove living organisms from water
If you're looking for the removal of the likes of viruses and bacteria, you won't get it from a Brita filter. Not many filtration systems actually remove living organisms from water, and Brita isn't one of them. Don't use your Brita pitcher for well, lake or river water, as it won't work.
❔ Should I Buy PUR or Brita?
In the Brita vs PUR battle for filter pitchers, Brita filters are a clear winner for most folks. Though PUR's offerings are effective and positively reviewed, Brita's stylistic options, Long-Last filter system and lead removal at no extra cost gives the company the extra edge.
However if you need to remove a wider range of contaminants from your water, PUR filters are your best bet.
The Brita vs PUR battle for faucet filtration systems is a little more complex. Though Brita has great reviews for its faucet filter products, PUR does too – and PUR's filters look nicer and offer that little bit more with an optional Bluetooth feature.
Ultimately, Brita might still be famous on an international scale for its water filtration solutions, but PUR's offerings are just as appealing, marked at a similar price and offering a slightly more impressive contaminant removal than Brita. There's no real winner in this Brita VS PUR match-up, because both companies have highly-rated products and thousands of long-time trustworthy customers behind them.