🧾 Overview
The PUR PLUS Faucet Filtration System offers a simple way to get healthier, better-tasting drinking water straight from your faucet.
You just attach the device onto the end of a faucet with a click – no tools or experience are required for installation.
The filter provides roughly 100 gallons of filtered water, which should last you between 2 and 3 months. After that, you will need to replace it with a new one, disposing of your existing filter and dropping the new one in place.
The filter inside the PUR PLUS system is made from activated carbon, a material that is commonly used in water filters today. It's NSF-certified to remove 99% of lead and reduce other contaminants, so you can trust that it works as advertised. It also contains the manufacturer's MineralClear core, which is designed to give water a crisper, fresher taste.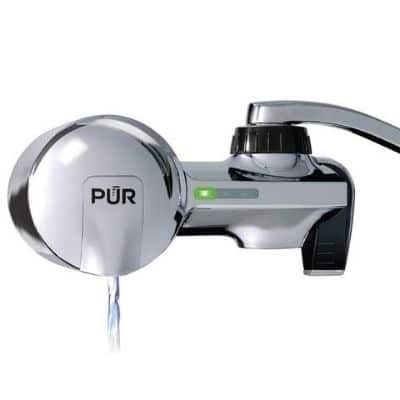 💡 Features
Vertical faucet mount
What makes the PUR PLUS Faucet Filtration System special is its size. It's small enough to be connected straight up to the faucet via the vertical faucet mount.
Filter casing
The filter casing acts as a protective body around the filter, preventing the filter dust and particles in the air from being able to come in contact with it.
Activated carbon filter
The activated carbon filter removes and reduces contaminants as water from the faucet flows directly through it. The water then flows from the other end of the filter and out of the spout.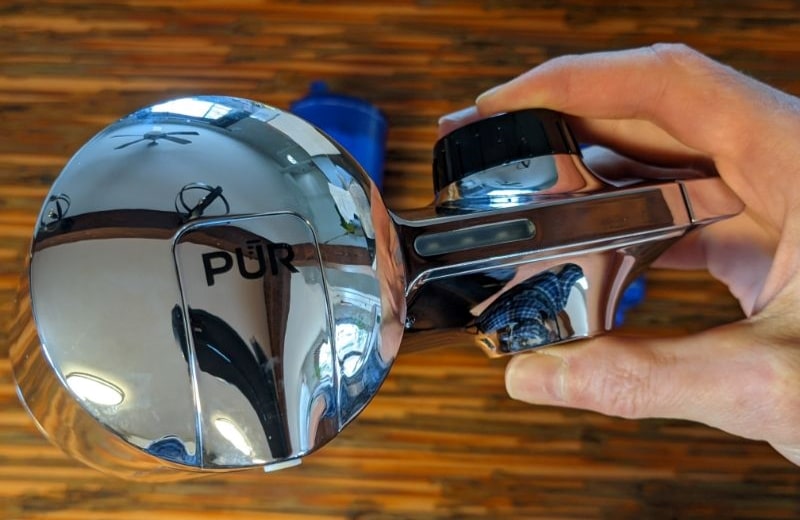 🚦 Performance
With a smaller filter than many water filter faucet systems, you may expect the PUR faucet filter to perhaps perform less efficiently – but this isn't the case.
Filter size is less important than people assume (surface volume is more important), and the real value here comes from the material that makes up the filter. Activated carbon traps particles of 0.3 microns and higher, which is how water that is reduced in contaminants can then flow out of the other end.
Because the PUR PLUS Faucet Filtration System is attached directly to a faucet, there is no waiting around for the water to be filtered. The pressure from the water flowing from the faucet forces it through the filter at a high speed, which produces drinking water immediately. As you simply need to turn on your faucet for the filter to work, it's about as efficient as you'd hope it to be.
🔧 Installation & Maintenance
There's virtually no maintenance required for the PUR faucet system. You'll find this handy if you're looking for a no-fuss water filter that you can just connect up to your faucet and use straight away.
Bending into awkward positions, using tools to put together fiddly components, and breaking a hole in your water pipe are not required for installation of this system. You just click it onto your faucet's spout and you're ready to go.
The PUR PLUS Faucet Filtration System is designed to attach onto the majority of standard kitchen sink faucets, but you may need an adapter if your faucet is a unique model. It's best to contact the manufacturer if you're unsure.
In terms of maintenance, the only thing you'll need to do is replace the filter. Most people find that after 2 months, water starts to come out of the faucet at a slower rate, and doesn't taste as pleasant. In this case, the filter is probably too clogged up to work effectively, and it's time to buy a new one. You can purchase packs of replacement filters directly from the manufacturer or from your local home improvement store.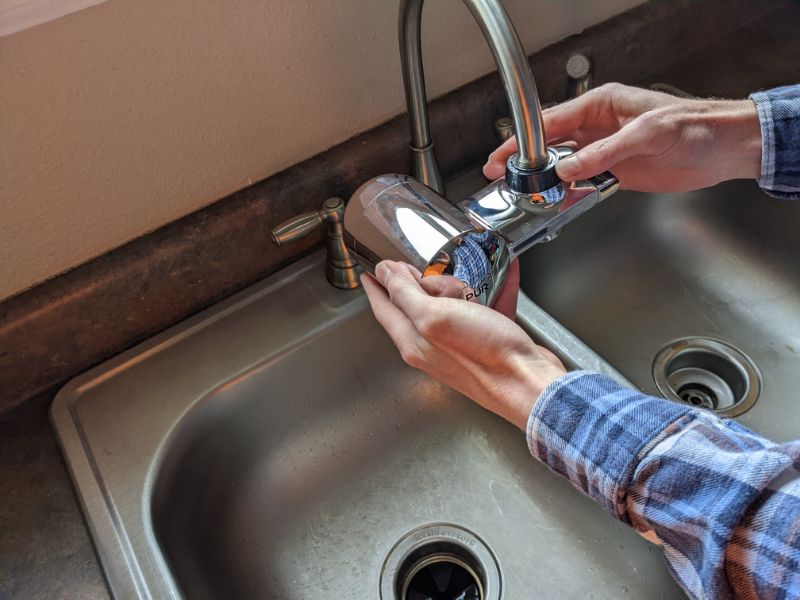 📝 Filter Info
The PUR PLUS Faucet Filtration System features an activated carbon filter that has been certified by the NSF to remove up to 99% of lead and reduce 70 other contaminants. In a process called adsorption, molecules in the water become trapped inside the filter's structure, which cleans the water of its contaminants.
You can choose to stick with the original filter or purchase your own when it comes to needing a replacement. The filter included in this system is good enough to meet most people's expectations, but if you're looking for a filter that removes a specific contaminant, like iron, you might prefer to go for something else.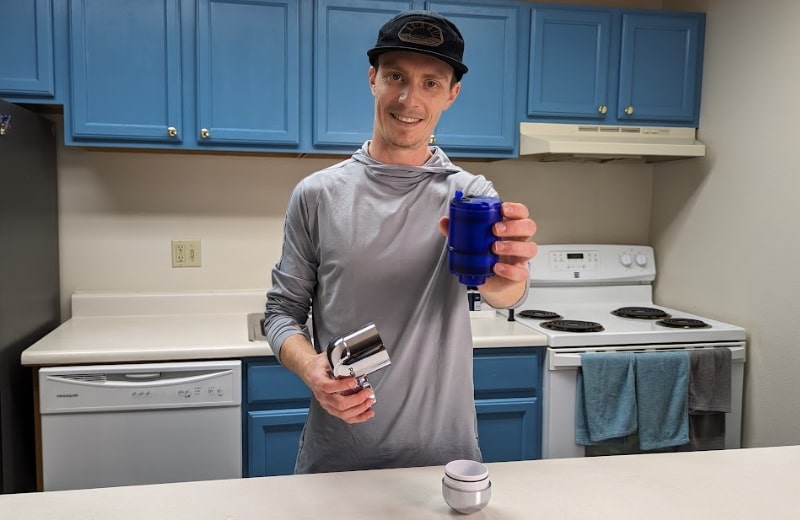 🔔 Pros & Cons
Pros:
Simple installation
A good option for people with lower budgets
Reduces 70+ contaminants
Cons:
May not work so well with lower water pressure
Some users have reported that the indicator light is tempermental
Not suitable for all faucets
❔ Frequently Asked Questions
Does the unit come with any filters?
Yes, the unit comes with an initial filter, so you will be able to use it right away. It doesn't come with any spares, so it's wise to stock up in advance.
Where can I buy replacement filters?
You can buy them online, directly from the manufacturer or from Amazon. You can also find them at most home improvement stores.
Will I notice a difference between the horizontal and vertical units?
No, the difference is aesthetic only. Both units filter water in exactly the same way.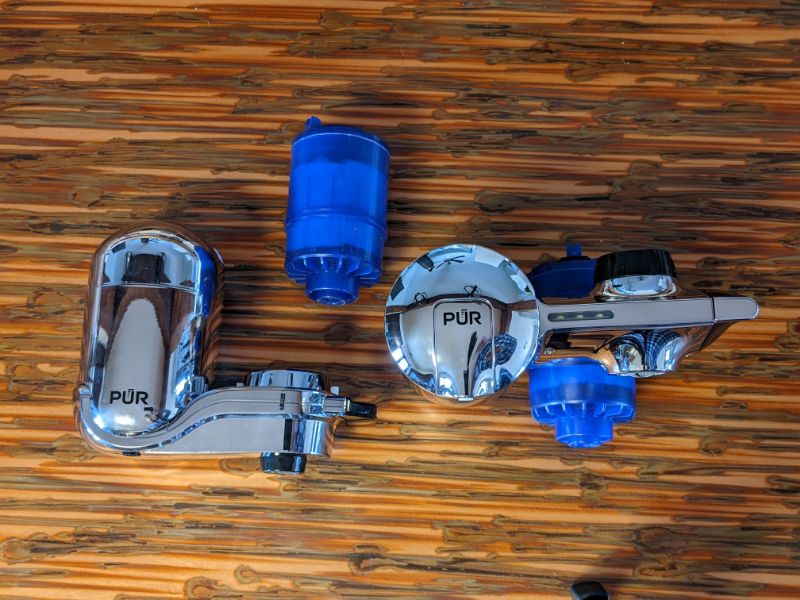 Can I filter hot water?
No. Turn the filter off before turning your hot water on. Hot water can damage the filter and stop it from working properly.
Does the filter come with faucet adapters?
Yes, it comes with 4 different adapters. At least one of these should fit your faucet providing it is standard US.
Found this review helpful?
Comment below or share this article!