Our testing concluded that the PUR Plus Faucet Filtration System is the best faucet water filter money can buy in 2023. Here is our review and the runners up.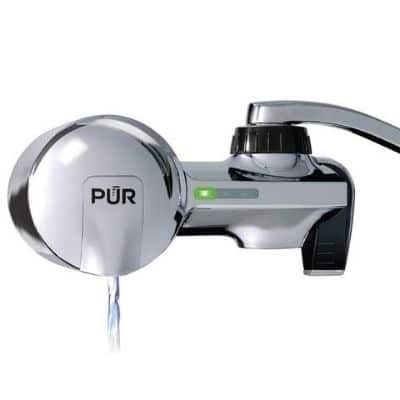 PUR Plus Faucet Filtration System
Waterdrop Water Faucet Filtration System
Brita Basic Faucet Filtration System
It's fair to say that us Americans take our access to tap water for granted – until a crisis leaves us wondering just how safe that water is.
We've all heard of the lead contamination disaster in Flint, Michigan, in which inadequate treatment and testing of the local water led to nearly 9,000 children being exposed to "very serious" lead levels.
The Flint crisis was an eye-opener, inciting hundreds of thousands of homeowners across the country to take action. If you've made it onto this guide, I will assume that you've already done your research on at-home water treatment options, and faucet water filters have caught your eye.
I care about water quality, too – perhaps more than the average person. That's what led me to become an expert in water filtration, eventually creating WaterFilterGuru.com as a platform to share my knowledge with people like you.
In this guide, we'll look at:
8 faucet filters that prove to be the best in 2023
7 important benefits of faucet filtration
11 features to look for in the best faucet filters
🥇8 Best Faucet Water Filters
📊 Comparison Chart of Faucet Water Filter
| Product | PUR Plus Faucet Filtration System | Waterdrop Water Faucet Filtration System | Brita Basic Faucet Filtration System | Culligan FM-15A Faucet Mount Filter | Engdenton Faucet Water Filter | DuPont WFFM100XCH Premier Faucet | Instapure F2 ESSENTIALS | iSpring DF2-CHR Faucet Mount Water Filter |
| --- | --- | --- | --- | --- | --- | --- | --- | --- |
| Ranking | 1st | 2nd | 3rd | 4th | 5th | 6th | 7th | 8th |
| Ratings | 5/5 | 4.5/5 | 4.5/5 | 4.5/5 | 4/5 | 4/5 | 4/5 | 4/5 |
| Price | $$ | $$$ | $ | $ | $$$ | $$ | $ | $$ |
| Contaminants Removed | 70+ | 10+ | 60 | 9 | 70+ | 12 | 3+ | 5+ |
| Process | Activated Carbon + Ion Exchange | Activated Carbon | Activated Carbon | Activated Carbon | Activated Carbon | Activated Carbon | Activated Carbon | Activated Carbon |
| Certifications or Testing | NSF 42, 53, 401 | NSF 42, 372 | NSF 42, 53 | NSF 42, 53 | — | NSF 42, 53, WQA certified | NSF 42, 372 | — |
| Flow Rate | 0.52 GPM | 0.50 GPM | 0.60 GPM | 0.60 GPM | 3 liters/ minute | 0.45 GPM | 0.75 GPM | 1.5 GPM |
| Filter Capacity | 100 gal./ 3 months | 320 gal./ 3 months | 100 gal./ 4 months | 200 gal./ 2 months | 200 Gallons, 320 Gallons | 100 gallons | 200 gallons | 500 gallons |
| Annual Cost | $50-$100 | $30-$45 | $40-$60 | $80-$120 | $40-$65 | $80-$120 | $10-$25 | $13-$30 |
| Warranty | 2 years | 1 year | 1 year | 2 years | 1 year | 4 years | 1 year | 30 days |
---
⭐ Best Faucet Water Filter Reviews (2023)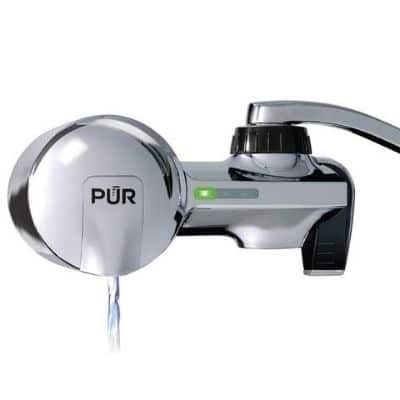 PUR Plus Faucet Filtration System
The PUR Plus Faucet Filtration System is NSF certified to remove up to 99% of lead and other contaminants that are 0.3 microns in size or larger.
The activated carbon filter capacity is 100 gallons, so it should last 2-3 months before you will need to replace it.
The filter attaches directly to most kitchen faucets, but in some cases you might need an adapter. The system sits horizontally and requires virtually no maintenance aside from regular filter changes.
👍 What I Like
Reduces 70+ contaminants
Lower price point than others
👎 What I Don't Like
Might not function as well with lower water pressure
Filter change indicator light may have issues
Read the full review: PUR Plus Faucet Filtration System Review
---
Waterdrop Water Faucet Filtration System
With an impressive longer lasting filter life of 320 gallons, it's no wonder the Waterdrop Water Faucet Filtration System makes it on to our list of best faucet filters.
The filter is NSF certified to standards 42, for removal of chlorine, along with various other common contaminants such as sediment, rust, and other particles and standard 372 for lead-free material.
We're also impressed by the filtration speed – the system fills 4 16-ounce bottles in under a minute.
The manufacturer provides 6 common faucet adapters for you in the package.
👍 What I Like
Longer lasting filter
NSF certified
👎 What I Don't Like
No filter replacement indicator
Tricky installation if using an adapter
Read the full review: Waterdrop Water Faucet Filtration System Review
---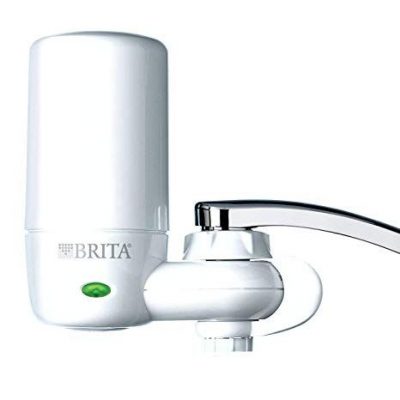 Brita Basic Faucet Filtration System
The Brita Basic Faucet Filtration System removes 60 common contaminants including 99% lead. The filter capacity is 100 gallons or roughly 2-3 months of use.
The filter is NSF/ANSI certified for standards 53 and 42, for removal of lead, asbestos, and 58 other contaminants.
When it's time to replace the filter, the indicator light will flash orange. The "1-click" filter change is super simple. You will be paying a premium for the Brita brand filter replacement cartridges, however.
👍 What I Like
NSF-certified to remove chlorine and lead
Filter change indicator light
👎 What I Don't Like
Prone to leaking and breaking
Read the full review: Brita Basic Faucet Filtration System Review
---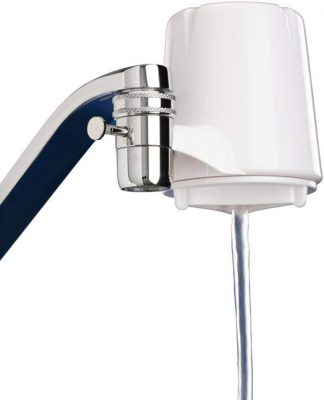 Culligan FM-15A Faucet Mount Filter
The compact and high quality Culligan FM-15A Faucet Mount Filter easily screws onto most faucets. The design is intended to minimize the physical size of the filter so that it does not get in the way.
This system is certified against two ANSI standards to reduce chlorine taste, lead, sediment, lindane, and particulate class 1.
The filter should last around 200 gallons, or 4-6 months, before it will need replacing.
The manufacturer provides a number of common faucet adapters with the Culligan FM-15A as well.
👍 What I Like
No tools necessary for installation
ANSI-certified to reduce a number of contaminants
👎 What I Don't Like
Culligan replacement filter cartridges are a bit more pricey
No electronic filter change indicator
Read the full review: Culligan FM-15A Faucet Mount Filter Review
---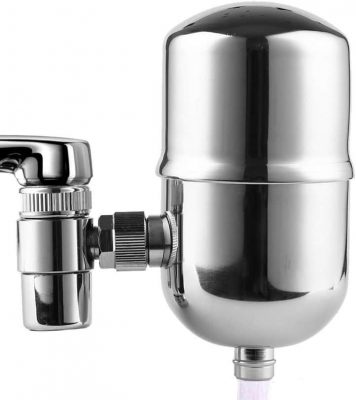 Engdenton Faucet Water Filter
With a sleek stainless steel exterior, the Engdenton Faucet Water Filter can remove up to 99% of lead in addition to 70 other contaminants. The filter is activated carbon and uses something called PAC-tech that the manufacturer claims is the latest filter technology.
This filter boasts a fast flow rate that can fill approximately 8 cups of water per minute.
The filter capacity is also quite impressive, lasting up to 6 months – far longer than other faucet systems.
As with other models, this system is compatible with most standard faucets. When in doubt, an adapter can be used.
👍 What I Like
Very long filter lifespan
High quality stainless steel design
👎 What I Don't Like
Not much information about the "PAC-tech" filter technology
No evidence of NSF certification
Read the full review: Engdenton Faucet Water Filter Review
---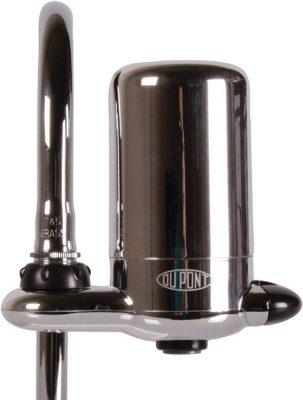 DuPont WFFM100XCH Premier Faucet
With an average filter capacity of 100 gallons, the DuPont WFFM100XCH Faucet Mount Drinking Water Filter reduces common contaminants in drinking water including sediment, benzene, chlorine, asbestos, lead and mercury.
The system comes with everything you need to install it, including washers, faucet mount, 2 adapters, and even plumbing tape.
The filter should last 2-3 months on average before it will need to be replaced.
The filter is WQA certified for the reduction of lead, mercury, asbestos, sediment and cysts.
👍 What I Like
WQA certified filter
Made from durable material
👎 What I Don't Like
Filter life is on the shorter side
Read the full review: DuPont WFFM100XCH Faucet Mount Water Filter Review
---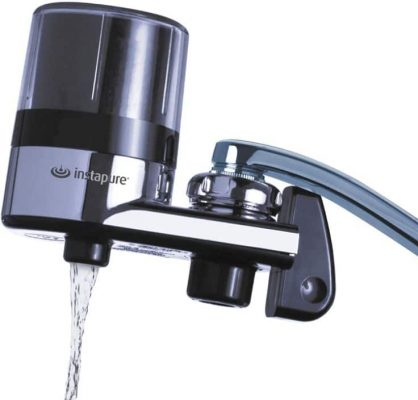 Instapure F2 ESSENTIALS
The Instapure F2 Essentials is ANSI/NSF 42 and 372 certified to reduce 97 % chlorine, 99% lead and VOCs, drastically improving the taste of drinking water.
With a unique design and clear filter cap that lets you see the filter inside, this faucet filter requires no special tools for installation.
The filter lasts for around 200 gallons, or roughly 2-3 months, before it should be replaced.
This product is priced lower than many of its competitors, but this is not apparent in the performance of the system.
👍 What I Like
NSF/ANSI certified to reduce lead and chlorine
Low cost filter replacements
👎 What I Don't Like
Has a tendency to leak
Plastic faucet adapters
Read the full review: Instapure F2 Essentials Review
---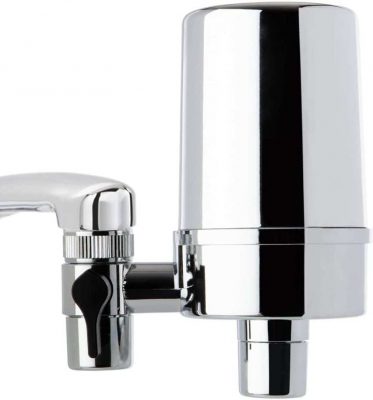 iSpring DF2-CHR Faucet Mount Water Filter
The iSpring DF2 has a massive filter lifespan of 500 gallons, lasting up to 8 months if not longer.
The system also boasts an impressive flow rate of 1.5 GPM – equating to about 10 bottles per minute.
The filter removes both chlorine and chloramines, bacteria, lead, VOCs, and other common contaminants.
This system can also filter hot water up to 176 degrees – something most faucet filters cannot do.
👍 What I Like
Massive 500 gallon filter capacity
Can filter hot water
👎 What I Don't Like
May not fit all faucets
Cannot remove TDS
Read the full review: iSpring DF2 Faucet Water Filter Review
---
🧾 Faucet Water Filter Buyer's Guide
With so many brands and products all making claims about new technology and being exceptional, it can be hard to cut through the noise.
For this reason, we've gone ahead and done the homework and compiled the information for you in this buying guide. Here you will learn everything there is to know about faucet water filters, how to choose the right system for your needs, what to look out for, specific considerations to take, and pros and cons of various models.
🤔 What is a Kitchen Faucet Water Filter?
Similar to a refrigerator filter, a kitchen faucet water filter is a point of use (POU) water filtration system that provides clean, filtered drinking water right at your kitchen sink.
Most sink faucet water filters are designed to produce water on demand, meaning they don't have their own storage tanks.
When the faucet is switched on, the filter produces filtered water immediately. This type of water filter produces no wastewater – all water that runs into the system runs out as usable drinking water.
Note that if you're looking at reverse osmosis water filters, which also come with their own faucet, those generally have a tank for storing an average of 3 gallons of water at a time.
Kitchen faucet water filtration systems are installed directly to the faucet at your sink. You'll be able to install your water filter yourself, although you can hire a plumber or handyman if you'd prefer.
See Also: Gravity Water Filters
⚙️ How Do Tap Faucet Water Filters Work?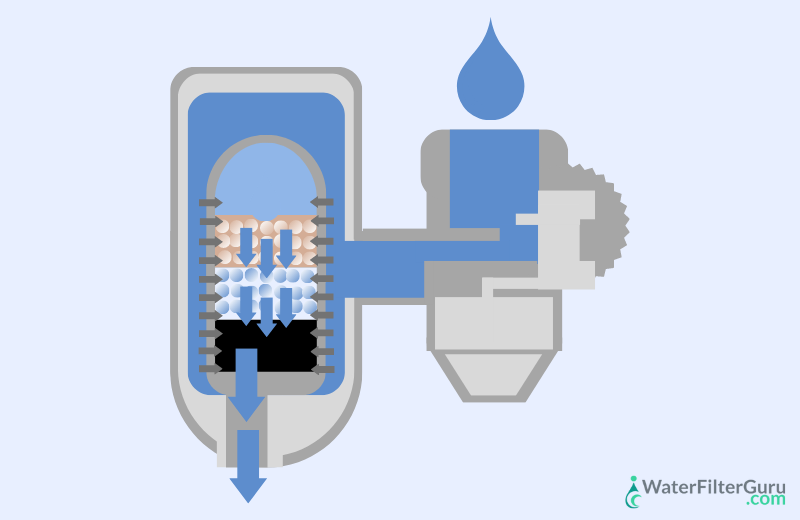 The process of tap water filtration is fairly simple. Let's look firstly at how water would usually reach your faucet after it enters your home.
Under your sink is a hot water pipe and a cold water pipe. When you turn your faucet on, water flows through these pipes and out of the faucet. Your home has a constant supply of water, so providing your faucet is working, you'll always get hot or cold water from turning it on.
A kitchen faucet water filter is installed at your cold water pipe, allowing cold water to flow from the pipe directly into the system for filtering. When water has been filtered, it passes out of the filter and up through the special faucet for producing the filtered water.
Because a tap water filter isn't connected backup to the cold water supply, it won't filter the water that comes out of your standard kitchen sink faucet.
This means that when you use cold water from your standard faucet, it will run straight up the cold water pipe, bypassing the water filter. It's only when you switch on your special faucet that water will pass through the faucet water purifier for filtration.
You won't need to wait for your kitchen faucet water filter to produce filtered water.
As soon as you switch on your faucet, water will flow quickly through your filter and out of the other side. You should get your water almost as instantly as you get your standard non-filtered water.
💡 Benefits of Faucet Water Filters
There are a whole host of benefits to installing a faucet water filter for your home. Some of the key benefits include:
Removal of Harmful Contaminants & Impurities
The main purpose of a faucet water filter is to produce clean, pure drinking water. Tap water filters can remove a number of harmful contaminants from water, like lead, bacteria, rust, dirt, heavy metals and chemicals like chlorine.
While these shouldn't pose a safety risk in household drinking water, they can affect the quality of water, and some people may simply prefer not to drink them.
If you use well water for your home or business, faucet water filters can effectively remove the bacteria and other contaminants that are typically found in a well. If you're unsure whether a certain faucet water filter will remove contaminants from your well water, contact the manufacturer before making a purchase.
Produces Great-Tasting Water
A lot of people spend money on bottled filtered water because they don't like the taste of their home's tap water. A kitchen faucet water filter can remove the chemicals and contaminants that give water an unpleasant taste, producing clean, fresh, delicious-tasting water.
Faucet water filtration systems are especially effective in removing contaminants like rust and sulfur that can give water a distinctive taste, odor and discoloration.
If your water contains high quantities of any of these contaminants, you'll notice a substantial difference from running it through a faucet water filter.
Can Choose Between Filtered and Unfiltered Water
Some people like being able to decide when they use filtered water and when they use unfiltered water.
For instance, if you wanted to use cold water for non-drinking purposes, like wiping down surfaces or watering your plants, it might feel wasteful to use filtered water.
In this case, with a faucet water filter, you could just take unfiltered water from your standard kitchen faucet, and only use your special faucet for drinking.
Doesn't Require Professional Installation
Even if you're not particularly mechanically skilled, you'll be able to install your faucet water filter by yourself, saving you the cost of hiring a plumber or handyman.
All filters come with in-depth instructions for installation, and are generally already partially assembled. You'll need to install the faucet and connect your filter to your kitchen sink's cold water pipe, which only requires a low level of skill.
Space-Saving
Because you can store faucet water filters under your sink, you'll be able to save on counter space while benefiting from clean drinking water.
While countertop water filters can look fairly bulky and unappealing, you don't need to worry about what your faucet water filter looks like, as it's stored out of sight in your under-sink cupboard. Most faucets can be mounted to a wall or laid on their side for extra space-saving if required.
Cost effective
The initial cost of a water filter is fairly high, but when compared in the long-term to the costs of buying filtered water in bottles, you can make a pretty substantial saving.
Unlike reverse osmosis units, faucet water filters don't waste any water during the filtration process, so your water bills won't be affected by a faucet water filter purchase.
Replacement filters are affordable, and you'll only need to purchase them after a minimum of six months at a time.
Personal to Your Water Filtration Tastes
Kitchen faucet water filters usually come with several standard filter functions for removing chemicals like chlorine, larger grains and sediment, and contaminants like lead and bacteria.
If you're looking for a filtration system that offers more specific filtration, such as the removal of rust, you'll be able to find the filter you're looking for.
You can also build onto the faucet water filter you have, adding separate filters like a remineralization filter, which adds calcium and magnesium minerals back to the water for reduced acidity.
If your drinking water comes from a well source, some faucet water filters are tailored to treating well water to make it safe for consumption.
💰 How to Buy a Faucet Water Filter
You can buy faucet water filters from your local home improvement or DIY store, but nowadays, the best choice is online.
There are plenty of options available on online retailers like Amazon, or you can buy from the manufacturers themselves. If you choose to start on a manufacturer's site, it's always worth looking to see if the same product is sold elsewhere at a slightly lower cost, which can sometimes be the case.
Always make sure that you can trust the seller you're buying from. Look at product reviews, seller rating (if they have one), and the seller's history to get a more in-depth idea about their level of trustworthiness and legitimacy.
💭 Things to Consider When Buying a Faucet Filter
Buying a faucet water filter requires a level of research and consideration pre-purchase. A water filter is a big investment that will last for many years, so you want to make sure you've made the right decision for your requirements from the get-go.
Here are the things you should consider when buying a water faucet filter:
Budget
Your budget will ultimately be the biggest decider when it comes to purchasing a water filter. A higher budget may allow you to purchase a specialized faucet water filter with a few additional features, or a filter that's proven to last significantly longer or work far more efficiently than other filters on the market.
It's worth remembering, though, that the most expensive products aren't always the best.
Sometimes price can be higher simply because a product is sold by a certain big manufacturer, and you might be able to find a similar-quality filter at a far lower price.
Faucet filters on the lower end of the price range equally might not be the worst quality, although it's recommended that you check reviews and ratings for products that are selling at a significantly cheaper price than others.
Storage Space
Faucet water filters are designed to fit in a standard under sink space in your kitchen, but that doesn't mean it's not worth making your own measurements of your cupboard area before purchasing a filtration system.
Some filters are bigger than others, so if you only have a small area of space available for storing one, you might need to consider a space-saving filter that combines a number of filtration features in one.
If you're wanting to connect your faucet water filter to your refrigerator, coffee maker or ice machine, you'll still need to store it underneath your kitchen sink, but a longer plastic tube may be required to make the connection.
Installation and Maintenance Costs
If you're planning to install your faucet water filter yourself, installation won't cost a penny. You'll be able to get the job done by following the instructions in your user manual, and, if it helps make things clearer for you, watching online videos covering certain parts of the installation process.
If you'd prefer to hire a professional to carry out your installation for you, you'll need to factor in the extra costs of doing so. Plumbing fees can be fairly expensive, even for the hour or so it takes to fit a faucet water filter, so it might be worth giving installation a go yourself before calling for outside help.
Certification
The best faucet water filtration systems should be certified by either NSF International or the Water Quality Association (WQA). These certifications prove to a customer that the product they're buying works as efficiently and effectively as the manufacturer claims it does.
Water Quality Association (WQA)
The Water Quality Association is an independent body that represents the residential, commercial, and industrial water treatment industry. A manufacturer that's looking to prove their product meets water quality standards can apply for WQA certification.
The Water Quality Association states that being WQA certified demonstrates a manufacturer's commitment to high professional standards and improved customer service. To apply for certification, a manufacturer needs to provide all the necessary product details to the WQA, then fill out an application agreement form. They'll then need to offer up the product for in-depth performance testing to make sure it meets WQA certification standards.
NSF International
NSF International works similarly to the Water Quality Association, and is a US-based product testing, inspection and certification organization. According to the NSF, a manufacturer that achieves NSF certification product complies to the regulatory and purchasing specifications set out by the organization.
Manufacturers looking to certify their faucet water filtration product will need to apply by submitting product details and information. The product will then undergo evaluation and practical lab testing, and the product's manufacturing facility will be inspected. Manufacturers who successfully obtain NSF International certification for their product must agree to site inspections and annual retesting.
Your Own Water Source
Your home's own water source might determine your water filtration needs, so it's worth finding out about the contaminants in your water before you make a purchase. You can get in touch with your local water supplier for an annual water quality report if you don't already receive them regularly, or conduct a water quality test yourself. This can give you a better idea of how your water could be improved, which is handy to know when you're comparing filter features.
If you're using your own well water source, it'll be down to you to test the quality of your water. It's important to note that many water faucet filters won't provide the level of in-depth filtration to remove more harmful bacteria and other microorganisms that are often found in well water.
Faucet Filter Type
Faucet water filters come with their own kitchen sink faucet, which you'll need to install alongside your standard faucet.
While some filtration systems might offer a choice of faucet colors and designs, many will come with one standard faucet, and you'll have to purchase a style upgrade from the manufacturer separately.
You might not be fussed about the appearance of your filter's faucet, but if you're looking for a faucet that matches the design of your kitchen, or looks smart, you'll need to factor this into your purchasing considerations.
Remember that you can't usually connect a filter to a standard faucet, so if you don't like the faucet your filter came with, you won't be able to buy any replacement you fancy.
There are some features to a filter faucet that might appeal to you aside from color or style. Most faucets nowadays are lead-free, which prevents contaminants from lacing your clean filtered water. Check with your manufacturer if you're unsure about a product.
Long-lasting filters
All filters in a faucet water filtration system require changing after a certain period of time, but some systems offer longer-lasting filters that perform just as effectively as their competitors. If you want to save money on replacement filters, look for products with durable or long-lasting filters.
Note that a filter's lifespan can be affected by external factors, like the quality of your ingoing drinking water, as well as filter use. If you only use your filtered water for drinking, your filters will most likely last longer than if you're putting them to work on a regular basis for a whole host of water filtration needs.
Durable Components
In the same way that you should look for long-lasting filters, the lifespan of your faucet system's components are important, too.
A faucet filter consisting of low-quality components is more likely to need regular maintenance and repairs than a filter that's designed with durable, well-built components. Spending a little bit more on a higher-end product will help you save money on maintenance in the future.
It's not always easy to know whether a product's filters meet the level of quality stated by the manufacturer, so it's worth looking at reviews and FAQs to see if there are any trends in faulty or damaged components amongst previous customers.
Remember also that if the product is NSF or WQA certified, the manufacturer has proved through third-party testing that the product works as effectively as they say it does.
High-quality faucet
A faucet is one of the key components of these types of water filters, so it's important that a product's faucet works well, looks good and installs easily. Some faucets are far nicer in design than others, and the material that makes up a faucet can determine its overall quality.
Look for a lead-free faucet, which will prevent re-contamination of your clean filtered water.
Try not to be too drawn into a company that offers a "designer" faucet, as this tends to mean nothing and the product probably isn't any different from its competitors.
Remineralization Filter
Purchasing a faucet water filter with a built-in remineralization filter isn't essential, but it's worth knowing what one is, in case it's an attractive feature to you.
A remineralization system re-adds these minerals in healthy quantities back into the water, improving alkalinity and taste.
A system with a built-in remineralization filter might cost a little more, but if you enjoy the taste of alkaline water, this extra filter is probably going to appeal to you. Note that you can also purchase a separate remineralization filter if the filtration system you're looking at doesn't have one.
Manufacturer Support and Product Warranty
You'd hope that nothing would go wrong with your faucet water filter after you'd bought it, but if you were to receive a faulty or damaged system, having a warranty on your product would be essential.
Warranties usually entitle the user to a money-back guarantee or replacement filter/filter component if something becomes damaged within a certain time period after purchase. This can help give you peace of mind that if your product arrives not as advertised, you can still claim your money back or swap it for a replacement.
Similarly, if you have any queries or concerns about a product, you would benefit from being able to speak directly to the product's manufacturer. Many companies offer live support for their customers, which shows a level of customer care and commitment. It's worth finding out about the manufacturer support on offer before making a purchase.
📌 Faucet Water Filter Installation
Installing your faucet water filter should take just under an hour to complete. You'll need some basic tools to get the job done, including a drill and drill bits, pilers, scissors, plumber's tape, and a bucket.
Step by Step Process
These basic steps outline the general process of installing a faucet water filter. Your own filter might have specific instructions for connecting and fitting, so make sure to read them carefully before you get going.
Turn off your water supply – The first thing to do is to turn off your cold water supply, to prevent leaks when it comes to connecting your filter up to your faucet pipe. To do this, find the cold water pipe under your kitchen sink and twist the valve to shut it off. If you can't find a valve in your under-sink space, it might be elsewhere, like in your basement.
Turn on your standard faucet – Lift your standard faucet to switch it on. This releases any pressure that could build up inside the cold water pipe.
Drill a hole for your faucet – Before you get started with your filter, you'll want to install the filter's dedicated faucet at your sink. If you don't already have a hole for placing the faucet, mark where you want your faucet to sit and carefully drill down with your drill.
Install your faucet – Once you've drilled the hole for your faucet, you can fit it in place on top of the sink, tightening the connection underneath with the washer and nut that should come with your filter.
Drain your cold water line – It's wise to drain your cold water line for a couple of minutes to prevent leaks while you're carrying out installation of the filter. To do this, disconnect your water pipe linking the cold water supply to the kitchen's cold faucet, using the pliers if necessary, and place a bucket at the open connection to catch the water that drips out.
Install the "T" – Once most of the water has drained out, wrap plumber's tape around the ends of the faucet cold water line and home cold water line, and install the "T".
Connect plastic tubing – Cut the plastic tubing to size – making sure to measure the distance between the filter location and the cold water pipe – and connect one end of the tubing to the "T".
Install the filter body – Now you can install your filter body in the desired location. You might want to mount your system to a wall to keep it upright and make it easier to change filters in the future. Many filters come with a bracket and screws for doing this easily.
Connect the tubing to the filters – Connect the other side of the plastic tubing to the filter, linking the filter to the "T" at the cold water pipe.
Connect the filter to the faucet – Use the remaining tubing to connect the output side of your filter to your faucet, cutting tubing to size if necessary. You'll need to attach the tubing to the filter using the nut and plastic stop washer supplied with your filter.
Align your filters – Add the filters to the filter body if you haven't already, by aligning them in place and either twisting or clicking (depending on your product type) to secure.
Test your system – Turn on your cold water valve and test your system by slowly lifting your faucet. Water should run out of the faucet almost immediately. If you notice any leaks, apply more plumber's tape to the leaking areas or use your pliers to tighten (being sure not to over-do it).
Clean out your filters – Most filters require running water from your faucet for a minimum of 10 minutes to remove any debris that may have built up inside the system. Always check your product manual for specific instructions. Once you've cleaned out your filters, you'll be able to use your faucet water filter as you please.
🔧 Faucet Water Filter Maintenance
Your faucet water filter is designed for frequent use, and because of this, it's important you check your filters for efficient performance and replace them as necessary.
How do I know when my filter needs replacing?
It's not always obvious when a filter needs replacing, so the best thing you can do is keep a log that you can use to check how long you've used each filter for. Your filtration system's manual should give more in-depth guidance on when each filter needs changing, so it's often a case of remembering to change them at the right times.
Filters generally require changing after a period of 6 months to 2 years. If you use your filter more frequently than its intended level of use, or your incoming water supply is particularly high in contaminants, you might need to change your filters before their recommended changing times.
Changing your filters
When the time comes to change your filters, most manufacturers will supply instructions with a faucet water filter for changing your removable cartridges. Typically, you can expect the process of changing your filters to take no longer than two minutes, and it's unlikely that you'll need professional help in getting the job done.
The majority of faucet water filters use a twist or click system for simple removal and replacement of filters. Some filtration systems might come with wrenches for screwing the filters in place.
To remove a filter, simply twist or click it to free it from the filter housing, and dispose of as appropriate.
Then repeat the same method in reverse to attach a replacement filter to the filter housing.
Turn on the faucet to allow water to flush through the system for at least five minutes to clear away any sediment and activate the filter for use.
Cleaning your components
If your filter body starts to pick up dust or sediment, remove the filters and give it a clean using warm, soapy water.
The connecting pipes can also be cleaned as per your filter's manual. The filters themselves won't need cleaning, as you'll just replace them when they stop working as efficiently.
Over years of use, it's likely that your faucet water filtration system will start to show signs of wear-and-tear and may need some basic repairs.
If something in your system breaks, replacement components, like plastic piping and filter brackets, are available online at manufacturer's pricing. Check that a component will correspond with your filter before you make a purchase.
🙋 Frequently Asked Questions
Why do some filters cost more than others?
The price of a water filter doesn't always relate to its quality or efficiency at filtering water. It's wise not to assume that you get what you pay for as oftentimes, a product may be more expensive simply because a company needs to price it higher for sales or marketing purposes. Keep in mind also that some manufacturers may source their filter systems or components from overseas locations at a much cheaper cost, without stating the product's origin in the description.
You need to do your own research if you're considering purchasing a filter that costs particularly higher or lower than the average market price. Customer reviews can be helpful, but take them with a pinch of salt. Don't expect any product to be perfect, and look for reviews that list a filter's faults as well as its plus points. This will give you a more realistic idea about filter quality.
Can I take my faucet water filter with me if I move to a new house?
Yes, you'll just need to switch off your water supply, disconnect the filter at the "T" section of the cold water pipe, then remove your faucet and take the entire unit to its new location. From there, you can install it in exactly the same way as you installed it in your own home.
I've just changed my filter and the water is cloudy – what's going on?
Don't panic – cloudy water after a filter change isn't an ominous sign or something terrible. It's most likely that air is trapped inside your filter housing, which is mixing with the water. You can fix the issue by switching off your water supply and lifting your faucet to turn it on, releasing any air before water can flow back into the system. Flushing the filter for 5 minutes should remove any lingering cloudiness or milkiness from the water.
Why is my faucet's water flow so slow?
There are a couple of reasons why your faucet might produce water at a slower rate: either because your water quality is significantly poor, or your household water pressure is significantly low.
In areas where water quality is particularly bad, your water filter cartridges will fill at a much faster rate. Slow water flow is an indication that you'll need to change your filter, as even if it's still removing contaminants from the water, it can't do so efficiently.
If you know that water quality isn't to blame, and your filters should be working fine, you might instead have an issue with the water pressure in your region. If water flows into your home at a pressure of 30 PSI or lower, your faucet filter system will struggle to force water through the filter media at a good speed. You can purchase a booster pump if your household water pressure is particularly low.
How easy is it to install a faucet water system?
Installation is no walk in the park, but neither is it impossible. Faucet water systems are designed for DIY installation, so you won't need to call a plumber to help you get the job done. Installation requires patience and the ability to follow instructions. If you have both of them, there's no reason why you can't give it a go yourself.
Can I connect my faucet water filter to my fridge?
Yes, you can connect your filter to your fridge, ice maker or coffee machine. You'll just need to install another "T" section at your filtered water line and use flexible plastic tubing to connect the faucet to the appliance. You might need to purchase more plastic tubing if you don't have enough left over from installation. Contact your manufacturer if you can't find where to buy it online.
Is certification important?
Certifying a faucet water filter with NSF International and the Water Quality Association isn't a legal requirement, but if you come across a filter that isn't certified, it's worth questioning why this may be.
Certification shows that a filter has been independently tested to meet safety and performance requirements, proving that the product does what a manufacturer says it does. It looks very good on a manufacturer's part to get a product certified – so you have to wonder why they wouldn't.
What's wrong with unfiltered water?
Unfiltered water is perfectly safe to drink, but it still contains a number of TDS, or total dissolved solids, that can affect quality, appearance, odor and taste. Generally, water is made safer, tastier, fresher and cleaner when it's filtered using a faucet water filtration system.
Filters can remove chemicals that are used to clean your water during treatment, like chlorine and chloramines, as well as larger sediment that may still be lingering in your water after it's been processed. Some filters can even remove heavy metals, lead, and other impurities.
Is there a difference between bottled water and filtered water?
The key difference between bottled water and filtered water is price. While a faucet filter is a bigger upfront cost to purchase, bottled water is far more expensive as a long-term solution. If you're not a fan of the taste of your tap water, and you'll only drink bottled water, a water filter is an investment that will really help you save money over time.
Bottled water is usually spring water that comes from an underground source, and may still contain some contaminates (although not nearly as many as tap water). Filtered water is tap water that has had all chemicals and contaminants removed.