🧾 Overview
The Waterdrop Water Faucet Filtration System is an NSF-certified 320-gallon faucet water filter that is designed to fit on most standard kitchen sink faucets.
It has a longer-lasting filter life than most faucet water filters, giving you up to 3 months of use rather than 2.
The filter has been tested by the NSF to meet standard 42: the reduction of 93% of chlorine, including taste and odor, and standard 372, for lead-free materials.
With a filter designed to work quickly and effectively, you can fill up 4 16-ounce water bottles in roughly a minute. Replacement filters can be bought in packs of 3 directly from the manufacturer.
WaterFilterGuru readers get 5% off at Waterdropfilter.com – Use code WFG-5OFF at checkout
💡 Features
Activated Carbon Filter
The Waterdrop faucet filtration system's activated carbon filter has a 0.5-micron rating and is NSF-certified to trap contaminants including chlorine and other contaminants, producing water that is cleaner and better-tasting.
6 adapters
This Waterdrop filter comes with 6 different adapters for fitting the unit to your kitchen sink faucet. 3 of these adapters are designed for internal threaded faucets, and the other three are designed for external threaded faucets. Each adapter comes with a washer which should be used in installation.
Mounting base
The mounting base attaches the filter's main filter unit to the faucet adapter. It is designed to screw easily into place at the faucet.
Filter housing
The filter housing unit attaches onto the mounting base. It protects the filter from external damage and keeps the filter firmly in place.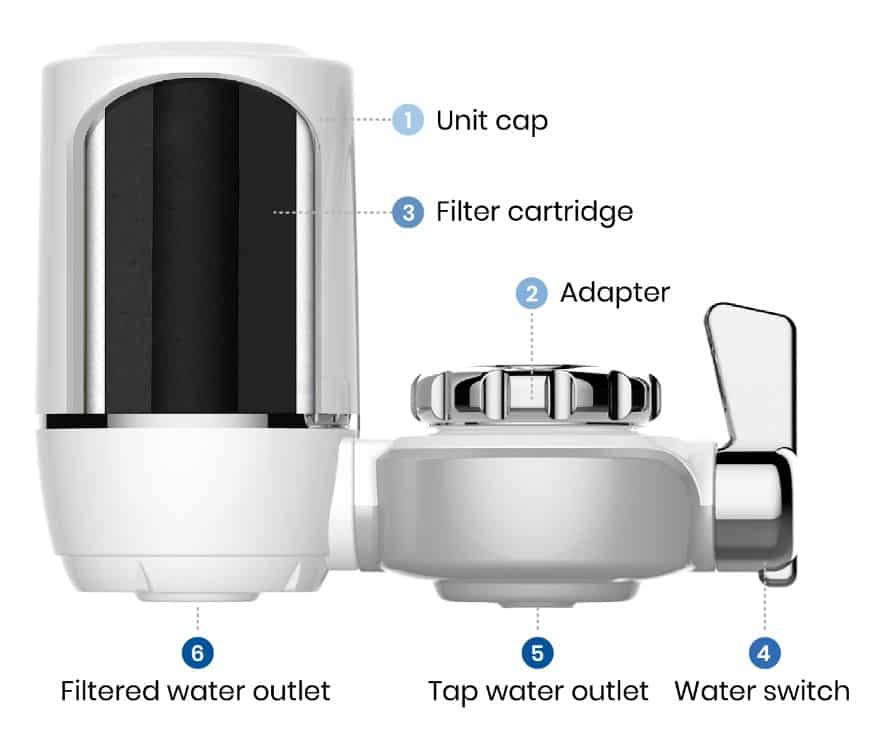 🚦 Performance
The standout performance feature of the Waterdrop water faucet filtration system is its speed when filtering water. You can expect the majority of faucet water filters to quickly filter water, as they're assisted by the water pressure coming from the faucet, but the Waterdrop filter works particularly effective to get the job done. You will only notice a reduced rate of water flow when it's time for a filter change.
In terms of efficiency, this Waterdrop system will offer you more value for your money with its longer-lasting filter.
Keep in mind, though, that if you purchase a replacement filter that isn't from the manufacturer, it's unlikely to last as long. You can buy replacement filters from Waterdrop, and they do cost slightly more than most filter replacements, but still work out at a better value for the extra few weeks of filtration you get.
🔧 Installation & Maintenance
The Waterdrop faucet filtration system fits most standard faucets, and can work with the most typical faucet aerator sizes.
To install the water filter, first identify your faucet type (note that the filter doesn't fit on pull-out, spray style or hand-held faucets, or faucets with a sensor) and determine whether you will need to use one of the supplied adapters.
Next, remove the aerator from the faucet and select your adapter if necessary. The manufacturer has produced a handy video on which adapter to choose based on your faucet type.
Then screw the mounting base to the faucet and attach your filter housing. Make sure the filter cartridge itself has had its outer packaging removed.
Looking after the Waterdrop faucet filtration system and preserving its life is simply a case of making sure to replace the filter when necessary. You should notice that water flow is weak when the filter needs changing.
📝 Filter Info
The filter in this Waterdrop system is NSF-certified to reduce both chlorine.
With multi-stage filtration, the Waterdrop water faucet filtration system's filter can work to target a broader range of contaminants than similar models.
It uses preliminary stainless steel mesh to trap larger particles, followed by a pre-sediment layer that filters sand, rust, and other small particles.
The main activated carbon fiber layer removes up to 93% chlorine with the the advanced filtration layer. Finally, the post-filtration layer and stainless steel mesh further reduce any suspended particles in water.
The filter cartridge lasts slightly longer than other filters – roughly about a month. This is likely because the filter has pre-filter layers to catch the larger particles and prevent them from clogging the carbon fiber layer.
You will need to change the filter after roughly 320 gallons of use, or when water starts to flow out of the filter at a reduced rate.
🔔 Pros & Cons
Pros
Filter lasts longer than the average filter in this type of system
NSF-certified to reduce chlorine
Also reduces fluoride
Cons
Does not reduce TDS
Installation can be tricky if you are fitting an adapter
No filter replacement indicator
❔ Frequently Asked Questions
What type of faucet does this filter fit?
It fits standard faucets, and comes with 6 different adapters which you can use against your own faucet. The manufacturer also provides information on which faucets won't match the product, which includes faucets with a downward length of less than 0.59 inches, faucets with external threads that exceed 0.89 inches or are smaller than 0.81 inches, and faucets with internal threads that exceed 0.93 inches or are smaller than 0.77 inches.
How do you know when the filter needs to be changed?
There is no indicator light on the unit, so you will need to keep track of how long you have been using the filter for. You're recommended to change the filter after approximately 3 months, but you may need to do so before then, or your filter may even last longer.
Is the filter NSF certified?
Yes, it is certified to reduce 93% of chlorine and certified to be built with lead-free materials.
Where can I get replacement filters for this system?
You can purchase replacement filters from the manufacturer in packs of three. You can also find generic filters for faucet water filters that may fit your model, but always double-check before buying.
Can you use this filter with hot water?
No, it isn't recommended to run hot water through the filter, as it could damage the components. You can switch the lever to "normal" and not "filtered" to be able to use hot water straight from your faucet.
Like Waterdrop? Read our review of the brand's most popular filters here
Found this review helpful?
Comment below or share this article!