🧾 Overview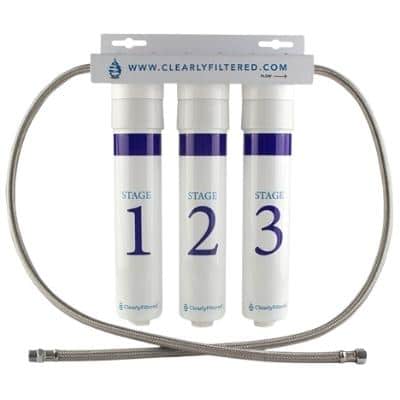 Boasting three stages of filtration, reducing 232+ of the most common drinking water contaminants, the Clearly Filtered 3-Stage Under-The-Sink filter is one of the effective and convenient point-of-use filtration solutions currently available in 2023.
Our readers get 15% off at clearlyfiltered.com 👉 Click here to get your coupon.
📝 Specificaitons
Dimensions: 15 x 3.1 x 15.4
Weight: 6.9lb
Connections: 3/8 inch stainless steel braided lines
Material: 100% BPA Free
Filter: 3-stage Under the Sink Replacement Filters
Filter Life: 2,000 Gallons
Warranty: Lifetime Guarantee
💡 Features
Three stages of filtration
The unit consists of three separate filters, each of which reduces a different set of common drinking water contaminants.
Filter housing
To protect the filters from dust and other outside elements, the filters are each enclosed in their own separate filter housing. The filters in their housing can be twisted to remove them and replace them with new ones.
"In" and "out" water hoses
There are two stainless steel hoses on the Clearly Filtered unit: an "in" hose that connects to the earlier section of your cold water line and an "out" hose that connects to a section further down the line. Water flows through the "in" hose, where it's filtered by the system before passing back into the cold water line via the "out" hose, where it's sent towards your kitchen faucet.
Included wall mount
To install the system at the back of your under-sink cupboard, the Clearly Filtered comes with an included wall mount for the job. Being just 3 inches deep, the entire system is designed to be space-saving and won't take up too much room beneath your sink.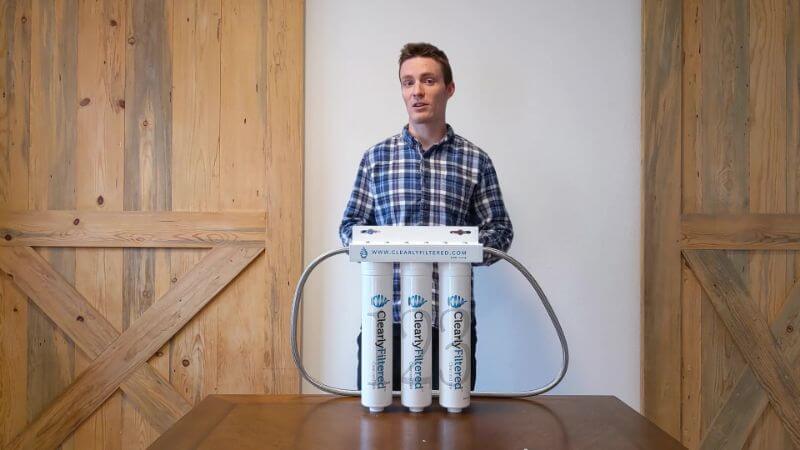 🚦 Performance
Despite its slim, discrete design, the Clearly Filtered Under-The-Sink filter packs a powerful punch when it comes to performance. It's connected directly to your cold water line, which means there's no waiting around for gravity to send water through each of these three filtration stages – you can enjoy immediate access to clean, contaminant-free water with this filter unit.
If you're focusing particularly on reducing those common municipal water contaminants, the Clearly Filtered ticks all the boxes. Each filter stage targets a different set of contaminants, with filter 1 being particularly effective against chlorine and chemicals; filter 2 reducing VOCs and heavy metals; and filter 3 targeting fluoride and arsenic.
If you judge a filter on its ability to reduce contaminants, you'll be pleased to know that the Clearly Filtered can pretty much do it all – in fact, it can reduce or reduce more than 232 impurities.

If you like to see evidence that a product lives up to its claims before you make a purchase, you'll be pleased to know that the Clearly Filtered has been independently tested by a certified laboratory, and performance data and contaminant reduction results are available on the manufacturer's website.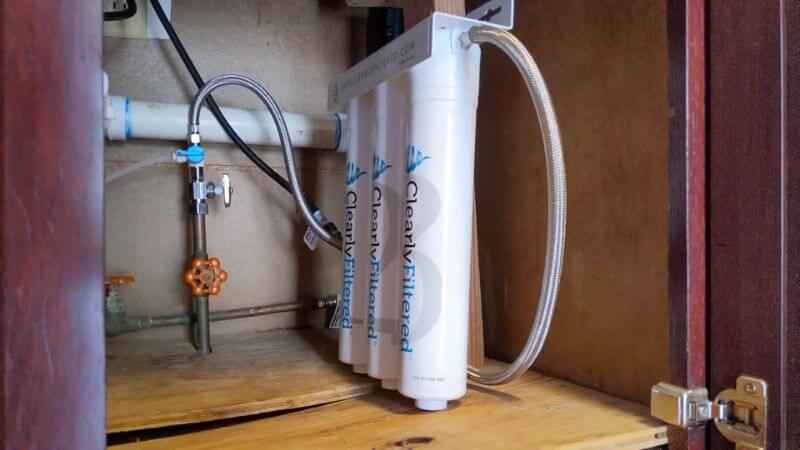 Check out the other Clearly Filtered systems in this review!
🔧 Installation & Maintenance
One of the biggest selling points of the Clearly Filtered Under-The-Sink system is its installation.
Some under-sink systems require invasive installation that only the most handy people (or a plumber, at an extra expense) can manage. The Clearly Filtered, however, is much simpler to install, taking 15 minutes from start to finish. It's also a non-permanent installation, so if you're renting a home, you should be able to install the Clearly Filtered without worrying about what your landlord will think.
Check out my video review below to get a better feel for just how simple it is to install.
In terms of maintenance, you only need to worry about the filters. There's no resin bed to replace and no reverse osmosis membrane to remember – and for simplicity, all three filters require changing at the same time, so you don't need to keep track of each one separately.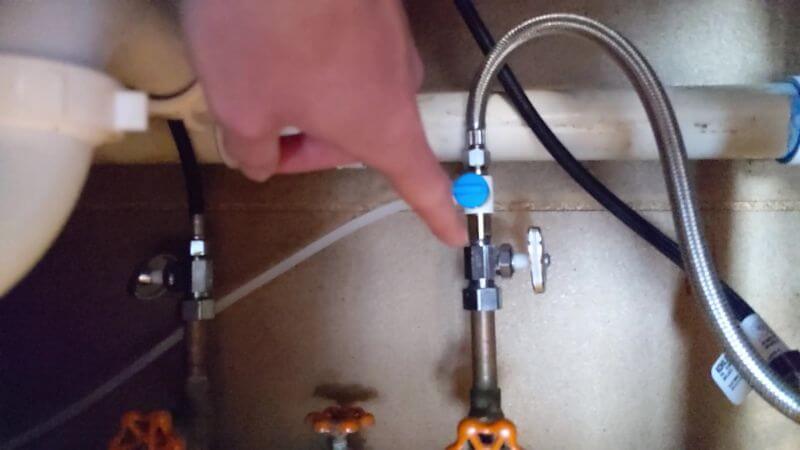 📝 Filter Info
There are three filters in the Clearly Filtered Under-The-Sink Water Filter System:
The first filter, stage 1, is made from granulated coconut carbon and reduces chlorine, VOCs and chemicals that affect water's taste, appearance and odor.
Filter stage 2 uses a "special blend" that reduces pesticides, herbicides, arsenic, PFAS, and heavy metals.
The third filter uses Clearly Filtered's "proprietary breakthrough fluoride reduction technology" that isn't made from activated alumina or bone char, and isn't reverse osmosis. There's obviously a bit of secrecy with this filter stage as it looks like Clearly Filtered has designed a method of fluoride reduction that other manufacturers haven't caught onto yet. From a customer's perspective, it's a little unhelpful, as we can't determine the effectiveness of the filter with a quick Google search.
You can get 2000 gallons (or 7500 L) of use out of the Clearly Filtered Under-The-Sink filters before they need replacing. Considering the average person drinks about half a gallon of water per day, you should be able to get plenty of use out of these filters before changing them. Clearly Filtered recommends changing the filters once a year if you're a small family; once every 15 months if you're a single user; and once every 9 months if you're a large family.
Changing the filters is pretty simple, too – you just need to screw off the old filters and screw the new ones in place. You don't have to remove the entire system or use tools to do this.
The filters have a pretty flexible operation temperature of 38-85° F, or 4-30° C. Provided you don't use the system outdoors, and you don't connect it up to your hot water line, the filters shouldn't be affected by varying water temperatures within this range.
My readers get 10% off at clearlyfiltered.com 👉 Click here to get your coupon.
🔔 Pros & Cons
👍 What I Like
Almost as effective as reverse osmosis but with no water waste
Simple to install and change the filters
Filters have a long lifespan
👎 What I Don't Like
No information on the materials used in two of the filters
On the higher end of the price scale for under-sink filters
Doesn't reduce bacteria
📲 My Video Review
Found this review helpful?
Comment below or share this article!