We've ranked the filters based on their speed of filtration, contaminants removed, durability, and of course overall value for money.
Hey, shower lover! Welcome to our best shower filters guide.
If you're sick of dealing with dry skin, damaged hair, and the other effects of showering in poor-quality water, you've come to the right place. We've tested and compared all of the most capable shower filters available today.
Feel free to impulsively buy a shower filter from the sale rail in your local DIY store – but we strongly recommend investing that little bit more in a shower filter that thoroughly filters your water and reverses the damaging effects of chlorine, hard water, and more.
#1 is our top pick, but #2 is easiest to install, and #4 is the best option if you have low water pressure.
In this guide, you'll learn:
Which shower filters are worth your money in 2023
How we selected and shortlisted the best shower filters in this guide
All the important stuff about shower filters, including how they work and their potential benefits
🥇 Best Shower Water Filters
📊 Comparison Chart of Shower Water Filters
| Product | Aquasana AQ-4100 | AquaBliss FS100 | Culligan WSH-C125 | Luxsego Showerhead | Barclay's Buys | Captain Eco |
| --- | --- | --- | --- | --- | --- | --- |
| Ranking | 1st | 2nd | 3rd | 4th | 5th | 6th |
| Ratings | 4.5/5 | 5/5 | 4/5 | 4/5 | 4/5 | 4/5 |
| Price | $$ | $ | $ | $ | $ | $ |
| Type | In-line & Shower Head | In-line | Shower Head | Hand Held | Shower Head | In-line |
| Filter Capacity | 10,000 gal. or 6 months | 10,000 gal or 6 months | 10,000 gal. or 6 months | 4 months | 8 months | 6 -7 months |
| Flow Rate | 2.5 GPM | 2 GPM | 2 GPM | 2.5 GPM | 2.5 GPM | 2 GPM |
| Annual Cost | ~$105 | ~$50 | ~$105 | ~$90 | ~$20 | ~$20 |
| Warranty | 1 year (limited) | 1 year | 5 year (limited) | 90 days | 1 year | Lifetime |
---
⭐ Best shower filter reviews (2023)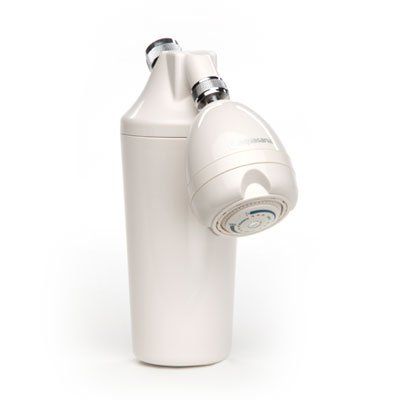 Aquasana AQ-4100 Shower Water Filter
In our opinion, the best shower water filter available today is the Aquasana AQ-4100. We love this 2-stage shower filter because it's one of the most capable and consistently reliable showerhead filters on the market, with a tried-and-tested activated carbon filter media that's NSF certified for chlorine removal.
Key Features:
All in one design – The Aquasana AQ-4100 is an in-line & shower head water filter, so it completely replaces your existing shower head. There's a key benefit to this: you know that the filter and showerhead are compatible because they've literally been designed to work together.
Reliable filtration – This shower filter uses one of the most reliable filtration media: coconut shell activated carbon (patented as AquaSorb HX). This media removes four contaminants: chlorine, pesticides, lead, iron, and VOCs, and improves the pH of shower water.
Officially NSF certified – Unlike many of its top competitors, thisAquasana filter has been tested and officially ANSI/NSF certified to Standard 42 to remove an average of 90% of chlorine. An official third-party certification tells you that this filter does exactly what it's advertised to do. The filter also has an NSF 61 certification for material safety.
Long lifespan – A respectable 10,000 gallon (or 6 month) lifespan means you'll only need to replace the filter twice a year.
Best For: Folks looking for the best showerhead water filter that money can buy – with third-party proof of performance. We think the Aquasana AQ-4100 is best for everyone because it offers a more reliable performance than any other shower filter at a more affordable price.
Pros:
Installation is as simple as removing your old showerhead and replacing it with this filter. Easy peasy. Annual spend: a respectable $105 per year.
The folks at Aquasana understand that everyone has their own unique shower preferences. You get to pick from four massage settings to customize your shower experience.
Aquasana is a trusted brand with a history spanning back over decades. The AQ-4100 is backed by a 1-year limited warranty, so you're covered in the unlikely occasion that you receive a faulty item.
What sets this filter apart from similar filters is its consistent reliability. The 2.5 GPM flow rate is the maximum flow rate allowed for any showerhead in the USA, and the upflow design prevents clogging throughout the filter lifespan, so you can enjoy powerful, plentiful showers when you switch to this unit.
Cons:
There's only one color and style available, and the white plastic material isn't the most attractive for a shower.
Compared to similar filters, replacement cartridges for this unit are expensive.
Read the full review: Aquasana Shower Filter Review
---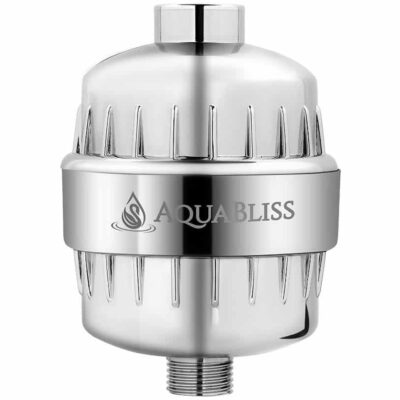 AquaBliss High Output Revitalizing Shower Filter
The AquaBliss High Output Revitalizing Shower Filter is our top pick for the best shower filter that's easy to install. In our testing, this system won us over with its super simple, two-minute installation. And once you've got it installed, you can enjoy the benefits of 13-stage (yes, 13-stage!) filtration.
Why is this filter our second choice and not the top pick? Because it has a slower flow rate than the Aquasana filter (2 GPM vs 2.5 GPM) and it isn't currently NSF certified for its performance.
Key Features:
Inline filtration – Unlike the Aquasana model, the AquaBliss unit is an inline filter. This means the filter sits between your shower arm and existing shower head. Some people prefer the convenience and aesthetic benefits of using their own showerhead with a built-in filter unit.
13-stage shower filter – This unit uses a staggering 13 stages of filtration to remove sediment, dust, turpitudes, chlorine, and trihalomethanes, and control scale buildup. Plus, there are several mineralizing, vitamin infusing, and oxidizing stages to further boost water quality.
Long lifespan – The AquaBliss is equally matched with its top competitor when it comes to lifespan. The filter lasts for 10-12K gallons, or about 6 months, so maintenance is manageable.
Best For: Anyone with limited DIY interest who wants a quick-fix solution to their shower water quality problems that's almost guaranteed to fit their current shower setup.
Pros:
The AquaBliss filter doesn't only fix water quality issues by removing contaminants and softening water – it also boosts water's health properties with oxidation and vitamin and mineral infusion. The result? Noticeably healthier skin and hair after just a handful of showers.
This filter has a respectable 2 GPM flow rate – that's 0.5 gallons slower than the Aqusana model, but a more eco-friendly and economical choice if you want to limit your daily water usage.
With its universal fit, the AquaBliss shower filter is compatible with most shower arms. It took us seconds to twist the filter in place and set it up for use.
We're pleased to see that this system is backed by a 1-year warranty. Annual maintenance cost: less than $50.
Cons:
You'll have to take AquaBliss's word for it when it comes to performance, because the filter isn't tested or certified to any NSF Standards.
Although this shower filter has one of the most universal fits we've seen, we've read reports from some customers who discovered the unit didn't fit their inlet pipe.
Read the full review: AquaBliss High Output Shower Filter Review
---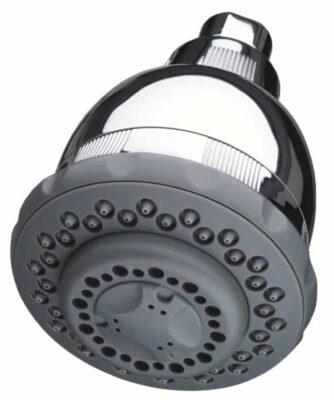 Culligan WSH-C125 Filtered Shower Head
Based on our testing, the Culligan WSH-C125 Filtered Shower Head is our top choice for the best shower filter with multiple spray settings. This is because the system has a total of five different settings to choose from, so you're guaranteed to find your favorite.
What else can you expect? An NSF certified performance, a 6-month lifespan, and an impressive 5-year limited warranty. The setbacks? The filter's 1.8 GPM flow rate is the slowest of all the filters we've reviewed so far, and you can't use this unit with your own shower head.
Key Features:
Complete shower filter – The Culligan WSH-C125 is a wall-mounted shower filter that replaces your shower head. The unit's compact design fits everything into the shower head itself, with no separate, bulky inline box containing the filter media.
Certified contaminant removal – This shower filter is NSF/ANSI certified for chlorine removal, and also reduces rust, scale, sediment, and the odor of sulfur. That's exactly what you'd expect from a good shower filter.
6-month lifespan – Like all the best shower filters on this list, the Culligan WSH-C125 water filter system lasts for up to 10,000 gallons, or roughly 6 months
Best For: Anyone looking for an NSF certified shower filter that's as versatile and capable as a standard showerhead. Thanks to its five spray settings, the Culligan WSH-C125 delivers a more varied shower experience than its closest competitors.
Pros:
If you love variety or you favor a specific shower setting, you'll appreciate being able to choose between this filter's five spray settings: full body spray, soft rain spray, invigorating pulse spray, full body spray/rain, and full body spray/pulse. Our personal favorites? Invigorating pulse spray for quick showers, and soft rain spray for a spa-like feel.
The package includes everything you need for installation (including Teflon tape – very useful!) and setup is quick and easy. Check that you have a ½-inch shower arm before you buy this filter.
The 5-year warranty for this system is unbeatable. In our eyes, it definitely makes up for the slightly pricey annual maintenance cost of around $105.
Cons:
The 1.8 GPM flow rate is still decent (and also means that the system meets the EPA's WaterSense standard for efficiency), but it's lacking compared to the AquaBliss and Aquasana shower filters. You may notice a small dip in your water pressure if you're used to power showers.
There's no option to use this filter with your existing shower head.
Read the full review: Culligan WSH-C125 Filtered Shower Head Review
---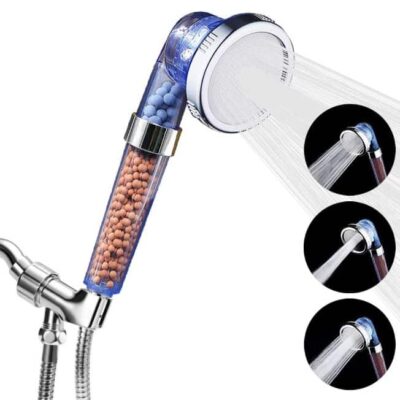 Luxsego Ionic Pure Filter Showerhead
We recommend the Luxsego Ionic Pure Filter Showerhead as the number 1 shower filter for low water pressure. This system delivers water at a flow rate of 1.46 gallons per minute, so it won't overwhelm your plumbing system if your water flow is naturally slow and steady.
We love the smart design of this filter, which lets you see the mineral beads inside – but the filter life is short, and it's (obviously) not the best choice for you if you're looking to replace your power shower.
Key Features:
Handheld shower – The Luxsego Ionic filter is the only handheld shower filter on this list. If you prefer the freedom of a filtered shower head that attaches to a flexible shower hose, we recommend this unit.
Basic, effective filtration – This filter doesn't offer a particularly mind-blowing filtration performance, but what it does do, it does well. Expect high-quality chlorine removal and mineralizaton.
6-8-week filter life – The mineral beads in this unit are cheaper to replace than most shower filter cartridges, but they only last eight weeks, max.
Best For: Most low water pressure situations, whether your home has a slow flow rate or you want to filter your RV or camper's shower water.
Pros:
There are a few handy features that help to offset this unit's slow flow rate. You have three spray settings to choose from, and the system uses micro-nozzle technology to help increase the speed of water delivery.
The 90-day warranty is decent (not as good as the warranties offered by other popular brands, but better than nothing). With an annual cost of less than $100, this Luxsego filter ticks our boxes when it comes to value for money.
You get everything you need to install this shower filter, and installing the unit is like screwing on a bulb. Replacing the mineral beads in the filter is extremely user-friendly. Essentially, anyone can install and maintain this filter unit.
Cons:
The unit's slow flow rate is great if your water pressure is low or you want to reduce your shower water usage, but we don't think you'll enjoy this filter if you love powerful showers.
The 6-8 week filter life just doesn't match up to the 6-month filter life of the AquaBliss, the Aquasana, and the other top shower filters available today.
Read the full review: Luxsego Ionic Shower Head Review
---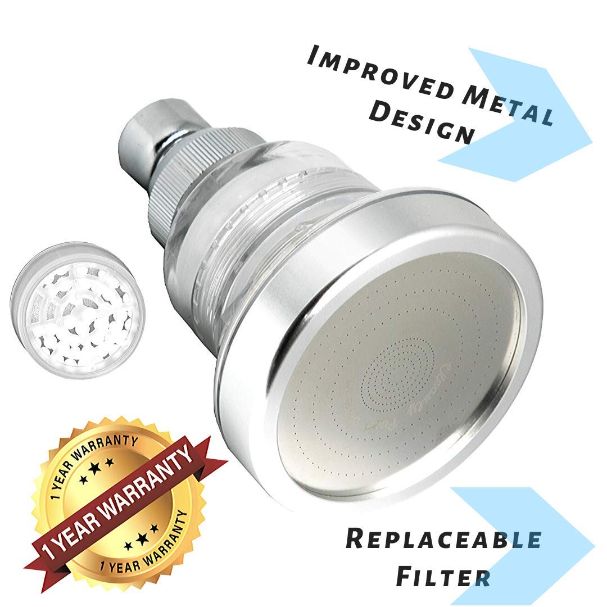 Barclay's Buys Filtered Showerhead
In our opinion, the Barclay's Buys Filtered Showerhead is the best shower filter for people who want to save water. Why? Because this unit has a 1.9 GPM flow rate that reduces water use per shower and helps you save money.
This system delivers a faster flow of water than the Luxsego model, so it's better suited to homes and apartments than RVs and campervans.
Key Features:
Standard shower head design – This filter is a showerhead that replaces your current one, and has three flow streams (rainfall, massage, and combined).
Highly effective chlorine removal – This wall-mounted shower head filter is designed to reduce chlorine by 80% – 90%. What does this mean for you? Reduced dandruff, breathing issues, headaches, and other issues linked to showering in chlorinated water.
Long filter life – Lasting up to eight months, each filter in this unit is a fantastic value for money, potentially even outlasting the filters in our top pick Aquasana model.
Best For: Anyone looking for a reliable showerhead filter that reduces the health effects of chlorinated water supplies, with the added bonus of conserving water and saving money with a 1.9 GPM flow rate.
Pros:
The key benefit of this filter is its water-efficient design. Our weekly water usage dropped noticeably after installing this filter simply because our showers wasted less water.
This unit has the lowest annual cost of almost all the best shower filters on the list. It costs less than $20 a year to replace the filter. Plus, the model comes with 1 replacement filter included in the package, which is a nice touch.
It's good to know that the filter is backed by a 90-day warranty (although admittedly, it could be longer).
Cons:
Unlike its top competitors, this shower filter doesn't have an official NSF/ANSI certification for chlorine reduction, which is a shame.
The 1.9 GPM flow rate is great for conserving water, but not so great if you want the fastest possible flow from your shower.
Read the full review: Barclay's Buys Filtered Showerhead Review
---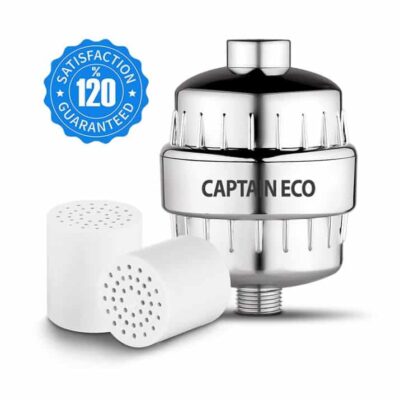 Captain Eco Shower Filter
Based on our testing, the best multi-stage shower filter is the Captain Eco Shower Filter. This filter combines 5 stages of filtration to remove more contaminants than any other filter on this list.
What makes the Captain Eco Shower Filter the best shower filter with multiple stages? We think it's because each filter stage has its own unique benefits, rather than simply supplementing other filter stages. Plus, the filter reduces bacteria and algae growth.
Key Features:
Inline filter design – The Captain Eco shower filter has a chrome-plated inline design, so it should blend seamlessly with your current showerhead. There are five filter stages: granular activated carbon, PP cotton, ceramic balls, calcium sulfite (which is apparently 100 times more effective than carbon at removing heavy metals), and KDF 55 media.
Targets unique contaminants – This shower filter doesn't just reduce chlorine and scale – it also targets chloramine, fluoride, heavy metals, radioactive iodine, and sediment, and prevents bacteria and algae growth.
6 month filter life – The Captain Eco filters last for an average of 6 months – something we've come to expect as standard for a shower filter.
Best For: Anyone who wants to get the most value from a shower filter by combining several of the most effective filtration stages within a single unit.
Pros:
The Captain Eco shower filter has a 2 GPM flow rate – decent, especially since this is a handheld shower we're talking about. You shouldn't notice any reduction in water pressure from this filter.
The manufacturers are so confident in their product that they actually offer a 120% refund if you aren't satisfied. If you don't like it, they will PAY YOU to send it back. Pretty neat.
The filter comes bundled with a free shower curtain and first replacement cartridge as additional bonus.
When the manufacturer offers a lifetime warranty, you have absolutely nothing to lose. Plus, the annual maintenance cost is under $20.
Cons:
According to the manufacturer, the filter lasts up to 6 months – but we've read reports from customers saying their filter didn't last 60 days.
The unit doesn't have any NSF/ANSI certifications, so you can only trust that the manufacturer is being truthful about the filter's abilities.
Read the full review: Captain Eco Shower Filter Review
---
🎭 The Competition
Keen to know which products we've recommended in the past but no longer make the cut?
You can read our reviews of these shower filters here:
🧾 Shower water filter buyer's guide: How we selected and shortlisted the best shower filters on this list
There are a few important features to note if you're choosing a shower filter for your home. We used these features as our criteria when choosing the filters in this guide.
Your budget
Shower head water filters are priced based on their performance, marketing, quality, and the popularity of a manufacturer.
You can expect to pay between $40 and $90 for the best shower filters.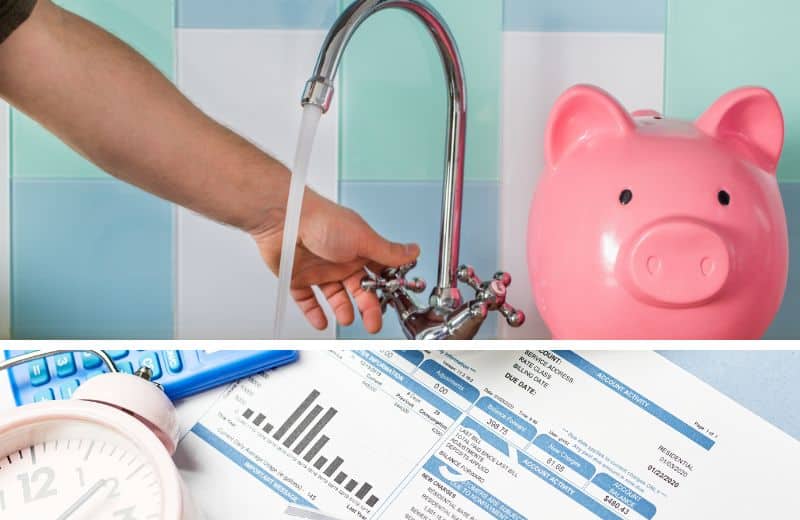 Shower head material
You can find a shower head water filter in either plastic or chrome-coated plastic. When choosing a material, consider the aesthetics of your bathroom and existing showerhead.
📌 Plastic shower heads are usually the cheapest option, but are prone to wear-and-tear and look quite ugly. Chrome-coated shower filters tend to be rust-proof and more attractive.
Weight
For the sake of convenience and safety, check the weight of a shower filter before you buy it. You don't want the unit to be so heavy that it can't be supported by your shower arm.
You should expect a shower filter to be heavier than a standard shower head due to the filtration components inside the unit.
Size and adjustability
Shower head water filters are usually bigger than standard shower units. When you're picking a filter, make sure it fits the specs of your existing shower arm.
Different units need to be assembled and mounted differently. If you're choosing an in-line filter, make sure it's compatible with your existing shower head.
Water pressure
Most shower filters offer a water pressure of between 1.5 GPM (gallons per minute) and 2.5 GPM.
2.5 GPM is the best you can get for any shower, let alone a shower filter. However, it's also the most wasteful.
📌 If you want to conserve water, look for a shower filter that offers a 1.5-2.0 GPM flow rate. If you love a powerful shower, prioritize shower filters with a flow rate of 2.5 GPM.
The lifespan of a filter cartridge
A shower filter's lifespan is a measure of how many gallons the unit can filter before it becomes too clogged to operate properly. For convenience, most manufacturers convert the gallon lifespan to months.
📌 The standard lifespan for a shower filter is 6 months, so look for a filter that at least lasts this long. Keep in mind that high-sediment or mineral-rich water, or using more shower water than average, will shorten your shower filter's lifespan.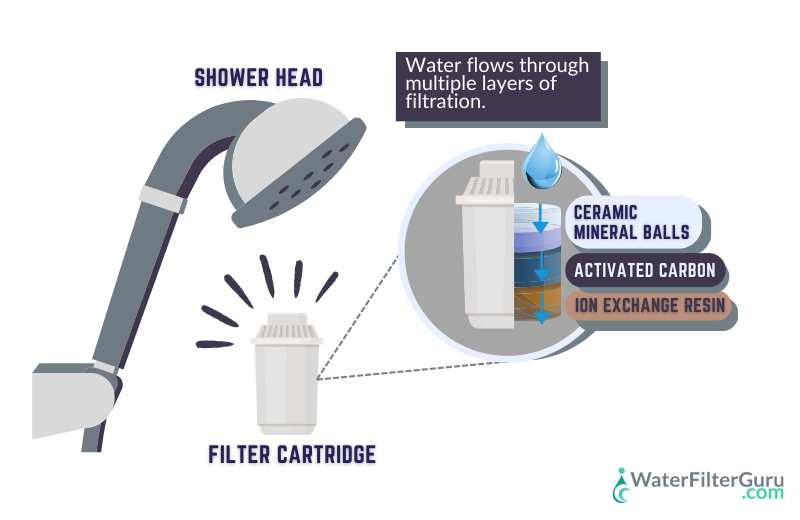 Filter effectiveness
Most shower head water filters are designed to remove several key contaminants from water: chlorine, heavy metals, and hard water minerals. Some do this more efficiently than others.
The effectiveness of a shower filter depends on the cartridge material(s) and capacity. Activated carbon, KDF-55, ceramic vitamin and mineral balls, and ion exchange resin are all effective filter media for removing contaminants and boosting water quality in filtered shower heads.
Some of the best shower filters offer additional performance perks, like fluoride reduction and prevention of bacteria growth.
Installation and maintenance instructions
Take it from us – DIY installing a shower filter is easy, even if you're not a handy person.
If you're concerned about the process, look at the user manual for your preferred shower filter before you buy it (these are usually downloadable online).
If the user manual has simple instructions, labeled diagrams, and clear information on filter changes, you'll be fine. Some manufacturers also offer online video tutorials demonstrating the installation process.
Manufacturer support
Whether you have a quick question about a filter you've bought or you're struggling with installation and maintenance, being able to contact your manufacturer for support is key.
The best shower filter manufacturers offer 24/7 live support, making it easy to resolve an issue as soon as it arises.
Product warranty
A product warranty gives you the peace of mind that if a problem occurs, you'll be covered within the warranty period.
📌 Most of the best filtered shower heads have a warranty of 1 year. Some manufacturers offer a shorter warranty of 60-90 days. We recommend filters with a 1-year warranty to give you those extra months of coverage.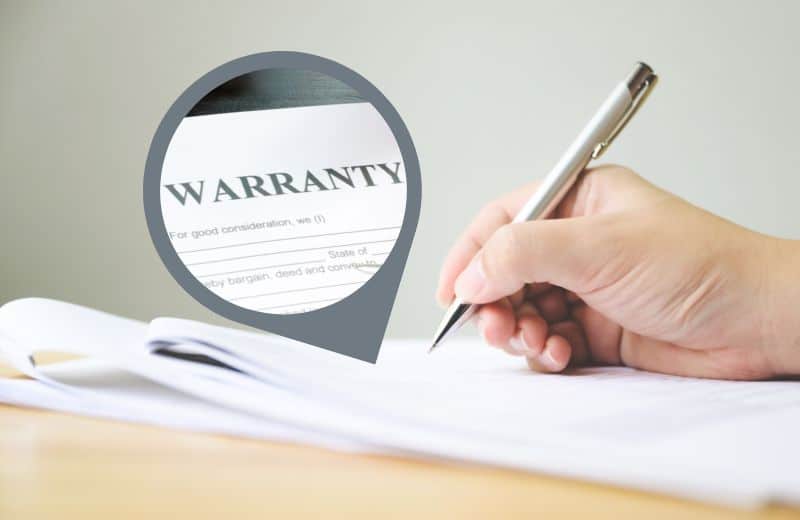 🚿 What are shower head water filters?
Shower head water filters are small units that attach to your shower arm. These units reduce soap scum and filter out impurities from your water that are known to affect the quality of shower water.
The main aim of a shower filter is to give you a healthier shower experience and protect your skin and hair.
🌢 What's wrong with showing in unfiltered water?
Unfiltered shower water contains a number of contaminants that affect our health:
Calcium and magnesium minerals deposit scummy residue on your hair and skin, causing dryness and irritation.
Chlorine vapor can cause irritation and breathing difficulty.
Disease-casuing bacteria and mold may build up in your shower head, potentially getting onto your skin and into your mouth.
Chemicals like pesticides and herbicides may cause mild skin and respiratory irritation.
✔️ Benefits of using a shower filter
Wondering whether shower filters are worth your money? We think they are – but don't just take our word for it. Here's why:
Reduce scale – many shower filters reduce scale caused by calcium and magnesium minerals, improving water quality, protecting skin health, and preventing limescale in your bath or shower unit.
Improve water quality – shower filters are effective at removing chlorine, resulting in healthier, higher-quality filtered water for safer showering. Some shower filters further improve water quality by reducing pesticides and herbicides, fluoride, and disinfection byproducts.
Affordable – most shower filters cost less than $100 upfront and $20-$100 per year for annual maintenance.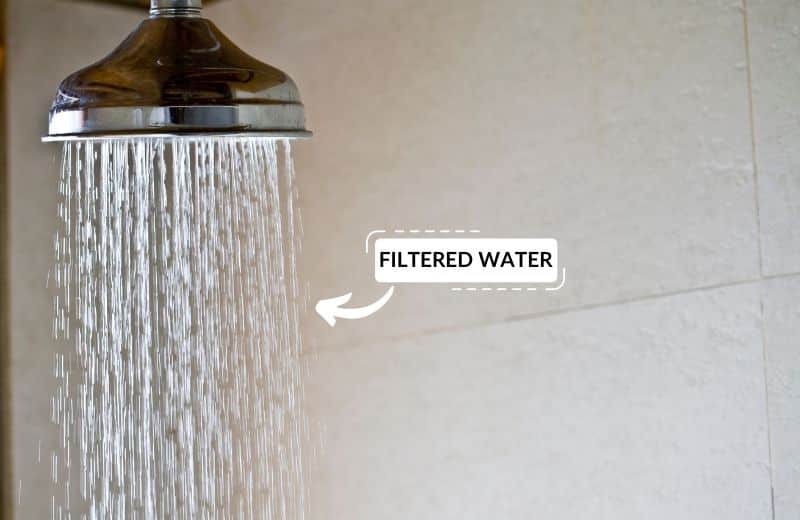 🔎 How do shower water filters work?
Shower head water filters send water through different filter media, which remove certain contaminants and impurities from water.
Here are the most common filters you'll find in a shower head filtration system:
Carbon filters
Activated carbon filters remove chlorine and disinfection byproducts. The adsorption media in this filter grabs onto contaminants and pulls them out of water.
KDF filters
KDF filters create a tiny electrical chemical charge that removes a range of contaminants from water. The most common KDF media used in shower filters is KDF-55, which removes chlorine and heavy metals.
Vitamin C filters
Vitamin C filters remove chlorine in shower water and infuse water with healthy vitamins. Vitamin C filters can also remove contaminants like chloramines and some smaller sediment.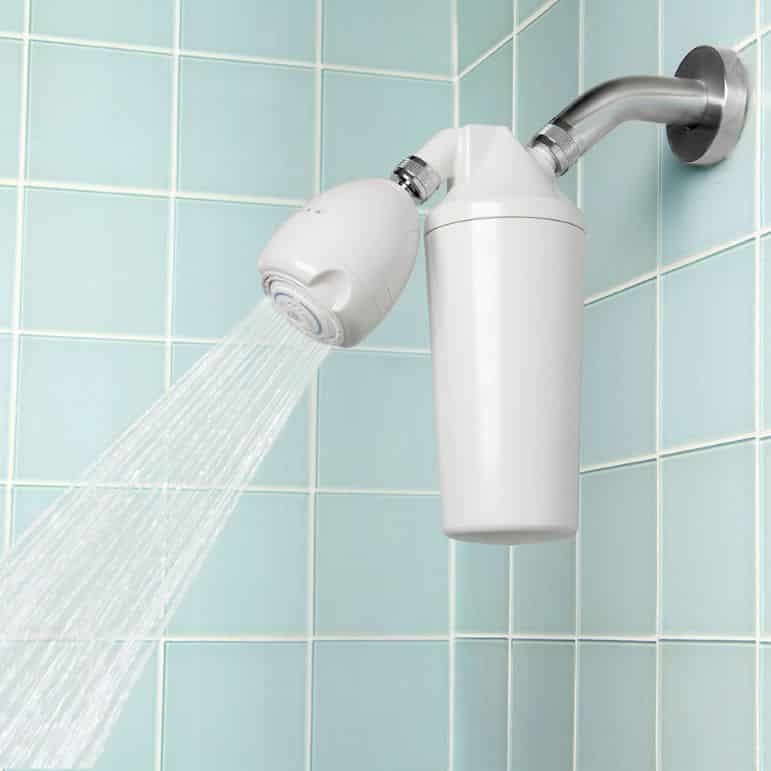 💭 How to choose a shower head water filter
To choose a shower head filter, follow this quick process:
Test your water. When you know which contaminants you want to remove, you can make a more informed buying decision.
Set your budget. Decide on your maximum upfront and annual spend for a shower filter.
Check the measurements of your shower arm. Note down the measurements to use when comparing filters.
Read product reviews. Other people's experience with a filter can tell you a lot about its quality and longevity.
Buy your preferred filter. Based on your water quality, your aesthetic preferences, your existing shower setup, and your knowledge from reading buyer's guides like this one, buy a shower filter that suits your needs.

📝 Types of shower water filters
There are three main designs of shower head water filters that you can choose between:
Shower head filter
Standard shower head filters look just like a normal shower head, though slightly larger and heavier than normal. These units store the filter inside the shower head itself.
In-line shower filters
Inline filters are installed between your standard shower head and the shower arm. Inline filters are a better option if you prefer to use your own shower head.
In-line and shower head water filters
Inline and shower head water filters consist of both the shower head and the attachment filter.
The filter is usually stored inside the inline body, while the shower head is designed to manage water pressure.
You might also like my other guides: Whole house filters, check it out here, and reverse osmosis systems here.
🔧 How to install a shower head water filter
Installing a shower head water filter is a quick and easy process.
The installation process varies depending on whether you have a shower head filter, an in-line filter, or a two-in-one shower head and in-line filter.
Here's how to install a standard in-line filter:
Detach your shower head from your shower arm.
Wrap plumber's tape around the shower pipe to prevent leaking.
Attach the inline filter onto the shower pipe, rotating it until it's fairly tight.
Flush your filter. Turn on your cold water and let it flow out of the filter head until it runs clear.
Once your cold water is clear, turn on your hot water and repeat the process.
Attach your shower head to the inline filter.
Switch on the water and check for leaks. If there are any, apply more plumber's tape to the area.
🧰 How to change filters in your shower head unit
To replace your filter cartridges in your shower head filter, follow these instructions:
Remove your shower head from your shower arm.
Open the shower head or inline unit and take out the old filter cartridge.
Replace your filter cartridge with a new one, checking that the filter cartridge is inserted the right way up.
Close the shower head or unit.
Run cold water through the shower for a minute or two to flush the filter.
🧠 Frequently Asked Questions
How do I know when to change my shower filter?
You'll know to change your shower filter when your water starts to look dirty or cloudy, or come out of your shower head at a lower pressure. Another sign that your filter needs replacing is if it looks several shades darker than when you first fitted it. Keep track of filter changes by logging key dates into your calendar.
Will a shower head water filter reduce my water pressure?
No, if you buy a good shower filter, it won't affect your water pressure. The only time your water pressure may be affected is when your water filter becomes clogged with contaminants towards the end of its lifespan. The simple solution is to change your filter.
Does a shower head water filter work like a softener?
No, shower filters and water softeners have different processes and results. Water softeners are whole home units and exchange calcium and magnesium minerals with harmless sodium ions, eliminating scale. Shower head filters may reduce some scale, but they're not designed to soften water.
How soon will I notice the effects of a showerhead water filter?
You should notice the effects of a showerhead water filter immediately. Your hair should feel less rough and brittle, and should lather more efficiently with your shampoo. Your skin should feel softer and cleaner.