🧾 Overview
If you're looking for an affordable, space-saving under-sink filter that can offer a high quality of filtration, the Epic Smart Shield may be perfect for you. This compact single-stage filter is designed for quick, simple installation beneath your kitchen sink – you don't even have to screw it in place as it sticks to your wall with velcro – and offers a certified high level of contaminant removal.
Costing less than $150, the Epic Smart Shield is one of the cheapest and most effective under-sink filtration systems currently available, but by making a smaller upfront investment, you're certainly not compromising on quality.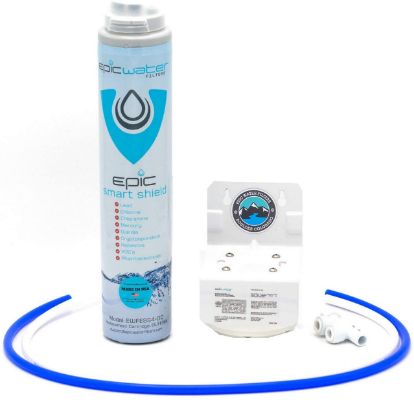 Specifications
NSF certified: Standards 42, 53 and 401 (by IAPMO)
Dimensions: 19 3/4″ x 4.5″ x 4 1/4″
Material: Solid block activated coconut shell carbon
Filter: 1-stage Smart Shield Filter
Filter Life: 9-16 months
Warranty: 100% lifetime warranty & hassle-free returns
💡 Features
Single-stage filtration
There's just a single stage of filtration in the Epic Smart Shield Under-Sink Filter, which ultimately makes this system one of the most conveniently compact, space-saving options on the market.
Mounting manifold
The mounting manifold mounts the unit on the wall beneath your kitchen sink, providing stability during filtration. The included heavy-duty velcro will hold the filter in place without having to drill holes for installation if you prefer.
Connector hoses & adapter
To connect the system up to your cold water line, the Epic Smart Shield unit comes with connector hoses and an adapter for the job. Offering quick and easy installation, this filter does not require a trip to your local hardware store to pick up additional tools and hardware for the job.
First Epic Smart Shield filter cartridge
Included with the Epic Smart Shield under-sink filter is the first filter cartridge. You'll need to pay for additional filter changes in the future.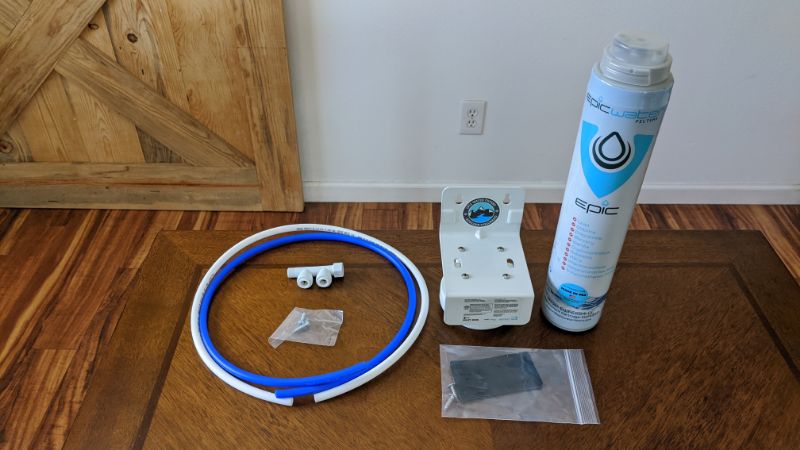 🚦 Performance
If you're looking for long-lasting reliable performance, the Epic Smart Shield Under-Sink Filter is a fantastic option to consider. The filter has been tested by IAPMO and certified to NSF/ANSI Standards 42, 53 and 401, for the removal of chlorine, lead and emerging or incidental compounds like ibuprofen and other pharmaceuticals.
This certification applies to at least 651 gallons of use – meaning that when the 651st gallon of water passes through this filter, it'll still be offering peak performance of 99.99% removal of 70+ contaminants. This is a very reassuring sign; it's not uncommon for some filters to struggle with performance towards the end of their lifespan, but the Epic Smart Shield filter is consistent from start to finish.
Being an under-sink filter, you can expect the Epic Smart Shield filter system to provide you with clean water instantly. The process happens as soon as you turn on your faucet – water in your pipes flows through the filter and out of the other side, reaching your faucet in a matter of seconds. Provided your water pressure reads at 40-60 PSI minimum, you won't have a problem with the speed of this filter's performance.
For extra performance benefits, you can purchase an additional 5 micron Epic Smart Shield Sediment Filter to install before the main filter cartridge. This sediment filter will remove large particles of sediment that could damage the main filter and shorten its lifespan. Epic Water recommends purchasing this filter if you source your water from a private well or you live in an area with high sediment levels.
🔧 Installation & Maintenance
With the Epic Smart Shield filter being so small and compact, it's unlikely that you'll have to sacrifice much cupboard space to set it up. The installation process is pretty simple – you don't need to struggle to fit a bulky, heavy system into your cupboard. Even better, the system comes with heavy-duty velcro for mounting, so you won't have to drill holes in the back of your cupboard – ideal if you're looking for a filter with low-fuss installation that you can manage yourself.
Many under-sink filters come with their own dedicated faucet, which adds extra work onto installation. This Epic Smart Shield system, however, is fine to use with whatever faucet you have currently set up. It simply connects up to your under-sink water line, enabling water to travel through the filter before passing back into your cold water pipe and out of your faucet. They do offer another variation of the exact same system with it's own dedicated faucet, if that is something you prefer.
In terms of maintenance, the Epic Smart Shield system is particularly hassle-free, as it comes with a single filter that needs replacing periodically according to the manufacturer's instructions.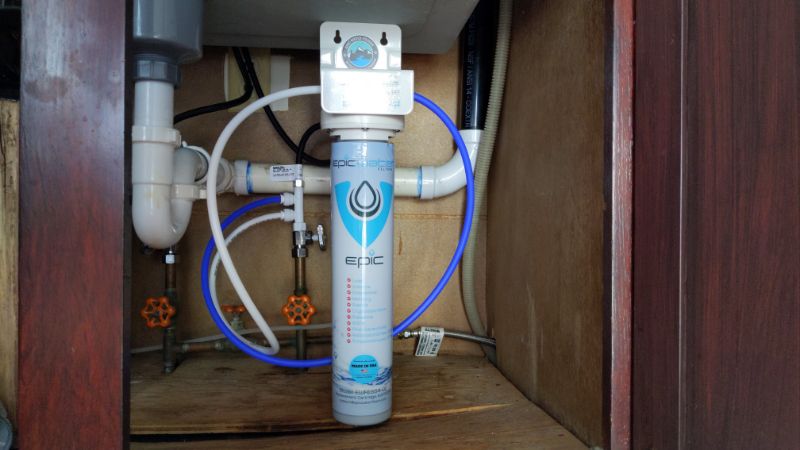 📝 Filter Info
There's a lot going for the Epic Smart Shield filter. Don't assume that because this is only a single-filter unit, it's incapable of the thorough contaminant removal you're looking for. Made from solid activated coconut carbon block material, the filter cartridge uses the process of adsorption to remove more than 70 contaminants from water – even bacteria and trace pharmaceuticals, which are notoriously difficult to remove. You can check out the filter's performance data sheet here.
Activated coconut carbon is one of the most commonly-used filter materials in today's water filter industry, and for good reason – it works. There's plenty of data to support the proven effectiveness of activated carbon in contaminant removal, so you'll have extra confidence when purchasing this filter unit.
The filter can last for at least 12 months. In a 1-person household, it should last for 14-16 months, while with normal use it will need to be changed once a year, and if used by a larger family, it should be changed every 9-12 months. The replacement filter costs around $90, so it's not cheap, but it's a cost you'll only have to pay once a year. Remember, you can get a longer lifespan out of the filter by purchasing the Epic Smart Shield sediment filter if you live in a high-sediment area.
🔔 Pros & Cons
👍 What I Like
More affordable than most under-sink filters
Only 1 filter to install & replace
Certified to 3 NSF/ANSI standards
👎 What I Don't Like
Doesn't remove fluoride
Not quite as effective as reverse osmosis
Some customers commented that velcro on mount wasn't strong enough
My readers get 20% off at epicwaterfilters.com 👉 Click here to get your coupon.
📲 My Video Review
Found this review helpful?
Comment below or share this article!