🧾 Overview
The SoftPro Elite is a high-efficiency water softener that comes in two different options: a well water softener and a city water softener. Both of these softeners can be bought in various grain capacities starting at 24,000, and are designed to offer the most efficient performance, helping you to save money and salt while achieving the same soft water benefits.
💡 Features
Soft water brine tank – Both the city and well water SoftPro Elite softeners feature a soft water brine tank that holds a highly concentrated potassium solution, which is needed for ion exchange.
Mineral tank – Another essential component of any water softener, the SoftPro Elite's mineral tank contains the resin needed for water softening, and is where water softening takes place.
LCD touchscreen meter – It's easy to operate the SoftPro Elite systems with the included electronic touchscreen meter, which lets you set the system to run to your own preferences or check the status of your tank.
Fine mesh resin – Both systems use an upgraded fine mesh resin that works at the heart of the softeners, ensuring the most efficient ion exchange process.
Protective neoprene jacket – The protective neoprene jacket sits around the tank in the SoftPro Elite city and well water softeners, helping to reduce mold growth and tank condensation.
Bypass valve – When you're performing system maintenance, you can use the bypass valve to divert water around both water softeners without cutting off your access to a water supply entirely.
Parts for installation – Everything you need for installation to a standard water line are included with both SoftPro Elite systems, so you won't have to make a last-minute trip to the DIY store before you can get the system set up.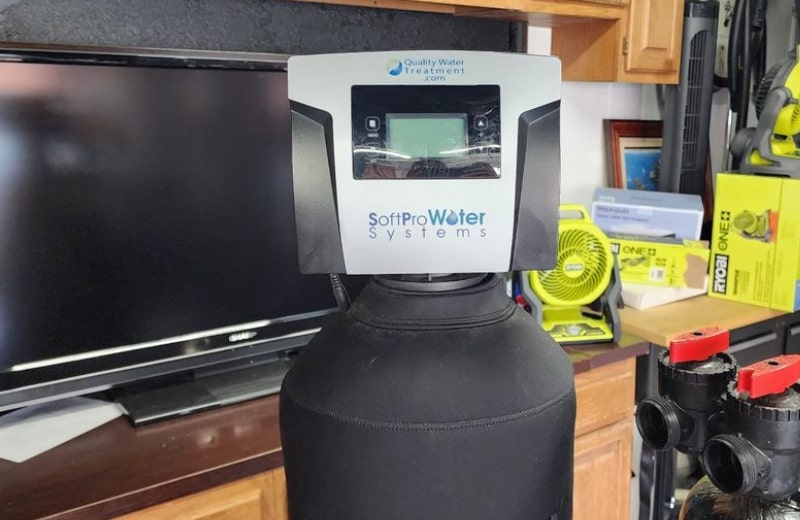 🚦 Performance
The SoftPro Elite city and well water softeners offer the same level of high performance as other, less efficient softening solutions. Both systems use a feature called Smart Precision+ Brining, which helps to conserve salt usage by up to 30 percent. The intelligent systems calculate precisely how much brine is needed based on the resin content, ensuring reduced waste from regeneration.
With an adjustable backwash frequency, both the SoftPro city and well softening systems don't just help you save salt – they can also help you save water (up to 2,000 gallons per year, to be exact). You can expect better long-term performance with the SoftPro Elite, too, as both systems utilise automatic system flush technology, which prevents bacteria growth.
When it comes to the quality of performance, you won't be let down by either of the SoftPro Elite systems. They use ion exchange, a scientifically-proven water softening method, which exchanges hard water ions with sodium ions. Both the SoftPro well and city systems have a quick recharge for immediate regeneration, so you'll never be waiting around to get access to soft water.
For extra reassurance, both systems are certified to various NSF/ANSI standards for material safety, structural integrity, and more.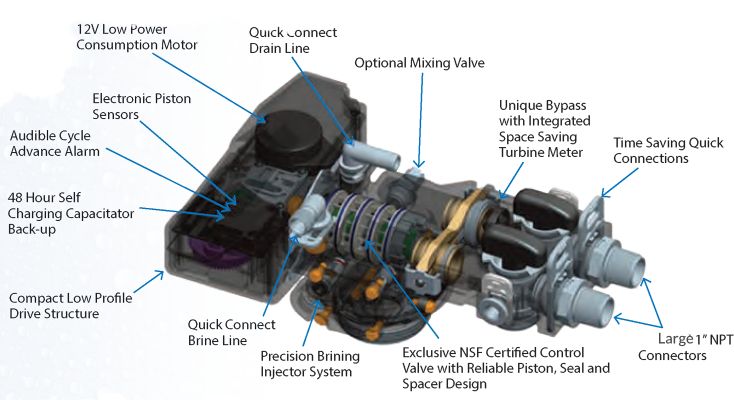 🔧 Installation & Maintenance
The SoftPro Elite well and city water softeners require installation at a home's point of entry. If you have the right tools and basic plumbing knowledge, you should be able to install either of these systems yourself.
The systems are engineered for simple installation, being relatively compact and having very few parts that need to be connected prior to attaching to your waterline. They come with everything needed for immediate setup, and for extra convenience, both systems come pre-loaded with media, so you don't need to worry about adding it in yourself before installing.
While installation is something you should feel comfortable doing if you have confidence in your DIY abilities, not everyone will feel equipped to handle it themselves. If you'd rather not risk accidental damage to the system or your plumbing, you'll need to factor in the additional cost of hiring a handyman for the job, which should take approximately an hour from start to finish.
Maintenance is an unavoidable aspect of owning any water softener, and you'll need to replace the salt every few months according to the user manual. A big benefit of using the SoftPro Elite, either for well or city water, is that you'll save money on salt thanks to the system's efficient performance, and that means salt top-ups will be a less frequent maintenance task, too.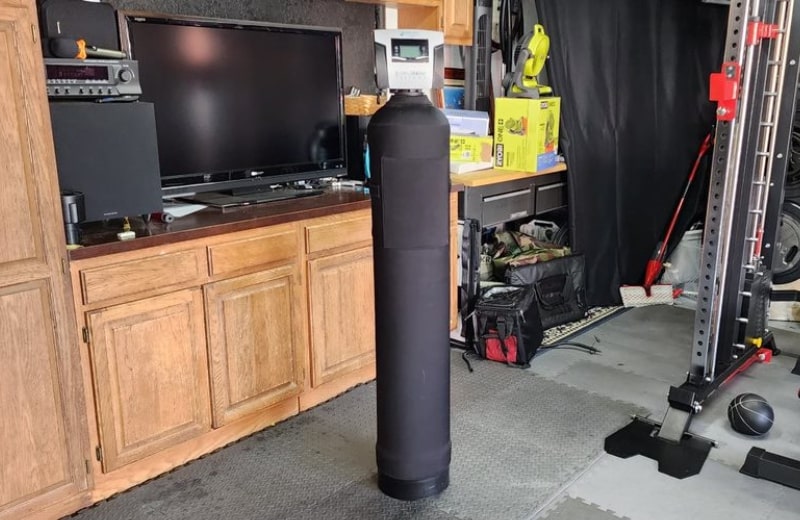 📝 System Info
When you install either of the SoftPro Elite systems, you should expect to see immediate soft water benefits. These include no new limescale buildup and a reduction in any previous scale, softer clothes when laundering, and a reduced amount of soap required for showering or washing dishes.
Both systems include a salt grid in the brine tank to prevent salt from clumping and causing bigger maintenance issues. You can buy the SoftPro Elite for well water in grain capacities from 24,000 to 80,000, and the SoftPro Elite for city water in grain capacities from 24,000 to 110,000. Both systems have a peak flow rate of 10 GPM.
The SoftPro Elite for well water removes up to 3PPM of iron from water, tackling a common well water contaminant that not all water filters are capable of removing.
🔔 Pros & Cons
👍 What I Like
Relatively easy to install
Compact design
Efficient salt- and water-saving performance
👎 What I Don't Like
Systems with a higher grain capacity will take up more space
May require a plumber to install
Expensive upfront cost
🤔 Final Thoughts
The SoftPro Elite is one of the most efficient water softening options on the market today. While they're relatively expensive to buy upfront, the money-saving benefits of owning either the SoftPro city or well water softeners will more than make up for it in the long run.
You'll find that the Quality Water Treatment website doesn't feature all the information about the SoftPro Elite that you'd want to know, but the manufacturer has a great customer service team who are quick to get back to you on any questions you might have.