Choosing a water filter system for your home is difficult when there are so many available options on the market. Both Berkey and Alexapure are stainless steel countertop water filters that look very similar on the outside, so deciding between the two is a challenge.
Berkey's Big Berkey is the most popular choice for the majority of customers, having the ideal capacity (2.25 gallons) for a medium-sized family. The most comparable filtration system by Alexapure is the Alexapure Pro, an identically-sized system with the same filtered water capacity.
Comparing the Alexapure Pro vs Berkey water filter in this guide, we'll be looking at what makes these two gravity water filters the same – and, most importantly, what sets them apart.
⚖️ Comparison Chart
| | | |
| --- | --- | --- |
| | | |
| Product | Alexapure Pro | Big Berkey |
| Contaminants Reduced | 200 | 200 |
| Holding Capacity | 2.25 gallons | 2.25 gallons |
| Filter Lifespan | 5,000 gal. | 3,000 gal./ cartridge |
| Warranty | 1 year | Lifetime |
| Annual Cost | ~$120 | ~$40 |
| Buying Options | | |
💡 Filter Comparison
Berkey Filters
Berkey's gravity filters for water are called Black Berkey elements, and use the force of gravity to slowly filter water in the system. The filter elements are made up of 6 different media types, including a coconut shell carbon material, which, combined together, contain millions of tiny pores.
Tap water is added to the top chamber, before passing through the Berkey filters and into the bottom chamber. On the water's way through the Black Berkey elements, contaminants are trapped inside the filter media, which prevents them from passing through with the water particles.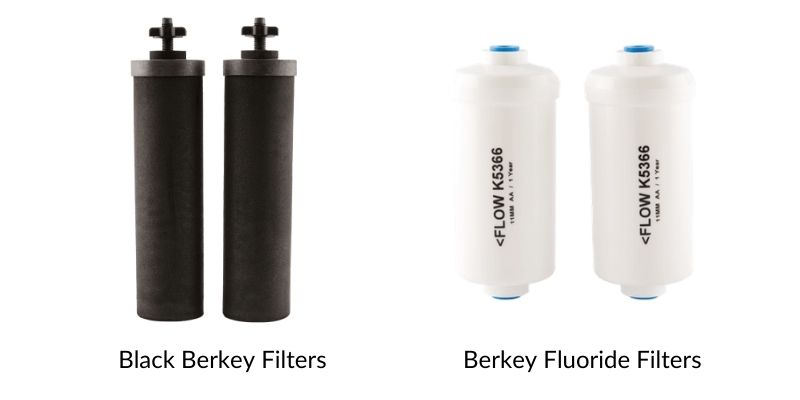 Alexapure Filters
Alexapure water filters are very similar to Berkey's, and looking at the stainless steel design on the outside, you'd imagine that the two were quite the same. The Alexapure Pro is also powered by gravity, and has a near-identical dual-chamber design to the Black Berkey.
Like with Berkey filters, when drinking water is added to the Alexapure, it passes through the filters, which gradually remove a broad range of contaminants. Though there's no information on Alexapure's website on filter material or design, they use "gravity block ionic absorption technology", which is typical of an activated carbon filter.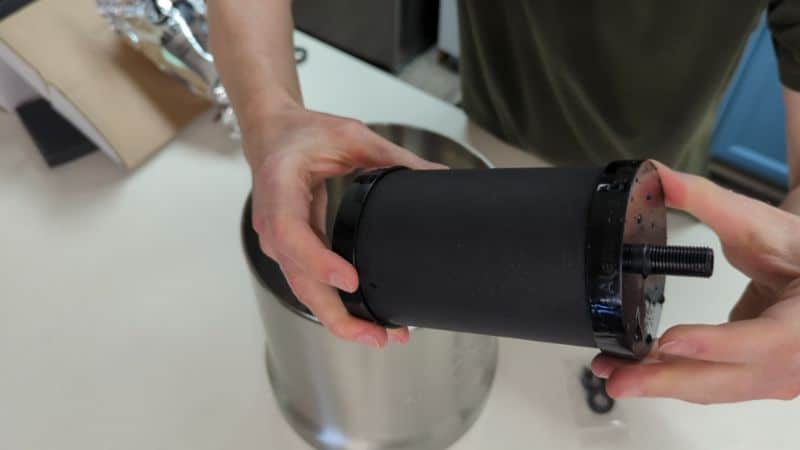 🧫 What Contaminants Do They Remove?
Comparing the Alexapure Pro Vs Big Berkey for contaminant removal, both gravity filters have been independently lab tested to remove more than 200 contaminants, including:
Heavy metals
VOCs
Chemicals like chlorine, pesticides and herbicides
Pharmaceutical drugs
Here are links for the complete lists:
Click here for the full Berkey contaminant removal list
Click here for the full Alexapure contaminant removal list
🚦 Performance Comparison
Berkey
Berkey's performance definitely ranks higher when it comes to effectiveness than it does for speed. Water gravity filters aren't designed for the speediest water filtration, and the Big Berkey is no exception. The Black Berkey filters are capable of filtering roughly 3.5 gallons of water per hour, so by no means do they produce an immediate result.
Speed aside, you'll be pleased with the Berkey's performance in terms of how thoroughly the Black Berkey filters can remove contaminants from water. The majority of countertop water filters are only capable of removing a handful of contaminants, so the fact that the Berkey filters can remove more than 200 is a big benefit.
If you're looking for proof of performance, you'll find it in the results from Berkey's independent lab testing, which you can view online. However, Berkey falsely claimed that the Black Berkey elements had been tested to meet NSF standards. We know now that the Berkey filters aren't NSF certified or tested to NSF Standards.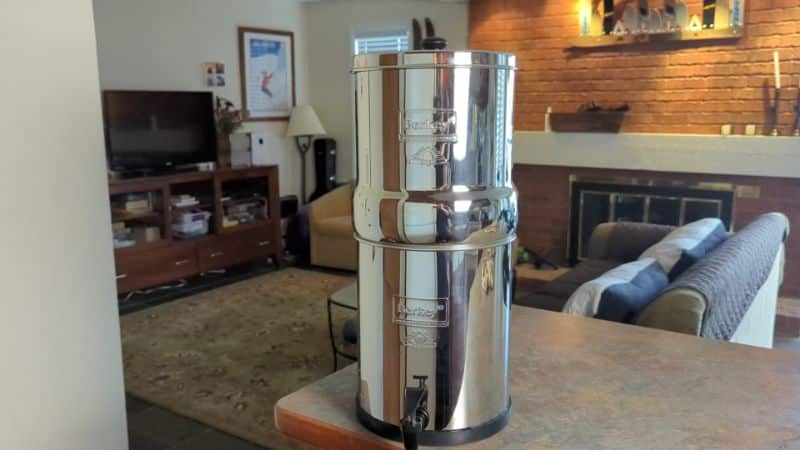 Alexapure
Alexapure is also a water filter gravity, which means, like the Big Berkey, it won't offer immediate water filtration. But Alexapure water filters actually have an edge over the Berkey water elements here, because they're designed to filter water at a rate of a gallon per hour. This figure is only accurate when the top chamber is full, though – as the water level drops, the filters will take longer to produce clean water.
Comparing the Alexapure Pro water filtration system vs Berkey water elements, there's virtually no difference in their effectiveness when it comes to contaminant removal. The Alexapure Pro is, alongside Berkey, one of the best countertop gravity water filter systems available today. You can enjoy a much more thorough contaminant removal with the Berkey and the Alexapure Pro than you would with a filtered water pitcher.
Unlike Berkey, Alexapure filters have actually been tested to meet NSF/ ANSI standards, but do not hold that actual certification itself.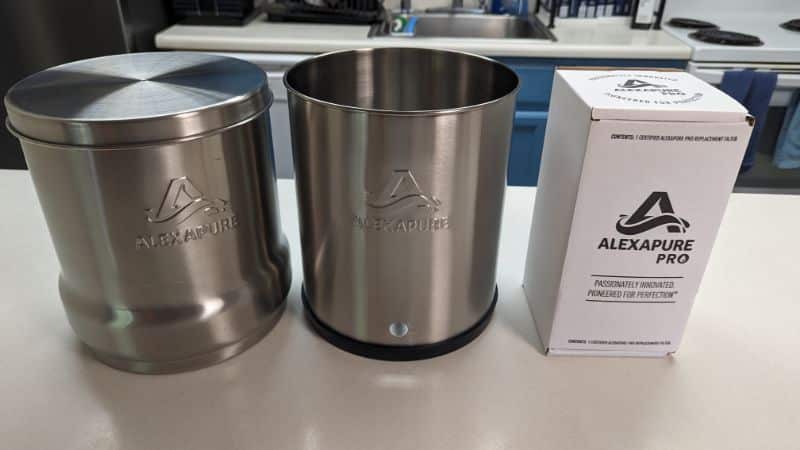 💲 Models & Upfront Cost
Berkey models
Berkey water filter systems are moderately priced, like the majority of countertop water filters. They have a stainless steel design and are cylindrical in shape. There a number of different Berkey filter models, which increase in price with increased holding capacity.
Berkey's systems cost between $250 and $360, and the initial purchase includes two Berkey water filter elements. You can also buy any Berkey with another two Black Berkey elements, doubling the lifespan of the four elements in use, which costs around $100 extra.
The most popular Berkey model is the Big Berkey, which is designed for use by medium-sized families with an average water use. The Travel Berkey is lightweight and more compact in design, making it more suitable for taking on vacations, and the Berkey Light is a low-cost version of the Berkey water filter that's made from BPA-free plastic instead of stainless steel.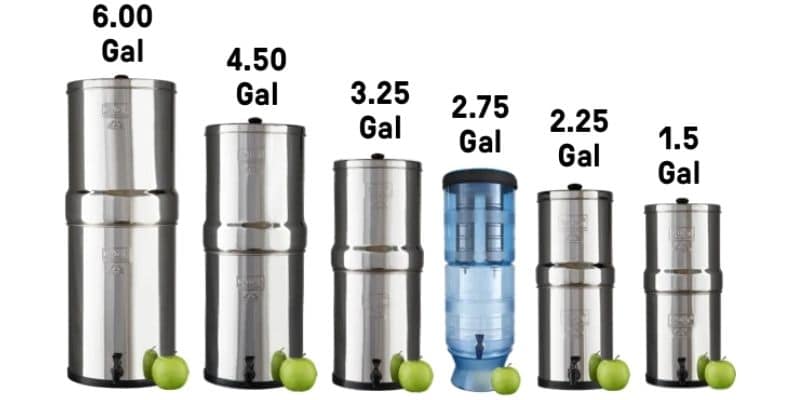 Alexapure models
Like Berkey, Alexapure water filters are made from stainless steel, but the Alexapure Pro doesn't come in multiple sizes. You can buy the system in just one size: 2.25 gallons. Though the 2.25 gallon sized Big Berkey is most popular with Berkey, comparing the Alexapure vs Berkey filter systems in terms of each company's offering, Berkey is a clear winner.
It's always handy to be given multiple choices when you're deciding on a certain style of water filter, and Berkey most likely steals a few customers from Alexapure if they're looking for a specific filter style, like a travel system.
When it comes to price, the Alexapure Pro costs around $270, including the Alexapure gravity cartridge with a ceramic filter shell. The price is pretty spot-on compared to the Big Berkey, which costs around $280 including filter elements.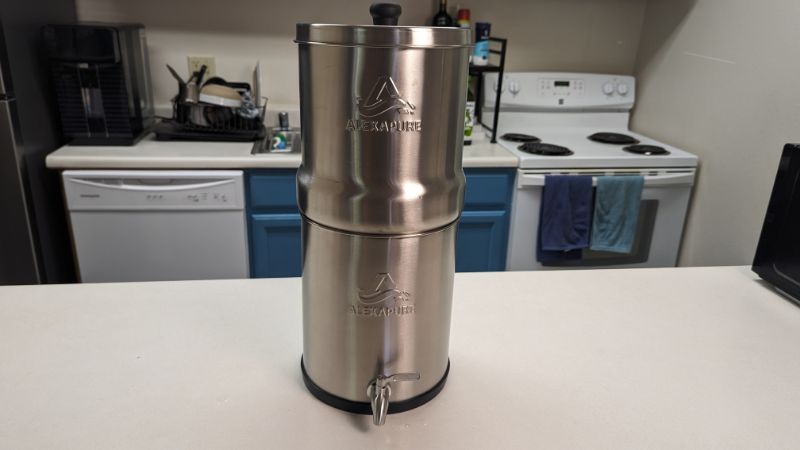 📆 Filter Lifespan & Replacement Costs
Berkey filters
A set of two Berkey's water filter elements cost around $120 on their own. Considering both filters have a combined lifespan of 6,000 gallons, this is a cost that you'll only have to make roughly once every 4 years. You can buy a set of four Berkey water filters for double the price, which will double the lifespan of each filter, so you won't need to worry about buying replacements for around 8 years.
Alexapure filters
The Alexapure Pro only uses one filter, which costs around $120 and has a lifespan of 5,000 gallons. With a difference of 1000 gallons vs the Berkey elements, but costing exactly the same, Alexapure's filters aren't quite as good a value for money. With that said, you'll still get at least 3 years of filtered water out of the system before you need to think about buying replacements for your Alexapure Pro.
💬 Customer Reviews & Complaints
Berkey
The Big Berkey's customer reviews are generally very positive, and the replacement filtration elements have a 4.7 out of 5 star rating on Amazon, based on nearly 900 reviews. Many customers said that they would never buy a filter other than the Black Berkey, because of how reliable and efficient they are.
Customers also mentioned that the Big Berkey has worked on their water when other filters, like fridge filters and water filter pitchers, have not.
Some customers did mention, however, that high chloramine content can drastically affect the lifespan of the Big Berkey elements, but there's nothing on Berkey's website to suggest this – in fact, chloramine is one of the contaminants that Berkey's filters are capable of removing.
Customers also mentioned that they noticed a rubber taste after filtering water in the Big Berkey, and this is a result of a number of rubber components inside the system, which can be swapped for silicone components if you find the taste unpleasant. Finally, a small percentage of customers said that Berkey's stainless steel body had started to rust, which isn't typical of stainless steel, and is something that Berkey perhaps needs to look into.
Alexapure
The Alexapure Pro has a 4.3 star rating out of nearly 400 reviews. Customers claimed that Alexapure's filtration system is better than other brands, and helped them to save a fortune on bottled water.
People praised Alexapure's thorough contaminant removal, especially the removal of heavy metals, resulting in a much-improved water taste.
The biggest issue with the Alexapure was that some customers felt confused that despite the system being able to hold up to 4 filters, it only comes with 1 included. According to these customers, the flow rate of filtration is incredibly slow with just the one filter, and they had to buy more to improve the speed. It's possible that this could be because these customers have drinking water with a particularly high contaminant content, and the filter elements struggle to filter the water as quickly.
☑️ Pros and Cons of Alexapure vs Berkey
👍 Berkey Pros:
Multiple design options
A huge benefit of the Berkey compared to Alexapure is that it comes in a range of different design options, including stainless steel systems in multiple sizes, a lighter travel option, and a BPA-free plastic option. If you're looking for variety, Berkey has you well covered.
Long filter lifespan
Looking at the Berkey and the Alexapure, Berkey's filter elements have much longer lifespans, filtering 6,000 gallons before they need replacing.
👍 Alexapure Pros:
Relatively high filter capacity
The Alexapure can filter up to 5,000 gallons per filtration element, which is almost as good as Berkey. You should get at least 3 years of use out of the Alexapure Pro before you need to buy a replacement element.
Lower price point
Alexapure tends to price their product slightly lower than the Big Berkey (~$10 or so)
👎 Berkey Cons:
No NSF certification or testing
Berkey is currently not NSF certified or even third-party tested to NSF standards, which does let the product down somewhat. It would be reassuring for a first-time buyer to know that the company had a third-party backing for its contaminant removal claims.
Problems with rubber taste
Considering how thorough the Berkey's contaminant removal is, it's a shame that so many customers can taste a strong rubber taste as a result of some of the rubber components used inside the system.
👎 Alexapure Cons:
No selection
There's currently only one Alexapure product – the stainless steel Pro model. If you're looking for more options, you won't find them with Alexapure.
Could include more filters
Berkey includes 2 filtration elements with a purchase, while Alexapure, despite having room for 4, only comes with 1. You may need to buy your own additional elements on top of your initial purchase to filter a greater number of gallons of water at a faster pace.
Should I buy Berkey or Alexapure?
Trying to decide which stainless steel countertop water system is for you is a challenge, especially with the Big Berkey and the Alexapure Pro – they look the same and have very similar features. Though Berkey does offer more selection, Alexapure's water system is the perfect size for a family of 1 to 4, which makes it suited to nearly every buyer out there.
Your purchasing decision will most likely come down to your own personal brand preferences, or your own specific water filtration needs. For instance, if you're looking for a countertop water system you can take on camping trips or on vacation, Berkey's travel option will be the obvious choice. If you're just looking for a system you can use every day, however, either brand's 2.25 gallon system should suffice.