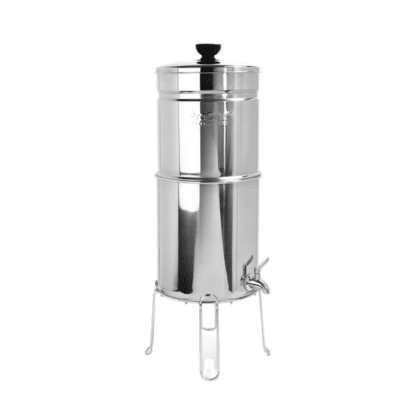 ProOne Traveler+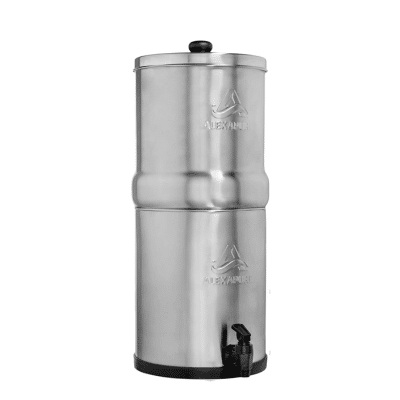 Alexapure Pro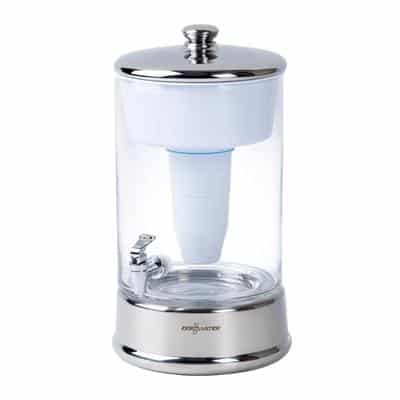 ZeroWater 40-Cup dispenser
Berkey might claim that its countertop gravity filters are the best of the best – but there are a few reasons why you might prefer to dodge Berkey products.
Here, we've outlined our top recommendations for the best alternatives to Berkey water filters.
🥇 Best Alternatives To Berkey Water Filter
📊 Comparison Chart of Alternatives To Berkey Water Filters
| Product | ProOne Traveler+ | Alexapure Pro | ZeroWater Dispenser | Epic Nano | Waterdrop King Tank |
| --- | --- | --- | --- | --- | --- |
| Ranking | 1st | 2nd | 3rd | 4th | 5th |
| Ratings | 5/5 | 4.5/5 | 4.5/5 | 4/5 | 4/5 |
| Price | $$ | $$ | $ | $ | $$ |
| Contaminants Removed | 200+ | 200 | 20+ | 200 | Fluorine, chlorine, bad taste and odor, rust, sediment, heavy metals, spore cysts |
| Certifications or Testing | NSF 42, 53, P231, P401, P473 | NSF 42, 53, 61, CA Prop 65 | NSF 42, 53 | NSF 42, 53, 401, P473, P23 | – |
| Process | Ceramic + Activated Carbon | Ceramic + Carbon | Activated Carbon + Ion Exchange + KDF | Mechanical + Electroadhesion + Ion Exchange | Activated Carbon + Ion Exchange |
| Filter Life | 1,000 gallons | 5,000 gallons | 20 gallons | 150 gallons | 6,000 gallons |
| Annual Cost | ~$100 | ~$120 | ~$60 | ~$140 | ~$60 |
| Warranty | 1 year | 1 year | 90 days | Lifetime | 1 year |
---
⭐ Best Berkey Filter Alternatives Reviews (2023)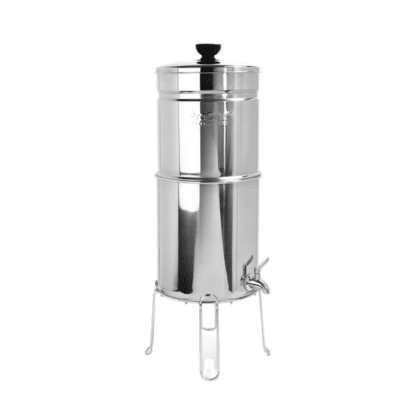 ProOne Traveler+
In our opinion, the best alternative to the Berkey filter is the ProOne Traveler+.
This gravity-fed filter looks similar to the Berkey system and produces similar results, but it has a few extra benefits: it's over $100 cheaper than Berkey's comparably sized Big Berkey unit, it uses just a single filter rather than a pair, and it has NSF 42 certified components (something that Berkey doesn't have). Plus, the main filter removes sodium fluoride and arsenic without the need for a separate filter.
Key Features:
Stainless steel gravity-fed system – TheProOne Traveler+ has the same design as the Berkey system: it uses 304 stainless steel for durability, holds 2.25 gallons of water, and is designed to sit on your kitchen countertop.
Removes hundreds of contaminants – The system uses a silver-infused ceramic filter with an activated carbon core, which removes hundreds of contaminants including chlorine, heavy metals, microorganisms, VOCs, and disinfection byproducts, and prevents bacterial growth.
Tested to NSF Standards – The components are officially NSF 42 certified and the filter has been tested to NSF/ANSI Standards 42, 53, P231, P401, and P473 for contaminant removal by a third-party lab. Check the test results here.
1,000-gallon lifespan – The ProOne® G2.0 7-inch filter, which is used in the Traveler+ system, has a 1,000-gallon of 6-month lifespan.
Best For:
Anyone looking for the best gravity water filter that looks and behaves similarly to the Berkey system but offers a better, more reliable performance at a lower cost.
Pros:
We think the ProOne Traveler+ has a much better filter design than the Berkey elements. The ProOne model uses a ceramic filter, which removes microbes like bacteria and cysts, which the Berkey system can't do. The filter also reduces sodium chloride – something you have to buy extra fluoride filters for in the Berkey unit.
It's great to see that the system's components are certified to NSF 42, and that the system has been third-party tested for performance to various other NSF Standards.
We think the money you save on this system versus the near-identical Berkey unit is an obvious advantage. Why spend more when you can get virtually the same outcome for so much less?
Cons:
The filter only lasts around 6 months, which isn't as long as Berkey's claimed filter life (around 3 years).
---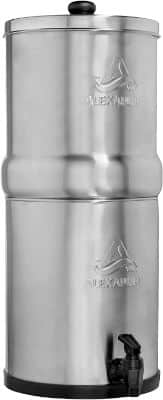 Alexapure Pro
We think the Alexapure Pro is a close second to the ProOne Traveler+ if you're looking for a stainless steel gravity filtration system that essentially is the Big Berkey unit, but without the expense and controversy.
This 2.25-gallon capacity system is just under $100 cheaper than Berkey's comparable model, and, like Berkey, has had its filters independently tested to remove over 200 contaminants – including arsenic and sodium fluoride.
Key Features:
Stainless steel gravity filter – Like the Berkey unit, the Alexapure Pro is a gravity filter made from stainless steel, including a stainless steel spigot that gives you instant access to filtered drinking water.
Removes 200+ contaminants – The system uses an NSF/ANSI standard 61 and California Prop 65 Compliant certified coconut shell carbon filter with a hybrid ceramic shell, and has been third-party tested to NSF Standards 42 and 53 for its ability to remove more than 200 contaminants
5,000-gallon filter life – A single filter in the Alexapure system reportedly has a 5,000-gallon capacity, or around 2.5-3 years for the average family of 4.
Best For:
Folks who want a quality gravity countertop water filter that has the same filtered water capacity and better contaminant removal than the Big Berkey system, for around $100 cheaper.
Pros:
The Alexapure Pro gives the Berkey a run for its money in a way that the ProOne Traveler+ doesn't: with a long filter lifespan. A single Alexapure filter lasts 5,000 gallons, which is almost as long as the estimated lifespan of two Berkey filters (6,000 gallons), so you can keep maintenance to a minimum.
This system also competes with Berkey when it comes to contaminant removal, with very similar testing data, plus a few extras – the main filter can also remove microorganisms, arsenic, and fluoride.
We also think this system's affordability puts it ahead of the Berkey unit, especially given their very similar performance.
Cons:
The Alexapure filters only have a verified filtration capacity of up to 200 gallons (around 14 days of filtration) according to testing. That doesn't mean they can't remove contaminants after 14 days, it just means they have only been tested until this point.
The Alexapure Pro only comes with 1 filter element, when there's room for 4 in the unit. Customers reported that using the system with a single filter had a very slow flow rate.
---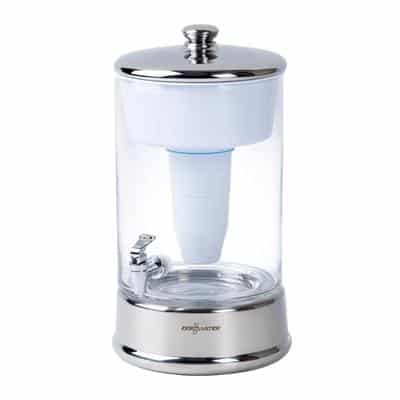 ZeroWater 40-Cup dispenser
If you want a gravity countertop filter that has a similar design to the Berkey unit but is more attractive, we think you can't go wrong with the ZeroWater 40-Cup dispenser.
This glass dispenser is also much more affordable than the Berkey system and its competitors, costing less than $80 upfront. You don't have to compromise on size, either – the ZeroWater dispenser holds up to 40 cups of water, or around 2.5 gallons, so you'll have plenty to keep you going throughout the day. Plus, the filter is officially NSF certified for its performance.
Key Features:
Glass countertop dispenser – The ZeroWater 40-Cup dispenser has a glass exterior with a stainless steel base. We think it's sleeker and more attractive than the stainless steel countertop units.
NSF certified 5-stage filtration – The filter in this unit combines 5 stages of filtration in one, including activated carbon filter media, oxidation-reduction, and ion exchange, and is officially certified to NSF Standards 42 and 53 to reduce PFOA/PFOS, lead, and chromium.
Reduces 24+ contaminants – According to ZeroWater's datasheet, the 5-stage filter can reduce more than 24 contaminants, including arsenic and fluoride (which you need a separate filter for in the Berkey unit).
20-gallon lifespan – The 5-stage filter has a rated capacity of around 20 gallons, or 2-4 months.
Best For:
Anyone who doesn't like the look of the stainless steel Berkey unit or any of its competitors and prefers a sleeker, more understated glass gravity filtration system that's budget-friendly and reduces similar contaminants.
Pros:
We love the ZeroWater 40-Cup dispenser's elegant glass design. You don't have to have an industrial-looking stainless steel unit dominating your kitchen countertop if that doesn't appeal. Plus, glass is even better than steel for holding water because it guarantees that nothing will leach into the water post-filtration.
Cost is another key benefit of this system. If you're on a tight budget or just like to get the best deal, there's no need to spend hundreds on the Berkey unit when you can filter water for far less with this ZeroWater system.
The ZeroWater 40-cup dispenser is also one of the only gravity countertop systems that has an NSF certified performance (rather than being third-party tested to NSF Standards, as the Black Berkey purification elements are). If you prefer the reassurance of an actual NSF certification, you've found the filtration system for you.
Cons:
From what we can tell, the ZeroWater 5-stage filter can't remove hundreds of contaminants, so, while it can remove contaminants that the Black Berkey elements can't (such as arsenic and fluoride), it still doesn't match up performance-wise.
The filter is the same one that's used in ZeroWater pitchers, and it only lasts around 2 months, max. That means you'll need to make at least 6 filter replacements per year – so the unit is much more maintenance-heavy than Berkey's offering.
---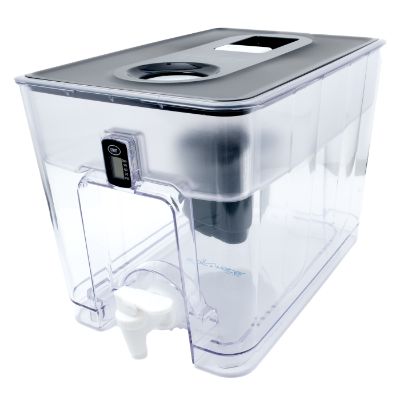 Epic Nano Water Filter Dispenser
Our top recommended choice for the best budget alternative to Berkey gravity filters is the Epic Nano Water Filter Dispenser.
This affordable countertop water dispenser costs less than $70 upfront and offers a performance to rival Berkey's, removing up to 99.999% of all tap water contaminants, including bacteria, cysts, and viruses (something Berkey systems can't do). Plus, it has a smaller design and can fit on a shelf in your refrigerator, so you don't have to have it on show.
Key Features:
BPA-free plastic design – The Epic Nano Water Filter Dispenser is a refreshing change from most other countertop gravity systems, with a rectangular design made from BPA-free plastic.
Tested to NSF Standards to remove 200+ contaminants – The Nano sub-micron filter has been third-party tested to NSF Standards 42, 53, and 401, for the removal of microorganisms, chlorine, fluoride, nitrate, arsenic, lead, PFAS, pesticides, VOCs, TTHMs, and more. View the test data here.
150-gallon filter lifespan – You can use the Nano filter for 3 to 4 months, or 150 gallons, before you'll need a filter replacement. There's a built-in filter countdown timer so you know when to buy additional filters.
Best For:
Folks who want the best affordable alternative to a Berkey system that they can store out of sight in their fridge, or anyone looking for a lightweight countertop unit that offers guaranteed removal of bacteria and cysts.
Pros:
The Epic Nano dispenser's plastic design makes it lighter and easier to transport compared to the Berkey unit and other steel or glass systems. It's also appropriately sized to sit on a shelf in your fridge, so you can enjoy filtered cool water without having to dispense the water first.
We think this Epic filter surpasses the Berkey's contaminant removal abilities. Like Berkey, the Epic Nano can remove 200+ contaminants, but the big difference is that it can remove fluoride and arsenic (no need for separate fluoride filters), as well as numerous microbiological contaminants.
Again, cost is a huge advantage of this filter, proving that you don't have to spend hundreds of dollars on a system with the Berkey filter's contaminant removal abilities.
Cons:
The Epic Nano dispenser holds less water (the upper reservoir holds 2 liters or 0.5 gallons, and the bottom reservoir holds 6.5 liters or around 1.7 gallons), so you'll need to refill it more often than the Berkey 2.25-gallon unit and its competitors on this list.
You might not want to use a water dispenser made from plastic, even if it is BPA- and BPS-free.
---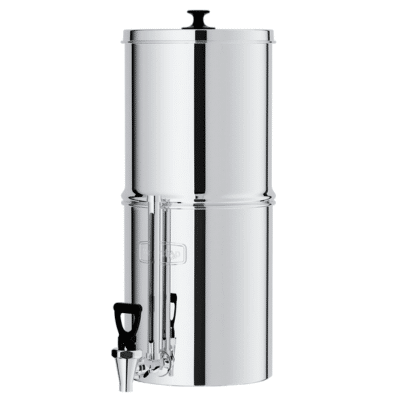 Waterdrop King Tank
If you want to buy a Berkey replica but with a few extra accessories and at a lower upfront cost, we think the Waterdrop King Tank can't be beaten.
This 2.25-gallon gravity filter unit is made from food-grade 304 stainless steel and has two carbon filters plus two additional fluoride filters, like the Berkey system – but it costs around $100-$150 less than the comparable Berkey model (depending on the deal you can find) and comes with several add-ons, including a stand, a water level spigot, and a wrench.
Key Features:
Stainless steel filter unit – Like the Berkey system, the Waterdrop King Tank has a stainless steel cylindrical design, with an upper chamber and a lower chamber. Water travels through the two filter elements before entering the bottom chamber.
4-stage filtration – The Waterdrop black filters combine carbon block with ion exchange resin, activated carbon, and PP cotton, and have been third-party tested to reduce sediment, chlorine, heavy metals, spore cysts, and more. You can also buy optional extra filters to remove fluoride.
6,000-gallon filter lifespan – The main black carbon filters in this Waterdrop unit have a 6,000-gallon lifespan, just like the Berkey elements.
Best For:
Anyone who loves the Berkey system's design and concept but wants a cheaper alternative that comes with a few free helpful extras.
Pros:
The Waterdrop King Tank filters have the same long 6,000-gallon lifespan as the Berkey elements, so this is the only unit that you don't have to compromise on filter lifespan for – and it's still much cheaper than Berkey upfront.
We think the fact that this Waterdrop model is so much cheaper than the Berkey system, and that it uses essentially the same filters and comes with a few extra accessories, makes it a no-brainer: you may as well save your money and buy this unit.
The free included water level spigot is a really handy accessory to have and solves the common problem of not being able to see how much water is left in the unit. It uses a red ball that floats on the surface of the water, so you can monitor your water level in real-time. Berkey sells a water level spigot at an extra cost.
Cons:
If you want an alternative to the Berkey unit because you're trying to avoid the hassle of separate filters for fluoride removal, the Waterdrop King Tank isn't for you.
We can't find any test results for this system, and we're not sure exactly which – or how many – contaminants it has been tested to remove.
---
🤔 Why Choose A Berkey Water Filter Alternative?
Choosing an alternative countertop filter to the Berkey filter gives you benefits that you can't get with a Berkey offering, including:
Reliable Contaminant Removal
Berkey has recently had to make amends to its contaminant removal claims, including removing claims that its filter elements can remove pathogenic bacteria.
So, we're not sure of the trustworthiness of Berkey's performance data – even though the Black Berkey filters did perform well in our own, limited lab test.
Plus, there are other countertop filter systems that can remove more contaminants and are more reliable. Countertop reverse osmosis systems are great Berkey water filter alternatives to consider if your goal is to remove as many contaminants as possible and enjoy pure, clean drinking water.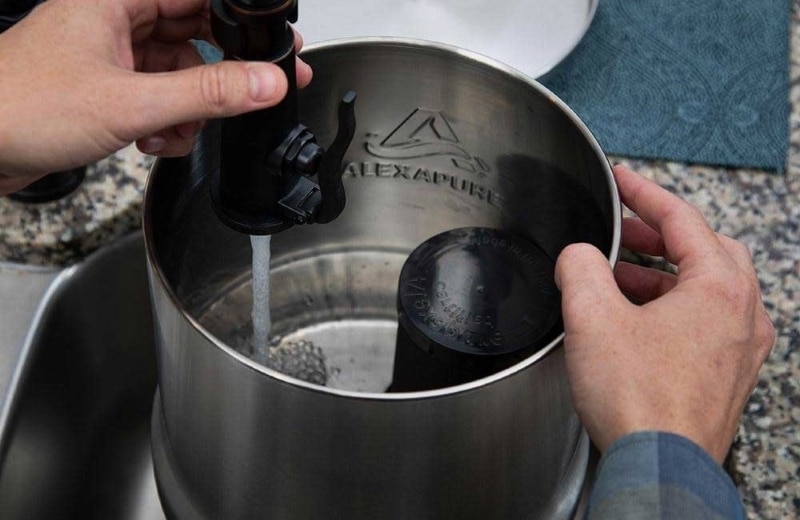 Cheaper
Another setback of Berkey filters is their price. The cost of the Big Berkey unit, which is Berkey's most popular offering, is over $350 – and that's not including the cost of replacement filters.
There are plenty of other gravity filters for countertop use that offer a very similar performance but don't have the same high price tag. If you're on a budget, you can buy one of these Berkey water filter alternatives without compromising on performance quality, so you get better value from your money spent.
Quicker Filtration
Berkey systems are gravity water filters, meaning they have a relatively slow flow rate because they rely on gravity to send water from the upper chamber to the lower chamber.
While Berkey's 7 gallon per hour (GPH) flow rate is good for a gravity filter system, it's still pretty slow, and you might not want to wait so long before there's enough filtered water in the bottom chamber for you to start dispensing.
In that case, a countertop reverse osmosis system is one of the Berkey water filter alternatives to consider. A good RO system has a much faster flow rate and can deliver purified water almost instantly.
No Controversy
You might have heard of the controversy surrounding Berkey filters in recent years.
Berkey won't disclose exactly what the Black Berkey filter element is made from, and it also won't get its filter systems tested or certified by the NSF, which has led it to be banned in states like California.
Plus, recently, Berkey has had to remove some of its contaminant removal claims from its website, including claims that the filter elements could remove microorganisms like bacteria. We've now been able to link this to the recent news that Berkey is suing the EPA because (to explain as simply as possible) in a new interpretation of its regulations, the EPA requires Berkey to register its products as "pesticide devices".
No other countertop water filter has faced the same level of controversy as the Berkey gravity filter system, so if you prefer a manufacturer with a squeaky-clean reputation, consider buying a Berkey water filter alternative.
Better Design & Features
The Black Berkey filter elements are good at removing contaminants, but the stainless steel filter units themselves are pretty basic.
You can't expect anything special performance-wise from these units, such as tracking the filter lifespan, checking your water levels, or adding healthy minerals to your water.
If any of these features are important to you, consider upgrading to a Berkey water filtration system alternative that does offer these benefits. You can also choose a countertop system with a different design if you don't like the industrial look of Berkey systems.
✅ 6 Things To Consider When Choosing A Berkey Water Filter Alternative
Here are the 6 factors to consider when you're choosing an alternative to the Berkey gravity water filter unit.
Your Budget
Start by outlining your budget.
There's no need to spend as much as you'd intended to spend on the Berkey system (the Big Berkey unit costs around $365 for reference).
Competitor gravity filter systems cost around $150-$250, depending on their size, so you can usually spend less upfront on a very similar system that delivers very similar results.
If you have a bigger budget, you might want to spend more upfront on a countertop RO water filter system, which removes more contaminants and has other beneficial features, such as remineralization and a fast flow rate. The average cost of a countertop RO system is $350-$600, depending on its features.
Your Contaminant Removal Goals
The contaminants in your tap water, and what you want to remove, are also important considerations to make when choosing an alternative to the Berkey filter system.
For instance, Berkey can't remove fluoride or arsenic (unless you spend money on the extra fluoride filters, which we don't recommend because they add large amounts of aluminum to filtered water – even if it is aluminum oxide). So, if you know your water contains either of these contaminants, you might want to buy a water filter that uses a main filter that's capable of fluoride or arsenic removal. Most of Berkey's closest competitors remove fluoride and arsenic with their main filters.
Or, you might be concerned about microbes in your water. The Berkey filter elements can't remove bacteria or other microorganisms, so in this case, you'll need to look for a Berkey alternative that can remove pathogens.
Your contaminant removal aims will determine the comprehensiveness of the filter treatment you require. Many gravity systems can remove tens, even hundreds, of contaminants, and some of them have testing to support their claims (more on that below).
If you don't know what your water contains, start by testing it to find out. Or, if you receive a municipal water supply, check your latest annual Water Quality Report.
Related: Berkey vs British Berkefeld Compared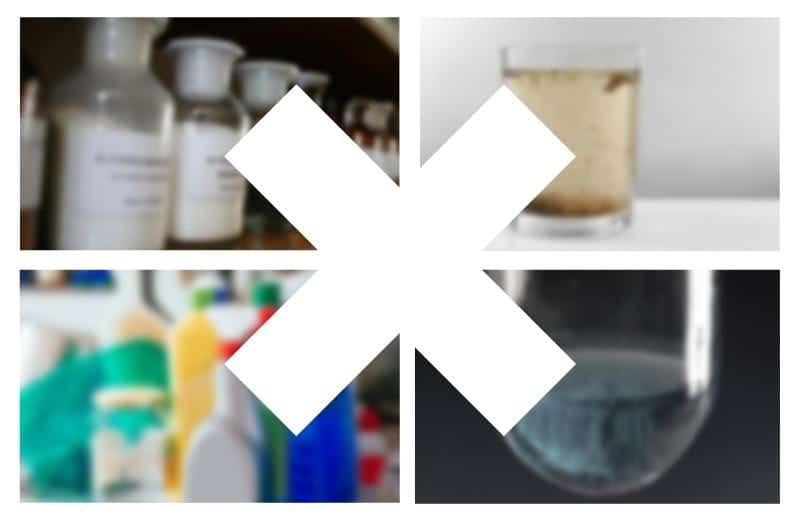 Filter Testing & Certifications
The best way to be certain of a water filter's contaminant removals is to read its testing data.
Many manufacturers of countertop water filtration systems share their test results online, so you can quickly see what they can remove and compare their performance to their competitors.
Look for filters that have been third-party tested by an independent lab to NSF Standards for performance, or filters that have official NSF certifications for removing various contaminants from tap water.
Third-party or NSF testing tells you that a water filtration system has been approved by a non-biased, professional organization for its contaminant removal abilities. (Berkey has lab test results, but no NSF certification).
Your Preferred Filtration Method
There might be a specific filtration method that you have in mind when looking for alternatives to Berkey filters.
If you like the setup of Berkey's design, simply look for a similar stainless steel gravity water filter. There are plenty of competitor models that essentially look and do the same as Berkey's gravity filter models, and often cost less because they're competing with a big name.
Or, if you want to avoid stainless steel systems and go for something a little more comprehensive, consider countertop RO systems. These systems deliver water at a faster rate and often have additional features. For instance, the RKIN U1 can remineralize water, has a hydrogen infusion stage, and dispenses both hot and cold water at the touch of a button.
Think carefully about which method of filtration best suits your requirements and lifestyle before you spend your money.
Your Setup & Maintenance Preferences
Setup and maintenance are also worth considering when deciding which filter you want to buy instead of the Berkey gravity filter.
Most countertop water filtration systems are partially pre-assembled, so they're easy to set up, regardless of the number of filter stages or the filtration method.
As for maintenance, stainless steel gravity filters require the least effort to look after in the long run because they have a good filter capacity. Most filters in these units last at least 6 months, and you only have one or two filters to replace.
Some units require more maintenance because they have shorter filter lifespans. Make sure you're happy to commit to filter changes before you spend your money.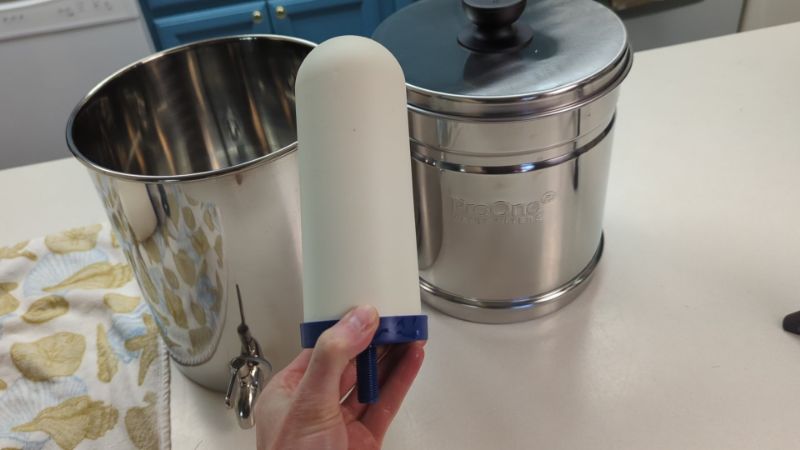 Manufacturer Support & Customer Feedback
Finally, consider the support offered by the manufacturer, including possible warranties and guarantees, and the customer feedback for the countertop water filtration system you're interested in.
We strongly recommend only buying a filter system if it has some sort of warranty or guarantee, which means your purchase is protected and you won't get stuck with something that might be faulty on arrival.
This is especially important if you're spending hundreds of dollars on a unit. Look for a 6-month warranty, minimum.
Customer feedback tells you everything you need to know about the customer experience with a Berkey alternative filter.
A few negative reviews here and there are to be expected, but avoid products that have a more even split between good and bad feedback, especially if the negative reviews highlight issues with performance or contaminant removal.