Berkey is a name that's synonymous with stainless steel countertop gravity water filters, while Waterdrop is arguably better known for its tankless RO systems, but also sells a countertop gravity system that's similar to Berkey's offering.
Both products are silver and cylindrical, so they look almost identical from the outside. But Waterdrop and Berkey offer different features, and their filters remove a different set of contaminants and are made from different materials, so they're each unique in their own right.
In this Waterdrop vs Berkey guide, we've compared the performance, contaminant removal, pros, cons, and filter lifespan of the Waterdrop and Berkey filtration systems, so you can decide which – if any – is best for you.
📖 TL;DR Waterdrop Vs Berkey – Which is the Best?
The Waterdrop and Berkey systems are both similar in design, but the Berkey system has a more comprehensive filtration process and can remove contaminants more broadly and effectively than the Waterdrop. For that reason, the Berkey unit is better than the Waterdrop.
Waterdrop filters are around $100 cheaper than Berkey's, but if you're looking for a cheap but effective alternative to Berkey systems, we would recommend choosing a unit with filters that can remove a greater range of contaminants.
⚖️ Comparison Chart
| | | |
| --- | --- | --- |
| | | |
| Product | Waterdrop King Tank | Big Berkey |
| Contaminants Reduced | 10+ | 203 |
| Filter Capacity | 1,000 gallons | 3,000 gallons/ filter |
| Filtered Water Holding Capacity | 2.25 gallons | 2.25 gallons |
| Warranty | 1 year | System & Parts – Lifetime, Black Berkey elements – 2 years |
| Buying Options | | |
💡 Filter Comparison
There are some obvious similarities between the Waterdrop and Berkey filters: they're both gravity water filters, so they use gravity to filter water rather than relying on water pressure or an electric pump. They both also have similar names: Waterdrop's filters are the Black Elements, while Berkey's are the Black Berkey Elements.
However, each brand has its own unique filter design, and Berkey's filters remove a different set of contaminants to Waterdrop's, so they don't offer an identical outcome.
In this review, we'll be focusing on the Waterdrop Black Elements and the Black Berkey filters.
Waterdrop Black Elements
The Waterdrop Black filters use just one type of filter media: coconut shell activated carbon, housed in a BPA-free plastic housing.
Activated carbon filter media is one of the most reliable and effective filtration media for removing chlorine, pesticides, and other chemicals, and improving water's taste and odor. It's not the most comprehensive filtration solution, but multiple studies have proven that it works for its intended purpose.
The Waterdrop Black Elements are compatible with Waterdrop's stainless steel countertop gravity-fed water filter system. They can also be used in Berkey's gravity water filtration systems, as well as some similar systems from other manufacturers.
Waterdrop also sells White Elements, which combine a mesh screen with a fluoride reduction resin, activated carbon, cotton, and non-woven fabric. You can buy these filters as add-one and screw them onto the bottom of the black filters, providing additional fluoride removal alongside the activated carbon filtration.
We couldn't find any evidence of third-party testing to support Waterdrop's contaminant removal claims, although the unit is NSF 372 certified for lead-free design by IAPMO.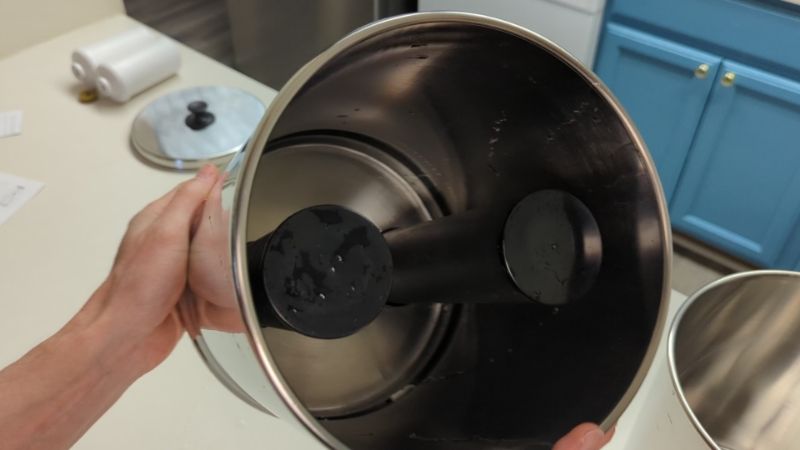 Black Berkey Elements
The Black Berkey filter elements are made from activated carbon media, along with five other types of filter media.
Four of these media are undisclosed by Berkey. We only know that alongside activated carbon is an ion exchange resin, which attracts and converts heavy metals into harmless ions. The filter media is constructed in a "complex matrix", with tiny micropores that, according to Berkey, attract even the smallest of contaminants (although we couldn't find a micron rating for Berkey filters).
Berkey does share test results for its water filters online. The Berkey filters have been independently tested by several EPA-accredited laboratories, and (according to the test results), can reduce chemicals, heavy metals, organics, microplastics, and more. Find more information on contaminant removal in the below section.
Like Waterdrop, Berkey sells a separate fluoride reduction filter. The Berkey PF2 Fluoride Filters are installed alongside the Black Berkey filter elements and remove a few additional contaminants, including fluoride and arsenic. We don't recommend Berkey's fluoride filters because we tested the filters and found that they add unacceptable amounts of aluminum to tap water.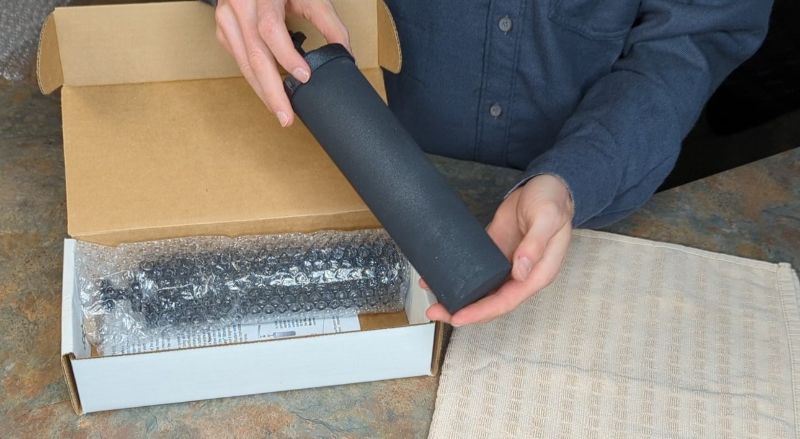 🧫 What Contaminants Do They Remove?
Berkey claims that its water filters can remove more than 200 contaminants from drinking water. As for Waterdrop, we couldn't find a conclusive list of contaminants removed, so we've used the information available in the manufacturer's FAQ.
We think Waterdrop is really missing out by failing to share conclusive information/evidence about what contaminants its filter elements can remove. If the manufacturer can invest money and effort into getting its reverse osmosis systems tested, it could do the same for its gravity water filters. The fact that it doesn't suggests to us that Wayterdrop's gravity countertop filters are less of a priority, while Berkey's systems are the brand's number-one offering.
Let's take a look at some common contaminants and see which filters remove them.
Berkey has shared more information on its filters' contaminant removal abilities, and it's clear that Berkey's elements have a lot more going for them in this respect. Waterdrop's carbon filters can remove a handful of contaminants, but we're missing a lot of important information on exactly which contaminants, and to what percentage, are removed.
Wondering where we pulled this information from? Check out the links below:
🚦 Performance Comparison
Now we know what they remove, let's move on to the key performance stats for the Waterdrop and Berkey gravity filters, including their flow rate, capacity, and reliability.
Waterdrop
Waterdrop's water filter cartridges offer a good performance, but we think they're no match to the other filters we've seen in gravity filtration systems.
The issue is that the elements only use activated carbon media, while other gravity filter cartridges often combine a blend of filter media, like ceramic filter cartridges, KDF media, and ion exchange resin.
This lack of different media types limits the filter's performance because carbon can only remove a handful of contaminants from water.
The flow rate is also pretty slow – around 1.32 gallons per hour, maximum. That's about half the speed of the Berkey filters' flow rate, so you'll have to wait around longer to access filtered water from the bottom chamber.
📌 Are Waterdrop filters reliable? As far as we can tell, yes. Customer reviews for the filters are overwhelmingly positive, and the unit has the reassurance of an NSF 372 certification for its design materials. Activated carbon is one of the most reliable media used in any filtration system due to its effective performance.
With that said, we think Waterdrop would attract a much bigger audience if it had NSF certifications for contaminant removal, and an accessible document online sharing the filter's third-party test results.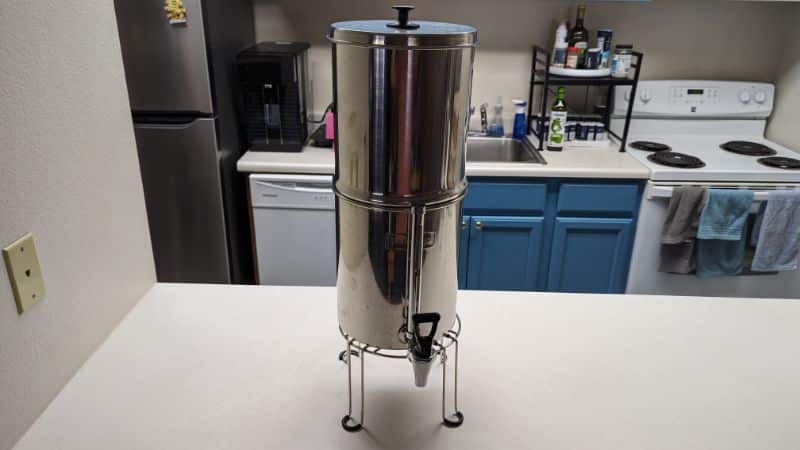 Berkey
The Black Berkey elements are some of the top-performing gravity filter elements you can buy. We already know that they remove more contaminants than most similar filters (around 203), and they do this while sustaining a relatively fast flow rate for filters of their kind.
Two filter elements in a Berkey system offer a flow rate of about 3.5 gallons per hour. That's pretty quick for gravity filters, although the flow rate does get slower as the water empties from the top chamber. Keep topping up the chamber as you take water from the spigot to prevent the flow rate from getting too slow.
You can double the speed of filtration by adding two more Black Berkey water filters to your countertop gravity water filter unit. With twice the number of filters, twice the amount of water will be filtered. Plus, the lifespan of each filter element gets doubled because the filtration is split between four, not two, purification elements.
As for reliability, we think Berkey filters are pretty good. They last a long time, and they remove a lot of contaminants – but there has been some discrepancy over exactly what the filters can remove, and Berkey recently revoked claims that its filters could remove pathogens. Plus, despite its popularity, Berkey hasn't obtained testing to NSF Standards or got its filters officially certified.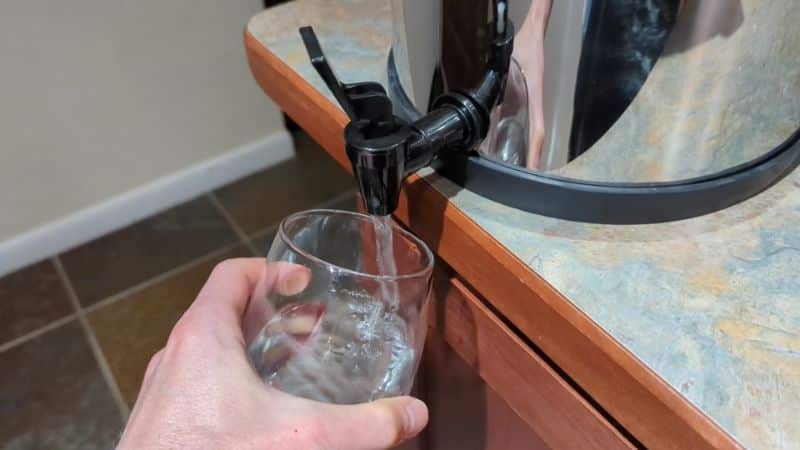 💲 Models & Upfront Cost
Waterdrop
The Waterdrop gravity water filter system has the cylindrical stainless steel design that we've come to recognize in copycat Berkey countertop filtration systems. You fill the top chamber with water from your tap, which then filters down into the bottom chamber, ready for drinking.
You can buy the unit with or without a stand (which costs $20 extra). We recommend investing in the stand, since water is accessed via the spigot at the bottom of the unit, and you'll have to position the unit on the edge of a countertop if you buy it without the stand.
There's just one Waterdrop gravity water filter model available:
This filter costs around $230 – so around $140 cheaper than Berkey's similarly sized option. We think the price is pretty spot on since Waterdrop's filters have a more basic design and don't last as long as Berkey's, so they remove fewer contaminants and require more regular filter replacements.
Berkey
You can buy two replacement Black Berkey water filter cartridges for around $165. That's expensive, but the filter lifespan is thankfully long, so you won't need to invest in new filters very often.
Being the biggest name in the world of gravity-fed water filter systems, Berkey can afford to price its products higher, knowing that it has a loyal customer base that will spend extra on a well-known brand name.
The Big Berkey is Berkey's most popular gravity water filtration system and costs around $370, with two water filter cartridges included. You can sometimes get a better deal on Berkey systems if the manufacturer is holding a sale on its website.
All the Berkey gravity water filter models work in the same way: they have a top and a bottom chamber, and unfiltered water flows through the filters before collecting as filtered water in the bottom chamber. You can then access the water from the bottom chamber via a built-in spigot.
All of Berkey's countertop gravity filtration systems are made from stainless steel aside from the Berkey Light, a lightweight, affordable alternative to Berkey's silver gravity water filter systems, which is made from BPA-free food-grade polyester.
You can currently buy the following gravity-fed countertop water filter systems on the Berkey website:
As with the Waterdrop unit, you can pay around 50-$65 extra for a stand for the Berkey systems. The cost depends on the stand size and type you need.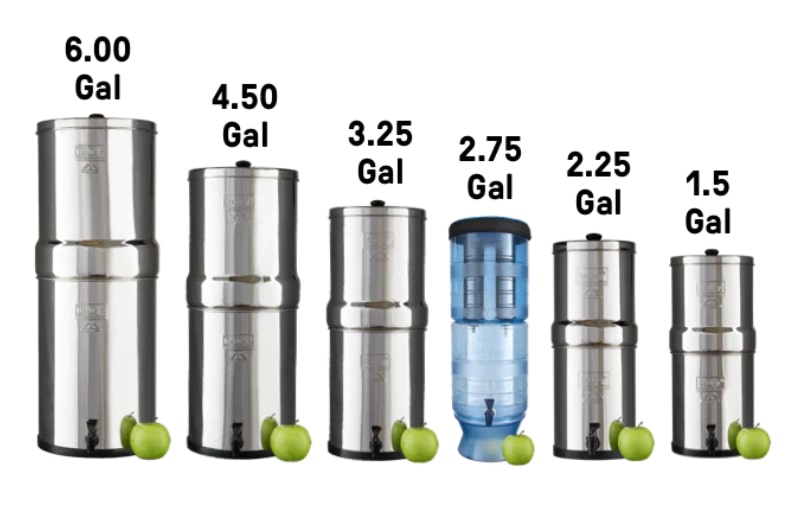 📆 Filter Lifespan & Replacement Costs
Waterdrop
The lifespan of the Waterdrop black filters is about 1,000 gallons. Waterdrop estimates that the average family using 5 gallons of water per day will need to replace the two filters every 200 days (or about every 6 months).
You can add another two filters to the unit if you want to extend the lifespan of all the filters to about 400 days (just over 1 year).
1,000 gallons is a pretty long lifespan, but it doesn't compare to the Berkey filter lifespan.
Berkey
A set of two Berkey filters last six times as long as the Waterdrop filters: 6,000 gallons (or 3,000 gallons per filter).
Berkey hasn't shared exactly how many years we can expect the filters to last, likely because it depends on your daily water usage and your water quality. Based on anecdotal evidence, we estimate that the filters should last for around 3 years for a family of 5.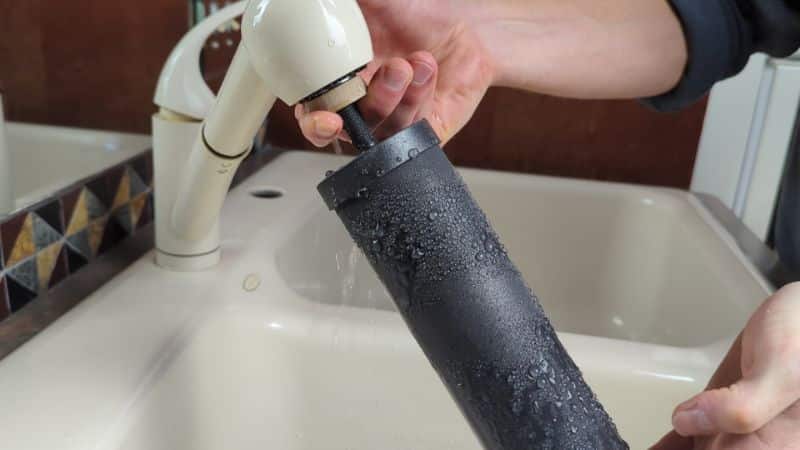 💬 Customer Reviews & Complaints
Waterdrop
Waterdrop's gravity-fed water filtration system might not have the same following as Berkey's countertop unit, but it still has great reviews, with an average 4.5 star rating from more than 800 reviews on Amazon.
Customers praised the filter for improving their water taste, and reviewers were pleased with the "better value" of the system compared to similar units.
A few customers complained that the spigot leaks, and some said that they wished the unit could hold four filters like Berkey, not two.
Berkey
Berkey has a dedicated fanbase, and its filtration systems are generally very highly reviewed on Amazon.
The Travel Berkey is the most popular Berkey unit currently available on Amazon, with a 4.6-star rating from more than 2,600 reviews.
Customers commented that the filter improved the taste of their water and were pleased with the long filter lifespan.
However, some reviewers said that priming the filters was a hassle, and others complained about leaking from the plastic spigot. Upgrading to the stainless steel spigot seems to fix this issue, but at an extra cost.
☑️ Pros and Cons of Berkey vs Waterdrop
👍 Waterdrop – What We Liked
Cheaper than Berkey systems – Waterdrop systems cost around $100 less than Berkey units, so they're a great choice if you want to save your money on a more affordable Berkey copycat system.
Fit Berkey filters – We read reviews from some customers who bought the cheaper Waterdrop systems with the Black Berkey filters, saving money on the unit itself while still benefiting from Berkey's unbeatable filtration.
Reliable carbon filtration – The Waterdrop filters might not be the most impressive we've seen, but activated carbon is a reliable filtration media for removing chlorine and improving water taste and smell.
Quality design – The filtration system has a solid stainless steel build, and unlike the Berkey unit, the Waterdrop system comes with a stainless steel, spigot (no need to pay extra to upgrade from plastic).
👎 Waterdrop – What We Didn't Like
Just one design to choose from – Waterdrop only sells its gravity filtration system in one size – a 2.25-gallon unit. If you want variety and choice, you won't find it here.
Some rusting complaints – A few customers said that the upper chamber in their system started to rust after a few years. The good news is that customer service was apparently quick to send a replacement tank.
Only room for two filters – The Waterdrop filtration system only fits two black filters, so you can't add more to speed up the water production rate.
Removes fewer contaminants than Berkey – Waterdrop has only shared limited information about its filter performance, but from this information, we assume that it can't remove hundreds of contaminants like the Berkey system can.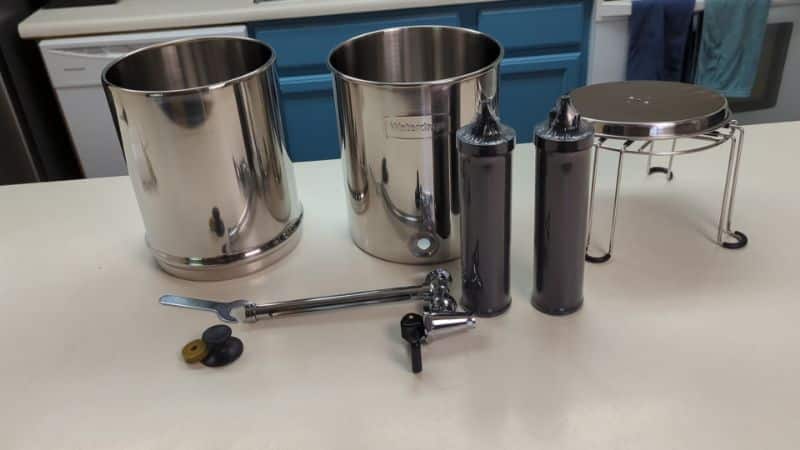 👍 Berkey – What We Liked
Removes 200+ contaminants – Berkey's countertop gravity filters remove more contaminants than most other gravity systems; around 203 in total.
Good filter lifespan – Berkey water filters last for 3,000 gallons per filter, so you can get years of use out of them before replacement filters are needed.
Lots of designs to choose from – Berkey has a range of filtration systems in different sizes, so you can choose the best gravity water filter for your needs.
Fits four filters – You can double the water production volume in your Berkey filtration system by using four filters instead of two.
👎 Berkey – What We Didn't Like
Expensive – Berkey water filtration systems cost much more than the Waterdrop systems.
Not NSF certified – Despite having the money to do so, Berkey hasn't invested in official NSF testing or certifications for its filters.
Revoked contaminant removal claims – Berkey originally claimed that its gravity-fed filtration systems could remove microorganisms, but these claims have since been revoked, making us wonder about the reliability of the brand's third-party test data.
Issues with fluoride filters – We tested our water and found that Berkey's fluoride removal filters add unacceptable amounts of aluminum to water.
❔ Should I Buy Waterdrop or Berkey?
So, now you know what sets them apart, which is worth your money: the Waterdrop gravity filtration system or Berkey's range of gravity-fed water filter units?
Berkey is definitely the brand to go for if contaminant removal is your priority. It might be more expensive than the Waterdrop unit, but it also provides much more comprehensive filtration, so it's the best choice if you want to protect your family from as many drinking water contaminants as possible.
If your budget is smaller and you can't afford the Berkey unit, there are plenty of other manufacturers of copycat Berkey filters that offer a much better performance at a discounted price. Check out our guide to the best Berkey filter alternatives for more information.
Like the sound of the Berkey filters, but not the price? You could buy the filters and use them in your Waterdrop unit, which should help you to save some money.
In our opinion, Berkey is the best water filter system of the two, but there are plenty of similar models to consider, so choose wisely.