ProOne (formerly Propur) and Berkey are two of the biggest names in the water filter industry. With both being fierce competitors, it's likely that if Berkey has done it, Propur has done it too.
In many senses, when we look at Propur vs Berkey, there are lots of similarities between the two brands. But their slightly varied styles and filtration offerings are what make them unique in their own right, and, ultimately, what will help you decide which brand is right for you. 
📖 TL;DR Propur vs Berkey – Which is the Best?
While both Propur and Berkey offer a range of system sizes to choose from, Berkey removes slightly more contaminants than Propur. However Propur's filters remove fluoride at no additional cost.
If you want a cheaper option, Propur is your best bet. But for most people, Berkey is better.
⚖️ Comparison Chart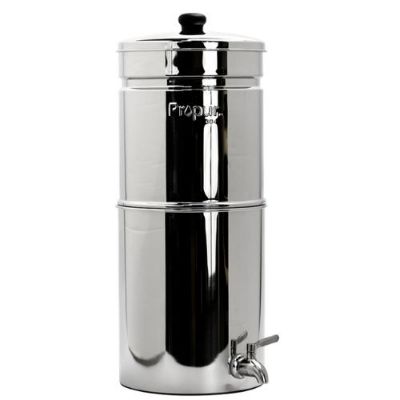 ProOne Big+
Filter: ProOne G2.0
Filtered Water Capacity: 2.75 gallons
Contaminants removed: 200+
Filter lifespan: Up to 10 months/ pair
Warranty: System & Parts – Lifetime, Black Berkey elements – 1 year
Price: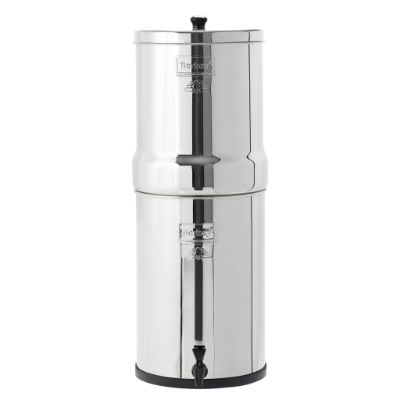 Big Berkey
Filter: Black Berkey elements
Filtered Water Capacity: 2.25 gallons
Contaminants removed: 203
Filter lifespan: 3,000 gallons/ filter
Warranty: System & Parts – Lifetime, Black Berkey elements – 2 years
Price:
💡 Filter Comparison
Both Berkey and Propur use a filter style known as a gravity filter, which is why Berkey vs Propur filter elements are so often compared. As the name suggests, this type of filter uses the power of gravity to pull water through tiny holes in the filter media, trapping contaminants and effectively cleaning the water. Though the Berkey and Propur water filters have the same general function, they do work slightly differently.
In this review, we'll be focusing on the two most popular filters offered by Berkey and Propur: Berkey's Black Berkey elements and Propur's ProOne filter.
Black Berkey Elements
The Black Berkey is a gravity Berkey water filter element that comes in sets of 2. Independent lab testing has found that the Black Berkey filters remove 100% of pathogens from water that had 10,000 times the amount of contaminants per liter. The Black Berkey filters contain tiny micropores that trap contaminants and remove them from the water that flows into the lower chamber of a gravity water filter.
To quickly highlight some of Berkey's additional filter systems, the brand also sells a fluoride reduction filter that can be threaded directly onto the Black Berkey elements; a 20,000-gallon shower filter for washing in clean water; and a sport gravity filter that fits in the Berkey water bottle.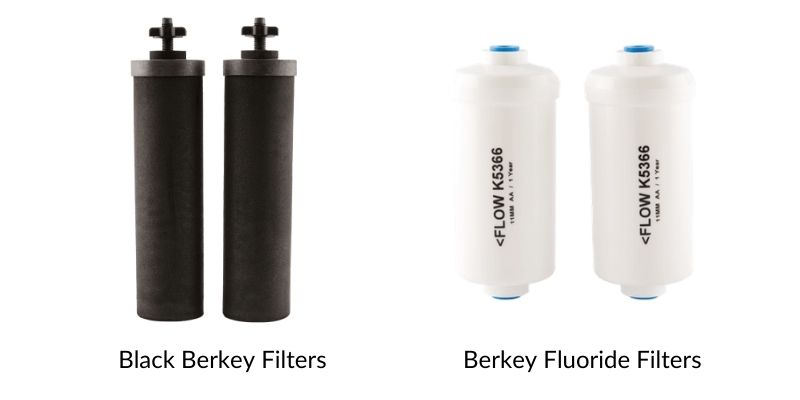 Propur ProOne
Propur's ProOne filter is an economical, easy-clean gravity filter, which is designed to target contaminants often found in well water or outdoor lakes and streams – as well as those found in tap water. Independent lab testing on Propur's behalf has found the ProOne filter capable of reducing or removing more than 200 contaminants.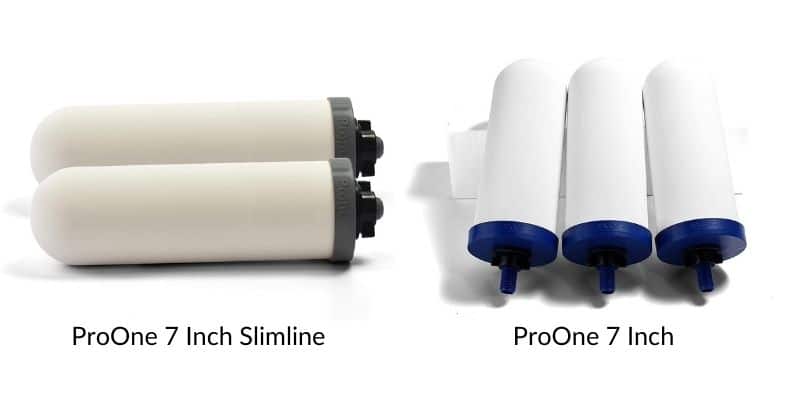 Alongside the ProOne, there are several other Propur water filters: The ProMax filter for countertop and under-counter filters, and the ProOne G2.0 Slimline, a gravity water filter similar to the ProOne that is also used in gravity-fed water filtration units. There's also an Inline Connect FS10 filter that uses ProMax technology, and a refrigerator filter, and a range of ProMaxTM shower filters.
🧫 What Contaminants Do They Remove?
Looking at water filtration, both the Berkey filters and the ProOne filters are advertised to remove a broad range of more than 200 contaminants from water. Included in these claims are common drinking water impurities like chlorine, lead and VOCs, as well as well water contaminants like bacteria, viruses and algae. Here are links for the full list of contaminants removed by each:
🚦 Performance Comparison
When comparing Berkey water filter vs Propur for performance, things get interesting. Propur water filters provide near-identical water filtration to Berkey, but with some differences. Let's take a look.
Berkey
The Black Berkey elements have a very high quality performance, being capable of removing more than 200 impurities from water at a speedy rate for a gravity water filter. A Big Berkey filter that contains the recommended 2 Black Berkey elements can filter water at a flow rate of 3.5 gallons per hour – though as the water goes down, the flow rate also decreases, so you might want to keep topping up with water for a faster job.
There's room in most Big Berkey filtration units to add another 2 Black Berkey elements, which roughly doubles the speed of the water filtration process and doubles the lifespan of each individual filter.
If you're looking for evidence that the Black Berkey filters work as advertised, you'll find it in their testing for NSF certification for Standard 53, which tests and certifies POU or POE systems for the reduction of a significant amount of harmful contaminants from drinking water.
Propur
Propur's ProOne is a clear rival of the Berkey filters, offering a similarly high quality performance, though there's no easily accessible list of exactly how many contaminants it removes from water. The only place we found this information was on the 3rd party lab reports which are posted on their website.
In terms of flow rate, it takes the ProOne 6 to 7 hours to produce approximately 3 gallons of clean water using 1 filter, which is over three times as long as the Black Berkey elements – but remember that we're talking about only 1 filter here, and the Black Berkey measurements may not be entirely accurate as they measure the speed of filtration when the water chamber is full. Like the Big Berkey, you can add an additional filter to speed up the process if you like, so in when comparing Big Berkey vs Propur here, there's not much difference.
The ProOne filter also has professional testing to back its performance claims to NSF/ANSI Standard 42 and 53, for reduction of a range of harmful contaminants including chlorine, taste and odor. According to Propur's website, the filter has been tested to these standards, and an independent lab result shows a significant reduction in contaminants – but it doesn't look as if the ProOne has an official NSF certification. Here's where in the Berkey vs Propur debate, Berkey has the slight advantage.
💲 Models & Upfront Cost
Berkey
The upfront cost of Berkey filters depends which one you choose to go for. The Black Berkey elements themselves cost $120 for a set of 2, providing water filtration for between 1 and 5 years (depending on daily water usage), but, of course, you'll need to buy a filtration system to use the filters in.
The most popular of the Berkey water filter systems is the Big Berkey, a 2.25 gallon system that costs $278 with 2 initial Black Berkey filters included. You can pay a little extra, $388, for an extra 2 Berkey filters to be included with the system, which will double the lifespan of all filters. This technically means you pay $110 for the extra 2 filters, rather than buying them separately for $120, so the savings aren't amazing. Berkey occasionally has sales knocking the price down by $10 or $20; nothing worth waiting around for.
This system has a stainless steel body, which combines an upper and lower chamber, connected by the Black Berkey filter elements. All of the Berkey countertop gravity water filters are stainless steel in design, apart from the Berkey Light, which is made from BPA-free food-grade polyester
To note a few more Berkey filter systems that use the Black Berkey elements, there's: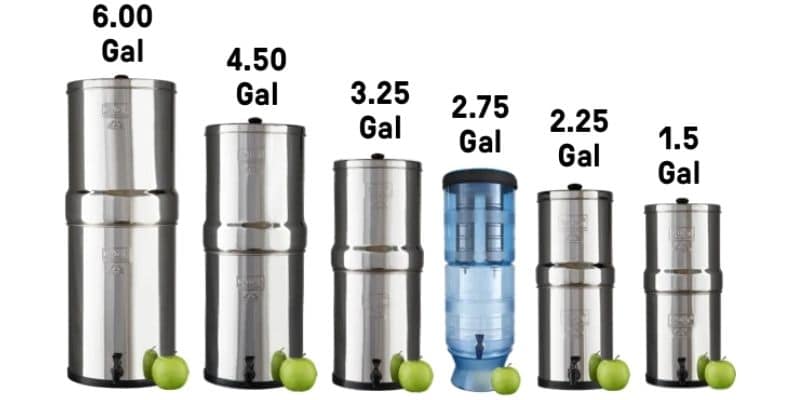 Propur
There are several Propur water systems that use the ProOne filters, the most popular being the Propur Big. This filtration system has a 2.75 gallon capacity and costs $279. Comparing Berkey vs Propur, when examining this alongside Berkey's 2.25 gallon Big Berkey at $278, the Propur comes out as the cheaper of the two, with a better price-per-gallon water filtration capacity. Berkey's countertop gravity water filter range is so popular, however, that it can likely get away with pricing higher per gallon than its competitors.
Like the Berkey gravity water filters, the Propur's range of filtration systems are constructed from 304 stainless steel that is resistant to corrosion and oxidation. The design of the Propur's units are near-identical to the Berkey's, a top chamber and a bottom chamber, and a water filtration element separating the two.
Alongside the Propur Big, there's also:
The ProOne filter can be purchased alone or as a replacement at several different prices depending on the filter size you opt for: 5 inch, 7 inch or 9 inch. The 5 inch filter ($69.50) is designed to fit in the Traveler and Scout units, and the 7 inch filter ($74.50) fits in the Big units. As you only get one water filtration element for this price, the per-filter price, and therefore the per-gallon price, for even the smallest Propur filtration element is slightly more costly than the Black Berkey per-filter price ($60).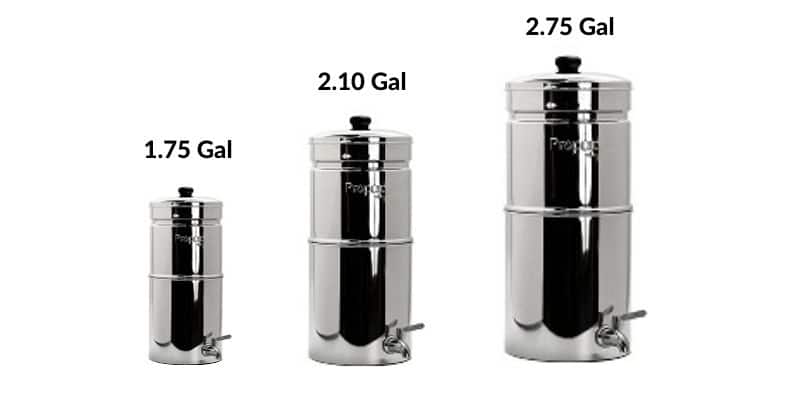 Though Berkey has a couple more choices than the Propur, including its penny-saving Light system, you're still pretty well covered with size options with both manufacturers, and both offer an option for travel.
📆 Filter Lifespan & Replacement Costs
Berkey
When you buy a pack of 2 Black Berkey Elements to fit a countertop gravity water filter system, you can expect them to last for approximately 6,000 gallons of water before they need replacing. It's difficult to put a time frame to this, as it depends on how much water you use from the filter, and therefore how many times you top the filter up per day.
Imagining that you had 5 family members, all drinking a gallon of clean water a day, your Black Berkey elements would last roughly 1,200 days, or 3 years and a couple of months. If you use less filtered water than 5 gallons per day, you'll get longer out of your elements. Though the elements cost a slightly pricey $120 for a pack of 2, you'll only need to pay this cost once every few years, so Berkey wins this Berkey vs Propur battle.
Propur
The Propur ProOne filters are sold individually at different prices for different sizes. The smallest 5 inch filter costs $69.50, while the 7 inch filter costs $74.50 and the 9 inch filter $79.50. The bigger the filter, the longer it'll last. The 5 inch filter lasts for up to 6 months with daily regular use. The 7 inch filter lasts 10 months, and the 9 inch filter lasts 12 months.
Be aware, though, that you can't always just buy the biggest 9 inch filter to space out your filter purchases, make sure you note which sizes your system takes.
💬 Customer Reviews & Complaints
Berkey
As one of the most positively-reviewed gravity water filters, the Berkey has a lot of internet fans. On Amazon, the Big Berkey currently has a 4.6-out-of-5-star rating, based on nearly 800 reviews. People commented that they were happy with the quality of the water container, and appreciated the fact that it helped them to live a more plastic-free lifestyle.
Many users also complimented Berkey's optional fluoride filters, which can be purchased at an additional price and attached onto the Black Berkey elements.
A good majority of water filters don't remove fluoride, and customers found these filters a good offering from Berkey, especially because they "actually work".
The biggest common complaint about the Berkey gravity water system is the rubber smell and taste that some users experience from using the system. This is caused by the Berkey's rubber washers and stopper. A simple solution, if the rubber taste is noticeable to you, is to throw out the rubber washers and replace them with silicone washers, which you can find online. As for the stopper, Berkey actually sells a stainless steel spigot which can be used in its place and won't give water a rubbery taste.
Another issue that some users brought up was that setup was a little tricky, because the instructions that come with it don't have a good diagram showing the exact valve placements, which makes it easy to go wrong. However, there are plenty of installation videos online that do a better job at explaining setup than the paper instructions.
Propur
Propur's Big Gravity water filter has an identical Amazon rating of 4.6 stars, but this is based on only 168 reviews. As with the Big Berkey, customers praise the Propur for being able to provide them with clean water and a plastic bottle-free alternative for drinking water, giving their tap water a much better taste. Some customers also commented to say they were feeling much better health-wise after switching to drinking contaminant-free water from the Propur.
Many users pointed out the importance of carefully following the instructions when setting up the Propur filter, including cleaning the filters before connecting them.
Some people had worked out their savings from using the Propur water filtration elements, and had found that though the system was expensive to buy upfront, it was more than worth the investment.
One complaint about the Propur is that it rusts, despite being "stainless steel". Because not everyone is highlighting this in their reviews, it's impossible to determine how big of an issue this is. According to Propur, who responded to a customer who complained about the issue, the issue was caused by his failure to clean the unit properly. But another customer seemed to think that some Propur systems are made of better-quality metal than others, as after buying one themselves and gifting another to a family member, the family member's "cheap" metal tank became rusty on the bottom after 3 weeks.
Another relatively common complaint is that when water filters from the top tank to the bottom, a small amount remains in the top tank, which needs to be emptied out before refilling. This isn't a major issue, but is worth being aware of.
☑️ Pros and Cons of Berkey vs Propur
👍 Berkey – What We Liked
Stainless steel build
The Berkey is made from stainless steel, which, unlike the Propur, has no customers questioning its durability. Berkey gravity filters don't rust and are designed for years of regular daily use.
Filters can be cleaned
The problem with a lot of water filters is that once they get clogged up with contaminants, you need to replace them immediately. With the Berkey, you can actually clean the filters from time to time, which prevents the flow from getting too slow. You just need to make sure to re-prime them before you use them again.
Filters out an impressive range of contaminants
The Berkey is hands-down one of the best gravity water filters when it comes to the sheer number of contaminants it can remove. It reduces so many contaminants (over 200) that you probably haven't even heard of half of them.
Relatively portable
Being a countertop unit, you can move the unit around or even empty it, remove the filters and take it with you on your travels. There's a Berkey Travel filtration unit that's designed specifically for taking with you on-the-go, and has more space-saving portability features that make it better-suited to packing in the trunk of your car.
Optional fluoride reduction
A major benefit of the Berkey is that it reduces fluoride, provided you purchase the optional fluoride filters at an extra cost. It's just a shame that these filters don't come as a free addition to the standard filtration elements, considering so many people want to remove fluoride out of their water nowadays.
👎 Berkey – What We Didn't Like
Needs refilling regularly
Like all gravity water filters, the Berkey doesn't have an infinite supply of water to clean as it would if it was connected up to your plumbing. This means you'll have to refill the unit, no matter which model you choose, on a daily or near-daily basis.
Expensive upfront cost
Berkey is more expensive than Propur, probably because it's the biggest name in the gravity water filter industry. If you've never tried a Berkey filter before, you might be unwilling to shell out hundreds of dollars for one.
No NSF certification
Berkey's products have only been third-party tested against NSF Standards, and don't have an official certification, which has led to some dubious customers questioning the legitimacy of the filters. An NSF certification would help Berkey to offer reassurance to their customers that their water filtration claims are backed up by a genuine certification.
👍 Propur – What We Liked
Cheaper than Berkey
Propur water filters are cheaper than Berkey, and you pay less to get more. If you're buying to a budget, the Propur filters may be the best option for you.
Removes fluoride at no additional cost
A big plus-point of the Propur element is that it removes fluoride – and you don't need to buy an add-on filtration element alongside the main element to benefit from this. This is another cost-saving advantage when compared to Berkey.
Portable options
Like the Berkey, the Propur has its own travel filtration system that is specifically designed with portability in mind. Because the Propur doesn't have to be connected up to your plumbing, you can take it with you to anywhere with a water supply.
👎 Propur – What We Didn't Like
Filters don't last as long
Something Berkey really has going for it is how long its filters last for. Propur's filters, on the other hand, don't last for as long, and you also can't clean them to extend their lifespan as you can with the Black Berkey elements.
Questionable quality of "stainless steel"
Though not all customers have complained about the Propur's "stainless steel" construction, there have been enough reviews to bring the issue to our attention. Whether the issue will affect you, or whether it's a one-off problem, perhaps due to poor choice of cleaning materials or a faulty batch, is unclear.
Takes longer to filter water
With only one filter (with the option to add one more) as opposed to Berkey's two (with the option to add two more), Propur's gravity water filters take longer to filter a gallon of water than Berkey's.
No NSF certification
Just like the Berkey, it would be more reassuring to customers if Propur had an official NSF certificaion.
❔ Should I Buy Propur or Berkey?
When it comes down to it, the Propur is essentially a lower-cost version of the Berkey, capable of removing fewer contaminants and with a potential rusting issue in some (perhaps defective) units – but otherwise near-identical.
Deciding on a winner between Berkey vs Propur is very difficult. Both filters are incredibly popular with people looking for a bottle-free clean drinking water solution, but in terms of brand recognition and volume of customer feedback, Berkey just comes out on top.