These are the best water distillers, based on technology, distillation speed, efficiency, and affordability.
📌 Things You Need to Know
You might be struggling to find the right water distiller because you're delving into a pretty niche market. You might not know which features to look for in the best water distiller.
Other review sites don't consider the best-value water distillers for different needs, so they often recommend products that are too expensive for most people.
We've shortlisted the best water distillers in this guide based on their most important features, including their capacity and distilling speed, their upfront and long-term costs, their testing and/or certifications, and more.
You should consider these features when you're deciding on the right water distiller for you.
🥇 Top 6 Best Water Distillers
📊 Comparison Chart
| Product | Pure Water Mini-Classic CT | AquaNui 10G | Waterwise 4000 | SteamPure Countertop Water Distiller | CO-Z Water Distiller | Waterwise 3200 |
| --- | --- | --- | --- | --- | --- | --- |
| Ranking | 1st | 2nd | 3rd | 4th | 5th | 6th |
| Ratings | 5/5 | 5/5 | 4.5/5 | 4.5/5 | 4/5 | 4.5/5 |
| Price | $$ | $$$ | $$ | $$ | $ | $$ |
| Production Rate | 0.80 gallon/ 3.5 hours | 10 gallons/ day | 1 gallon/ 4 hours | 0.8 gallons/ 5.5 hours | 1 gallon/ 4 hours | 1 gallon/ 4 hours |
| Wattage | 800 | 1,250 | 800 | 650 | 750 | 800 |
| Carbon Filter Included | Yes | Yes | Yes | Yes | Yes | Yes |
| Carafe Material | Glass | Stainless steel | Glass | Glass | Glass | Plastic |
| Water For | 1-3 People | 3-5 people | 1-2 People | 1-2 People | 1-2 People | 1-2 People |
| Warranty | 15 years (Stainless Steel); 2 years (Electronic) | 15 years (limited); 2 years (Electronic) | 1 year | 5 years (limited); 1 year (Electronic) | 14 days | 1 year |
---
⭐Reviews – Best Water Distiller 2023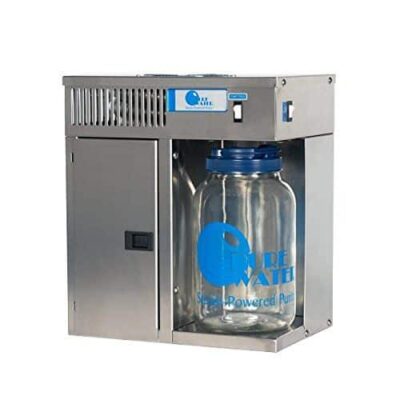 Pure Water Mini-Classic CT Counter Top Distiller
In our opinion, the Pure Water Mini-Classic Distiller is the best water distiller for most people. This stylish 800-watt countertop distiller is one of the highest quality distillers we've reviewed, which is, in part, down to its 100% USA-made build. If you're happy to invest a little more in a water distiller that's guaranteed to stand the test of time, the Pure Water distiller is the right choice for you.
Key Features:
Purified drinking water – The Pure Water Mini-Classic Distiller uses distillation and an activated carbon filter to remove a whole host of common contaminants from drinking water, including chlorine, fluoride, VOCs, bacteria, and lead. Helpfully, the manufacturer has shared third-party test results online, so we can see exactly what the unit removes.
0.8 gallons of water/ 3.5 hours – This water distiller can produce an average of 0.8 gallons of distilled water in 3.5 hours. That's slightly faster than the 1 gallon/5 hours average distillation time.
15-year/2-year warranty – Pure Water says the Mini-Class Distiller has the best warranty in the industry, and we're inclined to believe them. The unit itself has 15 years, and the electrical parts have 2 years.
Best For:
Households of 1-3 with big budgets who want to invest in the very best countertop water distiller available today.
Pros:
We don't think you'll find a better-made stainless steel water distiller on today's market. The Pure Water Mini-Classic is made in the USA and has a solid 304 stainless steel construction – which is durable and corrosion and oxidation-resistant.
We love how easy it is to set up and use this distiller. You don't need to worry about installation since the unit comes almost fully assembled. It uses a 1-gallon glass jar for holding water, and operates similarly to a coffee maker – just switch it on and wait for the jar to fill.
If you don't like the industrial look that most distillers have, you'll appreciate the Mini-Class Distiller's slim, more modern design. There's a built-in section for storing the jar for water storage, making it more compact and space-saving, too.
Cons:
The $750 price tag is probably a bit too high for some people.
The glass water jar only holds 1 gallon of water.
---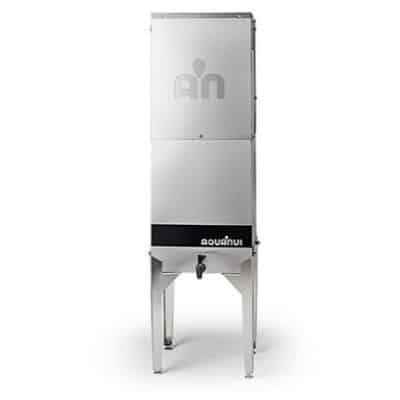 AquaNui 10G
We think that the AquaNui 10G is the best water distiller for folks who want to distill large quantities of water. This floor-standing distiller has a huge 10-gallon capacity – that's 10 times the usual capacity of a countertop water distiller – and has a maximum distilling capacity of 10 gallons per day.
Key Features:
Automatic distillation – The AquaNui 10G is a USA-built distiller that uses fully automatic distillation to purify water. The unit controls and automates every aspect of the distillation process, including adding feed water to the boiling tank and shutting down the system when the distilled water storage tank is full.
10 gallons/ day – You'll get up to 10 gallons of water per day from this oversized distiller, and the unit holds 10 gallons, too. You can even upgrade to a 15-gallon capacity if you have the room.
15-year/ 2-year warranty – This model rivals our top-choice distiller with a 15-year limited warranty and a 2-year full warranty on its electrical parts. It doesn't get any more reassuring.
Best For:
Families of 3-5+ who want a convenient, hassle-free way to distill large batches of water without having to constantly top up the water in the boiling chamber.
Pros:
We love this distiller's huge 10-gallon capacity and 10 gallon-per-day water production rate. That means you'll have constant access to distilled water, without having to repeatedly refill the boiling chamber throughout the day.
There are a few features that, in our opinion, make the AquaNui 10G more convenient than typical countertop distillers. You can dispense water straight from a built-in spigot, rather than having to pour from a water collecting jug. The manufacturer offers add-ons that make it easy to connect the unit to your fridge or kitchen sink faucet, too.
Because the AquaNui 10G is bigger than standard countertop distillers, its VOC filter is bigger, too. Most carbon filters in countertop distillers last 4 weeks, but the AquaNui distiller's filter lasts 3-6 months before it needs replacing. Less maintenance for you!
Cons:
You pay significantly more for this unit's large size. The $2,300 price tag might be too steep for some families.
There's nothing discrete or understated about this unit. It's big and bulky (naturally, given its 10-gallon holding capacity), and takes up a lot of floor space.
---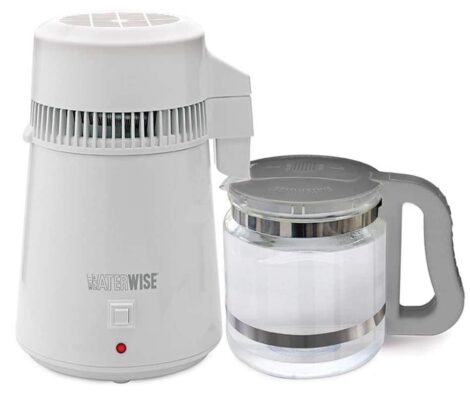 Waterwise 4000
Based on our research, we found that the Waterwise 4000 is the best premium water distiller on the market. This traditional countertop distiller costs just over $350, and, judging by its features and customer feedback, it's well worth the price tag. If you're looking for dependability, you'll find it with this Waterwise unit. Expect high-quality performance, with no leaks and no malfunctions – and excellent customer support, should you need it.
Key Features:
Traditional countertop distiller – The WaterWise 4000 is a traditional POU water distiller with an easy-fill 304 stainless steel condenser. This upgraded model uses a glass water jug that holds up to 1 gallon of purified water at a time.
1 gallon/ 4 hours – This distiller has a slightly above-average water production rate of 1 gallon per 4 hours. The unit automatically shuts off after each cycle.
1-year warranty – Waterwise warrants the entire unit against manufacturer defects in materials and workmanship for 1 year after your purchase.
Best For:
Folks looking to buy a premium, high-quality countertop water distiller that seamlessly purifies water with automatic distillation and carbon filtration.
Pros:
The included activated carbon filter gets rid of any lingering VOCs. We appreciate that Waterwise sells the 4000 distillers with 1 extra replacement filter, even if the 2-month lifespan isn't the best we've seen.
This Waterwise distiller is particularly easy to fill and clean, thanks to the wide-mouth design of both the booking chamber and the purified water jug.
You should be able to find space for this distiller on your kitchen countertop. It's about the size of a large coffee maker, and the white plastic and borosilicate glass design should blend in with the rest of your appliances.
Cons:
We read some customer complaints about poor-tasting water when first using the distiller. This should be avoided by thoroughly rinsing the unit and priming the filter before use.
The glass carafe has a slightly precarious design that causes it to spill if you don't pour water very slowly.
---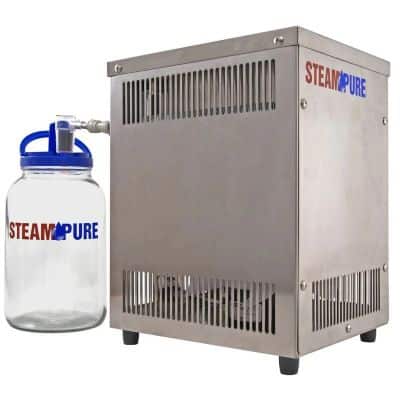 SteamPure Countertop Water Distiller
In our opinion, the SteamPure Countertop Water Distiller is the best American-made water distiller that money can buy. This 650-watt electric distiller is designed and manufactured in the USA and has a high-quality 304-grade stainless steel construction. It holds 1 gallon of purified water and produces about 0.8 gallons of distilled water every 5 ½ to 6-hour cycle.
Key Features:
Thorough water purification – The SteamPure Countertop Water Distiller combines distillation with activated carbon filtration to remove organic and inorganic contaminants, biological contaminants, radioactivate contaminants, and hundreds more.
0.8 gallons/ 5.5-6 hours – This pure water distiller has a slightly slower distillation rate than average, producing 0.8 gallons of purified water in 5.5-6 hours.
5 year/ 1 year warranty – The SteamPure distiller is sold by the manufacturer of our top pick distiller (Pure Water). However, the warranty on the whole unit is slightly lower, at 5 years, and the warranty for the electric components is just 1 year.
Best For:
Anyone who wants a distiller that they know they can rely on for its durable USA-made build, despite its slightly slower water production rate.
Pros:
It's easy to fill and clean this distiller thanks to its built-in boiling tank. No heavy lifting required!
We appreciate that the manufacturer has shared test results for this stainless steel water distiller. It's always good to see third-party proof of performance.
Maintenance is super simple. Just rinse out the boiling tank between cycles, give the boiling tank a proper clean once a month, and replace the carbon filter every 3 months.
Cons:
The water production rate is a bit slower in this distiller.
The glass collection bottle doesn't have a handle, so it's not the easiest to pour from.
---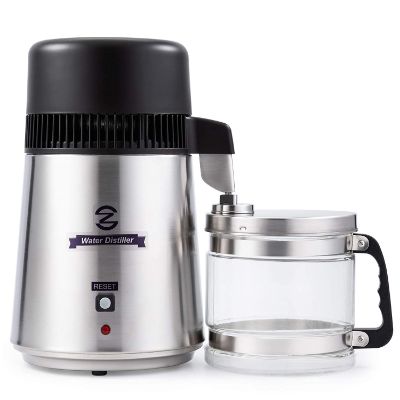 CO-Z Water Distiller
Our top pick budget choice distiller is the CO-Z system. This 800-watt stainless steel water distiller costs about half the price of similar countertop distillers -and produces about 1 gallon of distilled water in 4 hours. And don't worry, you still get high-quality components and a great performance from this unit, despite its lower price tag.
Key Features:
Filtration & distillation – As with all the best water distillers on this list, the Imber Isla provides two stages of water treatment: distillation and carbon filtration. The outlet spout of the distiller includes activated carbon to remove additional contaminants, like VOCs.
1 gallon/ 4 hours- The 750-watt heating element distills water at a rate of 1 gallon per 4 hours. That's pretty fast, as far as distillation goes.
Best For:
Anyone who can't afford a high-end water distiller but wants a similar performance and high-quality design from a lower-cost alternative.
Pros:
All materials used in the CO-Z system high quality, especially considering the unit's low cost. Both the boiling chamber and condensing coil are made from food-grade stainless steel – this means water doesn't touch any plastic at all during the process. The nozzle also contains a lead-free insert (as you would hope!).
This distiller is really easy to use – you just fill the boiling chamber with tap water and push the button to start distillation.
One of the best features of the unit (and an important feature of any water distiller) is its integrated auto switch-off, which switches the distiller off when it's done, preventing the risk of overheating when the water runs out. That means you can leave the unit on all day without having to watch over it.
Cons:
CO-Z only offer a 14 day warranty & return window, the worst we've seen.
---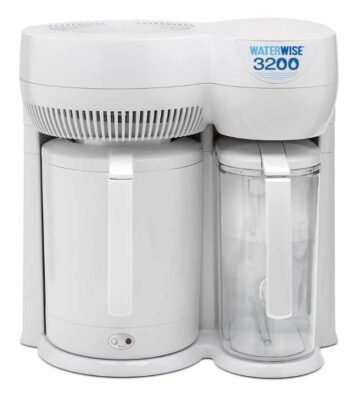 Waterwise 3200
Another Waterwise distiller to make our list, and our top pick for a distiller with a unique design, is the Waterwise 3200. This 800-watt distiller has an entirely different appearance from other countertop distillers, featuring two separate docking stations for two 1-gallon glass container water collectors. That means you can distill one batch of water while another batch is stored in the fridge to keep cool.
Key Features:
Distillation & carbon filtration – The Waterwise 3200 combines steam distillation with carbon post-filtration to produce entirely pure distilled water. You get a 6 pack of carbon filters with the initial purchase of the distiller.
1 gallon/ 4 hours – The Waterwise 3200 can produce one gallon of water in 4 hours. That's slightly better than the 1 gallon/ 5 hour average. The unit's maximum capacity is 6 gallons of water per day – plenty for large families.
1-year warranty – You can register your purchase on the Waterwise website to get a 1-year warranty against defects in materials and workmanship.
Best For:
Big families who use a lot of water per day or folks who want to be able to store a batch of pure distilled water in the fridge while continuing the distillation process into a separate jug.
Pros:
We love that the Waterwise 3200 has space for two glass collection containers, so you can distill water at a constant rate. Once you've got a batch of pure distilled water, you can put the glass container straight in the fridge, and the distiller will carry on distilling water into the other container.
Though the outside of the Waterwise is plastic, the boiling chamber is stainless steel, so it won't leach unwanted impurities into your water when heating it up.
The distiller is easy to clean in the sink thanks to its wide 7-inch opening and pop-out design.
Cons:
The 1-year warranty is lower than the other warranties for distillers on this list.
Both carafes are made from a BPA-free plastic called Tritan copolyester. You might prefer a glass container.
---
🧾 Water Distiller Buyer's Guide
Use this buyer's guide to learn everything about distilled water and its uses, important things to consider when buying a distiller, typical distiller installation & maintenance, and more.
💭 Important Things to Consider When Buying a Water Distiller
Before buying a water distiller for your home, consider the following things:
Your Budget
Establish your maximum budget before you start looking for water distillers.
Home water distillers cost $250-$650 on average, depending on their size, capacity, distillation speed, and the manufacturer.
No matter how far you can stretch your budget, there are plenty of options in different price brackets available.
Once you've decided how much you'd prefer to spend on a water distillation unit, you can narrow down your search online.
Your Water Quality/ Contaminants Removed
Distillers remove pretty much everything, but it's still a good idea to test your water before spending your money so you know exactly what your water contains – and what you most want to remove.
Depending on the filter used in your water distiller, the distilled water produced may contain no contaminants at all, or some contaminants that haven't been filtered out.
If you want to remove as many contaminants from your water as possible, look for a distiller that uses an activated carbon filter. Carbon filters, such as activated charcoal filters, can trap contaminants that can evaporate and condense with water, like volatile organic compounds.
Carbon filters don't take up much space in a water distiller, and we strongly recommend them to anyone who wants to achieve completely pure water.
Size of Distillation Chamber
A distiller's boiling chamber heats tap water to boiling point, enabling the water to vaporize and travel into a cooling corridor to condense. Most water distillers have a 1-gallon boiling chamber capacity, but some are bigger – up to 5 or 10 gallons.
The smaller the boiling chamber, the more frequently you'll need to add more water for distillation. But units with larger boiling chambers are larger overall, meaning they'll take up more side space.
Assess your water distillation needs and decide on a chamber size that's most appropriate for you.
Distillation Speed
Some water distillers offer a faster distillation speeds than others.
On average, a standard distiller produces 1 gallon of water within 5 hours. Some distillers may be slightly faster, producing 1 gallon of water in 4 hours, but the distillation process in general is slow, and there are no shortcuts to speed it up.
Make sure you're happy with a water purification solution that needs to be on all day and won't provide clean water on demand. If you're not, a distilled water system might not be right for you.
Quality Of Materials
Most water distillers are made from a combination of BPA-free plastic and stainless steel.
The materials used for the outer shell of a water distiller won't affect its performance. You might simply prefer a metal design over a plastic one for aesthetic purposes only.
There are plenty of materials and colors to choose from, so you shouldn't have a problem finding a distiller that matches your kitchen.
If your water distiller has a collection container made from plastic, make sure it's BPA free. Distilled water is more likely to pick up contaminants and other compounds found in plastics and some metals.
Testing/ NSF Certifications
The best reassurance of a water distiller's performance is an official NSF certification. A distiller can obtain a single NSF certification: NSF Standard 62. If a distiller is certified to this Standard, it means that the NSF has tested the unit and deemed it safe and optimal for its purpose.
Alongside certifications, look for third-party test data for a distiller's contaminant removal abilities. Even if a water distiller isn't officially certified, it's reassuring to see that the manufacturer has had their product tested for its performance, and is transparent enough to share these results online.
Energy Consumption
A typical water distiller can't operate without power. Because the distillation process is so slow, you'll need to keep your distiller plugged into an electric source all day.
Most distillers are between 650 and 800 watts.
Choosing a lower-wattage distiller won't help you save a bit of money on your energy bill since it will also slow down the distillation process. The extra hour or so of distillation means that you're spending just as much distilling a batch of water as you would in a faster, higher-wattage distiller.
The average cost of running a water distiller is 10 cents per liter, or 43 cents per gallon. It might not seem like a lot, but if you're distilling 2 gallons of water per day, and you use your distiller every day for a month, that will add about $26 onto your monthly energy bill.
Warranty & Guarantee
Without fail, you should always buy a water distillation unit that offers some form of warranty.
Look for a water distiller that has a minimum 6 month warranty. Many manufacturers offer warranties up to 15 years in length, although these might not cover all components (warranties on electrical parts are often shorter).
Some manufacturers also offer money-back guarantees that allow you to test their products within a trial period. If the distiller doesn't live up to your expectations, you can send it back within this period for a full refund.
🤔 What are Water Distillers?
A water distiller is a type of water purification system that turns water into steam, then captures and condenses it to remove contaminants and provide fresh, purified water.
Water distillers look a bit like a coffee pot, but slightly bigger. The bottom three quarters of the body is usually solid material, while the top half is where the condensing takes place. A spout at the top portion of the unit drips distilled water directly down into a separate plastic or glass collection bottle.
You can unscrew the top of a water distiller to add water to the main water boiling chamber. After that, the distillation process is automatic.
Types of Water Distillers
There are three common types of water distillers available today:
Residential/Household Distillers
Residential distillers, or household distillers, are countertop units that distill water that is manually added to the boiling chamber. These units cost as little as $90 and as much as $800.
Plumbed-in Distillers
Plumbed-in distillers, or plumbing distillers, are installed directly at your water line for on-demand distillation. These distillers are uncommon due to their inconvenience. They cost$450-$900+.
Commercial Distillers
Commercial distillers are large distillers that hold tens or hundreds of gallons of water. They usually cost $2,500+ depending on their size.
⚗️ How is Water Distilled?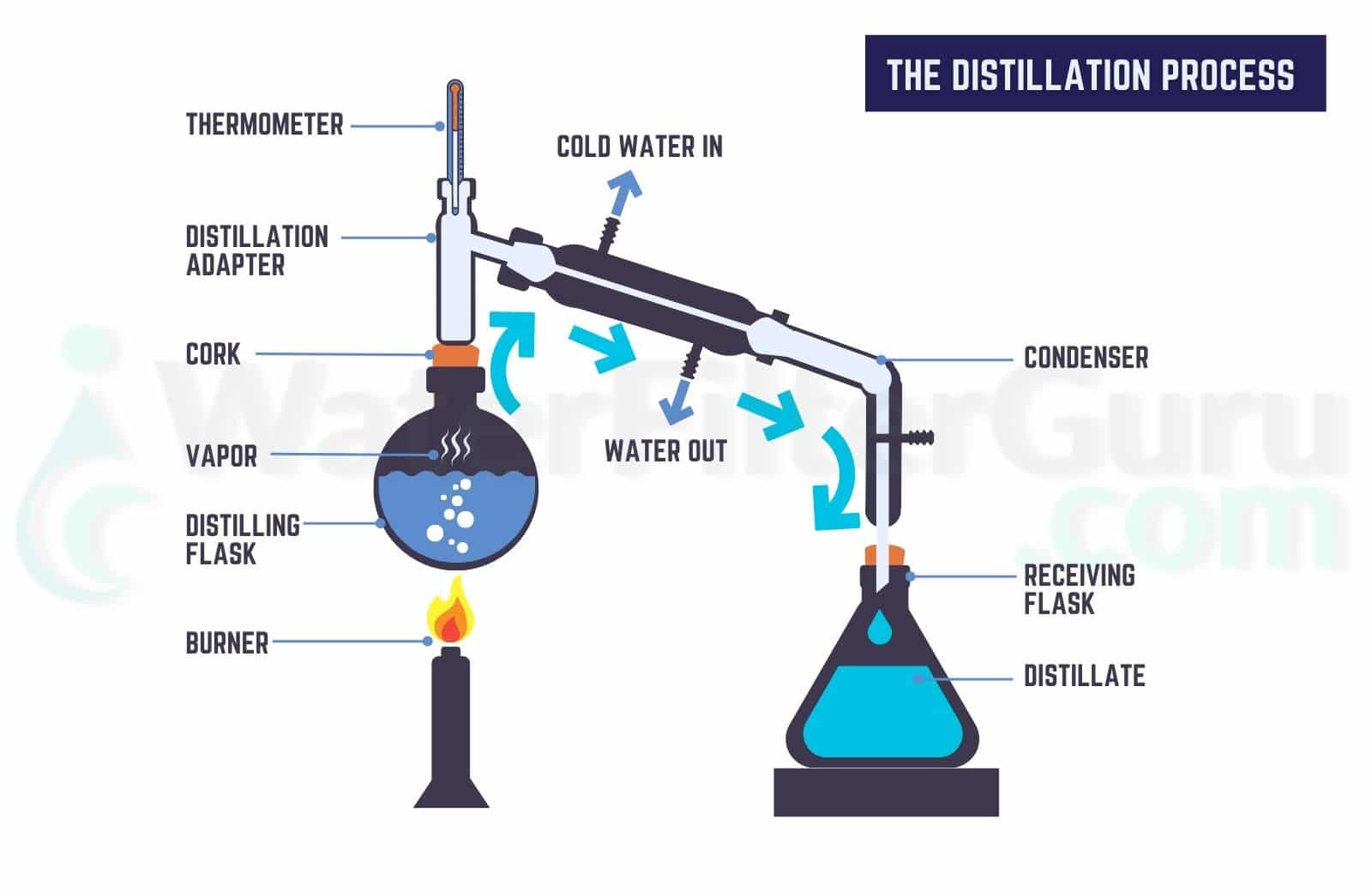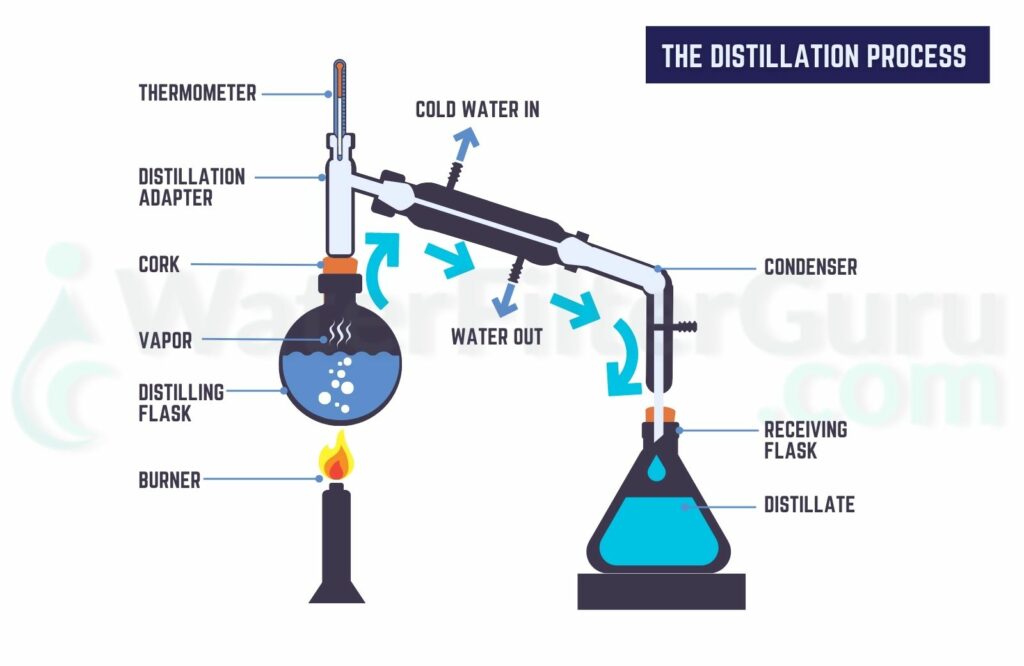 The process of water distillation is as follows:
Water is heated – First, you add water to the boiling chamber, which heats the water to a rolling boil. As the water evaporates, steam is formed.
Steam travels into a condenser – Rising steam escapes from a vent in the boiling chamber and travels into a condenser. The contaminants that can't vaporize at water's boiling point are left behind.
Steam is converted to liquid – Inside the condenser, a fan chills the steam and turns it into water droplets. These droplets pass through the condenser tube and make their way into an activated carbon filter.
Leftover impurities are filtered out – The carbon post filter uses adsorption to remove the impurities that can exist as gases and may have made it through the condenser as steam.
Water droplets collect in a holding tank – Finally, the water droplets leave the distiller through the spout and enter a holding tank, where they collect ready for use.
Does the Distillation Process Use Electricity?
Yes, the distillation process uses electricity.
Most distillers use between 650 and 800 watts of energy, or 0.65 to 0.80 kilowatts per hour.
If you have your distiller constantly running every day, it'll add $20-$80 to your monthly energy bill.
🧫 What Contaminants Do Water Distillers Remove?
A water distiller removes virtually all impurities found in tap water. Boiling water kills bacteria and other microorganisms, and the evaporation/condensation process leaves behind most metals, chemicals, and other impurities.
Some of the contaminants removed by a water distiller are:
Chlorine and chloramine
Water tastes and odors
Heavy metals, like lead and mercury
Fluoride
Arsenic
Pathogens like bacteria and viruses
Radioactive elements
Nitrate
Pesticides and herbicides
Pharmaceuticals
Other organic contaminants
🚫 What CAN'T A Water Distiller Remove?
There are a few impurities that can vaporize with water when heated up, including:
Some volatile organic compounds
Certain solvents and pesticides
While these contaminants can't be removed by the distillation process itself, most water distillers use activated charcoal filters that remove the leftover impurities before water leaves the spout.
👍 Advantages of Water Distillers
Purifies Water
A water distiller is one of the most thorough water treatment methods. You don't just get filtered water from a distiller – you get virtually pure water. If you're concerned about any contaminants in your water, a distiller should remove them for you.
Portable Solution
Most at-home distillers are countertop units, so they're small enough to take with you to your office or on vacation. Remember that distillers use electricity, though, so you can only take a countertop water distiller to a location that has accessible power outlets.
Affordable & Cost-Effective
Water distillers are similarly priced to under-sink water filtration systems, costing $250-$800 on average.
The initial price might be a bit steep for some people, but a high-quality stainless steel distiller will pay for itself with years – maybe even decades – of operation.
You only have to pay to replace the carbon filter (if you choose to use the filter), which costs less than $50 per year.
Easy Install
Setting up a water distiller takes just minutes. Most water distillers have built-in chambers for boiling water, reducing the separate parts in the unit.
You don't have to install a water distiller at a water pipe, so it's simply a matter of connecting the parts, adding water to the boiling chamber, and switching the machine on.
Low-Maintenance
Water distiller maintenance is minimal, too. Unlike most other forms of water treatment, water distillers don't have multiple filters to change so they'll operate properly in the long term.
You simply rinse the boiling chamber after every use and give it a deep clean at least once a month. If you choose to use carbon filters, a new filter will be needed every 4-6 weeks.
👎 Setbacks of Water Distillers
Long Process
It takes between 4 and 6 hours on average for a water distiller to produce one gallon of purified water.
Getting a slightly higher-wattage system will speed up the distillation process somewhat – but distillation will never be an on-demand filtered water solution.
Limited Capacity
There's only so much water that a stainless steel distiller can hold at one time.
Most distillers are capable of producing up to 1 gallon of distilled water. You'll have to refill the boiling chamber periodically throughout the day to keep the distillation process in action.
Some manufacturers sell larger free-standing distillers that hold 10 or 20 gallons of water, but these take up more room.
Distilled Water is Prone to Recontamination
Distilled water is pure water, with a lower pH than normal tap water which means it's more susceptible to recontamination.
As long as you store your distilled water in a container (such as glass) that won't leach impurities back into your water, recontamination shouldn't be an issue.
Distilled Water Tastes Flat
Distilled water contains none of the bad stuff, which is great – but it also doesn't contain healthy minerals and salts that give water a pleasant, slightly sweet, alkaline taste.
If you find distilled water too unpleasant to drink, you may be less inclined to stay hydrated. Dehydration may lead to tiredness, dizziness, and headaches.
Related: Top Water Filters in 2022
💡 What is Distilled Water?
Back in the day, people would boil water and collect the condensed steam, which is essentially the distillation process we use today. When the water evaporates, impurities that are unable to turn into gas form are left behind.
This process, known as distillation, removes bacteria and other harmful microbes, as well as minerals like calcium and magnesium.
The process of distillation can lead to either a complete or partial separation of elements, depending on how volatile these elements are.
The exact pH of distilled water is difficult to determine, because when the water is exposed to air, it absorbs carbon dioxide, making it more acidic. Generally, though, distilled water as a product has a pH of 7, making it neutral (neither acidic or alkaline). Once it is exposed to air, the pH level of distilled water could drop down to below 6.
📝 What is Distilled Water Used For?
Distilled water is used for a range of purposes, including:
Adding to a Humidifier
Distilled water is the cleanest, safest type of water to put in a humidifier. Normal tap water is more likely to corrode the humidifier, promote bacteria buildup, or cause scale formation. Using distilled water in your humidifier ensures that the air you breathe in your home is impurity-free.
Drinking
Distilled water is free from most health-harmful contaminants and impurities that give water an unpleasant taste or smell, which makes it great for drinking. When you drink distilled water, you know for certain that you're not putting anything dangerous into your body. No need to resort to bottled water.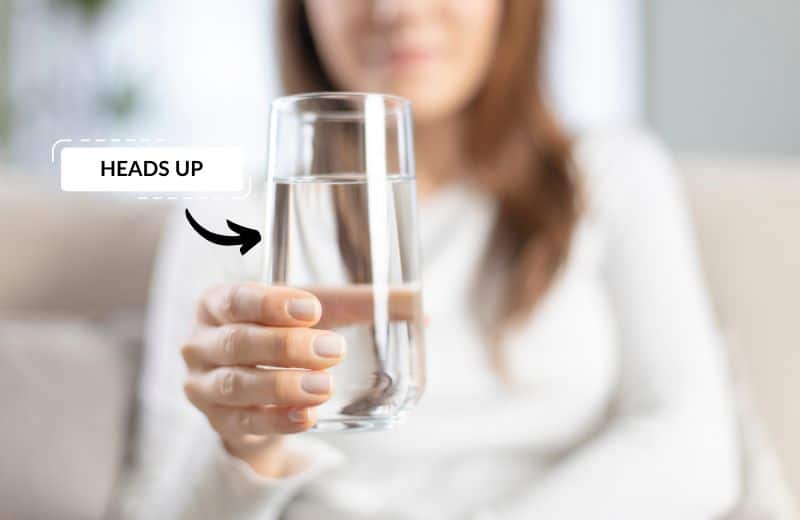 Medical Sterilization
Distilled water is used for a number of medical sterilization purposes in hospitals and doctor's practices. It's used to clean instruments ready for surgery, clean wounds, and sterilize surfaces. Some dental practices use distilled water as a post-treatment mouth rinse.
Vehicle Maintenance
If you put normal water into your car's cooling system, the minerals and metals in your water could cause scale buildup or corrosion. Distilled water doesn't contain minerals, making it safer and more practical to use in your car.
Canned Vegetables, Fruits, and Legumes
The water in canned vegetables, fruits, and legumes is distilled, which helps the tin's ingredients to maintain their color. Tap water can result in cloudiness and could even alter the taste of the food, because of its mineral and salt content.
Cosmetic Products
Almost all cosmetic products contain some form of water. This water is completely contaminant- and bacteria-free to reduce the risk of infection. Distilled water is a common choice in cosmetics, thanks to its lack of minerals and other impurities.
Home Aquariums
Putting normal tap water into an aquarium is a death sentence for your fish, due to the water's nitrate and chlorine content. Distilled water is free of these contaminants, so it's generally better for home aquariums. Always check the pH levels of your distilled water to make sure it's appropriate for use in your fish tank.
Ironing
Staining on your ironed clothes is caused by scale-causing minerals in your the water you add to your iron. Using distilled water will prevent limescale buildup and stop the inside of your kettle from corroding.
Watering Plants
Tap water contains harmful chemicals that could damage your plants. For the healthiest garden, switch your regular water to distilled water.
Cooking and Baking
Distilled water can absorb more flour than tap water, creating a batter that's smoother when baked. Distilled water also won't cause discoloration in vegetables like potatoes when you use it for boiling, and comes to a boil at a slightly lower heat than standard tap water.
Washing Hair and Skin
The calcium and magnesium minerals in hard water leave deposits that irritate and dry out skin and hair, and make it difficult to lather soap and shampoo properly. Distilled water contains none of these damaging minerals, and lathers far better with soap and shampoo.
Baby formula
Babies need purified or distilled water in formula mixes as their immune systems are still developing, which means they're more susceptible to common tap water contaminants like bacteria, arsenic, and lead. Distilled, contaminant-free water is safest for baby formula.
✅ How to Store Distilled Water
Distilled water is entirely pure, so it's more susceptible to leaching – absorbing chemicals and contaminants from the container it's stored in. That's why most water distillation units have BPA-free plastic or glass holding tanks, which don't contain anything that could get into your clean water.
If you want to take your distilled water with you on the go, store it in a BPA- and BPS-free plastic or stainless steel bottle.
Distilled Water Shelf Life
Distilled water can last long into the future if you store it properly. Store-bought distilled water lasts several years in an airtight container, or a year or two once opened. If you're distilling water yourself, your water will probably go stale after a week or two. While it'll still be safe to drink, it might not taste so enjoyable.
👌 Why Use Distilled Water? 7 Benefits
Distilled water is completely pure, and doesn't contain any contaminants or impurities that could alter its taste, smell, or quality.
Here are some of the biggest benefits of distilled water:
Cheaper Alternative to Bottled Water
The initial price of a high-quality stainless steel distiller can be quite steep, but after that, you'll be able to enjoy distilled water whenever you want it – almost for free. Using a distiller in the long run means you'll ultimately save money that you'd otherwise spend on buying bottled water.
Work out what you currently spend on bottled water over an entire year, then compare this to the cost of a water distiller. You've probably already made a saving – and remember that the best water distillers are designed to last long into the future.
Convenient for Storing
Water distillers are about the size of a large coffee pot and don't take up vast amounts of side space. You can store your water distiller in a location that suits you.
Plus, when your distiller is on show, it shouldn't be an eyesore. There are plenty of designs, colors, and styles to choose from, so you can easily find something that best matches your kitchen.
Bacteria- and Virus-Free Water
Most water filter types aren't capable of removing bacteria and viruses. Microorganisms are small enough to fit through even tiny filter media, but they can be killed with heat – which is how a water distiller deals with these impurities.
Purest Water Option
Distillation produces purer water than most other types of water filtration. Distilled water contains very few contaminants, minerals and impurities, making it suitable for use in a number of laboratories, food processing, and industrial industries.
Potential Detoxification Benefits
Drinking distilled water may help your body to clean itself in a process known as detoxification.
Toxins, minerals and other harmful chemicals build up inside the body over time, and distilled water may help flush out these toxins – although more evidence is needed for these health claims to be validated.
Fresh Source of Water
When you buy bottled distilled water, you don't know how many months it's been stored before you drink it. Home-distilled water, on the other hand, can be produced and consumed immediately, so it should look and taste fresher.
Eco-Friendly Alternative
If you usually buy your distilled water at the supermarket, making the switch to home distillation will help you to do your bit for the environment.
Plastic bottle waste is a major global problem. If you choose to distill water at home, you cut out the need for single-use bottles entirely, minimizing your personal contribution to plastic waste.
Distilled Water Vs Other Water Types
Distilled Water Vs Reverse Osmosis Water
Reverse osmosis is another form of water purification. Distilled water and reverse osmosis water are very similar, but reverse osmosis water may contain chlorine byproducts, some microorganisms, and some dissolved gases.
Distilled Water Vs Filtered Water
Filtered water isn't often as thoroughly purified as distilled water. Most standard water filters can reduce a handful of common contaminants, including chlorine, heavy metals, and VOCs. It's uncommon for a water filter to remove microorganisms like bacteria.
Distilled Water Vs Purified Water
Distilled water is a type of purified water – but not all purified water is distilled. For instance, reverse osmosis water is another type of purified water. If a water supply contains virtually no impurities, regardless of its treatment process, it's known as purified water.
Distilled Water Vs Deionized Water
Deionized water is water that has had all of its charged ions (such as minerals and salts) removed. Some water deionizers combine the deionization process with filtration, but they still don't produce purified water.
Distilled Water Vs Spring Water
Spring water is a type of bottled water that's sourced from natural underground springs. Spring water has a pleasant taste due to its high mineral content, but it may also contain trace contaminants, such as heavy metals. Spring water is nowhere near as pure as distilled water.
Distilled Water Vs Alkaline Water
Alkaline water is filtered water with added minerals. Alkaline water isn't as pure as distilled water and usually contains trace impurities, even after it has been filtered.
🔧 How to Install A Water Distiller
Water distillers require virtually no set-up and don't need to be connected to your water line.
Make sure you check your product manual for more information about set-up when your water distiller arrives.
If you're just curious about the installation process, here's what you'll usually need to do:
Open your box and place everything on your countertop. You'll find an instruction manual, a set of carbon filters, an electrical lead, the distiller, and the water holding tank.
Screw the handle on your water holding tank. Some handles won't need screwing on, but slide or click into place.
Flush and install your carbon filter. Put your carbon filter into its designated filter housing (usually near the spout). You'll probably need to flush the filter under running cold water before use
Plug cable into the distiller. Plug one end of the cable into the back of the distillation unit, then connect the unit to a power socket and switch it on.
Distill a batch of water. Fill the boiling tank up to the "full" line and allow the machine to distill the water. Throw out the first batch of water or use it for non-drinking purposes (it'll contain carbon particles from the filter).
Clean out the distiller. Use a scouring pad to clean the boiling tank, then refill the tank with water. You're now ready to use your distiller.
🛠️ Water Distiller Maintenance
Water distillers need cleaning regularly to prevent a buildup of impurities that could affect distillation efficiency and speed.
Cleaning your distiller
You may especially notice a build-up of limescale, dirt, and debris over time in the boiling chamber.
Ideally, clean your boiling chamber at least once a week – or, even better, between each batch of distilled water produced.
To clean your distiller, follow these steps:
Unplug the power cord.
Remove the lid and soak it in warm water with vinegar or lemon juice. Wipe down the lid with a clean cloth and set it aside
Fill the chamber with the same warm water mixture, then leave the solution inside the distiller overnight.
The next morning, wipe the chamber again and rinse it with clean, fresh water.
One big no-no for water distiller cleaning is using shop-bought cleaning agents, bleach, or any products that contain harsh chemicals. Traces of these chemicals might get left behind in your boiling chamber. If they evaporate and condense with water during the distillation process, you may end up contaminating the filter.
Changing your filters
Over time, your distiller's activated carbon filters will become clogged with sediment and impurities.
If you distill one batch of water per day, the carbon filter should last for roughly four weeks. Make sure to replace the filter on time to prevent bacteria buildup in the filter media and decontamination of your water.
You can buy replacement filters online. Look out for discount deals on bulk-buying your filters.
❔ Frequently Asked Questions
Is distilled water safe for babies?
Yes, babies can drink distilled water. In fact, distilled water is recommended for baby formula because it's guaranteed to be free from contaminants that can make water unsafe for preparing formula, such as lead, nitrates, and microorganisms.
How often should I clean a water distiller?
This really depends on the quality of your normal tap water. Based on the area you live in, your home's drinking water may contain more or less contaminants than average. The more contaminants your water contains, the more will get left behind in your boiling chamber.
As with most cleaning tasks, the more frequently you can clean your boiling chamber, the better you'll be able to keep on top of the job. You may notice a build-up of limescale in your boiling chamber over time, which is caused by calcium and magnesium in your water. This is particularly difficult to remove, especially if you've left it for several weeks.
At the very minimum, you should rinse out your distiller between batches. You should then schedule in regular cleaning with warm water and lemon juice for more thorough maintenance.
Why do water distillers come with activated carbon filters?
During water distillation, most contaminants aren't able to evaporate as gases, which means they stay behind in the boiling chamber. However, some impurities can evaporate and condense with water, which means they need to be removed using another method. Activated carbon filters are placed at the spout of a distiller, designed to trap any remaining contaminants in water.
Do I need to replace the minerals my water distiller removes?
No, you don't have to replace the minerals removed by a water distiller – but you can if you want to. Some people prefer the taste of mineral water, and that's why they add minerals back in after the distillation process. But if you choose not to, you shouldn't suddenly become deficient in calcium and magnesium, as they're both found abundantly in foods like dairy products, seafood, leafy greens, nuts, and whole grains.
Can I stop my water distiller when it's halfway through a cycle?
Yes, you can stop a water distiller midway through a cycle without damaging the components. Just switch the machine off or unplug it at the wall. The unit will automatically stop the distillation process. When you're ready to start distilling again, switch the machine back on and it'll pick up from where it left off.
How long does a water distiller take to produce purified water?
The speed of water distillation depends on the model you've bought. Some distillers are more efficient than others, and will take 2 to 3 hours to produce a gallon of water. Others may take 4 to 5 hours to produce the same amount. There are no super-fast water distillers – distillation is a lengthy purification process because the water condenses droplet by droplet.