In this guide, I've highlighted 10 of the most capable water distillers in terms of performance, setup and maintenance, contaminants removed, and durability.
We both tested these systems in our homes and scoured the internet for reviews during our research, which helped us determine the overall customer satisfaction each distiller provides. Those that didn't live up to customer expectations didn't make it onto this list.
The U.S is the largest consumer of plastic bottled water in the world. Shockingly, more than 75% of plastic water bottles in our country are trashed rather than recycled.
I get it – we all love the taste of clean, filtered water. Thankfully, there are now plenty of at-home water purification options that can help you save money and help the environment. Distillation is one of the most popular solutions.
If you're looking for the best water distiller for your home, you're probably having a tough time choosing just one. Manufacturers often use clever marketing techniques to make you feel like their product is the best – but how do you know if they're telling the truth?
We're here to help you make the smartest buying decision. With a monthly readership of 150,000, WaterFilterGuru.com offers reviews, blog posts and guides like this one, with the aim of giving our readers the tools and information they need to make an informed, well-thought-out purchase.
In this guide, I've shared:
The 10 best water distillers of 2022
The pros and cons of distillation
The things you need to know before you buy a distiller for your home
🥇 Best Water Distillers
CO-Z Water Distiller
Imber Isla Water Distiller
Waterwise 4000 Water Distiller
H2o Labs Best-In-Class Stainless Steel Water Distiller
Waterwise 3200 Water Distiller
Pure Water Mini-Classic CT Counter Top Distiller
Megahome Water Distiller
H2o Labs Model 200 Water Distiller
CNCShop Water Distiller
VEVOR Countertop Water Distiller
📊 Comparison Chart
| Product | Pure Water Mini-Classic CT | Imber Isla | Waterwise 4000 | CO-Z | H2o Labs Best-In-Class | Waterwise 3200 | Megahome | H2o Labs Model 200 | CNCShop | VEVOR |
| --- | --- | --- | --- | --- | --- | --- | --- | --- | --- | --- |
| Ranking | 1st | 2nd | 3rd | 4th | 5th | 6th | 7th | 8th | 9th | 10th |
| Ratings | 5/5 | 4.5/5 | 5/5 | 5/5 | 4.5/5 | 4.5/5 | 4/5 | 4/5 | 4/5 | 4/5 |
| Price | $$$ | $ | $$$ | $ | $ | $$$ | $$ | $$ | $$$ | $$ |
| Production Rate | 0.80 gallon/ 3.5 hours | 1 gallon/ 4 hours | 1 gallon/ 4 hours | 1 gallon/ 4 hours | 1 gallon/ 6 hours | 1 gallon/ 4 hours | 1 gallon/ 5.5 hours | 1 gallon/ 5 hours | 1 gallon/ 4 hours | 1 gallon/ 4 hours |
| Carbon Filter Included | Yes | Yes | Yes | Yes | Yes | Yes | No | Yes | Yes | No |
| Carafe Material | Glass | Glass | Glass | Plastic | Glass | Plastic | Glass | Plastic | Plastic | Glass |
| Wattage | 800 | 800 | 800 | 750 | 565 | 800 | 580 | 600 | 750 | 745 |
| Warranty | 15 years (Stainless Steel); 2 years (Electronic) | 2 years | 1 year | 1 year | 1 year | 1 year | 1 year | 1 year | - | 1 year |
⭐Reviews – Best Water Distiller 2022
Pure Water Mini-Classic CT Counter Top Distiller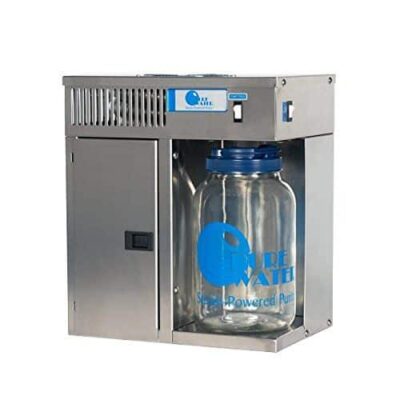 | | |
| --- | --- |
| Price | $$$ |
| Production Rate | 0.80 gallon/ 3.5 hours |
| Wattage | 800 |
| Carbon Filter | Yes |
| Warranty | 15 years (Stainless Steel); 2 years (Electronic) |
The Pure Water Mini-Classic Distiller is a stylish countertop distiller that can remove a whole host of common contaminants from drinking water, including chlorine, fluoride, VOCs, bacteria, and lead. This distiller is different in style to the majority of distillers, as it has a built-in section for storing the jar for water storage, making it much more compact and space-saving.
Made in the US, the Pure Water Mini-Classic has a solid 304 stainless steel construction, and can produce an average of 0.8 gallons of distilled water in 3 hours. It uses a glass jar for holding water, and operates similarly to a coffee maker – you just switch it on and wait for the jar to fill.
Being a smaller water distiller, the Mini-Classic Distiller is more suited to a single person or a small family. You don't need to worry about installation of this unit, as it comes almost fully assembled. As the unit sits separately from other appliances, it doesn't require connecting up to a faucet or a water line.
The Pure Water distiller runs off electricity, so there will be a small cost to keep it running on a daily basis. Aside from that, though, maintenance costs are pretty low – you'll need to buy a new activated carbon filter when it stops working as effectively.
👍 What I Like
Arrives with a hand-sewn activated carbon filter
Virtually no installation required
BPA-free construction
👎 What I Don't Like
Expensive

Doesn't quite make a full gallon of water
---
Imber Isla Water Distiller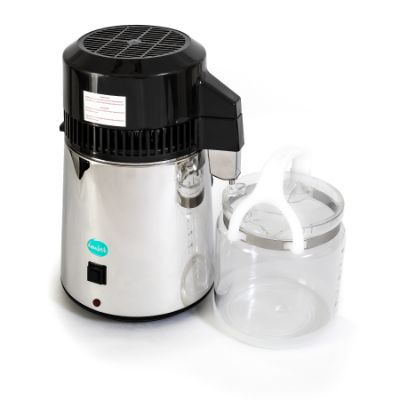 | | |
| --- | --- |
| Price | $ |
| Production Rate | 1 gallon/ 4 hours |
| Wattage | 800 |
| Carbon Filter | Yes |
| Warranty | 2 years |
The Imber Isla is a stainless steel distiller that produces up to 4 liters of distilled water at a time. This distiller is really easy to use – you just fill the boiling chamber with tap water and push the button to start distillation.
All materials used in the Isla are extremely high quality. Both the boiling chamber and condensing coil are made from stainless steel – this means water doesn't touch any plastic at all during the process. The nozzle also contains a lead-free insert, which means there's no risk of contaminants leaching into water during any part of the distillation process. The 800 watt heating element distills water at 1 liter per hour, working at a rate to produce the purest water possible.
Included with the Isla water distiller are 3 activated charcoal filter sachets, which are placed in the spout of the distiller and remove any additional contaminants. Also included is a small supply of cleaning powder for the boiling chamber.
One of the best features of the unit is its integrated auto switch-off, which switches the distiller off when it's done, preventing the risk of overheating when the water runs out. This means you can feel confident leaving the distiller switched on while you're getting on with chores around your home or when you've left the house for the day.
👍 What I Like
Stainless steel design (including interior)
Temperature safety auto switch-off
2 year warranty
👎 What I Don't Like
Will need to factor in for purchasing carbon sachet replacements
Read the full review: Imber Isla Review (2022)
---
Waterwise 4000 Water Distiller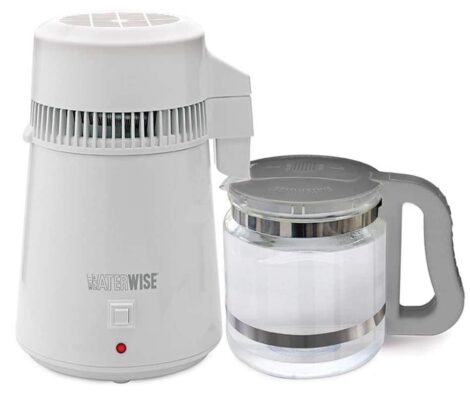 | | |
| --- | --- |
| Price | $$$ |
| Production Rate | 1 gallon/ 4 hours |
| Wattage | 800 |
| Carbon Filter | Yes |
| Warranty | 1 year |
The Waterwise 4000 is a water distiller with a 304 stainless steel condenser. It's made up of a distiller and a glass carafe, which has a removable lid. In 4 hours, this distiller can produce roughly 1 gallon of water. It can produce a maximum of 6 gallons in 24 hours.
Like all distillers, the Waterwise 4000 accumulates scale and sediment in its boiling chamber, and needs to be cleaned regularly. Waterwise sells a cleaning product you can use for the job, or you can use your own cleaning methods of choice – just make sure to follow the manufacturer's advice on what not to use.
There is a carbon filter attached to the spout of the Waterwise 4000, which needs replacing every 2 months, or after every 6 to 8 gallons of use. You can buy multi-packs of the filters for a relatively low cost, and this is the only paid maintenance you'll need to factor in for providing you keep everything clean and well looked-after.
For safety, the unit shuts off after it has produced a gallon of water, preventing the system from overheating. When the water runs out, you can just refill it and the distillation process will begin again.
👍 What I Like
Automatic shut-off for safety
Carbon filter reduces VOCs
Easy to use and clean
👎 What I Don't Like
Installation is a little complex
Can only be turned off by unplugging the unit
---
CO-Z Water Distiller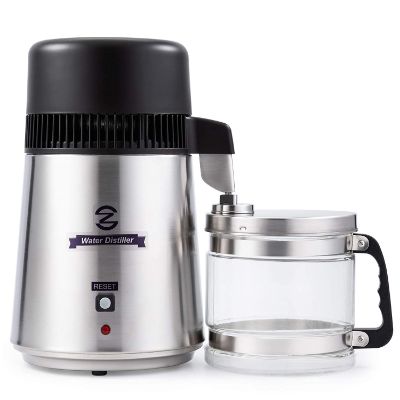 | | |
| --- | --- |
| Price | $$ |
| Production Rate | 1 gallon/ 4 hours |
| Wattage | 750 |
| Carbon Filter | Yes |
| Warranty | 1 year |
My readers get 5% off at cozpalace.com – Use code WFG-5OFF at checkout
The CO-Z Water Distiller is FDA approved for its water purification benefits, and can produce 1/4 gallon of distilled water in approximately an hour. Its inner container is made from stainless steel. Water is boiled inside this chamber until it evaporates, condenses and returns to liquid form, leaving behind the contaminants in the chamber.
Safety when using a product with a heating element is key. The CO-Z has an auto switch-off feature that turns the machine off if water is running low, helping to prevent overheating of the chamber. When the chamber is full, it will automatically get to work when you power it on, allowing you to get on with the important stuff while you wait.
The CO-Z distiller has a highly efficient heating element that makes distilling water much faster. Producing more than a quarter of a gallon of water per hour, it can distill approximately 6 gallons of water per day. Some of the contaminants that the CO-Z effectively removes are bacteria, VOCs and dissolved solids, helping to make water healthier, cleaner and better-tasting.
The glass carafe that catches the water has a large opening making cleaning extremely easy.
👍 What I Like
Quick distillation process
Glass carafe
Great budget buy
👎 What I Don't Like
Filters need changing every 10 uses
Steam produced can heat up the surrounding area
---
H2o Labs Best-In-Class Stainless Steel Water Distiller
| | |
| --- | --- |
| Price | $$$ |
| Production Rate | 1 gallon/ 6 hours |
| Wattage | 565 |
| Carbon Filter | Yes |
| Warranty | 1 year |
The H2o Labs Best-In-Class Stainless Steel Water Distiller uses a 565 watt heating element to evaporate and condense water, filtering out contaminants in the process. It also uses an activated carbon filter that traps contaminants that are able to evaporate and condense with the water.
Specifically designed to offer the most effective removal of VOCs, resulting in the purest water, this H2o labs distiller can be switched on simply by pressing a button, and doesn't need any major set-up or installation.
You won't need to worry about changing multiple filters in the system – the activated carbon filter is designed to last longer between changes, and the stainless steel interior steam chamber is easy to clean. You'll receive a couple of bonus items with the product that will make it easier to maintain the unit: a year's supply of activated carbon pods and a selection of non-toxic cleaning crystals for removing scale.
As the manufacturer explains, the heating element used in the Best-in-Class distiller is the ideal size for the job – any bigger and the water may boil too rapidly, which can cause it to mix with contaminants and actually result in less pure water.
With its relatively small size, this distiller won't take up too much space on a kitchen counter. It takes approximately 5 hours to distill a full chamber (1 gallon's worth) of water, which is bang on the average time for a distiller.
👍 What I Like
Pros:
Slow boil allows for production of extremely pure water
Comes with year's supply of activated carbon filters to optimize filtration
Food grade and BPA-free
👎 What I Don't Like
Quite expensive
More time-consuming distillation process than other models
---
Waterwise 3200 Water Distiller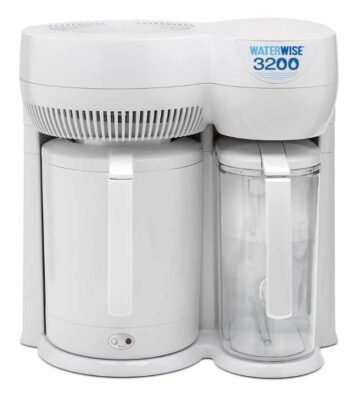 | | |
| --- | --- |
| Price | $$$ |
| Production Rate | 1 gallon/ 4 hours |
| Wattage | 800 |
| Carbon Filter | Yes |
| Warranty | 1 year |
The Waterwise 3200 can produce one gallon of water in 4 hours. It has 800 watts of power, and has automatic shut-off after each one gallon cycle. The distiller just needs to be filled with water to your desired amount, and as soon as you press the start/reset button, the distillation process will get started right away.
Inside this distiller, the boiling chamber has a hidden heating element, and a relatively wide 7-inch opening, which makes it easy to pop out and wash in the sink when you need to give it a clean. You will need to do some basic maintenance, like scrubbing away the hard water deposits, and changing the carbon filters, to keep the distiller working at its best.
The Waterwise 3200 has a slightly different appearance to other distillers – it looks more like two kettles attached to a plastic unit, and it's more space saving than the standard water distiller. Though the outside of the Waterwise is plastic, the boiling chamber is stainless steel, and won't risk leaching plastic into water when heating it up.
👍 What I Like
Good value for money
Space-saving design
Hidden heating element for easy cleaning
👎 What I Don't Like
Not much information to be found on warranty
Some users may prefer a glass carafe
---
Megahome Water Distiller
| | |
| --- | --- |
| Price | $$ |
| Production Rate | 1 gallon/ 5.5 hours |
| Wattage | 580 |
| Carbon Filter | No |
| Warranty | 1 year |
The Megahome Countertop Water Distiller is Underwriters Laboratory approved to meet nationally recognized standards for safety. It distills roughly 1 gallon of water per 5.5 hours, by heating the water to 212 degrees, which is the optimum temperature for the right distillation speed for removing contaminants from water.
Included with the Megahome countertop water distiller are 6 high quality activated charcoal filters, which are optional to use. They can remove any toxins and contaminants that have been able to evaporate and condense with the water, helping to make your water that extra bit purer.
The Megahome countertop water distiller has a 304 stainless steel interior and exterior including the heating coil, and the water doesn't come into contact with plastic during the boiling process, preventing leaching. The glass collection bottle has a removable lid, making it easier to clean between uses. The distiller comes with 8 ounces of cleaning powder for removing the residue, and you can buy more powder from the manufacturer online.
At the end of a distillation cycle, the system switches off automatically. You will need to clean the boiling chamber to remove the debris from distillation, and replace the activated charcoal filters after approximately a month of use.
👍 What I Like
Underwriters Laboratory approved for safety
Distills water at optimum temperature
Auto switch-off at the end of a cycle
👎 What I Don't Like
Fan is quite noisy
Auto-switch off only kicks in when tank is empty, causing crusting
---
H2o Labs Model 200 Water Distiller
| | |
| --- | --- |
| Price | $$ |
| Production Rate | 1 gallon/ 5 hours |
| Wattage | 600 |
| Carbon Filter | Yes |
| Warranty | 1 year |
The H2o Labs Model 200 distiller is an easy-fill water distiller that can process 1 gallon of tap water in approximately 5 hours. With its modern, lightweight design, this distiller is ideally suited for seniors or people who have trouble lifting heavy objects. It's not quite as sturdy or durable as the manufacturer's stainless steel products, but it does the job in producing high quality distilled water.
Coming in at a lower price point, the H2o Labs Model 200 is a good option for people with lower budgets who are looking for a distiller that works well. It has easy operation with a refill and reset LED indicator, and is energy efficient, so won't waste an excess of electricity when used on a daily basis.
The water holding tank in the model 200 is lightweight and easy to lift out of the unit when you need to refill it. Installation is straightforward, and the unit comes with an instruction manual for setup and maintenance. The plastics used in the distiller are BPA-free and food grade; however, the plastics do touch water while it is boiling, which you may not personally agree with. In this case, it may be best to purchase another H2o labs model with a stainless steel chamber.
👍 What I Like
Low cost
Ideal for seniors
BPA-free plastics
👎 What I Don't Like
Plastics touch water during distillation
Cheaper design
---
CNCShop Water Distiller
| | |
| --- | --- |
| Price | $$$ |
| Production Rate | 1 liter/ hour |
| Wattage | 750 |
| Carbon Filter | Yes |
| Warranty | — |
The CNCShop is a water distiller with a 4-litre capacity chamber that offers a simple, convenient way of making distilled water in your home. With a 110-volt power input, this distiller produces a 750-watt power output, which is ideal for boiling water at the right speed for the most effective distillation.
Inside the distiller, the heating element boils the water at a rate to produce around one litre of distilled water per hour. It is very simple to use, and has an auto switch-off feature that turns the machine off when there is no more water left in the boiling chamber.
To use the CNCShop distiller, you just add up to 4 litres of water to the boiling chamber and switch it on. Any microorganisms and contaminants will be left behind when the water turns into steam. The distiller comes with a number of accessories, including cleaning powder, which will help you to remove any tough mineral deposits when cleaning the machine. It also comes with one filter – you will need to buy additional filters going forward.
👍 What I Like
Very easy to use
Comes with cleaning powder
Auto switch-off for safety
👎 What I Don't Like
The remaining contaminants may brown and stick to the boiling chamber even with auto switch-off
There is no option to switch the machine off manually (aside from pulling out the plug)
---
VEVOR Countertop Water Distiller
| | |
| --- | --- |
| Price | $$ |
| Production Rate | 1 liter/ hour |
| Wattage | 745 |
| Carbon Filter | No |
| Warranty | 1 year |
The VEVOR is a red stainless steel water distiller with a more modern, high-tech appearance. It is fairly small, at just under 15 inches in height and 11 inches across at the base, and comes with a 4.2 litre glass container for holding distilled water.
Every component inside the VEVOR distiller is food grade and won't cause leaching, helping to keep water as pure as possible during and after distillation. Being stainless steel, it is also one of the more durable options on the market. It also has a unique handle on its top, allowing for much easier portability.
You can make up to 6 gallons of water per day with the VEVOR water distiller. There is a digital display screen on the front of the unit that lets you view and amend the water temperature, and the distiller and glass container have large openings, making cleaning much easier.
To prevent the machine from burning out while in use, it has a temperature protection that cuts the power at temperatures over 160 degrees C. You can use the machine to distill alcohol as well as water, with a maximum temperature of 108 degrees C.
👍 What I Like
Smart, modern appearance with digital display screen
Temperature protection safety feature
Can also be used for distilling wine
👎 What I Don't Like
The distillation cap doesn't fit just right
Some people may not want to set water temperature manually
---
🧾 Water Distiller Buyer's Guide
We've compiled the following massive buyer's guide in order to help you make the most informed decision possible when selecting the best water distiller for your needs.
Use this guide to learn everything about distilled water, its uses, benefits, important things to consider when buying a distiller, features to look for, installation & maintenance, and more.
Lets dive in!
💡 What is Distilled Water?
You might have noticed distilled water at your local supermarket, sitting alongside spring water and filtered water. Most people know that distilled water is better for them than tap water – but how exactly?
Water distillation has actually been around for years, and yet even today, it's still one of the most effective filtration methods.
Back in the day, people would boil water and collect the condensed steam, which is essentially the distillation process we use today. When the water evaporates, impurities that are unable to turn into gas form are left behind.
This process, known as distillation, removes bacteria and other harmful microbes, as well as minerals like calcium and magnesium.
The process of distillation can lead to either a complete or partial separation of elements, depending on how volatile these elements are.
Distilled water isn't much different from other purified or filtered water. Some other filtered water forms contain minerals, which is the only real factor that sets them apart from distilled water, which contains no minerals or compounds.
You can benefit from drinking distilled water in a number of ways, which we'll discuss in more detail later in this guide. Distilled water is of a much higher quality than standard tap water, and is much better for your health.
The taste of distilled water isn't for everyone. If you prefer minerals in your water, you can add them in with a remineralization filter. Some water distillers come with their own filters for adding minerals to water once it's been distilled. This will give your water a more pleasant taste, and offer a number of health benefits.
The exact pH of distilled water is difficult to determine, because when the water is exposed to air, it absorbs carbon dioxide, making it more acidic. Generally, though, distilled water as a product has a pH of 7, making it neutral (neither acidic or alkaline). Once it is exposed to air, the pH level of distilled water could drop down to below 6.
🤔 What are Water Distillers?
A water distiller is a type of water purification system that turns water into steam, captures and condenses it to effectively remove contaminants and provide fresh, purified water.
A distilled water system is a plastic or metal unit that doesn't look much different from a coffee pot in shape and size. The bottom three quarters of the body is usually solid material, while the top half, or the lid, is where the condensing takes place, and can usually be unscrewed.
Water distillers normally have a small nozzle or spout protruding from the top portion of the unit. This drips water directly down into a separate water holding tank, which is normally made out of plastic or glass, and is translucent, allowing you to see the water collecting inside it.
You can unscrew the top of a water distiller to gain access to the main water boiling chamber, where you can add water for distillation. Water distillers aren't connected to a kitchen faucet, so you'll need to fill the chamber yourself.
The standard countertop water distiller needs electricity to work, so be sure to store yours in a location near to a power supply. Once you've plugged your water distiller in and switched it on, it'll be ready for use.
📝 What is Distilled Water Used For?
Distilled water is used for all number of purposes beyond drinking. Some of the most common uses of distilled water include:
Adding to a humidifier
If you use a humidifier in your home, you'll benefit from adding distilled water to it. With normal tap water, you risk bacteria growing inside your unit, which would result in the production of unhealthy air for your home and shorten your humidifier's lifespan. Minerals found in tap water are also responsible for spreading dust, which you can prevent by using distilled water.
Drinking
One of the most appealing aspects of distilled water is its purity, which makes it great for drinking. Distilled water contains no harmful contaminants, chemicals or pathogens that might affect your water's quality or taste. For maximum distilled water benefits, drink from a distiller than adds healthy quantities of certain minerals, like calcium and magnesium, back into your water.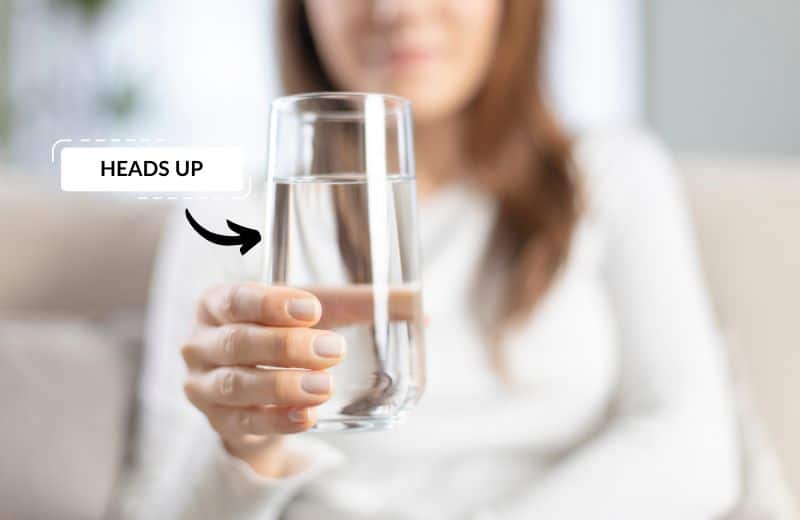 Medical sterilization
Distilled water is used for a number of medical sterilization purposes in hospitals and doctor's practices. It's used to clean instruments ready for surgery, and won't leave deposits because of its lack of mineral content. This ultimately prevents cross-contamination and infection. Distilled water can also be used for cleaning wounds or as a mouth rinse at the dentist.
Vehicle maintenance
If you put normal water into your car's cooling system, the minerals in the water might lead to a build-up in the system, or, even worse, corrosion. Distilled water doesn't contain minerals, making it safer and more practical to use in your car. You can also hydrate your vehicle's battery using distilled water, which will prolong its life and help it to charge properly.
Canned vegetables, fruits and legumes
If you've ever purchased a can of fruit, veg or beans for convenience, you'll know that they come in their own water inside the tin. This water is distilled, helping the tin's ingredients to maintain their colour. Tap water can result in cloudiness, and could even alter the taste of a canned food, because of its mineral and salt content.
Cosmetic products
Almost all cosmetic products contain some form of water. Without water, it would be near impossible for many makeup items to actually transfer onto your face. Understandably, this water needs to be completely contaminant and bacteria free to reduce the risk of infection. Distilled water is a common choice, thanks to its lack of minerals and other impurities.
Home aquariums
Putting normal tap water into an aquarium is a really bad idea, as the minerals and chemicals it contains can be harmful to the fish you're housing. Distilled water is free of these contaminants, and also doesn't contain bacteria, which helps to keep your tank clean and your fish healthy. Always check the pH levels of your distilled water to make sure it's appropriate for using in your fish tank.
Ironing
Most of us will have experienced the frustration of the "splatter effect" of dried steam from an ironing session. The reason why you might notice staining on your ironed clothes is most likely because you're using normal tap water in your iron, which contains minerals like calcium that can cause limescale. Using distilled water will not only prevent limescale, it'll also stop the inside of your kettle from corroding, lengthening its lifespan.
Watering plants
Tap water contains a range of harmful chemicals that cause damage to your plants. For the healthiest growing garden, switch your regular water for distilled water, which is free from chemicals, minerals and salts. Indoor plants in particular will benefit from distilled water the most.
Cooking and baking
There's science behind why distilled water is better for baking – it can absorb more flour than tap water, creating a batter that's smoother in texture when baked. Distilled water also won't cause discoloration in vegetables like potatoes when you use it for boiling. It comes to a boil at a slightly lower heat than standard tap water, saving you time and helping you cut down on energy costs.
Washing your hair and skin
Hard water typically contains a number of chemicals and minerals that are not only bad for your skin and hair, but make it difficult to lather your soap and shampoo properly. The calcium and magnesium minerals in water leave deposits on your skin and hair, causing them to be dry and moisture-lacking. Some studies have even linked hard water to hair loss. Distilled water, on the other hand, contains none of these damaging chemicals or minerals, and lathers far better with soap and shampoo.
Baby formula
Babies need purified or distilled water in formula mixes as their immune systems are still developing, which means they're more susceptible to common tap water contaminants like bacteria, arsenic and lead. Some contaminants can cause illness or even affect a baby's development, so it's always best to stick to distilled, contaminant-free water when you can.
👌 Benefits of Using Distilled Water
Distilled water is completely pure, and doesn't contain any contaminants or impurities that could alter its taste, smell or quality. It has so many uses around your whole home, all of which are worth taking advantage of if you have a water distiller.
Here are some of the biggest benefits of distilled water:
Cheaper alternative to bottled water
Of course, you will have to spend money on an initial purchase of a water distiller, but after that, you'll be able to benefit from free distilled water whenever you want it. This means you'll ultimately save money that you'd otherwise spend on buying bottled water.
Try adding up how much you currently spend on bottled water over an entire year and comparing this to the cost of a water distiller. You've probably already made a saving – and remember that water distillers are designed to last long into the future.
Convenient for storing
Water distillers aren't much bigger than a kettle in size, and don't take up vast amounts of side space. You can store your water distiller in a location that suits you. There are plenty of designs, colors and styles to choose from, so you can easily find something that best matches your kitchen.
Cheaper than other water filter options
The average price of a distilled water system is around $70 to $100, making them far more affordable than even standard water filters. Some water filters that use reverse osmosis can cost thousands of dollars, even though they effectively remove the same contaminants from water. A water distiller is a worthy investment if you're looking for a long-term solution for clean water.
Bacteria and virus free
Although the water treatment process should remove the bacteria and virus pathogens from water before it reaches your home, it's possible for these contaminants to re-enter your water on its journey through your plumbing. The only way to ensure you're drinking water that's completely free of viruses and bacteria is to distill it. When water evaporates into steam, it leaves these pathogens behind.
Purest water option
Distillation is considered the purest water-producing process of all types of filtration. Distilled water contains very few contaminants, minerals and impurities, making it suitable for use in a number of laboratory, food processing and industrial industries.
Good for detoxification
Drinking distilled water can help your body to clean itself in a process known as detoxification.
Toxins, minerals and other harmful chemicals can build up inside your body over time, and distilled water can help flush out these toxins without simply adding to the problem. You'll only need to add more calcium and magnesium minerals to your diet while doing a distilled water cleanse.
Fresh source of water
When you buy bottled distilled water, you don't know how many months it's been stored for before you end up drinking it. Home distilled water, on the other hand, can be produced and consumed immediately, and can be poured straight into your drinking glass. This prevents your pure water from picking up contaminants from plastic or metal storage bottles.
Copper, nitrate and barium free
Some of the most common contaminants that are found in normal tap water are copper, nitrates and barium. These three compounds have the potential to cause an increased risk of health problems like high blood pressure, heart disease and Alzheimer's. The distillation process completely removes these contaminants from drinking water, making it safer to consume.
Eco-friendly alternative
If you usually buy your distilled water at the supermarket, making the switch to home distillation will help you to do your bit for the environment. Plastic bottle waste is becoming more out of hand than ever before, and the less we can contribute to it, the better. When home distilling water, you'll be able to produce water to pour straight into a reusable bottle or glass, minimising your personal contribution to plastic waste.
⚗️ How is Water Distilled?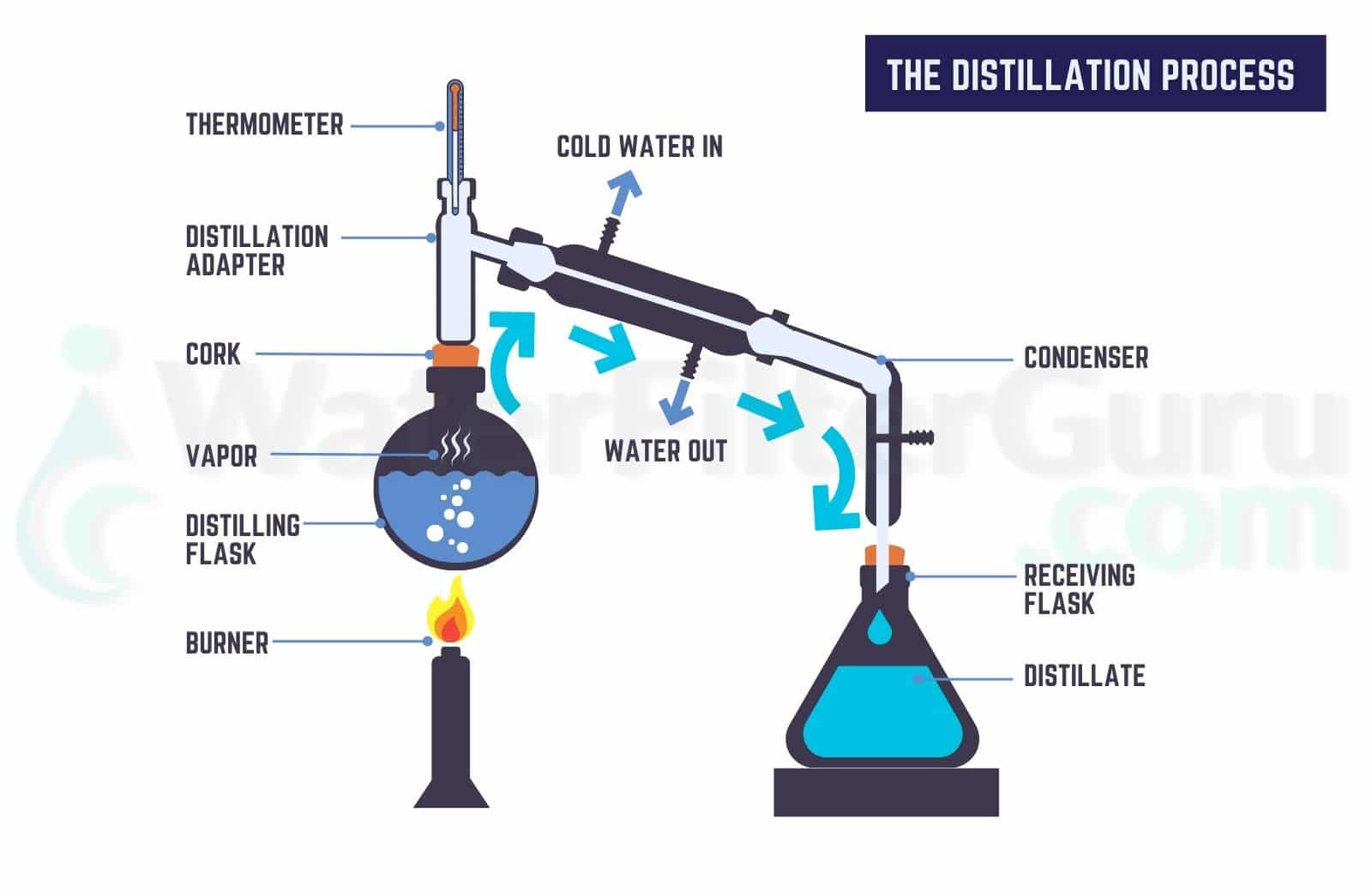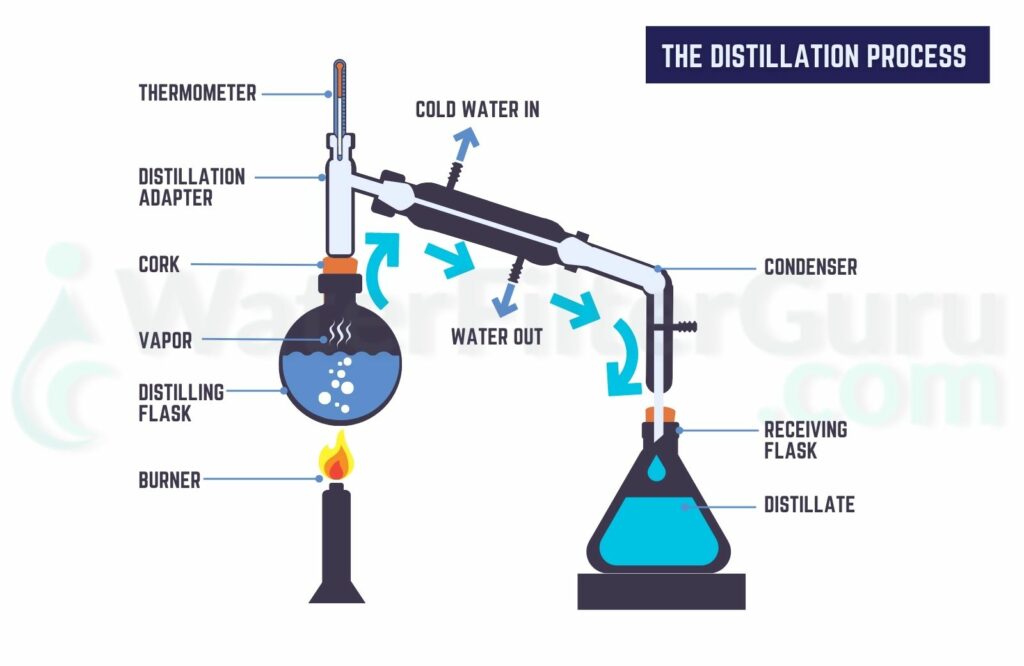 The process of water distillation is actually very straightforward. It's likely that you learnt about water distillation at school, but we'll cover everything you need to know below if you need your memory jogging.
Water is heated in a boiling chamber – The water distillation process begins when water is poured into the boiling chamber. The boiling chamber heats the water to a rolling boil. This leads to the production of steam, which is formed by the evaporation of water.
Steam travels into a condenser – The boiling chamber contains a vent, and when steam rises, it passes out of this vent and into a condenser, a tube usually made of stainless steel. Left behind in the boiling chamber are contaminants, microorganisms and impurities that are incapable of converting into gas particles, such as bacteria and fluoride.
Steam is converted to liquid – Inside the condenser, a fan chills the steam and turns it into water droplets. These droplets pass through the condenser tube and make their way into an activated carbon post filter.
Leftover impurities are filtered out – The role of the carbon post filter is to remove any sediment and impurities that can exist as gases and may have made it through the condenser as steam. Through the process of adsorption, the activated carbon media catches contaminants in water and prevents them from passing through to the other side of the filter.
(Optional) water passes through a remineralization filter – A good number of water distillation systems now contain remineralization filters. These supply the water with a healthy amount of minerals like calcium and magnesium, which have been removed in the distillation process. Many people prefer the taste of distilled mineral water, and, in the right amounts, these minerals are good for you.
Water droplets collect in a holding tank – Once the water droplets have passed through the carbon filter, they're fully distilled and suitable for drinking. They leave the distiller and enter a holding tank, where they collect ready for use.
Water distillation – a lengthy process
Depending on the type of home water distiller you buy, you may need to wait between 4 and 6 hours for your machine to filter one gallon of water. Like most in-depth pure water filtration methods, distillation is a lengthy process. Distilled water machines produce filtered water literally droplet by droplet. It will take several hours for a distiller's water tank to fill to the brim with distilled water.
Larger water distillers are designed to be a bit more efficient, and can produce distilled water at a faster rate. These units may be able to produce up to 3 gallons of water per hour. Just be aware that they usually require more kitchen space, and aren't suitable for everyone. Countertop water distillers tend to be more preferable for a standard kitchen space.
Related: Top Water Filters in 2022
❗️ Important Factors to Consider When Buying a Water Distiller
Budget
Home water distillers are fairly low cost, making them a good option for people with a smaller budget who are looking to filter their drinking water. You can pay as little as $50 for a decent water distillation system, and up to $150 for something fancier.
No matter how far you can stretch your budget, there are plenty of options in different price brackets available. Once you've decided how much you'd prefer to spend on a water distillation unit, you can narrow down your search online to show only the products relevant to you.
Keep in mind that the best water distillers are not always the most expensive. Avoid paying more than what you think a water distiller is worth. Equally, if a water distiller is incredibly low in price, there might be a catch. Make sure to read up on product FAQs and customer reviews before buying a distiller.
Size of distillation chamber
Your home distiller's boiling chamber is where you add water to begin the distillation process. Depending on the size of the distillation unit, a boiling chamber may be larger or smaller than the average.
The smaller the boiling chamber, the more frequently you'll need to add more water for distillation. That said, units with larger boiling chambers are larger in themselves, meaning they'll take up more side space. Assess your water distillation needs and decide on a chamber size that's most appropriate for you.
Distillation speed
Some water distillation units are designed to work more quickly than others. Generally, the distillation process is fairly slow anyway, but some newer models are designed to distill water quicker than a standard unit.
The more efficient distillers produce around 3 to 4 litres of filtered water in 4 hours. We're advised to drink a minimum of 2 litres of water a day, so this amount of water is enough to cover more than a day's worth for a person living alone. Remember, though, that most countertop, non-industrial water distillers have holding tanks that may not store up to 4 litres of water, meaning you'll have to add water to the distiller bit by bit every time the holding tank runs out.
Plastic or metal casing
The material a water distiller is made from won't usually affect its efficiency. You might simply prefer a metal design over a plastic one for aesthetic purposes only. There are plenty of materials and colors to choose from, so you won't have much problem finding a distiller that matches your kitchen.
A number of home water distillation machines are made from stainless steel, which is a good option if you want something that will maintain its shine and won't fade or become damaged from cleaning or exposure to the elements in your kitchen.
If your water distiller has a holding tank made from plastic, make sure this is BPA free. Distilled water can more easily pick up contaminants and other compounds found in plastics and some metals, so it's important the container it's stored in doesn't contain chemicals that might leach into the water. The majority of products should clearly state if they use BPA free plastics.
Contaminants removed
Depending on the filter used in your water distiller, the distilled water produced may contain no contaminants at all, or some contaminants that haven't been filtered out.
The more effective filters can remove contaminants that may have managed to stay in the water after the distillation process, like VOCs. Activated carbon filters are most often used in water distillers, and are very efficient in removing VOCs.
Installation and maintenance
Most water distillers don't require much installation or initial set-up. When you buy a home water distillation unit, it comes pre-assembled, so you'll usually just have to plug it into a power socket and switch it on.
Always check your user manual for specific guidelines for your own water distiller. If your distillation unit contains an activated carbon filter, you may be required to flush this filter under running water before you use it to remove any carbon sediment. Your user manual might also advise you to wash or wipe down your distillation unit before your first use.
Countertop/under counter
The majority of water distillers are designed for countertop use, but if you have an under counter plug socket, there's no reason why you can't store yours out of sight. Just make sure your under counter space is clean and dust-free, and there's nothing that might fall into your distillation unit or storage tank and contaminate the water.
If you're planning on using a countertop water distiller, you might want to make measurements of the area you want to store it in, and compare these to the measurements of a distiller unit and holding tank. You want to be sure that you have enough space to store a water distiller before making a purchase.
🔍Features to Look For In a Water Distiller
Activated carbon filter
Not all water distillers contain activated carbon filters, but if you want to remove as many contaminants from water as possible, you should look for a distiller that does. Carbon filters can trap contaminants that can evaporate and condense with water, such as VOCs. These contaminants are present in most standard sources of tap water and may affect water taste and quality.
Carbon filters don't take up much space in a water distiller and are normally always recommended. The majority of distilled water machines contain carbon filters, but it's worth double checking before you make a purchase, just in case.
Additional remineralization filter
Some people don't enjoy the taste of pure distilled water as they think it's quite flat or plain. One way to improve your water's taste is with a remineralization filter. Some of the newer distillation unit models come with a built-in remineralization filter, which provides the easiest method of adding minerals like calcium and magnesium into your water.
If you'd rather not pay extra for a machine with a remineralization filter, you can also improve your water's pH by using mineral drops. If you don't mind the taste of distilled water but just want to benefit from calcium and magnesium, you can take these minerals as supplements or simply get them from your food sources.
Certifications
Manufacturers of all drinking water filters, reverse osmosis units, softeners, ultraviolet systems, microbiological purifiers and distillers can apply to be certified by a third party company like the WQA or NSF International to determine that the product works to the manufacturer's claims. It's not always easy to know when you can trust a manufacturer of a particular water distiller, but certification is a sure-fire guarantee that a water distiller is efficient, effective, and a good value for money.
NSF International
As one of the biggest testing and certification bodies for water treatment systems in the US, NSF International provides certification for manufacturers looking to prove that a water distiller complies with the technical requirements of the referenced standard.
To apply for NSF certification, a manufacturer needs to submit relevant information and put forward a product for evaluation and lab testing. After test results are reviewed and accepted, the manufacturer signs a contract and the distiller is awarded an NSF mark, and the manufacturer agrees to annual site inspection and retesting.
Water Quality Association (WQA)
The Water Quality Association, or WQA, helps customers to determine that a water distiller is safe, reliable, durable and capable of meeting the claims made on its packaging and literature. The WQA offers certified product listings which provide information on products that have been tested and approved for certification.
Manufacturers looking to obtain WQA certification need to fill out an application agreement and a data sheet listing the relevant product information for a distiller, including contaminant-reduction claims, flow rates, capacities and general product specifications. The water distiller in question will then undergo rigorous testing to ensure it meets the standards to which it's being certified.
Warranty
Nobody wants to buy a water distiller with the idea that it might break or become faulty in a few months' time, but if the incident arises, knowing you have a warranty should offer you assurance that you won't have wasted your money.
Without fail, you should always buy a water distillation unit that offers some form of warranty. The best warranties include product return if you're unsatisfied with a distiller, and free replacement parts if something breaks during the first few months or years of use. Look for a water distiller that has a minimum 6 month warranty. Many manufacturers offer warranties up to 2 years in length.
Manufacturer support
Being able to easily contact your water distiller's manufacturer at any time may come in useful once you've purchased a product. You never know when you might have a question about a distillation unit, and you might not find the specific answer you're looking for online. If an issue arises with your water distiller, you'll also want to be able to speak to your manufacturer quickly and without fuss.
Some manufacturers offer live, 24-hour support, which is a sign of good customer care. Online reviews are a great way to find out what other people have to say about the support they received from a certain manufacturer.
🔧 How to Install Your Water Distiller
Out of all the water filtration methods, water distillation units are the easiest to install. They require virtually no set-up, so you'll be able to enjoy the benefits of pure water without hours of hard labour.
Specific installation for water distillers varies from product to product, but the general process remains the same. Make sure you check your product manual for more information about set-up when your water distiller arrives.
If you're yet to purchase a water distiller, or you're just curious about the installation process, here's what you'll usually need to do:
Open your box and place everything on your countertop – When you open your water distiller box, you'll find an instruction manual, a set of carbon filters, an electrical lead, the distiller itself, and the water holding tank. Note that you might find the water holding tank inside your distiller, so be sure to check this before you contact your manufacturer to report a missing part.
Screw the handle on your water holding tank – If your water holding tank comes with a handle that isn't attached, the first thing you'll need to do is screw the handle in place. This usually requires two screws, which will be provided with the distiller, and a screwdriver. Some handles won't need screwing on, but slide or click into place.
Flush your carbon filters – The next step is to put your carbon filters into their designated filter housing. Make sure to follow your manufacturer's instructions on flushing these filters before use. You might need to run your filters under a cold tap for several seconds to clear away any carbon debris.
Put your filters in their filter housing – Once you've flushed your filters, you can place them in their filter housing. You'll usually find a distillation machine's filter housing on the outside of the main unit, at the unit's spout. Unclip or untwist the filter housing and place your filter in the space inside. Then, reattach your filter housing to the unit.
Plug cable into distiller – Finally, plug one end of the cable into the back of the distillation unit, making sure it's pushed in all the way. Plug the other end of the cable into a power socket and switch it on. You're then ready for distilling your first batch of water.
Allow the distillation machine to distill a batch of water – Pour the required amount of water into your water boiling tank up to the "full" line and allow the machine to distill your water (note that this may take several hours). This first batch of water needs to be thrown away, or used for non-drinking purposes, as it may contain grains of carbon sediment.
Clean out the distiller after use – After this, clean the distiller with a scouring pad and refill the boiling tank with water. You're now ready to use your distiller for producing drinking water.
🛠️ Water Distiller Maintenance
Water distillation units need cleaning regularly, both manually and with cleaning crystals, to lengthen their lifespan and ensure they work as efficiently as possible.
Cleaning your distiller
Remember that when water turns to steam, the contaminants that can't form gases are left behind in the boiling chamber. This means that the boiling chamber can become fairly dirty quite quickly. You may especially notice a build-up of limescale over time, which is a result of deposits left by hard water-causing calcium and magnesium minerals in your tap water.
The best way to avoid a build-up of dirt and limescale is to clean regularly. In fact, some manufacturers recommend you get into a routine of cleaning your boiling chamber after every use, to prevent even a small amount of dirt from coating its walls.
To clean your distiller, first remove the lid and soak it in warm water with added vinegar or lemon juice. Wipe down the lid with a clean cloth and set it to the side.
Next, clean out the inside of your boiling chamber using the same warm water solution and a damp cloth. You can also use a scourer to remove any tougher stains that might have accumulated. Fill the chamber with the warm water, then leave the solution inside the distiller overnight. The next morning, wipe down the chamber again and rinse it out with clean, fresh water.
One big no-no for water distiller cleaning is using shop-bought cleaning agents, bleach, or any products that contain harsh chemicals. Traces of these chemicals might get left behind in your boiling chamber, even when you've washed it out and wiped it down. If they evaporate and condense with water during the distillation process, you may end up contaminating your filter.
Changing your filters
Your distiller's activated carbon filters aren't designed to last a lifetime. Their role is to remove any lingering contaminants from water, which means that over time, they'll become naturally clogged with sediment and impurities.
If you're doing one distillation a day, your filter should last for roughly four weeks. Check your user manual to make sure your distillation system doesn't require more or less frequent filter changes.
You can buy replacement filters online, either directly from your manufacturer, or from another manufacturer that makes filters that fit your machine. Look out for discount deals on bulk-buying your filters. Your own manufacturer might also offer incentives for customers to buy filters straight from them.
❔ Frequently Asked Questions
Is distilled water the same as bottled water?
There are many different types of bottled water, from spring water to mineral water, and, of course, distilled water. So, depending on the type of bottled water you buy, it may or may not contain the same properties as the water from your home distiller.
Bottled mineral and spring water contains minerals like calcium and magnesium, while your home distilled water is completely mineral free (unless you use a remineralization filter). Bottled water is usually still filtered, but it goes through a less thorough filtration process than distillation. This means it's more likely to contain traces of contaminants and impurities.
Is distilled water safe for babies?
Yes, babies can drink distilled water. In fact, distilled water is a lot safer for babies than regular tap water, which contains contaminants and microorganisms that can hinder their immune systems. If you've ever wondered why you need to boil your water before using it to make milk formula for your baby, it's because you're effectively distilling it by removing the more dangerous contaminants and pathogens.
So can I distill water just by boiling it?
Not really. Scientifically, the process of boiling water is known as sterilization. It means that water will still condense to form steam, but because the contaminants have nowhere to go, they're effectively trapped in the water as it boils.
Boiling water does have some benefits, though – it usually removes any dissolved carbon dioxide gases, and is also effective at killing bacteria, viruses and other harmful microorganisms. Chemicals like chlorine and metals like lead, though, will not be removed from water in this process.
How can I store my distilled water?
Keep in mind that distilled water is entirely pure, so it's more susceptible to leaching – absorbing chemicals and contaminants from the container it's stored in. That's why most water distillation units have BPA free plastic or glass holding tanks, which won't contain anything that could make its way into your clean water.
If you want to take your distilled water with you on the go, be mindful of the bottle you use to hold it in. If you're using metal, you may risk certain metal components leaching into the water. Plastic that's free of BPA and BPS or glass is the best material for storing distilled water.
How long can I store my distilled water for?
Like plain tap water, distilled water can last long into the future if you store it properly. If you're using store bought distilled water for your home's appliances, it'll last several years in an airtight container, or a year or two once opened. If you're distilling water yourself, your water will probably go stale after a week or two. While it'll still be safe to drink, it might not taste so enjoyable.
You'll usually know if your distilled water has gone stale because it'll take on an unpleasant smell. It might also taste a little unusual. Note that bad-tasting water is more likely related to its storage container than age.
Why do I need activated carbon filters with my distiller?
When water is distilled, it evaporates to form a vapor and then condenses to return to a liquid state. Most contaminants in water aren't able to evaporate as gases, which means they stay behind in the boiling chamber. However, contaminants like VOCs can evaporate and condense with water, which means they need to be removed using another method.
Activated carbon filters are usually placed at the spout of your home water distillation unit. They are designed to trap any remaining contaminants in water, while allowing water to flow through. The majority of water distillers use some form of activated carbon filter – whether charcoal, coconut shell or another natural material – which enables the machine to produce the cleanest water possible.
Do I need to replace the minerals my water distiller removes?
No, not necessarily. Some people prefer the taste of mineral water, and that's why they add these minerals back in after the distillation process. But if you choose not to, you're not going to become deficient in calcium and magnesium, as they're both present in higher quantities in foods like dairy products, seafood, leafy greens, nuts and whole grains.
If you're concerned you might not be getting enough of these minerals, but don't want to add them to your distilled water, you can take them as daily supplements.
Can I only use distilled water for drinking?
Most people distill their water to drink it, but that doesn't mean you're limited to just doing that. You can use distilled water for cooking, cleaning, in your home's appliances and even for your pets. There are many situations where using contaminant-free water may come in handy, so if you want to, you can really get creative with your water uses.
How often should I clean my water distiller?
This really depends on the quality of your normal tap water. Based on the area you live in, your home's drinking water may contain more or less contaminants than average. The more contaminants your water contains, the more will get left behind in your boiling chamber.
As with most cleaning tasks, the more frequently you can clean your boiling chamber, the better you'll be able to keep on top of the job. You may notice a build-up of limescale in your boiling chamber over time, which is caused by calcium and magnesium in your water. This is particularly difficult to remove, especially if you've left it for several weeks.
At the very minimum, you should rinse out your distiller between batches. You should then schedule in regular cleaning with warm water and lemon juice for more thorough maintenance.
Can I stop my distiller when it's halfway through a cycle?
Yes, it won't harm your distiller to stop it midway through a cycle. Just switch the machine off or unplug it at the wall and the unit will stop the distillation process.
When you're ready to start distilling again, switch the machine back on and it'll pick up from where it left off. Note that you won't need to turn your distiller off manually when it's finished a cycle – it will do that automatically.
Why does my distiller not distill a full tank of water?
If your distiller doesn't seem to be producing the same amount of water as what you've added in, there might be a number of factors to blame. First of all, check that your distiller is fully plugged in both at the unit and at the wall. It sounds obvious, but if an adequate power supply can't run into the machine, the fan won't work properly, and some of the steam might end up leaving the distiller and evaporating into the air.
You might also experience a smaller distilled water production if your gasket is damaged or worn. This is more common in older distillation units, and is a sign that you'll need to buy a replacement part.
How long does a water distiller take to produce purified water?
This really depends on the model you've bought. Some distillers are more efficient than others, and will take 2 to 3 hours to produce a gallon of water. Others may take 4 to 5 hours to produce the same amount.
Distillation is a lengthy process, because the water condenses droplet by droplet. However, it's the most efficient. If you have the time to wait for your water to distill, it's worth doing.
❕ Final Thoughts
Water distillation has been around for years, and is the oldest and most effective way of filtering water. It provides the most thorough filtration for anyone who wants to benefit from completely pure drinking water.
We're lucky that modern technical advancements allow us to enjoy distilled water more easily than ever. Instead of having to carry out the distillation process ourselves, we can leave the task to a machine. The process might take slightly longer than other filtration methods, but it does the best job of them all.
Before you buy a home water distillation system for yourself, it's worth spending some time looking at the reviews for the most popular products online.
Customer reviews are important for establishing the general opinion about a water distiller from a buyer just like you. Equally, impartial third-party reviews can give you a clearer insight into the basics of a water distillation unit, including its key features, and any advantages and disadvantages of the system.