These are the 6 best activated carbon water filters in 2023, from whole house systems to simple pitcher filters there's a solution for everyone.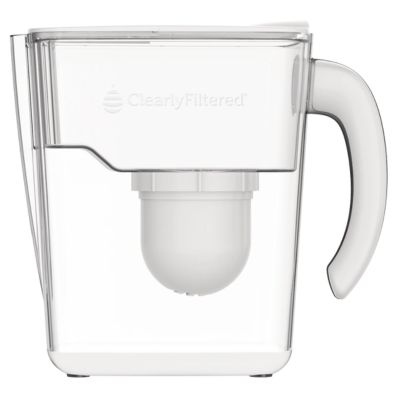 Clearly Filtered Water Pitcher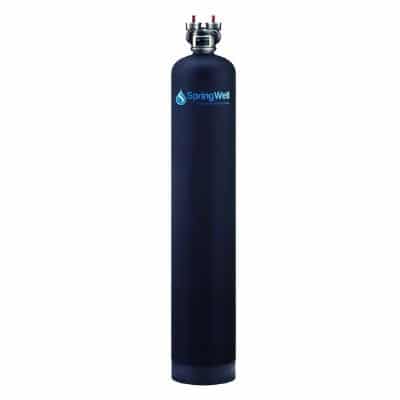 SpringWell CF Whole House Water Filter System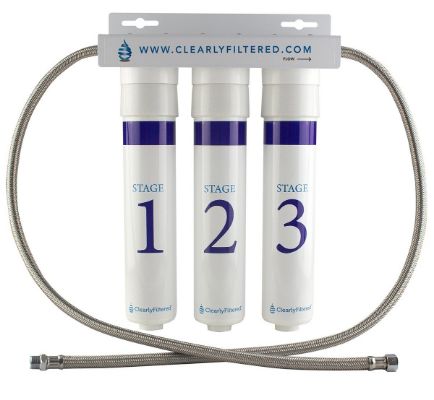 Clearly Filtered 3-Stage Under the Sink System
📌 Things You Need to Know
Activated carbon filters are the most popular filter type, and there are hundreds of filters to choose from in today's market
Many websites only show products that give them the biggest cut from sales, so they're not honestly telling you which carbon filters are the best investment
We've thoroughly researched and reviewed a variety of the most popular activated carbon filters available today, and ranked the top filters based on the most important performance factors, offering real statistics to support our choices.
Key considerations before buying are your water quality, installation and maintenance preferences, flow rate, and of course your budget.
🥇 Best Activated Carbon Water Filters
📊 Comparison Chart of Activated Carbon Water Filters
| Product | Clearly Filtered Pitcher | SpringWell CF | Clearly Filtered Under the Sink | ProOne Big+ | Kind E-1000 | Epic Smart Shield |
| --- | --- | --- | --- | --- | --- | --- |
| Ranking | 1st | 2nd | 3rd | 4th | 5th | 6th |
| Ratings | 5/5 | 5/5 | 5/5 | 4.5/5 | 4.5/5 | 4.5/5 |
| Price | $ | $$$ | $$ | $$ | $$ | $ |
| Contaminants Reduced | 365+ | 10+ | 232+ | 200+ | 150+ | 70+ |
| Certifications or Testing | NSF 42, 53, 401 & 473 | – | NSF 42, 53, 401 & 473 | NSF 42, 53, P231 | – | NSF 42, 53, 401 |
| Process | Mechanical + Carbon + Ion Exchange | Catalytic Carbon + KDF | Mechanical + Carbon + Ion Exchange | Activated Carbon + Ceramic | Sediment + Coconut Shell Carbon | Mechanical + Carbon + Ion Exchange |
| Filter Life | 100 gallons | 1,000,000 gallons | 2,000 gallons | 1,000 - 1,200 gallons | 80,000 gallons | 651 gallons |
| Annual Cost | ~$140 | ~$40 | ~$200 | ~$100 | $120 – $300 | ~$120 |
| Warranty | Lifetime | Lifetime | Lifetime | 1 year | Lifetime (limited) | Lifetime |
⭐ Reviews – Best Activated Carbon Filters 2023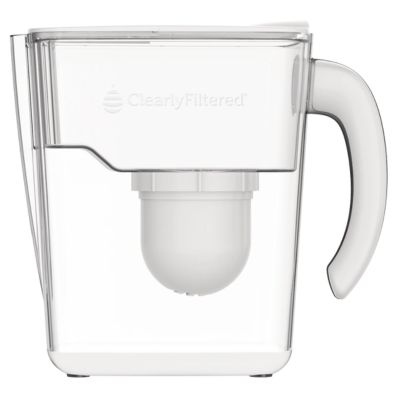 Clearly Filtered Water Pitcher
In our opinion, the best activated carbon water filter of 2023 is the Clearly Filtered Water Pitcher. Why? Because this filter is the cheapest on the list, yet reduces more contaminants than any of its competitors, using a unique filtration process that combines activated carbon, a woven mesh screen, and a composite shell. You won't find a better-value carbon filter than this – reducing 365+ contaminants and costing just over $80 upfront.
Key Features:
3 combined filter media – The Clearly Filtered pitcher is made from granular activated carbon, a filtration technology that traps contaminants using adsorption, alongside a woven mesh screen (which prevents large particles from clogging up the carbon media) and a composite shell (which increases water's contact time with the filter).
Reduces 365+ contaminants – The unique twisting, turning structure of the filter allows for incredibly thorough contaminant reduction. Some of the 365+ contaminants reduced by the Clearly Filtered pitcher are chlorine and chloramine (99.9%), PFAS (99.9%), lead (99.5%), and VOCs (99.9%)
NSF tested performance – One of the reasons why we love the Clearly Filtered pitcher is that its carbon filter has been tested to NSF Standards 42, 53, 401 & 473 – and for complete transparency, the manufacturer shares the test results online.
Best For:
Families of 1-4 looking for the very best activated carbon water filter system that can reduce more contaminants and costs less than its competitors.
Pros:
We're impressed with the Clearly Filtered pitcher's contaminant reduction abilities. This filter reduces far more contaminants than the average activated carbon filter, and it's ideal to see proof of performance with online test data.
The Clearly Filtered pitcher is super simple to set up. If you don't want the bother of hooking up a carbon water filter to your cold water line, you'll appreciate that this pitcher is essentially maintenance-free – just attach the filter to the lid, fill the pitcher, and you're good to go.
We love that you're protected by a lifetime warranty when you buy this filter. That's a sign that Clearly Filtered is super confident in its filter quality.
Cons:
Although the filter's 2-4-month lifespan is pretty average for a water filter pitcher, it's shorter than most other filter lifespans on this list. That means more frequent maintenance is needed.
Read the full review: ClearlyFiltered Pitcher Review
---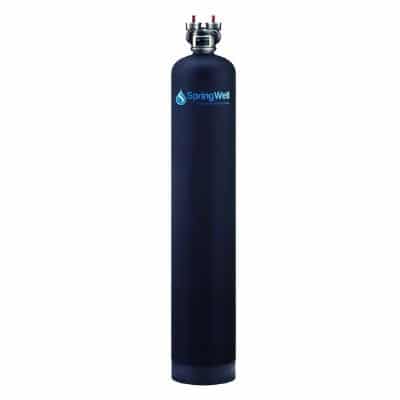 SpringWell CF Whole House Water Filter System
Based on our research, the best whole house filtration system that uses activated carbon filter media is the SpringWell CF Whole House Water Filter System.
This filter leads the pack in its category, with a more reliable performance than the majority of other whole house systems on the market, thanks to its certified KDF and catalytic carbon coconut shell filtration media. Plus, it comes with a few SpringWell-only perks, including an unbeatable limited lifetime warranty and a 6-month money-back guarantee.
Key Features:
High-quality catalytic carbon – The SpringWell CF uses catalytic carbon, an enhanced version of activated carbon that is modified for better chlorine reduction and chloramine reduction – something that most standard carbon filters can't manage.
Removes 10+ contaminants – This SpringWell model reduces a more targeted selection of contaminants than the Clearly Filtered Pitcher. The media greatly reduces just over 10 of the most common water contaminants, including chlorine, chloramine, heavy metals, herbicides, pesticides, PFOS and PFOAs, and more.
Three size options – Having multiple system size options is essential for whole home filter models, and the SpringWell CF is available in three configurations: a 1-3 bathroom unit, a 4-6 bathroom unit, and a 7+ bathroom unit. That means you shouldn't notice any loss of water pressure (as long as you size the system correctly).
Best For:
Folks looking for the best-value activated carbon water filter that will protect their entire water supply, including their shower water, from common drinking water contaminants.
Pros:
Our research tells us that the SpringWell CF is one of the most reliable whole home carbon water filters available today, thanks to its upgraded catalytic carbon and certified KDF media, offering a 100% dependable performance.
It's good to see that this system comes with a sediment filter included in the upfront cost, so you don't have to buy one separately. We always recommend using a sediment filter with a whole house water filtration system because it protects the media from damage and extends its lifespan significantly.
In our opinion, SpringWell is one of the most reassuring brands to purchase from. The CF has a limited lifetime warranty and a 6-month money-back guarantee, so you can buy the system risk-free.
Cons:
We wish SpringWell shared its test results online. We're missing important information about the system's performance and percentage contaminant removal.
Although the SpringWell CF is designed for DIY installation, it's more difficult to install than any of the other systems on this list due to its POE install location.
Read the full review: SpringWell Whole House City Water Filter System Review
---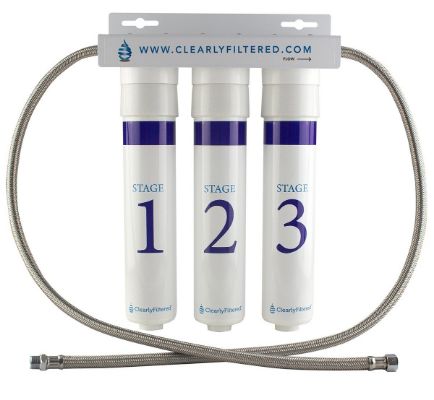 Clearly Filtered 3-Stage Under the Sink System
We think that the Clearly Filtered 3-Stage Under the Sink System is the best under-sink direct connect filtration system using carbon filter media available today. Once again, Clearly Filtered surpasses its competitors with a system that reduces more contaminants than the majority of other under-sink systems, with testing to NSF Standards as proof of its performance – and all for a competitive price of just under $500.
Key Features:
Activated coconut carbon filtration – The Clearly Filtered 3-Stage Under the Sink System combines an activated carbon filter (made from coconut shells – known in the industry to be the best material for carbon filtration) with a heavy metal & VOCs filter and a dedicated fluoride filter to provide thorough under-sink drinking water treatment.
Tested to NSF Standards for 232+ contaminant reduction – More than 232 contaminants are reduced by this under-sink water filtration system, including lead, VOCs, chlorine, chloramine, and PFOS. Clearly Filtered has enlisted in a laboratory to test the system to NSF Standards 42, 53, 401, and 473 (find the test data here).
Lifetime warranty – It's reassuring to know that your purchase is protected by the best warranty you can get today: a lifetime warranty.
Best For:
Folks who just want to filter their kitchen tap water and want a more advanced, on-demand carbon filtration solution than the Clearly Filtered pitcher.
Pros:
We love the simplicity of the Clearly Filtered 3-Stage Under the Sink System. As an under-sink system, it offers on-demand filtration, giving you instant access to filtered drinking water – but without the hassle of most under-sink filters. It's a direct-connect unit, so super simple to install (taking less than 10 minutes), and is compatible with your existing faucet.
We always appreciate being able to view test data online, so we know exactly what we can expect from a carbon filter before we buy it. It's great to see that this Clearly Filtered unit is tested to 5 NSF Standards.
Maintenance is minimal thanks to the system's impressive 2,000-gallon (9-15-month) filter lifespan – that's 3-6 months longer than the filters in most under-sink systems.
Cons:
The Clearly Filtered 3-Stage Under the Sink System might be a great value for money, but nearly $500 is still a big upfront investment.
Your water pressure will drop about 20% after installing this system.
Read the full review: Clearly Filtered Direct Connect Under-Sink System Review
---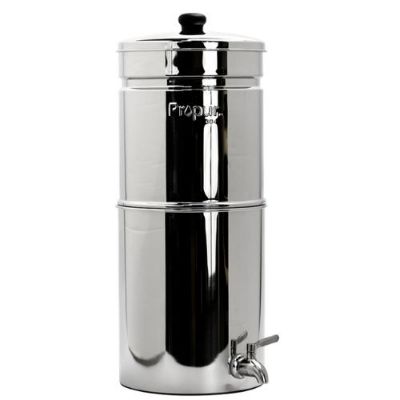 ProOne Big+
Next on our list is the ProOne Big+ Gravity Water Filter, which is, in our opinion, a superior countertop water filter that uses carbon filters. We love this filter because of its durable, stainless steel design and its ability to remove more than 200 contaminants – including fluoride, bacteria, and lead – using a blend of activated carbon and ceramic filtration.
Key Features:
Coconut shell and ceramic filtration – ProOne uses activated carbon filter media in a ceramic shell in its 7-inch G2.0 filter elements. This effective blend of filter media targets contaminants as small as bacteria and microplastics.
Reduce 200+ contaminants – According to ProOne's lab test results, the G2.0 elements can reduce more than 270 contaminants, including heavy metals, pharmaceuticals, chloramine, lead, and more.
NSF certified components – The ProOne Big+ has obtained an NSF certification to Standard 42 for components (something that most similar systems don't have). The unit has also been third-party tested to NSF Standards 42, 53, P231, P401, and P473.
Best For:
Anyone who's specifically looking for the very best no-install countertop carbon filtration system, and wants something that holds bigger batches of water than a filter pitcher.
Pros:
Combining activated carbon with ceramic filter media elevates the filter's performance and enables it to remove far more contaminants than a simple carbon filter alone. You definitely get the reassurance of clean drinking water from this ProOne filter.
It's great to see that the ProOne Big+ removes more than 97% of fluoride and arsenic without needing a separate fluoride filter (a common requirement in similar stainless steel countertop water filters).
The filters last up to 1 year with daily use – that's pretty good by the standards of countertop filtration systems.
Cons:
While we love that ProOne has obtained testing to NSF standards for its filter performance, we'd be even more reassured to see an official NSF certification for contaminant removal.
Cleaning the unit is a little awkward.
Read the full review: Full ProOne Big Plus Review
---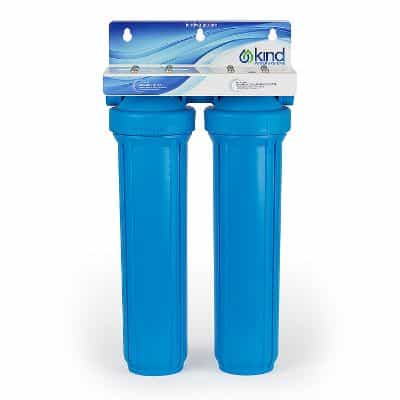 Kind E-1000 Whole House Water Filter
Based on our research, the Kind E-1000 Whole House Water Filter is the second-most capable whole house water filtration system that uses carbon media. This 2-stage system is cartridge-based, meaning that it uses several cartridge filters (including a carbon filter cartridge) rather than carbon media, to reduce tens of contaminants in a whole home water supply.
Key Features:
Catalytic carbon block media – Just like the SpringWell CF system, the Kind E-1000 Whole House Water Filter uses the upgraded version of activated carbon: catalytic carbon filter media, allowing for more thorough contaminant removal.
Removes tens of contaminants – This Kind model combines carbon filtration with a washable sediment filter to remove tens of contaminants, including chlorine, chloramine, dirt, debris, rust, and more. chlorine, chloramine, some heavy metals, PFAs, pesticides, and more. Check the test results for the carbon cartridge here.
15 GPM flow rate – You shouldn't notice a drop in your water flow or pressure after installing this system. Its 15 GPM service flow rate is higher than most people will need (the average whole home flow rate is 6-12 GPM).
Best For:
Folks who like the sound of a whole home carbon water filter system, but want to spend a bit less upfront and don't mind replacing filter cartridges once a year.
Pros:
The Kind E-1000 needs less maintenance than most cartridge-based whole home water filters. Replacement filters are few and far between thanks to the washable, reusable design of the sediment filter and the long 1-year lifespan of the carbon filter.
We appreciate that the carbon cartridge uses a solid carbon block filter, so it won't leak any black carbon dust into your water.
It's pretty easy to install this system thanks to its simple design – it has just two filters and two connections.
Cons:
We're missing an NSF certification for this system, which we'd love to see one day.
If DIY isn't your strong point, you might find the installation process challenging.
Read the full review: Kind E-1000 Whole Home Municipal Water Filter Review
---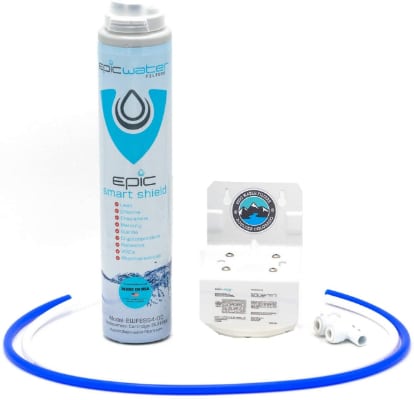 Epic Smart Shield
The Epic Smart Shield is our second-pick under-sink carbon filtration unit. We love this system for its ability to remove 99.99% of 70 different tap water contaminants with activated coconut carbon block filter media.
While the Smart Shield doesn't remove as many impurities as our top carbon under-sink pick, the Clearly Filtered unit, it has something that the CF system doesn't: an official IAPMO certification to NSF Standards for its performance.
Key Features:
Coconut carbon block filtration – The Epic Smart Shield uses a single filter cartridge, made from 100% recyclable activated coconut carbon, which traps impurities using adsorption.
Best For:
Anyone who wants the convenience of filtered water on demand but doesn't want to spend hundreds of dollars on an under-sink carbon filtration unit.
Pros:
The Smart Shield is one of the lowest-cost under-sink carbon systems that we've come across. For just over $100, you get a hell of a lot from this unit.
We appreciate that there's only a single filter to replace in this system – and it has a 9-12-month lifespan, so maintenance is minimal. Plus, Epic offers a recycling program that gives you a free filter for every three filters you recycle.
Installing this system is pretty easy, too – just attract the cold water adaptor to your under-sink pipe and hook the system straight up to the adaptor.
Cons:
Despite the filter's long 12-month lifespan, many customers reported that their flow rate reduced significantly after just a few months.
There isn't a lot of tubing supplied with the filter, so if you have a high countertop, you might need to buy more.
Read the full review: Epic Smart Shield Direct Connect Under Sink Filter Review
---
🧾 Activated Carbon Water Filter Buyer's Guide
In this buyer's guide, we've shared everything you need to know before you spend your money on an activated carbon water filter, including what an activated carbon filter is and how it works, and what to consider when buying this type of filter.
🤔 What Is Activated Carbon?
💡 An activated carbon water filter is a type of filter media that attracts certain contaminants using a process called adsorption, pulling them out of the water.
Types of Activated Carbon Filters
The most common types of activated carbon filters are:
Activated carbon block filters
Granular activated carbon (GAC) filters
Catalytic carbon water filters
These filters all offer a similar performance, but carbon block filters aren't quite as effective as GAC filters, because GAC filters have a larger surface area (and therefore an enhanced contaminant removal ability).
Catalytic carbon filters have the leading advantage over the other two filters because they're also capable of chloramine removal. Check out our full guide on activated carbon media for more information about these filter types.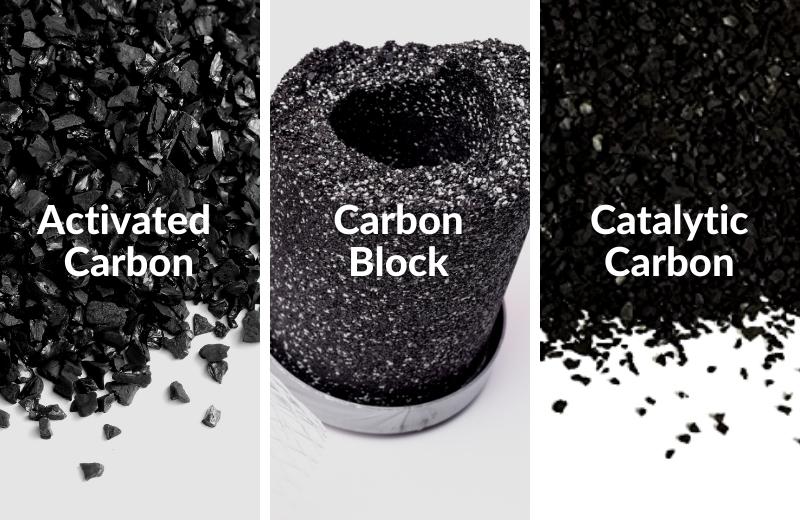 ⚙️ How an Activated Carbon Filter Works
Activated carbon water filters work a bit like a sponge, adsorbing contaminants into the filter media.
When water flows through an activated carbon water filter, certain contaminants are attracted to the media. These contaminants stick to the media and are unable to pass through with the water particles.
Activated carbon filters have a larger surface area than most other filters, enabling them to trap a broad range of contaminants. Eventually, though, the AC filter media will become saturated with impurities, reducing flow rate and signaling that a replacement filter is needed.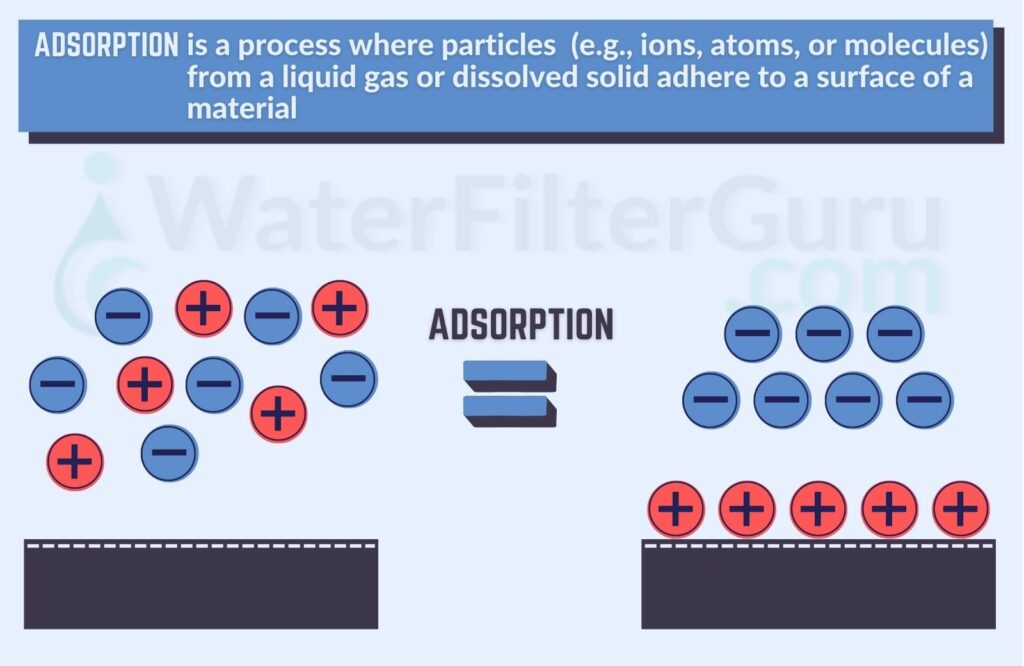 💭 What To Consider When Purchasing an Activated Carbon Water Filter
Before you buy any kind of carbon water filter for your home, consider the following things:
Your Budget
Your budget is the place to start. You need to spend at least $50 for a good carbon water filter.
The money you can afford to spend upfront will affect the type and size of the system you buy. The more affordable systems are pitcher filters and countertop water filter units (typically costing $50-$250).
If you have a bit more money to spend, consider an under-sink or whole house carbon water filtration system.
Also consider your budget for ongoing maintenance, Most carbon filters cost $25-$100 annually to maintain, depending on the system's complexity and the number of replacement filters needed.
Your Water Quality & Contaminants
You probably know that at least, carbon filters remove chlorine, taste and odor, as well as some volatile organic compounds (VOCs) and disinfection byproducts.
But the very best carbon filters can remove so much more than this – either because they've been upgraded to catalytic carbon (for the removal of additional contaminants including chloramine) or because they've been combined with other filter media, like ion exchange resin.
If you don't know what your water contains, get it tested. You can then decide on a suitable carbon filtration solution based on what you want to prioritize removing.
📌 Keep in mind that no carbon water filter can remove everything from your drinking water supply. If you want to reduce total dissolved solids, you'll need a reverse osmosis filter.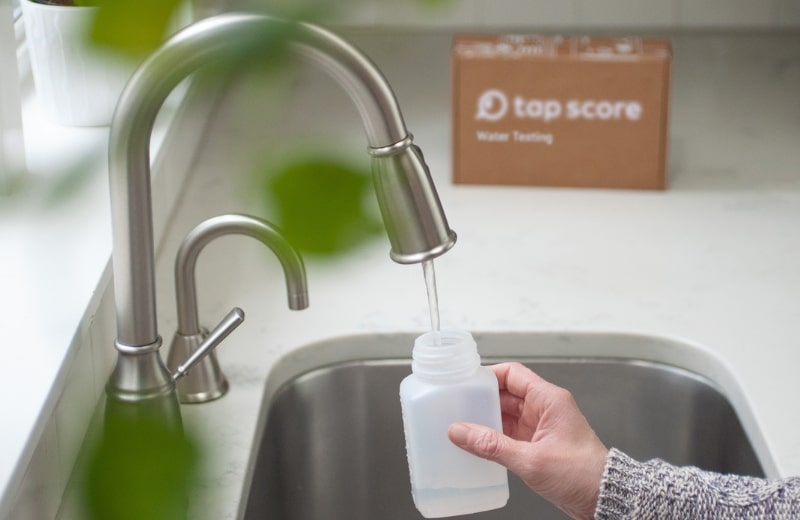 Water Flow Rate
The flow rate of a carbon filtration system determines how quickly you'll get access to filtered tap water.
Flow rate is less important for systems that don't intercept your water line, like countertop filters and water filter pitchers. These units use gravity filtration, so they take longer to produce a batch of water – but most people are happy to fill the unit in the morning and let it filter throughout the day.
If you choose a whole home system using carbon filtration, flow rate is more important. These systems are often available in several different sizes, so you can choose the right size for your house size and water usage. Make sure to size your system correctly to avoid issues with water flowing too slowly around your home, which could make your appliances less efficient.
Installation & Maintenance Preferences
Installation is a big factor that will affect your filter purchase decision.
If you're not fussed about getting stuck into a DIY project, and you prefer to drink filtered water straight from your tap, look at a carbon system that's installed directly at your water line.
Otherwise, if you'd rather avoid a more challenging installation, opt for a carbon system that doesn't need to be installed at all, like a pitcher filter or countertop water filtering system.
Maintenance is easy regardless of the filtration system you opt for. Most carbon systems just need their filters replacing every 2-12 months, depending on the filter type. Opt for a tank-based system if you'd rather use a long-lasting media that only needs to be replaced every 7 years or so.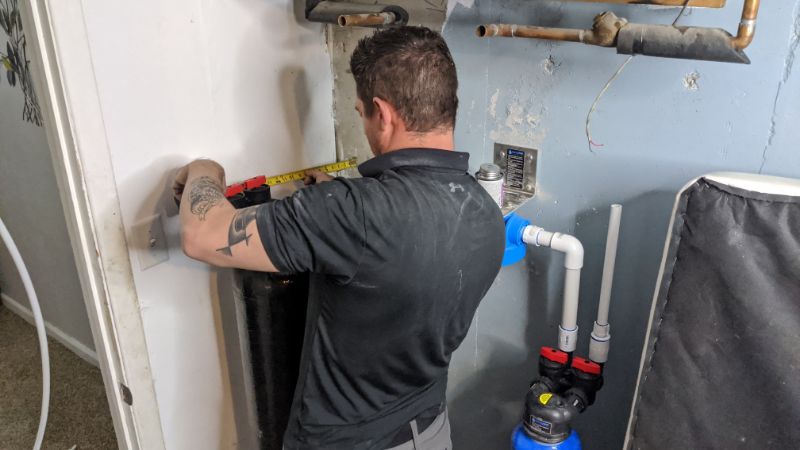 Testing & Certifications
The very best carbon filters have testing to NSF Standards, or official NSF certifications, for their contaminant removal abilities.
Many filter manufacturers on this list share their test results online, which is great – it means you know exactly how a filter should perform before you buy it.
Official NSF certifications are even better, since a water filter has to meet the NSF's stringent guidelines to obtain one.
System Warranty
Don't buy a carbon filtration unit if it doesn't come with some sort of warranty.
A filter's warranty depends on the filter size, type, and upfront cost, but the warranty should be at least 1 year long, ideally 5+ years.
Even better if the manufacturer also offers a money-back guarantee, which allows you to trial the system for a few months and return it for a full refund of it doesn't live up to your expectations.
❔Frequently Asked Questions
Is activated carbon good for filtering water?
Yes, activated carbon is good for filtering water. Activated carbon filters use a process called adsorption to grab onto drinking water contaminants, holding them in their media like a sponge. However, activated carbon can only filter out contaminants (such as chlorine, some VOCs, pesticides, and herbicides) that are attracted to the adsorptive media.
What is the difference between a carbon filter and an activated carbon filter?
All carbon filters are made from activated carbon, so there's no difference between carbon and activated carbon water filters. If a manufacturer refers to a filter as a "carbon filter", it means that it's an activated carbon filter.
Which is better carbon block or GAC?
Carbon block filters are better than GAC filters because they have a larger surface area, which gives them a better contaminant removal ability. Carbon block filters also slow down filtration, giving water a longer contact time with the media, which also allows for more contaminants to be removed.
Are whole house carbon filters worth it?
Yes, whole house carbon filters are worth it if you're keen to remove contaminants like chlorine from your entire home's water supply, including the water you shower in, wash your clothes with, and cook with. However, if you just want to remove contaminants from your drinking water, you might want to save money and buy a smaller under-sink or countertop activated carbon filter, to get the same results, but on a smaller scale.
Can you purify water with activated charcoal?
No. Activated charcoal filters water, but it doesn't purify it. Very few filters can remove every single impurity from tap water. If you want to achieve pure water, look at reverse osmosis systems.