Brita is the brand that everyone thinks of when someone says "water filter pitcher", while Santevia is a lesser-known brand that's becoming rapidly popular for its natural mineral filtration offerings.
This Brita vs Santevia review will compare the most popular filters offered by the two brands. By the end, you'll have a good understanding of the differences between Brita and Santevia.
📖 TL;DR: Brita vs Santevia – Which is the Best?
We've been testing water filters for nearly a decade, so when it comes to filter comparisons, we know what we're talking about.
Both Brita and Santevia offer a small selection of high-quality filtration products. Brita has the advantage of industry longevity – we all know that Brita is a trusted brand. Plus, Brita's Elite filter removes more contaminants than Santevia's filter. But Santevia's filter removes more contaminants than the Brita Standard, also mineralizes water.
If you want the enjoyable taste of alkaline water, Santevia is worth considering. But for the reassurance of a well-known brand, better value, or longer-lasting filters, Brita is your best bet.
⚖️ Comparison Chart
| | | |
| --- | --- | --- |
| | | |
| Product | Brita Grand | Santevia MINA Alkaline Pitcher |
| Filter | Standard | Alakaline |
| Capacity | 10 cups | 9 cups |
| Contaminants removed | 5+ | 7+ |
| Filter lifespan | 40 gallons or 2 months | 80 gallons or 4 months |
| Annual Cost | $140 – $270 | ~$120 |
| Warranty | Lifetime | 30-day guarantee |
| Buying Options | | |
💡 Filter Comparison
Brita filters
Brita sells three types of water filters that are designed to slot inside a range of water filter pitchers. Brita pitchers are super easy to use: just add water to the pitcher, and the filter will gradually remove contaminants as water flows into the bottom chamber.
The Elite (previously known as Long-Last) and Standard Filters are Brita's most popular filters. The Standard Filter has a 40-gallon (or 2-3-month) lifespan and is made from carbon block, ion exchange resin, and a non-woven element, which reduce a handful of contaminants: copper, zinc, chlorine, cadmium, and mercury. The Brita Elite filter lasts three times longer and removes more contaminants (asbestos and lead) compared to the Standard Filter.
There's also the Brita Stream filter, which offers the advantage of faster filtration, but isn't quite as thorough at removing contaminants as the Brita Standard or Elite.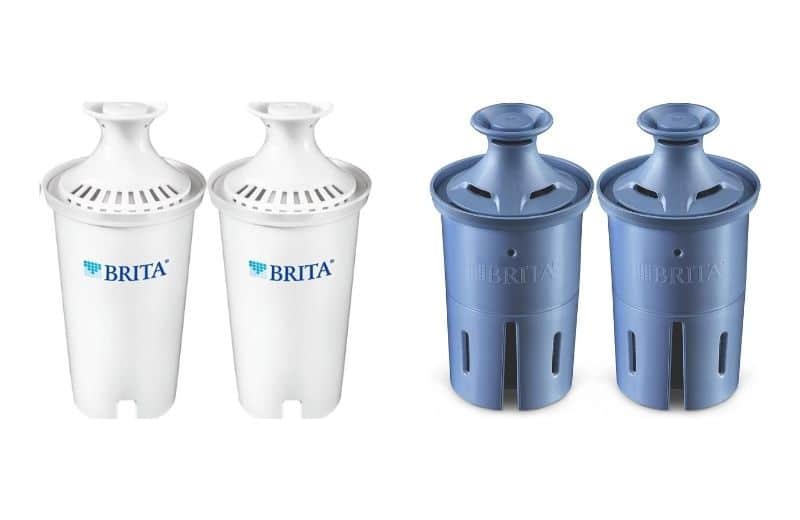 Santevia filters
Santevia offers a single water filtration pitcher: the MINA Alkaline Pitcher. This alkaline water pitcher uses a two-stage filter that combines granulated activated carbon (GAC) media and ion exchange resin with healthy mineral beads for mineralization.
🆚 What's the difference between GAC carbon and carbon block (Brita's filter media)? Carbon block is closely-packed compressed carbon, which increases water's contact time with the filter media and slows down flow. This typically results in more thorough filtration. But that doesn't instantly make Brita's filters the best. Remember, the Santevia filter offers something Brita doesn't: alkaline mineralization.
Santevia also sells Classic Alkaline Pitcher Filters that are compatible with the Classic Alkaline Pitcher, but this product isn't currently available on the manufacturer's website.
🧫 What Contaminants Do They Remove?
Some of the best water filter pitchers available today can remove hundreds of contaminants, but you shouldn't expect this from either Brita or Santevia. Brita's Standard and Stream filters remove 5 contaminants, and Brita's Elite filter 14 contaminants. Santevia's MINA Alkaline Pitcher removes 7 contaminants.
Brita Filters reduce chlorine taste and odor, mercury, copper, and more. The Elite also removes lead, arsenic, and a few additional contaminants.
The Santevia MINA filter reduces chlorine, chloramine, copper cadmium, mercury, and manganese – so a similar set of contaminants.
| Contaminant | Brita Standard | Brita Elite | Santevia MINA |
| --- | --- | --- | --- |
| 2,4-D | | 85.50% | |
| Asbestos | | >99% | |
| Atenolol | | >95% | |
| Atrazine | | 99.30% | |
| Benzene | | 93.50% | |
| Bisphenol A | | 95.50% | |
| Cadmium | 96.00% | 99.20% | 98.2% |
| Carbamazepine | | >96% | |
| Carbon Tetrachloride | | 91.20% | |
| Chlorine | 95.00% | 97.40% | 99.9% |
| Chloramine | | | 98.2% |
| Chromium (Hexavalent) | | | 98.0% |
| Copper | 94.00% | | 98.0% |
| DEET | | 98.00% | |
| Endrin | | 98.70% | |
| Estrone | | 96.40% | |
| Ethylbenzene | | 99.00% | |
| Fluoride | | | 40.5% |
| Ibuprofen | | 94.90% | |
| Iron | | | 93.0% |
| Lead | | 99.60% | 99.0% |
| Linuron | | >93% | |
| Manganese | | | 96.1% |
| Meprobamate | | >94% | |
| Mercury | 96.00% | 95.90% | 99.0% |
| Metolachlor | | >94% | |
| Naproxen | | 96.40% | |
| Nonyl phenol | | 93.50% | |
| Particulate (Class I ) | | 99.60% | |
| P-Dichlorobenzene | | 98.20% | |
| Phenytoin | | >95% | |
| Simazine | | 98.40% | |
| TCEP | | 99% | |
| TCPP | | >99% | |
| Tetrachloroethylene | | 96.10% | |
| Trimethoprim | | >96% | |
| VOCs | | | 99.9% |
| Zinc | 64.00% | | |
🚦 Performance Comparison
We measured the Brita and Santevia filters' performance based on three important parameters:
The filtration time
The effectiveness of the filtration
How long the filter lasts
Brita
Brita's Standard and Elite water filter pitchers take about 15 minutes to filter a full batch of tap water. The Brita Stream took about half this time, to the point where we were actually concerned that our water hadn't had enough contact with the media (and actually, the water from the Stream was the least thoroughly filtered of the three as a result).
The Standard Brita filter lasts 2 months – an average lifespan for a pitcher filter. It's the Elite (formerly LongLast) that knocks its competitors out the park with a super-long 6-month lifespan. Santevia can't compete with that.
Brita's prices are steadily increasing, so we recommend checking out the website for current pricing. But at the time of writing this review, a single Elite filter costs just under $20, and a single Standard filter costs about $8. That's pretty decent value for money from a big-name brand, especially for the 6-month lifespan of the Elite water filter.
📌 Why does Brita continue to be a hugely popular brand today? Because the performance of all Brita's filters is incredibly reliable. Customers are generally really pleased with the efficiency and speed of Brita filtration. The only exception is if your water is very hard. In that case, you might need to buy replacement filters more frequently.
The folks at Brita know how to reassure their customers with a couple of NSF certifications to support their performance claims. The Brita Elite has been certified to remove 12 contaminants.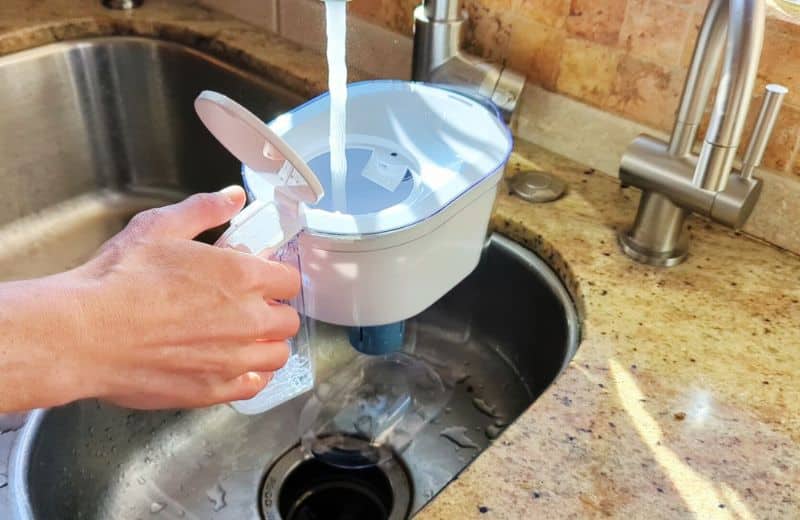 Santevia
The Santevia MINA water filter took slightly longer to filter a batch of tap water; about 20 minutes. Remember, slow filtration speed is actually a good thing – it shows that water is getting plenty of contact time with the filter media. Just don't expect to get instant filtered water from this pitcher (like any decent filter worth its salt).
With that said, the Santevia filter provided thorough filtration, and we were impressed with the taste and quality of our water. As an alkaline water pitcher, this model provides something that none of Brita's filters offer: mineralization. If you love the taste of alkaline water, the Santevia MINA is worth considering.
Like the Standard Brita filter, the MINA water filter has a 2-month lifespan. Like we said, no manufacturer can compete with the Brita Elite's 6-month lifespan, and 2 months is pretty common for a gravity filter. Considering a single filter costs about $20, the value for money isn't as good as Brita's, even with the additional mineralization stage.
💲 Models & Upfront Cost
Brita Models
Over the course of Brita's popularity, the brand has built up a pretty substantial offering of filter pitcher models. Currently, Brita offers 15 different water pitchers, and most are designed to be used with any of Brita's filters (aside from the Stream, which has its own dedicated pitchers).
Brita has recently changed the names of all its pitchers, so you might see a few previously-named models on Amazon (like the Brita Grand and the Brita Metro). Now, Brita's most popular pitchers are the 10-cup Champlain Water Pitcher (costing about $37), the 12-cup Cascade Stream Pitcher (costing about $35), and the 6-cup Metro Water Pitcher (costing just under $22).
Brita is the clear winner when it comes to variation and prices to suit every budget. Brita's pitchers are more affordable than Santina's single offering, too.
Not forgetting that Brita also offers a couple of bottle filters, dispensers, and faucet mount filters, so you don't have to stick to pitcher filtration if you don't want to.
Santiva Models
Santiva currently offers a single pitcher model: the 9-cup MINA Alkaline Pitcher. This pitcher is designed to fit the MINA Alkaline Water Filter and costs about $50 upfront (about $15 more than Brita's most comparable model).
You may also be able to find a Classic Alkaline Filter Pitcher, but only the filter for this pitcher is currently available on the Santiva website.
Choice is a good thing, and Brita is in a privileged place, with a large enough backing to afford to sell a range of different filter pitchers at a competitive price point, while Santiva (a smaller brand) is not.
If you prefer to pick and choose between different pitcher sizes and designs, Brita is the obvious choice. But the 9-cup MINA Alkaline Pitcher is a good size for most people.
📆 Filter Lifespan & Replacement Costs
Brita Filters
Brita offers its filtered water cartridges in 1-packs, 2-packs, 3-packs, and 6-packs. You can save a few dollars by buying multiple filters upfront. Not all replacement filters are available in all pack options.
The Brita Elite costs $20 for one, or around $33 for two. Given that the filter has a 6-month lifespan, you'll only need to pay around $33 per year (if you buy the 2-pack) for filtered drinking water.
The Brita Standard filter costs about $8 for one filter – one of the cheapest filters you'll find on today's market. You can save with a 3-pack, a 4-pack, or even a 6-pack, which costs $30 – reducing the spend per filter to $5.
The Brita Stream costs $8 for a single filter. You pay slightly more for the faster filtration, but we don't recommend this filter since it doesn't remove harmful contaminants as thoroughly as the other Brita filters.
As for Brita's faucet mount tap water filters, these filters last about 4 months and cost about $18 per filter. Brita's water bottle replacement filters cost $15 for a 3-pack (the smallest option available) and last about 2 months.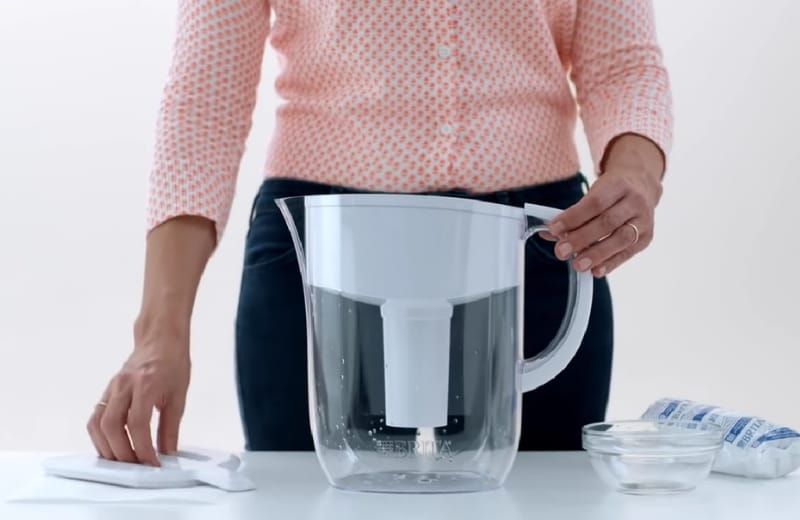 Santevia Filters
Santevia also offers the option to buy multiple filters for its alkaline water filter pitchers. You can save money on replacing filters if you buy a 3-pack upfront.
The Santevia MINA pitcher filters have a filter life of 2 months and cost $20 for a single filter. You can save $3 if you buy a pack of 3. It's difficult to compare the MINA filters to any of Brita's options since the MINA filters also offer mineralization, but we still think Santevia needs to drop its price by about $5 to stay competitive with Brita, given the filters' average 2-month lifespan.
The Classic Alkaline Water Pitcher Filters (for the pitcher that isn't currently available on the Santevia website) cost the same: $20 for one filter or about $57 for three.
Santevia also offers a range of replacement filters for its countertop gravity filtration system, costing $43 upwards, depending on what you need. Santevia's Power Stick Water Bottle Filter lasts about 3 months and costs $17.99 – about the same value as Brita's water bottle filters, given its longer lifespan.
In all, Brita offers the best value for replacement water filters. Brita's filters are the most affordable for their filter life and contaminant removal – but if you really want an alkaline water filter, you might still want to spend a bit more on Santevia's offerings.
💬 Customer Reviews & Complaints
Brita
Brita is popular on a global scale, with hundreds of thousands of customer reviews dating back more than a decade. All of Brita's filters exceed 4 stars on Amazon – a true marker of the brand's consistent reliability over the years.
Brita's Standard drinking water filters have 4.7 stars from over 200,000 reviews.
The majority of customers had only good things to say about the filter's ability to noticeably improve water taste and odor. One customer had tested both the Standard and LongLast (now Elite) filters and said the Standard filters did a much better job at removing chlorine.
We read a few reports from customers wondering whether they'd been sent a genuine Brita filter replacement or a knock-off. We don't know how this would happen – just make sure you buy through the Brita store on Amazon.
One customer also questioned whether or not their water contained any healthy alkaline flavors since the Brita filters gave it "no flavor". This is an issue you wouldn't get with the Santevia alkaline water filters!
👉 Read our full breakdown: How Effective Are Brita Filters?
Santevia
The Santevia MINA filters don't have the same popularity as Brita's filters, with just over 330 Amazon reviews – but the majority of these reviews are positive, earning Santivia a respectable 4.5 stars overall.
Customers called the MINA filters "the best" and "a good bargain price", and one customer claimed to have tried both Brita's and Santevia's filters and said that you could "taste the difference" when it came to tap water quality (Santevia was their winner).
There were a few customer complaints about defective filters, with some customers advising others to buy directly from Santevia's website. But again, as long as you buy directly from the Santevia store on Amazon, you should get the same filters and alkaline pitchers as you'd get on Santevia's website.
Some customers said that the Santevia MINA filters are "a little pricey" or "a bit expensive", but they were happy to pay the money for a filter that works.
☑️ Pros and Cons of Brita vs Santevia
👍 Brita – Pros
Affordable Price
Brita's pricing is ideal for small budgets. Brita knows how to compete with other water pitcher brands that might remove more contaminants from their drinking water, but cost three times the price because of it.
Multiple Design Options
Brita offers a range of pitcher filters, appealing to all budgets and tastes. You have the option to choose between 6-cup and 12-cup pitchers, depending on what you prefer.
NSF certified
Brita's water filters have the elusive NSF certification, which is a vote of confidence for new customers. You know for certain that your Brita filter offers a high standard of performance, because it has been third-party proven to do so.
👎 Brita – Cons
Doesn't Mineralize Water
Brita's carbon filters can only remove contaminants from water – they don't add any healthy minerals. This means the water from a Brita filter tastes a bit plain.
Questionable Filter Lifespan
The big selling point of the Brita LongLast (now Elite) filters is that they last 6 months, but many customers say they only last 3-4 months.
👍 Santevia – Pros
Filters and Mineralizes Water
If you struggle to drink tap water because of its plain taste, you'll appreciate that Santevia adds tasty minerals to your water. Plus, these minerals have health benefits.
Reliable Filtration
We couldn't find many customer reviews complaining about quality. Many customers said they were happy to pay slightly more for Santevia's filters for the guarantee of effective filtration.
Great Taste Guarantee
Santevia is so confident that you'll love the taste of its filtered water that the manufacturer promises you'll get your money back if you don't.
👎 Santevia – Cons
Only One Pitcher Option
Santevia currently only offers one pitcher, so you don't get the flexibility of choosing between models or sizes.
Costlier Than Brita
Let's make this clear: compared to other pitcher filters, and especially compared to other water alkaline pitchers, the Santevia pitchers are a great value for money. But they're still more expensive than Brita's offerings.
❔ Should I Buy Brita or Santevia?
So, is the best water filter pitcher offered by Brita or Santevia?
📌 We think Brita drinking water pitchers are the clear choice for most folks. Why? Because Brita's filters are more affordable, you get a bigger selection from Brita, and you know that you're paying for a reputable brand that has thousands of happy customers.
Santevia's alkaline water filter products proved to be reliable and thorough in our testing, and they're certainly not extortionately priced. If you're keen on drinking alkaline water, Santevia is one of the best brands to consider, with plenty of glowing customer reviews to support that. But we think Santevia just can't match up to Brita in terms of value, and none of Santevia's filters last as long as the Brita Elite.
For plain filtering tap water, Brita is best. But for alkaline, mineral-rich water, Santevia is best.
Ultimately, both of these filters are great choices, but neither of them is our number-one pick for gravity pitcher filtration. There are some incredible pitcher filters available today, so make sure to check out our top-pick water pitchers and alkaline water pitchers to make a well-informed purchase.