If you've been researching water filter pitchers, you've probably heard of Brita and Waterdrop.
Both brands sell a range of filtered water jugs, with built-in filter cartridges that remove common drinking water contaminants. If you want a portable, convenient water filter system that you don't have to spend a fortune on, both Brita and Waterdrop fit the bill. But which is best, and which – if any – should you spend your money on?
If you want to understand all the features of the Brita and Waterdrop water filter pitchers, and how these compare, you've come to the right place. In this impartial review, we've compared the price, filtration method, performance, contaminant removal abilities, maintenance requirements, and customer reviews for these filters – and much more.
Let's dive in.
⚖️ Comparison Chart
💡 Filter Comparison
Brita Filters
Brita filters are made from coconut shell activated carbon and ion exchange media, with a BPA-free plastic shell, and use tried-and-tested processes to remove a handful of common drinking water contaminants.
The main filtration method is adsorption, which pulls contaminants into the filter pores, allowing water molecules to pass through.
There are two Brita filters available:
The key differences between these filters are their lifespans. The Brita Elite lasts longer than the Standard – more on this later. The Brita Elite Filter can also remove a few more contaminants than the Standard Brita Filter.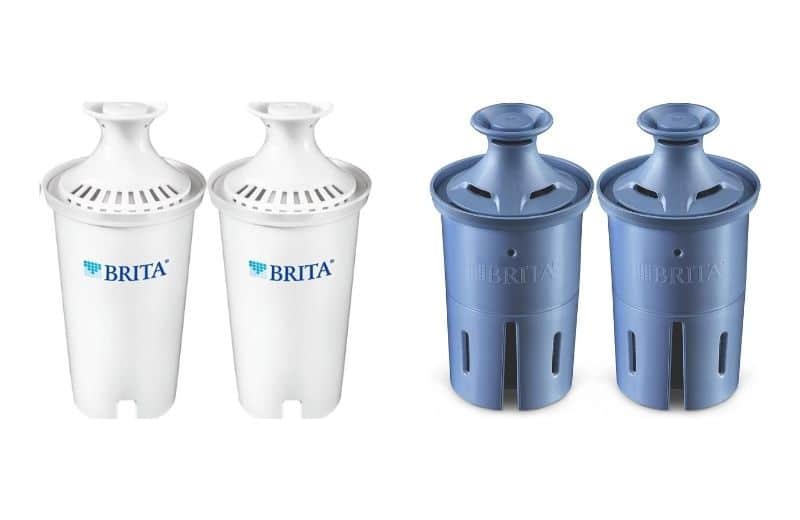 Waterdrop Filters
Waterdrop sells a single own-brand filter that fits in all its water filter pitchers, simply called the Waterdrop Replacement Filter.
The filter combines 7 stages of filtration technology and uses a blend of premium activated carbon fiber and creative activated carbon, which have a large surface area and, like the Brita filters, use adsorption to pull contaminants out of water.
According to Waterdrop, these two filter media offer advanced, high-efficiency filtration and prevent a buildup of bacteria and algae – a common problem for water filter pitchers.
🧫 What Contaminants Do They Remove?
Brita's Standard filter has basic contaminant removal abilities: it reduces chlorine, mercury, cadmium, copper, and zinc. The Elite filter is more capable – it also reduces lead, benzene, asbestos, particulates, and additional contaminants (but it doesn't remove copper or zinc).
The Waterdrop filter can reduce a similar set of drinking water contaminants, including chlorine, taste and odor, fluoride, and heavy metals like iron, copper, aluminum, and mercury.
Check the table below for the contaminant removal capabilities of the Brita Standard and Elite filters, and the Waterdrop filters, side by side.
| Contaminants | Elite (Longlast) | Standard | Waterdrop |
| --- | --- | --- | --- |
| 2,4-D | ✔️ | | |
| Algae | | | ✔️ |
| Aluminum | | | ✔️ |
| Asbestos | ✔️ | | |
| Atenolol | ✔️ | | |
| Atrazine | ✔️ | | |
| Bacteria | | | ✔️ |
| Benzene | ✔️ | | |
| Bisphenol A | ✔️ | | |
| Cadmium | ✔️ | ✔️ | |
| Calcium | | | ✔️ |
| Carbamazepine | ✔️ | | |
| Carbon Tetrachloride | ✔️ | | |
| Chlorine | ✔️ | ✔️ | ✔️ |
| Copper | | ✔️ | ✔️ |
| DEET | ✔️ | | |
| Endrin | ✔️ | | |
| Estrone | ✔️ | | |
| Ethylbenzene | ✔️ | | |
| Fluoride | | | ✔️ |
| Ibuprofen | ✔️ | | |
| Iron | | | ✔️ |
| Lead | ✔️ | | |
| Linuron | ✔️ | | |
| Meprobamate | ✔️ | | |
| Magnesium | | | ✔️ |
| Mercury | ✔️ | ✔️ | ✔️ |
| Metolachlor | ✔️ | | |
| Metal ions | | | ✔️ |
| Microplastics | ✔️ | | |
| Naproxen | ✔️ | | |
| Nonyl phenol | ✔️ | | |
| Particulates (Class 1) | ✔️ | | |
| P-Dichlorobenzene | ✔️ | | |
| PFAS (PFOA, PFOS) | ✔️ | | |
| Phenytoin | ✔️ | | |
| Simazine | ✔️ | | |
| TCEP | ✔️ | | |
| TCPP | ✔️ | | |
| Taste and odor | | | ✔️ |
| Tetrachloroethylene | ✔️ | | |
| Trimethoprim | ✔️ | | |
| Zinc | | ✔️ | |
🚦 Performance Comparison
When comparing the performance of the Brita and the Waterdrop Water Filter Pitcher, we considered the following three factors:
The filtration speed, or how quickly the filter performs
The filter's contaminant removal abilities, or the filtration effectiveness
The filter capacity, or the longevity of the filter performance
Brita
The Brita filters have a pretty average performance for a water filter pitcher. There's nothing about the filters' performance that makes them particularly unique in terms of contaminant removal and speed, but they're known for being reliable at least.
It takes around 40 seconds to fill a glass with filtered water from a new Brita filter. This is pretty good for a gravity filter – but the flow rate will get slower as the filter media becomes gradually more clogged with contaminants.
The Standard Filter has an NSF certification to Standards 42 and 53, for the removal of chlorine and some heavy metals, including mercury and cadmium.
The Brita Elite is better performing for its greater contaminant removal – it's WQA certified against NSF/ANSI Standards 42, 53, and 401. It removes lead, which the Standard Filter doesn't remove (which makes the Standard Filter not even worth buying in our opinion).
Being officially WQA certified to NSF standards is a performance benefit in itself because it shows that a trusted-third party supports Brita's performance claims.
In terms of filter capacity, the Brita Standard is, well, standard, with a 40-gallon or 2-month lifespan that's neither exciting nor disappointing.
The Brita Elite Filter is much better in this category, with a 150-gallon or 6-month lifespan. However, we do have to question how such a small filter cartridge can last this long. What happens when contaminants accumulate on the filter cartridge? We don't know how Brita has been able to address the issue of diminishing water flow in its Elite filters while still providing thorough contaminant removal.
Waterdrop
One of Waterdrop's main selling points is that it has a faster flow rate than other water filter pitchers – around 0.5 GPM. Apparently, it takes just 1 minute to filter an entire pitcher full of water, which is pretty impressive. Of course, speed isn't everything, since if water is traveling through the filter at a faster rate, it has less contact time with the media, and fewer opportunities for contaminant removal.
Waterdrop is vague about its filter's performance testing on its website, simply stating that the pitcher filter is NSF certified. We did some digging and found an eBay listing for replacement Waterdrop pitcher filters that says they're NSF 42 certified to reduce chlorine, taste and odor, as well as being NSF 372 certified for lead-free material. So, a good sign.
As for filter capacity, the Waterdrop filter excels again, with a 200-gallon capacity that Waterdrop estimates to equate to around 3 months. You can see that these gallon-to-month estimates for each brand don't add up – Brita's Elite only has a 150-gallon capacity but supposedly lasts up to 6 months. The reason is that different manufacturers base their filter lifespan estimates on tests with different water sources/qualities and different expected daily use volumes.
💲Water Filter Pitcher Models & Upfront Cost
Brita Models
Brita sells a range of water filter pitcher models, with 10 designs to choose from.
You can buy pitchers in different shapes and sizes, with various lid colors to choose from. Most pitchers have a 6-cup capacity or a 10-cup capacity, apart from the Cascade Stream Water Pitcher, which has a 12-cup capacity.
Some pitchers come with the Standard Brita Filter, while others come with the Elite. Most pitchers are compatible with the Standard and Elite filters for convenience.
Here's the full list of water filter pitchers currently available on the Brita website:
Denali Water Pitcher
Tahoe Water Pitcher
Wave Water Pitcher
Champlain Water Pitcher
Huron Water Pitcher
Space Saver Water Pitcher
Pacifica Water Pitcher
Rapids Stream Water Pitchert
Lake Water Pitcher
Cascade Stream Water Pitcher
Brita pitchers periodically undergo name changes, and some pitchers are no longer available on the website but are still sold on marketplaces like Amazon.
Waterdrop Models
Waterdrop has a smaller selection of filtered water pitchers. At the time of writing, we found three pitchers available on the manufacturer's website:
Two of these pitchers are 10-cup, while one has a 5-cup holding capacity. You can use the same filter in each of these pitchers. The main difference between them is the filter handle design – the Chubby filter has a wooden handle that's a bit more stylish than the plastic handles of the other two pitchers.
📆 Filter Lifespan & Replacement Costs
Brita
Brita's Standard filter lasts for 40 gallons, or around 2 months of use, while the Elite has a filter life of around 150 gallons, or 6 months of use.
There are a few factors that determine how long the filters will last, including how much water you filter through the pitcher every day, and your tap water quality. The more contaminants in your water, the more quickly the filter media will become clogged.
You can buy replacement filters in packs of 1, 3, 4, or 6. The more filters you buy together, the lower the cost per filter. So if you can see yourself using your Brita pitcher as a water filter solution for at least a year, and you can afford to spend more money upfront, buy a multipack of filters.
The price for a 3-pack of Brita Standard filters is about $20 – the same price as a single Brita Elite filter. You get 6 months out of the Elite, so that's about equal to the three Standard Filters.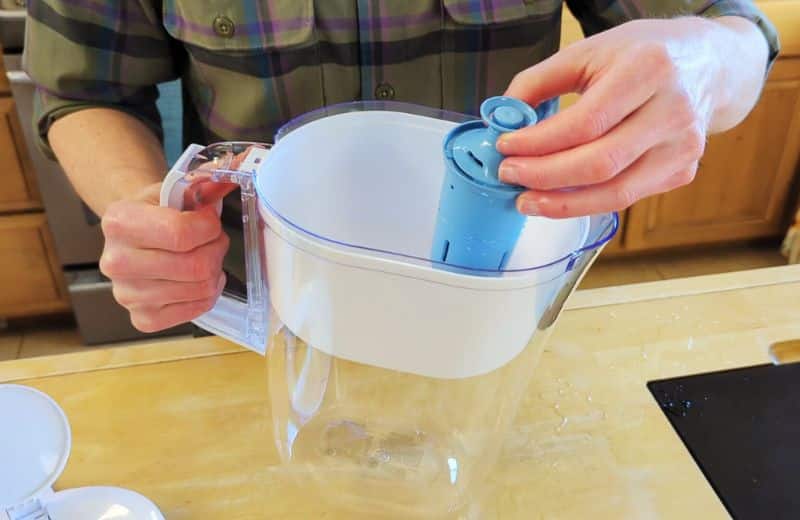 Waterdrop
Waterdrop's filter has a 200-gallon, or 3-month, filter life, meaning you'll need a filter replacement around four times per year.
A 3-pack of filter replacements costs around $33. Since this gives you 9 months of filtration, it's about the same value as the 3-pack of Brita Standard filters, which are cheaper by about a third but give 6 months of filtration.
At the moment, you can't buy just a single filter replacement on the Waterdrop website – you have to buy the 3-pack. You can save a bit of money (5% off your purchase) by subscribing to auto-delivery, which might be worth it if you're happy to get billed automatically whenever Waterdrop predicts that a new filter replacement set is needed.
💬 Customer Reviews & Complaints
Brita
Brita is one of the most well-known manufacturers and has a loyal returning customer base. The brand's website has more than 2,500 reviews for Brita pitcher filters alone, and you can also read up on hundreds of reviews on Amazon and similar marketplaces.
Most reviews are positive, with customers praising the Brita filters for being affordable and effective. Reviewers agreed that their water tasted better after using the Brita pitcher, and that replacing the filters was easy.
On the negative side, some customers said that the new Brita filter doesn't fit in the pitcher (this may have been resolved by the time you're reading this article), and that they ended up with a lot of loose charcoal from the carbon filter in their water.
Waterdrop
Waterdrop has a similar ratio of positive-to-negative reviews, and most customers were satisfied with their purchase.
Positive reviews mentioned the filter's lack of clogging and fast filtration, the great-tasting water, and easy-install.
Some reviewers complained that their water contained black specs from the carbon filter, and some said that the filters don't last as long as advertised.
☑️ Pros and Cons of Brita Vs Waterdrop Filter
👍 Brita – Pros
Trusted manufacturer
Brita is a trusted manufacturer that has steadily built a loyal fanbase over tens of years. Brita's products are reliable, and you know you're not going to get fobbed off with a poor-quality product. Customers have been buying from Brita since the 90s.
NSF certified
To further support Brita's trustworthiness, the manufacturer has obtained NSF certifications for its pitcher filters, so you don't have to simply hope that the marketing materials are telling the truth about the filters' performance.
More choice
We think it's useful that Brita sells two different filter cartridges for its tap water pitchers, so you can choose your preferred filter based on your budget and your contaminant removal preferences. The Standard filters are an affordable choice for folks who mainly want to remove chlorine and improve taste, while the Elite filters appeal to folks with a slightly bigger budget, who want to also remove lead and prefer to make minimal filter replacements.
Long filter life
If you choose to buy Brita's Elite filter, you only have to buy new filters twice a year. This is the longest pitcher filter lifespan that we've heard of – although we question how often the filters last the full 6 months.
👎 Brita – Cons
Only remove a few contaminants
Neither of Brita's filters blows us away when it comes to contaminant removal. We'd like to see an upgrade to the manufacturer's filters that allow them to remove other contaminants that many people are concerned about, like fluoride. We also think the Standard Filter should remove lead – you shouldn't have to pay more for the Elite filter just for this benefit.
New filter design has issues
Brita has recently introduced a new filter design, and customers are having issues installing the filter in their pitchers. Some reviewers said that they couldn't create a proper seal, so normal tap water was getting into the filtered water reservoir. A few customers also had enhanced issues with carbon particles in their filtered water.
Slower filtration
Brita filters are slower to filter water than the Waterdrop pitcher. If speed is a priority for you, don't choose Brita.
👍 Waterdrop – Pros
Also NSF certified
Waterdrop also has NSF certifications for its filters' performance, so they're third-party approved to remove certain contaminants and improve tap water quality.
Fast filtration
The Waterdrop filter's 0.5 gallon-per-minute water filtration rate is pretty impressive. If you don't want to wait for water to drip slowly through the filter, the Waterdrop pitcher offers a much faster water filter solution.
Decent filter life
We think the Waterdrop 200-gallon filter life is decent. 4 filter changes per year is manageable for most people. We're more inclined to believe that a 200–gallon filter life will last around 4 months, versus Brita's claims that its 150-gallon Elite Filter lasts 6 months.
Reduces buildup of microorganisms
Bacteria and algae growth is a concern for most water filter pitchers, so it's good to see that the Waterdrop pitcher has a special filter media that prevents the buildup of microorganisms.
👎 Waterdrop – Cons
Doesn't last as long as Brita Elite filters
If we're to believe Brita in that the Elite filters last 6 months, that means the Waterdrop filters have a lifespan that's 2 months shorter, meaning more annual filter replacements.
Not as popular as Brita
While Brita is known for its water filter pitchers, Waterdrop is better known for its under-sink RO water filtration systems. We think that's where the manufacturer really excels, while its pitcher filters could be improved.
Not as many options
You only get one filter in the Waterdrop pitcher, and there are currently only three models to choose from. If you love choice, you might feel that Waterdrop doesn't offer you enough.
❔ Should I Buy Brita or Waterdrop?
Although Brita and Waterdrop both sell perfectly good water filter pitchers, we wouldn't necessarily recommend buying any of them. Why? Because there are other brands that sell pitcher filters that remove many, many more contaminants than either of these pitchers can remove.
Based on our research, the best water filter pitcher is the Clearly Filtered Water Filter Pitcher, which has been tested to remove more than 360 contaminants (including PFAs, fluoride, volatile organic compounds, and more), and has test data to prove it. Why buy a pitcher that reduces only a handful of contaminants when you could buy one that protects you from hundreds more?
Don't rule Waterdrop out entirely as a brand. The manufacturer is best known for its under-sink RO systems, and this is where it really excels, offering products that are quicker, more efficient, and generally superior to conventional RO. If you want to remove total dissolved solids from your tap water, look at Waterdrop's RO systems.
Brita has recently released the Brita Hub, a countertop water filtration system that removes more than 70 contaminants. While this still isn't the most incredible stat we've seen, it's still better than any of Brita's pitcher filters, so it's something to consider if you have a bit more space on your countertop and you're set on the Brita brand.
In short, the Brita and Waterdrop pitcher water filters are both fine, but they're not the best water filter pitchers we've reviewed, so we don't personally think they're worth spending your money on.
Still not sure? Check out customer reviews for Brita and Waterdrop to learn about the customer experience for each of these water filters.