We've set up, tested and reviewed the Big Berkey filter in our own home to produce this guide. In this Berkey water filter review, you'll find information on the Big Berkey's must-known performance features, how the Big Berkey performed in our two before-and-after contaminant removal tests, and ultimately, whether or not we recommend this countertop water filtration system.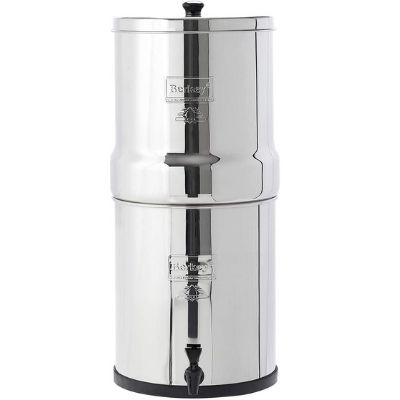 The Big Berkey is one of the most popular countertop gravity-fed water filters available today.
🧾 Overview of the Big Berkey Water Filter
The Big Berkey Gravity-Fed Water Filter is a stainless-steel portable water purification system designed for use by up to four people. The system uses gravity to send water through filter media, removing more than 200 contaminants.
Unlike some of the countertop water filters we've used, you don't need to attach the Berkey water filtration system to your faucet – it's a standalone unit that can provide a water filtration solution in any location where you have access to an unfiltered tap water source.
The Berkey countertop water filter is sold in a few different sizes, from the smallest Travel Berkey, for 1-2 people, to the largest Crown Berkey, for 6-10 people. For our review, we went for the Big Berkey unit as the most popular choice, suitable for 2-4 people. This Berkey system is 19.25" tall and 8.5" – so it's on the taller side for a countertop water filter. We found that the Big Berkey is more expensive than most of its similar competitors, including the ProOne Big+, the Alexapure Pro, and the Waterdrop King Tank. Our anticipated annual maintenance spend was less than $100.
We could buy our Berkey unit with up to 4 Black Berkey filters – these are the main filters that remove most of the contaminants. We also upgraded to include the two additional PF2 fluoride filter elements, which Berkey claims can remove fluoride, arsenic, MTBE, and other heavy metals.
❗️ Do you live in California? Learn about restrictions & how to get a Berkey in California here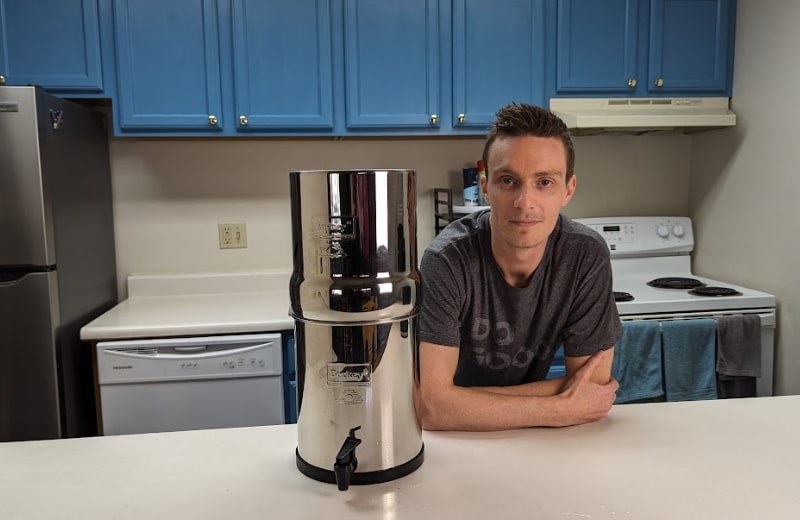 | | |
| --- | --- |
| Price | $449.00+ |
| Contaminants Removed | 200+ |
| Certifications | – (Not specified) |
| Process | Carbon + Ion Exchange |
| Filtration Capacity | 3,000 gallons/cartridge |
| Annual Cost | ~$40 |
| Warranty | Lifetime |
In our testing, the Big Berkey greatly reduced or removed most of the contaminants we were concerned about, including disinfection byproducts, heavy metals, and chlorine. In our first test, we had issues with the Berkey fluoride filters, which added unacceptable levels of aluminum oxide (from the activated alumina media) to our water. This problem was almost completely resolved in our second test.
👍 What We Like
No-install portable design
Removes 200+ contaminants
Long filter lifespan of 6,000 gallons/ 3 years
Doesn't require waterline connection or electricity
Sturdy stainless steel construction
👎 What We Don't Like
Expensive
Issue with fluoride filters adding aluminum oxide into water
Bulky design
Hassle to set up
No official performance certification
💡 First Impressions
As we mentioned, the Berkey countertop filter comes in a variety of different sizes, from tiny travel units to larger counter systems. We bought and reviewed the Big Berkey water filter, with this being the most popular choice available today. You can buy the unit from a number of Berkey dealers, and we got ours from berkeyfilters.com – one of the largest distributors of Berkey systems. At the time of publishing this review, the unit costs around $370 and comes with 4 Black Berkey elements. That's not a bad price, but some of the similar systems we tested from other brands cost as little as $200-$250, and most didn't require us to purchase additional filters for fluoride removal (with Berkey, this set us back an extra $99.99).
From a design perspective, the Big Berkey is a cylindrical countertop gravity water filter that holds up to 2.25 gallons of filtered water in the lower reservoir. It's made from stainless steel, so it's durable and BPA-free, although we're personally not the biggest fans of the industrial silver steel look. Since the Berkey units don't connect to electricity, they're pretty minimalist in design.
In the box that was shipped to us, we had:
Upper and lower stainless steel chambers
Stainless steel lid
2 Black Berkey purification elements
2 washers
2 wing nuts
Plastic spigot
Rubber gasket
Priming button
The way that the unit was intended to be assembled and used was pretty self-explanatory, but we recommend reading the user manual because there are specific setup and pre-use processes that are super important to follow (more on this later).
To summarize our first impressions, the Big Berkey isn't anything special from the outside, but we gave it top marks for practicality and functionality. It's pretty big and bulky, but not offensively ugly, and it has all the basic and necessary features for a gravity countertop water filter.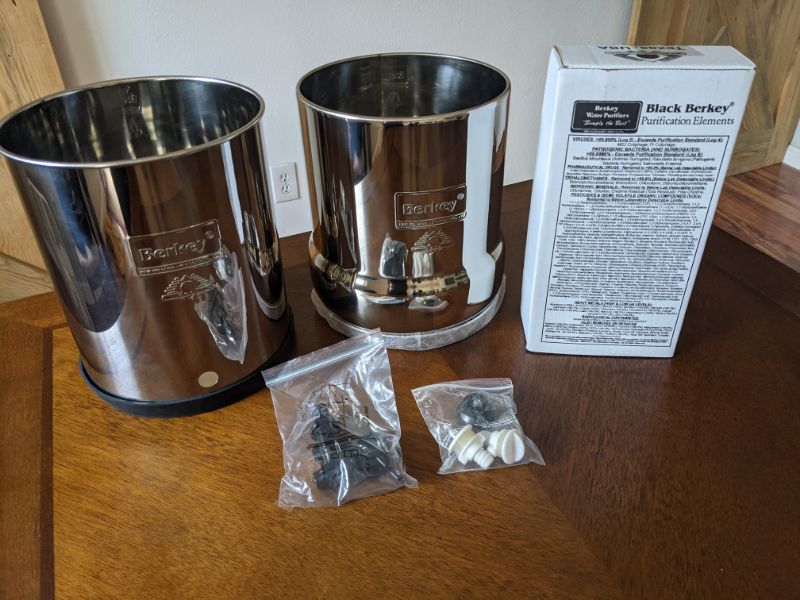 🧪 Performance Testing Data
We wanted to test how the Big Berkey performed when removing contaminants from our own drinking water supply – and the best way to do this was to perform our own before-and-after water test. We used Tap Score to test our unfiltered tap water and filtered Berkey water samples, who sent us the kit and instructions we'd need to take our samples. We then shipped our samples to the lab to be professionally tested.

Tap Score has a strict sample-taking protocol that we followed to ensure our test results would be as reliable as possible. We started by priming all the filters following Berkey's instructions, then installed them and performed a red dye test to ensure they were filtering correctly. Next, we ran 50 gallons of water through the system to ensure the filters had already been used for a while before taking our samples. To take samples, we filled a clean bucket with water from our faucet and swirled it around to make sure it was well-mixed. We then poured a sample of water directly from the bucket to be used as our "before" sample, and poured the remaining water into the Big Berkey for filtration. We dispensed our "after" sample of purified water from the Berkey spigot. A few days after sending our samples to the lab, we received our results via email.
For reasons we'll explain shortly, we tested the Berkey water filter system on two separate occasions. Below, we've discussed the contaminants detected in both tests, and how they compared.
Contaminant
Test 1
Pre-Filtration
Test 1
Post-Filtration
% Reduction
Test 2
Pre-Filtration
Test 2
Post-Filtration
% Reduction
Aluminum
0 PPM
1.44 PPM
n/a
0.052 PPM
0.069P PM
32.69%
Barium
0.0317 PPM
0 PPM
100%
0.0127 PPM
0 PPM
100%
Bromodichloromethane
0.00404 PPM
0 PPM
100%
ND
ND
ND
Calcium
ND
ND
ND
8.8 PPM
34.6 PPM
+293.18%
Chloride
ND
ND
ND
6.9 PPM
8.7 PPM
+26.09%
Chloroform
0.023 PPM
0 PPM
100%
0.0352 PPM
0 PPM
100%
Cobalt
0.0031 PPM
0.003 PPM
3.23%
ND
ND
ND
Copper
0.255 PPM
0 PPM
100%
0.0434 PPM
0 PPM
100%
Fluoride
0.2 PPM
0.1 PPM
50%
0.1 PPM
0 PPM
100%
Iron
0.1PPM
0.03 PPM
70%
ND
ND
ND
Lead
0.0027 PPM
0 PPM
100%
0.0006 PPM
0 PPM
100%
Magnesium
ND
ND
ND
2.19 PPM
9.88 PPM
+351.14%
Manganese
0.0014 PPM
0 PPM
100%
0.001 PPM
0 PPM
100%
Potassium
ND
ND
ND
0 PPM
1.68 PPM
n/a
Sodium
ND
ND
ND
10.4 PPM
9.29 PPM
10.67%
Strontium
0.168 PPM
0 PPM
100%
0.062 PPM
0.138 PPM
+122.58%
Sulfate
16.6 PPM
1.6 PPM
90.36%
10 PPM
23 PPM
+130%
Total Coliforms
15 CFU/100mL
0 CFU/100mL
100%
ND
ND
ND
Total THMs
0.027039 PPM
0 PPM
100%
0.0352 PPM
0 PPM
100%
Contaminants With Health Effects
Test 1
In test number 1, our unfiltered water contained 12 contaminants with potential health effects, with five of these – chloroform, total THMs, bromodichloromethane, cobalt, and lead – being detected in concentrations higher than the HGL. Also present in lower trace amounts were copper, fluoride, strontium, sulfate, barium, manganese, and sodium. All these contaminants have several possible health concerns, including:
Immune effects
Nervous system problems
Gastrointestinal effects
Blood system issues
Cardiovascular effects
Kidney and liver problems
Developmental and skeletal problems
Reproductive effects
Carcinogenic (cancer-causing) effects
Now here's where things get interesting. In our post-filtration test results, we could see that the Berkey had done a great job at removing our water's disinfection byproducts, lead, copper, barium, and manganese, and cobalt was reduced by 96%. However, our unfiltered water contained no aluminum – but the post-filtration test results detected 1.4 PPM of aluminum in our water, which is very concerning given that the official MCL set by the U.S. EPA for this contaminant is 0.2 PPM. That meant the Berkey fluoride filters, which use activated alumina filtration media, were adding aluminum oxide from the media into our water. We couldn't understand why this had happened – activated alumina shouldn't leach like this, especially when used with neutral pH water (our water had a neutral pH of 7.5).
The PF2 filters also only reduced our water's fluoride by 50%, from 0.2 to 0.1 PPM, but Berkey claims that it can remove up to 99.99% of this contaminant. Something didn't seem right, so we decided to conduct another water test to see if we'd received faulty fluoride filters or had done something wrong when installing the filters (despite following Berkey's instructions in the user manual).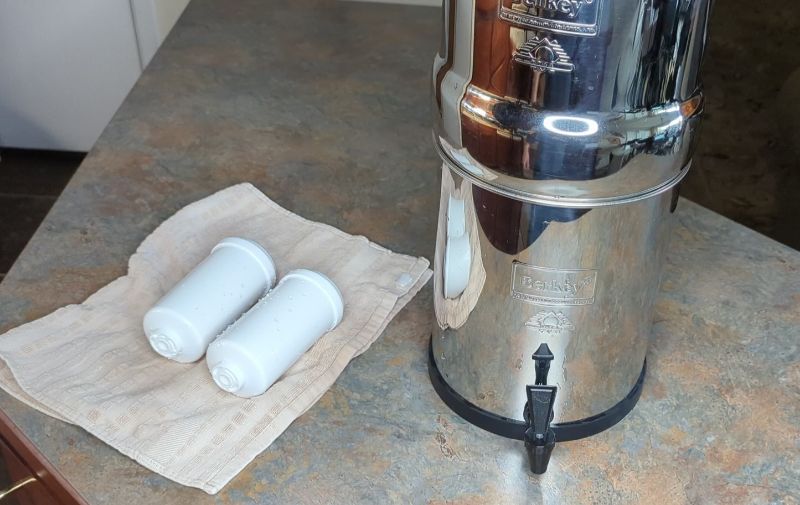 Test 2
For our test number 2, we purchased a brand-new set of Berkey fluoride filters and carefully followed the priming and installation instructions, being particularly mindful not to do more than 8 rotations when screwing the filters in place. We also ran more than 100 gallons of water through the filters – 50 more gallons than last time – before conducting the test.
This time, our filtered water's aluminum levels were much lower, at 0.69 PPM – a 32% increase from the initial 0.52 PPM detected in the unfiltered water. Even with our additional pre-testing steps, the fluoride filters still added some aluminum oxide to the water, but not a concerning amount. This time, the PF2 filters completely removed fluoride, which we were relieved to see, given that this was their intended purpose. The Black Berkey filters also removed 100% barium, chloroform, copper, lead, manganese, and total THMs from our water.
Aesthetic Contaminants
Test 1
In test number 1, no aesthetic contaminants were detected in our unfiltered water. However, interestingly, our filtered water from the Big Berkey water filter had a higher pH of 8.7, which, the test noted, could affect our water's taste. The test also listed aluminum (which, as we mentioned above, was the aluminum oxide that leached into our water from the activated alumina filters) as a likely source of water discoloration – but only in the presence of iron.
Test 2
In test number 2, no contaminants were detected in high enough concentrations to have aesthetic effects in our pre-filtered water or our post-filtered water.
🚦 Performance
Aside from contaminant removal, we also wanted to see how the Big Berkey water filter system compared to other gravity-fed filters across several different performance categories, including rate of filtration, water quality, and filter lifespan. Here's what we found in our testing.
Filtration Speed
The Big Berkey relies on gravity to filter drinking water, so we knew we'd have to put up with a slow and steady filtration process – although that wouldn't affect the quality of filtration; in fact, gravity filters are typically more thorough because water has an increased contact time with the filter media.
The filter flow rate is about 7 GPH (gallons per hour), depending on how many filters are used. On average, we waited up to 2 and a half hours for the unit with two Black Berkey filters to filter a 2.25-gallon batch of water. We only needed water for 2 people, which meant once we filled the chamber once in the morning, it'd last us for all cooking and drinking purposes all day.
One thing to note is that in our testing, the filtration process would continue even when the lower chamber was full, so we needed to be really careful not to overfill the system (we learned this the hard way, when water flowed out of the space between the two chambers and flooded our countertop). Plus, we couldn't see how much water was left in the bottom chamber. We had to lift the top chamber to look. Berkey sells a sight glass spigot to avoid this issue, but at an extra cost.
We found that we needed to routinely clean our elements to ensure the flow rate continued to be acceptable, which we've discussed later in this review.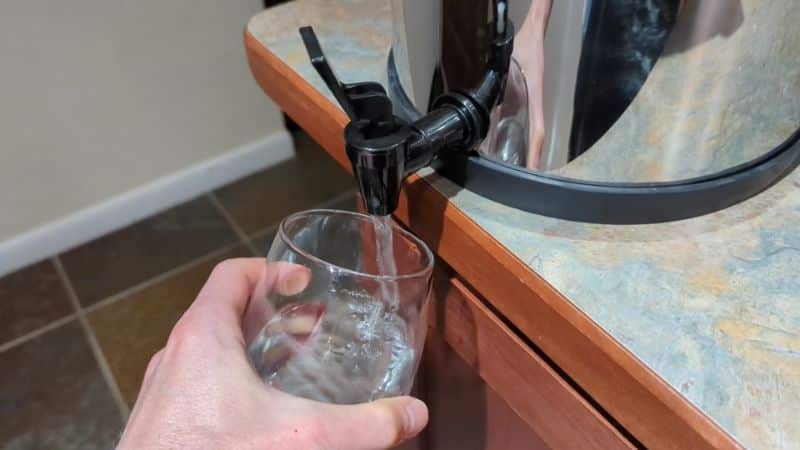 Water Quality
We've already discussed our contaminant removal tests for the Big Berkey system, but we also wanted to comment on our water quality in terms of taste, smell, and appearance.
In both testing scenarios, we noticed a significant improvement in our water's taste and odor, which is likely down to the activated carbon in the Black Berkey filter elements – activated carbon is the very best at taste and odor removal and is widely used in water treatment for this purpose.
In all, we were pleased with our water quality post-filtration and found that our water was more enjoyable to drink on the whole.
Performance Longevity
As for performance longevity, we worked this out by analyzing the Berkey filter lifespans. A pair of Black Berkey elements can last up to 6,000 gallons (3,000 gallons each), or 3 years, which is significantly higher than other systems.
Keep in mind that this really depends on the quality of water being filtered. We haven't yet been able to use the Berkey filtration system for long enough to confirm or deny Berkey's filter lifespan claims from our own perspective, but we'll update this section when we have.
As for the PF2 fluoride filters, these have a lifespan of 1,000 gallons, or up to 1 year, so while the Black Berkey filter elements don't need replacing regularly, you'll still need to fork out on the fluoride filters if you want to use them in your system.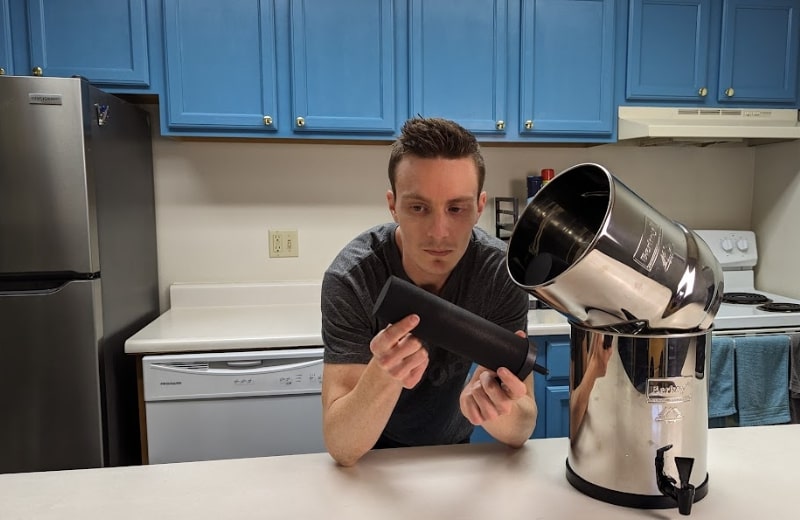 📑 Filter Testing & Certifications
The Black Berkey filters consist of coconut shell carbon and five other types of media (only one of these is disclosed: ion exchange resin). We know that activated carbon is a proven effective filtration method for removing chlorine, pesticides, and other contaminants with health effects, according to various studies. Ion exchange is also a popular media choice for gravity filters.
These filters have been tested by a third-party lab to reduce more than 200 contaminants, including 99.9% lead, 99.9% pharmaceuticals, 99.9% chlorine and chloramine, and up to 99.9% arsenic. Berkey originally claimed that its filters could remove microorganisms, but these claims have since been revoked. The Black Berkey water filters don't currently hold any official performance certifications.
While the Black Berkey water filters are a mandatory inclusion – i.e. you have to install them to have a working system – the Berkey fluoride filters are an added bonus if you're looking for that little bit extra from your system. The fluoride PF-2 filters have been tested to remove between 97.5% and 98.1% fluoride by an accredited third-party laboratory. Again, they don't have any official certifications for their performance.
🔧Installation & Maintenance Considerations
It took us about half an hour to assemble the Berkey system from start to finish, including priming the filters. It's definitely not the quickest system to set up when compared to others. There are very specific instructions that we had to follow for different stages of the setup, including a whole document on the fluoride filter priming process. The entire setup, including priming the filters, took us just under 30 minutes. We've shared a whole guide on how to prime the Berkey filters if you need it.
As for maintenance, the Berkey filters have a long life of up to 6,000 gallons per pair, so we didn't have to remember to replace these regularly. However, we did have to replace the fluoride filters around once a year. Berkey also has cleaning instructions for the system, which includes cleaning the stainless steel Berkey chamber once every month, and cleaning the Black Berkey filters using a Scotch Brite pad every 3-6 months, or when they start to filter water slowly. Check out our guide on cleaning the Berkey filters if you want to know how to do it.
😱 The "Berkey Water Filter Scam"
There's been some controversy over the years about whether Berkey's test results for contamination removal are fake, and whether the Berkey elements produce purified water at all.
The idea of the Berkey systems being a "scam" seems to be linked to the fact that Berkey arranged for private, third-party water tests for its systems, rather than using NSF/ANSI. Originally, this was at least offset by the fact that Berkey's products were tested to NSF Standard 53 for the removal of impurities with health effects. However, now we know that Berkey falsified these claims, meaning that Berkey filters don't have an official NSF/ANSI certification – and they're also not even tested to NSF Standards.
Berkey's competitors say that the Berkey systems don't live up to the company's claims, and that's apparently why California prohibits the sale of some of the Berkey systems, and Iowa doesn't allow the sale of any Berkey products at all. But this appears to be down to state laws (see our blog post on why Berkey units are banned in California for more info).
According to one Berkey distributor, its lab testing is actually more rigorous than the testing offered by the NSF/ANSI. Additionally, it was apparently Berkey's choice not to sell its products in California and Iowa because of the high costs of NSF/ANSI certification (a requirement in those states).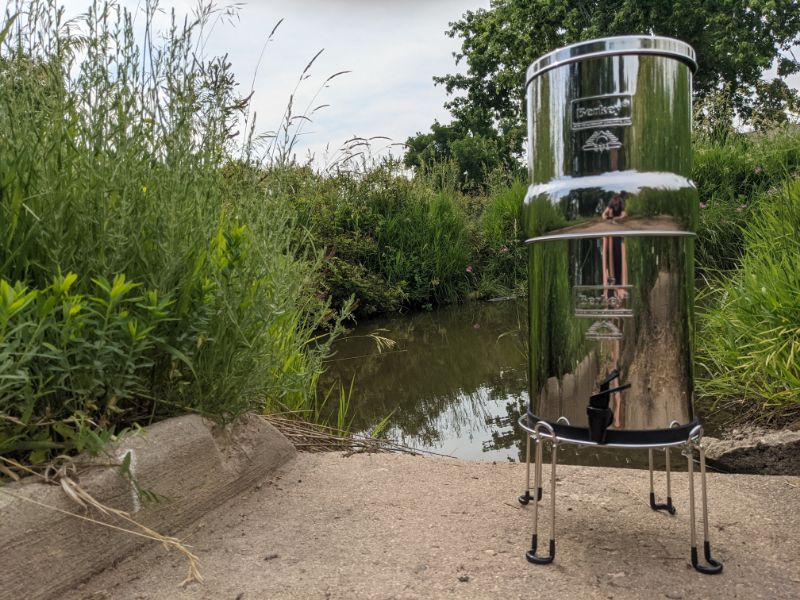 🤔 Is a Berkey Filter Right for You?
Though the Berkey filters are undoubtedly some of the best available, that doesn't mean the Big Berkey Water Filter is the best fit for your family. It depends on your circumstances and your requirements.
The Big Berkey unit is probably the right purchase for you if you have a flexible budget, you're looking for a basic yet effective means of removing heavy metals, chlorine, disinfection byproducts, and other common trace contaminants from your water, and you prefer a portable, no-install filter that you don't have to connect to a water pipe or electricity supply. We don't recommend the Big Berkey water filter system if fluoride is one of your main concerns – there are other stainless steel countertop filtration systems that eliminate fluoride with just one main filter and don't pose the same concerns with aluminum oxide leaching.
Found this review helpful?
Comment below or share this article!