Berkey and Brita are two company names that you may be familiar with if you are interested in having access to cleaner, healthier drinking water in your home.
Brita is an incredibly popular choice for people who are just looking for a quick and easy water filtration solution. It is also ideal for people who have never drank filtered water before, and want to spend a little money and see what the fuss is all about.
Berkey is very similar in concept, but offers a slightly more expensive and slightly more permanent filtration solution. While Brita is most famed for its water pitchers, Berkey's most popular products are its countertop water systems, which use a similar filtering method but can hold more water at a time and tend to have a more durable construction.
Comparing the Berkey water filter vs Brita filters is quite a challenge, because they're both so well-loved by their long-term customers. This guide will look closely at the features of both manufacturers' filtration offerings and give you all the information you need to make your own decision about which is best between the Big Berkey and Brita.
📖 TL;DR Berkey vs. Brita: Which is Better?
While Brita and Berkey both offer superior products, Brita pitchers are more portable and initially cheaper. However Berkey filters remove more contaminants, are much more durable, require less attention, and end up costing less in the long run.
If you want a quick, cheaper filter, Brita pitchers are your best bet. But for most people who want to invest in clean water for with more contaminant removal capability, Berkey is better.
⚖️ Comparison Chart
| | | |
| --- | --- | --- |
| | | |
| Product | Big Berkey | Brita Grand |
| Contaminants Removed | 200+ | 10+ |
| Filter Lifespan | 3,000 gal./ cartridge | 40 gal./ 2 months |
| Holding Capacity | 2.25 gallons | 10 cups |
| Warranty | Lifetime | 90 days |
| Annual Cost | ~$40 | $30 – $60 |
| Buying Options | | |
💡 Filter Comparison
Brita Filters
The Brita water filter is a gravity-style filter that takes 10 to 15 minutes to gradually remove contaminants from a pitcher full of water. Brita's water filters are so popular that the company now sells a variety of different pitcher styles, many of which look sleek and attractive enough to fit right into a modern kitchen.
The filters use coconut shell activated carbon material, which has tiny pores that are designed to trap contaminants like chlorine and heavy metals using the process of adsorption. They're relatively small and low-cost, and attach onto the inside of a Brita water pitcher and some non-branded pitchers. Many people consider Brita to be the best gravity water filter of its kind.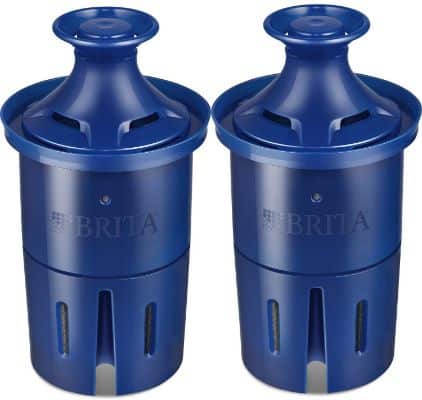 Berkey Filters
Berkey's filters are known as Black Berkey elements, and attach to the inside of the system between the top and bottom water chambers. As water passes from the top chamber to the bottom, it flows though the filter, which uses both adsorption and microfiltration to block contaminants and cause them to stick to the filter media, preventing them from passing through. Berkey's filters cost more money, but have much longer lifespans. Berkey is also considered one of the best solutions to filter water at home.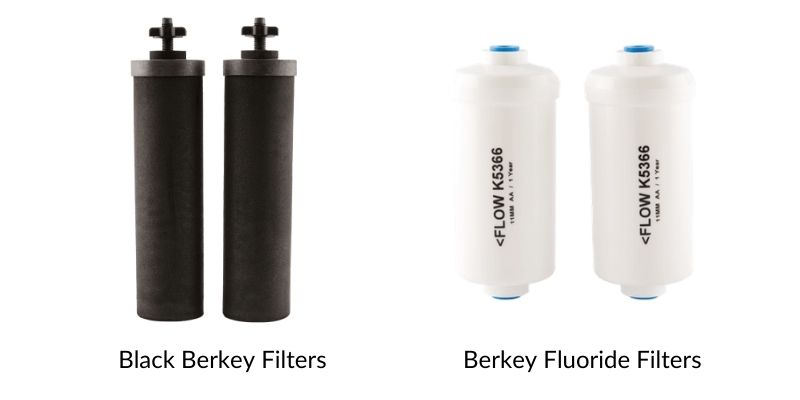 🧫 What Contaminants Do They Remove?
Both the Big Berkey and Brita's water filters are capable of removing a broad range of contaminants from tap water, including heavy metals, chemicals, and inorganic pollutants. Check out the table below for the full list of contaminants that both water filter systems can remove.
| Contaminant | Elite (Longlast +) | Standard | Black Berkey Elements |
| --- | --- | --- | --- |
| 2,4-D | 85.5% | | >94.1% |
| Asbestos | >99% | | |
| Atenolol | >95% | | |
| Atrazine | 99.3% | | >99.9% |
| Benzene | 93.5% | | >99.8% |
| Bisphenol A | 95.5% | | >99.9% |
| Cadmium | 99.2%-96.9% | 89%-93.0% | >99.7% |
| Carbamazepine | >96% | | >99.9% |
| Carbon Tetrachloride | 91.2% | | >99.8% |
| Chlorine | 97.4% | 95.0% | 99.9% |
| Copper | | 80%-94.0% | >99.9% |
| DEET | 98.0% | | |
| Endrin | 98.7% | | >99.9% |
| Ethylbenzene | 99.0% | | >99.8% |
| Estrone | 96.4% | | |
| Ibuprofen | 94.9% | | >99.9% |
| Lead | 99.5%-99.6% | | >99.9% |
| Linuron | >93% | | |
| Meprobamate | >94% | | |
| Mercury | 95.5%-95.9% | 93%-96.0% | >99.9% |
| Metolachlor | >94% | | |
| Microplastics | 99.6% | | |
| Naproxen | 96.4% | | >99.9% |
| Nonylphenol | 93.5% | | >99.9% |
| Particulates | 99.6% (Class 1) | | |
| P-Dichlorobenzene | 98.2% | | |
| PFAS | 98.1% (PFOA, PFOS) | | >99.9% |
| Phenytoin | >95% | | |
| Simazine | 98.4% | | >99.9% |
| TCEP | 99% | | |
| TCPP | >99% | | |
| Tetrachloroethylene | 96.1% | | >99.8% |
| Trimethoprim | >96% | | >99.9% |
| Zinc | | 64.0% | >99.9% |
Additionally, Berkey removes 195 other contaminants. See the full list here.
🚦 Performance Comparison
Brita
The Brita water filter has some of the most impressive performance capabilities of all water filter pitchers, and has an NSF certification for the removal of 12 contaminants to back it up. The filter system is comfortable and easy to use, with many of Brita's pitchers having ergonomic handles that make them easy to carry. The water filter system itself takes between 10 and 20 minutes to filter a full reservoir of water, depending on the pitcher size, and Brita's water filters have a lifespan of 2 months. Brita's LongLast system has an even better performance, thanks to its unmatched lifespan of 120 gallons.
Berkey
Berkey's filtration elements are currently unrivaled in terms of performance, thanks to their combined impressively long lifespan (3 to 5 years), their removal of more than 200 tap water contaminants, and their relatively fast filtration (2 hours and 45 minutes to entirely filter the 2.7-gallon Berkey). When you add another two elements into your Big Berkey water system, you can double their individual lifespans.
💲 Models & Upfront Cost
Brita models
You can buy the Brita water filter in a number of different styles and sizes, priced between $20 and $45. The full list of Brita's current available models is as follows: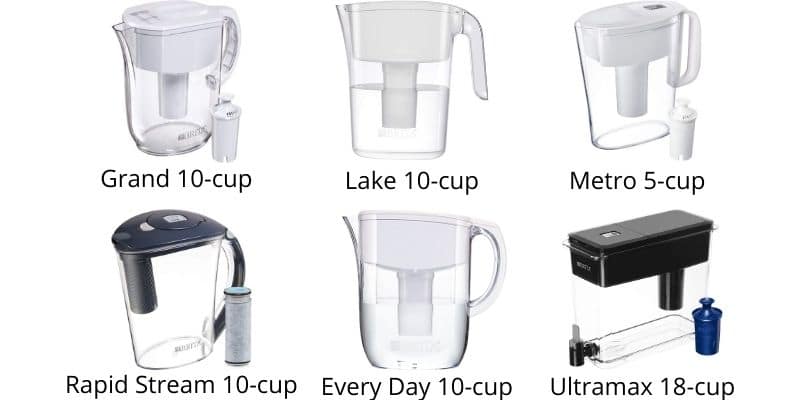 Brita also offers faucet water filters, which are an increasingly popular choice
Berkey models
Berkey uses the same design for all its water filters, but offers different capacities at different prices. The Berkey with two Black Berkey filters costs between $250 and $360, or roughly $100 extra for the Berkey water filter with four Black Berkey filters. You can buy the Berkey water purifier in the following options: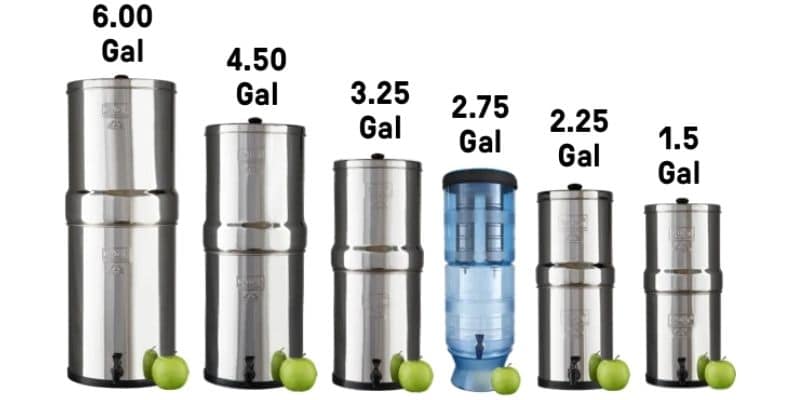 📆 Lifespan & Replacement Costs
Brita filters
Brita's Standard and Stream water filters have a lifespan of 2 months, which is typical of a water pitcher. These filters cost between $6 and $7, so they're a fairly good value for money – you can expect to pay between $35 and $40 for a year's supply.
There's also a Brita water filter that has a longer lifespan – the LongLast. It costs around $17, and lasts for 6 months. Considering you get three times as much use out of the LongLast option, but it doesn't quite cost three times as much as the 2-month options, that's an even better deal.
Berkey filters
The Berkey water filter elements cost $120 for a set of 2. With a lifespan of over 6,000 gallons, this is a cost that you'll only have to consider once every 4 years or so, making it a great value for money. Comparing the Brita filter vs Berkey, the Berkey filters definitely come out on top in terms of cost.
💬 Customer Reviews & Complaints
Brita
The majority of customers love Brita water filters, and to this day, the company remains one of the biggest and most trusted for drinking water pitchers in the US. The standard Brita water filter replacements have a 4.7-star rating on Amazon based on nearly 8,000 reviews, and customers praise the filters for reducing the PPM in their drinking water and helping them to cut back on using single-use water bottles.
On the flip side, some customers complained that Brita's filters leaked, and some questioned whether they had received Brita's genuine products.
Berkey
Berkey is similarly highly rated by Amazon customers, with 885 reviewers rating the Black Berkey filter elements a 4.6 out of 5. Customers were pleased with the Berkey Water filters' performance, especially their ability to remove fluoride (with the optional fluoride filter), which not all water filtration systems are capable of.
Some customers mentioned that the Berkey water filter elements need replacing more frequently than advertised – one customer even claimed to have needed to replace theirs after 12 months. Some customers also experienced a rubbery taste in their filtered Berkey water, which is caused by some of the rubber components of the system, and not the Berkey filters themselves.
☑️ Pros and Cons of Berkey & Brita
👍 Brita Pros:
Cheap to buy pitcher and filters
NSF certified to remove 12 contaminants
👎 Brita Cons:
Filters don't last very long
Pitchers need refilling with drinking more frequently
👍 Berkey Pros:
Long-lasting filtration elements
Durable stainless steel design
Removes 200+ contaminants
👎 Berkey Cons:
No NSF certification or testing to NSF Standards
Not as small or portable as Brita's systems
Should I buy Brita or Berkey?
If you're looking for a drinking water filtering system and you're trying to decide between Brita or Berkey, it's worth considering your own requirements and preferences. Is there really a better choice between Berkey filter vs Brita? We would say that it depends on what you're looking for.
Berkey filters are a better solution for people who prefer less maintenance, including fill-ups and replacing filtration elements, but they have a higher upfront cost. Brita's filtration pitchers are lower-priced, light and portable, and are a great short-term solution, but the filtering elements don't last as long, and you'll need to keep topping the pitcher up with drinking water more frequently.
In terms of quality of filtration, Berkey filters are ahead of Brita's. Because they have a long-term durability and tend to be more affordable in the long run, you might find that they're a better choice for you than Brita's offerings. The only thing that lets them down is their lack of an NSF certification or testing to NSF Standards.