The best way to resolve all of your water quality issues is to install a water softener alongside a reverse osmosis system.
In this guide, we've discussed everything you need to know about installing these systems together, including the different configurations, costs, and benefits.
📌 Key Takeaways:
Reverse osmosis filters use membrane separation technology to produce purified, contaminant-free drinking water, and water softeners use ion exchange to produce soft water.
The benefits of installing an RO system alongside a water softener include addressing all water quality issues, protecting the RO membrane with the softener, saving money, and reducing environmental impact.
The cost of installing a reverse osmosis system and water softener is $1,500-$6,000+, depending on the system configurations.
🔄 Reverse Osmosis System: Quick Recap
If you need a quick recap of a reverse osmosis system and how it works, here it is.
A reverse osmosis system is a type of drinking water treatment system that employs multiple stages of filtration, including a semi-permeable membrane, which removes nearly all total dissolved solids (TDS) from water.
The purpose of reverse osmosis is to produce the purest drinking water through membrane separation. When water flows through the RO membrane, impurities are unable to pass through the membrane pores. These impurities are flushed down a drain, while water particles pass through to the other side.
RO systems are most commonly installed as under-sink or countertop units, but whole home units also exist.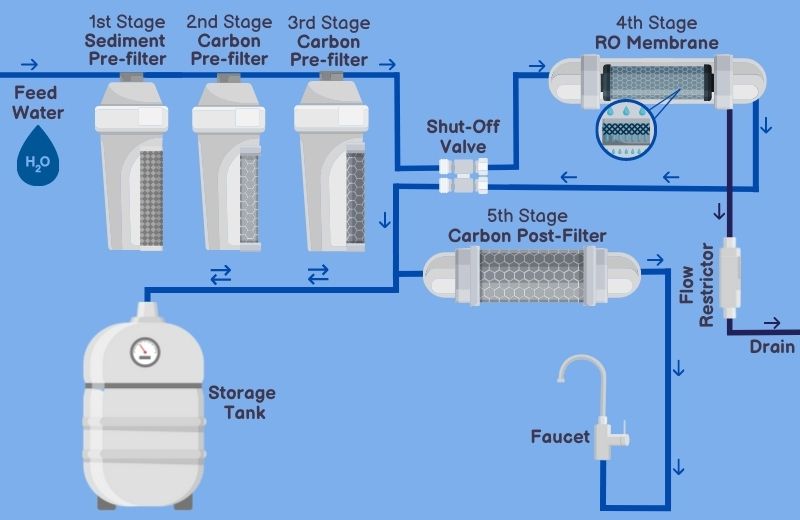 🔄 Water Softener: Quick Recap
Here's a quick recap of a water softener system and how it works:
A water softener is a point-of-entry (POE) system that tackles the issue of hard water.
Conventional salt-based water softeners work by exchanging calcium and magnesium ions (hardness minerals) with sodium ions on a charged resin bed. This process is known as ion exchange.
The purpose of a water softener is to prevent the aesthetic effects of hard water, including scale buildup and soap scum, around your whole house.
Water softeners are only available as whole-house units and are installed at your main water line, upstream of your water heater.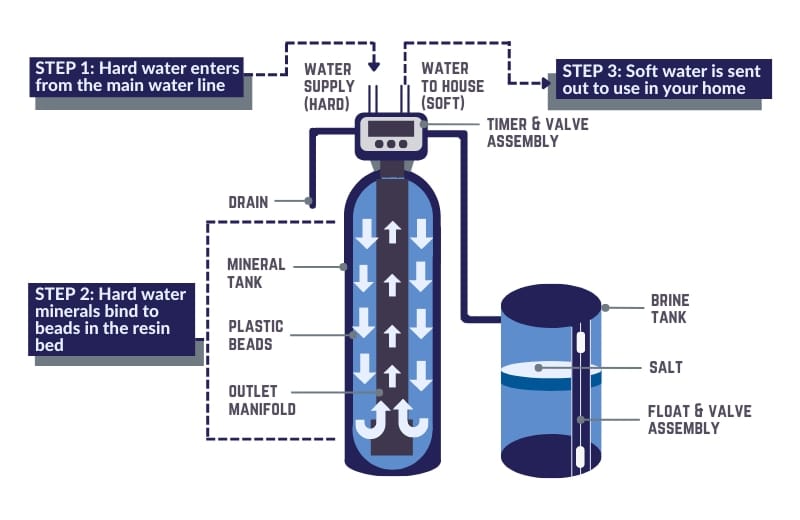 🤔 Why Install A Reverse Osmosis System With A Water Softener? 4 Benefits
Let's take a look at some of the benefits of installing a water softener and reverse osmosis system together:
Addresses All Water Quality Issues
The biggest benefit of installing a water softener and a reverse osmosis system is that all water quality issues in your home will be addressed.
A reverse osmosis filter addresses contaminants that could affect your water's taste and cause health effects, while a softened water system addresses aesthetic damage to your pipes and fixtures caused by hard water minerals.
Combining water softening with reverse osmosis technology is the only way to address both of these problems at once.
Water Softeners Protect RO Membranes
Installing a whole house water softener upstream of a reverse osmosis water filter will also protect the RO membrane from scale damage.
High levels of water hardness will damage the semi-permeable membrane because scale will build up on the membrane surface and cause clogging, preventing water particles from passing through. This will shorten the membrane's lifespan, meaning that you'll need to replace it more frequently.
You can prevent scale formation on the membrane by installing a water softener upstream of your RO system, which eliminates the minerals responsible for hard water scale.
Saves Money & Better For The Environment
There are several ways that you can save money by installing both a water softener and an RO system in your home.
For a start, reverse osmosis systems remove virtually all trace contaminants, producing bottled water quality water from your tap. So, you won't need to spend extra money on bottled water, and reducing your single-use plastic bottle intake means you're also doing your bit for the environment.
Plus, softened water from a water softener won't damage your appliances or reduce their efficiency. With a water softening system installed at your POE, your appliances should last longer, requiring fewer repairs and replacement parts.
You can save a great deal of money simply by maintaining your water heater's efficiency, preventing scale from forming in the water tank and corrosion of the heating elements.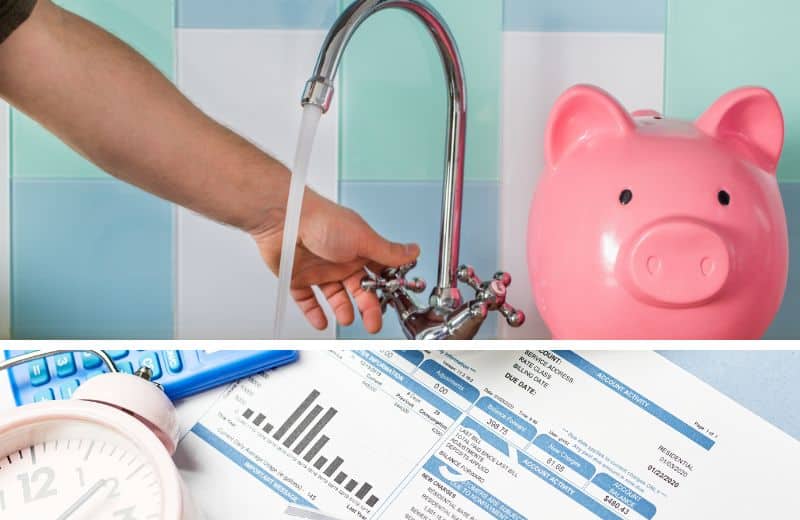 Provides Individual Benefits Of Both Systems
RO systems and water softeners each have their own individual benefits that you can combine when you install both these systems together.
Because reverse osmosis removes potentially harmful contaminants, its biggest benefit is that it produces purified water that's clean, safe to drink, and suitable for use in fish tanks, steamers, and other appliances that require pure water.
Water softeners have a few individual benefits, including healthier skin and hair, improved appliance efficiency, reduced cleaning, and better lather with soap.
When you combine an RO system with a water softener, you can enjoy water that's safe to drink, healthy for your skin and hair, and unable to cause aesthetic issues around your home.
💸 RO System & Water Softener: Configurations & Costs
We know that installing RO systems and water softeners together gives the best possible outcome, but are these two water treatment systems within your budget?
We've shared what you need to know about their upfront and long-term costs below.
Upfront Cost Of RO System and Water Softener
To understand the variation in upfront cost, we need to know about the different system configurations and their individual prices.
There are a few different water softener types and configurations:
Conventional ion exchange softeners (with one brine tank and one resin tank)
All-in-one softeners (featuring the brine and resin tanks in a single cabinet)
Two-tank softeners (with two separate brine tanks and one resin tank)
Salt-free water conditioners (using a template-assisted crystallization tank; don't technically soften water)
There are a few different RO system configurations, too:
Conventional under-sink RO systems (tank-based)
Space-saving under-sink RO filters (tankless)
Countertop RO units
Whole house reverse osmosis filters
The type of softener and RO system you choose will affect the upfront cost.
If you want to go as cheap as possible, choose an all-in-one softener ($550-$800) and an under-sink RO system ($150-$300).
But if you can afford to spend more money, consider conventional water softening systems, which cost around $1,200, and look at all your options for RO filtration.
The most expensive route would be to combine a softener with a whole-house RO filtration system (costing $8,000+), which could easily set you back more than $10,000 in total but will give you the benefit of purified, softened water throughout your home.
📈 Long-Term Costs Of RO System and Water Softener
The long-term costs of owning these two water treatment systems are:
The cost of softener salt top-ups (about $20 – $40/40 lb. bag)
The cost of RO filter changes ($75-$1,000+ per year, depending on system size & configuration)
Most people with an under-sink RO unit and a conventional softener will spend less than $150 per year on average for maintenance.
🤔 Are Water Softeners Or RO Systems Better?
Soft water systems are no better than reverse osmosis filters, and vice versa – the best system for you depends on your more pressing water treatment requirements.
For instance, an ion exchange softener might be the best choice for you if hard water is your biggest problem and you're super keen to eliminate limescale.
Or, a reverse osmosis filtration system might be your top choice because you want to purify your drinking water and make it safe to drink, which can only be achieved by fine filtration.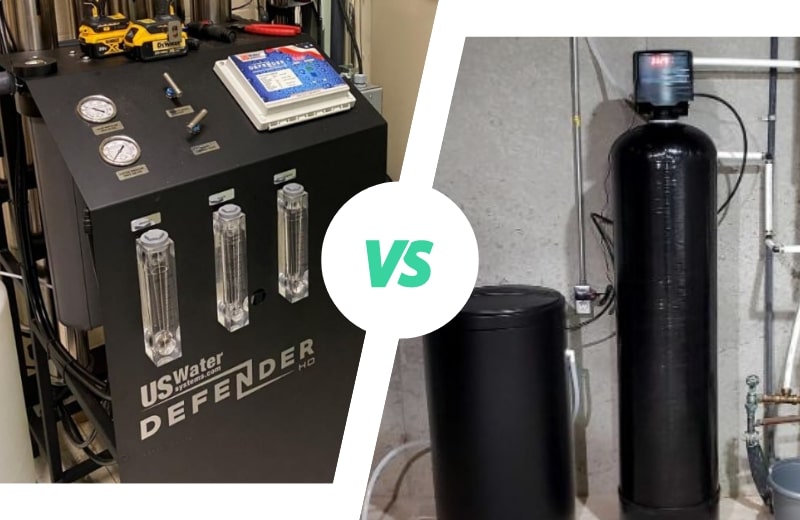 🔧 Why Install A Water Softener And Reverse Osmosis Filter?
Many folks choose to install an ion exchange softener with an RO water filter together to enjoy the cost savings and convenience of soft, filtered water at home.
When you install an RO water filter with a softener, you can enjoy better water taste, no limescale on your plumbing fixtures, longer-lasting appliances, and cleaner, safer drinking water.
Plus, a hard water treatment system can protect your RO filtration system and extend its lifespan, helping you to get more value from your investment.