Get quick, convenient clean water with the best countertop water dispensers.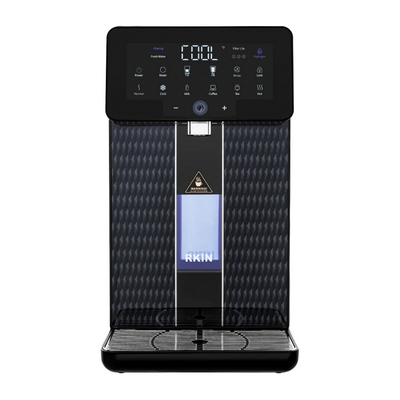 RKIN U1
ZeroWater 32 Cup Ready Read Dispenser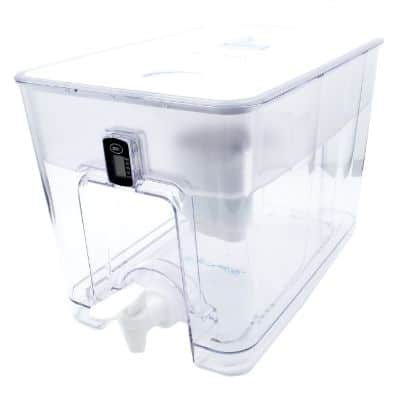 Epic Pure Water Filter Dispenser
The average person spends over $100 per year on bottled water. Collectively, we spend more than $31 billion annually in the US on throwaway, single-use water bottles. It's unsurprising, given the financial and environmental burden of bottled water, that so many of us are now seeking alternative ways to access clean drinking water.
If you're looking for an affordable, environmentally-friendly means of filtering your own drinking water at home, you've probably come across countertop water dispensers. But how can you choose just one, when there are so many dispensers on the market – all offered by manufacturers that say their product is the best?
We're here to help you make a smart buying decision. At WaterFilterGuru, we share blog posts, reviews and guides like this one, helping our readers to make informed purchases backed by all the information they need.
In this guide, we've focused on the top 6 countertop water dispensers, ranking them by performance, contaminants removed, durability, customer satisfaction, and more.
In this guide, we've shared:
The best countertop water dispensers of 2023
Important things to consider before buying a countertop water dispenser
Answers to the questions you might have about this type of filter
🥇 Best Countertop Water Dispensers
📊 Comparison Chart of Countertop Water Dispensers
| System | RKIN U1 | ZeroWater 32 Cup Dispenser | Epic Pure Water Filter Dispenser | AquaTru | Big Berkey Gravity-Fed Water Filter | NU Aqua 8 Stage Alkaline Mineral Countertop Water Filter | Avalon A9 Countertop Bottleless Cooler Water Dispenser |
| --- | --- | --- | --- | --- | --- | --- | --- |
| Ranking | 1st | 2nd | 3rd | 4th | 5th | 6th | 7th |
| Ratings | 5/5 | 5/5 | 5/5 | 4.5/5 | 4.5/5 | 4/5 | 4/5 |
| Price | $$ | $$ | $ | $$ | $$$ | $ | $$$ |
| Contaminants Removed | 99% of most contaminants | 99.6% of all TDS | 200+ | 83+ | 200+ | 5+ | 5+ |
| Certifications or Testing | NSF 58 (in progress) | NSF 42 & 53 | NSF 40, 42, and 53 | NSF 42, 53, 58, 401, P473 | – | n/a | NSF 42 & 53 |
| Holding Capacity | 1/2 gallon | 32 cups | 8 liters | 0.75 gallons | 2.25 gallons | n/a | 1500 gallons |
| Filter Capacity | 6, 12, 24 months | 40 gallons | 150 gallons | 600-1,200 gallons | 3,000 gallons/ cartridge | 700 filtration cycles | 6 months |
| Annual Cost | ~$180 | ~$160 | ~$140 | $70 – $80 | ~$40 | $50 – $100 | $100 – $200 |
| Warranty | 1 year | 90-day warranty | Lifetime | 1 year | Lifetime | 5 years | 1 year |
---
⭐ Reviews – Best Tabletop Water Dispenser 2023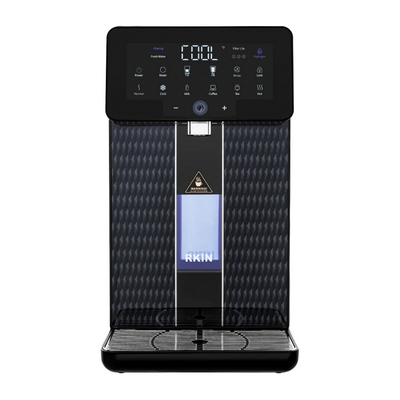 RKIN U1
In our opinion, the best countertop water dispenser available today is the RKIN U1. Why? Because it's smarter, sleeker, and more attractive than any other dispenser available today – and that's not all.
The U1 provides the most thorough filtration thanks to its RO performance, and it further enhances the taste and quality of water by introducing beneficial minerals and infusing hydrogen as two final stages of water treatment.
Key Features:
RO water treatment – Reverse osmosis is considered one of the most effective methods of removing all contaminants in water, and the U1 has been third-party tested to reduce up to 94% of all total dissolved solids.
Dispenses hot and cold water – You can choose between hot, cold, and ambient filtered water from this system, all with the touch of a button.
1-year warranty & guarantee – Your investment is protected when you buy this RKIN model.
Independent testing & NSF certification application – IAPMO has tested the U1 for its performance, and the manufacturer has also applied for an NSF certification for the unit.
Best For:
Folks who are keen to buy the very best, most capable and attractive countertop water filtration system, which can remove more contaminants and improve water quality better than any other system available today.
Pros:
It's great to see that the U1 has been tested by IAPMO for its contaminant removal abilities, and we've learned that the system is also in the process of obtaining an official NSF certification for extra reassurance of its performance.
You won't find any other countertop water filter that offers as much as the U1. Not only does it thoroughly filter water with membrane separation; it also remineralizes it, infuses it with hydrogen to deliver a negative ORP of 340, and heats or boils it to your desired temperature.
We love the unit's sleek, modern design. It's slim, space-saving, and smart enough to blend in nicely with your other kitchen units and appliances, with techy features like an intelligent touch control panel and a built-in UV light.
Cons:
This RKIN model wastes water (around 1 gallon for every 1 gallon purified), so it's not as efficient as non-RO countertop water dispensers.
We don't think everyone will want to pay $700 for a POU water filtration system, even though we think the U1 is actually underpriced if anything.
Read the full review: RKIN U1 Countertop Reverse Osmosis System Review
---
ZeroWater 32 Cup Ready Read Dispenser
When we considered affordability, contaminant removal, and convenience in one, the ZeroWater 32 Cup Ready Read Dispenser was our worthy runner-up to the RKIN U1 as the second-best countertop water dispenser available today.
This dispenser costs less than 10% of the RKIN U1's price tag and is NSF certified for lead, chromium, and PFOA/PFOS reduction.
Key Features:
NSF certified for contaminant reduction – The best reassurance of this ZeroWater dispenser's performance is its official NSF certification to Standards 42 and 53, for the reduction of chromium, PFOA/PFOS, and lead.
Reduces tens of other contaminants – Independent test results for ZeroWater's performance show that this filter can also reduce chlorine, asbestos, fluoride, iron, copper, nitrate, and nitrite.
Refrigerator-cool filtered water – The Ready Read Dispenser is designed to sit on a shelf in your refrigerator, giving you access to cold filtered water whenever you need it.
90-day guarantee – It's not quite the 1-year warranty offered with the RKIN U1, but considering the upfront price is less than $50, a 3-month guarantee is still great.
Best For:
People who aren't necessarily looking to spend hundreds of dollars on the sleekest or most tech-heavy countertop water cooler but still want a highly capable system with impressive contaminant removal abilities.
Pros:
We think the main selling point of the Ready Read Dispenser is that it's NSF certified for contaminant reduction. It's especially ideal if you're particularly concerned about lead in your water supply.
You can't complain about this filter's price point. It costs less than $50 upfront, proving that you don't have to spend a fortune if you just want a basic filter design with highly capable contaminant reduction abilities.
We love the convenience and portability of the dispenser. It's designed to sit on a shelf in your fridge, but you could also set it on a countertop, or take it with you on vacations and camping trips thanks to its lightweight design.
Cons:
ZeroWater's marketing focuses on the fact that this dispenser gives you an instant TDS reading as water leaves the spout, which is helpful for knowing when to replace the filter, but TDS reduction isn't always a good thing. There are healthy dissolved solids, like minerals and salts, that are actually better remaining in the water.
The filter lifespan isn't great. You'll need a filter replacement roughly every 2 months, or when the reading on the TDS meter gets to 006ppm or higher.
---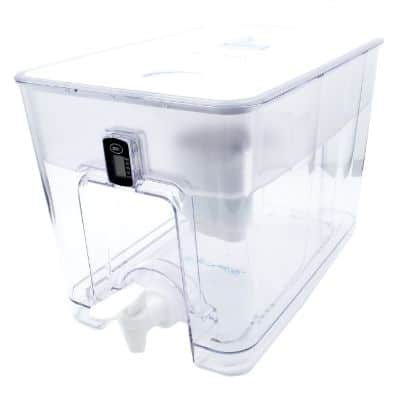 Epic Pure Water Filter Dispenser
We recommend the Epic Pure Water Filter Dispenser as the best affordable countertop water dispenser.
The Epic Pure is another traditional water dispenser that's designed to sit on the edge of a countertop or refrigerator shelf to deliver room temperature or cold water whenever you need it. Despite being one of the most affordable options available today, this unit boasts all the features of a much more expensive system, including 200+ contaminant removal (that's more than what the ZeroWater dispenser is advertised to remove), third-party testing to NSF Standards, and a lifetime warranty.
Key Features:
Gravity filtration – The Epic Pure Dispenser, like the ZeroWater Dispenser, filters water gradually as it flows through the filter and into the bottom chamber. You can access filtered water from the spout at the front of the dispenser.
200+ contaminants removed – This Epic filter can remove more than 200 contaminants from water, including chlorine (98.4%), lead (99.4%), fluoride (97.8%), mercury (91.8%), and PFOA (99.6%).
Lifetime warranty – It's unusual to see long warranties for filters under $100 (the ZeroWater dispenser only has a 90-day guarantee) but the Epic Pure Dispenser is backed by the very best lifetime warranty and guarantee. If you're not satisfied at any point, for any reason, you can return it for a full refund.
Tested to NSF Standards – This countertop dispenser has been third-party tested in multiple labs and deemed to exceed several of NSF/ANSI Standards: 42, 53, 401, & P473, for removing lead, chlorine, and more. See the test results here.
Best For:
Anyone with a smaller budget who wants to spend less money upfront on a countertop water dispenser but doesn't want to compromise on the quality of performance.
Pros:
The biggest benefit of the Epic Pure Dispenser is its price. It costs around $75 upfront, so it's ideal for folks who just want to try out a water dispenser before investing in a costlier model with more features, or people with small budgets who appreciate good value for money.
This unit is the only countertop water dispenser on this list that can be stored in a refrigerator – perfect if you want to dispense cold filtered water without having to pay extra for a dispenser with a built-in refrigerator.
We appreciate the simplicity of using and maintaining the Epic Pure Dispenser. With its basic, two-chamber design, this BPA-free plastic water dispenser takes seconds to set up and is super easy to clean between uses.
It's good to see third-party test results to support the manufacturer's performance claims.
Cons:
The filter lasts only 3-4 months, so you'll need to buy up to 4 new filters per year (the filter-life timer takes the guesswork out of filter changes).
Third-party testing is great, but it's not quite as reassuring as an official NSF certification, which the ZeroWater dispenser has.
Read the Full Review: Epic Pure Water Filter Dispenser Review 2023
---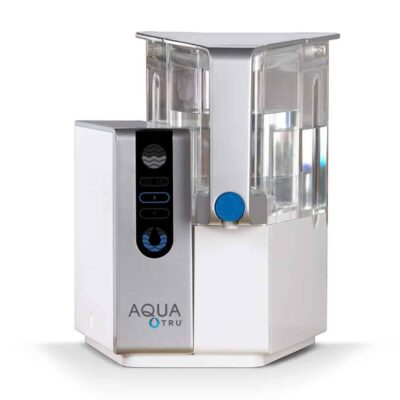 AquaTru
In our opinion, the AquaTru Countertop Water Purifier is a close runner-up RO countertop water dispenser, taking second place after the RKIN U1.
This four-stage reverse osmosis filter dispenser has been tested to NSF Standards to remove chlorine, fluoride, toxins, hormones, carcinogens, and more – up to 83 impurities in total – from drinking water. It's cheaper than the RKIN model and provides the same RO purification treatment, but doesn't have some of the U1's features, like hot and cold water dispensing and hydrogen infusion.
There are 4 AquaTru models to choose from:
The AquaTru Classic, the standard-issue model that we've reviewed here.
The AquaTru Connect, which has built-in WiFi and connects to an app that tells you about your water usage, filter lifespan, and more.
The AquaTru Alkaline Classic, the same as the AquaTru Classic but with an Alkaline Mineral Boost VOC filter rather than the standard VOC filter.
The AquaTru Alkaline Connect, which comes with both the WiFi compatibility and the alkaline remineralization filter mentioned above.
The price difference between the cheapest model (the Classic) and the most expensive model (the Alkaline Connect) is just $70, so it's worth considering an upgrade if you want to drink mineral-rich water or check the status of your filters from your phone.
Key Features:
Reverse osmosis water treatment – The AquaTru uses reverse osmosis to treat water, with sediment and carbon filtration, a semi-permeable membrane, and (optional if you upgrade) an alkalizing remineralization stage.
Independently tested for contaminant removal – The system can remove up to 99.9% of all total dissolved solids, and has been tested to NSF Standards to remove more than 80 impurities.
Portable countertop filtration solution – The AquaTru can be used to filter water at home and on your travels. You can set it up in a matter of minutes, and access purified water instantly. The water tank holds up to 3 quarts of purified water.
Highly efficient purification – Compared to other RO systems, the AquaTru wastes less water, with a pure to wastewater ratio of around 3:1.
Best For:
Folks who want a few more features and better purification performance than a standard carbon-based countertop water dispenser, but don't want to spend lots of money on an uber-expensive unit.
Pros:
Even the costliest AquaTru model is about $200 cheaper than the RKIN U1, so it's an affordable alternative that offers very similar features (just no water temperature adjustment or hydrogen infusion).
You won't find a more thorough filtration process than reverse osmosis. Even the most difficult-to-remove impurities, like fluoride, are greatly reduced in this system. And independent testing data supports the manufacturer's claims.
We love the AquaTru's sleek, compact, easy-use design. It should blend in with any modern kitchen and it's simple to set up and dispense water from.
For a reverse osmosis water dispenser, the AquaTru is pretty quick, producing one gallon of water in 12 to 15 minutes.
Cons:
Despite its water recovery rate of around 65-75%, like any RO system, the AquaTru still wastes some water.
Considering the AquaTru costs around $400-$500, we think it's probably worth just saving up the extra $200 or so for the RKIN U1, which has better features and is a better value for money.
Read the Full Review: AquaTru Review (Updated: 2023)
---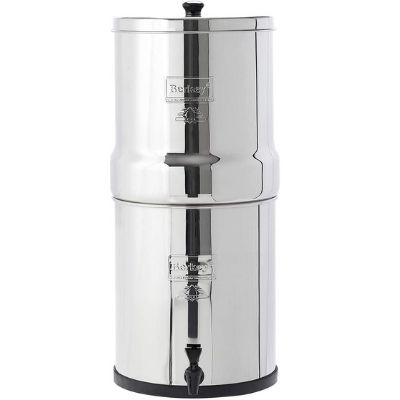 Big Berkey Gravity-Fed Water Filter
Our top recommended choice for the best countertop water filter dispenser with a large holding capacity is the Big Berkey Gravity-Fed Water Filter.
We love the Big Berkey because it holds up to 2.25 gallons of water at a time, so you don't need to constantly refill it. Plus, the unit has one of the best filter lifespans we've seen, removes an impressive selection of contaminants, and is competitively priced considering everything it offers.
Key Features:
Carbon & KDF water treatment – The Black Berkey elements combine carbon and KDF to remove more than 230 drinking water contaminants.
Large water holding capacity – With a 2.25-gallon filter capacity, the Berkey is bigger than a standard dispenser, and can hold more water at once (it's suitable for families of up to 4 people).
Easy-use design – The Berkey is easy to set up and use: just fill the top reservoir with water and wait for it to filter into the bottom chamber.
Gravity filtration – As a gravity filter, the Berkey doesn't offer instant access to purified water. It takes 2 hours and 15 minutes to filter an entire batch of water – but you don't have to wait for the water to fully filter before you dispense some from the bottom chamber.
Best For:
People who prefer a countertop water dispenser that doesn't need to be connected to electricity or plumbing, and folks who don't want the fuss of replacing filters every few months.
Pros:
We love the lack of maintenance involved in owning the Berkey. The Black Berkey elements have a really impressive lifespan of up to 6,000 gallons – this is one of the best filter lifespans on the market.
It's good to see that all Berkey models come with an exclusive lifetime warranty, so you're covered for any unexpected faults throughout the unit's lifespan.
Though the Big Berkey is bigger than many dispensers, it's easily portable thanks to its completely freestanding design. It doesn't require electricity or a plumbing connection, so you can take it with you on your travels.
The unit is designed using stainless steel, not plastic, so you can rest assured that the system is BPA-free.
Cons:
Like all gravity filters, the Big Berkey is slow to produce a filtered batch of water. Plus, a design flaw means that water may overflow from the bottom chamber if you fill the top chamber too much.
Berkey hasn't obtained an official NSF certification for its systems. That means we have to rely on data from independent test results.
Read the Full Review: Berkey Water Filter Review 2023
---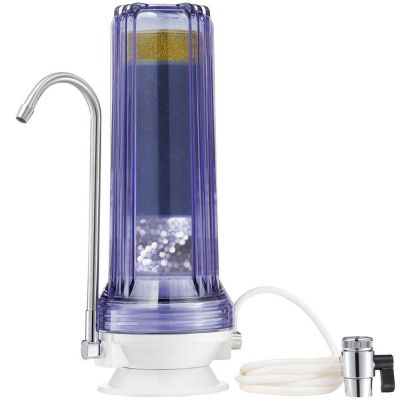 NU Aqua 8 Stage Alkaline Mineral Countertop Water Filter

Our recommended choice as the best remineralizing non-RO countertop water dispenser is the NU Aqua 8 Stage Alkaline Mineral Countertop Filter.
This filter hooks up to your faucet to deliver cool, clean drinking water. It's significantly cheaper than comparable RO systems with remineralization, costing less than $100 upfront – but still boasts plenty of admirable features, including 8-stage filtration, a 4-8 month filter lifespan, and improved water taste and smell. Plus, your purchase is protected with a 120-day money-back guarantee and a 5-year warranty.
Key Features:
Faucet water filtration – The NU Aqua is designed to connect to your kitchen faucet to deliver clean tap water whenever you need it. Water flows directly through the filter and is clean and mineral-enhanced once it leaves the faucet.
8-stage filtration – There are 8 stages of filtration in the NU Aqua unit: a nano-silver filter (prevents bacteria and fungus), a KDF filtration stage (reduces heavy metals, chlorine, pesticides, microbiological impurities, and more) an activated carbon filter, (targets chlorine and other chemicals), an ORP ball (reduces water imperfections), a bio-ceramic filter (ionizes water), a mineral stone filter (adds healthy minerals like calcium and magnesium), and two mesh filter screens (prevent larger particles from passing through).
0.75 GPM flow rate – Expect your flow rate to be reduced after installing this filter. The average faucet has a flow rate of 1-2.2 GPM (gallons per minute), but the NU Aqua's flow rate is 0.75 GPM.
Good warranty + guarantee – The unit is backed by a warranty of 5 years and comes with an impressive 120-day money-back guarantee.
Best For:
People who want to improve their water's taste by removing a handful of contaminants and adding healthy minerals, and aren't looking for the most thorough filtration solution.
Pros:
You don't just get filtered water from the NU Aqua. It's great to see a dedicated mineral stone filter that adds healthy minerals to water, boosting its alkalinity and improving its taste.
The fact that you get 8 stages of filtration and mineralization for less than $100 upfront makes this countertop filter model great value for money.
It's really easy to install the NU Aqua – you just screw the included faucet adaptor onto your faucet and attach the water line. No need to cut into your water line, so it's suitable for rentals.
Cons:
The NU Aqua filter doesn't remove anywhere near as many contaminants as the other filters on this list. It's great if you just want to improve your water's taste and smell, but won't protect you against all possible trace contaminants.
As far as we can see, the filter doesn't have an NSF certification or independent testing to NSF Standards.
---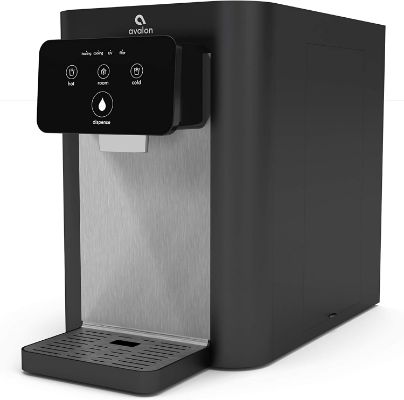 Avalon A9 Countertop Bottleless Cooler Water Dispenser
In our opinion, the best bottleless cooler for countertop water dispensing is the Avalon A9 Countertop Bottleless Cooler Water Dispenser.
This smart, compact dispenser delivers hot, cold and room-temperature filtered water at the touch of a button. It has a combined 2.2 liter water holding capacity and a 6-month filter lifespan, and is backed by a 1-year warranty.
Key Features:
Carbon & sediment filtration – There are two filters in the Avalon A9: A sediment filter and an activated carbon block filter. Together, these filters reduce 5+ contaminants, including chlorine, lead, cysts, particulates, smell and taste, and visible objects in tap water.
NSF-certified filters – The carbon filter in this hot and cold water dispenser isNSF certified for both lead and chlorine removal, (NSF 42 and 53) and the sediment filter also has an NSF 42 certification for chlorine reduction.
Choose between three water temperatures – This filter delivers water in three temperatures: hot, cold, and normal room temperature, so you can use clean water for all occasions.
Good filter life – With a 6-month or 1,500-gallon lifespan, the filters in this model don't need to be replaced too frequently.
Best For:
Folks who want an easy way to filter their water to remove the most common contaminants and dispense it at their preferred temperature.
Pros:
It's great to see that the sediment and carbon filters in this unit are NSF certified for their contaminant removal abilities. No need to rely on the manufacturer's word or even third-party testing.
We love that you can choose between hot, cold, and room temperature water from this dispenser, and that it's delivered almost instantly when you press the button. You won't have to boil or refrigerate your water separately.
If you hate cleaning, you'll love that the Avalon A9 has a UV self-cleaning feature that does the job for you.
Cons:
This countertop water cooler is quite expensive considering it uses simple carbon filtration – the AquaTru is similarly priced and offers the most thorough RO process.
The 0.5 GPM flow rate is pretty slow considering there are only two stages for the water to pass through – even the NU Aqua, with 8 stages, has a 0.75 GPM flow rate.
---
🧾 Countertop Filtered Water Dispenser Buyer's Guide
You'll find it much easier to choose the best countertop water dispenser for you when you know exactly what to go for. In the below buyer's guide, we've covered everything you'll want to know about buying a countertop dispenser, including factors to consider, the pros and cons of this type of filter system, and answers to your frequently asked questions.
💭 Important Considerations When Selecting a Countertop Water Dispenser
When choosing a countertop water dispenser, consider the following things:
Water Source
Where do you currently get your drinking water from? Do you use a private well, or are you supplied by a public water facility? Your answer will help you decide on a countertop dispenser for you.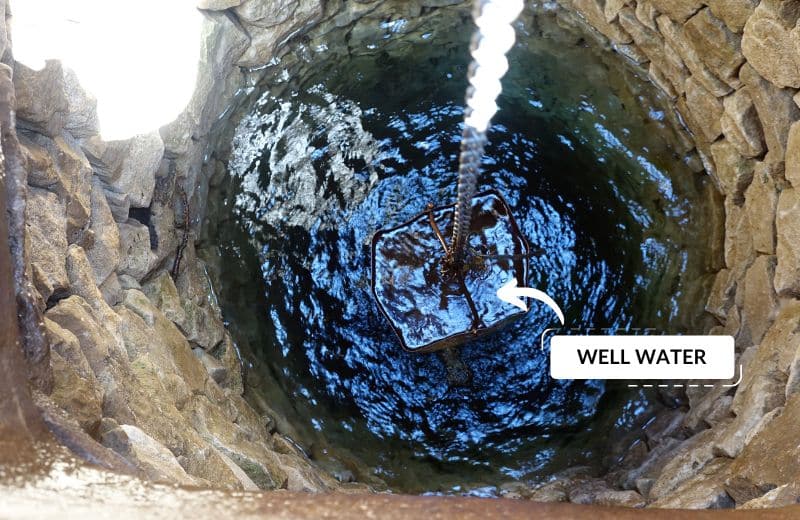 Some countertop dispensing systems can filter both city water and well water, as they can remove common impurities that are found in both water sources. But some are designed to treat one water source or the other.
It's especially important to look for a filter that can treat well water if that's where you get your water from. While public drinking water isn't typically dangerous (unless there has been unknown contamination), well water can contain dangerous impurities and pathogens that can make you sick.
Contaminant Removal Capability
If you don't currently know what your water contains, that's a good place to start. We recommend testing your water, either with an at-home testing kit or through a certified laboratory, to find out which contaminants are most prominent.

Maybe you can taste a specific contaminant, like chlorine or iron. But some impurities, like lead, are tasteless – meaning there's no way to tell whether they're polluting your water or not.
Once you know what's in your water, you'll be better equipped to choose the best countertop water dispenser to remove your problem impurities. Most countertop dispensers can remove chlorine, lead, pesticides, herbicides, PFOS, PFOAs, and more. Some can even remove microbiological contaminants and tricky-to-remove contaminants like fluoride.
You can check a dispenser's performance data before you buy the filter to ensure that it removes the impurities your water contains.
Holding Tank Capacity
Countertop water dispensers come in all sizes and capacities. The holding capacity of a unit tells you how much filtered water can be held at a time.
The bigger the holding capacity, the fewer times you'll have to fill up the filter chamber when it runs low. For this reason, if you have a large family of three or four people, you're best choosing a countertop water dispenser that can hold at least 1.5-2 gallons of water.
Keep in mind, however, that the larger the holding capacity, the bigger the model will be, and the more room it will require. If you'd rather save space and fill your dispenser more frequently, it may be worth buying a unit with a smaller holding capacity of 1 gallon or less.
Filter Longevity
There are some really impressive filters on the countertop water dispenser market when it comes to lifespan.
On average, you can expect to replace a dispenser filter once every 4 to 12 months – this can vary greatly from one product to the next.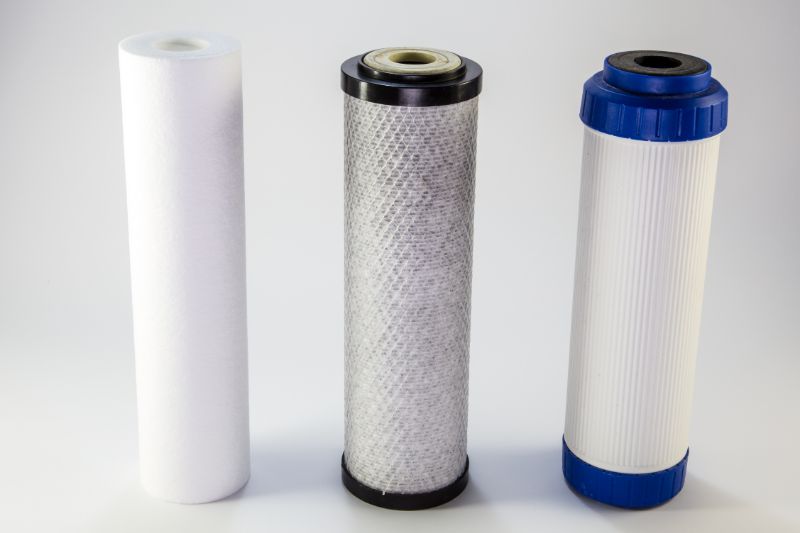 We recommend researching filter lifespan, and the cost of replacement filters, before you buy a countertop water dispenser. This will mean you're prepared for replacing the filters when you have to, and there'll be no nasty surprises.
You may also have multiple filters to change at different times. For instance, if you're dealing with a traditional gravity filter, it will typically only have one or two filters to change at the same time. Reverse osmosis countertop dispensers, on the other hand, have multiple filters that should be replaced every few months.
Material
The material of both the filter and dispenser can differ depending on the type of water dispenser you buy.
Some water dispensers, such as the Big Berkey, are made from stainless steel. Others are made from plastic, and some are made from a combination of several materials.
If you're considering a countertop water dispenser that's made from plastic, make sure the plastic is BPA- and BPS-free.
There are several types of filter material that may be used in a filter dispenser, too. Most commonly, a type of carbon material, such as charcoal carbon, will be used. Multi-stage filters may use a number of filter materials; for instance, reverse osmosis filters also use a semi-permeable membrane.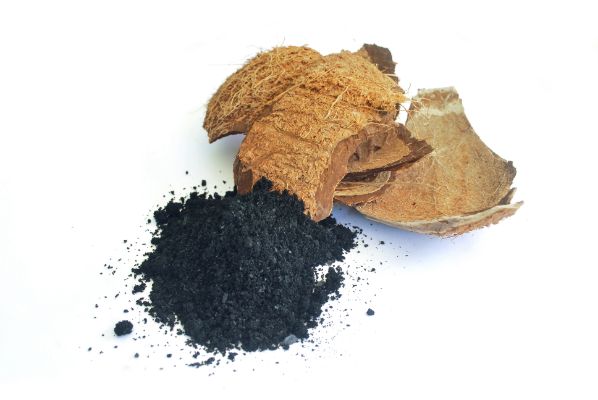 Installation & Maintenance
Installing a countertop water dispenser is usually easy regardless of what type of unit you buy.
Most systems come in several pre-installed pieces that simply need to be slotted together.
Some units, like a countertop water cooler, a reverse osmosis unit, or a unit that can dispense hot and cold water, may have to be plugged into a power outlet to operate.
You may have to flush your system's filter before you can start using it. Your user manual should have plenty of information on how to flush the filter if this is something you have to do.
Water Temperature Control
Not all countertop water dispensers offer hot and cold water, but this is definitely a bonus if you're aiming to filter water for hot beverages as well as cold drinks.
Temperature control lets you choose the temperature that your water is dispensed at. Typically, the filter will treat the water while it's cold, and you can then choose between hot and cold water for drinking.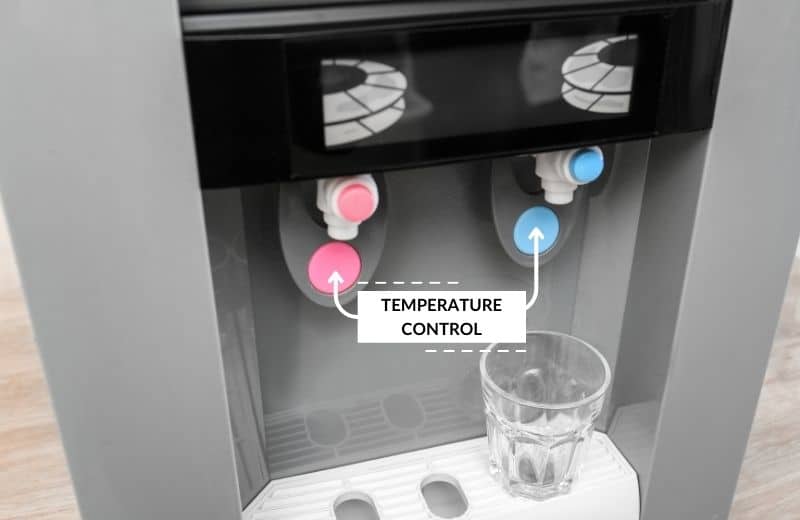 The big advantage of water temperature control is that you don't have to heat or refrigerate your water before you use it, as it'll already be hot or cold when it's dispensed.
If you do want access to hot and cold filtered water, we recommend choosing a countertop water dispenser that gives you these options. You shouldn't add boiling water to a standard dispenser, as the water will likely damage the filter's pores and prevent it from filtering your water at all.
Size & Space Available
We mentioned size when discussing holding capacity earlier in this guide. If you're short on space, We recommend measuring your available space carefully and comparing it to the height and diameter of your chosen water dispenser.
If you only have a small area to work with, or you just don't want to clutter your kitchen with a large dispenser, it's worth considering a countertop water pitcher instead.
Certifications
The majority of the countertop tap water dispensers on this list are NSF certified, or tested to NSF certifications.
If a unit has an NSF certification, it means it has been tested by an accredited third party and deemed capable of living up to the manufacturer's performance claims.
NSF 42 (chlorine, tastes and odors) and NSF 53 (lead) are two popular Standards for countertop water dispenser units. There are also certifications for reverse osmosis units, lead-free design, and more.
🔠 Countertop Water Dispenser Variations
Gravity Fed Filters
Gravity filters are the most popular variations of countertop water dispensers. As the name suggests, these filters use gravity to filter water from a top chamber into a bottom chamber.
While gravity filters are affordable and very effective, they don't offer instant access to filtered water. It can take a few minutes up to a few hours for a gravity filter to fill its bottom chamber, depending on the unit's capacity.
Reverse Osmosis Systems
Reverse osmosis is another popular countertop water dispenser variation. In the RO process, water flows through a pre-filter, a carbon filter, and a reverse osmosis membrane, which can remove more than 99.9% of total dissolved solids.
The advantage of reverse osmosis is that it really does remove everything, including the hardest-to-remove contaminants – but this can also be a disadvantage. RO countertop dispensers also remove healthy minerals from water, which can affect your water's taste.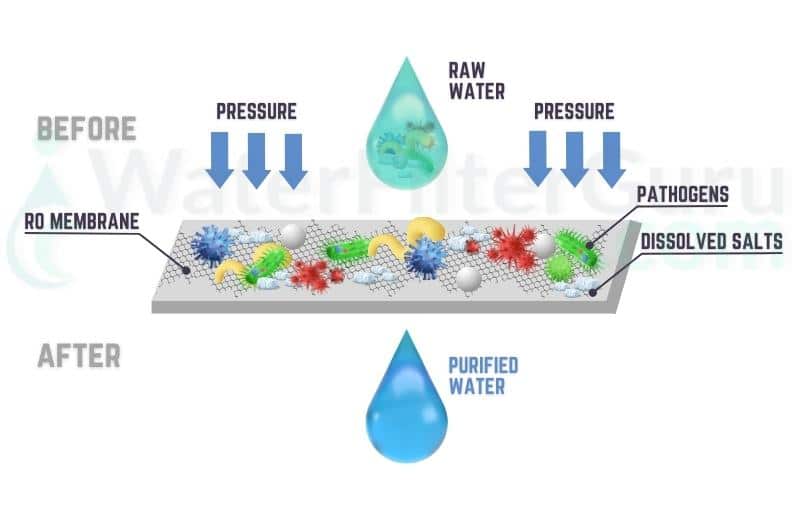 Direct Connect Filters
Direct connect filters are hooked up to your water supply at your faucet. These filters filter water on-demand, providing you with instant drinking water whenever you require it.
If you like the convenience of water on demand but don't want to cut into your water line to install an under-sink filter, direct connect filters are a good alternative. However, these filters aren't quite as easy or convenient to install as a standard water dispenser.
5-Gallon Jug Dispensers
5-gallon jug dispensers are large versions of water filter pitchers. These dispensers give you access to more drinking water in a single batch, and typically use gravity filtration to treat your water.
This type of water dispenser tends to be cheap, so it's great for smaller budgets. However, the quality of build is unlikely to be on par with more expensive filters made from more durable components.
Distillers
Distillation is the process of boiling water until it evaporates, then condensing it into a clean container. The contaminants that are unable to evaporate with water are left behind in the boiling chamber.
Like reverse osmosis, distillers remove an impressive range of contaminants. They don't just filter your water -they purify it. Of course, this brings up the same issue with flat-tasting water, and you may have to remineralize your water before you drink it.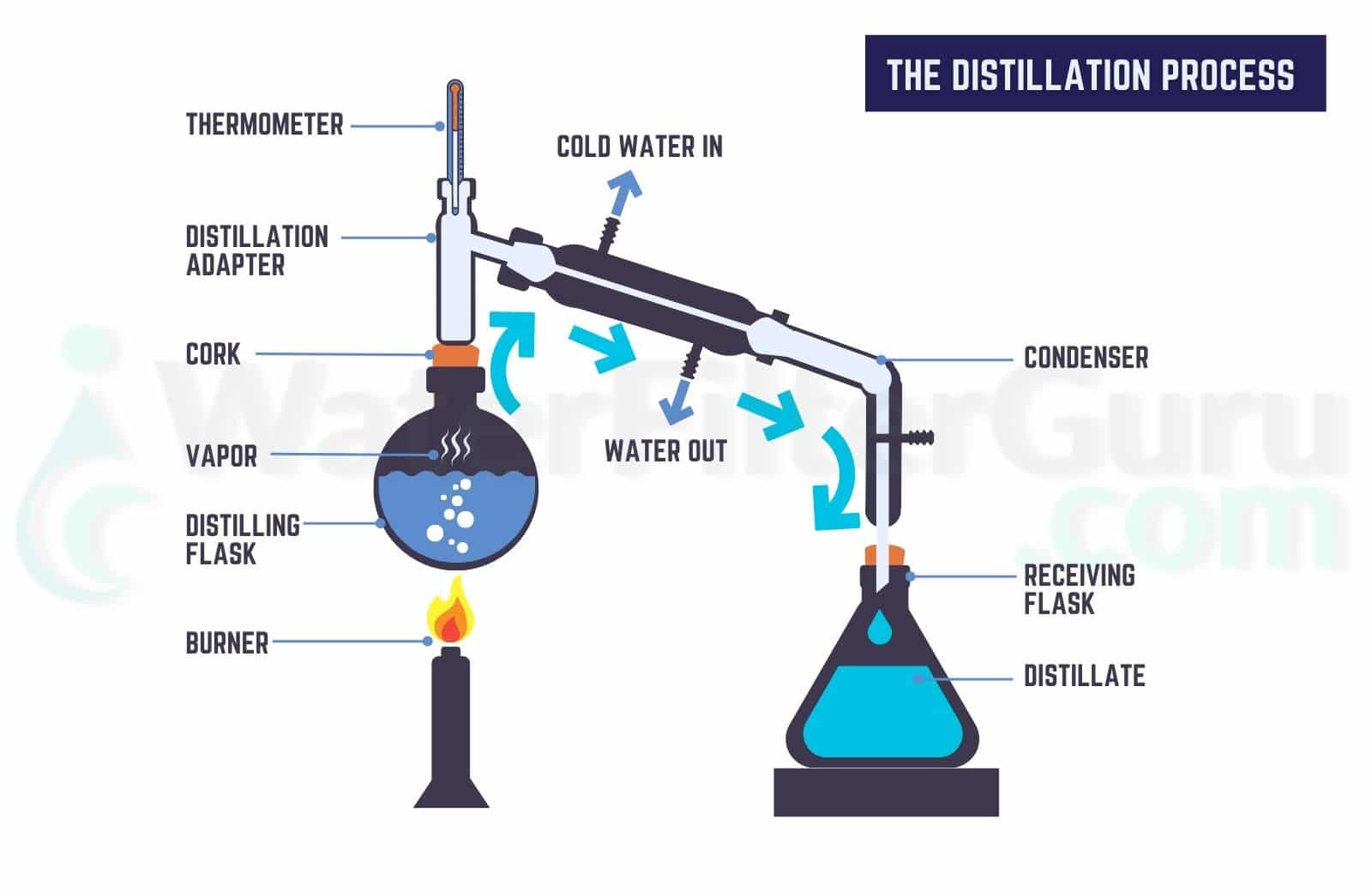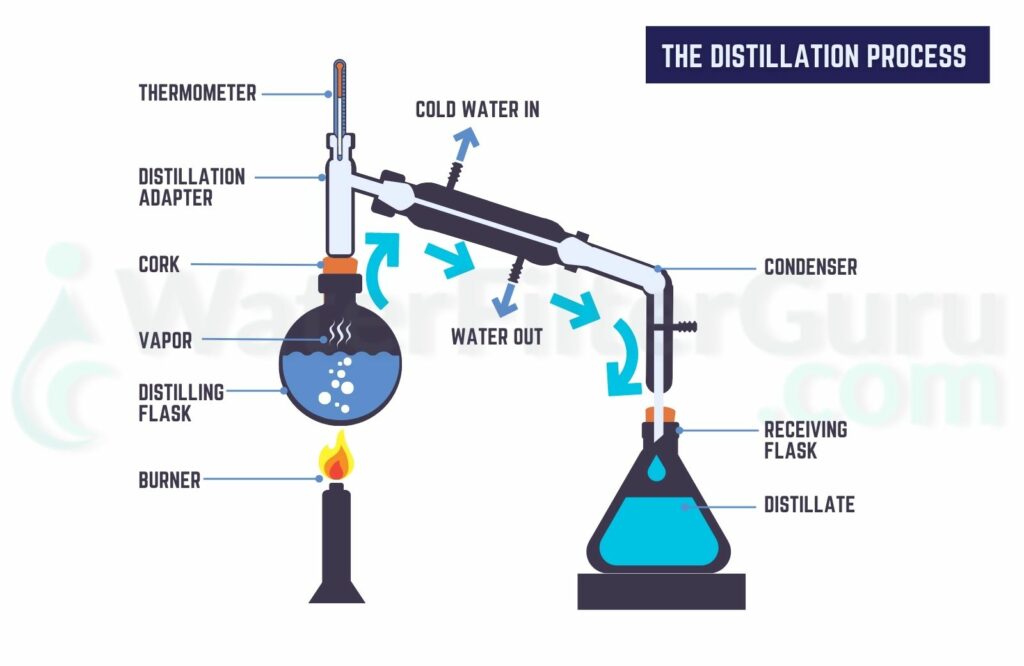 👍 Advantages of Countertop Water Dispensers
Easy to prepare – these systems require virtually no installation and take just minutes to put together.
Portable filtration – you don't have to cut into your water line to install this type of water dispenser, so you can take it with you on the go.
An option for all budgets – you can spend between $50 and $500 on a water dispenser for your countertop, depending on its features.
Options for hot and cold water – if you don't like room-temperature water, there are countertop cooler models, and dispensers that can heat water up for hot beverages.
Economical and environmentally friendly – saves money on bottled water and reduces plastic waste.
👎 Disadvantages of Tabletop Water Dispensers
Can take a while to filter your water, especially the gravity filters.
Most countertop filters can only deliver room temperature drinking water – no option for hot water or cold water dispensing.
Some aren't as durable as others – opt for stainless steel rather than plastic if you want your filter to last a long time.
Take up quite a bit of counter space – we recommend considering pitcher filters if space is an issue.
🙋 Frequently Asked Questions
Can countertop dispensers filter hot water?
No. It's not a given that a countertop dispenser will filter hot water. It depends on what type of unit you buy. For instance, a countertop water cooler can deliver cold and room temperature water, and some can deliver hot water, too. A standard dispenser, however, won't be able to dispense hot, cold and room temperature water – it'll just be designed for room temperature tap water.
Which is better: an independent countertop filter or one that connects to your water line?
It depends on what you're looking for in terms of portability and convenience. Independent gravity filter dispensers are more portable, and you can store them anywhere in your home, while you'll need to ensure that a direct-connect countertop filter is always connected to your faucet when you want to use it. However, the advantage of these systems is that they deliver clean water almost immediately, while independent water filtration systems usually take at least a few minutes.
How long does a countertop filtration dispenser last?
Most water filtration dispensers have a lifespan of at least 5 years. The filters themselves will require replacing before that, though; usually every few months. Check the warranty of the model you plan to buy, as this will give you an idea of how long the manufacturer expects it to last.