The best tankless reverse osmosis system in 2023 is the Waterdrop G3P800. Our experts tested out dozens of tankless reverse osmosis systems, and these options performed the best.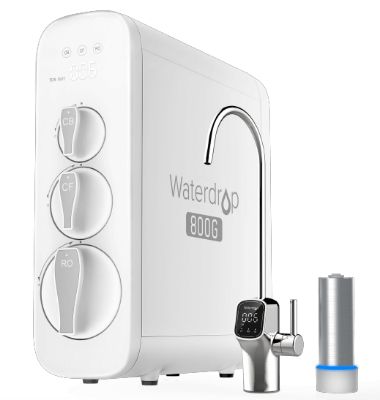 Waterdrop G3P800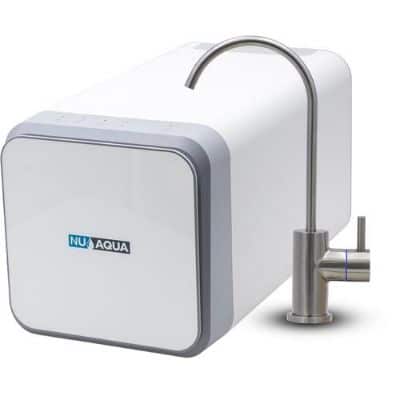 NU Aqua Efficiency Series Tankless Reverse Osmosis System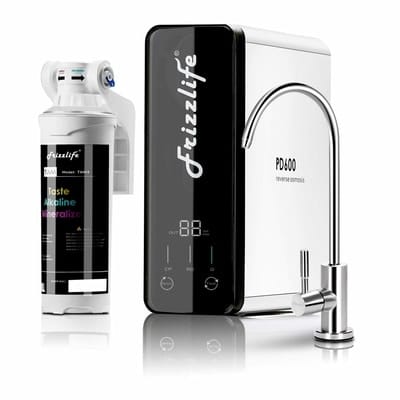 Frizzlife Tankless Reverse Osmosis System
If you get your tap water from a local supplier, you probably hope that your water is clean, safe, and healthy to drink.
But the problem is that water still contains contaminants in trace amounts. Even if water suppliers follow the EPA's regulations and guidelines, ensuring that contaminants are filtered out to below their Maximum Contaminant Levels, many of these contaminants still have the potential to have harmful health effects.
Reverse osmosis (RO) is one of the most effective filtration methods available for removing these contaminants. If you're inclined towards a tankless reverse osmosis filter in particular, we're here to help you find a system that best suits your needs.
With a monthly readership of [monthlyreaders] and articles published in the likes of How Stuff Works and WQP Magazine, we've made it our business to be experts on all aspects of water treatment.
By the end of this guide, you'll know:
Which tankless reverse osmosis systems are best in 2023
The 6 things you need to consider before purchasing a tankless RO system
The advantages and disadvantages of owning a tankless reverse osmosis system
🥇 Best Tankless Reverse Osmosis Systems
📊 Comparison Chart of Tankless Reverse Osmosis Systems
| System | Waterdrop G3 P800 | NU Aqua Efficiency Series | Frizzlife Tankless Reverse Osmosis System | Waterdrop D6 |
| --- | --- | --- | --- | --- |
| Ranking | 1st | 2nd | 3rd | 4th |
| Ratings | 5/5 | 4/5 | 4/5 | 4/5 |
| Price | $999.00 | $563.36 | $469.99 | $379 |
| Efficiency Ratio | 3:1 | 2:1 | 1.5:1 | 1.5:1 |
| Stages of Filtration | 7 | 4 | 7 | 5 |
| Production Rate | 800 GPD | 600 GPD | 600 GPD | 600 GPD |
| Certifications or Testing | NSF 58, 372 | – | – | NSF 58, 372 |
| Warranty | ~$145 | ~$155 | ~$100 | ~$100 |
---
⭐ Tankless Reverse Osmosis System Reviews 2023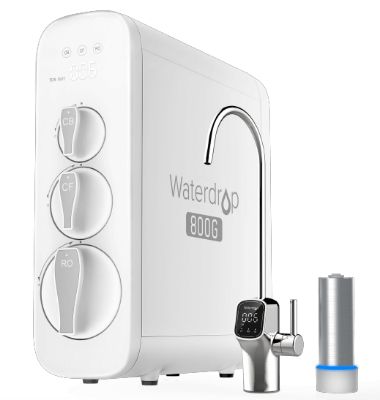 Waterdrop G3P800
The Waterdrop G3P800 is my top pick on this list. This cutting-edge unit is an exceedingly smart upgrade of the Waterdrop G3P400, offering features that no other tankless unit currently provides.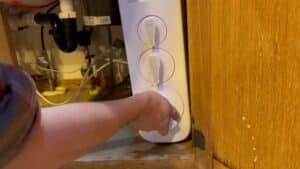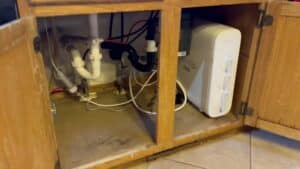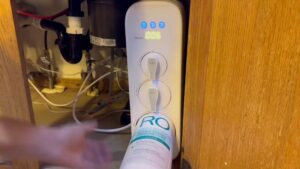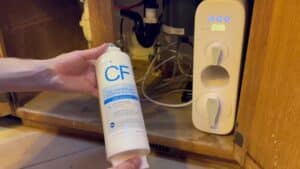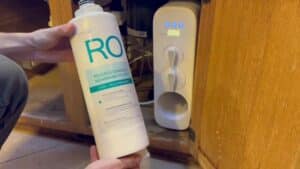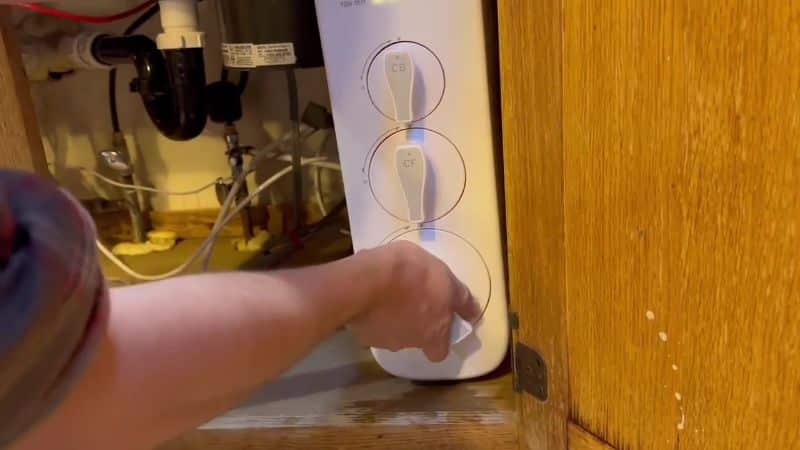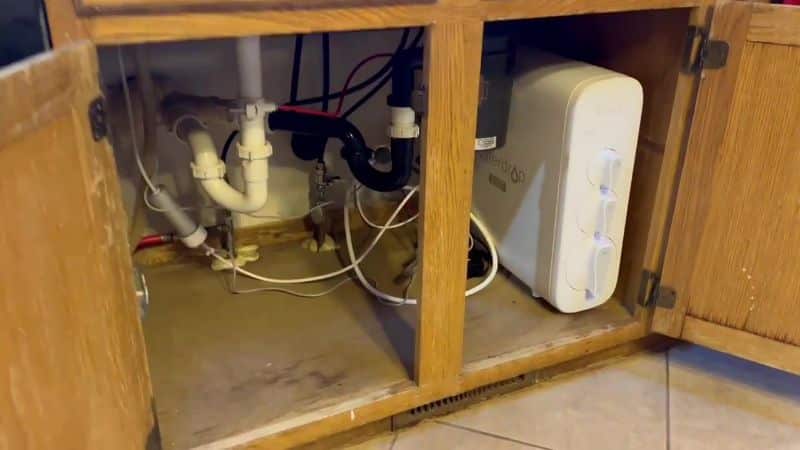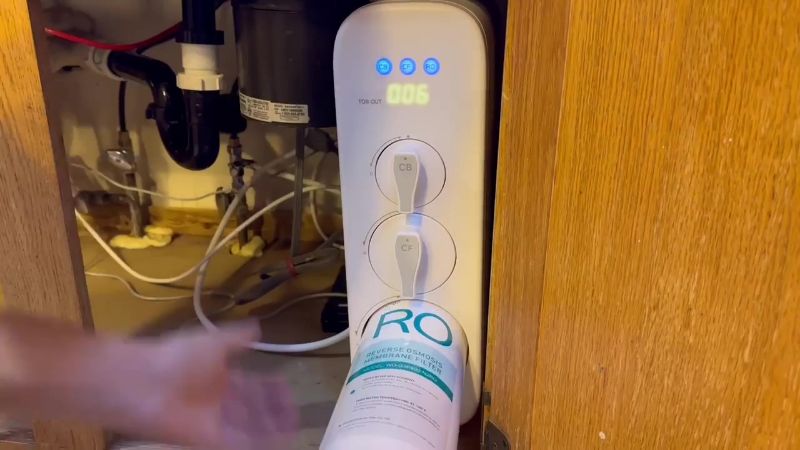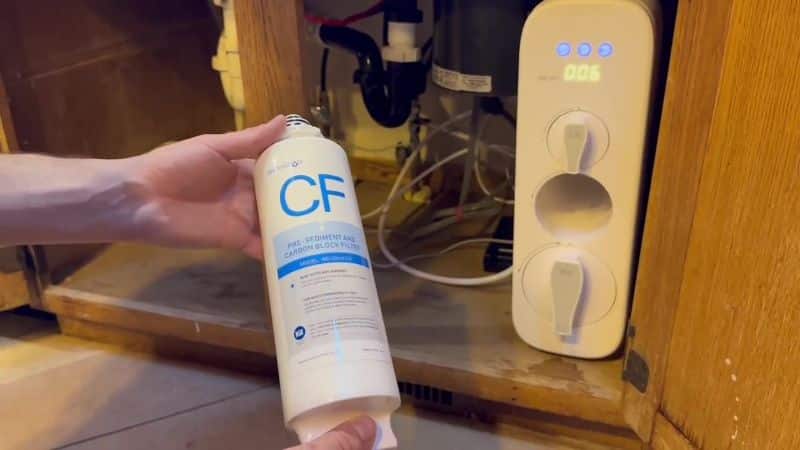 Best For: Anyone looking for the very best that money can buy in this genre. The Waterdrop's extensive array of features will blow you away.
| Upgrades | Price | Uses |
| --- | --- | --- |
| Remineralization Filter | $29.99 | Adding minerals back to water |
| Refrigerator Connector | $32.99 | Connect RO system to refrigerator water line |
Pros:
There are seven stages of filtration included in this system, which are packed into three separate filters. Filter stages include a 0.0001 micron RO membrane that removes 99% of all TDS, a sediment pre-filter, and a carbon post-filter.
The Waterdrop G3P800 is the only tankless RO unit to include an integrated UV purification filter, which kills microbiological contaminants like viruses and bacteria.
Despite its thorough filtration, the Waterdrop G3P800 has a very efficient 3:1 pure water to waste water ratio.
This unit can produce up to 800 gallons of filtered water per day, making it suitable for even the busiest household.
There are a number of smart features included in this Waterdrop model, including a built-in TDS meter to let you know how well the system is working, and an LCD ring that changes color to let you know the status of the filters.
The unit is slim, measuring just 5.7 inches wide, and the filters are removed from the front, so you won't need to remove the housing for maintenance.
Below is a table of our third party laboratory testing data for the Waterdrop G3P800.
| Contaminant | Pre-Filtration | Post-Filtration | % Reduction |
| --- | --- | --- | --- |
| Total Dissolved Solids | 84 PPM | 15 PPM | 82.14% |
| Arsenic | 0.0029 PPM | 0 PPM | 100% |
| Barium | 0.0283 PPM | 0.0033 PPM | 88.34% |
| Calcium | 20.2 PPM | 2.6 PPM | 87.13% |
| Chloride | 2.2 PPM | 0 PPM | 100% |
| Copper | 0.203 PPM | 0 PPM | 100% |
| Fluoride | 0.3 PPM | 0 PPM | 100% |
| Lead | 0.0008 PPM | 0 PPM | 100% |
| Magnesium | 2.13 PPM | 0.27 PPM | 87.32% |
| Manganese | 0.0048 PPM | 0 PPM | 100% |
| Nitrate (as N) | 1.1 PPM | 0.1 PPM | 90.91% |
| Potassium | 2.12 PPM | 0 PPM | 100% |
| Selenium | 0.0015 PPM | 0 PPM | 100% |
| Sodium | 9.33 PPM | 1.65 PPM | 82.32% |
| Strontium | 0.199 PPM | 0.025 PPM | 87.44% |
| Sulfate | 7.8 PPM | 0 PPM | 100% |
Cons:
Unsurprisingly, the Waterdrop G3P800 is costlier than competing filters, so you'll need a big budget for this unit.
Although the flow from the faucet is good, you won't obtain clean water as quickly as with a tank-based reverse osmosis unit.
If you want to remineralize your water, the alkaline filter is sold separately at an extra cost.
---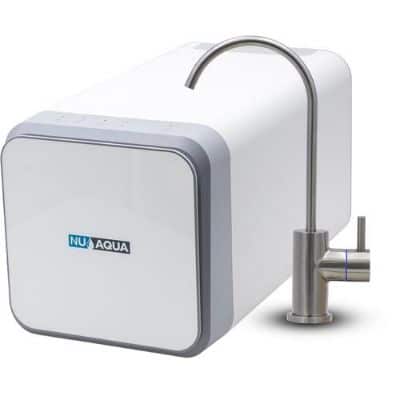 NU Aqua Efficiency Series Tankless Reverse Osmosis System
The NU Aqua Efficiency Series is a modern, compact tankless reverse osmosis system that hooks up to your kitchen faucet. With four stages of water purification removing up to 99% of contaminants in drinking water, the NU system is ideal for homeowners who truly care about their water quality.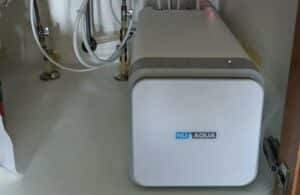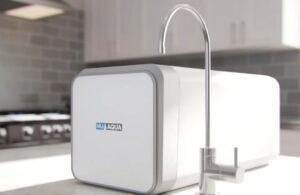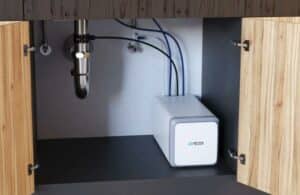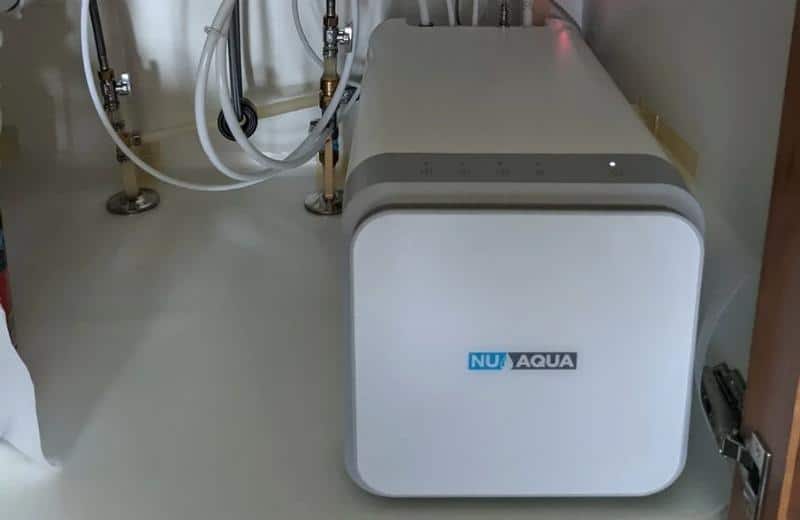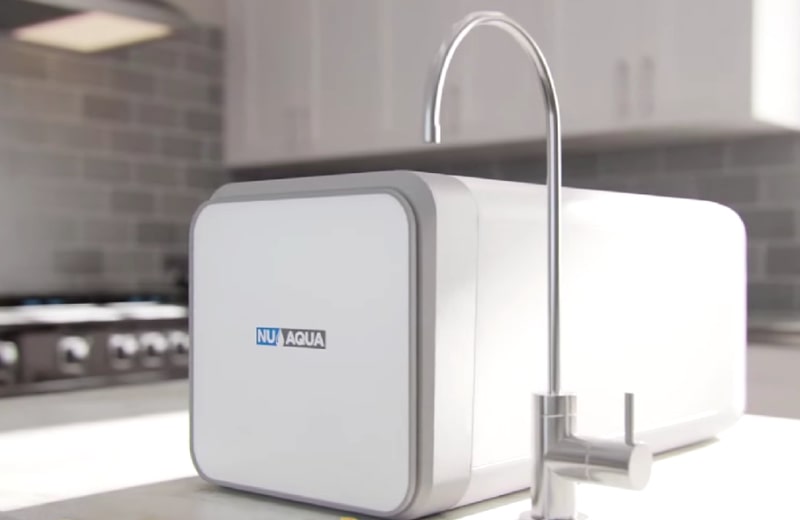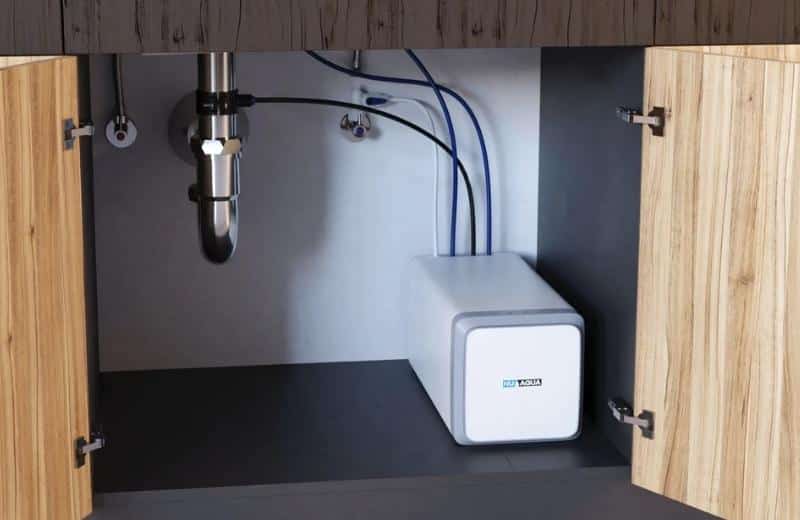 Best For: Anyone with a flexible budget who wants the benefits of a traditional RO system, but wants to waste as little water as possible, and save space with a tankless design.
Pros:
The NU RO filter provides an efficient and effective water filtration solution, with four stages of filtration that can remove a broad range of contaminants, including VOCs, chlorine, rust, and suspended sediment particles.
There are three filters in this system: a polypropylene/carbon block filter, which removes both sediment and chlorine tastes and odors; a granular activated carbon filter, which adsorbs chemicals and tastes; and the RO membrane itself, which removes salts, heavy metals, nitrate and more.
This unit offers a more efficient performance, wasting only 1 gallon of water for every 2 gallons of purified water produced.
If you value your under-sink space, you'll be pleased to know that this system is 25% of the size of a traditional under-sink reverse osmosis water filtration system.
The NU RO filter is backed by a 120-day money-back satisfaction guarantee, so you're not taking a risk when you buy this system.
Changing the filters is easy in the NU Aqua Efficiency Series: just remove the front cover and twist the filters in and out of place. The PP/CB filter lasts up to 6 months, while the GAC filter lasts for 1 year, and the RO membrane lasts for 36 months.
Impressive 600 GPD (gallons per day) flow rate – there's no waiting around for this system to filter your water.
Cons:
The unit is quite expensive, so you'll need a big budget to afford it.
The NU RO filter isn't NSF certified, so there's no third-party guarantee that it lives up to performance claims.
This system isn't the smartest tankless unit you can buy today.
---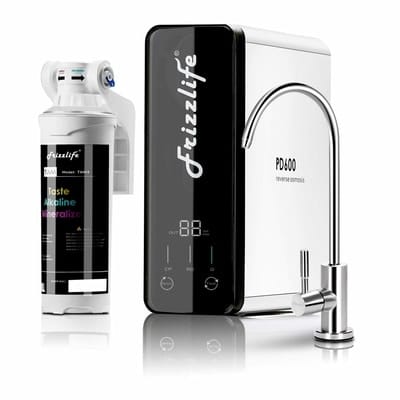 Frizzlife Tankless Reverse Osmosis System
The Frizzlife Tankless Reverse Osmosis System is a three-stage no-tank reverse osmosis filter that removes TDS and alkalizes water. This unit has an impressively high flow rate of 600 GPD and offers an efficient performance, with a drain ratio of 1.5:1.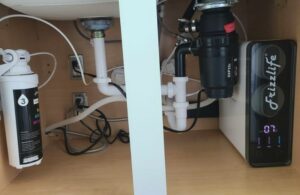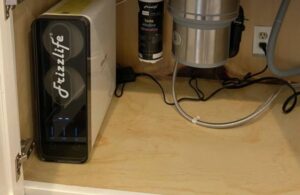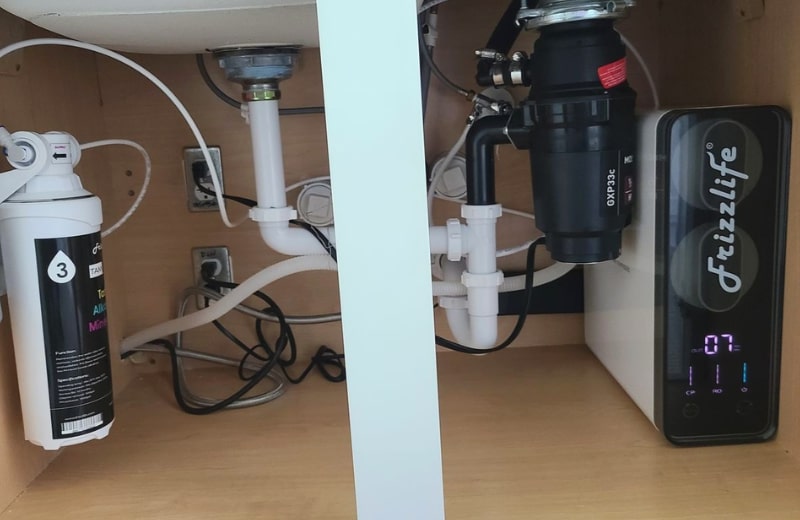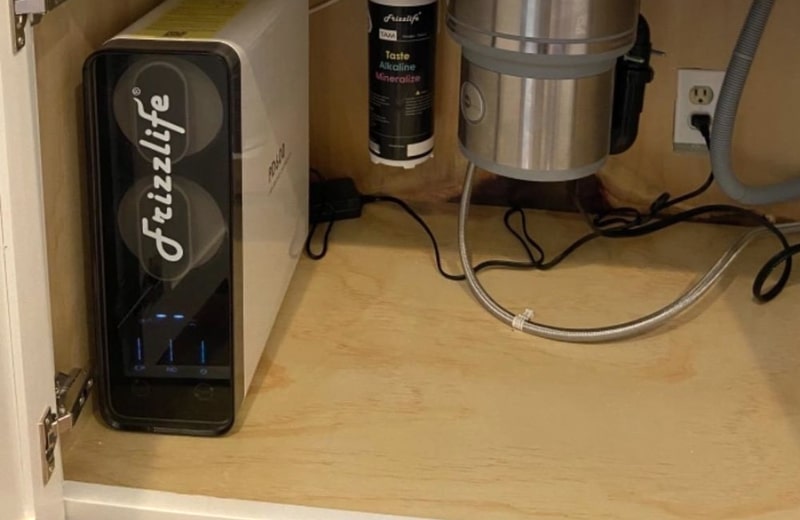 Best For: Anyone who's keen to use a reverse osmosis filter that you don't have to wait around for. This filter offers an impressive 600 gallons-per-day flow rate, and takes just 8 seconds to provide enough water for a 250ml cup.
Pros:
The Frizzlife Tankless RO System uses 7 deep filtration processes within a sediment filter, a carbon block filter, an RO membrane, a remineralization filter, and a weak alkaline filter, resulting in almost 100% TDS-free, alkalized water.
This advanced tankless unit removes a broad range of contaminants, including chlorine and chloramine, lead, chromium, fluoride, arsenic, organic and inorganic pollutants, cysts, and aluminum.
The Frizzlife unit saves up to 60% space with its compact, tankless design.
The unit has a super-low drain ratio, helping you save up to 450% compared to a traditional under-sink reverse osmosis system.
It's also much easier to install, and changing the filters is as simple as twisting the old filter out and clicking the new filter into place.
The unit reintroduces essential minerals into your water and increases its pH, improving its health properties.
Cons:
The system is one of the most expensive tankless RO units currently available.
Customers have complained that the included faucet is a little flimsy.
The system is made in China. Customers agree that it would be better if the unit was made in the US.
The motor hum when the system is switched on is quite loud.
---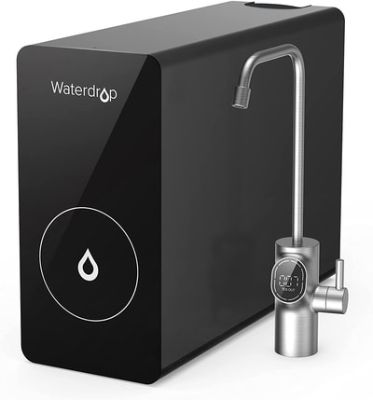 Waterdrop D6
The Waterdrop D6 is another no-tank reverse osmosis drinking water unit offered by Waterdrop. This system has a daily flow rate of 600 gallons and uses an all-in-one filter to remove up to 99.99% contaminants.
Best For: Anyone looking for a convenient, attractive RO system that fits nicely in a modern kitchen.
Pros:
This Waterdrop drinking water filtration system removes up to 99.99% impurities, including chlorine, lead, salt, nitrates, chromium, and more. The system combines two cotton polypropylene layers, an activated carbon block layer, a reverse osmosis membrane layer, and a post-activated carbon block layer within a single filter cartridge.
Offering up to 600 gallons of water per day, this RO system should meet your entire family's drinking water needs.
The Waterdrop filter system is easy to install, and the filter cartridge has a decent filter life of 1 year, so your maintenance duties are minimal. The smart faucet shows a real-time TDS level and remaining filter life.
The unit has a fast flow rate of 600 GPD, and an impressive wastewater to pure water ratio of 1.5:1. Having a single filter cartridge is what makes this system more affordable upfront.
The unit has an impressive drain ratio of 1.5 gallons pure water to 1 gallon wastewater.
Cons:
The Waterdrop D6 is quite noisy when in use.
Although you only need to replace a single filter, the filter is costly to replace.
You have to replace the filter from the back of the unit, which is less convenient than the Waterdrop's front-loading filters.
---
🧾 Tankless Reverse Osmosis System Buyer's Guide
If you're looking to learn more about tankless RO systems before you decide whether they're right for you, I've covered everything you need to know in the buyer's guide below.
🤔 What is a Tankless Reverse Osmosis System?
A tankless reverse osmosis unit is just like a standard reverse osmosis system, except it doesn't use a tank.
Traditional reverse osmosis systems store filtered water in a tank before use. This means that you get instant access to filtered water when you turn on the tap, rather than having to wait for the water to pass through the RO system before it's ready to drink.
Tankless RO systems don't have a tank, but that doesn't mean they offer a slow performance. Many tankless RO systems are fast-performing, taking less than 10 seconds to fill a glass with purified water – and their tankless design makes them much more space-saving.
⚙️ How Does A Tankless RO System Work?
In a tankless RO system, the entire RO process is the same. The only real difference is that, instead of entering a tank after it has been filtered, water is filtered on-demand, and passes straight through the tankless system and out of the faucet.
Usually, this type of reverse osmosis water filtration system features a minimum of three filter stages: a sediment pre-filter, an activated carbon or carbon block filter, and a semi-permeable RO membrane. Some tankless RO systems also come with a post-filter that removes lingering contaminants, or a remineralization filter that reintroduces healthy minerals to water and increases its alkalinity.
A high pressure is required to send water through each filter stage with enough force. The pre-filter removes suspended solids, while the carbon filter removes chemicals like chlorine and pesticides, and the RO membrane removes the majority of total dissolved solids (TDS).
The semi-permeable membrane features tiny pores, usually 0.0001 microns or smaller, which act as a barrier to the majority of contaminants. These impurities end up bouncing back into the RO chamber, where they are washed away with a small amount of wastewater.
Next comes the post-filter and/or the mineral filter, if the tankless system has one. Once water has made it through these stages, it will be sent straight out of the system's dedicated faucet, ready for drinking.
👍 Advantages of Tankless Systems
Some advantages of tankless reverse osmosis systems are:
Space-Saving Design
If you're short on space, a tankless RO water filtration system is the obvious choice. With no storage tank to take up valuable room underneath your counter or kitchen sink, most tankless RO systems are slim enough to store in the corner of a cupboard without dominating space.
On-Demand Water Filtration
Traditional RO systems with a water storage tank have to use an extra filter to remove any bacteria or microbiological contaminants that might have collected in the water while it was stored in the tank. There's no danger of this contamination with a tankless RO system, as the unit provides instant, on-demand water filtration. There's no potential for secondary pollution, either.
Fewer Individual Filter Changes
Because tankless RO systems have compact, space-saving designs, they often contain fewer filter cartridges, or merge several filter stages within a single cartridge. This means you have fewer individual filters to change in the filtration system, which is a bonus if you're looking for minimal maintenance.
More Economical
A tank-based reverse osmosis water filtration system produces a constant supply of water to ensure the storage tank is always filled. Tankless RO systems are more economical, as they only produce purified water when it is actually needed. Using an at-home RO filtration unit means you can reduce your own plastic waste – saving money on bottled water – and most tankless RO units don't need to be connected to a power supply, either.
Improved Water Taste
Water that has been sitting in a storage tank doesn't taste as nice as water that has been delivered straight from a smart faucet. Tankless RO systems provide fresh, purified drinking water whenever you need it.
Better Smart Features
The top tankless RO systems that are currently available offer a range of smart features that not many tank-based systems offer. A smart faucet with filter life indicators light is very handy for these water filters, as is a built-in TDS reader.
Easier to Install & Maintain
Because they only consist of a single unit, tankless RO water filters tend to be easy to install, taking less than half an hour. While you might have to pay for a plumber to install a whole-home or under-kitchen-sink tank-based system, most tankless designs are simple enough for DIY installation. Many RO filter units come with a feed water adapter, which prevents leaks during the installation process.
Changing the filters is also much easier in most tankless systems. You simply open the unit and take out the old filter, replacing it with a new one.
👎 Disadvantages of Tankless Systems
There are several disadvantages of tankless RO water filtration systems that are worth being aware of:
More Expensive
Because of their space-saving, on-demand water benefits, tankless RO water filters are typically more expensive than standard RO systems with a tank. You should prepare to pay at least $450 for one of these water filtration systems. Some can even cost as much as $600.
Still Quite Inefficient
While tankless RO water filters are designed to be more efficient and less wasteful, they do still waste tap water during the reverse osmosis process compared to other water filtration methods. This may bother you if you don't want the extra cost of using drinking water that you don't actually get to drink.
May Take Slightly Longer to Deliver Water
I've mentioned that tankless reverse osmosis units are quick to deliver filtered water, but they still have to send water through every single RO filtration stage, including a potential remineralization filter, before it can leave the smart faucet. This means you'll probably have to wait several seconds longer for high-quality drinking water from this system than you would from a system with a tank.
No Water Storage in Emergencies
The one advantage of a tank-based RO system is that it will provide access to a batch of clean, filtered water if an emergency occurs and your water supply line is cut off. A tankless unit can only produce purified water when you turn on your faucet (or the included smart faucet), so it doesn't offer this benefit.
💭 Considerations When Buying a Tankless RO Filter
Before you buy a tankless reverse osmosis water filtration system, consider the following things:
Incoming Source Water
Your incoming water source is not such an important factor with a reverse osmosis unit, as most RO water filtration systems are capable of removing more than 99.9% of all TDS in water anyway.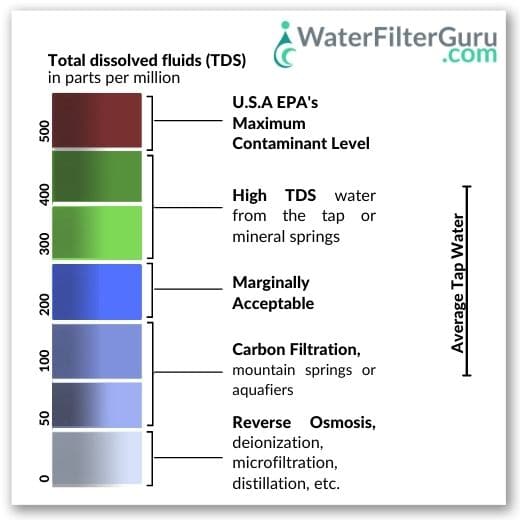 However, if you do have an idea of the specific problem contaminants you'd like to remove, it will help you to make a decision on the right RO water filter system for you based on what contaminants a filter is advertised to remove.
I recommend testing your water to determine which impurities are present in the highest concentrations before you buy an RO system.

Water Pressure
Your incoming water pressure is less of an issue with most tankless reverse osmosis water systems than it would be for a whole-house system.
Most reverse osmosis drinking water filtration units require an ingoing water pressure in the 15 to 85 psi range.
However, if your water pressure is on the lower end of this range, you might find that water's flow rate through your RO water filter is slower, especially at the reverse osmosis membrane. This may result in a bigger waste water production than necessary, and produce a slower stream of purified water.
Fixing low water pressure is relatively easy: just buy a booster pump. A booster pump can increase your water pressure to a consistent rate, enabling your RO system to perform faster.
You can sometimes buy a booster pump as an add-on to your initial RO purification system purchase. Otherwise, they're available on most online marketplaces.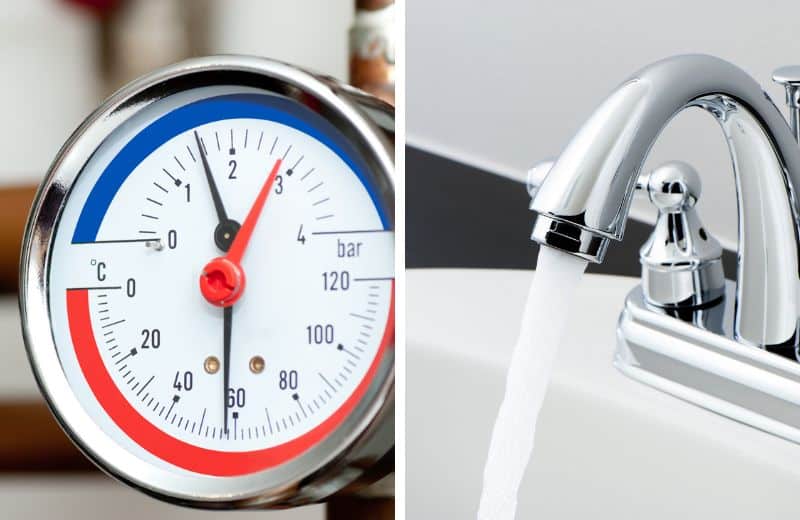 Produced to Wastewater Ratio
Tankless versions of RO units have a better pure water to waste water ratio than traditional under-sink models.
A tankless purification system may only produce up to 1 gallon of waste water for 1 – 1.5 gallons of pure water produced. The better this ratio, the less tap water you'll waste per day, and the more money you'll save.
Flow Rate
Flow rate ties into water pressure somewhat, but an RO water system may purify your tap water at its own measured flow rate, regardless of your water pressure, depending on its design.
It's essential that an RO system has a good sediment filter that can remove large particles that will block later filtration stages, slowing down the flow of tap water.
Flow rate will also naturally slow down as the filters get closer toward the end of their lifespans. At their peak, RO systems should offer a water flow of 400 gallons per day. Some systems even offer a flow of up to 600 gallons per day.
Remineralization Needs
Reverse osmosis water filtration systems are highly effective, removing almost every single impurity your water contains. The problem with this filtration process is that the beneficial impurities, such as healthy minerals, are also removed.
An increasing number of tankless reverse osmosis units are now offering remineralization filter stages, which add minerals back into water and increase its alkalinity. The benefit of this is that you get to enjoy pure, clean drinking water that still contains healthy minerals, and tastes better because of it.
Using an alkaline remineralization filter isn't essential, so it's worth considering whether you're interested in this filter stage before you decide on a new RO system. Your choices will be more limited if you want an RO filtration system with a built-in remineralization stage, and the system will probably cost more than other systems, too.
Alternatively, you could choose to remineralize your water with mineral drops before drinking, which means you'll still get the broader choice of RO filter systems, and you won't need to think about extra replacement filters.
Filter Lifespan
Tankless reverse osmosis drinking water systems tend to use the same types of filters as traditional under-sink systems, so you can expect filter life to be largely the same, too.
There are three filters to remember to change. The filter life of a semi-permeable membrane is usually around 2 years. RO carbon filters have a filter life of about 12 months, and pre-filters usually have a 6-9 month lifespan.
Finding an RO water purification system with a smart faucet and filter life indicators will take the guess out of filter changes, ensuring you receive a steady supply of water at all times.
Space Available for Installation
Probably your biggest incentive for buying an RO system without a tank is its space-saving benefits. This type of system, compared to traditional tank-based competing systems, takes up less space – but not all tankless RO units save the same amount of space.
It's important to measure out your available space carefully and compare this to the measurements of a unit you're interested in. While most units are slim, some might be too tall for your cupboard or under-sink space. Remember, you'll need space for a waste line and potentially a dedicated RO faucet as well as the unit itself.
If you want to save the unnecessary hassle of returning a system that doesn't fit in your available space, do the measurements before you buy anything.
Certifications
Like most drinking water filters in the US, manufacturers of reverse osmosis systems can apply to be tested and certified by NSF International, an independent body that tests, inspects and certifies food and water consumer products.
There are several NSF certifications that an RO system can obtain:
NSF 58
NSF 58 is the certification dedicated to reverse osmosis systems. If a system has an NSF 58 certification, it means that it offers a high level of performance expected from an RO unit, and can remove total dissolved solids to its advertised level.
NSF 53
It's common for reverse osmosis systems to be certified to NSF 53, too, for the removal of heavy metals like lead, arsenic, and mercury.
NSF 372
NSF 372 is a certification that manufacturers can obtain if they prove that their system meets standards for lead compliance (i.e. that it isn't made from components that will leach lead into water).
🔧 Tankless Reverse Osmosis Water Filter Maintenance
Tankless reverse osmosis units are relatively low-maintenance. All you'll need to do is replace the filters, and this is easier to do than with a traditional under-sink system.
The exact RO system you buy will determine how often you need to replace the filters. Some systems may also have more filters than others; for instance, one system may have a single all-in-one filter that only needs to be changed once a year, while another has three separate filters and a remineralization filter that each have their own lifespans.
You should expect to have to replace your filters at least once a year, so make sure you're happy and committed to this maintenance task before you make a purchase.
Your water usage will also have an effect on how often you need to replace the filters in your RO system. The bigger your family, or the more water you use, the faster the filters will become clogged and wear out.
On the other hand, if you're in a single-person household and you only use your water in the early mornings and evenings, you may get much longer out of your filters than advertised.
If you're not sure you'll remember to change your filter, I recommend buying an RO system with a built-in filter life indicator. This will change color to let you know when your filter needs to be changed.
❔ Frequently Asked Questions
Can I get a tankless reverse osmosis water system for my whole house?
I haven't come across any tankless whole-house reverse osmosis systems just yet. Most whole-house units, installed at your water line at your home's point of entry, have very large tanks for water storage. You may have issues with providing your entire home with enough tap water from a whole-house tankless model.